Iran Interlink Weekly Digest – November 25, 2016
Iran Interlink, November 25 2016:… A characteristic of internal American politics this past week has been for individuals notorious for being paid by the terrorist MEK, to aim a few vicious kicks at the outgoing POTUS in an effort to take the heat of scrutiny off their own past. In Farsi, commentators are describing Maryam Rajavi as confused, not knowing how to respond to this murky political environment … 
I was at State when we took the MeK (Mojahedin Khalq, Saddam's Private Army) off the terrorist list. But team Trump's ties to the group still worry me.
National Security: Could Maryam Rajavi (Mojahedin Khalq) blackmail her friends in high places – Rudi Giuliani, John Bolton and Newt Gingrich
Iran Interlink Weekly Digest – November 25, 2016
++ A characteristic of internal American politics this past week has been for individuals notorious for being paid by the terrorist MEK, to aim a few vicious kicks at the outgoing POTUS in an effort to take the heat of scrutiny off their own past. In Farsi, commentators are describing Maryam Rajavi as confused, not knowing how to respond to this murky political environment. On one side, the MEK has material which can be used for leverage over these paid individuals if they do get appointed in any capacity in Donald Trump's cabal. [See last week's article in English by Iran Interlink]. But on the other side, such people, if in a position of power, would seriously distance themselves from the MEK. So, Rajavi has splurged buckets of money on these lobbyists only to find that once in power they will serve different interests and will be against the MEK. Now that Rajavi has announced another of her carnival gatherings on Saturday 26th November, it will be interesting to see which no-hopers turn up; people who will take the money because their political careers are already over and they have nothing to lose.
++ Neda-ye Haghighat website has published the last of a series of articles – 'Three decades of cultish behaviour in Iraq'. The articles examine what the MEK leadership did to the membership in Camp Ashraf and Camp Liberty in terms of destroying themselves from the inside.
++ Iran's 'Day of the Student' marks a pre-Revolution event in which three students were killed while protesting the Shah's regime. Each year Rajavi tries to hijack it and every year the Farsi response is 'you, who are with Mossad, the Saudis, Giulinani, etc, want to pretend to be anti-Imperialist? Nobody is listening to you!'
++ Last week was the 40th of Ashura – Arbain – in Karbala. The MEK self-identify as Shia, but everything they publish or say echoes Saudi Arabian anti-Shia rhetoric. Whatever is broadcast by Alarabiya TV and published by Asharq al-Awsat is uncritically re-posted by the MEK. Farsi commentators say this reminds them of what the MEK did for Saddam Hussein. This fawning support has reached the point that the MEK has now almost celebrated yesterday's bombing in which eighty Iranians were killed. Like Saudi, the MEK blames Iran for the act, even though Daesh claimed responsibility, adding that the Iranians were deliberately followed and specifically chosen as targets.
++ In Albania, former MEK members report that the number of people escaping the cult is increasing daily, and one complains that Hotel Almira in Tirana doesn't have any spare capacity for more. Families still do not have access to their loved ones. Some, particularly mothers, have given interviews to Mardom TV in Washington. They complain that the Americans struck a deal with the MEK leaders which granted them privileges in Albania if they agreed to leave Iraq, including promising the MEK they would not allow families to contact the members. But the families refuse to give up and remind us that this is a human rights issue and the MEK's American backers will have to give way on this issue.
In English:
++ Open letters from two formers urge Axel Fischer (Vice-President of the Parliament Assembly and the Council of Europe and Chairman of the EPP Group) to attend an MEK rally in Paris on November 26th to which he has been invited.
++ Axel Fischer does not have far to go for reasons not to get embroiled with the MEK as many media outlets in America and Europe have exposed the background of several individuals in the US political class who have taken money from the MEK in the past – some for over a decade, including when the group was listed as a terrorist entity – and who now want to disavow the group in order to get valuable and influential appointments in Donald Trump's cabinet and wider cabal. The three most prominent (among many Republicans and Democrats) are John Bolton, Newt Gingrich and Rudi Giuliani. All three have been cited in an informative and thoughtful article by Professor Michael Axworthy in The Guardian 'Why Donald Trump needs the Iran nuclear deal'.
++ Mohammad-Javad Larijani, Secretary General of Iran's High Council for Human rights, has written to Federica Mogherini, High Representative of the European Union for Foreign Affairs and Security Policy, to respectfully point out that European support for the MEK is not in line with the EU's claim to respect human rights. Highlighting the current refugee crisis which has arisen from Middle East terrorism, the letter concludes: "Adopting double standards towards human rights and instrumental view regarding it, supporting a group that for many years have killed thousands of Iranian people and their hatred is ingrained in the hearts of the people of Iran, is not at all acceptable. Therefore, I would ask your Excellency and other European authorities to take into account the extensive crimes committed by this terrorist group, and take serious measures to prevent the members and supporters of this group from freely operating in Europe and bring the leaders and criminal members of the group to justice and hold them accountable."
++ Former Ambassador Daniel Benjamin in Politico Magazine writes 'I was at State when we took the MeK off the terrorist list. But team Trump's ties to the group still worry me'. Benjamin's excellent article is informative, erudite and offers a wry in-depth look at the MEK and the Americans who support them.
"Even more unsettling was the sheer creepiness of the group. While Maryam Rajavi was presiding over enormous conferences with American political celebrities and seas of smiling, waving people in Paris, at Camp Ashraf, the MeK leadership treated its people appallingly. Visitors, including from the U.N., painted a picture of relentless intimidation, shaming and coercion of the inhabitants by camp leaders. The MeK, which is often described as a cult, had a long history of requiring that its members divorce and remain celibate. Now, it leaders were resolved that the group would remain together and none of the members would be relocated individually or in small groups—the Ashraf group was a bargaining chip that the leadership was cynically using for future leverage."
National Security: Could Maryam Rajavi (Mojahedin Khalq) blackmail her friends in high places – Rudi Giuliani, John Bolton and Newt Gingrich
Massoud and Anne Khodabandeh: Albanian citizens fearful of radicalised Mojahedin Khalq neighbours deserve more information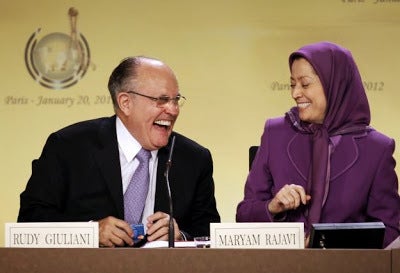 National Security: Could Maryam Rajavi (Mojahedin Khalq) blackmail her friends in high places – Rudi Giuliani, John Bolton and Newt Gingrich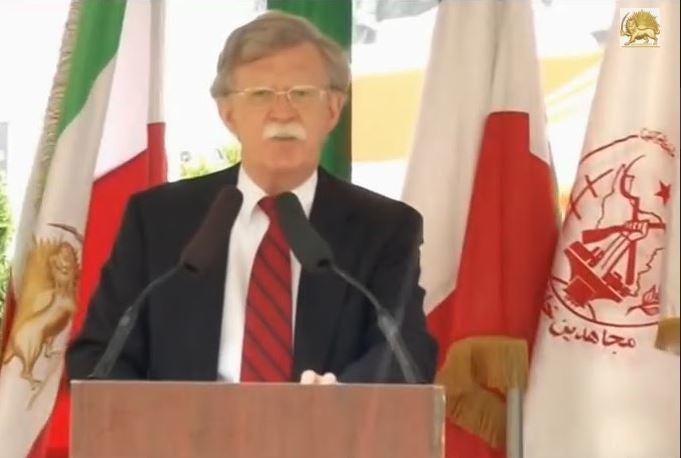 Bolton and the MEK
Mojahedin khalq (MKO, MEK, Rajavi cult) the ending stage of the radicalization process
Massoud Khodabandeh, Huffington Post: Can Albania Meet its Obligations and De-radicalize an Influx of Terrorists into Europe? 
Albania: What would a de-radicalization program for the Mojahedin Khalq (Rajavi cult) involve
Camp New Iraq (Formerly Ashraf), now  HQ of Anti ISIS forces in Dialy provance
Massoud Khodabandeh: Will President Rouhani meet genuine human rights advocates halfway?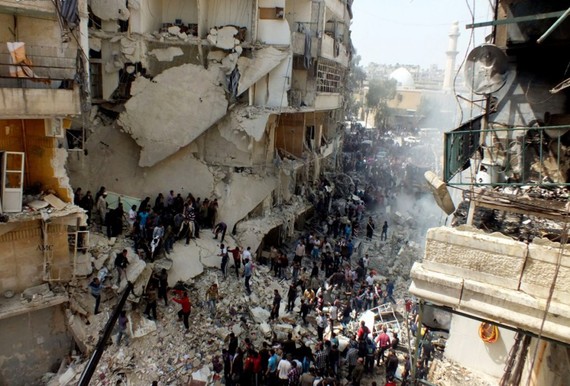 Massoud Khodabandh, Huffington post Nov. 2015:
Syrian Negotiations Won't Provide One Winner But Will Ensure Violence Is Absolute Loser
Former U.S. Officials Make Millions Advocating For Terrorist Organization (2011)
The Life of Camp Ashraf,
Mojahedin-e Khalq Victims of Many Masters

Link to the full description of Mojahedin (MEK, MKO) Logo (pdf file)
(Rajavi cult or MKO aslo known as Saddam's Private Army)
Sydney hostage-taker was affiliated with Mojahedin Khalq (MKO, MEK, Rajavi cult)
Open letter of Ali Akbar Rastgoo to the Australian Ambassador in Germany: Keep Mojahedin Khalq on terrorist List
Massoud Khodabandeh: The Iranian Mojahedin-e Khalq (MEK) and Its Media Strategy:
Methods of Information Manufacture
Document on Mojahedin Khalq released by RAND (The Mujahedin-e Khalq in Iraq, A Policy Conundrum)
Wondering at those Americans who stand under the flag of
Mojahedin Khalq (MKO, MEK, NCRI, Rajavi cult) only to
LOBBY for the murderers of their servicemen
Also read:
I was at State when we took the MeK (Mojahedin Khalq, Saddam's Private Army) off the terrorist list. But team Trump's ties to the group still worry me.
Ambassador Daniel Benjamin, Politico Magazine, November 24 2016:… Press accounts of MeK support by Giuliani and these others often treat their ties as a curiosity or, at most, some kind of peccadillo, because the group was taken off the State Department list in 2012. I was the coordinator for counterterrorism at that time, and my office was responsible for leading the effort to decide whether … 
Mojahedin Khalq (MKO, MEK, Rajavi cult) hanging on the Trump administration?
Mazda Parsi, Nejat Society, November 22 2016:… In March 2012, Giuliani traveled to Paris to speak at an MEK conference alongside the group's secretive leader Maryam Rajavi. While there, he called the U.S. military base in Iraq where the United States wanted to relocate the MEK a "concentration camp." Those comments later appeared in an MEK ad in the New York Times, according to josh Rogin … 
How Rudolph Giuliani, Possible Cabinet Pick, Made Millions as Ex-Mayor
Eric Lipton and Russ Buettnernov, New York Times, November 18 2016:… The speeches that have drawn the greatest scrutiny are those he gave from 2012 through last year at events organized by the Mujahedeen Khalq. Mr. Giuliani was paid for "three or four" speeches he delivered to the group, said Robert G. Torricelli, a former senator from New Jersey who served as a lawyer for the M.E.K., as the … 
John Bolton, Top Contender For Secretary Of State, Calls For Regime Change In Iran
Jessica Schulberg, Huffington Post, November 18 2016:… Bolton has attended rallies in support of Mujahedeen-e-Khalq (MEK), an exiled Iranian dissident group that the U.S. classified as a terrorist organization until 2012. The obvious disconnect between the worldviews of Trump and Bolton makes it hard to grasp why the president-elect is considering Bolton to be his top diplomat. But lacking any foreign policy … 
Why Rudy Giuliani Shouldn't Be Secretary of State
New York Times, Editorial Board, November 17 2016:… Mr. Giuliani for instance, he was paid to deliver speeches in 2011 and 2012 defending a cultlike Iranian exile group that was on the State Department's list of terrorist organizations. In the long list of ridiculous things Mr. Giuliani has said, his remarks about President Obama in February 2015, when the presidential campaign was gearing up, were particularly disgraceful ..
Rudi Giuliani took money from Qatar, Venezuela, Iranian exiles (Mojahedin Khalq, Rajavi cult)
Isaac Arnsdorf, Politico, November 17 2016:… In 2011, an exiled Iranian political party called the Mujahedin e-Khalq, known as the MEK, paid Giuliani to give a speech in Washington calling on the State Department to remove the group from its list of terrorist organizations. The MEK recruited a host of other formal officials to its cause and succeeded in reversing the terrorist designation in 2012. A subsidiary … 
Former Terrorist Group To Enjoy Close Ties to Rumored Trump Cabinet (Mojahedin Khalq, MKO, MEK, Rajavi cult)
Eli Clifton, Lobelog, November 16 2016:… The MEK is known for paying generous sums to former officials who speak at their events. Lee Hamilton, a former chairman of the House Foreign Relations Committee who headed the Woodrow Wilson Center for 12 years, told InterPress Service that he was paid "a substantial amount" to appear on an MEK panel in 2011. Giuliani, Bolton, Lopez, and Gingrich have all sung … 
Giuliani was paid advocate for shady Iranian dissident group (Mojahedin Khalq, MEK, MKO, Rajavi cult)
Josh Rogin, Washington Post, November 15 2016:… For years, Giuliani has been one of the most prominent American officials to advocate on behalf of the Mujahideen-e Khalq (MEK), a Marxist Iranian opposition group that claims to be the legitimate government of Iran and resembles a cult. A Treasury Department investigation in 2012 examined whether speaking fees paid by several MEK front groups to a long list … 
  Will Trump Embrace the Mojahedin Khalq (MKO, MEK, NCRI, Rajavi cult)
Michael Rubin, Community Magazine, November 15 2016:… If the goal of the Trump administration is to contain, weaken, and roll back the influence of the Islamic Republic, then outreach to the MKO is the worst possible move because it would rally Iranians around the flag and strengthen the current regime. The simple fact is this: if there is any consensus within Iran, it is that the MKO is the only thing worse than … 
EU-Iran Relations in the Trump Era (Rudi Giuliani, Newt Gingrich and John Bolton)
Eldar Mamedov, Lobelog, November 13 2016:…  New Gingrich, John Bolton, and Rudy Giuliani, are slated for top jobs in the Trump administration, including the crucial secretary-of-state job. All three have deep tieswith the Iranian dissident cult MEK, on the US terror list until 2012, bitterly opposed to the current Iranian government and advocating regime change in Iran. Although the Saudis … 
Trump's Worse Than Bush and Obama (Mojahdein Khalq terrorists, Maryam Rajavi, Saudi Family, Rudi Giuliani, Newt Gingrich and John Bolton)
Land Destroyer, November 13 2016:… Lobbying for MEK terrorists alongside Bolton was former New York mayor Rudy Giuliani and Newt Gingrich. They and other fixtures of American Neo-Conservatism backed MEK along with the Royal Saudi Family, according to the US State Department's own Voice of America (VOA) media platform. VOA's article, "Saudi Backing of Iranian Exile Group Inflames …
National Security: Could Maryam Rajavi (Mojahedin Khalq) blackmail her friends in high places – Rudi Giuliani, John Bolton and Newt Gingrich
Massoud Khodabandeh, Huffington Post, November 12 2016:… In particular, Rudi Giuliani, John Bolton and Newt Gingrich. Putting aside their weak personalities as well as their individual neoconservative agendas, the common thread which links these names together is their decade long support for the Mojahedin Khalq terrorist organisation (also known as Saddam's Private Army or Rajavi cult). It is certain that … 
Possible Trump Cabinet Members' Links to the Mojahedin Khalq (MEK, Rajavi Cult) Could Spell Trouble for Iran
Arash Azizi, Global voice, Nobember 12 2016:… John Bolton called for a military attack on Iran and "vigorous American support" for MEK "aimed at regime change in Tehran". Last summer, Gingrich spoke at MEK's rally in Paris alongside Turki bin Faisal, the former head of Saudi intelligence. Gingrich went as far as to solemnly bow down to MEK's leader, Maryam Rajavi, calling her by her favored title … 
Former Terrorist Group To Enjoy Close Ties to Rumored Trump Cabinet (Mojahedin Khalq, MKO, MEK, Rajavi cult)
Eli Clifton, Lobelog, November 16 2016:… The MEK is known for paying generous sums to former officials who speak at their events. Lee Hamilton, a former chairman of the House Foreign Relations Committee who headed the Woodrow Wilson Center for 12 years, told InterPress Service that he was paid "a substantial amount" to appear on an MEK panel in 2011. Giuliani, Bolton, Lopez, and Gingrich have all sung …