Iran Interlink Weekly Digest – May 05, 2017
Iran Interlink, May 05 2017:… MEK formers Davoud Baghervand Arshad and Ghorban Ali Hossein Nejad attended the EU parliament. They talked about the MEK and exposed some of their activities in these fields. Interestingly, reports say that when they came out of the meeting they were confronted in the parliament corridor by Hamid Reza Taherzadeh … 
The Enemy of My Enemy is NOT Always My Friend…
Iran Interlink Weekly Digest – May 05, 2017
++ On Weds 27 and Thurs 28 April, MEK formers Davoud Baghervand Arshad and Ghorban Ali Hossein Nejad attended meetings about money laundry and terrorism in the EU parliament. They talked about the MEK and exposed some of their activities in these fields. Interestingly, reports say that when they came out of the meeting they were confronted in the parliament corridor by Hamid Reza Taherzadeh who is a member of the NCRI from Britain. In Farsi he threatened to kill them but did not take any action. When the formers approached security, he left the building.
++ Alameh Hosseini Lobnoni from Lebanon, a long-term lobbyist for the MEK and their go-between for the Saudis and Saddamists, has issued an announcement declaring that he will have nothing to do with the MEK anymore and will never support them again. He says they stole the money owed to him for his lobbying activities. Commentators explain that now the MEK is no longer in Iraq they don't need his services any more so they don't care, but it is embarrassing for the Saudi king. It was the Saudis who supplied the money but it was the MEK who didn't pay it on.
++ Good news from Tirana is that for the first time Mohammad Javad Nowroozi has contacted his family and written them letters confirming that he has left the MEK. The family had been very active for many years trying to establish contact with Nowroozi. They travelled several times to Iraq and suffered a great deal so this is really very good news for them and gives hope to other families.
++ Sahar Family Foundation, which has moved from Baghdad to Tirana, has published news passed on by active MEK members about meetings held by Maryam Rajavi this week with the members. She has said she knows that sexual relations are going on – both hetero and homo-sexual relations – 'but remember, any sin can be forgiven if it is the ideological leader who forgives. The only sin he will not forgive is to leave, everything else will be forgiven'. At the same time, she directly threatened 'we will kill anyone who runs away from the MEK'. She announced 'it is a delusion to think that now we are not in Iraq we have no power. In fact, we are stronger in Albania because the country is run by the Pentagon and we have the full backing of the Pentagon. Also at the same time this week the MEK dispatched a couple of their thugs to threaten former members in Tirana. They were told, 'if you put a foot wrong we will not pay you and will throw you into the street and if it comes to it we will kill you'. The former members are living in a separate place from the main body of the MEK, but their UNHCR money goes – illegally – directly to the MEK. Maryam Rajavi clearly stated that 'as many of you as we have to kill, we will not allow a new TIPF (Temporary Internment and Protection Facility) to be established in Albania. Your only way is under our protection and that of the Pentagon, or to die.
In English:
++ Saeed Kamali Dehghan in The Guardian, dismissed efforts by Reza Pahlavi and the MEK to influence politics in Iran. Pahlavi described the MEK as having "pretty much a cult-type structure". Dehghan concludes "Nevertheless, the Iranian people by and large still believe in gradual change, however slow the pace of reform might be. Huge turnouts for elections represent a rejection of the sort of things that Pahlavi and Rajavi have to offer.
"In their constant mission to demonise Iran, the US, Israel and Saudi Arabia have heavily relied on groups such as MEK. The fact of the matter is that they remain out of touch with the realities on the ground. Both groups have used human rights as a casus belli, and have simplified the complexities of politics on the ground to suit the foreign audience. So long as reform-minded Iranians are working hard to generate change from within, the intemperate voices of Pahlavi and Rajavi, and their attempts to build political capital in the west, should be dismissed."
++ Dr Mark Mason, an American political commentator, told Tasnim news in an interview that the anti-Iran MEK is in league with the CIA and has been an agent for Washington since the late 1970s. "The MEK has been an agent of the US Central Intelligence Agency (CIA), and represents the single most expensive US covert foreign operation since the inception of the CIA at the close of World War II. From 1979 to 1989, the US, UK, and Saudi Arabia provided at least $3 billion dollars in funding to the MEK for the purpose of destabilizing Afghanistan subsequent to the Russian invasion. It is from this history that observers today should consider claims made by the MEK as lacking in credibility,"
++ Seyed Hojjat Seyed-Ismaeili writing in Iran Didban website, examines the contradictions in the MEK's May Day propaganda. He contrasts the MEK dictate that all members should constantly be busy working and have minimum sleep so that they would not think about their situation, with their pretended support for Iranian workers. He then exposes the MEK's lack of support inasmuch as the MEK lists various workers' activities (taken from Iranian newspapers) and claims they instigated such protests. "Even if we assume the most optimistic scenario according to the MeK's official website (below) that protests have erupted in Iran by workers under the influence of MeK's propaganda in less than 6 days, then we should expect hundreds of Iranian workers protesting across the Iranian streets in support of the MeK."
++ An Open letter to Valerie Crova, head journalist of 'Culture Radio' France written by Zahra Moeini was published by Iran Zanan website. Moeini criticises the journalist for conducting an interveiew with Maryam Rajavi but failing to ask vital questions about the internal human rights abuses by Rajavi against the members of her cult.
++ Another open letter, this time from Edward Termado to Archbishop of Tirana-Durrës, George Anthony Frendo. Termado, an Iranian-Armenian Christian, warns the Archbishop of the deceptions of the MEK and asks him to heed the open information about the MEK in future.
++ Mehrdad Khonsari, a former Iranian diplomat lauded for his impartiality and powers of advocacy, addresses Senator John McCain via Facebook. Khonsari starts by saying "I have intentionally waited several weeks before writing this letter in order to eradicate any notion that my objection to you giving validation to cult figures such as Mrs. Maryam Rajavi and hailing her and her followers as promoters of democratic ideals and values, is merely a knee jerk reaction to a behavior I have found reprehensible."
Khonsari concludes "Given the respect I have had for you over the years, I write not to condemn you but to ask you to consider your future actions more thoroughly. I am of no doubt that you did not receive sound advice in accepting the invitation advanced to you by Mrs. Rajavi, just as I am sure you would never accept an invitation by the KKK or ever contemplate labeling followers of the late 'Reverend Jim Jones' and fascists as proponents of democracy.
"I will end by urging you to give due consideration to the points I have raised. I seek nothing from you, as our own people irrespective of what anyone says will decide the future of Iran. But to help bring Iran into the community of peaceful nations and restore sanity and prudence in its behavior, your prescription can only aggravate matters and offer an alternative which is by far worse than the worse we have seen from Iran's present rulers in the last 38 years……."
*** 
Anne Singleton: Key to de-radicalization of MEK hostages in Albania are their families
IMPAKT 55 – Muxhahedinet iraniane ne Shqiperi. Interviste eksluzive me Anne Singleton
https://youtu.be/8v-Q7UWfN3M
Rajavi resorts to bargain basement speakers in Albania (Ingrid Betancourt, Linda Chavez, Wesley Martin …)
Albania: John Kerry brought terrorists (Mojahedin Khalq, MEK, Rajavi cult), John Brennan warns of their risk
Albanian citizens fearful of radicalised Mojahedin Khalq neighbours deserve more information
Massoud Khodabandeh, Huffington Post: Can Albania Meet its Obligations and De-radicalize an Influx of Terrorists into Europe? 
How much does it cost to keep Iran's enemies in Albania?
Iranian Mojahedin (aka MEK, Rajavi cult) member punished for stealing food cans in a Babrru market
Three members of the Mojahedin Khalq (MKO, MEK, Rajavi cult) Central Council defect the group in Albania
Also read:
http://iran-interlink.org/wordpress/?p=8284
Should we be afraid of Senator McCain meeting with the Mojahedin Khalq (Rajavi cult, MEK, MKO, …) in Albania? 
Gazeta Impakt, Tirana Albania, April 16 2017:… information blackout on his meeting with the Mojahedin, throws a  great deal of doubt on the US Senator's visit to Albania. Another question is why Maryam Rajavi remains in our country at the same time that Congress met in Tirana.  Why are the Mojahahedin's activities met with a huge media silence? Has Maryam Rajavi made investments to earn status in our country or has the Albanian government given in to the Americans ,,, 
McCain Is the MEK's Newest Fan (aka Mojahedin Khalq, Rajavi cult)
grooming Mojahedin Khalq (MEK, Rajavi cult) in Tirana part of bigger agenda for Albania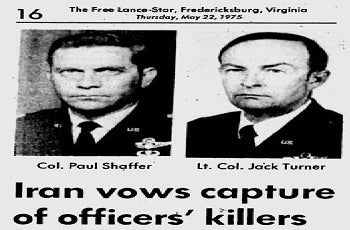 The MEK's dirty past includes the anti-Imperialist inspired murder of six Americans in pre-revolution Iran which it later celebrated in songs and publications
Albania
Did John McCain visit Albania to mobilize Iranian MEK terrorists?
Link to the original (Albanian)
Translated by Iran Interlink
The belligerent US Senator John McCain's visits in Kosovo and Albania are portrayed with positive colour by Albanian and Kosovan media. McCain despite his record as a warmonger and aggressor is treated as a person who will bring peace and democracy to the world. Since Albanian and Kosovan civil society is dead, McCain has not met with protests and demonstrations as he would have expected in Europe and throughout the West. And the media, which is controlled by owners who deal in drugs or are connected to power, have only spoken with positive tones about the visit.
However, during his visit to Tirana Senator McCain lost no time in having a special meeting with the 3500 Iranian jihadists which the Rama government housed in Albania. At a time when the law enforcement authorities of Albania and Kosovo, in order to ensure security for McCain's visit, frightened the public with hysterical news that there would be terrorist attacks, and Kosovo arrested a Wahhabi psychopath for a song that he had made, all the media and police panic surrounding the visit was apparently something of a cover to hide the true reason for McCain's visit to Albania.
He met with Iranian jihadists and their leader Maryam Rajavi. In the conditions that are running our world today in which the Americans are in open conflict with China, Korea, Russia, Syria, Turkey and Iran and the Third World War is expected to start at any moment, McCain's visit to the Iranian jihadist camp was apparently intended to instruct the Iranian jihadis for their next fight.
Maryam Rajavi, while she Tweeted photos of the meeting between her jihadists with McCain, openly declares that her group is mobilized for war. But where will the cast of the Rajavi group be fighting? In Russia, Syria, Korea, China or Iran?
According to the Albanian civil code, Maryam Rajavi, should be arrested and punished for these statements in the same way that the Albanian Imams Genci Balla and Bujar Hysa were arrested and sentenced before. But in Albania Albanian jihadists are imprisoned, while Iranian jihadis are privileged to do jihad at the behest of John McCain.
Here are some photos from the event:
——
Albania
Should we be afraid of Senator McCain meeting with the Mojahedin Khalq (Rajavi cult, MEK, MKO, …) in Albania?
Link to the original (Albanian)
Translated by Iran Interlink
Yesterday, US Senator John McCain visited our country. The agenda for his meeting was not at all clear.
The media and the US Embassy in our country, claimed the senator's visit was part of an official visit to Albania. This was revealed as a lie by the leader of the Mohahedin, Maryam Rajavi, who still remains in our country, when she posted a picture on Twitter which shows the meeting she had with US Senator McCain yesterday.
This refutes the claim of an official agenda published in different media and raises big questions about what Maryam Rajavi spoke about with the US Senator in ​​our country.
McCain is a person who has driven tens of wars around the world, and meets with Rajavi precisely on the threshold of another world war where tensions between the US, Korea, Russia and allied countries are significantly increased.
This, and the information blackout on his meeting with the Mojahedin, throws a  great deal of doubt on the US Senator's visit to Albania.
Another question is why Maryam Rajavi remains in our country at the same time that Congress met in Tirana.  Why are the Mojahahedin's activities met with a huge media silence?
Has Maryam Rajavi made investments to earn status in our country or has the Albanian government given in to the Americans and the Mojahedin?
— 
Shqiperia
A erdhi John McCaini ne Shqiperi qe te mobilizoje terroristet iraniane?
http://gazetaimpakt.com/erdhi-john-mccaini-ne-shqiperi-qe-te-mobilizoje-terroristet-iraniane/
Vizita e senatorit luftenxites amerikan John McCain ne Kosove dhe ne Shqiperi eshte portretizuar me ngjyra pozitive nga mediat e Shqiperise dhe Kosoves. McCaini perndryshe rekordit te tij luftedashes dhe agresor eshte trajtuar si nje person i cili do paqen dhe demokracine ne bote. Meqe ne Shqiperi dhe Kosove shoqeria civile eshte e vdekur, mediat kontrollohen nga pronare qe merren me droge apo jane te lidhur me pushtetin, McCaini nuk eshte pritur me protesta dhe demostrata sikur ai pritet ne Evrope dhe te gjithe Perendimin dhe mediat kane folur vetem me nota pozitive rreth tij.
Megjithate, gjate vizites se tij ne Tirane senatori McCain nuk paska humbur kohe qe te kete nje takim special me 3500 xhihadistet iraniane qe qeveria Rama strehon si diversante ne Shqiperi. Ne nje kohe qe organet e rendit te Shqiperise dhe Kosoves, per te siguruar viziten e McCainit frikesuan publikun me lajme histerike sikur do te kishte sulme terroriste dhe ne Kosove arrestuan nje psikopat vehabist per nje kenge qe ai kishte bere, i gjithe paniku mediatik dhe policor i vizites mesa duket paska qene nje mbulese per te fshehur arsyen e vertete te vizites se McCainit ne Shqiperi.
Ai eshte takuar me xhihadistet iraniane dhe emiren e tyre Marjam Rajavi. Ne momentet qe po kalon bota jone sot ku amerikanet jane ne konflikt te hapur me Kinen, Korene, Rusine, Sirine, Turqine dhe Iranin dhe Lufta e Trete Boterore pritet te filloje nga momenti ne moment, vizita e McCainit ne kampin e xhihadisteve iraniane mesa duket eshte bere per ti instruktuar xhihadistet iraniane per luften e tyre te ardhshme.
Marjam Rajavi ne postimet e saj ne twitter ndersa ka vene foto nga takimi i xhihadisteve te saj me McCainin, deklaron hapur qe grupi i saj po mobilizohet per lufte. Por ku do te hidhet grupi i Rajavit te luftoje? Ne Rusi, Siri, Kore, Kine apo Iran?
Sipas kodit civil shqiptar, Marjam Rajavi do te duhej te arrestohej dhe denohej per keto deklarata ashtu sikur edhe imamet shqiptare Genci Balla dhe Bujar Hysa u arrestuan dhe denuan me pare. Por ne Shqiperi xhihadistet shqiptare burgosen, ndersa xhihadistet iraniane jane te privilegjuar meqe bejne xhihadin e John McCainit.
—
Shqiperia
A duhet të kemi frikë nga takimi i senatorit McCain me muxhahedinët ne Shqipëri?
http://gazetaimpakt.com/duhet-te-kemi-frike-nga-takimi-i-senatorit-mccain-muxhahedinet/?utm_source=dlvr.it&utm_medium=facebook
Ditën e djeshme senatori amerikan John McCain vizitoi vendin tonë me një axhendë jo fort të qartë takimesh.
Mediat në vend si dhe Ambasada Amerikane në vendin tonë, gënyen mbi axhendën "zyrtare" të senatorit në vendin tonë, pasi kjo gënjeshtër  u zbulua nga udhëheqësja e Muxhahedinëve, e cila qenka akoma në vendin tonë, Maryam Rajavi ku në një foto të postuar në twitter Rajavi tregon mbi takimin që ka patur dje me senatorin amerikan McCain.
Kjo gjë hedh poshtë axhendën zyrtare të publikuar në media të ndryshme dhe ngre pikëpyetje të mëdha mbi atë që foli senatori amerikan me Marjam Rajavi në vendin tonë.
McCain është një person i cili ka nxitur dhjetra luftëra nëpër botë, dhe takohet pikërisht me Rajavinë në pragun e një lufte tjetër botërore ku tensionet mes SHBA-së, Koresë, Rusisë dhe vendeve aleate janë shtuar ndjeshëm.
Vizita e senatorit amerikan hedh mjaft dyshim mbi vizitën e tij në Shqipëri, dhe mbi terrin informativ mbi takimin e tij me muxhahedinët,
Tjetër pikëpyetje është se pse Maryam Rajavi vazhdon të qëndrojë në vendin tonë që kur u mbajt kongresi i muxhahedinëve në Tiranë që përsëri u kalua me një heshtje të madhe mediatike?
A ka investuar Maryam Rajavi për të fituar statusin e azilantes në vendin tonë apo shteti shqiptar është dorëzuar para amerikanëve dhe muxhahedinëve?
*** 
Behind Struan Stevenson's book "Self Sacrifice
***
Also read:
Nuclear Deal Opponents Urge Military Confrontation with Iran
National Iranian American Council (NIAC), December 09 2016:… Lieberman is chairman of UANI and formerly an advisory board member of an AIPAC organization explicitly established to kill the nuclear deal. In addition to the UANI panel, he appeared at a Capitol Hill event this week organized by the Mujahedin-e Khalq (MEK), a shadowy group formerly designated as a terrorist organization …
rom Mitt Romney to Rudy Giuliani: Who are Donald Trump's top five picks for secretary of state?
Orlando Crowcroft, International Business Times, December 08 2016:… suggested that the former New York mayor's active public campaigning for the role may have put Trump off. Giuliani has faced searching questions about his international business ties, including revelations that he has earned more than $11m (£8.6m) from lucrative speaking contracts… he has also given speeches to the Iranian MEK, which …
Mazda Parsi, Nejat Society, December 08 2016:…  "According to a financial disclosure reported on by The New York Times, Giuliani has been speechifying at hyper speed for years, collecting $11.4 million for 124 appearances in just one year—and that was before signing up for the MeK gravy train around 2011. Perhaps he just didn't have time to consider the character of his paymaster," adds Daniel Benjamin …
Press TV, December 06 2016:… The terrorist group of "Mojahedin-e-Khalq Organization," also called "MEK" or "MKO," which is featured among some countries' lists of terrorist groups is being protected in a small town only 30 kilometers from Paris, in Auvers-sur-Oise; this has resulted in neglect of public interest and freedom of speech. During the years, the organization has been responsible …
Phioip Giraldi, The Unz Review, November 30 2016:…  Israel's Mossad planned and prepared the killing of the scientists with a little help from the U.S., attacks which were almost certainly carried out by associates of the radical Marxist group Mujaheddin e Khalq (MEK), which is now being seen favorably by several Trump advisors even though the group is Marxist, cult-like and has killed Americans …
Jacob Sullum, Newsweek, November 29 2016:… "My ties to them are very open," Giuliani, a former U.S. attorney, recently toldThe New York Times. "We worked very hard to get them delisted." But under the broad understanding of the federal ban on "material assistance" to terrorist groups that the Supreme Court upheld in 2010, that work was pretty clearly a crime punishable by up to 15 years in prison …
Press TV, November 28 2016:… Describing MKO as "bizarre and brutal" with "plenty of American blood on its hands, as well as that of thousands of Iranians killed while the group was a strike force serving [former Iraqi dictator] Saddam Hussein" during his war on Iran in the 1980s, US-based magazine Politicorevealed in a Saturday report that former New York City's Mayor Rudy Giuliani and former
Daniel Larison, The American Conservatives, November 27 2016:… One of the more troubling things about American MEK supporters is their willingness to whitewash the group's past as well as its present-day behavior. They aren't content to work with an avowedly bad group against a common enemy, but feel compelled to pretend that the group is upstanding and noble. At an appearance in Paris last year, Giuliani …
I was at State when we took the MeK (Mojahedin Khalq, Saddam's Private Army) off the terrorist list. But team Trump's ties to the group still worry me.
Ambassador Daniel Benjamin, Politico Magazine, November 24 2016:… Press accounts of MeK support by Giuliani and these others often treat their ties as a curiosity or, at most, some kind of peccadillo, because the group was taken off the State Department list in 2012. I was the coordinator for counterterrorism at that time, and my office was responsible for leading the effort to decide whether …
Mazda Parsi, Nejat Society, November 22 2016:… In March 2012, Giuliani traveled to Paris to speak at an MEK conference alongside the group's secretive leader Maryam Rajavi. While there, he called the U.S. military base in Iraq where the United States wanted to relocate the MEK a "concentration camp." Those comments later appeared in an MEK ad in the New York Times, according to josh Rogin …
Eric Lipton and Russ Buettnernov, New York Times, November 18 2016:… The speeches that have drawn the greatest scrutiny are those he gave from 2012 through last year at events organized by the Mujahedeen Khalq. Mr. Giuliani was paid for "three or four" speeches he delivered to the group, said Robert G. Torricelli, a former senator from New Jersey who served as a lawyer for the M.E.K., as the …
Jessica Schulberg, Huffington Post, November 18 2016:… Bolton has attended rallies in support of Mujahedeen-e-Khalq (MEK), an exiled Iranian dissident group that the U.S. classified as a terrorist organization until 2012. The obvious disconnect between the worldviews of Trump and Bolton makes it hard to grasp why the president-elect is considering Bolton to be his top diplomat. But lacking any foreign policy …
New York Times, Editorial Board, November 17 2016:… Mr. Giuliani for instance, he was paid to deliver speeches in 2011 and 2012 defending a cultlike Iranian exile group that was on the State Department's list of terrorist organizations. In the long list of ridiculous things Mr. Giuliani has said, his remarks about President Obama in February 2015, when the presidential campaign was gearing up, were particularly disgraceful ..
Isaac Arnsdorf, Politico, November 17 2016:… In 2011, an exiled Iranian political party called the Mujahedin e-Khalq, known as the MEK, paid Giuliani to give a speech in Washington calling on the State Department to remove the group from its list of terrorist organizations. The MEK recruited a host of other formal officials to its cause and succeeded in reversing the terrorist designation in 2012. A subsidiary …
Eli Clifton, Lobelog, November 16 2016:… The MEK is known for paying generous sums to former officials who speak at their events. Lee Hamilton, a former chairman of the House Foreign Relations Committee who headed the Woodrow Wilson Center for 12 years, told InterPress Service that he was paid "a substantial amount" to appear on an MEK panel in 2011. Giuliani, Bolton, Lopez, and Gingrich have all sung …
Josh Rogin, Washington Post, November 15 2016:… For years, Giuliani has been one of the most prominent American officials to advocate on behalf of the Mujahideen-e Khalq (MEK), a Marxist Iranian opposition group that claims to be the legitimate government of Iran and resembles a cult. A Treasury Department investigation in 2012 examined whether speaking fees paid by several MEK front groups to a long list …
  Will Trump Embrace the Mojahedin Khalq (MKO, MEK, NCRI, Rajavi cult)
Michael Rubin, Community Magazine, November 15 2016:… If the goal of the Trump administration is to contain, weaken, and roll back the influence of the Islamic Republic, then outreach to the MKO is the worst possible move because it would rally Iranians around the flag and strengthen the current regime. The simple fact is this: if there is any consensus within Iran, it is that the MKO is the only thing worse than …
EU-Iran Relations in the Trump Era (Rudi Giuliani, Newt Gingrich and John Bolton)
Eldar Mamedov, Lobelog, November 13 2016:…  New Gingrich, John Bolton, and Rudy Giuliani, are slated for top jobs in the Trump administration, including the crucial secretary-of-state job. All three have deep tieswith the Iranian dissident cult MEK, on the US terror list until 2012, bitterly opposed to the current Iranian government and advocating regime change in Iran. Although the Saudis …
Trump's Worse Than Bush and Obama (Mojahdein Khalq terrorists, Maryam Rajavi, Saudi Family, Rudi Giuliani, Newt Gingrich and John Bolton)
Land Destroyer, November 13 2016:… Lobbying for MEK terrorists alongside Bolton was former New York mayor Rudy Giuliani and Newt Gingrich. They and other fixtures of American Neo-Conservatism backed MEK along with the Royal Saudi Family, according to the US State Department's own Voice of America (VOA) media platform. VOA's article, "Saudi Backing of Iranian Exile Group Inflames …
National Security: Could Maryam Rajavi (Mojahedin Khalq) blackmail her friends in high places – Rudi Giuliani, John Bolton and Newt Gingrich
Massoud Khodabandeh, Huffington Post, November 12 2016:… In particular, Rudi Giuliani, John Bolton and Newt Gingrich. Putting aside their weak personalities as well as their individual neoconservative agendas, the common thread which links these names together is their decade long support for the Mojahedin Khalq terrorist organisation (also known as Saddam's Private Army or Rajavi cult). It is certain that …
Possible Trump Cabinet Members' Links to the Mojahedin Khalq (MEK, Rajavi Cult) Could Spell Trouble for Iran
Arash Azizi, Global voice, Nobember 12 2016:… John Bolton called for a military attack on Iran and "vigorous American support" for MEK "aimed at regime change in Tehran". Last summer, Gingrich spoke at MEK's rally in Paris alongside Turki bin Faisal, the former head of Saudi intelligence. Gingrich went as far as to solemnly bow down to MEK's leader, Maryam Rajavi, calling her by her favored title …
Former Terrorist Group To Enjoy Close Ties to Rumored Trump Cabinet (Mojahedin Khalq, MKO, MEK, Rajavi cult)
Eli Clifton, Lobelog, November 16 2016:… The MEK is known for paying generous sums to former officials who speak at their events. Lee Hamilton, a former chairman of the House Foreign Relations Committee who headed the Woodrow Wilson Center for 12 years, told InterPress Service that he was paid "a substantial amount" to appear on an MEK panel in 2011. Giuliani, Bolton, Lopez, and Gingrich have all sung …