Birth Of An Insurgency: The US-Israeli "Secret Deal" To Manipulate Protests In Iran
Whitney Webb, Mint Press News, January 09 2018:… In addition, the terrorist group Mujahideen-e-Khalq, popularly known as MEK in the West, has been active in the current protests as well. Despite its record of killing innocent civilians, Western media has cited MEK spokespeople and members in its reporting on the protests as "proof" that the Iranian people are calling for regime change, while … 
Iran arrests MKO (Mojahedin Khalq, MEK, NCRI, Rajavi cult …) ringleader in Isfahan
Mojahedin Khalq (MKO, MEK, Rajavi cult) Our Men in Iran? (Seymour M. Hersh, The New Yorker, April 2012)
MKO-Linked Cell Busted in Western Iran (aka Maryam Rajavi cult, MEK, NCRI …)
Birth Of An Insurgency: The US-Israeli "Secret Deal" To Manipulate Protests In Iran
With the Trump and Netanyahu administrations now working in lockstep, U.S.-Israeli hostility towards Iran has now ripened into a plan to repeat what befell Syria over six years ago – the hijacking of minor protests and their transformation into the cover for a foreign-funded insurgency intent on toppling Iran's elected government.
Using the recent protests as cover, the governments of the United States and Israel are advancing a much larger plan for covert regime change against the Iranian government, one born out of the "secret deal" negotiated and signed between the two countries right before the widely covered but relatively small protests in Iran began in late December.
That deal, negotiated between National Security Adviser and neocon darling H.R. McMaster and his Israeli counterpart Meir Ben-Shabbat, secured the full cooperation of the Trump and Netanyahu administrations in targeting Iran's "threatening activities" through a series of "memorandums of understanding." As the Times of Israel reported, such cooperation is ultimately expected to translate into "steps on the ground" — a vague way of implying that aggressive actions will soon target Iran, including potential military action.
Yet, since the agreement was announced in the press, the evidence seems to point to the development of a more covert operation that is set to begin with the assassination of a top Iranian general.
Reviving a once-thwarted assassination plan
In this Sept. 18, 2016 file photo released by an official website of the office of the Iranian supreme leader, Revolutionary Guard Gen. Qassem Soleimani, center, attends a meeting with Supreme Leader Ayatollah Ali Khamenei and Revolutionary Guard commanders in Tehran, Iran. Iran's Revolutionary Guard is warning Islamic State militants that missile attacks launched into eastern Syria the previous day can be repeated if the extremists take action against Iran's security. (Source: Office of the Iranian Supreme Leader)
On Monday, Israeli newspaper Haaretz reported that an "American-Israeli agreement" had been forged that determined that Iranian general Qassem Soleimani, leader of the Quds Force active in fighting the Wahhabist insurgency in Syria, is a "threat to the two countries' interests in the region." This understanding subsequently resulted in the U.S. government giving Israel the "green light" to assassinate Soleimani, a plan Israel had unsuccessfully attempted to carry out three years earlier. The Obama administration had thwarted that operation, when Israel was allegedly "on the verge" of killing Soleimani near Damascus, by warning the Iranian government of the plan.
However, the U.S.' failure to enact regime change in Syria – a close ally of Iran – and the Trump administration's close relationship with Israel have apparently led the U.S. government to openly voice its support for Israel to assassinate a top general of Iran's Revolutionary Guard, a move that would likely embroil Iran and Israel – and perhaps the rest of the Middle East – in war.
Make no mistake: This. Will. Start. A. War.

-and sadly, that's exactly what both, Trump and Netanyahu are aiming at. #IranProtestshttps://t.co/63C5ukzFLB

— Amir (@AmirAminiMD) January 2, 2018
Indeed, Soleimani's force in Syria has been instrumental in aiding the Syrian government in eliminating the largely foreign-funded Wahhabist insurgency that was intended to remove Syrian president Bashar al-Assad from power, a key strategic goal of both the U.S. and Israel in the region.
Furthermore — with the disintegration of Daesh (ISIS) in Syria and, along with it, the disintegration of the U.S.-led coalition's excuse for its illegal presence in Syria — Soleimani delivered a forceful message to the U.S. forces stationed in Northwest Syria. In that message, delivered to the U.S. via the Russian military, Soleimani warned the U.S. military command in Syria that it best remove all U.S. forces currently present in Syria "or the doors of hell will open up," adding that "I advise you leave by your own will or you will be forced to."
Russia later echoed Soleimani, albeit less forcefully, by advising that U.S. forces vacate Syria, as the terrorist threat has been largely eliminated and the U.S.' continued presence in the country would be in violation of the Syrian government's sovereignty.
However, the U.S. has made it clear that it has no plans to leave Syria anytime soon. Last Friday, U.S. Secretary of Defense James Mattis insisted that the "war is not over" in Syria or Iraq, as much works remain to be done to prevent a potential resurgence of Daesh. Mattis' words came just days after reports surfaced alleging that U.S. forces in Northwestern Syria are retraining Daesh fighters from areas "liberated" by U.S. proxy forces.
The endgame of this U.S. operation is likely the exportation of insurgents from Northwestern Syria through Iraqi Kurdistan, where U.S. forces are still present, and into eastern Iran where the fomentation of an armed insurgency will be used to destabilize and hijack the protests currently taking place in Iran. Most of the recent growth in reported unrest has been concentrated in eastern Iran.
In order for such a program to achieve its goal, the U.S. must be able to continue illegally occupying northwestern Syria. With Soleimani out of the picture and the Quds Force in Syria thus weakened, that occupation would be significantly easier to prolong.
Building blocks of regime-change insurgency: sanctions, protests, "peaceful" uprising
While a U.S.-Israeli plan to create a terrorist pipeline from Syria to Iran has yet to be definitively established, regime-change plans specifically targeting Iran have included such strategies for toppling the Iranian government. For instance, the Brookings Institution — a prominent, hawkish U.S. think tank — published a manual in 2009 titled "Which Path to Persia? Options for a New American Strategy toward Iran." The manual, divided into four parts, includes an entire section devoted to enacting regime change. This section includes three chapters, the first two of which focus on "supporting a popular uprising" and "inspiring an insurgency" by "supporting Iranian minority and opposition groups."
When the protests against the neoliberal economic policies of the Rouhani-led government began just days ago, the U.S. and Israeli political establishments — and their supporters — quickly took advantage of the situation. Though the protests have been small in size, intentional misreporting from the corporate media and on social media has sought to combine these protests with regime-change aspirations while also exaggerating their size.
Both neocons and their liberal counterparts have posted publicly their support for the protests, claiming to support the Iranian people despite their past support for the sanctions that damaged Iran's economy – the very factor that allegedly inspired the protests in the first place.
In the first 24 Hours of #IranianProtests ,
72,200 tweeted w/ this hashtag " #تظاهرات_سراسرى "
that invited Iranian to protest ,
-74% of them were from out of #Iran
-35% of them were in Arabic Language
-Saudis tweets 27% were more than Iranians 25%
-UK in 3rd place at 7% pic.twitter.com/NZtMn7n9qN

— Goudarz Eghtedari (@goudarz) December 31, 2017
The Iranian people, especially the young, are protesting for the freedom and future they deserve. I hope their government responds peacefully and supports their hopes.

— Hillary Clinton (@HillaryClinton) December 31, 2017
Though the plan to support a popular uprising depended on the organic emergence of some unrest, however minimal, within Iran, the plan to inspire an insurgency requires more careful preparation. Given the establishment of a new CIA "mission center" focused on "turning up the heat" in Iran last June — which has sought to make Iran "a higher priority target for American spies" — along with the U.S. operation in Syria, the groundwork for such an insurgency has now been laid.
Of particular concern is the fact that the CIA officer in charge of the center is Michael D'Andrea, a Wahhabist who has overseen the agency's drone bombing program and was a key player in the CIA's torture program. According to Moon of Alabama, he is believed to be the mastermind behind U.S. cooperation with extreme Wahhabi groups in Libya, Iraq and Syria.
In addition, Israel has openly worked with terrorist groups active in Iran in the past, namely the Jundallah terrorist group that Israeli Mossad hired to kill nuclear experts in Iran and for other tasks in its covert war against the Islamic Republic.
Arming the uprising
As the protests in Iran have unfolded, the increase in violent incidents suggests that U.S.-Israeli support for both a popular uprising and their support for a budding insurgency have merged and are taking place simultaneously. For instance, there has been a precipitous rise in the number of "armed protesters" since the ostensibly "peaceful" protests began, including a group of armed individuals that attempted to overtake government buildings and military bases.
Others have killed police and participated in the wanton destruction of property. Others still have shot innocent bystanders, who were then threatened into saying that the police had been the shooters. Eyewitness reports have claimed that many of the more violent protesters are "non-native" (i.e., foreign).
#Iran This is how they did it in #Daraa, #Syria, attacking police. See my video on it. https://t.co/nwDWwRTGU4 https://t.co/drL9kSyEZC

— Kurt Nimmo (@kurt_nimmo) January 2, 2018
#BREAKING : Iranian shot by a Non Native – told to say 'Police shot him'
RT @Zolfegar12 "I wanted to get money from ATM , Protesters shot at me with a gun, then asked me to say that police shot me, they were non-native."#Iranprotests #IranProtesters Iranpic.twitter.com/rSgLTJbRKg

— Nardeep Pujji (@AWAKEALERT) January 2, 2018
#IranianProtest #IranProtests #IranianProtests #IranProtests2017 #Iranprotesters
Iran #AryanSpringhttps://t.co/dUOxPz3hqg

— Nardeep Pujji (@AWAKEALERT) January 2, 2018
However, the most telling evidence has been the emergence of terrorist activity in eastern Iran. As the protests were beginning, a Sunni jihadist group known as Ansar al-Furqan exploded an Iranian oil pipeline in the Khuzestan province. The group — which, according to the Terrorism Research and Analysis Consortium, has ties to al-Nusra Front in Syria — claimed that it carried out the attack in order to "inflict losses on the economy of the criminal Iranian regime."
Both the U.S. and Israel have close ties to al-Nusra Front in Syria. The U.S., for its part, funneled weapons to al-Nusra by continuing weapons shipments to Syrian opposition groups in Idlib even as they declared allegiance to al-Nusra en masse, and even took al-Nusra Front off the terror watch list after it changed its name. An al-Nusra Front commander also infamously claimed in 2016 that "the Americans are on our side." Meanwhile, Israel's long-standing commitment to aiding and funding the terrorist group, while also treating their wounded, has been an open secret for years.
In addition, the terrorist group Mujahideen-e-Khalq, popularly known as MEK in the West, has been active in the current protests as well. Despite its record of killing innocent civilians, Western media has cited MEK spokespeople and members in its reporting on the protests as "proof" that the Iranian people are calling for regime change, while ignoring the massive pro-government rallies that have coincided with the protests. Little mention has been made of the fact the MEK fighters have been trained by the U.S. military in the past and share connections with Israeli Mossad.
Conclusion: with Syria plan in tatters, U.S. and Israel roll it out again for Iran
The hostility of the U.S. and Israel towards Iran is well known. Yet, with the Trump and Netanyahu administrations now working in lockstep, that hostility has now ripened into a plan to repeat what befell Syria over six years ago – the hijacking of minor protests and their transformation into the cover for a foreign-funded insurgency intent on toppling the elected government of Iran.
Whether or not such an effort will be successful is yet to be seen. However, it's unlikely that either Israel or the United States will be willing to accept another failure like their venture in Syria, lest they be forced to give up on their regional ambitions entirely.
(END)
*** 
Also read:
http://iran-interlink.org/wordpress/?p=9191
Iran: Who are the Iranian opposition and who will rule if the regime falls? 
Callum Paton, Newsweek, January 06 2018:… Mujahedeen-e-Khalq. The Mujahedeen-e-Khalq (MEK), or People's Mujahedin Organization of Iran, has proven popular with many in the corridors of power in Washington and in European capitals. The MEK has found supporters in the GOP from backers like Rudy Giuliani and Newt Gingrich but also from Democratic figures such as former … 
Full-Time Job Of Maryam Rajavi (MEK), working as Mercenary for Iran's enemies
IRAN PROTESTS: WHO ARE THE IRANIAN OPPOSITION AND WHO WILL RULE IF THE REGIME FALLS?
CALLUM PATON ON 1/5/18 AT 11:09 AM
One week of anti-government protests across Iran has posed the greatest existential threat to the Islamic Republic's theocratic regime in almost a decade.
The spontaneous protests, often occurring in smaller provincial cities, have taken not only the Iranian government by surprise, they have also shocked traditional opposition groups and analysts.
As the demonstrations appear to falter in the face of pro-regime counterprotests and a crackdown by Iran's brutal security forces, the country's interior minister has admitted, in a conservative estimation, that 42,000 people took part in the rallies.
The protests began in the city of Mashhad, and by the end of the week anti-regime slogans rang out in the streets of the working class neighborhoods of Tehran. At least 21 have been killed, demonstrators have attacked police stations and the buildings of the judiciary, and 450 have been arrested. Videoed cell-phone footage of government buildings set ablaze have been shared on social media.
The speed with which the demonstrations—seemingly without any leadership or traditional hierarchy—were able to shake the Iranian establishment to its foundations while bringing together diverse grievances has left the world asking what, exactly, the Iranian opposition is, and who could potentially run the country of 80 million people if the mullahs were to fall.
The Protesters
Unlike any previous demonstrations in Iran, this most recent wave appears to have been sparked by the convergence of two unlikely groups: disaffected millennials and the working poor.
Sanam Vakil, a lecturer in the Middle East Studies department of the Johns Hopkins School of Advanced International Studies, told Newsweek that protests by the working classes and labor groups had been taking place sporadically in Iran in recent years.
"We have been seeing their protests for years now. They have been growing and waxing and waning depending on the issues but protesting against unpaid wages, for example, and labor conditions or the lack of labor rights. That's been a consistent trend with strikes, but nothing that anyone thought was particular," she explains.
But increased economic hardship and simmering public anger in neglected areas such as Kermanshah, in northwestern Iran, where 600 died in poorly built public housing in November 2017 in an earthquake, have brought their weight to bare in recent days. The second day of protests exploded in the mountain region on the country's frontier with Iraq.
This second group of protesters, most of them under 25, had also been discounted in recent years. "This particular group of millennials are not as urban focused. They are from small towns and the peripheries of big cities. I think this group has had access to fairly good education but feels hopeless about their prospects for the future," Vakil said.
"This group is very savvy with technology, active on social media and has limited employment prospects for the future," she added.
The Monarchy
Over the last seven days the protests have united Iranians discontent with wages, unemployment, a lack of labor laws, police brutality and corruption. But among the most surprising slogans heard in the streets of Iran were those calling for the reinstatement of the Pahlavi monarchy, ousted in 1979.
Crown Prince of Iran Reza Pahlavi, who fled Iran with his father Mohammad Reza Pahlavi, the former shah, has seized upon what appears to be at least some support for his return.
Speaking to BBC Radio 4, the prince suggested a form of constitutional monarchy would offer stability in Iran following the collapse of the Islamic Republic.
"Who then do you think people are chanting for today? I think they realize I am a person they can trust, a person they can recognize that has a particular political capital associate with this name. They attribute it to the modernity and progress that Iran had," he said.
The crown prince has said he is not a monarchist and instead a democrat, but he ruled out returning to Iran until his safety can be assured. While he may have seen some smattering of support in recent days, this is most likely because of support among younger protesters who have no memory of  pre-revolution Iran.
The Tehran-based intelligentsia that would have to back any meaningful revolution against the current regime would be unlikely to support his cause.
The Green Movement
The 2009 protests over elections that returned to power hard-liner President Mahmoud Ahmadinejad presented a far greater threat to the regime in Tehran than the last week's protests have thus far.
The protests that disputed Ahmadinejad's victory and backed opposition candidates Mir-Hossein Mousavi and Mehdi Karroubi became known as the Green Revolution. As the demonstrations were principally driven by anger over vote rigging, the movement inherited a hierarchy that included Mousavi and Karroubi, journalists and intellectuals around which others could coalesce.
"You had a big circle of activists, a women's movement, a labor movement—to name the most prominent—but also smaller scale activisms around the country, on environmental issues growing out of the larger student body that didn't have permanent activists but to a certain degree but were very active in the civil society sphere," Vakil explained.
The middle-class, urban-based Green Movement was taken largely by surprise by the last week's protests. However, calls for more demonstrations in Tehran on social media in recent days, followed by a swift government crackdown and specific warnings against certain activists in the capital not to take part in the demonstrations has shown that the movement, which less than a decade ago brought hundreds of thousands on to the streets, still has potency.
Mujahedeen-e-Khalq
The Mujahedeen-e-Khalq (MEK), or People's Mujahedin Organization of Iran, has proven popular with many in the corridors of power in Washington and in European capitals.
The MEK has found supporters in the GOP from backers like Rudy Giuliani and Newt Gingrich but also from Democratic figures such as former Florida Governor Howard Dean. In January 2017, Reuters reported, the group's backers asked President Donald Trump to open a dialogue with the MEK.
While many in Washington may support the group in its ambition to overthrow the regime in Iran, it has courted controversy since the 1970s. The MEK supported Ayatollah Ruhollah Khomeini, pursuing a guerilla war against the Shah, but then parted ways with the revolution in 1981, vowing to topple the Islamic Republic. From 1997 to 2012, and after the group formed an alliance with Saddam Hussein, the MEK was designated a terrorist group by the State Department.
During this week's protests, Maryam Rajavi, MEK's leader, pledged her solidarity with the demonstrators, saying in a statement to Newsweek: "This uprising has tolled the death knell for the overthrow of the totally corrupt dictatorship of the mullahs, and is the rise of democracy, justice and popular sovereignty."
Some of the MEK's banners have been seen at demonstrations in Iran, but the group remains deeply divisive inside the country. It also remains the perpetual boogey man of the regime. Iranian State television reported Friday, according to the Associated Press, that three MEK members were arrested 185 miles southwest of Tehran for engaging in sabotage.
(END)
***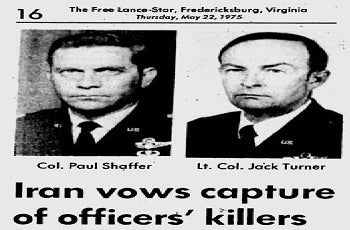 The MEK's dirty past includes the anti-Imperialist inspired murder of six Americans in pre-revolution Iran which it later celebrated in songs and publications
Radicalisation Awareness (Presentation at the ICSA Conference, Bordeaux, July 2017)
Which occasion is Maryam Rajavi celebrating in Paris? (letter to Emmanuel Macron)
grooming Mojahedin Khalq (MEK, Rajavi cult) in Tirana part of bigger agenda for Albania
The Enemy of My Enemy is NOT Always My Friend…
Also read:
http://iran-interlink.org/wordpress/?p=9115
A Fully United Europe Claims the High Ground in Relations with Iran 
Massoud Khodabandeh, Huffpost, December 17 2017:… In order to be credible and effective in further dealings with Iran, the European Union countries need to distance themselves from any tolerance or support for terrorist groups like Maryam Rajavi's Mojahedin Khalq which call for violent regime change against Iran. MEP Ana Gomes highlighted a … 
Albanian Government opens a new military Terror Training Camp for Saddam's Private Army
Link to the source (Huffpost)
Link to the source (Toptopic)
Massoud Khodabandeh Director at Middle East Strategy Consultants.
A Fully United Europe Claims the High Ground in Relations with Iran
In a week when UN Secretary General Antonio Guterres and European Union foreign policy chief Federica Mogherini both delivered considered speeches about the Iran nuclear deal, President Donald Trump's typical shorthand reference to it as a "bad deal" indicates nothing to the world community other than he hasn't put the effort in to understand how the deal came about and what it actually says. His apparent 'policy' is to abandon it and strike a better deal. But there is no indication how that would come about. The 60 day deadline for Congress to vote to reimpose sanctions passed on December 12.
Trump's foreign policy tweets are now analysed widely by foreign policy wonks as part of a 'bluff and bluster' policy of diverting attention away from anything he might have to answer for. Trump's decision not to certify Iran's compliance with the agreement in October created uncertainty was not leadership. Instead, a peculiar kind of American weakness is being exposed for all to see.
This has given an opportunity for the European Union to step into the void. The EU is fully united in its support for the nuclear deal. The JCPOA is regarded as a binding commitment, as starting point, on all sides from which to begin to address other outstanding issues.
Those issues include Iran's missile programme, but also human rights and regional influence.
Currently there is no consensus between the original P5+1 about how to deal with Iran. An unproven allegation by UN ambassador Nikki Haley that Iran supplied ballistic missiles to the Houthis in Yemen might excite the United States and Saudi Arabia but in contrast Russia's position is that missiles were never part of the JCPOA agreed in July 2016.
While they may have agreed with Europe and America over the nuclear issue, Russia's military help to Syrian leader Assad alongside Iran puts it at odds with the European and American positions. And China enjoys good trade relations with the EU and Iran and is unlikely to want to disturb this balance for what appear angry ideological rants from America.
The EU, in an effort to bridge and navigate this difficult breach so as to assert the necessary leadership for further negotiations over Iran, has chosen to strike the moral high ground. Essentially, Europeans believe America lacks credibility on human rights because of its support for the death penalty. This applies also to Russia and China. In its dealings with other countries, the EU always raises the issue of human rights asserted Mogherini. The EU leads the world in this respect.
The EU also believes that the nuclear issue is resolved. Iran is complying with its terms and under stringent IAEA inspection Iran will not be able to break out. For this reason, the idea of tearing up an agreement that took twelve years to broker is ludicrous. This would undermine the credibility of the IAEA at a time when it will be needed in future for other nuclear crises, notably North Korea.
The US complaint that other issues – like missiles – were not included is disingenuous. Iran's starting point for the negotiations was that everything should be on the table. But, when issues such as supplying Saddam Hussein with chemical weapons during the Iran-Iraq war or human rights abuses were mooted as possible points of discussion, it was the US and Gulf countries which objected.
While the US objects to Iran's involvement in regional conflicts, it is dishonest for its spokespersons to ignore America's role in the conflicts of Iraq, Syria, Yemen and Israel. European politicians are more bold and honest. In order to be credible and effective in further dealings with Iran, the European Union countries need to distance themselves from any tolerance or support for terrorist groups like Maryam Rajavi's Mojahedin Khalq which call for violent regime change against Iran. MEP Ana Gomes highlighted a recent security breach linked to Rajavi's visit to the EU parliament when MEK agents carried out a planned attack against two of their critics at the parliament.
This new found confidence in Europe is in direct contrast to – and probably a consequence of – the dysfunctional and chaotic policy stances issuing from the Trump administration. Lacking any actual policy toward Iran, Trump's aim appears simply to be as disruptive as possible. In contrast, the European Union has a clearly stated position and has now signalled its intention to take the lead in diplomatic talks aimed at getting Iran engaged in changes to its human rights behaviour and military strategies.
(END)
–
Albaian Translation:
http://gazetaimpakt.com/bashkimi-evropian-kerkon-marredhenie-te-sinqerta-iranin/
Bashkimi Evropian kërkon marrëdhënie të sinqerta me Iranin
 gazeta impakt
nga Massoud Khodabandeh.
Brenda një jave Sekretari i Përgjithshëm i OKB-së Antonio Guterres dhe shefja i politikës së jashtme e Bashkimit Evropian Federica Mogherini kanë mbajtur fjalime rreth marrëveshjes bërthamore me Iranin, e cila është quajtur "marrëveshje e keqe" sipas Presidentit Donald Trump i cili nuk u përpoq asnjëherë që ta kuptonte se cfarë thoshte ajo në të vërtetë. Politika e tij e dukshme ishte që ta braktiste atë dhe të arrinte një marrëveshje më të mirë. Por deri tani nuk ka asnjë tregues se si do arrihet kjo. Afati 60 ditor i Kongresit për të votuar për rivendosjen e sanksioneve ka kaluar që më 12 dhjetor.
Politikat e jashtme të Trampit janë analizuar gjerësisht jashtë, si pjesë e politikës 'mashtro dhe mburru' për të larguar vëmendjen nga çdo gjë për të cilën duhet të përgjigjet. Vendimi i Trampit për të mos firmosur rinovimin e marrëveshjes me Iranin në tetor krijoi pasiguri. Në vend të kësaj u ekspozua për botën një lloj i veçantë i dobësisë amerikane.
Kjo i dha një mundësi Bashkimit Evropian që të hyjë në këtë zbrazëti. BE është plotësisht e bashkuar në mbështetjen e saj për marrëveshjen bërthamore. JCPOA konsiderohet si një angazhim i detyrueshëm, si pikënisje për të gjitha anët nga të cilat fillon trajtimi i çështjeve të tjera të pazgjidhura.
Këto çështje përfshijnë programin raketor të Iranit, por edhe të drejtat e njeriut dhe ndikimin rajonal.
Aktualisht nuk ka konsensus midis pesë vendeve plus një, për mënyrën se si të merren me Iranin. Një deklaratë e paprovuar nga ambasadori i OKB-së Nikki Haley se Irani furnizoi me raketa balistike Huthët në Jemen mundi të nxehë Shtetet e Bashkuara dhe Arabinë Saudite, por në të kundërt pozicioni i Rusisë ishte se raketat asnjëherë nuk kishin qenë pjesë e JCPOA e miratuar në korrik 2016.
Ndërsa ata mund të kenë rënë dakord me Evropën dhe Amerikën lidhur me çështjen bërthamore, ndihma ushtarake e Rusisë ndaj udhëheqësit sirian Asad së bashku me Iranin i vë në kundërshtim pozicionet evropiane dhe amerikane. Edhe Kina gëzon marrëdhënie të mira tregtare me BE-në dhe Iranin dhe nuk ka gjasa që të ndërhyjë në prishjen e këtij ekuilibëri vetëm se është zemëruar Amerika.
BE, në një përpjekje për të kapërcyer këtë të çarë, në mënyrë që të vendosë lidershipin e nevojshëm për negociata të mëtejshme mbi Iranin, ka zgjedhur pozitën morale më të lartë. Në thelb, evropianët besojnë se Amerika nuk ka kredibilitet për të drejtat e njeriut për shkak të mbështetjes së saj për dënimin me vdekje. Kjo vlen edhe për Rusinë dhe Kinën. Në marrëdhëniet e saj me vendet e tjera, BE-ja gjithmonë ngre çështjen e të drejtave të njeriut të pohuara Mogherini. BE është lidere e botës në këtë drejtim.
BE gjithashtu beson se çështja bërthamore është zgjidhur. Irani është në përputhshmëri me kushtet dhe nën inspektimin e rreptë të IAEA, Irani nuk do të jetë në gjendje të lëvizë. Për këtë arsye, ideja e prishjes së një marrëveshjeje që zgjati dymbëdhjetë vjet për tu ndërmjetësuar është qesharake. Kjo do të minonte besueshmërinë e IAEA në një kohë kur mund të vijnë kriza të tjera bërthamore, veçanërisht nga Korea e Veriut.
Pakënaqësia e SHBA-së është se çështje të tjera si ato raketore nuk ishin të përfshira. Pikë nisja e Iranit për negociatat ishte se çdo gjë duhet të ishte në tryezë. Por kur u diskuatuan çështje të tilla si furnizimi i Saddam Husseinit me armë kimike gjatë luftës Iran-Irak apo abuzimet e të drejtave të njeriut, ishin SHBA dhe vendet e Gjirit që kundërshtuan.
Ndërsa SHBA kundërshton përfshirjen e Iranit në konfliktet rajonale, është e pandershme që zëdhënësit e saj të injorojnë rolin e Amerikës në konfliktet e Irakut, Sirisë, Jemenit dhe Izraelit. Politikanët evropianë janë më të guximshëm dhe më të ndershëm. Në mënyrë që të jenë të besueshëm dhe efektivë në marrëdhëniet e mëtejshme me Iranin, vendet e Bashkimit Evropian duhet të distancohen nga çdo tolerim apo mbështetje për grupet terroriste si Mojahedin Khalq i Merjem Raxhavit, që kërkon ndryshimin me dhunë të regjimit iranian. Deputetja Ana Gomes theksoi një shkelje të sigurisë gjatë kohëve të fundit lidhur me vizitën e Raxhavit në Parlamentin Evropian, ku agjentët e MEK kryen një sulm të planifikuar kundër dy kritikëve të tyre në parlament.
Ku mirëbesim i ri në Evropë është në kontrast të drejtpërdrejtë dhe ndoshta pasojë e qëndrimeve jofunksionale dhe kaotike të politikave që lëshohen nga administrata Trump. Duke pasur një mungese politike aktuale ndaj Iranit, qëllimi i Trampit me sa duket ka qenë, dëmto sa të mundësh. Në të kundërt, Bashkimi Evropian ka një qëndrim të qartë dhe tashmë ka sinjalizuar synimin e tij për të marrë rolin drejtues në bisedimet diplomatike që synojnë që Irani të angazhohet në ndryshime në sjelljen ndaj të drejtave të njeriut dhe ato strategjike ushtarake/ huffingtonpost/Gazeta Impakt
*** 
SCANDAL! Albanian Mafia Helps Mojahedin Khalq (MEK, Rajavi cult) Recruit Our Youth, Fears The EU
Will Prime Minister Edi Rama host ISIS terrorists in Albania?
Albania's Modern Slavery Problem Alienates Europe
Also read:
http://iran-interlink.org/wordpress/?p=9095
Mogherini Avoids Maryam Rajavi As MEK Violence Erupts At The EU Parliament 
Massoud Khodabandeh, Iranian.com, December 12 2017:… Mogherini was too clever for that and afterwards reminded Rajavi's lobbyists in the EUP: 'The President of Iran is not a woman with a criminal record living in France and here is not Tehran but Brussels'. Maryam Rajavi, becoming hysterical over this rebuke, ordered her gang to attack a group of Iranian opposition members who had come to the EUP at … 
ISIS Drew On MEK Expertise For Terror Attacks On Tehran  (Mojahedin Khalq, Rajavi cult)
Mogherini Avoids Maryam Rajavi As MEK Violence Erupts At The EU Parliament
In the week leading up to Human Rights Day on December 10th, Federica Mogherini, High Representative of the European Union for Foreign Affairs and Security Policy, had a typically busy week meeting with world leaders. For this reason, our inside sources tell us, MEK leader Maryam Rajavi brought forward a planned trip to the European Parliament hoping she would bump into Mogherini in the buildings by chance and take a picture so she can claim to her followers that she is still alive as 'President-elect of Iran'.
Mogherini was too clever for that and afterwards reminded Rajavi's lobbyists in the EUP: 'The President of Iran is not a woman with a criminal record living in France and here is not Tehran but Brussels'. Maryam Rajavi, becoming hysterical over this rebuke, ordered her gang to attack a group of Iranian opposition members who had come to the EUP at the same time to talk to MEPs about the human rights violations in her own group. Rajavi's thugs managed to break the nose of one and cause serious back injury to another before EUP security staff were able to step in and prevent further injuries on the premises of the parliament. It is high time these MEK criminals were banned from the buildings and premises of the European Parliament.
Unfortunately, the MEK has been enabled by lobbyists like Belgian MEP Gérard Deprez and British MEP Julie Ward, in establishing a permanent presence in the in the EUP buildings. Of course, it is only a matter of time until these lobbyists join previous MEK lobbyist MEPs, like Paulo Casaca, Vidal Quadras and Struan Stevenson who have now apparently accepted paid positions in the MEK's office opposite the parliament.
In the meantime, on a daily basis, MEK agents stalk, harass and intimidate MEPs as well as their researchers and staff. One such MEK agent is Firooz Mahvi, an ex-Saddam Private Army commander wanted by the government of Iraq for alleged torture and murder charges on behalf of the MEK (aka Rajavi cult) during Saddam Hussein's dictatorship. Another one of the perpetrators is London based Siavosh Rajabi, who had been paid and dispatched by Maryam Rajavi to the EU buildings in Brussels.
The MEK has a history of violence in Europe and North America including, but not limited to, self-immolations ordered by the cult leader in 2003, to attacking and injuring delegates at a meeting in FIAP in Paris with knives, sending several victims to hospital. In recent years the MEK launched a vicious physical attack on Mr Mustafa Mohammadi and his daughter Houriyeh when he demanded to visit his other daughter Somayeh whom he was denied seeing.
However, this is the first time that the MEK have attacked individuals in the presence of and on direct order by Maryam Rajavi in an establishment building such as the EUP. This represents a serious escalation of MEK violence.
To give context to this escalation of violent behaviour, it is worth mentioning that two days before this incident Anne Khodabandeh briefed MEPs on the results of her fact-finding visits to Albania, where the MEK combatants are now based after being expelled from Iraq. Khodabandeh raised the issue of security, asking why a NATO country – Albania – was permitting a foreign terrorist organisation to construct a terrorist training camp on the edge of the European Union?
Khodabandeh had previously briefed British and American security services about additional issues concerning the MEK's behaviour and the impact this has on security concerns across the Balkans and Europe.
Allowing the MEK to conduct its mafia like behaviour with impunity in the European Parliament is offering a green light to the group's further ambitions to grow its presence as a terrorist group in Albania.
Cover image: Mehdi Khoshal was among those roughed up by Maryam Rajavi's camp
(END)
Albanian Translation:
http://gazetaimpakt.com/mogherini-i-shmanget-takimit-maryam-rajavin-nderkohe-mek-shkakton-dhune-ne-parlamentin-evropian/ 
Mogherini i shmanget takimit me Maryam Rajavin, ndërkohë MEK shkakton dhunë në Parlamentin Evropian
Javën e kaluar në ditën e të Drejtave të Njeriut më 10 dhjetor, Federica Mogherini, Përfaqësuesja e Lartë e Bashkimit Evropian për Punë të Jashtme dhe Siguri, pati një takim të zakonshëm me liderët e botës. Burimet tona nga brenda thanë se liderja e MEK, Maryam Rajavi ndërmori një udhëtim të planifikuar për në Parlamentin Evropian duke shpresuar se mos mund të përplasej me Mogherinin rastësisht dhe të bënte me të një foto në mënyrë që ajo të mund të pretendojë për pasuesit e saj se është ende gjallë si 'Presidentja e zgjedhur e Iranit'.
Mogherini ishte mjaft e qartë dhe i rikujtoi lobistët e Rajavit në EUP: "Presidentja e Iranit nuk është një grua me një dosje penale që jeton në Francë, ky nuk është Teherani por është Brukseli". Maryam Rajavi u bë histerike ndaj këtij qortimi dhe urdhëron bandën e saj për të sulmuar një grup anëtarësh të opozitës iraniane që kishin ardhur në EUP në të njëjtën kohë për të folur me deputetët në lidhje me shkeljet e të drejtave të njeriut në grupin e saj. Banditët e Rajavit arritën ti thyejnë hundën njërit dhe ti shkaktojnë dëmtime serioze një tjetri përpara se personeli i sigurisë së EUP të parandalonte dëmtimet e mëtejshme në ambientet e parlamentit. Ka erdhur koha që kriminelët e MEK-ut të ndalohen se hyri në ndërtesat dhe ambjentet e Parlamentit Europian.
Për fat të keq, MEK-ut i është mundësuar nga lobistët si eurodeputeti belg Gérard Deprez dhe eurodeputeti britanik Julie Ward, për të pasur një prani të përhershme në ambjentet e EUP. Natyrisht që është vetëm një çështje kohe derisa këta lobistë të bashkohen me deputetët e lobistëve të mëparshëm të MEK, si Paulo Casaca, Vidal Quadras dhe Struan Stevenson, të cilët me sa duket kanë pranuar pozicione të paguara nga zyra e MEK-ut përballë parlamentit.
Ndërkohë që agjentët e MEK rregullisht kërcënojnë, shqetësojnë dhe frikësojnë deputetët, si dhe studiuesit dhe stafin e tyre, një agjent i tillë është Firooz Mahvi, një ish-komandant i Ushtrisë Private të Saddamit, i kërkuar nga qeveria e Irakut për akuza të torturës dhe vrasjes për hesap të MEK (aka kulti Raxhavi) gjatë diktaturës së Sadam Huseinit. Një tjetër autor është Siavosh Rajabi me banim në Londër, i cili është paguar dhe dërguar nga Maryam Rajavi në ndërtesat e BE-së në Bruksel.
MEK ka një histori dhune në Evropë dhe në Amerikën e Veriut ku përfshihen vetësakrifikimet pa kufizim të urdhëruara direkt nga liderja e kultit, si në vitin 2003 kur sulmuan dhe plagosën me thika delegatët në një takim në FIAP në Paris, duke dërguar shumë viktima në spital. Kohët e fundit MEK ndërmori një sulm fizik të egër ndaj z. Mustafa Mohammadi dhe vajzës së tij Houriyeh gjate kohes kur ai kërkoi të vizitonte vajzën tjetër Somayeh, takim i cili nuk u lejua të kryhej.
Megjithatë, kjo është hera e parë që MEK me urdhër të drejtpërdrejtë nga Maryam sulmon individë brenda një ndërtese si EUP. Kjo paraqet një përshkallëzim serioz të dhunës të MEK.
Për të dhënë një kontekst të këtij përshkallëzimi të sjelljeve të dhunshme, vlen të përmendet se dy ditë përpara këtij incidenti Anne Khodabandeh informoi eurodeputetët mbi rezultatet dhe faktet e zbuluara gjate vizitave të saj në Shqipëri, vendi ku qëndrojnë tashmë luftëtarët e MEK pasi u dëbuan nga Iraku. Khodabandeh ngriti çështjen e sigurisë duke pyetur se pse një vend anëtar i NATO-s, Shqipëria lejoi një organizatë terroriste të huaj të ndërtojë një kamp trajnimi terrorist në kufirin e Bashkimit Europian?
Khodabandeh kishte informuar më parë shërbimet e sigurisë britanike dhe amerikane rreth çështjeve shtesë lidhur me sjelljen e MEK dhe impaktin që ka lidhur me shqetësimet e sigurisë në gjithë Ballkanin dhe Evropën.
Të lejosh MEK-un që të përçojë këto sjellje mafioze në Parlamentin Evropian pa marrë ndëshkim, është një dritë jeshile për ambiciet e mëtejshme të grupit për të rritur praninë e tij si grup terrorist në Shqipëri./iranian/ Gazeta Impakt
***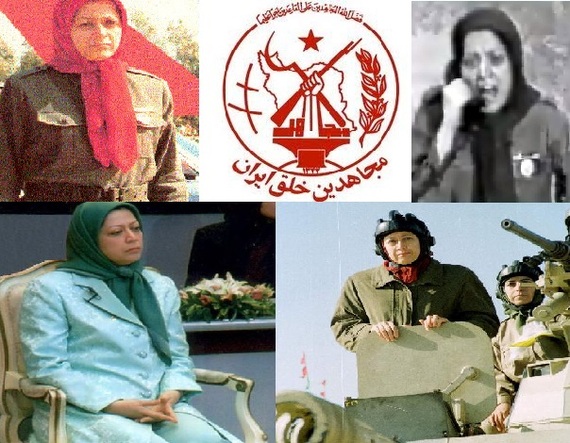 Maryam Rajavi — MEK Propaganda Queen — Advertises Her Services For Iran's Enemies
*** 
Also read:
http://iran-interlink.org/wordpress/?p=8703
Mojahedin Khalq (MEK) presence in Albania highlights security risks for Europe 
Massoud Khodabandeh, Balkans Post, July 23 2017:… Although the MEK are experts at intimidation and propaganda, in reality the expulsion of the MEK from Europe should be neither controversial nor unexpected. No government in Europe supports the presence of extremists in their midst and the MEK has a long history of extremist behaviour and messaging. The self-immolations in western capitals are an example of their actual behaviour …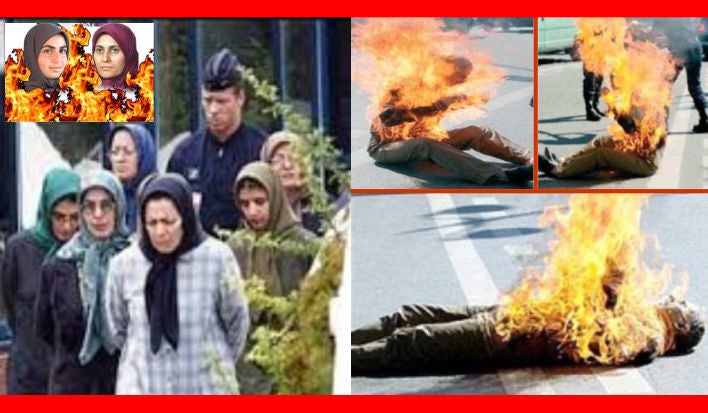 Under President Macron, France can play a pivotal role in Western relations with Iran
Debate in the European Parliament 'What is to be done about the Iranian Mojahedin Khalq (MEK)?'
By MASSOUD AND ANNE KHODABANDEH
Mojahedin Khalq (MEK) presence in Albania highlights security risks for Europe
Maryam Rajavi welcomes a distinguished delegation including John R. Bolton from US -Grand Gathering for a Free Iran- Paris, July 1, 2017
Advertising campaigns don't come cheap and those paying want value for money. The Mojahedin Khalq (MEK) annual event at Villepinte in France to celebrate so-called armed struggle and promote violent regime change against Iran is about showcasing the MEK to build a brand presence in political and media circles. The Mojahedin Khalq (MEK) brand, like any other brand, depends for its success on advertisement and consumer support.
Support for the MEK is strongest in America where reports that the Trump administration will adopt a policy of regime change toward Iran has led to speculation this will involve the MEK. Clearly the anti-Iran elements which pay for the MEK believe they are getting value for money.
What does the MEK offer for their dollar?
First and foremost, anyone who believes the MEK has renounced violence and terrorism should revisit their recent history (perhaps consult their Farsi language websites for MEK narratives rather than the English language NCRI propaganda). After losing their benefactor Saddam Hussein in 2003 the MEK, from its Iraqi base in Camp Ashraf and headquarters in Paris, engaged in active support for the Saddamist led insurgency which was expanded by AQI and more recently the failed efforts of Daesh to overrun Baghdad.
It took twelve years for the government of Iraq to succeed in its demand that America remove the group from Iraq. Taking the MEK off America's terrorism list in 2012 (followed by British and European Union terrorism lists) was a pragmatic move to allow the relocation of the group in third countries. Of course, the American government had no intention of relocating the group to the US. Why would they when France and Albania would host the group instead.
The MEK has never dropped its agenda of supporting terrorism. Even after arriving in Albania, the MEK's support for Daesh and violent extremists has been fully in step with prominent war-mongers; those who don't mind the violent imposition of an inhumane so-called caliphate on millions of citizens in the Middle East so long as Iran is contained.However, this US-centric view of the situation is not echoed by Europe. The visits by John Bolton and Senator John McCain to the MEK in Tirana remind us that Albania shares a land border with the EU via Greece and with other troubled Balkan states. Albania's de facto role as a bridge between Europe and areas of conflict in the Middle East has been of concern for international security officials for some time. The relocation of 2700 radicalised MEK members there was hardly likely to offer them any comfort.
Indeed, conditions in Albania mean the group has a much more open hand to pursue its agenda now it has left Iraq. Although the MEK has given up on its own ability to force regime change on Iran, the group will, of course, work to harm Iran's interests in any way it is able or as it is instructed. As a mercenary force, the MEK is equipped to train, advise and facilitate terrorist and intelligence activity. The recent ISIS attacks in Tehran which bear the hallmarks of MEK involvement at some stage are a stark example of this capability. Interpol warns of at least 173 suspected members of a Daesh suicide brigade heading for Europe. The MEK are experts in people smuggling.
So, when the well-paid speakers at the Villepinte event in France advocate violent regime change, it is this MEK mercenary paramilitary group which is being advertised, rather than a political wish list written in Washington.
Because of this, the participation of three members of Albania's parliament in this event ought to be of great concern in Europe. In 2014 Albania became an official candidate for accession to the European Union. Notwithstanding efforts to combat the drug cartels, arms smuggling and people trafficking gangs which prevail there, corruption and organised crime are still a problem.
Maryam Rajavi and Senator Lieberman and his wife at the free Iran Gathering – 1 July 2017
Although Albania's officially stated foreign policy promotes non-interference in other countries' internal affairs, some deputies find advocacy for the MEK irresistible.
The head of the Republican Party Fatmir Mediu in a wonderful attempt to ignore the MEK's totalitarian nature ludicrously encouraged MEK members in the audience to 'vote for their future'. The MEK is a cult, its members are held in a state of modern slavery. They do not even have a say over their everyday lives let alone a vote. This makes the presence of Deputy Interior Minister Elona Gjebrea even more troubling. Europeans know her as the minister for anti-trafficking. However, she has turned a blind eye to the living conditions of the MEK members in her own country.
Socialist Party deputy and former Premier Pandeli Majko echoed the MEK's demand for regime change and stated that these radicalised MEK members are now Albanian citizens. Was this simply rhetoric?
If the Rama government has truly provided MEK members with Albanian passports, their free movement across Europe will allow into the European Union and Schengen area a new army of radicalized extremists, which would be a new threat to the West. France, which has hosted the MEK headquarters for over three decades, always refused to give the members national passports.
While the EU views the MEK as a security threat which would damage accession, there are many other elements who actually benefit from the insecurity and corruption in the Balkan region which allows gangs and groups like the MEK freedom to operate outside any laws and norms. One thing can be agreed however, neither the US nor the EU want Albania to join the EU any time soon.
Indeed, with trade deals between European Union countries and Iran increasing, the continued presence of the MEK in EU countries is increasingly problematic.
However, although the MEK are experts at intimidation and propaganda, in reality the expulsion of the MEK from Europe should be neither controversial nor unexpected. No government in Europe supports the presence of extremists in their midst and the MEK has a long history of extremist behaviour and messaging. The self-immolations in western capitals are an example of their actual behaviour, while the Villepinte celebration of armed struggle and advocacy of violent regime change is incompatible with European countries' values and wider approach to counter-terrorism.
Previously the MEK in Europe couldn't be expelled to Iraq because their human rights could not be guaranteed. This is not the case in Albania. Maryam Rajavi happily spent some weeks there earlier this year. President Macron can either bite the bullet and expel this unwanted group at long last, or continue to tolerate the MEK on French soil as leverage to extract further concessions from the Trump administration. Either way, the fact remains that the real problem lies in Albania. A security and humanitarian problem that will not go away.
(END)
Albanian translation by Gazeta Impakt: 
http://gazetaimpakt.com/prezenca-e-muxhahedineve-ne-shqiperi-thekson-rreziqet-e-sigurise-per-evropen/
Prezenca e Muxhahedinëve në Shqipëri thekson rreziqet e sigurisë për Evropën
Nga GAZETA IMPAKT – July 25, 2017
Fushatat reklamuese nuk janë të lira dhe ata që paguajnë duan fitimin për paratë që japin. Ngjarja vjetore e Muxhahedin Halk (MEK) në Vilpënt të Francës për të festuar të ashtuquajturën luftë të armatosur dhe për të nxitur ndryshimin e dhunshëm të regjimit kundër Iranit ka të bëjë me prezantimin e MEK-ut për të ndërtuar një prezencë në qarqet politike dhe ato të medias. Marka e Muxhahedin Halk, si çdo markë tjetër, varet nga suksesi i tij në reklamimin dhe mbështetjen e konsumatorit.
Mbështetja për MEK-un është më e fortë në Amerikë ku raportet se administrata Trump do të miratojë një politikë të ndryshimit të regjimit në Iranit kanë çuar në spekullime se kjo do të përfshijë MEK-un. Është e qartë se elementët anti-iranianë që paguajnë për MEK-un besojnë se po e marrin fitimin për paratë.
Çfarë ofron MEK-u për dollarët e tyre?
Së pari dhe më kryesorja, kushdo që beson se MEK ka hequr dorë nga dhuna dhe terrorizmi duhet të rishikojë historinë e tyre të kohëve të fundit (ndoshta konsultohuni me faqet e tyre të internetit në gjuhën Farsi për tregimet e MEK-ut dhe jo me propagandën në gjuhë angleze të NCRI-së). Pas humbjes së sponsorit – Sadam Huseinit – në vitin 2003, MEK, nga baza e tij irakiene në kampin Ashraf dhe nga selia në Paris, u angazhua në mbështetje aktive për kryengritjen e udhëhequr nga sadamistët, e cila u zgjerua nga al-Kaeda dhe më së fundmi nga përpjekjet e dështuara të Daeshit për të marrë Bagdadin.
U deshën dymbëdhjetë vjet që qeveria e Irakut të kishte sukses në kërkesën e saj që Amerika të largonte grupin nga Iraku. Heqja e MEK-ut nga lista terroriste e Amerikës në vitin 2012 (pasuar nga listat e terrorizmit britanik dhe të Bashkimit Evropian) ishte një lëvizje pragmatike për të lejuar zhvendosjen e grupit në vendet e treta. Sigurisht, qeveria amerikane nuk kishte ndërmend ta zhvendoste grupin në SHBA. Pse duhet ta bënte kur në vend të saj grupin do e strehonin Franca dhe Shqipëria.
MEK kurrë nuk ka hequr dorë nga axhenda e tij e mbështetjes së terrorizmit. Edhe pas mbërritjes në Shqipëri, mbështetja e MEK-ut për Daeshin dhe ekstremistët e dhunshëm ka qenë plotësisht në një hap me luftënxitësit e shquar; ata që nuk e kanë problem imponimin e dhunshëm të një të ashtuquajturi kalifati jonjerëzor për miliona njerëz në Lindjen e Mesme, për aq kohë sa Irani është i përfshirë. Megjithatë, kjo pikëpamje e SHBA-së për situatën nuk bën jehonë në Europë. Vizitat e John Bolton dhe senatorit John McCain në MEK në Tiranë na kujtojnë që Shqipëria ka një kufi toke me BE-në nëpërmjet Greqisë dhe me shtetet e tjera të trazuara të Ballkanit. Roli de fakto i Shqipërisë si një urë midis Evropës dhe zonave të konfliktit në Lindjen e Mesme ka qenë shqetësues për zyrtarët ndërkombëtarë të sigurisë për njëfarë kohe. Zhvendosja e 2,700 anëtarëve të radikalizuar të MEK-ut nuk kishte gjasa të ofronte ndonjë ngushëllim.
Në të vërtetë, kushtet në Shqipëri nënkuptojnë se grupi ka një liri më të madhe për të ndjekur axhendën e tij tani që është larguar nga Iraku. Megjithëse MEK ka hequr dorë nga aftësia e vet për të detyruar ndryshimin e regjimit në Iran, grupi, natyrisht, do të punojë për të dëmtuar interesat e Iranit në çfarëdo mënyre që është në gjendje, ose siç është udhëzuar. Si një forcë mercenare, MEK është e pajisur për të trajnuar, këshilluar dhe lehtësuar aktivitetin e terrorizmit dhe inteligjencës. Sulmet e fundit të ISIS në Teheran, të cilat mbajnë shenjat dalluese të përfshirjes së MEK-ut në një fazë të caktuar, janë një shembull i fuqishëm i kësaj aftësie. Interpoli paralajmëron të paktën 173 anëtarë të dyshuar të një brigade vetëvrasëse të Daeshit që po shkon për në Evropë. Muxhahedinët janë ekspertë në kontrabandën e njerëzve.
Pra, kur folësit e paguar mirë në eventin në Vilpënt në Francë advokojnë ndryshimin e dhunshëm të regjimit, është ky grup mercenar paraushtarak i MEK-ut i cili po reklamohet, dhe jo një listë politike dëshirash e shkruar në Uashington.
Për shkak të kësaj, pjesëmarrja e tre anëtarëve të parlamentit të Shqipërisë në këtë aktivitet duhet të jetë një shqetësim i madh për Evropën. Në vitin 2014 Shqipëria u bë kandidate zyrtare për anëtarësim në Bashkimin Evropian. Pavarësisht përpjekjeve për të luftuar kartelet e drogës, kontrabandën e armëve dhe bandat e trafikimit të njerëzve që mbizotërojnë atje, korrupsioni dhe krimi i organizuar janë ende problem.
Ndonëse politika e jashtme zyrtare e deklaruar e Shqipërisë nxit mosndërhyrjen në punët e brendshme të vendeve të tjera, disa deputetë e konsiderojnë advokimin për MEK-un të parezistueshëm.
Kreu i Partisë Republikane Fatmir Mediu në një përpjekje të mrekullueshme për të injoruar natyrën totalitare të MEK-ut, i inkurajoi në mënyrë qesharake anëtarët e MEK-ut në audiencë që "të votonin për të ardhmen" e tyre. MEK është një kult, anëtarët e tij mbahen në një gjendje skllavërie moderne. Ata madje as nuk ia kanë idenë jetës së tyre të përditshme, e jo më një votimi. Kjo e bën edhe më shqetësuese prezencën e zëvendësministres së brendshme Elona Gjebrea. Evropianët e njohin atë si ministrja e anti-trafikimit. Megjithatë, ajo ka bërë një sy qorr ndaj kushteve të jetesës së anëtarëve të MEK-ut në vendin e saj.
Zëvendësi i Partisë Socialiste dhe ish-Kryeministri Pandeli Majko i bëri jehonë kërkesës së MEK-ut për ndryshimin e regjimit dhe deklaroi se këta anëtarë të radikalizuar të MEK-ut tani janë qytetarë shqiptarë. A ishte kjo thjesht një retorikë?
Nëse qeveria e Ramës i ka dhënë me të vërtetë anëtarëve të MEK-ut pasaporta shqiptare, lëvizja e lirë e tyre në të gjithë Evropën do të lejojë në Bashkimin Evropian dhe në zonën Shengen një ushtri të re ekstremistësh të radikalizuar, e cila do të ishte një kërcënim i ri për Perëndimin. Franca, e cila ka pritur selinë e MEK-ut për më shumë se tre dekada, gjithmonë ka refuzuar t'u japë anëtarëve pasaporta kombëtare.
Ndërsa BE e sheh MEK-un si një kërcënim sigurie që do të dëmtonte pranimin, ka shumë elementë të tjerë që në të vërtetë përfitojnë nga pasiguria dhe korrupsioni në rajonin e Ballkanit, i cili lejon bandat dhe grupet si MEK-u për të vepruar lirisht jashtë çdo ligji dhe norme. Megjithatë, për një gjë mund të biem dakord, se as SHBA as BE nuk dëshirojnë që Shqipëria të bashkohet me BE-në së shpejti.
Në të vërtetë, me marrëveshjet tregtare në rritje midis vendeve të Bashkimit Evropian dhe Iranit, prania e vazhdueshme e MEK-ut në vendet e BE-së është gjithnjë e më problematike.
Megjithatë, edhe pse muxhahedinët janë ekspertë në kërcënime dhe propagandë, në të vërtetë dëbimi i MEK-ut nga Evropa nuk duhet të jetë as i diskutueshëm as i papritur. Asnjë qeveri në Evropë nuk e mbështet prezencën e ekstremistëve në mesin e tyre dhe MEK ka një histori të gjatë të sjelljes dhe mesazheve ekstremiste. Vetëvendosjet në kryeqytetet perëndimore janë një shembull i sjelljes së tyre aktuale, ndërsa festimi i luftës së armatosur dhe advokimi i ndryshimit të dhunshëm të regjimit në Vilpënt është i papajtueshëm me vlerat e vendeve evropiane dhe me qasjen më të gjerë ndaj terrorizmit.
Më parë, MEK-u në Evropë nuk mund të dëbohej për në Irak sepse të drejtat e tyre njerëzore nuk mund të garantoheshin. Por ky nuk është rasti në Shqipëri. Marjam Raxhavi ka kaluar disa javë të lumtura atje më herët këtë vit. Presidenti Makron ose do të bëhet burrë dhe do ta dëbojë këtë grup të padëshiruar, ose do të vazhdojë të tolerojë MEK-un në tokën franceze si një levë për të nxjerrë lëshime të mëtejshme nga administrata Trump. Sidoqoftë, mbetet fakti se problemi i vërtetë gjendet në Shqipëri. Një problem sigurie dhe humanitar që nuk do të largohet.
Massoud and Anne Khodabandeh
*** 
Also read:
Massoud Khodabandeh, Balkans Post, July 23 2017:… Although the MEK are experts at intimidation and propaganda, in reality the expulsion of the MEK from Europe should be neither controversial nor unexpected. No government in Europe supports the presence of extremists in their midst and the MEK has a long history of extremist behaviour and messaging. The self-immolations in western capitals are an example of their actual behaviour … 

Anne Khodabandeh (Singleton), Open minds, July 08 2017:… Anne Khodabandeh. After twenty years in the terrorist cult Mojahedin-e Khalq, Anne (with her husband Massoud Khodabandeh) established the English language www.iran-interlink.org website in 2001 to expose the group as a cult and support former members. Anne works with families of MEK campaigning to rescue their loved ones. Anne has written extensively … 

Massoud Khodabandeh,, Huffpost, June 28 2017:…  Like many statements and petitions over the years which mention the MEK this looks like fake news. Anyway, it would have been much easier to pass this off as genuine if Deprez had also published the names of the 265 signatories. As parliamentarians, it is doubtful they would feel endangered by publicly announcing their views in this way. Unless, of course, they had spotted the … 

Massoud Khodabandeh,  Huffpost, June 27 2017:… Perhaps the time is finally ripe for a new appraisal of what zero tolerance means for France. The MEK's messages promoting violent regime change should no longer be tolerated. President Emmanuel Macron's new centrist movement has won a large majority in the French parliament giving him a strong hand to play. He already revealed himself to be a shrewd and … 

Massoud Khodabandeh, Iranian.com, June 20 2017:… The following piece has been written by somebody I know well. He does not want his real name to be used because that would jeopardize the sensitive nature of his current work in counter terrorism in Europe – Massoud Khodabandeh… As a former member of the Mojahedin Khalq terrorist organization (MEK), I followed the news of terrorist attacks on Tehran with shame, guilt and anger. My shame and guilt stem … 

Massoud Khodabandeh, Huffpost, June 02 2017:… The meeting was organised by Ana Gomes, SND (Portugal) and seconded by Marietje Schaake, ALDE (Netherlands) and Michael Gahler, Christian Democrats (Germany). Two expert speakers were invited to address the meeting: Nicola Pedde, Director Institute for Global Studies, Italy and Massoud Khodabandeh, Director Middle East Strategy Consultants, UK. … 

Massoud and Anne Khodabandeh, Huffpost, May 18 2017:… In Albania, Elona Gjebrea also has close ties to the United States on the issue of people trafficking and slavery. The US embassy in Tirana, Albania acknowledged the State Department's annual Trafficking in Persons report in June 2016 by saying, "The United States appreciates the close cooperation with the Government of Albania, civil society and especially National … 

Massoud Khodabandeh, Top topic, May 08 2017:…  Rajavi then publishes these alongside letters signed by American personalities in support of the MEK. The letters from the Americans are addressed to the Albanian Prime Minister and bear the familiar hallmark of MEK authorship. (One letter published by the MEK is signed in blue ink. We can only speculate how the MEK obtained the original letter which should have been sent directly from the Americans to the Albanian PM!) … 

National Geographic, March 04 2017:… Leading MEK members squirm under the knowing gaze of Michael Ware. Watch the shifty looks and glances as the MEK representatives try to lie about their true intentions. They admit to wanting regime change, but claim to be pacifists. Ware asks 'Why does a political organization still need to have a para-military organization?' He then cleverly gets them to … 

Associated Press, February 16 2017:… The group at one point successfully infiltrated the U.S. Embassy in Tehran, according to a State Department report. And a series of bombings attributed to the MEK accompanied visits by presidents Richard Nixon and Jimmy Carter to Iran, including one to target an American cultural center. In 1973, MEK assailants wearing motorcycle helmets shot dead U.S. Army Lt. … 

Iran Interlink, February 15 2017:… The following OpEd by MEK advocate Col. Wes Martin was published first in The Hill, followed by Mojahedin Khalq's "Iran Probe" and the "NCRI" websites. Iran Interlink has published it here as indication of how hysteria has become the new normal in American published writing. A form of madness appears to have infected US politics and now all and sundry are dancing … 

Massoud Khodabandeh, Huffington Post, February 07 2017:… He also signals that his war is not with ISIS but with the country Iran. Donald Trump rose to victory in part on the promise to take on ISIS and defeat the group. Yet ISIS cannot be defeated except by a coalition of forces that includes Iran. The facts on the ground in Syria and Iraq demonstrate unequivocally that ISIS forces in Aleppo and Mosul have been defeated largely due to the involvement

Gazeta Impakt, Albania, Translated by Iran Interlink,  January 01 2017:… According to Fatos Klosi, former director of the National Intelligence Service, the American CIA chief has warned Albania that Donald Trump will renounce support for the MEK terrorists and it will be the Albanian Government itself which must deal with internal security and must confront a group trained militarily from the time of Saddam Hussein … 

Massoud Khodabandeh, Huffington Post, December 24 2016:… That can only happen if journalists and investigatory bodies (human rights, nuclear experts, war crimes, etc) are able to base their work on facts and not the fake and fictionalised fantasies of stooges like the MEK, which are clearly designed to misinform on these issues. The information laundry cycle is not difficult to follow – the Washington Times takes its report … 

Massoud Khodabandeh, Huffington Post, November 12 2016:… In particular, Rudi Giuliani, John Bolton and Newt Gingrich. Putting aside their weak personalities as well as their individual neoconservative agendas, the common thread which links these names together is their decade long support for the Mojahedin Khalq terrorist organisation (also known as Saddam's Private Army or Rajavi cult). It is certain that … .

 Iran Interlink, October 30 2016:… Local observers in Tirana are reporting that the Mojahedin Khalq cultic terror group (MEK) is buying and creating several sandwich and kebab shops in the city and is using the MEK members to work in these fast-food businesses. On the surface this may look like a positive move. In an article titled 'Albania: What would a de-radicalization program for the Mojahedin Khalq involve', it was … 

Anne and Massoud Khodabandeh, Iran Interlink, October 16 2016:… In spite of American promises, no de-radicalisation programme is in place to deal with over 2500 members of the Mojahedin Khalq terrorist group who have relocated to Tirana from Iraq. The MEK has a long history of violent and criminal activity. This has not stopped now they are in Tirana. Unless the Albanian government introduces its own programme, it must accept … 

Anne and Massoud Khodabandeh, Huffington post (and Top Topic), October 09 2016:… For the local citizens, mystery surrounds their arrival and their lifestyle. Should these secretive and covert neighbours be treated with suspicion or kindness? At a local level, the first thing neighbouring families need to be aware of is that among all MEK members, sexual relations have been banned for over 25 years. This means there are no marriages or children or young people in the organisation. More troubling … 

Massoud & Anne Khodabandeh, Huffington Post, July 14 2016:… Whether Rajavi is already dead or now killable is not known – only he can answer this – but he and his whole organisation are certainly now, body and soul, in the capable hands of the Saudi Prince. If he is still alive, Rajavi's only role is to act as go-between to instruct his wife what she must do on behalf of the Saudis. If he is dead

Massoud Khodabandeh, Huffington Post, July 08 2016:… Clearly this message is not aimed at Iranians. The clamour for regime change in Iran does not emanate from inside the country in spite of its many social, civic and political problems. Who then is Maryam Rajavi's constituency? Fro

Massoud Khodabandeh, Toptopic, July 03 2016:… So, back to the recent advertising campaign. Any publicity campaign will be successful if it is newsworthy. Maryam, however, simply churns out the same scenario ad infinitum. Starting with describing a terrible situation in Iran – based on news items that can be gleaned from any serious report