Mojahedin Khalq (MEK, MKO, Maryam Rajavi cult) attempt to place lobbyist Josh Hawley in Senate may yet backfire
Iran Interlink, February 24 2018:… But Hawley's friends in Washington DC have failed to disclose that they have been compensated, just like Hawley, by the PMOI to advocate for their removal from the terrorist list. As if their work on behalf of a terrorist group that killed American soldiers wasn't enough, now they have failed to disclose that they were on the group's payroll. Hawley and his allies should come clean and disclose … 
How do you explain this to the families of over 4000 US servicemen Killed in Iraq?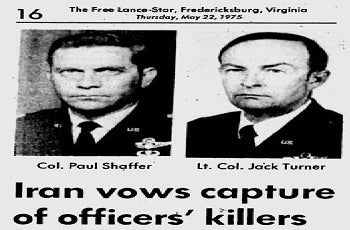 The MEK's dirty past includes the anti-Imperialist inspired murder of six Americans in pre-revolution Iran which it later celebrated in songs and publications
Mojahedin Khalq (MEK, MKO, Maryam Rajavi cult) attempt to place lobbyist Josh Hawley in Senate may yet backfire
In July 2016 Josh Hawley was implicated in a scandal exposed by the Financial Times. Hawley, along with John Bolton and Michael Mukasey were paid by the foreign terrorist organisation Mojahedin Khalq (MEK) for advocacy.
Hawley is currently running for Senate, presumably with MEK backing. It is not clear yet whether his past will catch up with him.
–
Josh Hawley could be drawn into Eric Greitens investigation despite hands-off approach
David M. Drucker, Washington Examiner, Feb 23, 2018
Link to the source
Missouri Attorney General Josh Hawley, the presumptive Republican nominee for Senate, could be drawn into the investigation into Gov. Eric Greitens, who was indicted Thursday by a grand jury on charges relating to allegations of sexual impropriety.
Republican insiders are fretting that the Greitens affair could put undo political strain on Hawley's bid to unseat Sen. Claire McCaskill, D-Mo., who is vulnerable in the midterm but is a tough campaigner. Hawley, in his position as state attorney general, could be asked to assist in the Greitens probe by local prosecuting attorneys, and plans to answer the call if it comes.
 
"A felony indictment by a grand jury is a serious matter. There is no place for party or partisanship. The criminal justice system must be allowed to work. I am confident the House's investigation will be thorough and swift, and will proceed without regard to party," Hawley said Friday, in a statement issued through his attorney general's office.
Hawley exudes the image of a straight-laced conservative — the opposite of Greitens since it was revealed that he engaged an extramarital affair with a hairdresser before he was elected governor. Greitens was indicted on felony charges of invasion of privacy related to that affair.
Private polling conducted before the indictment showed Greitens' support with voters holding, suggesting he might be able to weather the storm. He is vowing to fight the charges, even as Republicans in the Missouri legislature have begun to turn on him.
"As I have said before, I made a personal mistake before I was Governor. I did not commit a crime," the governor said Thursday, in a statement emailed to political supporters and campaign contributors.
"With today's disappointing and misguided political decision, my confidence in our prosecutorial system is shaken, but not broken. I know this will be righted soon. The people of Missouri deserve better than a reckless liberal prosecutor who uses her office to score political points. I look forward to the legal remedies to reverse this action. This will not for a moment deter me from doing the important work of the great people of Missouri," Greitens added.
The Hawley campaign has been gaming out how to navigate the Greitens scandal, but there's not much to do as long as the attorney general could be called on to participate in the investigation. Missouri is a Republican-leaning state, voting for President Trump by a 20-point margin.
But some Republican operatives worry the matter could end up negatively impacting Hawley's campaign.
"McCaskill is already a tough beat and we're not helped by Greitens' situation. If this isn't taken care of it runs a good chance of materially hurting our chances to take this Senate seat. The situation isn't yet critical but it shows every sign of moving in that direction," a Missouri GOP insider said.
–
Release: Schaefer Campaign Calls on Hawley Supporters to Disclose Ties to Iranian Terror Organization
Press Release, Missouri Times,  July 14, 2016
Link to the source
COLUMBIA, Mo. – Kurt Schaefer's campaign today called on supporters of Josh Hawley to disclose their financial ties to the People's Mojahedin Organization of Iran [PMOI]. Since releasing an ad highlighting Hawley's documented work on behalf of the PMOI, a group that killed American soldiers, a number of Washington DC insiders including John Bolton and Michael Mukasey have come sprinting to Hawley's defense. The problem? They failed to disclose their paid work for the group.
"Josh Hawley's allies in Washington DC have spent millions falsely attacking Kurt Schaefer, and now they're defending his paid work for an organization on the State Department's list of foreign terrorist organizations," Schaefer Campaign Manager Scott Dieckhaus said. "But Hawley's friends in Washington DC have failed to disclose that they have been compensated, just like Hawley, by the PMOI to advocate for their removal from the terrorist list. As if their work on behalf of a terrorist group that killed American soldiers wasn't enough, now they have failed to disclose that they were on the group's payroll. Hawley and his allies should come clean and disclose their paid advocacy on behalf of the PMOI."
A Financial Times story highlighted both, Mukasey and Bolton's involvement with the group. Excerpts from a story include:
"An Iranian exile group is spending millions of dollars in a lobbying effort to be removed from the US's list of foreign terrorist organisations, recruiting a group of US national security luminaries to be its advocates. Dozens of former officials across the political spectrum – from conservative John Bolton to liberal Howard Dean – have been paid tens of thousands of dollars to speak at events organised by supporters of the Mujahedin-e-Khalq, or People's Mujahedin, in the US, the Financial Times has learnt."

"Lee Hamilton, a former Democratic chairman of the House foreign relations committee, and Michael Mukasey, attorney-general in the last Bush administration, both told the FT they were paid for speaking at MEK-linked events."

"Mr Bolton, George W. Bush's ambassador to the UN, said he did not see the fact he was being paid "as an issue", while Mr Dean, the former Democratic national committee chairman, dismissed the question as a "sideshow".

"None would disclose how much they had been paid, but Ed Rendell, the former Pennsylvania governor, said he received $20,000 for an 11-minute speech. "But even if I was paid $50,000, I wouldn't do it if I didn't believe in it," he said."
The full story can be found here:
http://www.ft.com/cms/s/0/cc6d5774-b23d-11e0-9d80-00144feabdc0.html#ixzz4EJHoryLp
(END)
*** 
The Iran Protests, Regime Change, And The MEK 
Protests in Iran were also manipulated by Mojahedin Khalq (MEK, MKO, Rajavi cult) in Albania
'No Exit' – Human Rights Abuses Inside the Mojahedin Khalq Camps – Human Rights Watch
Document on Mojahedin Khalq released by RAND (The Mujahedin-e Khalq in Iraq, A Policy Conundrum)
Also read:
http://iran-interlink.org/wordpress/?p=9214
Trump should not embrace the MEK (aka Mojahedin Khalq, MKO, NCRI, … ) 
Dr Khalid Al-Jaber & Giorgio Cafiero, The Peninsular, January 07 2018:… In any event, support for the MEK, a group that carries much baggage in Iran for its history of collaborating with Saddam Hussein in the Iran-Iraq war, would almost inevitably fuel greater opposition and anger towards Trump and the US on the part of both Iranians who are supportive of their regime and those calling for Iran to … 
Mogherini Avoids Maryam Rajavi As MEK Violence Erupts At The EU Parliament
Trump should not embrace the MEK (aka Mojahedin Khalq, MKO, NCRI, … )
Since unprecedented protests erupted across major Iranian cities last month, the People's Mojahedin Organization of Iran, or the Mojahedin-e Khalq (MEK), has sought to capitalise on such complicated developments to push Donald Trump's administration more in favor of the group's regime change agenda. Whereas Republicans were quick to criticize former US President Barack Obama's diplomatic overtures to Iran and decision to avoid overtly supporting any factions in Iran pushing for the Islamic Republic's overthrow during the 2009 protests, voices on both sides of Washington's partisan divide have urged Trump to embrace a new approach towards Tehran. 
A host of pundits are calling on Trump to support the MEK as a viable, democratic, pro-Western, and secular alternative to the Islamic Republic, despite the fact that the State Department designated the faction a terrorist organization from 1997 to 2012 for its "past acts of terrorism, including its involvement in the killing of US citizens in Iran in the 1970s and an attack on US soil in 1992." Nonetheless, since Trump won the 2016 presidential election, scores of former US officials have sought to convince him to open up discussions between his administration and the MEK.
Although, thus far, Trump's administration has been quick to distinguish itself from Obama's by assertively condemning the Iranian regime and expressing solidarity with Iranian protesters, it is not clear if the administration will heed advice in favour of supporting the MEK. Andrew Peek, Deputy Assistant Secretary of State for Iraq and Iran, stated that the administration will not pursue regime change in Tehran, but instead seek to pressure the Islamic Republic into changing its conduct. 
The administration, however, is still issuing thinly veiled threats suggesting that regime change might be in the cards. At Press Secretary Sarah Huckabee Sanders' first brief of 2018, she said that the Trump administration is "keeping a lot of options on the table at this time". State Department spokeswoman Heather Nauert asserted that sanctions are only one part of Washington's "tool kit" and that "there are a range of options that we have going forward." In June, Secretary of State Rex Tillerson affirmed at a House Foreign Affairs Committee hearing that Washington's Iran policy is based on supporting "elements inside of Iran" in pursuit of a "peaceful transition of that government".
Unquestionably, Washington turning to the MEK to promote the overthrow of Iran's regime would signal even more of a departure from Obama's strategy towards Tehran. But doing so entails high levels of risk. To be sure, the White House backing the MEK would emboldened the Iranian regime's narrative that the unrest in the country's major cities is orchestrated by Tehran's "enemies" including the MEK, as well as the US, Israel, and Saudi Arabia.
Regardless of how unrealistic it is to imagine the MEK having the means to topple Iran's regime, any effort to trigger the Islamic Republic's collapse could fuel a major escalation of violence throughout the Middle East. In light of Saudi Crown Prince Mohammed bin Salman's assertion in May 2017 that any military confrontation between Riyadh and Tehran would take place "inside Iran, not in Saudi Arabia", coupled with Prince Turki bin Faisal Al Saud's endorsement of the MEK two months later, tensions between Saudi Arabia and Iran have reached a dangerously high level that would likely impact Tehran's response to any foreign-sponsored efforts to topple the regime. 
Of course, Iran's ability to retaliate against any of Washington's efforts to decisively back the MEK could create major dilemmas for the US military's various bases around the region. Having spent years expanding its influence throughout the Levant and Arabian Peninsula, Iran is in a position to order Tehran-backed militias to carry out violent attacks against US installations in numerous countries near Iran. In Iraq and Syria, where various actors are seeking to make themselves shareholders in the future of both countries, Iran has extensive clout that can be directed against Washington in the aftermath of the Islamic State's defeats last year. Put simply, as the majority of Americans favour diplomacy towards Iran, such actions against the regime could drag the Trump administration into new conflicts and quagmires in the Middle East that would likely be highly unpopular among the US public.
It is important for the Trump administration to react to protests in Iran carefully, without taking actions that could further undermine US interests in the country and elsewhere in the region. Given that there is widespread opposition to Trump across Iran's political spectrum—largely due to his opposition to the Joint
Comprehensive Plan of Action (JCPOA) and his administration's inclusion of Iran on last year's travel ban, it remains to be seen how Trump's expression of solidarity with Iranian protestors will pan out on the ground in Iran. 
In any event, support for the MEK, a group that carries much baggage in Iran for its history of collaborating with Saddam Hussein in the Iran-Iraq war, would almost inevitably fuel greater opposition and anger towards Trump and the US on the part of both Iranians who are supportive of their regime and those calling for Iran to transition away from the Islamic Republic nearly four decades after its establishment.
***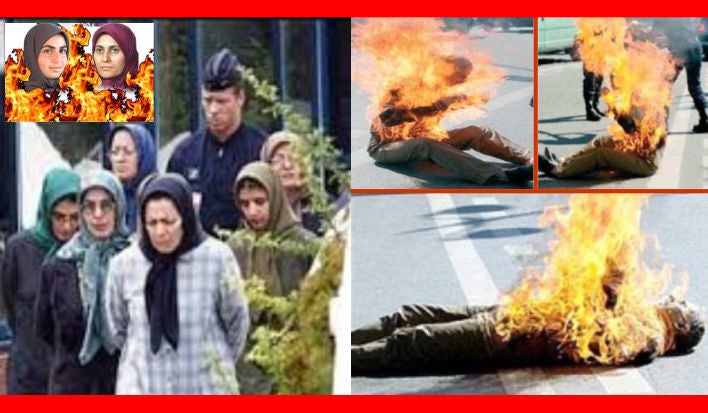 Under President Macron, France can play a pivotal role in Western relations with Iran
A Fully United Europe Claims the High Ground in Relations with Iran
Also read:
http://iran-interlink.org/wordpress/?p=9143
Intel Vets Tell Trump Iran Is Not Top Terror Sponsor (Mojahedin Khalq, MEK, Maryam Rajavi, NCRI) 
Consortium News, December 26 2017:… The MEK were classified as a terrorist group, until the United States decided that as long as the MEK would help kill Iranians rather than Americans, that they were no longer terrorists. The MEK's history of terrorism is quite clear. Among more than a dozen examples over the last four decades these four are illustrative: During the 1970s, the MEK killed U.S. military … 
The MEK's dirty past includes the anti-Imperialist inspired murder of six Americans in pre-revolution Iran which it later celebrated in songs and publications
Intel Vets Tell Trump Iran Is Not Top Terror Sponsor (Mojahedin Khalq, MEK, Maryam Rajavi, NCRI)
A group of U.S. intelligence veterans urges President Trump to stop his administration's false claims about Iran being the leading state sponsor of terrorism when U.S. allies, such as Saudi Arabia, are clearly much guiltier.
MEMORANDUM FOR: The President
FROM: Veteran Intelligence Professionals for Sanity
SUBJECT: Is Iran the "World's Leading Sponsor of Terrorism?"
EXECUTIVE SUMMARY/BACKGROUND 
We are concerned by recent strident and stark public statements from key members of your Administration that paint Iran in very alarmist terms. The average American, without the benefit of history, could easily be persuaded that Iran poses an imminent threat and that there is no alternative for us but military conflict.
We find this uncomfortably familiar territory. Ten years ago former President George W. Bush was contemplating a war with Iran when, in November of 2007, intelligence analysts issued a formal National Intelligence Estimate (NIE) debunking the prevailing conventional wisdom; namely, that Iran was on the verge of getting a nuclear weapon.  The NIE concluded that Iran had stopped working on a nuclear weapon in 2003.
Recalling this moment in his memoir, Decision Points, President Bush noted that the NIE's "eye-popping" intelligence findings stayed his hand.  He added this rhetorical question: "How could I possibly explain using the military to destroy the nuclear facilities of a country the intelligence community said had no active nuclear weapons program?"
We believe that you are facing a similar situation today. But instead of an inaccurate claim that Iran has nuclear weapons, the new canard to justify war with Iran is the claim that Iran remains the "world's leading state sponsor of terrorism." This is incorrect, as we explain below.
 * * *
One of the recurring big bipartisan lies being pushed on the public with the enthusiastic help of a largely pliant media is that Iran is the prime sponsor of terrorism in the world today.
In the recent presentation of your administration's National Security Strategy for 2018, the point is made that:
"Iran, the world's leading state sponsor of terrorism, has taken advantage of instability to expand its influence through partners and proxies, weapon proliferation, and funding. . . . Iran continues to perpetuate the cycle of violence in the region, causing grievous harm to civilian populations."
Those sentiments are echoed by several other countries of the Middle East. Saudi Arabia's Foreign Minister, Adel al-Jubeir, for example, declared in October 2015 that: Iran "is the biggest sponsor of terrorism in the world, and it is working on destabilizing the region."
The Saudi foreign minister conveniently declined to mention that 15 of the 19 terrorists who hijacked planes and attacked America on 11 September 2001 were Saudis, not Iranians.  And, while Iran was an active promoter of terrorism two decades ago, it is no longer in the forefront of global terrorism. Ironically, that dubious distinction now goes to Iran's accusers — first and foremost, Saudi Arabia.
The depiction of Iran as "the world's leading state sponsor of terrorism" is not supported by the facts. While Iran is guilty of having used terrorism as a national policy tool, the Iran of 2017 is not the Iran of 1981. In the early days of the Islamic Republic, Iranian operatives routinely carried out car bombings, kidnappings and assassinations of dissidents and of American citizens. That has not been the case for many years. Despite frequent claims by U.S. officials that Iran is engaged in terrorism, we simply note that the incidents recorded annually in the U.S. Department of State's Patterns of Global Terrorism rarely identifies a terrorist incident as an act by or on behalf of Iran.
Iran's relationship with Hezbollah also has evolved radically. In the early years of the Islamic Republic, Hezbollah was often a proxy and sub-contractor for Iran. But during the last 20 years Hezbollah has become an entity and political force in its own right. It fought Israel to a standstill in 2006 in southern Lebanon, which was a watershed moment in establishing Hezbollah's transformation into a conventional army. In the intervening years, Hezbollah, which is now part of the Lebanese government, also has turned away from the radical, religious driven violence that is the hallmark of the Sunni extremists, like ISIS.
Iran's Asymmetrical Response
After Iran fell under the rule of the Ayatollah in 1979 terrorism, its role in high profile terrorist attacks, such as the taking of U.S. hostages and the bombings of the U.S. Embassy and the Marine barracks in Lebanon, fed understandable U.S. animosity towards Iran.  But Iran's actions were not driven primarily by blind hatred or radical religious views.  For Iran terrorism was a way to punch back against more powerful foes, principally the United States, which was providing military and intelligence support to Iran's neighbor and enemy, Iraq.
The Iranians were also pragmatic and had direct dealings with Israel. During the early days of the Iranian revolution the Mullahs, despite publicly denouncing Israel, happily accepted secret military support from the Israelis. Israel was equally pragmatic. The Israeli leaders ignored the Mullahs and gave the support as a means of helping counter the threat posed by Iraqi President Saddam Hussein. A classic case of the enemy of my enemy is my friend.
The public image of Iran as a hotbed of fanatical terrorists has been usurped since the August 1998 bombings of the U.S. Embassies in east Africa by Al Qaeda and other radical Sunni entities. The U.S. Government's own list of terrorist attacks since 2001 shows a dramatic drop in the violence carried out by Iran and an accompanying surge in horrific acts by radical Sunni Muslims who are not aligned with Iran.  The latest edition of the Global Terrorism Index, a project of the U.S. Department of Homeland Security, shows that four groups accounted for 74 percent of all fatalities from terrorism in 2015 — Boko Haram, Al-Qaeda, the Taliban and ISIS.
Thirteen of the 14 Muslim Groups identified by the U.S. intelligence community as actively hostile to the US are Sunni, not Shia, and are not supported by Iran:
– ISIS (Sunni)
– The Al-Nusra Front (Sunni)
– Al-Qa'ida Central (Sunni)
– Al-Qa'ida in Magheb (Sunni)
– Al-Qa'ida in Arabian Peninsula (Sunni)
– Boku Haram (Sunni)
– Al-Shabbab (Sunni)
– Khorassan Group (Sunni)
– Society of the Muslim Brothers (Sunni)
– Sayyaf Group in the Philippines (Sunni)
– Taliban in Pakistan and Afghanistan (Sunni)
– Lashgar i Taiba (Sunni)
– Jemaa Islamiya (Sunni)
– Houthis (Shia)
The last major terrorist attack causing casualties that is linked to Iran was the July 2012 bombing of a bus with Israeli tourists in Bulgaria. That departure from Iran's more recent policy on terrorism was retaliation for what Iran perceived to be Israel's role in assassinating five Iranian scientists involved with Iran's Nuclear program, between January 2010 and January 2012 (the dates and names of those attacked are appended).
One can easily imagine the outrage and lust for revenge that would sweep the U.S., if Americans believed a foreign country sent operatives into the United States who in turn murdered engineers and scientists working on sensitive U.S. defense projects.
Special Operations
There have been other terrorist attacks inside Iran bearing the handprint of support from the United States. Author Sean Naylor, Relentless Strike, which details the history of operations carried out by U.S. Joint Special Operations Command (JSOC) over the past 30 years, sheds light on this uncomfortable truth:
"JSOC personnel also worked with the Mujahideen-e-Khalq (MEK), a militant Iranian exile group that had based itself in Iraq after falling afoul of the ayatollahs' regime in Tehran. The State Department had placed the MEK on its list of designated terrorist organizations, but that didn't stop JSOC from taking an attitude of "the enemy of my enemy is my friend" toward the group. "They were a group of folks that could transit the border, and they were willing to help us out on what we wanted to do with Iran," said a special operations officer."
The MEK were classified as a terrorist group, until the United States decided that as long as the MEK would help kill Iranians rather than Americans, that they were no longer terrorists. The MEK's history of terrorism is quite clear. Among more than a dozen examples over the last four decades these four are illustrative:
During the 1970s, the MEK killed U.S. military personnel and U.S. civilians working on defense projects in Tehran and supported the takeover in 1979 of the U.S. Embassy in Tehran.

In 1981, the MEK detonated bombs in the head office of the Islamic Republic Party and the Premier's office, killing some 70 high-ranking Iranian officials, including Iran's President, Premier, and Chief Justice.

In April 1992, the MEK conducted near-simultaneous attacks on Iranian embassies and installations in 13 countries, demonstrating the group's ability to mount large-scale operations overseas.

In April 1999, the MEK targeted key military officers and assassinated the deputy chief of the Iranian Armed Forces General Staff.
Despite this history, a bipartisan parade of prominent U.S. political and military leaders has lobbied on behalf of MEK and has been well compensated in return.
Benighted Policy So Far
In the ultimate ironic turn, the U.S.-led 2003 war in Iraq played a critical role in Iran's resurgence as a regional power. Saddam Hussein was replaced by Shia muslims who had received sanctuary in Iran for many years and Baathist institutions, including the Army, were taken over by Iraqis sympathetic to Tehran.
Iran has come out ahead in Iraq and, with the 2015 nuclear agreement in place, Iran's commercial and other ties have improved with key NATO allies and the other major world players—Russia and China in particular.
Official pronouncements on critical national security matters need to be based on facts. Hyperbole in describing Iran's terrorist activities can be counterproductive. For this reason, we call attention to Ambassador Nikki Haley's recent statement that it is hard to find a "terrorist group in the Middle East that does not have Iran's fingerprints all over it." The truth is quite different. The majority of terrorist groups in the region are neither creatures nor puppets of Iran. ISIS, Al-Qaeda and Al-Nusra are three of the more prominent that come to mind.
You have presented yourself as someone willing to speak hard truths in the face of establishment pressure and not to accept the status quo. You spoke out during the campaign against the 2003 U.S. invasion of Iraq as a historic mistake of epic proportions. You also correctly captured the mood of many Americans fatigued from constant war in far away lands. Yet the torrent of warnings from Washington about the dangers supposedly posed by Iran and the need to confront them are being widely perceived as steps toward reversing your pledge not to get embroiled in new wars.
We encourage you to reflect on the warning we raised with President George W. Bush almost 15 years ago, at a similar historic juncture:
"after watching Secretary Powell today, we are convinced that you would be well served if you widened the discussion … beyond the circle of those advisers clearly bent on a war for which we see no compelling reason and from which we believe the unintended consequences are likely to be catastrophic."
LIST OF IRANIAN SCIENTISTS ASSASSINATED IN IRAN
January 12, 2010: Masoud Alimohammadi, Iranian Physicist:
Killed by a car bomb.  The perpetrator reportedly confessed to having been recruited by Israeli intelligence to carry out the assassination.
November 29, 2010: Majid Shahriari, Iranian nuclear scientist:
Killed by a car bomb.  According to German media, Israel was the sponsor.
November 29, 2010: Assassination attempt on Fereydoon Abbasi Iranian nuclear scientist:
Wounded by a car bomb.
July 23, 2011: Darioush Rezaeinejad, Iranian electrical engineer, nuclear scientist
Killed by unknown gunmen on motorcycle.  Specialist on high-voltage switches — a key component of nuclear warheads.  Assassinated by Israeli intelligence, according to the German press.
January 11, 2012: Mostafa Ahmadi-Roshan, Iranian nuclear scientist
Killed at Natanz uranium enrichment facility by a magnetic bomb of the same kind used in earlier assassinations of Iranian scientists.
________________________
Signed:
Richard Beske, CIA, Operations Officer (ret.)
William Binney, former NSA Technical Director for World Geopolitical & Military Analysis; Co-founder of NSA's Signals Intelligence Automation Research Center
Marshall Carter-Tripp, Foreign Service Officer (ret.) and Division Director, State Department Bureau of Intelligence and Research
Bogdan Dzakovic, Former Team Leader of Federal Air Marshals and Red Team, FAA Security, (ret.) (associate VIPS)
Philip Giraldi, CIA, Operations Officer (ret.)
Larry C. Johnson, former CIA and State Department Counter Terrorism officer
Michael S. Kearns, Captain, USAF (Ret.); ex-Master SERE Instructor for Strategic Reconnaissance Operations (NSA/DIA) and Special Mission Units (JSOC)
John Kiriakou, Former CIA Counterterrorism Officer and former senior investigator, Senate Foreign Relations Committee
Karen Kwiatkowski, former Lt. Col., US Air Force (ret.), at Office of Secretary of Defense watching the manufacture of lies on Iraq, 2001-2003
Edward Loomis, NSA, Cryptologic Computer Scientist (ret.)
David MacMichael, National Intelligence Council (ret.)
Ray McGovern, former US Army infantry/intelligence officer & CIA analyst (ret.)
Elizabeth Murray, Deputy National Intelligence Officer for Near East, CIA and National Intelligence Council (ret.)
Torin Nelson, former Intelligence Officer/Interrogator (GG-12) HQ, Department of the Army
Todd E. Pierce, MAJ, US Army Judge Advocate (ret.)
Coleen Rowley, FBI Special Agent and former Minneapolis Division Legal Counsel (ret.)
Greg Thielmann — Former director of the Strategic, Proliferation, and Military Affairs Office of the State Department's intelligence bureau (INR) and former senior staffer on the Senate Intelligence Committee
Kirk Wiebe — former Senior Analyst, SIGINT Automation Research Center, NSA
Lawrence Wilkerson, Colonel (USA, ret.), Distinguished Visiting Professor, College of William and Mary (associate VIPS)
Sarah G. Wilton, CDR, USNR, (Retired)/DIA, (Retired)
Robert Wing — former Foreign Service Officer (associate VIPS)
Ann Wright, Col., US Army (ret.); Foreign Service Officer (who resigned in opposition to the war on Iraq)
(END)
*** 
(Library of Congress. Congressional Research Service.
The People's Mojahedin Organization of Iran, by Kenneth Katzman. Washington, Nov 1992. 6 p.
Doc. call no.: M-U 42953-1 no.92-824F)
Also read:
http://iran-interlink.org/wordpress/?p=9054
Full-Time Job Of Maryam Rajavi (MEK), working as Mercenary for Iran's enemies 
Mazda Parsi, Nejat Society, November 23 2017:…  If America could be made ignorant and amnestic of the horrors imposed on America by the MKO by selective information, leaks, and by silence brought and made possible by Israel then ISIS had a good chance of being received by the US and maintained by the Zionists for the rainy day. The secret deals between the cultish, violent regressive MKO –which was an acolyte of Saddam Hussein … 
Albania's Modern Slavery Problem Alienates Europe
Full-Time Job Of Maryam Rajavi (MEK), working as Mercenary for Iran's enemies
working as Mercenary for Iran's enemies
It has been near two decades that the Mujahedin Khalq Organizaion (the MKO/MEK/ the PMOI/ the Cult of Rajavi) propagate its fabrications on Iran's nuclear program and eventually Iran hawks in the United States and Israel fearmonger about the "threat" of Iran.
Siding with the the countries' enemies caused the Iranian people to hate the Mujahedin-e Khalq .
If America could be made ignorant and amnestic of the horrors imposed on America by the MKO by selective information, leaks, and by silence brought and made possible by Israel then ISIS had a good chance of being received by the US and maintained by the Zionists for the rainy day.
The secret deals between the cultish, violent regressive MKO –which was an acolyte of Saddam Hussein– and the US warmongers, show that Israel will create a friend out of an enemy of a friend. Considering the fact that the US has no common interest with the MKO –anti Iran stance as an American duty has also been cooked by Israel. In fact, Israel bribes the senators, congressmen, mayors and governors of the allied country to normalize relation with the MKO, a sworn enemy of US with blood on hand.
This is the very reason ISIS can be suspected of collusion with Israel. If the MKO could get removed of terror list, ISIS which has not killed the US citizens –as the MKO did in the 1970s–  could also get but at a time chosen by Israel. Enemy of my enemy is my friend is obsolete ideological term for Israel. For Israel making friendship with the enemies of the friend and then using both of them for its own reactionary interests is the norm.
"Former administration officials like Tom Ridge and Washington think tanks allied with the Israel Lobby have published screeds calling for violent overthrow of the Iranian regime," Richard Silverstein of the Jewish website Tikun Olam writes. "Their op-eds are bought and paid for by former terror groups like the MeK charged with assassinating U.S. diplomats.  Ridge alone has earned tens of thousands of dollars for giving 15-minute speeches addressed to MeK gatherings around the globe.  Scores of other past officials including Howard Dean, Rudy Giuliani, Ed Rendell, John Bolton, have also joined the gravy train." [1]
A former CIA agent who writes on the American Herald Tribune, Philip Giraldi revealed the well-paid lobbying campaign of the MKO in the US government. He writes: "Multi-million dollar contracts with Washington lobbying firms experienced at "working" congress backed up by handsome speaking fees have induced many prominent Americans to join the chorus supporting NCRI. Prior to 2012, speaking fees for the group started at $15,000 and went up from there. Former Pennsylvania governor Ed Rendell reported more than $150,000 in honoraria. Rudy Giuliani has been paid generously for years at $20,000 per appearance for brief, twenty-minute speeches. Bear in mind that MEK was a listed terrorist group at the time and accepting money from it to promote its interests should have constituted material support of terrorism." [2]
The US paid advocates of the MKO have been very probably informed about the true substance of the MKO by prominent columnists like Philip Giraldi. "MEK is widely regarded as a terrorist cult headed by a bizarre husband and wife team Massoud and Maryam Rajavi," he asserts. "Its members are required to be celibate and are subjected to extensive brainwashing, physical torture, severe beatings even unto death, and prolonged solitary confinement if they question the leadership.  One scholar who has studied them describes their beliefs as a "weird combination of Marxism and Islamic fundamentalism." [3]
He suggests that with the sharp turn of the Trump Administration against Iran, the MKO is now finding an audience in the US, "telling the American public that Iran is "cheating" on the nuclear deal".
A few weeks prior to the article by Philip Giraldi, Yuram Abdullah Weiler published an article on the American Herald Tribune titled "The Iran Nuclear "Threat": Trump's Recycled Fake News". His investigated post exposes the so-called expert Alireza Jafarzadeh as the MKO's arm in the US war hawk media, the Fox News. He suggests that Jafarzadeh just recycles the same alleged intelligence on the Iran nuclear program that he has repeated over and over since 2002. [4]
"Jafarzadeh gained notoriety in August 2002 when he held a press conference to present "evidence" of a nuclear weapons program in Iran" he writes. "In his 2006 book titled "The Iran Threat," which reads like a pulp-fiction spy thriller, he admitted that he has worked as a lobbyist for the MeK and even managed to convince 219 members of the U.S. House of Representatives to sign a statement in support of the NCRI […] The similarity of the current (2017) Fox News article and the 2005 press release is striking." [5]
Where is this intelligence fabricated originally?
The prominent journalist Gareth Porter has several times answered this question based on documented information. A few weeks ago, once more he asserted that Zionism is the main element to run the US policy and the agenda of its terror and propaganda arms in the world. "President Donald Trump's new Iran policy clearly represents a dangerous rejection of diplomacy in favor of confrontation," Porter suggests. "But it's more than that: It's a major shift toward a much closer alignment of U.S. policy with that of the Israeli government of Prime Minister Benjamin Netanyahu." [6]
Porter denounces the MKO's American sponsors as main operators of Zionists policy in the US. "But it was Bolton who worked with Israeli officials to plan a campaign to convince the world that Iran was secretly working on nuclear weapons," He writes. "His goal was to sell key European nations on a UN Security Council resolution accusing Iran of developing a nuclear program. Bolton explains in his memoirs that the assumption of his strategy was that either the Security Council would strip Iran of its right to have a nuclear program or the United States would take unilateral military action." [7]
About the alleged revelations on the Iranian nuclear sites he resumes: "In the summer of 2004, a large collection of documents allegedly from a covert Iranian nuclear weapons research program was suddenly obtained by Germany's foreign intelligence agency. Those documents became the sole alleged evidence that such a program existed. But this writer found more than one telltale sign of fraud in the papers, and a former senior German foreign office official told me on the record in March 2013 that the source who passed on the documents was a member of the Mujihadeen e-Khalq (MEK), the armed Iranian opposition group. The MEK has allegedly worked with Israel's Mossad for some time." [8]
What makes the MKO credible for Iran hawks?
Richard Silverstein notices the history of the group and concludes that "It would be totally in character for the MeK to accept funding from Iran's enemies, as it was once sheltered in Iraq by Saddam Hussein during the Iran-Iraq war." [9]
Some of the services the MKO offers its sponsors are listed by Silverstein: "the MeK participated in the assassination of five Iranian nuclear scientists. Many analysts believe that MeK's mysterious largesse originated in the treasury of the Saudi regime, a sworn enemy of the Iran's Shia regime.  NBC, quoting Obama administration sources, claimed the Mossad was an important funder as well.  Meir Dagan, Israel's former Mossad chief, publicly boasted of Israeli acts of terrorism sponsored inside Iran.  Clearly, these sorts of operations need Iranian insiders and MeK is a likely culprit.  The same NBC report asserted that the MeK participated in the assassination of five Iranian nuclear scientists.  I reported here, based on a high-level Israeli former military officer, that the Mossad and MeK jointly coördinated the attacks.  Other journalists have reported that the Saudis gave Israel $1-billion for various operations to sabotage Iran's nuclear program including the assassinations and the Stuxnet malware attack." [10]
In all these filthy deals there is a "poor bargain" for the people of the world. The destructive cult of Rajavi is a bad tool for the warmongers that will one day come back to haunt them just like what Al Qaeda and ISIS did.
By Mazda Parsi
Sources:
[1] Silverstein, Richard, Trump and Iran Nuclear Deal: 'On the Road to Nowhere', Tikun Olam, November 5, 2017
[2] Giraldi, Philip, The Rise of MEK/NCRI in Washington: Pay Off The Right People and You Are No Longer A Terrorist, American Herald Tribune, October 30, 2017
[3] ibid
[4] Weiler, Yuram Abdullah, The Iran Nuclear "Threat": Trump's Recycled Fake News, American Herald Tribune, October 13, 2017
[5] ibid
[6] Porter, Gareth, Trump Trashes Iran Deal to Satisfy Netanyahu U.S-Iran policy is closer to Israel than it has been in years, the American Conservative, October 20, 2017
[7] ibid
[8] ibid
[9] Silverstein, Richard, Trump and Iran Nuclear Deal: 'On the Road to Nowhere', Tikun Olam, November 5, 2017
[10] ibid
*** 
Anne Khodabandeh (Singleton) exposing Maryam Rajavi's MEK activities in Albania

https://youtu.be/yt-rXbs8014
Captain Lewis Lee Hawkins
(Photograph courtesy Annette Hawkins)
link to one of the Mojahedin Khalq songs
advocating terror and killing Americans
(In Persian written and distributed after the Iranian Revolution)
Who celebrated the terrorist act of Sep. 11? 
Ambassador Daniel Benjaminan and Ambassador Daniel Fried on Mojahedin Khalq Terrorist designation and Camp Ashraf
(aka; MKO, MEK, Rajavi cult)
Remember.Mojahedin Khalq (MKO, MEK, Rajavi cult) was one of the excuses of US attacking Iraq
Iran: Joint Takfiri – MKO plot against Iran failed (aka: Mojahedin Khalq, MEK, Rjavi cult)
Also read:
http://iran-interlink.org/wordpress/?p=8457
Debate in the European Parliament 'What is to be done about the Iranian Mojahedin Khalq (MEK)?' 
Massoud Khodabandeh, Huffpost, June 02 2017:… The meeting was organised by Ana Gomes, SND (Portugal) and seconded by Marietje Schaake, ALDE (Netherlands) and Michael Gahler, Christian Democrats (Germany). Two expert speakers were invited to address the meeting: Nicola Pedde, Director Institute for Global Studies, Italy and Massoud Khodabandeh, Director Middle East Strategy Consultants, UK. … 
Albania's destabilization? You have forgotten hundreds of Mojahedin!

Should we be afraid of Senator McCain meeting with the Mojahedin Khalq (Rajavi cult, MEK, MKO, …) in Albania?
Link to the source (Huffpost)
Link to the same article (Top topic)
Debate in the European Parliament 'What is to be done about the Iranian Mojahedin Khalq (MEK)?'
A meeting in the European Parliament on 30 May discussed the problems associated with the Mojahedin Khalq Organisation (MEK) both inside the Parliament and across Europe and the wider world.
The meeting, which was attended by MEPs, researchers and analysts along with representatives of agencies outside the parliament such as security personnel, was organised by Ana Gomes, SND (Portugal) and seconded by Marietje Schaake, ALDE (Netherlands) and Michael Gahler, Christian Democrats (Germany).
All three have a clear record as outspoken critics of Iran's human rights record and are concerned about the impact of MEK activity on this issue.
Two expert speakers were invited to address the meeting: Nicola Pedde, Director Institute for Global Studies, Italy and Massoud Khodabandeh, Director Middle East Strategy Consultants, UK.
Since all the participants have seen first-hand that the MEK spends enormous amounts of money for publicity and lobbying, the first issue to be discussed was 'who funds the MEK and what is their agenda?' It soon became apparent that the MEPs are fully aware that the MEK has never existed as an independent group and has benefitted over three decades from funding streams from specific circles which are trying to engineer regime change in the Middle East. The question then became whether these sponsors understand that the cost benefit of supporting the MEK is not giving positive returns but in fact has a negative result for them in their regime change agendas.
Further discussion by representatives revealed that the MEK has been shunned by almost every Parliament across Europe.
In spite of this, MEK members can still gain access to the European Parliament because it is an open institution. The problem this presents is the bullying tactics used by the MEK to intimidate MEPs and their staff. Several delegates at the meeting gave first-hand evidence of this. One MEP said that within ten minutes of taking one particular stance he was bombarded by mass emails some of which contained swearing and threats. Delegates agreed that this is incompatible with the fundamental principles of any Parliament in which representatives must be able to speak and act free from any pressure or intimidation.
Nicola Pedde described to delegates his work in the Italian Parliament where MPs are persuaded to sign petitions by bogus human rights campaigners. Pedde said that when he asked, many of the signatories were unaware that the MEK was behind the petition and didn't realise that various sentences or paragraphs were added afterwards to give support for Maryam Rajavi and her agenda. Pedde said some MPs were even strongly against the MEK and were very angry about being deceived in this way. They had thought they were condemning human rights abuses in Iran, but their names were then misused to depict them as supporters of terrorists in Albania.
The discussion moved on to the problem of accepting the MEK as advocates of human rights for Iran. Ana Gomes said that when Iranian Nobel Human Rights Prize winner Shirin Ebadi visited the European Parliament, she was unequivocal in saying that the MEK do not have the right to be described as human rights activists. Quite the opposite, they are abusers themselves, she said. Massoud Khodabandeh reminded delegates that in a recent interview with AP, Reza Pahlavi – who wants to restore the monarchy to Iran – dismissed the MEK as a cult. In addition, every Iranian opposition group from the Greens to the Nationalists has rejected the MEK as human rights advocates and as a political entity.
More concerning for delegates is that the government of Iran is quick to use the MEK's advocacy for human rights as a means to dismiss the issue, pointing out that the terrorist group murdered thousands of Iranian citizens and still commits human rights abuse against its own members. Massoud Khodabandeh gave an example from the UK House of Lords in which Haleh Afshar – a prominent Iranian feminist and academic who now sits in the House as Baroness Afshar – hosted a parliamentary debate about human rights in Iran. The challenging discussion, with valuable contributions from several informed members, was completely undermined by one of the MEK's supporters who asserted that only Maryam Rajavi and her group could bring freedom and human rights to Iran. The government of Iran cannot be expected to even respond to such a debate said Khodabandeh.
Nicola Pedde made an interesting comment when he said that the MEK cannot be considered as a viable force because, as a result of its cultish behaviour, the MEK do not have a second generation. They have effectively killed themselves, he told delegates, because marriage and family are banned for all members.
The third issue to be discussed was the MEK presence in Albania. Delegates heard how the MEK had been forced to leave Iraq and how the Americans arranged for the UN to be able to transfer them to Albania. The government of Iraq was relieved to be rid of three thousand MEK who had been part of Saddam Hussein's repressive forces, but the problem has now simply been moved to Albania. The Americans promised help to de-radicalise the MEK members. But, as Massoud Khodabandeh pointed out, this did not happen and the group was allowed to re-group as a terrorist cult and treat its members as modern slaves.
Delegates discussed Albania's candidature to join the European Union in light of this situation and agreed that this is not just incompatible but that having trained terrorists on the doorstep of Europe is already a security threat to Europe. Delegates stressed that European security services need to take this threat seriously from now.
Reports also described the human rights abuses inflicted on MEK members by their own leaders. They are living in conditions of modern slavery because the UNHCR is acting illegally by paying refugee allowances to the organisation instead of to the individual members. This means members are forced into dependency on the group and cannot leave. Members are also prevented from contacting their families or even other former members so they do not have any recourse to external help or support.
As the two speakers gave their expert analysis throughout the meeting, they also offered suggestions for solutions. Khodabandeh urged delegates to put pressure on the Albanian authorities and the UNHCR to resolve the hostage condition of MEK members in Albania.
Pedde said MEPs should be briefed about the danger of supporting human rights through using groups like the MEK.
At the end the meeting was also opened to the audience for discussion. Former MEK members, Ali Akbar Rastgou, Batoul Soltani, Reza Sadeghi and Ghorban Ali Hossein Nejad were able to join the discussion at this time.
In conclusion delegates discussed various solutions which are open to them. It was important, they said, to find ways to tackle these problems because parliament cannot be held hostage to bullies. A package of activities was agreed in order to curtail the MEK's deceptive and intimidating activities in Parliament. Other solutions to the wider problems were also agreed and will be put in place throughout the rest of the year.
(END)
*** 
Albanian Translation:
http://gazetaimpakt.com/parlamenti-evropian-shqiperia-rrezikon-integrimin-ne-per-shkak-te-muxhahedineve-mek/
Parlamenti Evropian: Shqipëria rrezikon integrimin në BE për shkak të muxhahedinëve (MEK)
Një takim në Parlamentin Evropian më 30 maj diskutoi problemet që lidhen me Organizatën Muxhahedin e-HalK (MEK) si brenda Parlamentit, ashtu edhe në të gjithë Evropën dhe botën e gjerë.
Takimi, në të cilin morën pjesë deputetë, hulumtues dhe analistë, së bashku me përfaqësues të agjensive jashtë parlamentit si personel i sigurisë, u organizua nga Ana Gomes e Partisë Socialiste (Portugali), dhe u suportua nga Marietje Schaake e partisë ALDE (Hollandë) dhe Michael Gahler i Partisë Kristian Demokrate (Gjermani).
Të tre kanë një rekord të qartë si kritikë të sinqertë të të dhënave për të drejtat e njeriut në Iran, dhe janë të shqetësuar për ndikimin e aktivitetit të MEK në këtë çështje.
Dy ekspertë u ftuan për të adresuar takimin: Nicola Pedde, Drejtor i Institutit për Studime Globale, Itali, dhe Massoud Khodabandeh, Drejtor i Këshilltarëve të Strategjisë për Lindjen e Mesme në Mbretërinë e Bashkuar.
Meqë të gjithë pjesëmarrësit kanë parë që MEK shpenzon shuma të mëdha parash për publicitet dhe lobim, çështja e parë për t'u diskutuar ishte 'kush e financon MEK-un dhe cila është axhenda e tyre'? Shumë shpejt u bë e qartë se deputetët janë plotësisht të vetëdijshëm se MEK nuk ka ekzistuar kurrë si një grup i pavarur, dhe ka përfituar më shumë se tre dekada nga financimi nga qarqe të veçanta që po përpiqen të kurdisin ndryshimin e regjimit në Lindjen e Mesme. Më pas u bë pyetja nëse këta sponsorë e kuptojnë se kostoja e mbështetjes së MEK-ut nuk po jep kthime pozitive, por në fakt ka një rezultat negativ për ta në axhendat e ndryshimit të regjimit.
Diskutimet e mëtejshme të përfaqësuesve zbuluan se MEK është shmangur nga pothuajse çdo Parlament në të gjithë Evropën.
Përkundër kësaj, anëtarët e MEK-ut ende mund të fitojnë qasje në Parlamentin Evropian, sepse është një institucion i hapur. Problemi që paraqet kjo është taktika e persekutimit e përdorur nga MEK për të intimiduar deputetët dhe stafin e tyre. Disa delegatë në takim dhanë dëshmi të dorës së parë për këtë. Një deputet i parlamentit tha se brenda dhjetë minutave nga marrja e një qëndrimi të veçantë, ai u bombardua nga emaile masive, disa prej të cilave përmbanin betime dhe kërcënime. Delegatët ranë dakord se kjo nuk është në përputhje me parimet themelore të kujtdo Parlamenti në të cilin përfaqësuesit duhet të jenë në gjendje të flasin dhe të veprojnë pa ndonjë presion ose frikësim.
Nicola Pedde u përshkroi të deleguarve punën e tij në Parlamentin Italian, ku deputetët janë bindur për të nënshkruar peticione nga aktivistët e rremë të të drejtave të njeriut. Pedde tha se kur ai i pyeti, shumë nga nënshkruesit nuk ishin në dijeni se MEK ishte prapa peticionit, dhe nuk e kishin vënë re se më pas ishin shtuar fjali ose paragrafë të ndryshëm për të dhënë mbështetje për Marjam Raxhavin dhe axhendën e saj. Pedde tha se disa deputetë ishin madje shumë kundra MEK dhe ishin shumë të zemëruar që ishin mashtruar në këtë mënyrë. Ata kishin menduar se po dënonin abuzimet e të drejtave të njeriut në Iran, por emrat e tyre më pas u keqpërdorën për t'i përshkruar ata si mbështetës të terroristëve në Shqipëri.
Diskutimi vazhdoi me problemin e pranimit të muxhahedinëve si avokatë të të drejtave të njeriut për Iranin. Ana Gomes tha se kur fituesja e çmimit Nobel për të Drejtat e Njeriut, Shirin Ebadi vizitoi Parlamentin Evropian, ajo ishte e qartë që muxhahedinët nuk kishin të drejtë të përshkruheshin si aktivistë për të drejtat e njeriut. Përkundrazi, ata janë vetë abuzuesit, tha ajo. Massoud Khodabandeh u kujtoi delegatëve se në një intervistë të kohëve të fundit me AP, Reza Pahlavi, princi i kurorës në Iran – i cili dëshiron të rivendosë monarkinë në Iran – hodhi poshtë MEK-un si një kult. Përveç kësaj, çdo grup i opozitës iraniane, që nga të Gjelbrit deri te Nacionalistët e ka hedhur poshtë MEK-un si avokatë të të drejtave të njeriut dhe si subjekt politik.
Më shqetësuese për delegatët është që qeveria e Iranit është e shpejtë në përdorimin e avokimit të MEK-ut për të drejtat e njeriut si një mjet për të hedhur poshtë çështjen, duke vënë në dukje se grupi terrorist ka vrarë mijëra qytetarë iranianë dhe ende kryen abuzime të të drejtave të njeriut kundër anëtarëve të vet. Massoud Khodabandeh dha një shembull nga Shtëpia e Lordëve në Mbretërinë e Bashkuar në të cilën Haleh Afshar – një feministe dhe akademike e shquar iraniane, e cila tani është ulur në Shtëpi si Baronesha Afshar – priti një debat parlamentar mbi të drejtat e njeriut në Iran. Diskutimi sfidues, me kontribute të vlefshme nga disa anëtarë të informuar, u dëmtua plotësisht nga një prej mbështetësve të MEK-ut, i cili pohoi se vetëm Marjam Raxhavi dhe grupi i saj mund të sillnin liri dhe të drejta të njeriut në Iran. Qeveria e Iranit nuk mund të pritej as të përgjigjej për një debat të tillë, tha Khodabandeh.
Nicola Pedde bëri një koment interesant kur tha se MEK nuk mund të konsiderohet si një forcë me gjasa për sukses, sepse, si pasojë e sjelljes së tij kulturore, MEK nuk ka një brez të dytë. Ata kanë vrarë në mënyrë efektive veten e tyre, u tha ai delegatëve, sepse martesa dhe familja janë të ndaluara për të gjithë anëtarët.
Çështja e tretë për t'u diskutuar ishte prania e MEK-ut në Shqipëri. Delegatët dëgjuan se si MEK ishte detyruar të largohej nga Iraku dhe se si amerikanët organizuan që OKB-ja të ishte në gjendje t'i transferonte ata në Shqipëri. Qeveria e Irakut u lehtësua që shpëtoi nga tre mijë muxhahedinë që kishin qenë pjesë e forcave represive të Sadam Huseinit, por problemi tani thjesht është zhvendosur në Shqipëri. Amerikanët premtuan ndihmë për de-radikalizimin e anëtarëve të MEK-ut. Por, siç vuri në dukje Massoud Khodabandeh, kjo nuk ndodhi dhe grupi u lejua të ri-grupohet si një kult terrorist dhe t'i trajtojë anëtarët e tij si skllevër modernë.
Delegatët diskutuan mbi kandidaturën e Shqipërisë për t'u bashkuar me Bashkimin Evropian nën dritën e kësaj situate, dhe ranë dakord se jo vetëm që kjo është e papërputhshme, por trajnimi i terroristëve në pragun e Evropës është tashmë një kërcënim për sigurinë e saj. Delegatët theksuan se shërbimet e sigurisë evropiane duhet ta marrin seriozisht këtë kërcënim prej tani.
Raportet gjithashtu përshkruan abuzimet e të drejtave të njeriut të shkaktuara ndaj anëtarëve të MEK-ut nga udhëheqësit e tyre. Ata jetojnë në kushte të skllavërisë moderne, sepse UNHCR-ja vepron në mënyrë të paligjshme duke ia dhënë ndihmat për refugjatët organizatës, në vend që t'ua japë anëtarëve individualë. Kjo do të thotë se anëtarët janë të detyruar të varen nga grupi dhe nuk mund të largohen. Anëtarëve u pengohet gjithashtu që të kontaktojnë me familjet e tyre ose edhe me anëtarët e tjerë të mëparshëm, në mënyrë që ata të mos kenë ndonjë ndihmë apo mbështetje të jashtme.
Ndërsa dy ekspertët prezantuan analizën e tyre gjatë gjithë takimit, ata gjithashtu ofruan sugjerime për zgjidhje. Khodabandeh u kërkoi delegatëve të ushtrojnë presion ndaj autoriteteve shqiptare dhe UNHCR-së për të zgjidhur gjendjen skllavërore të anëtarëve të MEK-ut në Shqipëri.
Pedde tha se deputetët duhet të informohen për rrezikun e mbështetjes së të drejtave të njeriut përmes përdorimit të grupeve si MEK.
Në fund takimi u hap edhe për diskutim nga audienca. Ish anëtarët e MEK-ut, Ali Akbar Rastgou, Batoul Soltani, Reza Sadeghi dhe Ghorban Ali Hossein Nejad ishin në gjendje të bashkoheshin në diskutim në këtë kohë.
Në përfundim delegatët diskutuan zgjidhje të ndryshme që janë të hapura për ta. Është e rëndësishme, thanë ata, që të gjenden mënyra për të trajtuar këto probleme, sepse parlamenti nuk mund të mbahet peng i frikësimeve. U ra dakord për një paketë aktivitetesh për të kufizuar veprimtaritë mashtruese dhe frikësuese të MEK-ut në Parlament. U dhanë gjithashtu zgjidhje të tjera për probleme më të gjera, që do të vendosen në punë gjatë gjithë pjesës tjetër të vitit. / © Gazeta Impakt
*** 
Also read:
National Geographic, March 04 2017:… Leading MEK members squirm under the knowing gaze of Michael Ware. Watch the shifty looks and glances as the MEK representatives try to lie about their true intentions. They admit to wanting regime change, but claim to be pacifists. Ware asks 'Why does a political organization still need to have a para-military organization?' He then cleverly gets them to … 

Associated Press, February 16 2017:… The group at one point successfully infiltrated the U.S. Embassy in Tehran, according to a State Department report. And a series of bombings attributed to the MEK accompanied visits by presidents Richard Nixon and Jimmy Carter to Iran, including one to target an American cultural center. In 1973, MEK assailants wearing motorcycle helmets shot dead U.S. Army Lt. … 

Iran Interlink, February 15 2017:… The following OpEd by MEK advocate Col. Wes Martin was published first in The Hill, followed by Mojahedin Khalq's "Iran Probe" and the "NCRI" websites. Iran Interlink has published it here as indication of how hysteria has become the new normal in American published writing. A form of madness appears to have infected US politics and now all and sundry are dancing … 

Massoud Khodabandeh, Huffington Post, February 07 2017:… He also signals that his war is not with ISIS but with the country Iran. Donald Trump rose to victory in part on the promise to take on ISIS and defeat the group. Yet ISIS cannot be defeated except by a coalition of forces that includes Iran. The facts on the ground in Syria and Iraq demonstrate unequivocally that ISIS forces in Aleppo and Mosul have been defeated largely due to the involvement

Gazeta Impakt, Albania, Translated by Iran Interlink,  January 01 2017:… According to Fatos Klosi, former director of the National Intelligence Service, the American CIA chief has warned Albania that Donald Trump will renounce support for the MEK terrorists and it will be the Albanian Government itself which must deal with internal security and must confront a group trained militarily from the time of Saddam Hussein … 

Massoud Khodabandeh, Huffington Post, December 24 2016:… That can only happen if journalists and investigatory bodies (human rights, nuclear experts, war crimes, etc) are able to base their work on facts and not the fake and fictionalised fantasies of stooges like the MEK, which are clearly designed to misinform on these issues. The information laundry cycle is not difficult to follow – the Washington Times takes its report … 

Massoud Khodabandeh, Huffington Post, November 12 2016:… In particular, Rudi Giuliani, John Bolton and Newt Gingrich. Putting aside their weak personalities as well as their individual neoconservative agendas, the common thread which links these names together is their decade long support for the Mojahedin Khalq terrorist organisation (also known as Saddam's Private Army or Rajavi cult). It is certain that … 

 Iran Interlink, October 30 2016:… Local observers in Tirana are reporting that the Mojahedin Khalq cultic terror group (MEK) is buying and creating several sandwich and kebab shops in the city and is using the MEK members to work in these fast-food businesses. On the surface this may look like a positive move. In an article titled 'Albania: What would a de-radicalization program for the Mojahedin Khalq involve', it was … 

Anne and Massoud Khodabandeh, Iran Interlink, October 16 2016:… In spite of American promises, no de-radicalisation programme is in place to deal with over 2500 members of the Mojahedin Khalq terrorist group who have relocated to Tirana from Iraq. The MEK has a long history of violent and criminal activity. This has not stopped now they are in Tirana. Unless the Albanian government introduces its own programme, it must accept … 

Anne and Massoud Khodabandeh, Huffington post (and Top Topic), October 09 2016:… For the local citizens, mystery surrounds their arrival and their lifestyle. Should these secretive and covert neighbours be treated with suspicion or kindness? At a local level, the first thing neighbouring families need to be aware of is that among all MEK members, sexual relations have been banned for over 25 years. This means there are no marriages or children or young people in the organisation. More troubling … 

Massoud & Anne Khodabandeh, Huffington Post, July 14 2016:… Whether Rajavi is already dead or now killable is not known – only he can answer this – but he and his whole organisation are certainly now, body and soul, in the capable hands of the Saudi Prince. If he is still alive, Rajavi's only role is to act as go-between to instruct his wife what she must do on behalf of the Saudis. If he is dead

Massoud Khodabandeh, Huffington Post, July 08 2016:… Clearly this message is not aimed at Iranians. The clamour for regime change in Iran does not emanate from inside the country in spite of its many social, civic and political problems. Who then is Maryam Rajavi's constituency? Fro