The Latest Act in Israel's Iran Nuclear Disinformation Campaign (Mossad, MEK, Maryam Rajavi)
Gareth  Porter, Anti War, May 05 2018:… the truth about the MEK role would immediately lead to Israel, because it was well known, that Israel's intelligence agency Mossad had used the MEK to make public information that the Israelis did not want attributed to itself – including the precise location of Iran's Natanz enrichment facility. As Israeli journalists Yossi Melman and Meir Javadanfar observed in their 2007 book … 
Israel Provided IAEA with Fake Documents on Iran's Nuclear Program
That Secret Iranian 'Nuclear Facility' You Just Found? Not So Much.
Also at Mint Press 
Link to the source
The Latest Act in Israel's Iran Nuclear Disinformation Campaign
by Gareth Porter Posted on May 05, 2018
Israeli Prime Minister Benjamin Netanyahu's claim in his theatrical 20-minute presentation of an Israeli physical seizure of Iran's "atomic archive" in Tehran would certainly have been the "great intelligence achievement" he boasted if it had actually happened. But the claim does not hold up under careful scrutiny, and his assertion that Israel now possesses a vast documentary record of a covert Iranian nuclear weapons program is certainly fraudulent.
Netanyahu's tale of an Israeli intelligence raid right in Tehran that carted off 55,000 paper files and another 55,000 CDs from a "highly secret location" requires that we accept a proposition that is absurd on its face: that Iranian policymakers decided to store their most sensitive military secrets in a small tin-roofed hut with nothing to protect it from heat (thus almost certainly ensuring loss of data on CDs within a few years) and no sign of any security, based on the satellite image shown in the slide show. (As Steve Simon observed in The New York Times the door did not even appear to have a lock on it.)
The laughable explanation suggested by Israeli officials to The Daily Telegraph– that the Iranian government was afraid the files might be found by international inspectors if they remained at "major bases" — merely reveals the utter contempt that Netanyahu has for Western governments and news media. Even if Iran were pursuing nuclear weapons secretly, their files on the subject would be kept at the Ministry of Defense, not at military bases. And of course the alleged but wholly implausible move to an implausible new location came just as Netanyahu needed a dramatic new story to galvanize Trump to resist the European allies' strong insistence on preserving the Joint Comprehensive Plan of Act (JCPOA) nuclear deal with Iran.
In fact, there is no massive treasure trove of secret files about an Iran "Manhattan Project." The shelves of black binders and CDs that Netanyahu revealed with such a dramatic flourish date back to 2003 (after which a U.S. National Intelligence Estimate (NIE) said Iran had abandoned any nuclear weapons program) and became nothing more than stage props like the cartoon bomb that Netanyahu used at the United Nations in 2012.
Disinformation Campaign
Netanyahu's claim about how Israel acquired this "atomic archive" is only the latest manifestation of a long-term disinformation campaign that the Israeli government began to work on in 2002-03. The documents to which Netanyahu referred in the presentation were introduced to the news media and the International Atomic Energy Agency (IAEA) beginning in 2005 as coming originally from a secret Iranian nuclear weapons research program. For many years US news media have accepted those documents as authentic. But despite the solid media united front behind that narrative, we now know with certainty that those earlier documents were fabrications and that they were created by Israel's Mossad.
That evidence of fraud begins with the alleged origins of the entire collection of documents. Senior intelligence officials in the George W. Bush administration had told reporters that the documents came from "a stolen Iranian laptop computer", as The New York Times reported in November 2005. The Times quoted unnamed intelligence officials as insisting that the documents had not come from an Iranian resistance group, which would cast serious doubt on their reliability.
But it turned that the assurances from those intelligence officials were part of an official dissimulation. The first reliable account of the documents' path to the United States came only in 2013, when former senior German foreign office official Karsten Voigt, who retired from his longtime position as coordinator of German-North American cooperation, spoke with this writer on the record.
Voigt recalled how senior officials of the German foreign intelligence agency, the Bundesnachtrendeinst or BND, had explained to him in November 2004 that they were familiar with the documents on the alleged Iran nuclear weapons program, because a sometime source – but not an actual intelligence agent – had provided them earlier that year. Furthermore, the BND officials explained that they had viewed the source as "doubtful," he recalled, because the source had belonged to the Mujahideen-E Khalq, the armed Iranian opposition group that had fought Iran on behalf of Iraq during the eight year war.
BND officials were concerned that the Bush administration had begun citing those documents as evidence against Iran, because of their experience with "Curveball" – the Iraqi engineer in Germany who had told stories of Iraqi mobile bioweapons labs that had turned to be false. As a result of that meeting with BND officials, Voigt had given an interview to TheWall Street Journal in which he had contradicted the assurance of the unnamed US intelligence officials to the Times and warned that the Bush administration should not base its policy on the documents it was beginning to cite as evidence of an Iranian nuclear weapons program, because they had indeed come from "an Iranian dissident group."
Using the MEK
The Bush administration's desire to steer press coverage of the supposedly internal Iranian documents away from the MEK is understandable: the truth about the MEK role would immediately lead to Israel, because it was well known, that Israel's intelligence agency Mossad had used the MEK to make public information that the Israelis did not want attributed to itself – including the precise location of Iran's Natanz enrichment facility. As Israeli journalists Yossi Melman and Meir Javadanfar observed in their 2007 book on the Iran nuclear program, based on U.S., British and Israeli officials, "Information is 'filtered' to the IAEA via Iranian opposition groups, especially the National Resistance Council of Iran."
Mossad used the MEK repeatedly in the 1990s and the early 2000's to get the IAEA to inspect any site the Israelis suspected might possibly be nuclear-related, earning their Iranian clients a very poor reputation at the IAEA. No one familiar with the record of the MEK could have believed that it was capable of creating the detailed documents that were passed to the German government. That required an organization with the expertise in nuclear weapons and experience in fabricating documents – both of which Israel's Mossad had in abundance.
Bush administration officials had highlighted a set of 18 schematic drawings of the Shahab-3 missile's reentry vehicle or nosecone of the missile in each of which there was a round shape representing a nuclear weapon. Those drawings were described to foreign governments and the International Atomic Energy Agency as 18 different attempts to integrate a nuclear weapon into the Shahab-3.
Netanyahu gave the public its first glimpse of one of those drawings Monday when he pointed to it triumphantly as visually striking evidence of Iranian nuclear perfidy. But that schematic drawing had a fundamental flaw that proved that it and others in the set could not have been genuine: it showed the "dunce cap" shaped reentry vehicle design of the original Shahab-3 missile that had been tested from 1998 to 2000. That was the shape that intelligence analysts outside Iran had assumed in 2002 and 2003 Iran would continue to use in its ballistic missile.
New Nose Cone
It is now well established, however, that Iran had begun redesigning the Shahab-3 missile with a conical reentry vehicle or nosecone as early as 2000 and replaced it with a completely different design that had a "triconic" or "baby bottle" shape. It made it a missile with very different flight capabilities and was ultimately called the Ghadr-1. Michael Elleman, the world's leading expert on Iranian ballistic missiles, documented the redesign of the missile in his path-breaking 2010 study of Iran's missile program.
Iran kept its newly-designed missile with the baby bottle reentry vehicle secret from the outside world until its first test in mid-2004. Elleman concluded that Iran was deliberately misleading the rest of the world – and especially the Israelis, who represented the most immediate threat of attack on Iran – to believe that the old model was the missile of the future while already shifting its planning to the new design, which would bring all of Israel within reach for the first time.
The authors of the drawings that Netanyahu displayed on the screen were thus in the dark about the change in the Iranian design. The earliest date of a document on the redesign of the reentry vehicle in the collection obtained by US intelligence was August 28, 2002 – about two years after the actual redesign had begun. That major error indicates unmistakably that the schematic drawings showing a nuclear weapon in a Shahab-3 reentry vehicle – what Netanyahu called "integrated warhead design" were fabrications.
Netanyahu's slide show highlighted a series of alleged revelations that he said came from the newly acquired "atomic archive" concerning the so-called "Amad Plan" and the continuation of the activities of the Iranian who was said to have led that covert nuclear weapons project. But the single pages of Farsi language documents he flashed on the screen were also clearly from the same cache of documents that we now know came from the MEK-Israeli combination. Those documents were never authenticated, and IAEA Director-General Mohamed ElBaradei, who was skeptical of their authenticity, had insisted that without such authentication, he could not accuse Iran of having a nuclear weapons program.
More Fraud
There are other indications of fraud in that collection of documents as well. A second element of the supposed covert arms program given the name "Amad Plan" was a "process flow chart" of a bench-scale system for converting uranium ore for enrichment. It had the code name "Project 5.13", according to a briefing by the IAEA Deputy Director Olli Heinonen, and was part of a larger so-called "Project 5", according to an official IAEA report. Another sub-project under that rubric was "Project 5.15", which involved ore processing at the Gchine Mine." Both sub-projects were said to be carried out by a consulting firm named Kimia Maadan.
But documents that Iran later provided to the IAEA proved that, in fact, "Project 5.15" did exist, but was a civilian project of the Atomic Energy Organization of Iran, not part of a covert nuclear weapons program, and that the decision had been made in August 1999 – two years before the beginning of the alleged "Amad Plan" was said to have begun.
The role of Kimia Maadan in both sub-projects explains why an ore processing project would be included in the supposed secret nuclear weapons program. One of the very few documents included in the cache that could actually be verified as authentic was a letter from Kimia Maadan on another subject, which suggests that the authors of the documents were building the collection around a few documents that could be authenticated.
Netanyahu also lingered over Iran's denial that it had done any work on "MPI" or ("Multi-Point Initiation") technology "in hemispheric geometry". He asserted that "the files" showed Iran had done "extensive work" or "MPI" experiments. He did not elaborate on the point. But Israel did discover the alleged evidence of such experiments in a tin-roofed shack in Tehran. The issue of whether Iran had done such experiments was a central issue in the IAEA's inquiry after 2008. The agency described it in a September 2008 report, which purported to be about Iran's "experimentation in connection with symmetrical initiation of a hemispherical high explosive charge suitable for an implosion type nuclear device."
No Official Seals
The IAEA refused to reveal which member country had provided the document to the IAEA. But former Director-General ElBaradei revealed in his memoirs that Israel had passed a series of documents to the Agency in order to establish the case that Iran had continued its nuclear weapons experiments until "at least 2007." ElBaradei was referring to convenient timing of the report's appearance within a few months of the US NIE of November 2007 concluding that Iran had ended its nuclear weapons-related research in 2003.
Netanyahu pointed to a series of documents on the screen as well a number of drawings, photographs and technical figures, and even a grainy old black and white film, as evidence of Iran's nuclear weapons work. But absolutely nothing about them provides an evidentiary link to the Iranian government. As Tariq Rauf, who was head of the IAEA's Verification and Security Policy Coordination Office from 2002 to 2012, noted in an e-mail, none of the pages of text on the screen show official seals or marks that would identify them as actual Iranian government documents. The purported Iranian documents given to the IAEA in 2005 similarly lacked such official markings, as an IAEA official conceded to me in 2008.
Netanyahu's slide show revealed more than just his over-the-top style of persuasion on the subject of Iran. It provided further evidence that the claims that had successfully swayed the US and Israeli allies to join in punishing Iran for having had a nuclear weapons program were based on fabricated documents that originated in the state that had the strongest motive to make that case – Israel.
Gareth Porter, an investigative historian and journalist specializing in US national security policy, received the UK-based Gellhorn Prize for journalism for 2011 for articles on the U.S. war in Afghanistan. His new book is Manufactured Crisis: the Untold Story of the Iran Nuclear Scare. He can be contacted at porter.gareth50@gmail.com. Reprinted from Consortium News with the author's permission.
(END)
*** 
Mojahedin Khalq (MKO, MEK, Rajavi cult) Our Men in Iran? (Seymour M. Hersh, The New Yorker, April 2012)
National Security: Could Maryam Rajavi (Mojahedin Khalq) blackmail her friends in high places – Rudi Giuliani, John Bolton and Newt Gingrich
Also read:
http://iran-interlink.org/wordpress/?p=9513
Is Iran really a nucnuclear threat? (MEK, Maryam Rajavi Cult hands in glove with Mossad) 
Mesiha Gadso, With Gareth Porter, Aljazeera, April 26 2018:… I was able to show in my book that these documents were in fact passed on to Western intelligence by the Mujahedeen-e-Khalq (MEK), who of course were sworn enemies of the regime.  They were considered a terrorist organisation for many years, and most importantly the MEK was working hand in glove with Israel's Mossad during the period … 
MEK's Role Is To Toxify Political Debate On Iran Says Panel Of Experts In The European Parliament
Is Iran really a nuclear threat?
Investigative journalist Gareth Porter dispels some of the myths surrounding Iran's nuclear programme.
by Mersiha Gadzo23 Apr 2018
Iranian President Hassan Rouhani is shown at a ceremony to mark National Nuclear Technology Day in Tehran [Iranian presidency/AFP]
"Iran is moving 'very quickly' towards production of a nuclear bomb and could have a weapon within two years," the United Press International reported.
The quote was published in a 1984 articleheadlined "'Ayatollah' bomb in production for Iran" but it might as well have been published today.
For more than three decades Western politicians and the press have been claiming that Iran is a nuclear threat.
Israeli leaders Benjamin Netanyahu and Shimon Peres echoed this claim numerous times in the 1990s, warning that Iran would build an atomic bomb by the next decade.
In the fall of 2012, Netanyahu declared at the United Nations General Assembly meeting – with his infamous bomb cartoon – that Iran would be able to build a nuclear weapon by June 2013.
The following October, former US President Barack Obama followed with a new deadline – that Iran is a year away from making a nuclear bomb. 
Israeli Prime Minister Benjamin Netanyahu points to a cartoon bomb representing Iran's nuclear programme at the UN General Assembly in September 2012 [Lucas Jackson/Reuters]
Most recently, the press reported earlier this month that Yossi Cohen, head of Israel's Mossad intelligence agency, stated he is "100 percent certain" that Iran is seeking to build a nuclear weapon.
And yet, the International Atomic Energy Agency (IAEA) has released eight statements over the years confirming that Tehran has been meeting its nuclear commitments fully.
In July 2015, a landmark nuclear deal known as the Joint Comprehensive Plan of Action (JCPOA) was reached between Iran and the P5+1 countries: China, France, Russia, the UK, the US plus Germany, in which Iran agreed to reduce its enrichment of uranium, curbing its nuclear programme and ending decades of sanctions on the country.
While Iran has proved to be following its commitments, US President Donald Trump has found a new threat – Iran's ballistic missile programme – and has threatened to scrap the nuclear agreement, which he has called the "worst deal ever".
So how much of a nuclear threat is Iran?
Al Jazeera spoke with Gareth Porter, a historian, investigative journalist and author of Manufactured Crisis: The Untold Story of the Iran Nuclear Scare, with more than a decade of research into the topic, to learn more.
Al Jazeera: We heard yet another claim earlier this month, this time from the chief of Mossad, that Iran is planning to build a nuclear bomb. You've uncovered a wealth of evidence that proves Iran is not a threat. What are some of the most important pieces of evidence?
Gareth Porter: I think the most important set of documentary evidence is the so-called "laptop" documents. Those were documents that were supposedly [smuggled out] from a covert Iranian nuclear weapons research programme in the early 2000s, but I was able to show in my book that these documents were in fact passed on to Western intelligence by the Mujahedeen-e-Khalq (MEK), who of course were sworn enemies of the regime. 
They were considered a terrorist organisation for many years, and most importantly the MEK was working hand in glove with Israel's Mossad during the period when these documents surfaced.
The Israelis had both the motive and the opportunity to manufacture these documents that Mossad had created, a special programme to circulate "information" about the Iranian nuclear programme to other governments and the news media of the world in 2003. That was just when these documents would have been produced.
There are multiple indications that these documents are forgeries – the most important of which are the drawings of what is alleged to be in the documents, a series of efforts to make a nuclear weapon with the Iranian Shahab 3 missile.
These drawings actually show the wrong missile warhead. It's a missile warhead that the Iranians are known now to have abandoned by the time these drawings were supposedly brought into existence. It is the most important giveaway that these documents were not genuine; they were fake.
Al Jazeera: You have previously said that to understand Iranian policy towards nuclear weapons, one should refer to the historical episode of its war with Iraq from 1980-1988. What can you tell us about that?
Porter: If you go back to the Iran-Iraq war, what was happening for eight years was that Iraq's armed forces were hitting both military and civilian targets in Iran with chemical weapons, which caused as many as – if I remember the figure – 110,000 serious injuries and tens of thousands of deaths to Iranians because of the chemicals dropped on them by the Iraqis.
The IRGC (Iranian Revolutionary Guard Corps) – in charge of Iran's defences against the Iraqi attack – wanted Ayatollah Khomeini to agree to go ahead with not just chemical and biological weapons but nuclear weapons, to have programmes to prepare the capability at least to retaliate, in order to try to deter at the very least the attacks of weapons of mass destruction by Iraq.
There were those early in the war and late in the war… who hoped that Khomeini would change his mind; and the reason that he gave in both cases is quite simple – he said Iran cannot possess or use any weapons of mass destruction because it is illegal, illicit under Islam. 
He was the person in charge of the interpretation of what Islam meant for policies and laws of the Islamic Republic of Iran. This is an extremely important and supremely convincing argument for the seriousness of the Iranian refusal to have a nuclear weapons programme… There's no real evidence to the contrary that suggests that Iran ever had a real nuclear weapons research programme.
Iranian victims of Saddam Hussein's gas attacks gather near the German embassy in Tehran in May 2004 as Iran unveiled a plaque denouncing Berlin as a supplier of chemical weapons to Saddam's regime [Raheb Homavandi/Reuters]
Al Jazeera: We've seen over the years that Iran has acted cooperatively regarding its nuclear programme. However, in the end, there's always a new accusation that comes up.
This time the US and allies are concerned with Iran's ballistic missile programme. Why are they focused on Iran's programme when other countries have ballistic missile programmes as well? Have we seen any credible evidence that proves that Iran is a threat that should be carefully watched?
Porter: It's absolutely clear that Iran has simply used ballistic missiles as a deterrent far more than any other state in the Middle East because they do not have an air force. They do not have fighter jets or fighter-bombers that could deliver any conventional weapons as a retaliation for an attack on Iran. And that has been the case since the Islamic Republic of Iran was established in 1979.
The other major players in the Middle East, including Israel and Saudi Arabia, both have ballistic missiles that are capable of hitting Iran. This is very clearly a matter of self-defence in terms of deterrence for Iran. And I think the reason for the United States taking a position that it has, has nothing to do with the reality of the situation; this is pure politics – both international and domestic that have governed the position of US government – not just under Trump but under George W Bush and Obama as well.
Al Jazeera: Some say Iran is a threat because its leaders have allegedly stated their aim is to destroy Israel. How credible are these claims?
Porter: The Iranians have never threatened an aggressive attack on Israel. What they have said is that Israel should cease to exist as a state in which only Jews have full rights, just as South Africa had to cease to exist as a state for whites. It is the same position taken by supporters of Palestinian rights around the world.
This interview has been edited for length.
(END)
*** 
Mojahedin threat for Albania – debate in the European Parliament (aka MEK, MKO, NCRI, Rajavi cult …)
MEPs discuss Mojahedine-E Khalq (MEK) Threat in #Albania
Also read:
http://iran-interlink.org/wordpress/?p=9441
The Untold Story of John Bolton's Campaign for War With Iran 
Gareth Porter, The American Conservative, March 28 2018:… a former senior German official revealed the true story to this writer: the documents had been given to German intelligence by the Mujahedin E Khalq, the anti-Iran armed group that was well known to have been used by Mossad to "launder" information the Israelis did not want attributed to themselves. Furthermore, the drawings showing the redesign that …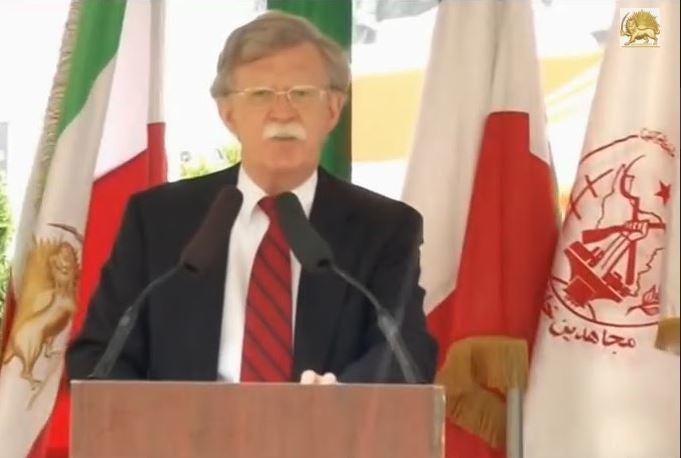 Jason Rezaian: John Bolton wants regime change in Iran, and so does the cult that paid him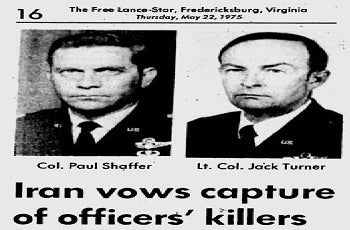 The MEK's dirty past includes the anti-Imperialist inspired murder of six Americans in pre-revolution Iran which it later celebrated in songs and publications
The Untold Story of John Bolton's Campaign for War With Iran
Everyone knows Bolton is a hawk. Less understood is how he labored in secret to drive Washington and Tehran apart.
In my reporting on U.S.-Israeli policy, I have tracked numerous episodes in which the United States and/or Israel made moves that seemed to indicate preparations for war against Iran. Each time—in 2007, in 2008, and again in 2011—those moves, presented in corporate media as presaging attacks on Tehran, were actually bluffs aimed at putting pressure on the Iranian government.
But the strong likelihood that Donald Trump will now choose John Bolton as his next national security advisor creates a prospect of war with Iran that is very real. Bolton is no ordinary neoconservative hawk. He has been obsessed for many years with going to war against the Islamic Republic, calling repeatedly for bombing Iran in his regular appearances on Fox News, without the slightest indication that he understands the consequences of such a policy.
His is not merely a rhetorical stance: Bolton actively conspired during his tenure as the Bush administration's policymaker on Iran from 2002 through 2004 to establish the political conditions necessary for the administration to carry out military action.
More than anyone else inside or outside the Trump administration, Bolton has already influenced Trump to tear up the Iran nuclear deal. Bolton parlayed his connection with the primary financier behind both Benjamin Netanyahu and Donald Trump himself—the militantly Zionist casino magnate Sheldon Adelson—to get Trump's ear last October, just as the president was preparing to announce his policy on the Iran nuclear agreement, the Joint Comprehensive Plan of Action (JCPOA). He spoke with Trump by phone from Las Vegas after meeting with Adelson.
It was Bolton who persuaded Trump to commit to specific language pledging to pull out of the JCPOA if Congress and America's European allies did not go along with demands for major changes that were clearly calculated to ensure the deal would fall apart.
Although Bolton was passed over for the job of secretary of state, he now appears to have had the inside track for national security advisor. Trump met with Bolton on March 6 and told him, "We need you here, John," according to a Bolton associate. Bolton said he would only take secretary of state or national security advisor, whereupon Trump promised, "I'll call you really soon." Trump then replaced Secretary of State Rex Tillerson with former CIA director Mike Pompeo, after which White House sources leaked to the media Trump's intention to replace H.R. McMaster within a matter of weeks.
The only other possible candidate for the position mentioned in media accounts is Keith Kellogg, a retired lieutenant general who was acting national security advisor after General Michael Flynn was ousted in February 2017.
Bolton's high-profile advocacy of war with Iran is well known. What is not at all well known is that, when he was under secretary of state for arms control and international security, he executed a complex and devious strategy aimed at creating the justification for a U.S. attack on Iran. Bolton sought to convict the Islamic Republic in the court of international public opinion of having a covert nuclear weapons program using a combination of diplomatic pressure, crude propaganda, and fabricated evidence.
Despite the fact that Bolton was technically under the supervision of Secretary of State Colin Powell, his actual boss in devising and carrying out that strategy was Vice President Dick Cheney. Bolton was also the administration's main point of contact with the Israeli government, and with Cheney's backing, he was able to flout normal State Department rules by taking a series of trips to Israel in 2003 and 2004 without having the required clearance from the State Department's Bureau for Near Eastern Affairs.
Thus, at the very moment that Powell was saying administration policy was not to attack Iran, Bolton was working with the Israelis to lay the groundwork for just such a war. During a February 2003 visit, Bolton assured Israeli officials in private meetings that he had no doubt the United States would attack Iraq, and that after taking down Saddam, it would deal with Iran, too, as well as Syria.
During multiple trips to Israel, Bolton had unannounced meetings, including with the head of Mossad, Meir Dagan, without the usual reporting cable to the secretary of state and other relevant offices. Judging from that report on an early Bolton visit, those meetings clearly dealt with a joint strategy on how to bring about political conditions for an eventual U.S. strike against Iran.
Mossad played a very aggressive role in influencing world opinion on the Iranian nuclear program. In the summer of 2003, according to journalists Douglas Frantz and Catherine Collins in their book The Nuclear Jihadist, Meir Dagan created a new Mossad office tasked with briefing the world's press on alleged Iranian efforts to achieve a nuclear weapons capability. The new unit's responsibilities included circulating documents from inside Iran as well from outside, according to Frantz and Collins.
Bolton's role in a joint U.S.-Israeli strategy, as he outlines in his own 2007 memoir, was to ensure that the Iran nuclear issue would be moved out of the International Atomic Energy Agency and into the United Nations Security Council. He was determined to prevent IAEA director general Mohamed ElBaradei from reaching an agreement with Iran that would make it more difficult for the Bush administration to demonize Tehran as posing a nuclear weapons threat. Bolton began accusing Iran of having a covert nuclear weapons program in mid-2003, but encountered resistance not only from ElBaradei and non-aligned states, but from Britain, France, and Germany as well.
Bolton's strategy was based on the claim that Iran was hiding its military nuclear program from the IAEA, and in early 2004, he came up with a dramatic propaganda ploy: he sent a set of satellite images to the IAEA showing sites at the Iranian military reservation at Parchin that he claimed were being used for tests to simulate nuclear weapons. Bolton demanded that the IAEA request access to inspect those sites and leaked his demand to the Associated Press in September 2004. In fact, the satellite images showed nothing more than bunkers and buildings for conventional explosives testing.
Bolton was apparently hoping the Iranian military would not agree to any IAEA inspections based on such bogus claims, thus playing into his propaganda theme of Iran's "intransigence" in refusing to answer questions about its nuclear program. But in 2005 Iran allowed the inspectors into those sites and even let them choose several more sites to inspect. The inspectors found no evidence of any nuclear-related activities.
The U.S.-Israeli strategy would later hit the jackpot, however, when a large cache of documents supposedly from a covert source within Iran's nuclear weapons program surfaced in autumn 2004. The documents, allegedly found on the laptop computer of one of the participants, included technical drawings of a series of efforts to redesign Iran's Shahab-3 missile to carry what appeared to be a nuclear weapon.
But the whole story of the so-called "laptop documents" was a fabrication. In 2013, a former senior German official revealed the true story to this writer: the documents had been given to German intelligence by the Mujahedin E Khalq, the anti-Iran armed group that was well known to have been used by Mossad to "launder" information the Israelis did not want attributed to themselves. Furthermore, the drawings showing the redesign that were cited as proof of a nuclear weapons program were clearly done by someone who didn't know that Iran had already abandoned the Shahab-3's nose cone for an entirely different design.
Mossad had clearly been working on those documents in 2003 and 2004 when Bolton was meeting with Meir Dagan. Whether Bolton knew the Israelis were preparing fake documents or not, it was the Israeli contribution towards establishing the political basis for an American attack on Iran for which he was the point man. Bolton reveals in his memoirs that this Cheney-directed strategy took its cues from the Israelis, who told Bolton that the Iranians were getting close to "the point of no return." That was point, Bolton wrote, at which "we could not stop their progress without using force."
Cheney and Bolton based their war strategy on the premise that the U.S. military would be able to consolidate control over Iraq quickly. Instead the U.S. occupation bogged down and never fully recovered. Cheney proposed taking advantage of a high-casualty event in Iraq that could be blamed on Iran to attack an IRGC base in Iran in the summer of 2007. But the risk that pro-Iranian Shiite militias in Iraq would retaliate against U.S. troops was a key argument against the proposal.
The Pentagon and the Joint Chiefs of Staff were also well aware that Iran had the capability to retaliate directly against U.S. forces in the region, including against warships in the Strait of Hormuz. They had no patience for Cheney's wild ideas about more war.
That Pentagon caution remains unchanged. But two minds in the White House unhinged from reality could challenge that wariness—and push the United States closer towards a dangerous war with Iran.
Gareth Porter is an investigative reporter and regular contributor to TAC. He is also the author of Manufactured Crisis: The Untold Story of the Iran Nuclear Scare. Follow him on Twitter @GarethPorter.
(END)
*** 
National Security: Could Maryam Rajavi (Mojahedin Khalq) blackmail her friends in high places – Rudi Giuliani, John Bolton and Newt Gingrich
َAlireza Jafarzadeh has already published his suicide bombing note.
Wondering at those Americans who stand under the flag of Mojahedin Khalq (MKO, MEK, NCRI, Rajavi cult) only to LOBBY for the murderers of their servicemen
Also read:
http://iran-interlink.org/wordpress/?p=8967
Trump Trashes Iran Deal to Satisfy Netanyahu 
Gareth Porter, The American Conservative, October 26 2017:… But this writer found more than one telltale sign of fraud in the papers, and a former senior German foreign office official told me on the record in March 2013 that the source who passed on the documents was a member of the Mujihadeen e-Khalq (MEK), the armed Iranian opposition group. The MEK has allegedly worked with Israel's Mossad for some time …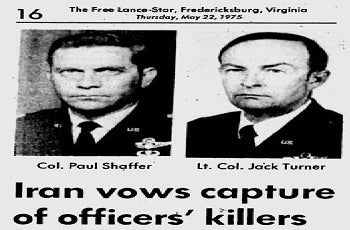 The MEK's dirty past includes the anti-Imperialist inspired murder of six Americans in pre-revolution Iran which it later celebrated in songs and publications
Trump Trashes Iran Deal to Satisfy Netanyahu
U.S-Iran policy is closer to Israel than it has been in years.
By GARETH PORTER • October 20, 2017
President Donald Trump's new Iran policy clearly represents a dangerous rejection of diplomacy in favor of confrontation. But it's more than that: It's a major shift toward a much closer alignment of U.S. policy with that of the Israeli government of Prime Minister Benjamin Netanyahu.
Whether explicitly or not, Trump's vow to work with Congress to renegotiate the Iran nuclear agreement, and his explicit threat to withdraw from the deal if no renegotiation takes place, appear to be satisfying the hardline demands Netanyahu has made of Washington's policy toward Tehran.
Specifically, Netanyahu has continued to demand that Trump either withdraw from the Joint Comprehensive Plan of Action (JCPOA) or make far-reaching changes that he knows are impossible to achieve. In his September 17 speech to the UN General Assembly, Netanyahu declared, "Israel's policy toward the nuclear deal with Iran is very simple: Change it or cancel it." And he made no secret of what that meant: If Trump doesn't "cancel" the deal, he must get rid of its "sunset clause" and demand that Iran end its advanced centrifuges and long-range missile program, among other fundamentally unattainable objectives.
Trump's statement last Friday managed to include both of the either/or choices that Netanyahu had given him. He warned that, if Congress and America's European allies do not agree on a plan to revise the deal, "then the agreement will be terminated." He added that the agreement "is under continuous review," and our participation "can be canceled by me, as president at any time."
One provision the administration wants Congress to put into amended legislation would allow sanctions to be imposed if Iran crosses certain "trigger points," which would include not only nuclear issues but the Israeli demand that Iran stop its long-range missile program. Ballistic missiles were never included in the JCPOA negotiations for an obvious reason: Iran has the same right to develop ballistic missiles as any other independent state, and it firmly rejected pro forma demands by the Barack Obama administration to include the issue in negotiations.
Trump went a long way towards Netanyahu's "cancel" option by refusing last week to certify that Iran was keeping up its end of the JPCOA. That move signaled his intention to scrap the central compromise on which the entire agreement rests.
Although the Middle East is very different today than during the George W. Bush administration, some parallels can be found in comparing Trump's policy toward the JCPOA and Bush's policy toward Iran during the early phase of its uranium enrichment program.
The key figures who had primary influence on both Trump's and Bush's Iran policies held views close to those of Israel's right-wing Likud Party. The main conduit for the Likudist line in the Trump White House is Jared Kushner, the president's son-in-law, primary foreign policy advisor, and longtime friend and supporter of Netanyahu. Kushner's parents are also long-time supporters of Israeli settlements on the occupied West Bank.
Another figure to whom the Trump White House has turned is John Bolton, undersecretary of state and a key policymaker on Iran in the Bush administration. Although Bolton was not appointed Trump's secretary of state, as he'd hoped, he suddenly reemerged as a player on Iran policy thanks to his relationship with Kushner. Politico reports that Bolton met with Kushner a few days before the final policy statement was released and urged a complete withdrawal from the deal in favor of his own plan for containing Iran.
Bolton spoke with Trump by phone on Thursday about the paragraph in the deal that vowed it would be "terminated" if there was any renegotiation, according toPolitico. He was calling Trump from Las Vegas, where he'd been meeting with casino magnate Sheldon Adelson, the third major figure behind Trump's shift towards Israeli issues. Adelson is a Likud supporter who has long been a close friend of Netanyahu's and has used his Israeli tabloid newspaper Israel Hayomto support Netanyahu's campaigns. He was Trump's main campaign contributor in 2016, donating $100 million. Adelson's real interest has been in supporting Israel's interests in Washington—especially with regard to Iran.
In a public appearance in Israel in 2013, when Adelson was asked about his view on negotiating with Tehran, he suggested dropping a nuclear weapon on a desert in Iran and then saying to the Iranians, "See! The next one is in the middle of Tehran. So, we mean business. You want to be wiped out? Go ahead and take a tough position and continue with your nuclear development…."
The Likud Party policy preferences on Iran dominated the Bush administration in large part because of the influence of David Wurmser, a Likudist who was a Middle East advisor first to Bolton and later to Vice President Dick Cheney. Wurmser was a co-author, with Richard Perle and Douglas Feith, of A Clean Break, the 1996 paper that advised Netanyahu to carry out military strikes against Syria and Iran and to remove the Saddam Hussein regime in Iraq. Wurmser convinced Cheney that the administration should seek a pretext for attacking Iran.
But it was Bolton who worked with Israeli officials to plan a campaign to convince the world that Iran was secretly working on nuclear weapons. His goal was to sell key European nations on a UN Security Council resolution accusing Iran of developing a nuclear program. Bolton explains in his memoirs that the assumption of his strategy was that either the Security Council would strip Iran of its right to have a nuclear program or the United States would take unilateral military action.
In the summer of 2004, a large collection of documents allegedly from a covert Iranian nuclear weapons research program was suddenly obtained by Germany's foreign intelligence agency. Those documents became the sole alleged evidence that such a program existed. But this writer found more than one telltale sign of fraud in the papers, and a former senior German foreign office official told me on the record in March 2013 that the source who passed on the documents was a member of the Mujihadeen e-Khalq (MEK), the armed Iranian opposition group. The MEK has allegedly worked with Israel's Mossad for some time.
Neither the Bush administration nor the Trump administration viewed the alleged danger of nuclear proliferation by Iran as the priority problem per se; it was rather an issue to be exploited to weaken the Islamic regime and ultimately achieve regime change. Hilary Mann Leverett, the NSC coordinator in the Persian Gulf from 2001-03, told this writer in a 2013 interview that Wurmser and other Cheney advisors were convinced that the student protests of 1999 indicated that Iranians were ready to overthrow the Islamic Republic. In his statement last week, Trump blamed Obama for having lifted nuclear sanctions on Iran "just before what would have been the total collapse of the Iranian regime."
After Netanyahu became Israeli prime minister in early 2009, his administration worked assiduously for four years to maneuver the Obama administration into giving Iran an ultimatum over its enrichment program. Obama rejected such a proposal, but Bolton has repeated his call for the United States to bomb Iran year after year.
Now the Trump administration is playing out a new chapter in the drama of the Likudists and their patrons in Washington. Their objective is nothing less than using U.S. power to weaken Iran through military means if possible and economic sanctions if necessary. The remarkable thing is that Trump is cooperating even more eagerly than did Bush.
Gareth Porter is an independent journalist and winner of the 2012 Gellhorn Prize for journalism. He is the author of numerous books, including Manufactured Crisis: The Untold Story of the Iran Nuclear Scare. Follow him on Twitter @GarethPorter
(END)
*** 
Who celebrated the terrorist act of Sep. 11? 
Israel Provided IAEA with Fake Documents on Iran's Nuclear Program
Pssst, Whisper It, Even Iran's Enemies Don't Want Regime Change
6 Years ago Today: CIA, Mossad and MEK (Rajavi cult, Mojahedin Khalq) Assassinated Iran's Top Nuclear Scientist Majid Shahriari
Ambassador Daniel Benjaminan and Ambassador Daniel Fried on Mojahedin Khalq Terrorist designation and Camp Ashraf
(aka; MKO, MEK, Rajavi cult)
Remember.Mojahedin Khalq (MKO, MEK, Rajavi cult) was one of the excuses of US attacking Iraq
Iran: Joint Takfiri – MKO plot against Iran failed (aka: Mojahedin Khalq, MEK, Rjavi cult)
Captain Lewis Lee Hawkins
(Photograph courtesy Annette Hawkins)
Lets create another Vietnam for America(pdf).
(Mojahedin English language paper April 1980)
Letter to Imam (Khomeini) (pdf). 
(Mojahedin English Language paper April 1980)
Some questions unanswered regarding the US military invasion of Iran (pdf).
(Mojahedin English Language paper June 1980)
That Secret Iranian 'Nuclear Facility' You Just Found? Not So Much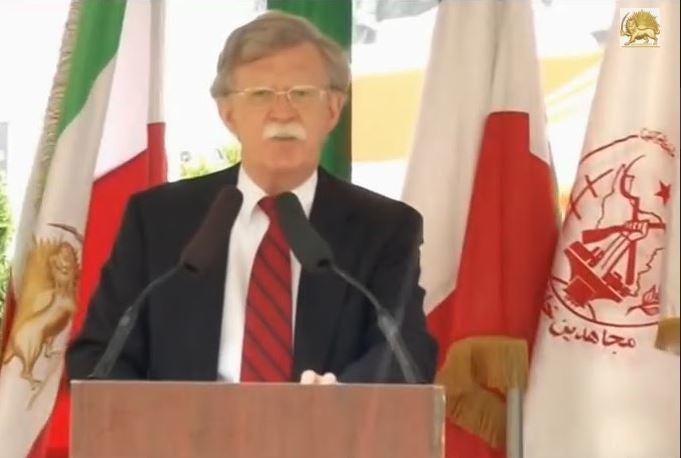 Mojahed Khalq Brother John Bolton has a memory lapse
Also read:
http://iran-interlink.org/wordpress/?p=6959
The IAEA's "Final Assessment" 
Gareth Porter, Counter punch, December 18 2015:… German intelligence had obtained the documents in 2004 from a sometime source whom they knew to be a member of the Mujahideen E-Khalq (MEK). A cult-like Iranian exile terrorist group, MEK had once carried out terror operations for the Saddam Hussein regime but later developed a patron …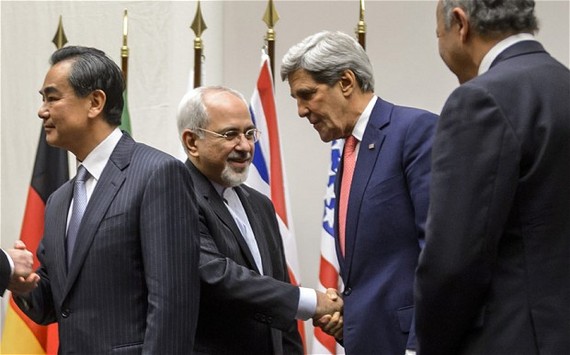 Massoud Khodabandeh: America Must Make Its Underlying Intentions Toward Iran Clear
Behind Struan Stevenson's book "Self Sacrifice"
The IAEA's "Final Assessment"
***
Massoud Khodabandeh
Article first published online: 27 JAN 2015
DOI: ۱۰٫۱۱۱۱/aspp.12164
Mojahedin Khalq (MKO, MEK, Rajavi cult) Our Men in Iran? (Seymour M. Hersh, The New Yorker, April 2012)
Obama pushes Israel to stop assassinations of Iran nuclear scientists – report
Also read:
http://iran-interlink.org/wordpress/?p=6088
The "Possible Military Dimensions" Bomb That Could Blow Up the Iran Deal
By Gareth Porter, Truthout, April 18 2015:… Information now available shows that the documents were created in Israel. According to a senior German office official, those documents were given to Germany's foreign intelligence service, the BND, in 2004 by the Mujahedin e-Khalq (MEK), the armed exile Iranian opposition group that had been an Israeli client …
Just World Publishing, February 2014, 310 pages
The "Possible Military Dimensions" Bomb That Could Blow Up the Iran Deal
The United States and Iran may have agreed on a vague framework for resolving remaining issues between them, including the lifting of sanctions, but the final stage of the negotiations will bring a diplomatic confrontation over the sequence and timing of lifting sanctions.
And the most difficult issue in the coming talks will be how the "Possible Military Dimensions" or "PMD" – the allegations of Iranian nuclear weapons work that have been at the center of the entire Iran nuclear crisis for several years – is to be linked to lifting certain UN Security Council sanctions.
On that linkage Iran will insist that its cooperation in providing access to the International Atomic Energy Agency must be reciprocated with the lifting of certain sanctions on an agreed-upon timetable, regardless of how long the International Atomic Energy Agency (IAEA) takes to make up its mind and what judgment it renders, according to a source in close contact with the Iranian negotiating team.
The US "fact sheet" on the "parameters" of an agreement says, "All past United Nations Security Council resolutions on the Iran nuclear issue will be lifted simultaneously with the completion by Iran of nuclear related activities addressing all key concerns," and the list that follows includes "PMD."
However, nothing was officially agreed on in Lausanne on how Iranian cooperation with the International Atomic Energy Agency (IAEA) on the PMD issue would be linked to sanctions relief, according to the source close to the Iranian negotiators. But the source said that an informal understanding was reached that the linkage would involve the lifting of UN Security Council sanctions directly involving Iran's imports for its nuclear and missile programs.
Iran is prepared to cooperate to complete the IAEA investigation of past allegations, the source said, but will demand concrete limits that provide assurances that the process will not be prolonged indefinitely.
Iran continues to insist that the evidence being used to impugn its intentions was "manufactured." Nevertheless, Iran "would be ready to give access to the IAEA on PMD even though that goes beyond NPT [Nonproliferation Treaty]," the source told Truthout.
But the source said Iran would not agree to make the lifting of those UN sanctions contingent on any IAEA judgment about the PMD issue. Instead, Iran will demand a list in advance of everything the IAEA wants. "We would give the IAEA access to everything on the list," said the source.
Once the IAEA completed its visits and its environmental sampling, however, Iran will consider that the process is finished. "We don't care what the IAEA analysis would be or how long it took," the source said. "What Iranians cannot accept is that [the PMD issue] becomes an indefinite instrument for theIsraelis, because they want to find out about Iranian capability and ask for this or that military site and a new inspection."
The negotiations on the PMD-sanctions linkage will be part of a broader set of negotiations in which Iran will insist on a detailed set of arrangements on sanctions relief in return for each of its concessions in the agreement, according to the source. "Each of the elements listed in the US fact sheet must have a step-by-step plan with a timetable and proportionate reciprocation," said the source.
Obama Under Pressure He Helped Create
The Obama administration has been under heavy pressure from the Israelis and their supporters in Washington to insist that Iran confess to having carried out nuclear weapons research and development as a condition for sanctions relief.
That pressure is the result of several years of news media coverage that has treated allegations that Iran carried out research and development on nuclear weapons, published by the IAEA in 2011, as established fact. The media have constantly repeated the theme that Iran has been "stonewalling" the IAEA to cover up its past nuclear weapons experiments.
Absent from the media narrative is the fact that the allegations that the IAEA is demanding that Iran explain are all based on intelligence that is now known to have come from Israel and which the IAEA itself suspected of being fabricated, from 2005 to 2009.
But the Obama administration itself helped to make PMD a hot button issue in American politics. It made Iran's alleged refusal to cooperate with the IAEA investigation of the purported intelligence alleging an Iranian nuclear weapons research and development program the rationale for imposing punishing sanctions on Iran.
The administration has been wary of demanding an actual admission of guilt, which it knew was unrealistic, but it has been unwilling to completely dismiss the position of the Israelis and their followers either. Last November a "senior Western official" told Reuters that the United States and the other five powers would try to "be creative" in finding a formula to satisfy both those who were insisting that Iran must "come clean" about its nuclear past and those who said it was not realistic to expect a confession.
In an April 8 interview with Secretary of State John Kerry, the host of "PBS NewsHour" Judy Woodruff asserted that the IAEA wanted Iran to "disclose past military-related activities" but that Iran was "increasingly looking like it's not going to do this." Woodruff then asked, "Is the US prepared to accept that?"
Without challenging the premise that Iran is expected to "disclose past military activities," Kerry responded, "No. They have to do it. It will be done."
Fabricated Intelligence and IAEA Investigation
The George W. Bush administration pressed documents supposedly from the laptop computer of an Iran scientist involved in an Iranian nuclear weapons research program on the IAEA in mid-2005. But Mohamed ElBaradei, then IAEA director general, refused to regard the documents as legitimate evidence because they had never been authenticated, and Bush administration officials refused to answer questions about their origins. In his memoirs published in 2011,ElBaradei writes, "The problem was, no one knew if any of this was real.
Information now available shows that the documents were created in Israel. According to asenior German office official, those documents were given to Germany's foreign intelligence service, the BND, in 2004 by the Mujahedin e-Khalq (MEK), the armed exile Iranian opposition group that had been an Israeli client organization for several years.
A popular Israeli history of the most successful covert operations by Israel's Mossad, originally published in Hebrew in Israel, asserts that Mossad provided some of the documents to the MEK that later become the centerpiece of the case against Iran.
ElBaradei also reveals in his memoirs that the IAEA received another series of purported Iranian documents directly from Israel in summer 2009. Among them was a two-page document in Farsi describing a four-year program to produce a neutron initiator for a fission chain reaction. The former IAEA chief inspector in Iraq, Robert Kelley has recalled that ElBaradei found that document to be lacking credibility because it had no chain of custody, no identifiable source, and no official markings or anything else that could establish its authenticity. But ElBaradei's successor as IAEA director general, Japanese diplomat Yukiya Amano, gave the IAEA's imprimatur to the entire collection as well as the earlier set of documents in an annex to the November 2011 report. After his election, Amano assured US officials that he was "solidly in the US court" in his handling of the Iran file.
The IAEA has never revealed that Israel was the source of the latter set of documents. The IAEA justified its decision to keep the identity of the member states that provided intelligence secret by citing the alleged necessity to protect "sources and methods." The decision to maintain silence on the source has served to shield both Israel and the IAEA itself from questions about the obvious political motives behind the purported intelligence.
The other major purported intelligence find published by the IAEA was the claim from Israel that Iran had installed a large steel explosives containment cylinder at its military base in Parchin in 2000 for nuclear weapons-related testing. But no corroborating evidence has ever been produced, and Robert Kelley has challenged the IAEA's adoption of the Israeli intelligence claim on the grounds it was technically implausible.
Relations between Iran and the IAEA on cooperation over the PMD issue have gone through three major phases. In a series of meetings in early 2012, Iran and the IAEA were close to reaching agreement on a framework for Iranian cooperation. Iran agreed on an IAEA visit to Parchin, where the bomb test cylinder was said to have been located, as part of the process. But the talks broke down over the IAEA's insistence that the investigation would never have an end point, and that the Agency would have the right to return to any question or site, even after Iran had provided the necessary access and other cooperation.
A second phase of relations began when Iran and the IAEA reached agreement on a "Framework for Cooperation" in February 2014. Iran agreed to provide information and access in regard to a list of PMD issues, starting with the "Exploding Bridgewire" (EBW) issue.
But after Iran provided documentary evidence to show that its research in the field was for its oil and gas industry and not for nuclear weapons, Amano refused to acknowledge publicly that Iran had discredited one of the arguments about the intelligence documents.
The head of Iran's Atomic Energy Organization, Ali Akhbar Salehi, claimed that the IAEA had promised in the agreement to close issues once Iran had provided required information, and the IAEA did not challenge his claim. Amano insisted, however, that the IAEA would not issue any assessment until it had completed its investigation of all of the issues.
Iran apparently concluded from that experience that the IAEA would keep Iran on the hook as long as the United States and its allies wanted to maintain leverage over Iran. The Obama administration has now confirmed that conclusion by holding the lifting of sanctions hostage to Iran's "cooperation" on PMD.
US officials have never explained how they would expect Iran to satisfy the IAEA if the intelligence at issue was indeed fabricated.