Albania's Modern Slavery Problem Alienates Europe
Massoud Khodabandeh, Huffpost, November 21 2017:… But a more sinister turn of events is taking place right now. The MEK is moving over 2,500 members to a remote camp in the north of Albania far away from any local communities. This desperate act serves several purposes. One is to recreate the isolation the cult enjoyed in Iraq where coercion and brainwashing were a daily occurrence – the new camp is called 'Ashraf Three'…
Dr Olsi Jazexhi: Double standards in Albania's fight against terrorism 
The MEK's dirty past includes the anti-Imperialist inspired murder of six Americans in pre-revolution Iran which it later celebrated in songs and publications
Albania's Modern Slavery Problem Alienates Europe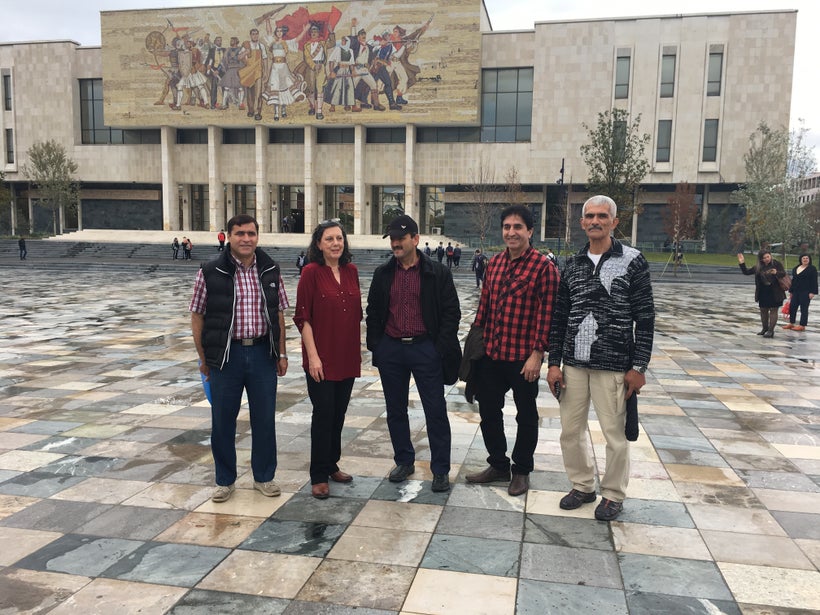 Modern Slavery is usually a hidden phenomenon, it goes on behind closed doors and can be hard to detect. Victims are often isolated individuals – domestic servants or cannabis 'farmers' – locked away behind closed doors. Nobody knows of their existence because they have been illegally trafficked. Even those more openly kept in brothels for sexual exploitation are unable to escape for fear of reprisals against themselves and their families back home.
But there is another form of slavery hidden in plain sight: political slavery. This is not difficult to detect because the kinds of groups which practice it actively seek publicity and influence over worldwide politics. The exiled Iranian Mojahedin Khalq organisation (MEK aka MKO, NCRI, Rajavi cult) is one such group. It describes itself as a democratic political organisation, the main opposition to the Islamic Republic of Iran. But the life of the members speaks of a very different story.
A year ago, the last of nearly three thousand MEK members were finally expelled from Iraq where they had been operating under the patronage of Saddam Hussein. America paid millions of dollars to the UN and the Albanian government to have the group to settle there. Part of the deal was to establish a de-radicalization programme to return the members to normal life. This did not happen.
Instead, the group closed ranks and over the past year, several high-profile US politicians and former officials opportunistically visited Albania to heap praise on the MEK for its anti-Iran stance. John Bolton, Senator John McCain, among others have unabashedly promoted the group by meeting its leader Maryam Rajavi there.
Of greater concern was that during this same period the families of these MEK members in Albania complained to the UNHCR and the Albanian government about the treatment of their loved ones. They said that many, perhaps the majority of MEK members want to leave the group but have nothing – no money, no place to go, no officially recognised status and no language skills – to help them do so. They are effectively being held in a state of modern slavery.
A report by an Albanian lawyer (acting for MEK members who managed to separate from the group) after meeting with the UNHCR in Tirana reveals that under a secret agreement struck between the Americans, the government of Albania and the MEK leader, the UNHCR supervised the transfer of approximately 3,000 MEK from Iraq to Albania not as refugees but on a 'humanitarian basis'. In other words, they have no official status in the country.
According to this agreement, all the expenses for the MEK members are to be doled out by the MEK itself. This means that members are totally dependent on the MEK leadership for their subsistence. Those who have expressed their desire to separate from the group, for whatever reason, must continue to obey MEK rules and restrictions, they must accept MEK imposed conditions so that they are given accommodation and food.
As such, they are forced to pay lip service to a belief system they no longer believe in. They are forced to give allegiance to a pseudo-political terrorist entity. Under these conditions, they are modern political slaves, trapped in plain sight in a circle of fear, coercion and isolation.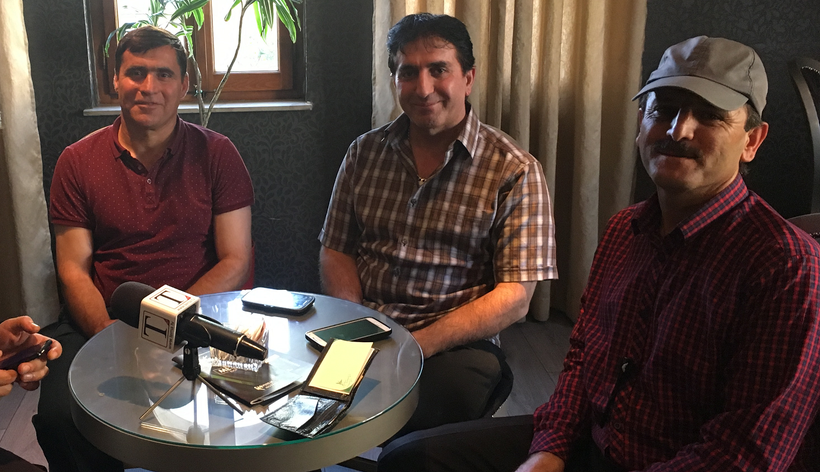 When counter-terrorism expert Anne Khodabandeh visited Tirana on 5-7 November to investigate the plight of former members, several media interviews she gave were pulled from broadcast due to MEK and Albanian Mafia intimidation when she revealed that the MEK are actively recruiting Albanian youth to their cause.
But a more sinister turn of events is taking place right now. The MEK is moving over 2,500 members to a remote camp in the north of Albania far away from any local communities. This desperate act serves several purposes. One is to recreate the isolation the cult enjoyed in Iraq where coercion and brainwashing were a daily occurrence – the new camp is called 'Ashraf Three'. Another reason is to prevent families from reaching their loved ones and prevent members from escaping. The other is to empty the old university buildings in Tirana to make way for a new round of political slaves to take up residence. This time, families of Daesh fighters who have fled Iraq and Syria are rumoured to be ready to move to Albania on 'humanitarian grounds'.
While America turns a blind eye to political slavery, the European Union takes a very different view. Not only have Albania's efforts to accede to the EU been completely stymied by the MEK's activities there, the group's alignment with the Albanian Mafia and the threat of a new wave of political slaves means Albania is now regarded as a security threat on the border of Europe rather than a potential partner country.
IMPAKT 97: Jihad 2.0? What are the Iranian Jihadis (MKO, Rajavi cult) doing in Albania? (part 1)
IMPAKT 97: Jihad 2.0? What are the Iranian Jihadis (MKO, Rajavi cult) doing in Albania? (part 2)
(END)
–
Albanian Translation
http://gazetaimpakt.com/problemi-i-skllaverise-moderne-ne-shqiperi-armiqeson-evropen/
nga Massoud Khodabandeh.
Një raport i Britanisë së Madhe mbi skllavërinë moderne identifikon raste nga m të ndryshmit si shfrytëzimi seksual, shfrytëzimi në punë dhe robërimi në vend, duke dalë në përfundimin se rritja e ndërgjegjësimit rezulton në rritjen e zbulimeve dhe raportimeve të rasteve. Por trafikimi njerëzor si pjesë e skllavërisë moderne është një fenomen mbarëbotëror, i cili nuk mund të kufizohet në perëndim apo në ndonjë vend tjetër.
Skllavëria Moderne është zakonisht një fenomen i fshehur i cili ndodh prapa dyerve dhe është i vështirë për t'u zbuluar. Viktimat shpesh janë individë të izoluar, shërbyes shtëpish ose fermerë kanabisi të cilët qëndrojnë të mbyllur padrejtësisht mbrapa dyerve të kycura. Askush nuk di për ekzistencën e tyre, sepse ata janë të trafikuar ilegalisht. Edhe ata që mbahen më hapur nëpër shtëpi publike për shfrytëzim seksual, nuk janë në gjendje të shpëtojnë nga frika që kanë prej hakmarrjes dhe dëmtimit që mund tu shkaktohet familjeve të tyre.
Por ekziston edhe një formë skllavërie e fshehur nga syri normal: skllavëria politike. Kjo nuk është e vështirë për t'u zbuluar, sepse grupet që e praktikojnë atë në mënyrë aktive kërkojnë publicitet dhe ndikim mbi politikat mbarëbotërore. Organizata iraniane në mërgim, Mojahedin Khalq (MEK aka MKO, NCRI, kulti Raxhavi) është një grup i tillë. Ai e përshkruan veten si një organizatë politike demokratike, opozita kryesore e Republikës Islamike të Iranit. Por jeta reale e anëtarëve tregon një histori shumë më ndryshme.
Një vit më parë, pjesa e mbetur e rreth tre mijë anëtarëve të MEK u dëbuan nga Iraku ku ata kishin vepruar nën patronazhin e Sadam Huseinit. Amerika pagoi miliona dollarë për OKB-në dhe qeverinë shqiptare për ta vendosur grupin në Shqipëri. Një pjesë e marrëveshjes mbi dërgimin në Shqiperi ishte krijimi i një programi de-radikalizues për ti kthyer anëtarët në jetën normale. Kjo nuk ndodhi.
Në vend të kësaj, grupi i mbylli radhët dhe u izolua edhe më tej. Gjatë vitit të kaluar, shumë politikanë të nivelit të lartë amerikan vizituan Shqipërinë për të falenderuar dhe përgëzuar MEK-un për qëndrimin e tij kundër Iranit. John Bolton dhe Senatori John McCain e kanë promovuar pa masë grupin duke u takuar edhe me udhëheqësen e tij Merjem Raxhavin.
Një shqetësim më i madh gjatë kësaj periudhe ishte se familjarët e anëtarëve të MEK-ut u ankuan në UNHCR dhe tek qeveria shqiptare për trajtimin e të afërmve të tyre. Ata thanë se shumë prej tyre, ndoshta edhe shumica e anëtarëve të MEK duan të largohen nga grupi, por nuk munden sepse nuk kanë asgjë, as para, as vend ku të shkojnë, as status të njohur zyrtarisht dhe nuk kanë edhe aftësi gjuhësore për t'i ndihmuar që të largohen. Ata në këtë mënyrë po mbahen në një gjendje të skllavërisë moderne.
Një raport i një avokati shqiptar (që vepron për anëtarët e ndarë të MEK) pas takimit me UNHCR-në në Tiranë zbuloi se në marrëveshjen sekrete të arritur mes amerikanëve, qeverisë shqiptare dhe udhëheqësit të MEK, UNHCR do mbikëqyrte transferimin e rreth 3,000 anëtarëve të MEK nga Iraku për në Shqipëri, por jo si refugjatët e zakonshëm por si persona të klasifikuar në 'baza humanitare'. Me fjalë të tjera, ata nuk kanë asnjë status zyrtar në këtë vend.
Sipas kësaj marrëveshjeje, të gjitha shpenzimet për anëtarët e MEK-ut duhet të përcaktohen nga vetë MEK-u. Kjo do të thotë se anëtarët janë krejtësisht të varur nga udhëheqja e MEK-ut për jetesën e tyre. Ata që kanë shprehur dëshirën e tyre për t'u ndarë nga grupi, për çfarëdo arsye, duhet të vazhdojnë t'i binden rregullave dhe kufizimeve të MEK-ut. Ata duhet të pranojnë kushtet e vendosura nga MEK në mënyrë që t'u jepet strehimi dhe ushqimi.
Prandaj, ata janë të detyruar ti ofrojnë shërbimin e tyre një sistem besimi të cilin ata nuk e besojnë më. Ata janë të detyruar ti japin besnikëri një entiteti terrorist pseudo-politik. Në këto kushte, ata janë bërë skllevërit modernë politikë, të bllokuar nga syri i lirë, të rrethuar nga frika, forca dhe izolimi.


Tregimet e atyre që janë arratisur janë tronditëse. (Shih videot më poshtë.) Në MEK, çdo fjalë kundërshtuese dënohet. Si? Me poshtërim publik, rrahje, izolim dhe vdekje. Më shumë prekës në këtë histori është se kontaktimi me familjen konsiderohet një mëkat i dënueshëm që i bëhet liderit. Përkushtimi duhet të përqëndrohet vetëm tek Merjem Raxhavi duke përjashtuar cdo njeri tjetër. Kjo është dicka shqetësuese për mënyrat dhe arsyet se si këta individë janë skllavëruar. Kjo njihet si abuzimi i kultit për shkak të përfshirjes në një sistem besimi. Njerzit e MEK janë pengje politikë, mendjet e të cilëve janë rrëmbyer për një kauzë që shumica e tyre tani nuk po e besojnë më. Urgjentisht nevojitet ndihmë për t'i shpëtuar këta njerëz. Por aktualisht nuk ka shumë shpresë për këtë gjë. Madje zëvendës koordinatorja e antitrafikimit në Shqipëri, Dr Elona Gjebrea, e cila është gjithashtu zëvendës ministre e brendëshme, i është gjunjëzuar Merjem Raxhavit.
Ekspertja e anti terrorizmit, Anne Khodabandeh vizitoi Tiranën në datat 5 dhe 7 nëntor për të hetuar gjendjen e vështirë të ish-anëtarëve. Disa intervista që ajo dha për mediat shqiptare u tërhoqën nga transmetimi për shkak të kërcënimit nga MEK dhe nga mafia shqiptare pasi ajo zbuloi se MEK ishte duke rekrutuar në mënyrë aktive të rinjtë shqiptarë.
Por kthesa më e keqe e ngjarjeve po ndodh tani. MEK po transferon 2,500 anëtarë të saj në një kamp të largët në veri të Shqipërisë, larg nga çdo komunitet vendas. Ky akt i dëshpëruar shërben për disa qëllime. Njëra është rikrijimi i izolimit që kulti ka pasur dhe gëzuar në Irak ku imponimi dhe lavazhi i trurit ishin dukuri e përditshme. Kampi i ri quhet 'Ashraf tre'. Një arsye tjetër është parandalimi i familjeve nga vizitat e të afërmve të tyre dhe parandalimi i arratisjes së anëtarëve. Arsyeja tjetër është që të boshatisin ndërtesat e vjetra universitare në Tiranë për ti hapur rrugën një raundi të ri të skllevërve politikë për tu siguruar atyre akomodim të ri. Këtë herë thuhet se familjet e luftëtarëve të ISIS-it që janë larguar nga Iraku dhe Siria janë gati që të lëvizin në Shqipëri për 'arsye humanitare'.
Ndërkohë që Amerika bën një sy qorr ndaj skllavërisë politike, Bashkimi Evropian po mban një qëndrim krejt ndryshe. Jo vetëm që përpjekjet e Shqipërisë për të hyrë në BE janë pezulluar tërësisht si pasoje e aktiviteteve të MEK-ut, por përafrimi i grupit Mek me mafian shqiptare dhe kërcënimi nga vala e re e skllevërve politikë nënkupton se Shqipëria tani po konsiderohet më shumë si një kërcënim për sigurinë e kufijve të Evropës sesa një vend partner potencial.
IMPAKT 97: Xhihadi 2.0? Cfarë po bëjnë xhihadistët iranianë (MKO, kulti Raxhavi) në Shqipëri? (Pjesa 1)
IMPAKT 97: Xhihadi 2.0? Cfarë po bëjnë xhihadistët iranianë (MKO, kulti Raxhavi) në Shqipëri? (Pjesa 2)
burimi:huffingtonpost/ Gazeta Impakt
*** 
Massoud Khodabandeh, Huffington Post: Can Albania Meet its Obligations and De-radicalize an Influx of Terrorists into Europe? 
Massoud Khodabandeh: The Iranian Mojahedin-e Khalq (MEK) and Its Media Strategy:
Methods of Information Manufacture
Khodabandeh co-authored the book 'The Life of Camp Ashraf – Victims of Many Masters'
(Massoud Khodabandeh: 4th report, Baghdad October 2014)
Also read:
http://iran-interlink.org/wordpress/?p=8888
Pssst, Whisper It, Even Iran's Enemies Don't Want Regime Change 
Massoud Khodabandeh, Huffpost, September 18 2017:… While it is by no means clear that Donald Trump actually wants war with Iran – given the huge risks involved for the whole region – his strategy of brandishing the threat to destroy the JCPOA is certainly an attention-grabbing negotiating tactic. So too is brandishing the MEK as a terrorist threat against Iran. It is one of the cards which the anti-Iran pundits feel they can … 
ISIS Drew On MEK Expertise For Terror Attacks On Tehran (Mojahedin Khalq, Rajavi cult)
Link to the source (Huffpost)
Link to the source (Toptopic)
Pssst, Whisper It, Even Iran's Enemies Don't Want Regime Change
Massoud Khodabandeh Director at Middle East Strategy Consultants.
(END)
*** 
Also read:
http://iran-interlink.org/wordpress/?p=8703
Mojahedin Khalq (MEK) presence in Albania highlights security risks for Europe 
Massoud Khodabandeh, Balkans Post, July 23 2017:… Although the MEK are experts at intimidation and propaganda, in reality the expulsion of the MEK from Europe should be neither controversial nor unexpected. No government in Europe supports the presence of extremists in their midst and the MEK has a long history of extremist behaviour and messaging. The self-immolations in western capitals are an example of their actual behaviour …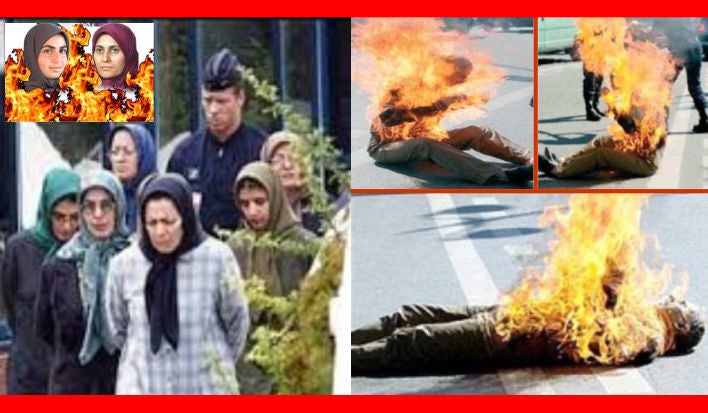 Under President Macron, France can play a pivotal role in Western relations with Iran
Debate in the European Parliament 'What is to be done about the Iranian Mojahedin Khalq (MEK)?'
By MASSOUD AND ANNE KHODABANDEH
Mojahedin Khalq (MEK) presence in Albania highlights security risks for Europe
Maryam Rajavi welcomes a distinguished delegation including John R. Bolton from US -Grand Gathering for a Free Iran- Paris, July 1, 2017
Advertising campaigns don't come cheap and those paying want value for money. The Mojahedin Khalq (MEK) annual event at Villepinte in France to celebrate so-called armed struggle and promote violent regime change against Iran is about showcasing the MEK to build a brand presence in political and media circles. The Mojahedin Khalq (MEK) brand, like any other brand, depends for its success on advertisement and consumer support.
Support for the MEK is strongest in America where reports that the Trump administration will adopt a policy of regime change toward Iran has led to speculation this will involve the MEK. Clearly the anti-Iran elements which pay for the MEK believe they are getting value for money.
What does the MEK offer for their dollar?
First and foremost, anyone who believes the MEK has renounced violence and terrorism should revisit their recent history (perhaps consult their Farsi language websites for MEK narratives rather than the English language NCRI propaganda). After losing their benefactor Saddam Hussein in 2003 the MEK, from its Iraqi base in Camp Ashraf and headquarters in Paris, engaged in active support for the Saddamist led insurgency which was expanded by AQI and more recently the failed efforts of Daesh to overrun Baghdad.
It took twelve years for the government of Iraq to succeed in its demand that America remove the group from Iraq. Taking the MEK off America's terrorism list in 2012 (followed by British and European Union terrorism lists) was a pragmatic move to allow the relocation of the group in third countries. Of course, the American government had no intention of relocating the group to the US. Why would they when France and Albania would host the group instead.
The MEK has never dropped its agenda of supporting terrorism. Even after arriving in Albania, the MEK's support for Daesh and violent extremists has been fully in step with prominent war-mongers; those who don't mind the violent imposition of an inhumane so-called caliphate on millions of citizens in the Middle East so long as Iran is contained.However, this US-centric view of the situation is not echoed by Europe. The visits by John Bolton and Senator John McCain to the MEK in Tirana remind us that Albania shares a land border with the EU via Greece and with other troubled Balkan states. Albania's de facto role as a bridge between Europe and areas of conflict in the Middle East has been of concern for international security officials for some time. The relocation of 2700 radicalised MEK members there was hardly likely to offer them any comfort.
Indeed, conditions in Albania mean the group has a much more open hand to pursue its agenda now it has left Iraq. Although the MEK has given up on its own ability to force regime change on Iran, the group will, of course, work to harm Iran's interests in any way it is able or as it is instructed. As a mercenary force, the MEK is equipped to train, advise and facilitate terrorist and intelligence activity. The recent ISIS attacks in Tehran which bear the hallmarks of MEK involvement at some stage are a stark example of this capability. Interpol warns of at least 173 suspected members of a Daesh suicide brigade heading for Europe. The MEK are experts in people smuggling.
So, when the well-paid speakers at the Villepinte event in France advocate violent regime change, it is this MEK mercenary paramilitary group which is being advertised, rather than a political wish list written in Washington.
Because of this, the participation of three members of Albania's parliament in this event ought to be of great concern in Europe. In 2014 Albania became an official candidate for accession to the European Union. Notwithstanding efforts to combat the drug cartels, arms smuggling and people trafficking gangs which prevail there, corruption and organised crime are still a problem.
Maryam Rajavi and Senator Lieberman and his wife at the free Iran Gathering – 1 July 2017
Although Albania's officially stated foreign policy promotes non-interference in other countries' internal affairs, some deputies find advocacy for the MEK irresistible.
The head of the Republican Party Fatmir Mediu in a wonderful attempt to ignore the MEK's totalitarian nature ludicrously encouraged MEK members in the audience to 'vote for their future'. The MEK is a cult, its members are held in a state of modern slavery. They do not even have a say over their everyday lives let alone a vote. This makes the presence of Deputy Interior Minister Elona Gjebrea even more troubling. Europeans know her as the minister for anti-trafficking. However, she has turned a blind eye to the living conditions of the MEK members in her own country.
Socialist Party deputy and former Premier Pandeli Majko echoed the MEK's demand for regime change and stated that these radicalised MEK members are now Albanian citizens. Was this simply rhetoric?
If the Rama government has truly provided MEK members with Albanian passports, their free movement across Europe will allow into the European Union and Schengen area a new army of radicalized extremists, which would be a new threat to the West. France, which has hosted the MEK headquarters for over three decades, always refused to give the members national passports.
While the EU views the MEK as a security threat which would damage accession, there are many other elements who actually benefit from the insecurity and corruption in the Balkan region which allows gangs and groups like the MEK freedom to operate outside any laws and norms. One thing can be agreed however, neither the US nor the EU want Albania to join the EU any time soon.
Indeed, with trade deals between European Union countries and Iran increasing, the continued presence of the MEK in EU countries is increasingly problematic.
However, although the MEK are experts at intimidation and propaganda, in reality the expulsion of the MEK from Europe should be neither controversial nor unexpected. No government in Europe supports the presence of extremists in their midst and the MEK has a long history of extremist behaviour and messaging. The self-immolations in western capitals are an example of their actual behaviour, while the Villepinte celebration of armed struggle and advocacy of violent regime change is incompatible with European countries' values and wider approach to counter-terrorism.
Previously the MEK in Europe couldn't be expelled to Iraq because their human rights could not be guaranteed. This is not the case in Albania. Maryam Rajavi happily spent some weeks there earlier this year. President Macron can either bite the bullet and expel this unwanted group at long last, or continue to tolerate the MEK on French soil as leverage to extract further concessions from the Trump administration. Either way, the fact remains that the real problem lies in Albania. A security and humanitarian problem that will not go away.
(END)
Albanian translation by Gazeta Impakt: 
http://gazetaimpakt.com/prezenca-e-muxhahedineve-ne-shqiperi-thekson-rreziqet-e-sigurise-per-evropen/
Prezenca e Muxhahedinëve në Shqipëri thekson rreziqet e sigurisë për Evropën
Nga GAZETA IMPAKT – July 25, 2017
Fushatat reklamuese nuk janë të lira dhe ata që paguajnë duan fitimin për paratë që japin. Ngjarja vjetore e Muxhahedin Halk (MEK) në Vilpënt të Francës për të festuar të ashtuquajturën luftë të armatosur dhe për të nxitur ndryshimin e dhunshëm të regjimit kundër Iranit ka të bëjë me prezantimin e MEK-ut për të ndërtuar një prezencë në qarqet politike dhe ato të medias. Marka e Muxhahedin Halk, si çdo markë tjetër, varet nga suksesi i tij në reklamimin dhe mbështetjen e konsumatorit.
Mbështetja për MEK-un është më e fortë në Amerikë ku raportet se administrata Trump do të miratojë një politikë të ndryshimit të regjimit në Iranit kanë çuar në spekullime se kjo do të përfshijë MEK-un. Është e qartë se elementët anti-iranianë që paguajnë për MEK-un besojnë se po e marrin fitimin për paratë.
Çfarë ofron MEK-u për dollarët e tyre?
Së pari dhe më kryesorja, kushdo që beson se MEK ka hequr dorë nga dhuna dhe terrorizmi duhet të rishikojë historinë e tyre të kohëve të fundit (ndoshta konsultohuni me faqet e tyre të internetit në gjuhën Farsi për tregimet e MEK-ut dhe jo me propagandën në gjuhë angleze të NCRI-së). Pas humbjes së sponsorit – Sadam Huseinit – në vitin 2003, MEK, nga baza e tij irakiene në kampin Ashraf dhe nga selia në Paris, u angazhua në mbështetje aktive për kryengritjen e udhëhequr nga sadamistët, e cila u zgjerua nga al-Kaeda dhe më së fundmi nga përpjekjet e dështuara të Daeshit për të marrë Bagdadin.
U deshën dymbëdhjetë vjet që qeveria e Irakut të kishte sukses në kërkesën e saj që Amerika të largonte grupin nga Iraku. Heqja e MEK-ut nga lista terroriste e Amerikës në vitin 2012 (pasuar nga listat e terrorizmit britanik dhe të Bashkimit Evropian) ishte një lëvizje pragmatike për të lejuar zhvendosjen e grupit në vendet e treta. Sigurisht, qeveria amerikane nuk kishte ndërmend ta zhvendoste grupin në SHBA. Pse duhet ta bënte kur në vend të saj grupin do e strehonin Franca dhe Shqipëria.
MEK kurrë nuk ka hequr dorë nga axhenda e tij e mbështetjes së terrorizmit. Edhe pas mbërritjes në Shqipëri, mbështetja e MEK-ut për Daeshin dhe ekstremistët e dhunshëm ka qenë plotësisht në një hap me luftënxitësit e shquar; ata që nuk e kanë problem imponimin e dhunshëm të një të ashtuquajturi kalifati jonjerëzor për miliona njerëz në Lindjen e Mesme, për aq kohë sa Irani është i përfshirë. Megjithatë, kjo pikëpamje e SHBA-së për situatën nuk bën jehonë në Europë. Vizitat e John Bolton dhe senatorit John McCain në MEK në Tiranë na kujtojnë që Shqipëria ka një kufi toke me BE-në nëpërmjet Greqisë dhe me shtetet e tjera të trazuara të Ballkanit. Roli de fakto i Shqipërisë si një urë midis Evropës dhe zonave të konfliktit në Lindjen e Mesme ka qenë shqetësues për zyrtarët ndërkombëtarë të sigurisë për njëfarë kohe. Zhvendosja e 2,700 anëtarëve të radikalizuar të MEK-ut nuk kishte gjasa të ofronte ndonjë ngushëllim.
Në të vërtetë, kushtet në Shqipëri nënkuptojnë se grupi ka një liri më të madhe për të ndjekur axhendën e tij tani që është larguar nga Iraku. Megjithëse MEK ka hequr dorë nga aftësia e vet për të detyruar ndryshimin e regjimit në Iran, grupi, natyrisht, do të punojë për të dëmtuar interesat e Iranit në çfarëdo mënyre që është në gjendje, ose siç është udhëzuar. Si një forcë mercenare, MEK është e pajisur për të trajnuar, këshilluar dhe lehtësuar aktivitetin e terrorizmit dhe inteligjencës. Sulmet e fundit të ISIS në Teheran, të cilat mbajnë shenjat dalluese të përfshirjes së MEK-ut në një fazë të caktuar, janë një shembull i fuqishëm i kësaj aftësie. Interpoli paralajmëron të paktën 173 anëtarë të dyshuar të një brigade vetëvrasëse të Daeshit që po shkon për në Evropë. Muxhahedinët janë ekspertë në kontrabandën e njerëzve.
Pra, kur folësit e paguar mirë në eventin në Vilpënt në Francë advokojnë ndryshimin e dhunshëm të regjimit, është ky grup mercenar paraushtarak i MEK-ut i cili po reklamohet, dhe jo një listë politike dëshirash e shkruar në Uashington.
Për shkak të kësaj, pjesëmarrja e tre anëtarëve të parlamentit të Shqipërisë në këtë aktivitet duhet të jetë një shqetësim i madh për Evropën. Në vitin 2014 Shqipëria u bë kandidate zyrtare për anëtarësim në Bashkimin Evropian. Pavarësisht përpjekjeve për të luftuar kartelet e drogës, kontrabandën e armëve dhe bandat e trafikimit të njerëzve që mbizotërojnë atje, korrupsioni dhe krimi i organizuar janë ende problem.
Ndonëse politika e jashtme zyrtare e deklaruar e Shqipërisë nxit mosndërhyrjen në punët e brendshme të vendeve të tjera, disa deputetë e konsiderojnë advokimin për MEK-un të parezistueshëm.
Kreu i Partisë Republikane Fatmir Mediu në një përpjekje të mrekullueshme për të injoruar natyrën totalitare të MEK-ut, i inkurajoi në mënyrë qesharake anëtarët e MEK-ut në audiencë që "të votonin për të ardhmen" e tyre. MEK është një kult, anëtarët e tij mbahen në një gjendje skllavërie moderne. Ata madje as nuk ia kanë idenë jetës së tyre të përditshme, e jo më një votimi. Kjo e bën edhe më shqetësuese prezencën e zëvendësministres së brendshme Elona Gjebrea. Evropianët e njohin atë si ministrja e anti-trafikimit. Megjithatë, ajo ka bërë një sy qorr ndaj kushteve të jetesës së anëtarëve të MEK-ut në vendin e saj.
Zëvendësi i Partisë Socialiste dhe ish-Kryeministri Pandeli Majko i bëri jehonë kërkesës së MEK-ut për ndryshimin e regjimit dhe deklaroi se këta anëtarë të radikalizuar të MEK-ut tani janë qytetarë shqiptarë. A ishte kjo thjesht një retorikë?
Nëse qeveria e Ramës i ka dhënë me të vërtetë anëtarëve të MEK-ut pasaporta shqiptare, lëvizja e lirë e tyre në të gjithë Evropën do të lejojë në Bashkimin Evropian dhe në zonën Shengen një ushtri të re ekstremistësh të radikalizuar, e cila do të ishte një kërcënim i ri për Perëndimin. Franca, e cila ka pritur selinë e MEK-ut për më shumë se tre dekada, gjithmonë ka refuzuar t'u japë anëtarëve pasaporta kombëtare.
Ndërsa BE e sheh MEK-un si një kërcënim sigurie që do të dëmtonte pranimin, ka shumë elementë të tjerë që në të vërtetë përfitojnë nga pasiguria dhe korrupsioni në rajonin e Ballkanit, i cili lejon bandat dhe grupet si MEK-u për të vepruar lirisht jashtë çdo ligji dhe norme. Megjithatë, për një gjë mund të biem dakord, se as SHBA as BE nuk dëshirojnë që Shqipëria të bashkohet me BE-në së shpejti.
Në të vërtetë, me marrëveshjet tregtare në rritje midis vendeve të Bashkimit Evropian dhe Iranit, prania e vazhdueshme e MEK-ut në vendet e BE-së është gjithnjë e më problematike.
Megjithatë, edhe pse muxhahedinët janë ekspertë në kërcënime dhe propagandë, në të vërtetë dëbimi i MEK-ut nga Evropa nuk duhet të jetë as i diskutueshëm as i papritur. Asnjë qeveri në Evropë nuk e mbështet prezencën e ekstremistëve në mesin e tyre dhe MEK ka një histori të gjatë të sjelljes dhe mesazheve ekstremiste. Vetëvendosjet në kryeqytetet perëndimore janë një shembull i sjelljes së tyre aktuale, ndërsa festimi i luftës së armatosur dhe advokimi i ndryshimit të dhunshëm të regjimit në Vilpënt është i papajtueshëm me vlerat e vendeve evropiane dhe me qasjen më të gjerë ndaj terrorizmit.
Më parë, MEK-u në Evropë nuk mund të dëbohej për në Irak sepse të drejtat e tyre njerëzore nuk mund të garantoheshin. Por ky nuk është rasti në Shqipëri. Marjam Raxhavi ka kaluar disa javë të lumtura atje më herët këtë vit. Presidenti Makron ose do të bëhet burrë dhe do ta dëbojë këtë grup të padëshiruar, ose do të vazhdojë të tolerojë MEK-un në tokën franceze si një levë për të nxjerrë lëshime të mëtejshme nga administrata Trump. Sidoqoftë, mbetet fakti se problemi i vërtetë gjendet në Shqipëri. Një problem sigurie dhe humanitar që nuk do të largohet.
Massoud and Anne Khodabandeh
***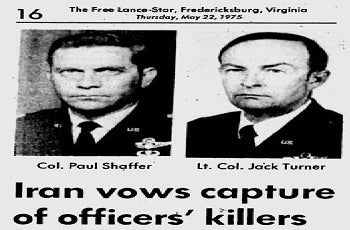 The MEK's dirty past includes the anti-Imperialist inspired murder of six Americans in pre-revolution Iran which it later celebrated in songs and publications
Radicalisation Awareness (Presentation at the ICSA Conference, Bordeaux, July 2017)
Which occasion is Maryam Rajavi celebrating in Paris? (letter to Emmanuel Macron)
grooming Mojahedin Khalq (MEK, Rajavi cult) in Tirana part of bigger agenda for Albania
The Enemy of My Enemy is NOT Always My Friend…
Also read:
Also read:
http://iran-interlink.org/wordpress/?p=8004
Mojahedin Khalq (MEK, Rajavi cult)'s Fake Intelligence On Aleppo Only Hinders Fact-finding Bodies Finding The Truth 
Massoud Khodabandeh, Huffington Post, December 24 2016:… That can only happen if journalists and investigatory bodies (human rights, nuclear experts, war crimes, etc) are able to base their work on facts and not the fake and fictionalised fantasies of stooges like the MEK, which are clearly designed to misinform on these issues. The information laundry cycle is not difficult to follow – the Washington Times takes its report … 
Albanian citizens fearful of radicalised Mojahedin Khalq neighbours deserve more information
Mojahedin Khalq (MEK, Rajavi cult)'s Fake Intelligence On Aleppo Only Hinders Fact-finding Bodies Finding The Truth
Link to the source (Huffington Post)
Also on WOW.com 
Massoud Khodabandeh Director at Middle East Strategy Consultants.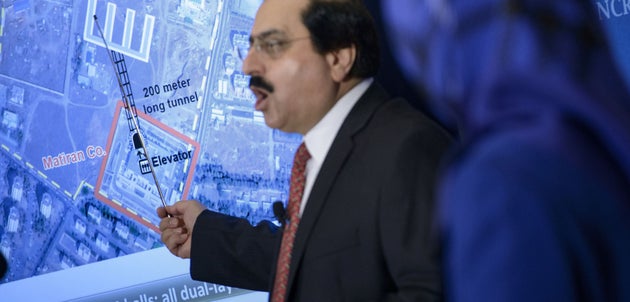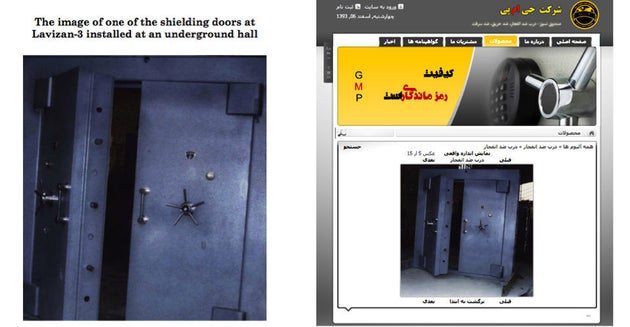 *** 
Introducing Maryam Rajavi as a human rights activist is the wrong tool for the wrong job
The Life of Camp Ashraf Mojahedin-e Khalq – Victims of Many Masters By Anne Singleton and Massoud Khodabandeh
Also read:
http://iran-interlink.org/wordpress/?p=7866
National Security: Could Maryam Rajavi (Mojahedin Khalq) blackmail her friends in high places – Rudi Giuliani, John Bolton and Newt Gingrich 
Massoud Khodabandeh, Huffington Post, November 12 2016:… In particular, Rudi Giuliani, John Bolton and Newt Gingrich. Putting aside their weak personalities as well as their individual neoconservative agendas, the common thread which links these names together is their decade long support for the Mojahedin Khalq terrorist organisation (also known as Saddam's Private Army or Rajavi cult). It is certain that … 
Massoud Khodabandeh: The Iranian Mojahedin-e Khalq (MEK) and Its Media Strategy:
Methods of Information Manufacture
Massoud Khodabandeh, Huffington Post: Can Albania Meet its Obligations and De-radicalize an Influx of Terrorists into Europe? 
Link to the source (Huffington Post)
Link to the source (Top Topic)
National Security: Could Maryam Rajavi (Mojahedin Khalq) blackmail her friends in high places – Rudi Giuliani, John Bolton and Newt Gingrich
Newt Gingrich bows to Maryam Rajavi
Rudi Giuliani with Maryam Rajavi
John Bolton with Mojahedin Khalq operatives
Also read:
Massoud Khodabandeh, Balkans Post, July 23 2017:… Although the MEK are experts at intimidation and propaganda, in reality the expulsion of the MEK from Europe should be neither controversial nor unexpected. No government in Europe supports the presence of extremists in their midst and the MEK has a long history of extremist behaviour and messaging. The self-immolations in western capitals are an example of their actual behaviour … 

Anne Khodabandeh (Singleton), Open minds, July 08 2017:… Anne Khodabandeh. After twenty years in the terrorist cult Mojahedin-e Khalq, Anne (with her husband Massoud Khodabandeh) established the English language www.iran-interlink.org website in 2001 to expose the group as a cult and support former members. Anne works with families of MEK campaigning to rescue their loved ones. Anne has written extensively … 

Massoud Khodabandeh,, Huffpost, June 28 2017:…  Like many statements and petitions over the years which mention the MEK this looks like fake news. Anyway, it would have been much easier to pass this off as genuine if Deprez had also published the names of the 265 signatories. As parliamentarians, it is doubtful they would feel endangered by publicly announcing their views in this way. Unless, of course, they had spotted the … 

Massoud Khodabandeh,  Huffpost, June 27 2017:… Perhaps the time is finally ripe for a new appraisal of what zero tolerance means for France. The MEK's messages promoting violent regime change should no longer be tolerated. President Emmanuel Macron's new centrist movement has won a large majority in the French parliament giving him a strong hand to play. He already revealed himself to be a shrewd and … 

Massoud Khodabandeh, Iranian.com, June 20 2017:… The following piece has been written by somebody I know well. He does not want his real name to be used because that would jeopardize the sensitive nature of his current work in counter terrorism in Europe – Massoud Khodabandeh… As a former member of the Mojahedin Khalq terrorist organization (MEK), I followed the news of terrorist attacks on Tehran with shame, guilt and anger. My shame and guilt stem … 

Massoud Khodabandeh, Huffpost, June 02 2017:… The meeting was organised by Ana Gomes, SND (Portugal) and seconded by Marietje Schaake, ALDE (Netherlands) and Michael Gahler, Christian Democrats (Germany). Two expert speakers were invited to address the meeting: Nicola Pedde, Director Institute for Global Studies, Italy and Massoud Khodabandeh, Director Middle East Strategy Consultants, UK. … 

Massoud and Anne Khodabandeh, Huffpost, May 18 2017:… In Albania, Elona Gjebrea also has close ties to the United States on the issue of people trafficking and slavery. The US embassy in Tirana, Albania acknowledged the State Department's annual Trafficking in Persons report in June 2016 by saying, "The United States appreciates the close cooperation with the Government of Albania, civil society and especially National … 

Massoud Khodabandeh, Top topic, May 08 2017:…  Rajavi then publishes these alongside letters signed by American personalities in support of the MEK. The letters from the Americans are addressed to the Albanian Prime Minister and bear the familiar hallmark of MEK authorship. (One letter published by the MEK is signed in blue ink. We can only speculate how the MEK obtained the original letter which should have been sent directly from the Americans to the Albanian PM!) … 

National Geographic, March 04 2017:… Leading MEK members squirm under the knowing gaze of Michael Ware. Watch the shifty looks and glances as the MEK representatives try to lie about their true intentions. They admit to wanting regime change, but claim to be pacifists. Ware asks 'Why does a political organization still need to have a para-military organization?' He then cleverly gets them to … 

Associated Press, February 16 2017:… The group at one point successfully infiltrated the U.S. Embassy in Tehran, according to a State Department report. And a series of bombings attributed to the MEK accompanied visits by presidents Richard Nixon and Jimmy Carter to Iran, including one to target an American cultural center. In 1973, MEK assailants wearing motorcycle helmets shot dead U.S. Army Lt. … 

Iran Interlink, February 15 2017:… The following OpEd by MEK advocate Col. Wes Martin was published first in The Hill, followed by Mojahedin Khalq's "Iran Probe" and the "NCRI" websites. Iran Interlink has published it here as indication of how hysteria has become the new normal in American published writing. A form of madness appears to have infected US politics and now all and sundry are dancing … 

Massoud Khodabandeh, Huffington Post, February 07 2017:… He also signals that his war is not with ISIS but with the country Iran. Donald Trump rose to victory in part on the promise to take on ISIS and defeat the group. Yet ISIS cannot be defeated except by a coalition of forces that includes Iran. The facts on the ground in Syria and Iraq demonstrate unequivocally that ISIS forces in Aleppo and Mosul have been defeated largely due to the involvement

Gazeta Impakt, Albania, Translated by Iran Interlink,  January 01 2017:… According to Fatos Klosi, former director of the National Intelligence Service, the American CIA chief has warned Albania that Donald Trump will renounce support for the MEK terrorists and it will be the Albanian Government itself which must deal with internal security and must confront a group trained militarily from the time of Saddam Hussein … 

Massoud Khodabandeh, Huffington Post, December 24 2016:… That can only happen if journalists and investigatory bodies (human rights, nuclear experts, war crimes, etc) are able to base their work on facts and not the fake and fictionalised fantasies of stooges like the MEK, which are clearly designed to misinform on these issues. The information laundry cycle is not difficult to follow – the Washington Times takes its report … 

Massoud Khodabandeh, Huffington Post, November 12 2016:… In particular, Rudi Giuliani, John Bolton and Newt Gingrich. Putting aside their weak personalities as well as their individual neoconservative agendas, the common thread which links these names together is their decade long support for the Mojahedin Khalq terrorist organisation (also known as Saddam's Private Army or Rajavi cult). It is certain that … .

 Iran Interlink, October 30 2016:… Local observers in Tirana are reporting that the Mojahedin Khalq cultic terror group (MEK) is buying and creating several sandwich and kebab shops in the city and is using the MEK members to work in these fast-food businesses. On the surface this may look like a positive move. In an article titled 'Albania: What would a de-radicalization program for the Mojahedin Khalq involve', it was … 

Anne and Massoud Khodabandeh, Iran Interlink, October 16 2016:… In spite of American promises, no de-radicalisation programme is in place to deal with over 2500 members of the Mojahedin Khalq terrorist group who have relocated to Tirana from Iraq. The MEK has a long history of violent and criminal activity. This has not stopped now they are in Tirana. Unless the Albanian government introduces its own programme, it must accept … 

Anne and Massoud Khodabandeh, Huffington post (and Top Topic), October 09 2016:… For the local citizens, mystery surrounds their arrival and their lifestyle. Should these secretive and covert neighbours be treated with suspicion or kindness? At a local level, the first thing neighbouring families need to be aware of is that among all MEK members, sexual relations have been banned for over 25 years. This means there are no marriages or children or young people in the organisation. More troubling … 

Massoud & Anne Khodabandeh, Huffington Post, July 14 2016:… Whether Rajavi is already dead or now killable is not known – only he can answer this – but he and his whole organisation are certainly now, body and soul, in the capable hands of the Saudi Prince. If he is still alive, Rajavi's only role is to act as go-between to instruct his wife what she must do on behalf of the Saudis. If he is dead

Massoud Khodabandeh, Huffington Post, July 08 2016:… Clearly this message is not aimed at Iranians. The clamour for regime change in Iran does not emanate from inside the country in spite of its many social, civic and political problems. Who then is Maryam Rajavi's constituency? Fro

Massoud Khodabandeh, Toptopic, July 03 2016:… So, back to the recent advertising campaign. Any publicity campaign will be successful if it is newsworthy. Maryam, however, simply churns out the same scenario ad infinitum. Starting with describing a terrible situation in Iran – based on news items that can be gleaned from any serious report