Terrorists, cultists – or champions of Iranian democracy? The wild wild story of the MEK
Arron Merat, The Guardian, London, 09 november 2018:… When we spoke recently, Soltani accused Maryam Rajavi of helping Massoud to abuse female MEK members over the years. "[Massoud] Rajavi thought that the only achilles heel [for female fighters] was the opposite sex," Soltani told me. "He would say that the only reason you women would leave me is a man. So, I want all of your hearts." Soltani, who was one of three women to speak … 
Sir David Amess MP, paid head lobby for Mojahedin khalq terrorists
(aka Maryam Rajavi cult, MKO, MEK, Saddam's private army)
in British Parliament
Terrorists, cultists – or champions of Iranian democracy? The wild wild story of the MEK
Maryam Rajavi in Tirana, Albania in September 2017. Photograph: NurPhoto via Getty
They fought for the Iranian revolution – and then for Saddam Hussein. The US and UK once condemned them. But now their opposition to Tehran has made them favourites of Trump White House hardliners.
By Arron Merat
Mostafa and Robabe Mohammadi came to Albania to rescue their daughter. But in Tirana, the capital, the middle-aged couple have been followed everywhere by two Albanian intelligence agents. Men in sunglasses trailed them from their hotel on George W Bush Road to their lawyer's office; from the lawyer's office to the ministry of internal affairs; and from the ministry back to the hotel.
The Mohammadis say their daughter, Somayeh, is being held against her will by a fringe Iranian revolutionary group that has been exiled to Albania, known as the People's Mujahedin of Iran, or MEK (Mujahedin-e Khalq). Widely regarded as a cult, the MEK was once designated as a terrorist organisation by the US and UK, but its opposition to the Iranian government has now earned it the support of powerful hawks in the Trump administration, including national security adviser John Bolton and the secretary of state, Mike Pompeo.
Somayeh Mohammadi is one of about 2,300 members of the MEK living inside a heavily fortified base that has been built on 34 hectares of farmland in north-west Albania. Her parents, who were once supporters of the group, say that 21 years ago, Somayeh flew to Iraq to attend a summer camp and to visit her maternal aunt's grave. She never came back.
The couple have spent the past two decades trying to get their daughter out of the MEK, travelling from their home in Canada to Paris, Jordan, Iraq and now Albania. "We are not against any group or any country," Mostafa said, sitting outside a meatball restaurant in central Tirana. "We just want to see our daughter outside the camp and without her commanders. She can choose to stay or she can choose to come home with us." The MEK insists Somayeh does not wish to leave the camp, and has released a letter in which she accuses her father of working for Iranian intelligence.
"Somayeh is a shy girl," her mother said. "They threaten people like her. She wants to leave but she is scared that they will kill her."
Since its exile from Iran in the early 1980s, the MEK has been committed to the overthrow of the Islamic republic. But it began in the 1960s as an Islamist-Marxist student militia, which played a decisive role in helping to topple the Shah during the 1979 Iranian revolution.
Anti-capitalist, anti-imperialist and anti-American, MEK fighters killed scores of the Shah's police in often suicidal street battles during the 1970s. The group targeted US-owned hotels, airlines and oil companies, and was responsible for the deaths of six Americans in Iran. "Death to America by blood and bonfire on the lips of every Muslim is the cry of the Iranian people," went one of its most famous songs. "May America be annihilated."
Such attacks helped pave the way for the return of the exiled Ayatollah Ruhollah Khomeini, who quickly identified the MEK as a serious threat to his plan to turn Iran into an Islamic republic under the control of the clergy. The well-armed middle-class guerrillas, although popular among religious students and intellectuals, would prove to be no match for Khomeini's organisation and ruthlessness.
Following the revolution, Khomeini used the security services, the courts and the media to choke off the MEK's political support and then crush it entirely. After it fought back, killing more than 70 senior leaders of the Islamic republic – including the president and Iran's chief justice – in audacious bomb attacks, Khomeini ordered a violent crackdown on MEK members and sympathisers. The survivors fled the country.
Saddam Hussein, who was fighting a bloody war against Iran with the backing of the UK and the US, saw an opportunity to deploy the exiled MEK fighters against the Islamic republic. In 1986, he offered the group weapons, cash and a vast military base named Camp Ashraf, only 50 miles from the border with Iran.
For almost two decades, under their embittered leader Massoud Rajavi, the MEK staged attacks against civilian and military targets across the border in Iran and helped Saddam suppress his own domestic enemies. But after siding with Saddam – who indiscriminately bombed Iranian cities and routinely used chemical weapons in a war that cost a million lives – the MEK lost nearly all the support it had retained inside Iran. Members were now widely regarded as traitors.
Isolated inside its Iraqi base, under Rajavi's tightening grip, the MEK became cult-like. A report commissioned by the US government, based on interviews within Camp Ashraf, later concluded that the MEK had "many of the typical characteristics of a cult, such as authoritarian control, confiscation of assets, sexual control (including mandatory divorce and celibacy), emotional isolation, forced labour, sleep deprivation, physical abuse and limited exit options".
After the US invasion of Iraq, the MEK launched a lavish lobbying campaignto reverse its designation as a terrorist organisation – despite reports implicating the group in assassinations of Iranian nuclear scientists as recently as 2012. Rajavi has not been seen since 2003 – most analysts assume he is dead – but under the leadership of his wife, Maryam Rajavi, the MEK has won considerable support from sections of the US and European right, eager for allies in the fight against Tehran.
In 2009, the UK delisted the MEK as a terror group. The Obama administration removed the group from the US terror list in 2012, and later helped negotiate its relocation to Albania.
At the annual "Free Iran" conference that the group stages in Paris each summer, dozens of elected US and UK representatives – along with retired politicians and military officials – openly call for the overthrow of the Islamic republic and the installation of Maryam Rajavi as the leader of Iran. At last year's Paris rally, the Conservative MP David Amess announced that "regime change … is at long last within our grasp". At the same event, Bolton – who championed war with Iran long before he joined the Trump administration – announced that he expected the MEK to be in power in Tehran before 2019. "The behaviour and the objectives of the regime are not going to change and, therefore, the only solution is to change the regime itself," he declared.
The main attraction at this year's Paris conference was another longtime MEK supporter, former New York mayor Rudy Giuliani, now Donald Trump's lawyer. "The mullahs must go. The ayatollah must go," he told the crowd. "And they must be replaced by a democratic government which Madam Rajavi represents." Giuliani also praised the work of MEK "resistance units" inside Iran, that he credited with stoking a recent wave of protests over the struggling economy. "These protests are not happening by accident," he said. "They're being coordinated by many of our people in Albania." (Giuliani, Bolton and the late John McCain are among the US politicians who have travelled to Albania to show support for the MEK.)
Meanwhile, back in Albania, the MEK is struggling to hold on to its own members, who have begun to defect. The group is also facing increased scrutiny from local media and opposition parties, who question the terms of the deal that brought the MEK fighters to Tirana.
It would be hard to find a serious observer who believes the MEK has the capacity or support within Iran to overthrow the Islamic republic. But the US and UK politicians loudly supporting a tiny revolutionary group stranded in Albania are playing a simpler game: backing the MEK is the easiest way to irritate Tehran. And the MEK, in turn, is only one small part of a wider Trump administration strategy for the Middle East, which aims to isolate and economically strangle Iran.
_
Before the MEK could become a darling of the American and European right, it had to reinvent itself. Democracy, human rights and secularism would become the group's new mantra – as its leader, Maryam Rajavi, renounced violence and successfully repositioned an anti-western sect as a pro-American democratic government-in-waiting.
The long march to respectability began with the US invasion of Iraq in 2003. The war toppled Saddam Hussein, the MEK's patron and protector, but it brought the group into direct contact with US officials – who would soon be looking for additional ammunition against Iran.
The US had designated the MEK as a terrorist group in the late 1990s, as a goodwill gesture toward a new reformist government in Tehran. When George W Bush accused Saddam Hussein of "harbouring terrorists" in a 2002 speech that made the case for invading Iraq, he was actually referring to the MEK. But in the early days of the US occupation of Iraq, a row erupted inside the White House over what to do with the 5,000 MEK fighters inside their base at Camp Ashraf.
Members of the MEK near Camp Ashraf in the 90s. Photograph: Alamy
Condoleezza Rice, the US secretary of state, argued that the MEK was on the list of terrorist organisations and should be treated as such. But Iran hawks, including then secretary of defence, Donald Rumsfeld, and vice-president Dick Cheney, argued that the MEK should be used as a weapon against the Islamic republic – the next target in the neoconservative roadmap for remaking the Middle East. ("Boys go to Baghdad, but real men go to Tehran," was their half-joking refrain.)
Rumsfeld's faction won out. Although the group was still listed as a terrorist organisation, the Pentagon unilaterally designated MEK fighters inside Camp Ashraf as "protected persons" under the Geneva conventions – officially disarmed, but with their security effectively guaranteed by US forces in Iraq. The US was protecting a group it also designated as terrorists.
There is no doubt that US hawks regarded the MEK as a weapon in the fight against Iran: as early as May 2003, the same month that Bush famously declared "mission accomplished" in Iraq, the New York Times reported that "Pentagon hardliners" were moving to protect the MEK, "and perhaps reconstitute it later as a future opposition organisation in Iran, somewhat along the lines of the US-supported Iraqi opposition under Ahmed Chalabi that preceded the war in Iraq". In 2003, the Bush administration refused an offer, signed off by Iran's supreme leader, Ali Khamenei, to hand over MEK leaders in Iraq in exchange for members of the military council of al-Qaida and relatives of Osama bin Laden, who had been captured by Iran as they fled Afghanistan after September 11.
As the US occupation of Iraq collapsed into a nightmarish civil war, the American right increasingly blamed Iran for the country's disintegration. Senior politicians openly called for bombing the Islamic republic, amid growing panic over Iran's nuclear programme – the existence of which had first been exposed by the MEK in what the BBC called a "propaganda coup" for the group. (Several experts on Israeli intelligence have reported that Mossad passed these documents to the MEK.) By 2007, US news outlets were reporting that Bush had signed a classified directive authorising "covert action" inside Iran.
Between 2007 and 2012, seven Iranian nuclear scientists were attacked with poison or magnetic bombs affixed to moving cars by passing motorcyclists; five were killed. In 2012, NBC news, citing two unnamed US officials, reported that the attacks were planned by Israel's foreign intelligence agency and executed by MEK agents inside Iran. An MEK spokesperson called this a "false claim … whose main source is the mullahs' regime".
It was around this time that the MEK began working to remake its image in the west. Groups associated with the MEK donated to political campaigns, blanketed Washington with advertisements and paid western political influencers fees to pen op-eds and give speeches – and to lobby for its removal from the list of designated terrorist organisations.
A stupendously long list of American politicians from both parties were paid hefty fees to speak at events in favour of the MEK, including Giuliani, John McCain, Newt Gingrich and former Democratic party chairs Edward Rendell and Howard Dean – along with multiple former heads of the FBI and CIA. John Bolton, who has made multiple appearances at events supporting the MEK, is estimated to have received upwards of $180,000. According to financial disclosure forms, Bolton was paid $40,000 for a single appearance at the Free Iran rally in Paris in 2017.
A handful of UK politicians have attended two or more of the MEK's Paris events in the past three years, including the Conservatives Bob Blackman and Matthew Offord, and the Labour MPs Roger Godsiff and Toby Perkins. The Conservative MP and former minister Theresa Villiers has attended the past two annual Paris events. So has David Amess, the Conservative MP for Southend West – the MEK's loudest champion in the UK parliament, who has also travelled to the US to speak at a rally in support of the group. (All of the MPs declined to reply to questions about their attendance.)
The other British attendees at this year's Paris rally included three peers and five former MPs, including Mike Hancock, who resigned from the Liberal Democrats after admitting inappropriate behaviour with a constituent, and Michelle Thomson, who was forced to resign the SNP whip in 2015 in a controversy over property deals. The former Bishop of Oxford, John Pritchard, was also there, carrying a petition in support of the MEK signed by 75 bishops, including the former Archbishop of Canterbury Rowan Williams.
At this year's event, flanked by union jacks and "#RegimeChange" signs, Villiers spoke of the importance of women's rights, "paid tribute" to Maryam Rajavi – who is barred from entering the UK – and pledged support for her "just cause" in seeking to create "an Iran which is free from the brutal repression of the mullahs". In a carefully stage-managed performance, Rajavi laid flowers and wrote a tribute in an enormous yearbook of MEK martyrs. "The time has come for the regime's overthrow," she said. "Victory is certain, and Iran will be free."
One day after the conference, the MEK accused Tehran of plotting a bomb attack against the event, following the arrest of four suspects – including an unnamed Iranian diplomat – in Belgium, Germany and France. Iran's foreign minister, Mohammad Javad Zarif, rejected claims of Iran's involvement and described the accusations as a "sinister false flag ploy".
Even as the MEK successfully amassed political allies in the west, its security in Iraq eroded as US troops departed. Between 2009 and 2013, Iraqi security forces raided the MEK base at least twice, killing about 100 people. Nouri al-Maliki, then the prime minister of Iraq – whose ambassador to the US called the group "nothing more than a cult" – insisted it leave the country.
Daniel Benjamin, who was then the head of counter-terrorism at the state department, told me that the US decided to remove the MEK from the list of foreign terrorist organisations not because it believed it had abandoned violence, but to "avoid them all getting killed" if it remained in Iraq. After the MEK was no longer designated a terrorist group, the US was able to convince Albania to accept the 2,700 remaining members – who were brought to Tirana on a series of charter flights between 2014 and 2016.
The group bought up land in Albania and built a new base. But the move from Iraq to the relative safety of Albania has precipitated a wave of defections. Those with means have fled the country to the EU and the US, but around 120 recent MEK escapees remain in Tirana with no right to work or emigrate. I spoke to about a dozen defectors, half of whom are still in Albania, who said that MEK commanders systematically abused members to silence dissent and prevent defections – using torture, solitary confinement, the confiscation of assets and the segregation of families to maintain control over members. In response to these allegations, an MEK spokesperson said: "The individuals who are described as 'former members' were being used as part of a demonisation campaign against the MEK."
The testimony of these recent defectors follows earlier reports from groups such as Human Rights Watch, which reported former members witnessed "beatings, verbal and psychological abuse, coerced confessions, threats of execution and torture that in two cases led to death".
–
The MEK grew out of Iran's Liberation Movement, an Islamic-democratic "loyal opposition" established in 1961 by the supporters of Mohammad Mossadegh, the prime minister ousted in a 1953 coup orchestrated by Britain and the US. The movement called for national sovereignty, freedom of political activity and the separation of mosque and state. The MEK cleaved to these traditions, but responded to the growing repression of the Shah throughout the 1960s and 70s by rejecting nonviolence.
At the time, the MEK, whose members were largely idealistic middle-class students, combined Islamism with Marxist doctrine. They reinterpreted the Qur'anic passages that undergirded their Shia faith as injunctions to socialise the means of production, eliminate the class system and promote the struggles of Iran's ethnic minorities. Steeped in thinkers such as Frantz Fanon and Régis Debray, they expressed solidarity with national liberation movements in Algeria, Cuba, Palestine and Vietnam. Quoting Lenin's famous pamphlet, the MEK posed the question: "What Is to Be Done?" "Our answer is straightforward," the MEK wrote: "Armed struggle."
Rajavi was among 69 members of the MEK tried in 1972 by a military tribunal for plotting acts of terrorism. "The ruling class is on its deathbed," he told the tribunal. When the prosecutor interrupted him to ask why he had acquired weapons, Rajavi replied: "To deal with the likes of you."
Newt Gingrich delivers a speech during the Free Iran rally in Paris in July 2016. Photograph: NurPhoto via Getty
Of the 11 members of the MEK central committee tried in 1972, nine were immediately executed and one remained in jail. When Rajavi emerged from prison in 1979, three weeks before the Iranian revolution, he was the undisputed leader of Iran's most deadly underground rebel group.
The MEK played an important role in the 1979 revolution, seizing the imperial palace and doing much of the fighting to neutralise the police and the army. Two days after the revolution, Massoud Rajavi, who was 30, met the 77-year-old supreme leader. The two did not hit it off. "I met Khomeini," Rajavi told a journalist in 1981. "He held out his hand for me to kiss, and I refused. Since then, we've been enemies."
Khomeini saw the MEK as a threat to his power, barring Rajavi from running for president and casting his organisation as an enemy of Islam. Armed members of the newly created Islamic Revolutionary Guard Corps (IRGC) disrupted MEK events, burned its literature and beat up its members. Without political power, the MEK relied on street protests. Hundreds of thousands of Iranians attended its rallies, which the courts soon banned.
In response, the MEK and the president, Abolhassan Banisadr, who was also antagonistic to Khomeini, organised two days of protests across 30 cities – forcing Khomeini to go on television to reiterate the ban. The MEK, he said, were "waging war on God". Other clerics warned that demonstrators would be shot on sight. On 20 June 1981, the MEK organised a mass protest of half a million people in Tehran, with the aim of triggering a second revolution. The clerics were true to their word: 50 demonstrators were killed, with 200 wounded. Banisadr was removed from office and a wave of executions followed.
Over the following months and years, the violence escalated. Khomeini rounded up thousands of MEK supporters – while his loyalists launched waves of mob violence against MEK members and sympathisers.
By December, the regime had executed 2,500 members of the MEK. The group counter-attacked with a spate of assassinations and suicide bombings against Friday-prayer leaders, revolutionary court judges and members of the IRGC. "I am willing to die to help hasten the coming of the classless society; to keep alive our revolutionary tradition; and to avenge our colleagues murdered by this bloodthirsty, reactionary regime," wrote one MEK fighter, Ebrahimzadeh, who killed 13 IRGC and Ayatollah Sadduqi, a close advisor to Khomeini, by detonating a hand grenade in a suicide attack in July 1982.
By the mid-1980s, thousands of people labelled as MEK had been executed or killed in street battles by the Islamic Republic of Iran.
This was the time when Rajavi accepted Saddam's offer to fight Iran from the safety of Iraq. Over the next few years, Rajavi launched an "ideological revolution", banning marriage and enforcing mandatory "eternal" divorce on all members, who were required to separate from their husbands or wives. He married one of the new divorcees, Maryam Azodanlu, who became, in effect, his chief lieutenant and took his name.
For Saddam, the MEK was a useful, but disposable, tool in his war against Iran. The MEK, however, was totally dependent on the Iraqi leader. In addition to cash and arms, he sent Iranian prisoners of war to Rajavi as new recruits. "The whole world was Camp Ashraf," said Edward Tramado, one of these prisoners, remembering his indoctrination. "Nothing else had any meaning for me," recalled Tramado, who now lives in Germany. "I was living in a delusional world. Even though I knew I had a mother who was waiting for me, my entire world had become what they had constructed for me."
In July 1988, six days after the ceasefire that officially ended the Iran-Iraq war, the MEK launched a suicidal mission deep into Iranian territory, dubbed Operation Eternal Light. Once again, Rajavi predicted his actions would spark another revolution. "It will be like an avalanche," Rajavi told the fighters he was about to send to their deaths. "You don't need to take anything with you. We will be like fish swimming in a sea of people. They will give you whatever you need."
The mission would end in a massacre: hapless MEK fighters were lured into an ambush by the Iranian army, which crushed them with minimal effort. One Iranian soldier who took part in the operation recently described it to me. Mehrad, who volunteered in 1987 at the age of 15, recalled that his division, which had fought against Iraqi soldiers on the southern front, was redeployed to the north in July 1988 to repel a new assault from Iraq. His division was sent to a location near the city of Kermanshah, about 111 miles (180km) from the border with Iraq. Mehrad and his fellow soldiers were surprised to hear that enemy soldiers had managed to make such a deep incursion into Iran. "We thought our army had given up," he said.
When he arrived, Mehrad discovered that the enemy was the MEK – which had been led into a trap. "Their military strategy was very stupid," he told me. "They just drove down the Tehran highway. It was like if the French army wanted to invade England and they just drove down the motorway from Dover to London."
"We very quickly killed thousands of them," Mehrad said. "There were piles of bodies on either side of the road. What was interesting to us was that many of them were women." Some MEK took cyanide rather than be captured alive. The MEK subsequently claimed that 1,304 of its members were martyred, and another 1,100 returned to Iraq injured.
The survivors were tried on the spot and quickly executed; Mehrad watched as hundreds were hanged at gallows erected in the nearby town of Eslamabad. Khomeini then used the failed invasion as a pretext for the mass execution of thousands of MEK and other leftists in Iranian jails. Amnesty estimates that more than 4,500 people were put to death, and some sources say the numbers were even higher.
–
Eternal Light marked a major turning point for the MEK. Inside the barbed wire of Camp Ashraf, as the reality of indefinite exile sank in, a traumatised and grief-stricken membership turned against itself under the paranoid leadership of Rajavi. Several former members told me that after the bloody defeat, Massoud Rajavi cast himself as the representative of al-Mahdi, the 12th Imam who was "hidden" in the 9th century and who, according to Iranian Shia, will return alongside Jesus to bring peace and justice to the world.
Outside Camp Ashraf, the MEK continued to stage cross-border attacks against Iran, and helped Saddam to crush uprisings against his rule after his defeat by the US in the 1990 Gulf war. In March 1991, Saddam deployed the MEK to help quell the armed Kurdish independence movement in the north. According to the New York Times, Maryam Rajavi told her fighters: "Take the Kurds under your tanks, and save your bullets for the Iranian revolutionary guards." The MEK vehemently denies it participated in Saddam's campaigns to put down the Shia and Kurdish rebellions, but an Iraqi human rights tribunal has indicted MEK leaders for their role in suppressing the uprisings.
Karwan Jamal Tahir, the Kurdistan regional government's high representative in London, was a fighter for the Kurdish peshmerga in 1991. He told me that he remembers how the MEK arrived in the town of Kalar, about 93 miles (150km) south-east of Kirkuk, just after Saddam had lost control of the north of Iraq after the first Gulf war. "They came in Saddam's tanks," he said. "We thought they were returning peshmerga because the tanks were covered with portraits of Kurdish leaders … but they opened fire on the town … It was a big atrocity."
Maryam Rajavi and Rudy Giuliani at a ceremony in Tirana in March marking the Iranian new year. Photograph: Alamy
In the next decade, the MEK continued to fight against Iran. In 1992, the group launched concurrent attacks on Iranian diplomatic missions in 10 countries, including Iran's permanent mission to the UN in New York, which was invaded by five men with knives. The MEK also settled more personal scores. In 1998, an assassin killed Asadollah Lajevardi, the former warden of Evin prison who had personally overseen the executions of thousands of MEK members.
Back at Camp Ashraf, commanders would tell wavering members that if they escaped, they would face certain death at the hands of either Saddam or the Iranian authorities. "We were far away from the world," one member, who only escaped the MEK after the move to Albania, told me. "We had no information. No television, no radio." Instead, within the camp, they had "Mojahedin television", which consisted of looped speeches by Maryam and Massoud Rajavi, played "all day long".
Rajavi told his followers that the failure of Eternal Light was not a military blunder, but was instead rooted in the members' thoughts for their spouses; their love had sapped their will to fight. In 1990, all couples inside the camp were ordered to divorce – and women had their wedding rings replaced by pendants engraved with Massoud's face. Spouses were separated, and their children were sent to be "adopted" by MEK supporters in Europe.
MEK commanders demanded that all members publicly reveal any errant sexual thoughts. Manouchelur Abdi, a 55-year-old who also left the MEK in Albania, told me that the confession sessions used to take place every morning. Even feelings of love and friendship were outlawed, he says. "I would have to confess that I missed my daughter," he says. "They would shout at me. They would humiliate me. They would say that my family was the enemy and missing them was strengthening the hand of the mullahs in Tehran."
Another recent defector, Ali (not his real name) showed me scars on his arms and legs from what he described as weeks of torture after he first joined the group in the early 1990s, including cigarette burns on his arms. When it was over, he said, he was taken to Baghdad to meet the leader. "They took us into a big hall. Massoud Rajavi was sitting there with a group of women," Ali recalled. "[Rajavi said] 'If any of you say one word to any one … One word, if any of this is exposed, reaches anyone else's ears, or if you talk about leaving, you'll be delivered to [Saddam's] intelligence service immediately.'"
Batoul Soltani joined the MEK in 1986 with her husband and infant daughter. At first, her family was able to live together, but in 1990, she says she was forced to divorce and give up her five-year-old daughter and newborn son, who were sent abroad to be raised by MEK sympathisers. Soltani alleges that she was forced to have sex with Massoud Rajavi on multiple occasions, beginning in 1999. She says that the last assault was in 2006, the year that she escaped from Camp Ashraf and a time when Rajavi had not been seen in public for three years. When we spoke recently, Soltani accused Maryam Rajavi of helping Massoud to abuse female MEK members over the years. "[Massoud] Rajavi thought that the only achilles heel [for female fighters] was the opposite sex," Soltani told me. "He would say that the only reason you women would leave me is a man. So, I want all of your hearts."
Soltani, who was one of three women to speak about sexual abuse inside the MEK in a 2014 documentary aired on Iranian television, alleged that Rajavi had hundreds of "wives" inside the camp.
Another former female member, Zahra Moini, who served as a bodyguard for Maryam Rajavi, told me that women were threatened with punishment if they did not divorce their husbands and "marry" Massoud. "Maryam was involved in this sexual abuse, she used to read the vows to allow for the marriage to be consummated," Moini said, in a telephone interview from Germany.
"Those who didn't accept to marry would be disappeared. I was told that if I didn't divorce [my husband], I would end up in Ramadi prison and I would have to sleep with the Iraqi generals every night." (In response to questions about these allegations, an MEK spokesperson said: "The mullahs' propaganda machine has been churning out sexual libels against the resistance and its leader for the past 40 years.")
Two other female defectors, Zahra Bagheri and Fereshteh Hedayati, have alleged that they were given hysterectomies without their consent in the Camp Ashraf hospital, under the pretext they were being operated on for minor ailments. In the eccentric ideological language of the group, the women say the procedure was retrospectively justified to victims as representing "the peak" of loyalty to their leader.
Hedayati, who survived the massacres of Operation Eternal Light, joined the MEK as a 22-year-old in 1981 with her husband, who is still inside the group. "They said I had a cyst," she told me. "But they also took out my womb. They told me that it meant that I had an even stronger connection to our ideological leader." Hedayati, who left the group in Iraq and now lives in Norway, says she was never sexually abused, but was "brainwashed" by the group into divorcing her husband, and alleges that more than 100 other women were sterilised by MEK doctors. "I always ask myself why they did this to us," Bagheri said. "Of course, to take away our futures."
Between an escape attempt in 2001 and her exit from the MEK in 2013, Hedayati says she was subject to extraordinarily harsh treatment by her commanders. "They said I was a lesbian," she says. "They spat on me, they beat me, they locked me up. I was put in jail, in solitary confinement."
–
Albania ostensibly accepted the MEK members for humanitarian reasons – but the country's leaders may have seen an opportunity to curry favour with the US government, which had seen its offers rejected by various other European states. "They were the only ones who would take them," the former state department official Daniel Benjamin has said.
Olsi Jazexhi, a professor of history at the University of Durres critical of the government's decision to accept the MEK fighters, says that Albanian politicians hoped the deal would lead the US to turn a blind eye to their own corruption. "The MEK is a card which gives them leverage with the United States," he said. "They think that by taking the MEK, the Americans will leave their business alone." (A secret US state department cable from 2009, published by WikiLeaks, said that the country's three major parties "all have MPs with links to organised crime … Conventional wisdom, backed by other reporting, is that the new parliament has quite a few drug traffickers and money launderers.")
For the Trump administration, the MEK is a valuable asset in the escalating regional conflict between Saudi Arabia and Iran. This summer, Trump abruptly pulled out of the Iran nuclear agreement and announced new sanctions, triggering a currency collapse and four months of sporadic protests across Iran. The US has reimposed tough sanctions this week, targeting Iranian oil exports and banking. But Trump's Middle East strategy has come under new scrutiny after the murder of the journalist Jamal Khashoggi by Saudi agents in Istanbul – which has sparked a backlash against the crown prince, Mohammed bin Salman, and his allies in the Trump administration.
For most of its life in exile, the MEK was funded by Saddam. After his downfall, the group says it raised money from Iranian diaspora organisations and individual donors. The MEK has always denied it is financed by Saudi Arabia – but the former Saudi intelligence chief, Prince Turki al-Faisal, made waves when he attended the group's 2016 rally in Paris and called for the fall of the Iranian regime.
"The money definitely comes from Saudis," says Ervand Abrahamian, a professor at the City University of New York and author of the definitive academic work on the group's history, The Iranian Mojahedin. "There is no one else who could be subsidising them with this level of finance."
Analysts agree that the MEK lacks the capacity or support to overthrow the Iranian government – as even Bolton and Pompeo would surely concede. "They are probably smart enough to know that this group is not democratic and anyway has no constituency inside Iran," said Paul Pillar, who served in the CIA for 28 years, including a period as the agency's senior counter-terrorism analyst. Trump and his Iran hawks, Pillar said, are not concerned with replacing the current regime so much as causing it to crumble. "They are pursuing anything that would disrupt the political order in Iran so they and the president can cite such an outcome as a supposed victory no matter what comes afterwards."
According to one recent MEK defector, Hassan Heyrani, the group's main work in Albania involves fighting online in an escalating information war between Iran and its rivals. Heyrani, who left the MEK last summer, says that he worked in a "troll farm" of 1,000 people inside the Albanian camp, posting pro-Rajavi and anti-Iran propaganda in English, Farsi and Arabic on Facebook, Twitter, Telegram and newspaper comment sections.
"We worked from morning to night with fake accounts," he says. "We had orders daily that the commanders would read for us. 'It is your duty to promote this senator, this politician, or journalist writing against Iran' and we would say 'Thank you, the Iranian people support you and Maryam Rajavi is the rightful leader', but if there was a negative story on the MEK, we would post 'You are the mercenaries of the Iranian regime, you are not the voice of the Iranian people, you don't want freedom for Iran'." An MEK spokesperson called these allegations "another lie" made up to support the Iranian foreign ministry.
According to Marc Owen Jones, an academic who studies political bots on social media, "thousands" of suspicious Twitter accounts emerged in early 2016 with "Iran" as their location and "human rights" in their description or account name, which posted in support of Trump and the MEK. These accounts, says Jones, were created in batches and would promote Trump's anti-Iran rhetoric using the hashtags #IranRegimeChange, #FreeIran and #IstandwithMaryamRajavi.
Albanian journalists say that the MEK, which has close contacts with senior politicians and the security services, operates with impunity within Albania. Ylli Zyla, who served as head of Albanian military intelligence from 2008 to 2012, accused the MEK of violating Albanian law. "Members of this organisation live in Albania as hostages," he told me. Its camp, he said, was beyond the jurisdiction of Albanian police and "extraordinary psychological violence and threats of murder" took place inside.
Former members accuse the MEK of responsibility for the death in June of Malek Shara'i, a senior commander who was found drowned by police divers at bottom of a reservoir behind the group's Albanian base. Shara'i's sister, Zahra Shara'i, said that his family had received news from former members that Malek was about to escape, and says the MEK was responsible for his death. "I am their enemy and I will not rest until I get my revenge," she told the Guardian from Iran. The MEK said that Shara'i drowned while attempting to save another member from drowning. The Albanian police said the death was not suspicious.
While defectors with private means have been smuggled out of the country into the EU, many former members live hand-to-mouth in Tirana. The Albanian state has not granted refugee rights to the MEK or its defectors, and a UN monthly stipend of 30,000 lek (£215) lapsed on 1 September. "They're stuck," says Jazexhi, who has worked to support the defectors. "They don't know the languages, they don't know the laws, they don't know what democracy is. They are used to dictators. We tell them that they shouldn't be afraid."
Migena Balla, the lawyer representing Mostafa and Robabe Mohammadi, the couple in Tirana fighting for the release of their daughter Somayeh, believes that pressure has been put to bear on both the police and the judiciary to ensure the MEK does not "create political problems". "Politics is interfering in the judicial system," she says. "When I went to the police station to register their complaint the police officers actually ran away. They are scared of losing their jobs."
The MEK has not taken kindly to the presence of the Mohammadis in Albania. They accuse Mostafa – and any former member who has spoken out against the MEK – of being a paid agent of the "mullah regime". On 27 July, Mostafa was hospitalised following an assault by four senior members of the MEK, which was captured on video by his wife. The attackers, who shouted "Terrorist!" at Mohammadi, were briefly detained by Albanian police. But, after a phalanx of MEK members arrived at the police station, the men were promptly released.
The MEK has published letters, purportedly written by Somayeh, accusing her father of being an Iranian intelligence agent. A nervous-looking Somayeh recently gave a video interview inside the MEK base saying that she wishes to remain a member of the group.
The Mohammadis have responded with open letters to their daughter and to Albanian politicians, calling for an unsupervised meeting with their daughter. "I am your mother Mahboubeh Robabe Hamza and I want to meet with you," Robabe wrote to Somayeh. "I am the woman who fed you at my breast, I held you in the crook of my arm. You are my flesh and blood … I love you more than my life … I'm getting old, I am getting tired, but life is not worth living without seeing you."
Arron Merat was a Tehran correspondent for the Economist between 2011 and 2014. He has covered Iran for the Guardian, the Sunday Times and Vice News. He tweets at @a_merat
• Follow the Long Read on Twitter at @gdnlongread, or sign up to the long read weekly email here.
(End)
*** 
Also read:
https://iran-interlink.org/wordpress/?p=9729
MEK in Albania—Potential Implications and Security Concerns for Albania
Terrorism Monitor, Jamestown Foundation, October 14 2018:… Channel 4, a well-known British news agency, recently traveled to Albania to do the same. The film crew was met by hostile private security who were guarding the highly fortified Manëz camp. Camp members physically attacked Channel 4's camera crew (Shqiptarja.com, August 19). This was an unprecedented event that raised several questions over the camp's … 
The shadowy cult Trump advisors tout as an alternative to the Iranian government
MEK in Albania—Potential Implications and Security Concerns for Albania
Publication: Terrorism Monitor Volume: 16 Issue: 19
By: Ebi Spahiu
Following the U.S. invasion of Iraq, the Mujahedeen El-Khalq (MEK) was the subject of frequent attacks from Iranian-backed proxies, which overwhelmed their members residing in camps Ashraf and Liberty in Iraq. Before this, MEK, an Iranian dissident group, began living in Iraq in the early 1980s under the protection of Saddam Hussein. As a group in exile, MEK sought refuge in Iraq under the protection of Hussein, who utilized their military capacities and ties to Iran to undermine the Iranian regime. Until 2012, the MEK was identified as a terrorist organization due to its activities inside Iran and against other regional and international powers, including attacks against U.S. diplomatic personnel and businesses operating in Iran in the 1970s. [1]
Following a series of lobbying efforts by MEK leadership and supporters, the group pledged to give up their weapons and violent tactics as a means to be delisted as a designated terrorist organization. [2] As a consequence, in 2013, the U.S. government pleaded to a number of governments to provide refuge to the MEK members, including Romania, which was the preferred destination at the time.  Albania­—grateful to the United States for its support during the war in Kosovo and advocating for its bid to join NATO and the EU—was the only country that responded positively to the request. Albania initially admitted some 200 members between 2013 and 2014. The United States and Albanian governments have extended the agreement since 2013, increasing the number of asylum seekers to somewhere in the range of 500-2,000 MEK members. During the summer of 2016, Tirana received the largest contingent of about 1,900 people, an operation managed by the UNHCR (Shekulli, March 12, 2016). Part of the agreement with Washington was the development of deradicalization and rehabilitation programs to be offered to members of the group.
Now, the group is residing in the outskirts of Tirana's capital in a highly fortified camp located in Manëz. From this camp, the group is allegedly intensifying its political activities aimed at bringing down the Iranian regime (Exit.al, March 14). With emerging threats coming from radicalization and violent extremism, due to the rise of the Islamic State and other political Islamist groups in the region, the Albanian government may not be prepared or equipped to respond to the potential implications the group's presence in Albania may bring.
MEK Activities and Support in Albania
There are a number of opportunities MEK is exploiting in order to restart its political activities against the Iranian regime now that they are residing in Albania. Recent propaganda efforts by the group's leader, Maryam Rajavi, the widow of the founder of MEK, Massoud Rajavi, suggest that she sees herself as a key actor in fostering the opposition in Iran and subsequently bringing down the Khomeini regime (Exit.al, March 14). Much of the group's propaganda material available online is translated in Albanian and seeks to also reach out to a local audience in their host country (Iran-interlink.org).
Moreover, the group has gathered significant support from important U.S. leaders who do not shy away from expressing their support for MEK's potential rise as Iran's future "democratic government" (Exit.al, June 26). This sentiment is frequently expressed on a number of occasions when important figures of the U.S. political landscape have personally visited Albania and spoken at rallies organized by MEK in Tirana (KlanTV, March 21). The most recent gatherings saw figures such as John Bolton (now U.S. National Security Advisor), Rudy Giuliani, one of President Trump's most trusted advisors and personal lawyer, and late U.S. Senator John McCain, among others. The three seemingly demonstrated their support for MEK to be at the center of regime change in Iran (Exit.al, June 26).
The reasons why the Trump administration is supporting the group's political objectives are unclear. It is also unclear the level of support MEK still has among the population in Iran, but it is becoming increasingly obvious that MEK is also making some powerful friends in Tirana as well. Over the years, key leaders from the Albanian government and civil society organizations have similarly provided their support during rallies and conferences organized by MEK in Paris as well as in Albania, where its new headquarters are located. In May 2015, Albania's former Prime Minister during the war in Kosovo and current Minister of Diaspora, Pandeli Majko attended the National Council of Resistance of Iran rally in Paris with a large delegation of parliament representatives, journalists, lawyers and some civil society representatives, reiterating Albania's support for Iran's resistance and promising his personal support for regime change. [3]
In an impassioned speech over a cheering crowd, Majko said  "whether you want it or not, you have involved us in your story, in your drama, in your tragedies and we understand you very well…some years ago, an American President was in Berlin and from Berlin, this politician, this great man declared 'Ich bin a Berliner'. And in the name of my friends and in Albania, I've come here to say 'Men mujahed astam'. I have a dream to come soon to Tehran. Invited by you." [4] At the time, Majko's attendance in the Paris rally was not covered by local media.
Despite the group's increasing political support, recent media reports and several incidents between MEK members and local communities in Albania expose their continuing secretive activities and ongoing struggles to receive legitimacy as a democratic organization. Over the years, several media agencies have been interested in documenting the lives of MEK members in Albania and their political struggles in Iran. Channel 4, a well-known British news agency, recently traveled to Albania to do the same. The film crew was met by hostile private security who were guarding the highly fortified Manëz camp. Camp members physically attacked Channel 4's camera crew (Shqiptarja.com, August 19). This was an unprecedented event that raised several questions over the camp's activities (Lapsi.al, August 19). The event was widely reported by local media, which was also able to obtain a threat assessment on the group by Albania's Intelligence Agency. According to the report initially made available to Channel 4 and then to other Iranian and local media, the group remains "deeply indoctrinated" and some of their activities, including murders of their members, are similar to the ones in Iraq (The Iranian, August 2018).
Testimonies from dissidents who left the group in recent months speak of similar military trainings, indoctrination and pressure to follow the group's ideology (Top Channel, February 13). Although in the early years some of their members who relocated to Albania sought opportunities to travel abroad and join family members in the West, some 200 members have fled the group and continue to live in Albania (Top Channel, February 13).  There is no clarity of their legal status or the employment opportunities available in a country suffering from high unemployment rates. However, some advocacy initiatives—often seemingly pro-Russian and pro-Iranian—are already fostering opposition against the group. Some of this opposition is often portrayed by the MEK leadership as an operation conducted by Iran's security agencies (Lapsi.al, August 19; Media e Lire, April 17; Nejat NGO, September 29) Moreover, integrating the rest of the members still in Manëz into Albania's society  does not seem to be in the immediate interest for the MEK.
Implications
The MEK's presence and activities may have serious repercussions for Albania and Albanian policy-makers. Leaders in Tirana may not foresee the long-term consequences of expanding their role on foreign policy issues beyond the small Balkan nation's traditional reach. The group remains an existential threat to the Iranian regime. Over the years, Tehran has supported significant raids via Hezbollah and other proxy organizations in Iraq to destroy the group and kill key MEK leaders. As a result, Albanian authorities should expect more involvement from Iran in its internal and regional affairs. At the moment, there are no clear signs that Iran's presence is significant in the region. Authorities in both Kosovo and Macedonia, however, have raised alarm bells over Iranian-linked NGOs having ties to terrorism-related activities in the past (Balkan Insight, June 25, 2015). If no effective responses are undertaken, MEK's presence and Iran's attention towards the Western Balkans may inflame sectarian divides in smaller communities and amplify regional rifts. Sectarian division is a latent phenomenon among Albanian Muslims, but they also remain under the pressure of other forms of Islamist radicalization. This is due to the emergence of Islamic State and Turkey's instrumentalization of political Islam, among others.
Albania continues to struggle with endemic corruption and organized crime and the emergence of religious radicalization as a regional security threat and potential sectarian rifts may add to the list of challenges facing Albania's political landscape.   As a result, the country may not be prepared to inherit a long-standing struggle between a major regional Middle Eastern power and a former terrorist organization. Especially since both may utilize Albania's internal vulnerabilities for their own political gains.
Notes
See U.S. State Department Press Release (US State Department, September 28, 2012).

Pandeli Majko's speech in Paris, May 10, 2015:
https://www.youtube.com/watch?v=kIR97EP_phE
Ibid.
(End)
*** 
Mojahedin Khalq (MEK, MKO, NCRI, Rajavi cult) keyboard warriors target journalists, Academics, activists
Iran: US masters responsible for today terror attack in Ahvaz. (Joint "al-Ahwaz" and "MEK" terror attack)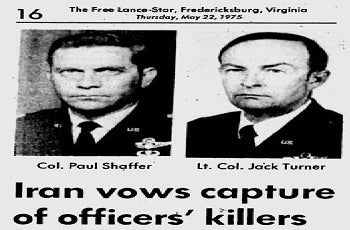 The MEK's dirty past includes the anti-Imperialist inspired murder of six Americans in pre-revolution Iran which it later celebrated in songs and publications
Also read:
https://iran-interlink.org/wordpress/?p=9667
The 'political cult' opposing the Iranian regime which has created a state within a state in Albania
Borzou Dargahi, THE INDEPENDENT, September 28 2018:… An Iranian exile group that is a darling of Washington conservatives has set up what critics describe as "a state within a state" inside the tiny Balkan nation of Albania. From a well-guarded 84-acre (340,000 square metres, or 34 hectares) property it has forged on a hillside in the Albanian countryside, the group – called the People's Mujahedin Organisation … 
Canadian family asks Top Channel's "Fiks Fare for help: "MEK mujahedeens took our daughter"
The 'political cult' opposing the Iranian regime which has created a state within a state in Albania
In Tirana, Borzou Daragahi meets defectors of the People's Mujahedin Organisation of Iran, a controversial group which has found itself the darling of Washington
An Iranian exile group that is a darling of Washington conservatives has set up what critics describe as "a state within a state" inside the tiny Balkan nation of Albania.
From a well-guarded 84-acre (340,000 square metres, or 34 hectares) property it has forged on a hillside in the Albanian countryside, the group – called the People's Mujahedin Organisation of Iran, commonly known by the acronym MEK, has begun handing out mysterious wads of cash, set up its own radio communications network, and launched deceptive information operations to influence debate about the Islamic Republic – its avowed enemy – say defectors of the group, relatives of members, and Albanian journalists, lawyers and a former intelligence official.
In addition, it has been accused of locking up members inside the camp against their will, an allegation that has long dogged the organisation, which is led by Iranian exile couple Maryam and Massoud Rajavi, and described by former members and Iran experts as a political cult.
"We are supposed to be living in a free and democratic country. But they have built a state within a state that implements its own laws," says Olsi Yazici, an Albanian writer who is part of the legal team attempting to find out more about the group.
"They are behaving in Albania like a mafia – breaking laws, blackmailing, paying people off, beating people, threatening defectors, accusing anyone who questions them of being an Iranian agent and controlling their members in the camp through Stalinist totalitarian methods. And at the end, they claim to be democrats who will save Iran."
The Independent reached out to several MEK spokespersons and representatives, seeking comment for the story.
As this report was being prepared, the organisation released a five and a half minute video clip that showed drone footage of what it called its "residential compound", which appears made up of dozens of buildings, and a main entrance flanked by a pair of golden lions, a symbol of the MEK.
The video showed Albanians on construction jobs in the camp, as well as members sipping tea with Albanian neighbours, or making music in a studio, including a cover of Frank Sinatra's "My Way".
We are supposed to be living in a free and democratic country. But they have built a state within a state that implements its own laws 
Olsi Yazici, Albanian writer
"Terrorist, terrorist," the men screamed at the elderly couple, their arms locked, as they sought to walk away. Canadian-Iranians Mostafa and Mahboubeh Mohammadi say they have struggled to get their daughter, Somayeh, out of the MEK for 21 years.
They haven't spoken to her since 2004, when they travelled to central Iraq to make a desperate attempt to get her and her younger brother out of the camp the group then occupied. Once they had been sympathisers and had even raised money for the group.
"We would spread out on the streets and show pictures of Iranians the regime had killed, and say their kids are stuck in refugee camps," recalls Mostafa Mohammadi.
But eventually the Mohammadis turned against the group, which they claimed tricked their daughter into travelling to Iraq, seized her passport, and pressed her into the organisation. Through tremendous effort involving US and Canadian diplomats, they say they managed to extract their son, who is now living in Canada, but not their daughter.
The MEK says Somayeh is in the organisation of her own free will, and has issued videos of her disowning her parents.
At least one other former member of the group in Tirana says he was able to leave the organisation once he told them he wished to part ways.
"I choose to pursue my own life," he says, asking that his name not be published. "There was no pressure to stay."
A lengthy statement by the group on the website of its front group, the National Council of Resistance of Iran, said that that Mostafa Mohammadi had been in Tehran in 2008 – an allegation he denies – and called Mohammadi's lawyer an "agent" of the Iranian intelligence services.
The five and a half minute video shows footage of Somayeh Mohammadi with a caption reading that she insists the "Iranian regime deployed her father to accuse MEK (of having) kidnapped her".
When the Mohammadis first came to Albania to find Somayeh, they were given the runaround by authorities in Tirana, who insisted she was not in the country.
But they managed to get confirmation from a sympathetic local refugee resettlement group that she had arrived in Tirana in 2015. Just days before the confrontation with the MEK members, the Mohammadis managed to prompt a police officer to enter the camp and confirm that she was there, possibly the first time an Albanian official wielding a warrant entered the compound.
"This was a big shock for the MEK," says Yazici, the writer. "This diminished the role of the commanders in the eyes of the members."
The Mohammadis had heard that she made her way one day a week to a Tirana hospital, serving as a translator for MEK members seeking medical care. They waited nearby to catch a glimpse of her on 27 July. After a few hours they became discouraged, and began heading back to their hotel.
That's when a group of four men – who later transpired to be MEK enforcers – surrounded the elderly couple and began screaming "terrorist" at them.
Police soon arrived to break up the melee. Startling the officers, the MEK enforcers continued to strike Mohammadi in front of them, screaming that the frail couple were "terrorists".
The police rounded up the Mohammadis as well as the MEK enforcers and took everyone to a Tirana police station. MEK leaders summoned their lawyer, Margarita Kola, as well as some leaders of the group. Kola, who once worked as a counsel for the US Embassy in Tirana, claimed she was acting on behalf of the Americans.
"She said, 'You know who I am or not?'" recalls Migena Banna, the lawyer representing the Mohammadis, who was also at the police station. "She said, 'I am not just a lawyer, I'm a legal representative of the US embassy.' Then the police changed their behaviour."
Kola told The Independent that she did not work for the US embassy but declined to answer whether she had originally made the claim.
Under pressure, police let the MEK members go, but held on to the Mohammadis for eight hours. The Tirana prosecutors' office told The Independent the case remains under investigation.
Mostafa Mohammadi went to a hospital for treatment for his bruises. By then, the video of the pack of MEK enforcers assaulting the couple had gone viral on Albanian social media. Local television stations arrived to meet the couple, and stories about the search for their daughter began to air. Albanians were outraged.
"We have so many other refugees, Syrians, Iraqis. They can do everything. They go shopping. They are out on the streets," says Yazici. "Where are these MEK people? Why can't we see them?"
Much of the world was worried when Donald Trump was elected US president in November 2016. The leaders of the MEK celebrated.
"It was like a wedding," recalls Hassan Heyrani, a former member of the group's political committee who defected this year. "It was the whole election of Trump that prompted the group to move forward with the new camp. They were so happy. They said, 'The geopolitical engine of the region is turning.'"
The story of the 50-year-old group is bound up in the wars, uprisings, and political twists of the Middle East. It was founded by leftist students decades ago to fight against the regime of Iran's Shah Mohammad Reza Pahlavi, carrying out assassinations of US officials in Iran who were backing him.
It later turned against the clerics who took over in Tehran during the 1979 revolution, staging bomb attacks during the 1980s, when it was granted a camp northeast of Baghdad and joined along Saddam Hussein in the Iran-Iraq war.
That move destroyed its popularity among the vast majority of Iranians. But with dozens of tanks and thousands of fighters positioned at a sprawling and inhospitable desert compound called Camp Ashraf, in a province adjacent to the Iranian border, it remained a threat to the Islamic Republic.
Its fortunes changed after the 2003 US-led invasion of Iraq and toppling of Saddam Hussein. US forces at first bombed the group as an appendage of the Baghdad regime, pulverising many of its tanks. But Washington conservatives later began to cultivate MEK as a potential way of pressuring Tehran. 
The group eventually ran afoul of Iranian-backed politicians of the new Iraqi political elite. Members were pressured to leave Camp Ashraf, which was taken over by the Iranian-backed Badr Brigade militia, and relocate to Camp Liberty, on the same compound as US forces and the Baghdad International Airport.
Under pressure by Baghdad authorities to remove the group, the US managed to convince the government of Albania to take in a couple hundred members of the group as refugees in 2013, in what was described as a humanitarian gesture.
But as they came under attack by Iranian-backed Shia militias, as well as pressure by Isis militants, the plan to move a few hundred to Albania somehow turned into bringing the entire organisation from Iraq to southeastern Europe.
Once they had fully moved to Albania, the group first took up residence in a series of empty apartment buildings scattered around the city, and continued its fade into obscurity and irrelevance.
Leaders tried in vain to keep long-isolated members – curious about the modern world, and barred from sex and dating –from drifting away. They tried to erect barriers around one apartment building, but they were promptly torn down by angry local authorities.
With Mr Trump's election, everything changed. The MEK had spent years cultivating Washington figures such as John Bolton and Rudy Giuliani, who were forces in the new administration in Washington.
In addition, an ambitious and stridently anti-Iran Crown Prince Mohammad bin Salman took the reins in Saudi Arabia, and began looking for allies in his aim to roll back and possibly topple the clerical government in Tehran.
Beginning in July 2017, just as Trump began re-imposing sanctions on Iran that Obama had lifted as part of the nuclear deal, the MEK suddenly began buying plots of land in Albania, in a rural stretch of farmland near the town of Manza, between the Albanian capital and the Adriatic Sea.
The Trump administration continues to maintain strong ties with the MEK. At the weekend, the president's lawyer addressed a gathering of the group at a midtown Manhattan hotel, describing the MEK as an antidote to the brutality and repression of the "outlaws and murderers" in power in Tehran. "Iran is entitled to freedom and democracy," he said.
Albanian investigative journalist Gjergi Thanasi said the group paid $13m (£9.9m) to buy the first 200,000 square metres of the compound, has since bought another 140,000 square metres, and continues buying up property and racking up significant water, electricity, and internet bills.
They pay for everything with huge wads of cash, sometimes piles of local currency that they purchase through street vendors rather than banks or exchange shops, but also with "crisp hundred-dollar bills", says Thanasi, leaving no bank trail.
"They pay bills on time," he says. "They pay in cash. They buy small things in shops or even in malls. They always pay in cash. They do not use bank cards. They love not leaving a footprint."
Thanasi found the group purchased 1,700 Lenovo brand computers and monitors from an Albanian firm. At first he thought it was some scam to evade import duties and resell the computers at a profit. But the MEK paid full price for the devices. They wanted the computers for the camp, and paid for them in cash. "What the hell do you need so many computers for?" he quips.
The group has a number of big-ticket expenses. It has set up a dedicated high-speed internet. It also managed to obtain official permission to set up its own antenna atop Mount Dajti, on the peaks overlooking Tirana, giving it effectively its own communications network.
A private Albanian security firm, called Argon, guard the camp and its entrances, deploying perhaps nine personnel armed with assault rifles and handguns in six-hour shifts around the clock. 
It remains unclear why Albania, a small Balkan country struggling to overcome its reputation for corruption and money laundering in order to become a member of the EU, would allow such a shadowy group to operate with so little scrutiny.
"If I want to buy a car for 2,000 or 3,000 euros I have to use a bank in order to pay for the car," says Thanasi. "I have to circulate the money through the bank and justify that this quantity comes out of my personal savings."
The organisation appears to have strong connections to senior Albanian officials. Pandeli Majko, a minister in the current Albanian government of Prime Minister Edi Rama, Fatmir Mediu, a former defence minister, and Elona Gjebrea, a former deputy interior minister, were with Giuliani when he visited Tirana earlier this year for Persian New Year festivities hosted by the MEK.
Heyrani, the 38-year-old former member of the MEK's political section, says he suspected the group's sudden riches were coming from Saudi Arabia's coffers, through a channel organised by Saudi prince Turki al-Faisal, who over the summer, attended an MEK rally in France, along with Giuliani, Trump's lawyer, and Bolton, the White House National Security Adviser.
Heyrani says he had no evidence of Saudi support for the group other than conversations with members of its political leadership. "I said, 'What a big camp, with so many buildings,'" Heyrani recalls. "He said, 'Finally, Faisal laid the golden egg.'"
A spokesperson for the the Saudi embassy in Washington did not respond to a request for comment. Ali Shihabi, founder of the Riyadh-backed Arabia Foundation think tank, said that Prince Turki has denied serving as a conduit for MEK funds.
Hassan Shahbaz, 50 years old, had joined the MEK shortly after the US invasion of Iraq. But it wasn't until he got to Tirana that he discovered that his elderly mother, two brothers, and two sisters had risked their lives to travel to Iraq in the midst of that country's 2006 civil war to visit him. When they arrived they were turned away from the camp entrance. "They told them I wasn't there, and turned them back," he says today.
When he confronted MEK superiors about their action, they told him to let it go. "For now, freeze it," he was told.
A few weeks later, during an outing with other MEK members in April, he quietly slipped away from the group, took a taxi back to Tirana and became one of the growing members of the group to defect.
"Back then when they kept us locked up, they could say it's for our own protection, that the government of Iraq is in the pocket of Iran," he says. "What's the argument here?"
Sheltered inside the camp, which members nickname Ashraf 3, the organisation has recreated what critics call its cult-like structure. Members are told to spy on each other, recount their dreams, and take part in hours-long indoctrination sessions.
Defiant members are punished with days-long isolation, barred from contact with their comrades. After outings to hospitals or shops they are patted down, for fear they have tried to smuggle phones into the camp.
The camp is divided into several sections, with the northernmost end reserved exclusively for France-based Rajavi on her rare visits, and an underclass of mostly male labourers separated from the rest of the elite by fences and checkpoints at the far south of the camp. 
Heyrani calls the camp a version of Animal Farm, after the book written by George Orwell about an isolated and authoritarian society. In a statement, the group said MEK members "have been been targets of the Iranian regime's terrorism," and needed protection. The statement said the MEK members at the camp "have always welcomed friends, dignitaries and journalists from Albania and other countries, both in their current and previous residences. But they are vigilant and experienced enough not to welcome the Iranian regime's agents."
Unable to draw new recruits, the organisation is aging and greying, and many of the members might choose to remain in the camp for fear of the outside world. 
"They are very lost people," says retired Colonel Ylli Zyla, a former Albanian counter-terror and intelligence official. "On average they are more than 50 years old. They are slowly, slowly dying off one by one. They don't have any useful professional backgrounds. All of them are brainwashed."
Most days, the cadres seem to be deployed on the social media battleground, in an attempt to give an illusion of the popularity the group lacks on the ground.
They spend long hours engaged in Twitter wars against supporters of the Tehran government or even Islamic Republic opponents who also publicly oppose the MEK. "We are told to attack accounts of people who are opposed to or critical of the MEK," says Heyrani. "Or we would retweet Maryam Rajavi's speeches."
They were also told to pretend to take political identities other than MEK supporters. "They would tell us right now the environment is not good for us," he recalls, in an allegation that was confirmed by other defectors. "They would say that because of the propaganda against us by the regime, it's better to pretend we're monarchists, or just Iranian democracy activists."
Shahin Gobadi, a spokesman for the MEK, on Twitter denounced allegations that the group was running a troll factory in Albania as "preposterous", calling it a narrative "dictated" by Iranian intelligence officers to international media. The video for the group shows a room full of computers, with members collecting video of protests inside Iran.
Zyla has become something of an expert on the group. Though he says it poses no threat to Albanian national security, he says it has begun to challenge the country's public order. Its members have been known to harass defectors, who mill about in Tirana's cafes, and attend weekly vocational training sessions organised by the UN. One defector said he's been threatened six times since he left the group.
"Even the police are not allowed to go inside," Zyla tells The Independent. "The Ministry of Interior almost has no control over the camp. Police patrols, to my knowledge, are not allowed in the MEK complex. Their camp has turned into a mysterious bunker."
(End)
*** 
Farid Totounchi (Real name: Mahoutchi) Commander of Saddam's Private army forcing Somayeh Mohammadi to do a "Forced confession" session in Terror camp in Albania 
The shadowy cult Trump advisors tout as an alternative to the Iranian government
Also read:
https://iran-interlink.org/wordpress/?p=9581
"Faking the online debate on Iran"(Mojahedin Khalq, Maryam Rajavi, MEK, NCRI Trolling base in Albania exposed)
Aljazeera, September 16 2018:… For all the accusations of disinformation and fake news from both sides, it is rare that we can point to facts, a location, and actual personnel explaining the modus operandi of an organised troll factory. The Listening Post's Will Yong investigated this story and the trail has led him, surprisingly, to Tirana. the Twitter accounts doing the trolling may not be the organic opposition … 
The shadowy cult Trump advisors tout as an alternative to the Iranian government
15 Sep 2018 08:09 GMT
"Faking the online debate on Iran"(Mojahedin Khalq, Maryam Rajavi, MEK, NCRI Trolling base in Albania exposed)
For a country that has been on the wrong end of United States foreign policy for nearly four decades, it is no surprise the debate over Iran has been polarising. The US's decision to withdrawal from the nuclear deal this year has boosted those calling for the hardest stance against the Islamic Republic.
Those pushing back against what many say is an agenda for regime change in Iran are reporting an online backlash the likes of which they have not seen before. However, the Twitter accounts doing the trolling may not be the organic opposition voices they are made out to be.
For all the accusations of disinformation and fake news from both sides, it is rare that we can point to facts, a location, and actual personnel explaining the modus operandi of an organised troll factory.
The Listening Post's Will Yong investigated this story and the trail has led him, surprisingly, to Tirana, Albania.
Contributors
Trita Parsi – Author, Losing an Enemy – Obama, Iran and the Triumph of Diplomacy
Azadeh Moaveni – Fellow, New America
Marc Owen Jones – Lecturer in Middle East history, Exeter University
Hassan Heyrani – Former MEK member
Hassan Shahbaz – Former MEK member
*** 
The MEK's man inside the White House (Maryam Rajavi cult, Mojahedin Khalq)
Also read:
https://iran-interlink.org/wordpress/?p=9571
Albanian Police Report says Mojahedin Khalq (MEK, MKO, Rajavi cult) Kill Their Own Members 
Iran Interlink, September 13 2018:… The report acknowledges MEK's history of killing its own members in Iraq and says police believe this will also happen in Albania. In June 2018, Albanian media reported a possible MEK assassination after one of the camp residents was reported drowned in an irrigation channel. The alarm was raised by some MEK members who gave conflicting accounts … 
False Flag Op In Albania Would Drive A Wedge Between The EU And Iran
Albania: MEK rebrands by assassinating unwanted members
Albanian Police Report says Mojahedin Khalq (MEK, MKO, Rajavi cult) Kill Their Own Members
Following a Channel Four News report on the MEK in Albania, presented by international editor Lindsey Hilsum, there has been widespread interest in this issue in the Albanian media. In particular journalists have focused on a secret report by Albania's National Police, which was obtained by Channel Four News. The report states that MEK in Albania poses a lethal threat to their own members if they try leave or try to leave.
RAPORTI SEKRET I POLICISË/ MUXHAHEDINËT NË SHQIPËRI, TË AFTË PËR AKTE TERRORISTE, TË MBAHEN NËN KONTROLL (DOKUMENTARI I CHANNEL4NEWS)
The report acknowledges MEK's history of killing its own members in Iraq and says police believe this will also happen in Albania.
In June 2018, Albanian media reported a possible MEK assassination after one of the camp residents was reported drowned in an irrigation channel. The alarm was raised by some MEK members who gave conflicting accounts of Malek Shara'i's drowning. This indicated that they knew from the start he was dead, even though after extensive searches by expert police and navy divers, no body was found for over two weeks.
Eventually, after the scandal of his disappearance became headline news in Albania, a body was suddenly discovered. Shara'i's family in Iran made a plea to the authorities to discover how he had died. However, MEK convinced the Coroner that a post mortem investigation would be against Iranian sacred burial traditions! MEK then took away the body. There is now a grave bearing his name in the cemetery in Tirana alongside other MEK who have died in that country. The case was closed.
Shara'i's next of kin are his immediate family who quickly got in touch with the Albanian authorities. They informed investigators that Shara'i had been a strong swimmer and a lifeguard back in Iran. However, they were not consulted at any stage in the investigation or asked for permission for an autopsy, nor told a cause of death or asked about burial preferences.
Putting aside the possible reason that Shara'i died – former members said he had long wanted to leave but knew sensitive information which MEK wanted to keep secret – the failure of the Coroner to challenge MEK's ridiculous assertion that a post mortem examination is against 'their' culture, leaves an opening now for MEK to kill and bury unwanted members with impunity. Apparently, no Albanian institution has the will or capability to resist MEK corruption.
Nevertheless, as the following reports demonstrate, Albanian citizens as well as their security forces, are seriously questioning the appropriateness of MEK's presence in their small and vulnerable country.
https://lapsi.al/2018/09/07/raporti-sekret-i-policise-muxhahedinet-perbejne-rrezik-per-sigurine-ne-shqiperi/
http://www.tpz.al/2018/09/07/raporti-sekret-i-policise-muxhahedinet-perbejne-rrezik-per-sigurine-ne-shqiperi/
Police secret report: Mojahedin pose a threat to security in Albania
7 September 2018
Mojahedin pose a danger to Albania's security, according to the English Channel 4 public broadcaster. The television channel's main correspondent, Lindsey Hilsum, has broadcast a report on the Mojahedin in Albania, including a secret police file of the State Police.
According to this document, signed by director general of the Albanian State Police, Ardi Veliu, Mojahedin constitute a security risk in Albania, as there are reasonable suspicions that members of the MEK group may kill members who leave or attempt to get out of the group.
Mojahedin "may have implications for internal security, as these individuals are deeply indoctrinated, have been part of military structures, have participated in fighting and acts of terror," the secret document says.
The Mojahedin cult, otherwise known as MEK, became a terrorist group and was included in the 2012 U.S. list of terrorist organizations. Given the indoctrination of members and their activity in Iraq, State Police suspects that they may repeat their killings of members who leave the group.
"Former members of this organization have been murdered in Iraq after they have appeared publicly in opposition to the organization's activities … following the indication of the actions and behaviors of the citizens in question who are currently separated from this organization, there are reasonable grounds for suspicion that this situation is the same as happened in Iraq, which was followed by murder", reads the document signed by Ardi Veliu.
Currently the Mojahedin have been accommodated in a large camp at Manez in Durres, where they are under continuous scrutiny by the Albanian authorities to prevent any potential danger they may have for the security of the country.
http://www.newsbomb.al/raporti-sekret-i-policise-muxhahedinet-ne-shqiperi-te-afte-per-akte-terroriste-te-mbahen-nen-kontroll-dokumentari-i-channel4news-133827
SECRET POLICE REPORT / Mojahedin ALBANIA, capable of terrorist acts, must be kept under control (documentary CHANNEL 4 NEWS)
10 September 2018
Within Albania, a giant camp is being built for the Mojahedin. Information and some video footage were collected by journalist Lindsey Hilsum, an international editor and presenter of Channel 4 News, who has come to Albania and tried to visit the camp.
She wanted to go to the headquarters of MEK, Iran's largest opposition group, which has been established for several years in Albania. And one of Iran's opposition's friends, is US President Donald Trump.
John Bolton, President Trump's advisor, spoke to members of the Iranian opposition last year in Albania and how they should take power.
Journalist Lindesy Hilsum has gone to the camp and was not allowed by private guards to enter the camp to conduct interviews.
"I do not understand why the private guards won't allow us. We are here in Albania", she says in the documentary, while she says she was accused by the Mojahedin as a spy in the Iranian regime.
But behind the camp's wire fence the journalist has seen numerous machines working, highlighting the fact that the camp is expanding, though no one will speak.
Even though she has presented her journalist's identity card, the Albanian private guards have not allowed her to do her job. "Stop the footage", the private security guard is heard on the camera and then puts his hand on the camera to prevent the footage.
In the Iran-Iraq war, MEK fought on the side of Saddam Hussein, the journalist says, against their country. The Iranian regime at that time executed hundreds of members of the opposition, MEK. They operated from military bases in Iraq and were then classified by the US as a terrorist organization.
When the Americans removed Saddam in 2003, MEK surrendered to US troops. But they were always under attack by pro-Iranian forces. And at that moment the US has revoked MEK's terrorist status and then dispersed the Mojahedin in four US-backed countries, one of them being Albania.
"In Tirana, I met a couple of Canadian citizens who distributed leaflets to citizens while saying that MEK is not good for their country.
They said they came to Albania to see their daughter, Somayeh, claiming she was kidnapped by MEK 20 years ago and they found her in Albania."
"I am not against Mojahedin. I have no interest in politics. I want to see my daughter, only for 10 minutes", says the girl's father to the Channel4News journalist.
Somayeh Mohammadi told another reporter that her father was an Iranian spy and she would not see him. "He came to Albania to spy on our camp. He has come to Albania to tell people that Mojahedin have abducted me. But this is not true" was the girl's assertion.
The Mojahedin in the Albanian camp are afraid that former members of the group are spying on them and want to eliminate them.
The journalist also found a former Mojahedin member who shows that life in the MEK camp is not free. He has talked willingly about the division of men and women in the camp and that they should not have any opinion about sex. "During the day, every camp member had to write about sexual thoughts and every evening we should read them in front of others and commanders", he says.
Plan of Albanian police measures
The journalist has come across the plan of the Albanian police to maintain the Iranian opposition in Albania. The document is titled, "Action Plan for Monitoring and Preventing and Preventing Possible Crime in the Perspective of Iranian Nationals Members of the MEK Organization Hosted in Albania".
"Currently, in the territory of the Republic of Albania, 2745 Iranian citizens have been sheltered for several years. These citizens are part of the MEK organization, otherwise known as the Iranian opposition. The arrival of Iranian asylum seekers in our country can have implications for internal security, as these individuals are deeply indoctrinated, have been part of military structures, have participated in fighting and acts of terror", the Albanian police write.
According to the document, Mojahedin Khalq or Iran's Mojahedin Organization, otherwise known as MEK and PMOI, is a revolutionary Marxist-Islamic group, founded in 1965.
In the secret document of the Albanian police, it is said that three Iranian nationals, separated from the camp and living in Tirana, have had their lives threatened by the MEK. And they have reported this at the police station in Tirana in February 2018.
"With regard to these situations and from the data obtained in the operative, it has been learned that: Previously in Iraq Former members of this organization have been murdered in Iraq after they have appeared publicly in opposition to the organization's activities with the intent of damaging its cause. As can be seen above, and the statements given by Iranian citizens on the "Fiks Fare" show and the charges made to the police commissariats by these citizens, the time, the way of acting, their behavior is similar to the way in a situation of happened earlier in Iraq.
Along the way, by looking at the indications of the actions and behaviors of the concerned citizens who are currently separated from this organization, there are reasonable grounds for suspicion that this situation is the same as happened in Iraq, which was followed by murder.
Assessing the importance of the above information from the state police institution, a maximum assessment of this situation should be carried out and full measures should be planned as follows:
To undertake a thorough assessment of security measures, to ensure public safety, to prevent any criminal act that may occur between members of the MEK organization and its detained persons.

Assess any information related to this situation in order to prevent possible criminal incidents.

Instruct, engage and maximize the capabilities of all state police officers to recognize and engage in the pursuit of these elements. Identification of all settlements and settlements of Iranian nationals in our country and mainly in Tirana and Durres, "reads in the secret police document of the state.
Ylli Zyla, former Chief of Information Service from 2008-2012, also spoke about this organization. "It is strictly strict and if anyone comes out of their criminal framework they are executed by their own members within themselves", says Ylli Zyla.
Channel4 contacted MEK but was accused of spying for Iran and wanting to break the Iranian opposition. Meanwhile, the journalist shows the support of many politicians from the United States.
"Maybe, according to journalist Lindsey Hilsum, MEK is more threatened by itself than by Iran. In the camp, while they are not allowed to have children, there will be no new generation.
Outside Tirana, we found in the cemetery those who died of a disease, or even age. Everyone has died without seeing their families, and far from their homes.
(End)
http://www.newsbomb.al/raporti-sekret-i-policise-muxhahedinet-ne-shqiperi-te-afte-per-akte-terroriste-te-mbahen-nen-kontroll-dokumentari-i-channel4news-133827
RAPORTI SEKRET I POLICISË/ MUXHAHEDINËT NË SHQIPËRI, TË AFTË PËR AKTE TERRORISTE, TË MBAHEN NËN KONTROLL (DOKUMENTARI I CHANNEL4NEWS)
Publikuar tek: AKTUALITET, më 13:42 10-09-2018 
Brenda Shqipërisë, është duke u ndërtuar një kamp gjigand për muxhahedinët. Të dhënat dhe ato pak filmime janë marrë nga gazetarja Lindsey Hilsum, editore ndërkombëtare e Channel4News, që ka ardhur në Shqipëri dhe ka tentuar të hyjë brenda kampit.
Ka dashur te shkojë te zyrat qendrore te MEK, grupi më i madh opozitar i Iranit, që prej disa vitesh është vendosur në Shqipëri. Dhe një ndër miqtë e opozitës iraniane, është presidenti i SHBA, Donald Trump.
John Bolton, këshilltar i presidentit Trump ishte vitin e kaluar në Shqipëri, ku foli përpara anëtarëve të opozitës Iraniane dhe mënyrës sesi ata duhet të marrin pushtetin.
Gazetarja Lindesy Hilsum, ka shkuar në kamp dhe nuk është lejuar nga rojet private të hyjë brenda kampit për të kryer intervistat.
"Nuk e kuptoj pse nuk na lënë rojet private. Ne ketu jemi në Shqipëri", thotë ajo në dokumentarin e realizuar, ndërsa thotë se është akuzuar nga muxhahedinët si një spiune e regjimit iranian.
Por gazetarja, prapa telave të kampit, ka parë makineri të shumta që punojnë, duke evidentuar faktin se kampi po zgjerohet, edhe pse askush nuk do të flasë.
Edhe pse ka prezantuar dokumentin e saj si gazetare, rojet private shqiptare nuk e kanë lënë të kryejë detyrën. "Stop filmimeve", dëgjohet në kamera roja i sigurisë private dhe më pas vendos dorën tek kamera për të mos lejuar filmimet.
Në luftën Iran-Irak, MEK u vendos në krah të Sadam Hyseinit, thotë gazetarja, kundër vendit të tyre. Regjimi iranian në atë kohë, ekzekutoi qindra anëtarë të opozitës, MEK. Ata operonin në baza militare në Irak dhe në atë kohë ishin klasifikuar nga SHBA si organizatë terroriste.
Kur amerikanët rrëzuan Sadamin në 2003, MEK u dorëzuan te trupat amerikane. Por gjithmonë ishin nën sulmin e forcave pro-iraniane. Dhe në këtë moment, SHBA revokoi statusin e terroristëve për MEK. Dhe më pas, shpërndanë muxhahedinët në katër vende që kishin mbëshetjen e SHBA, dhe një prej tyre ishte Shqipëria.
"Në Tiranë takova një cift me shtetësi kanadeze që shpërndanin fletëpalosje për qytetarët ndërsa thoshin se MEK nuk është gjë e mirë për vendin e tyre.
Ata thanë se kanë ardhur në Shqipëri të shohin vajzën e tyre, Samaja, që pretendojnë se është rrëmbyer nga MEK, 20 vjet më parë dhe gjendet në Shqipëri.
"Nuk jam kundër muxhahedinëve. Nuk kam asnjë qëllim për këtë. Unë dua të shoh vajzën time, vetëm për 10 minuta" thotë i ati i vajzës për gazetaren e Channel4News.
Samaja Mohamedy, i tha gazetares së Channel4 se babai i saj ishte një spiun iranian dhe ajo nuk do ta shohë atë. "Ka ardhur në Shqipëri për të spiunuar kampin tonë. Ai ka ardhur në Shqipëri t'u thotë njerëzve se muxhahedinët më kanë rrëmbyer. Por kjo nuk është e vërtetë" ishte pohimi i vajzës.
Muxhahedinët në kampin shqiptar janë të frikësuar se ish komandantët janë duke i vëzhguar dhe duan t'i eleminojnë.
Gazetarja ka gjetur edhe një muxhahedin që i tregon se jeta në kampin e MEK nuk është e lirë. Ai ka treguar me vullnet të lirë ndarjen e burrave dhe grave në kamp dhe se në të, ata nuk duhet të kishin asnjë mendim as për seksin. "Gjatë ditës, çdo anëtar i kampit duhet të shkruante për mendimet seksuale dhe çdo mbrëmje duhet t'i lexonim ato përpara të tjerëve dhe komandantëve" thotë ai.
Plani i masave i policisë shqiptare
Gazetares i ka rënë në dorë plani i masave të policisë shqiptare për të ruajtur opozitën iraniane në Shqipëri. "Plan masash për monitorimin dhe mbajtjen nën kontroll dhe parandalimin e ngjarjeve të mundshme kriminale në drejtim të shtetasve iranianë pjesëtarë të organizatës MEK të strehuar në Shqipëri" është titulli i dokumentit.
"Aktualisht në territorin e RSH janë strehuar 2745 shtetas iranianë të ardhur prej disa vitesh. Këta shtetas janë pjesë e organizatës MEK e njohur ndryshe si opozita iraniane. Ardhja në vendin tonë e azilkërkuesve iranianë, mund të sjellë implikime në sigurinë e brendshme, pasi këta individë, janë të indoktrinuar thellësisht, kanë qenë pjesë e strukturave ushtarake, kanë marrë pjesë në luftime dhe në akte terrori" shkruan dokumenti i policisë shqiptare.
Sipas dokumentit, Mojahedin e Khalq ose Organizata e Muxhahedinëve të Popullit të Iranit, njohur ndryshe si MEK dhe OMPI, është një grup revolucionar marksist-islamik, i themeluar në vitin 1965.
Në dokumentin sekret të policisë shqiptare, thuhet se tre shtetas iranianë, të shkëputur nga kampi dhe që jetojnë në Tiranë, janë kërcënuar me jetë nga MEK. Dhe ata kanë denoncuar në komisariatin e policisë në Tiranë në shkurt 2018.
"Në lidhje me këto situate dhe nga të dhënat e marra në rrugë operative është mësuar se: Më parë në Irak kanë ndodhur vrasje të- ish anëtarëve të kësaj organizate të shkëputur prej saj pasi ata kanë dalë publikisht duke iu kundërvenë veprimtarisë së organizatës me qëllim dëmtimin e kauzës së saj. Nga sa shihet më lart dhe intevistimet e dhëna nga shtetasit iranianë në emisionin "Fiks Fare" si dhe kallzimet e bëra në komisariatet e policisë nga këta shtetas, koha, mënyra e të vepruarit, sjelljes së tyre është e ngjashme si mënyrë me një situatë të ndodhur më parë në Irak.
Në vijimësi, duke parë indikacionet e veprimeve dhe sjelljeve të shtetasve në fjalë të cilët aktualisht janë të shkëputur nga kjo organizatë, ka dyshime të arsyeshme se kjo situatë është e njëjtë me atë të ndodhur më parë në Irak e cila është pasuar me vrasje.
Duke vlerësuar rëndësinë e informacioneve të mësipërme nga strukturat e policisë së shtetit duhet të kryhet vlerësim maksimal për këtë situatë dhe të planifikohen masa të plota si më poshtë vijon:
 Të bëhet vlerësimi i lartë i masave të sigurisë, për të garantuar sigurinë publike, parandalimin e ndonjë akti kriminal që mund të ndodhë midis anëtarëve të organizatës MEK dhe personave të shkëputur prej saj.
Të vlerësohet çdo informacion lidhur me këtë situatë me qëllim parandalimin e mundshëm të ngjarjeve kriminale.
Instruktim, angazhim dhe vlerësim maksimal i të gjithë punonjësve të policisë së shtetit që të njihen dhe të angazhohen në ndjekjen e këtyre elementeve. Identifikimin e të gjitha vendbanimeve dhe vendqëndrimeve të shtetasve iranianë në vendin tonë dhe kryesisht në Tiranë dhe në Durrës", shkruhet në dokumentin sekret të policisë së shtetit.
Ylli Zyla, ish shef i Shërbimit Informativ nga viti 2008-2012 ka folur gjithashtu për këtë organizatë. "Eshtë me rregulla strikte dhe nëse ndokush del nga korniza e tyre kriminale ata ekzekutohen nga vetë anëtarët e tyre brenda vetes" thotë Ylli Zyla.
Channel4 kontaktoi MEK por u akuzuan si spiunë të Iranit dhe se donte të thyente opozitën iraniane. Ndërkohë gazetarja tregon mbështetjen e shumë politikanëve nga SHBA.
"Ndoshta, konstaton gazetarja Lindsey Hilsum, MEK kërcënohet më shumë nga vetja sesa nga Irani. Në kamp, përderisa nuk lejohet që të ketë fëmijë, nuk do të ketë asnjë gjeneratë të re.
Jashtë Tiranës, ne gjetëm edhe varrezat e tyre, për ata që kanë vdekur nga ndonjë sëmundje, apo edhe mosha. Të gjithë kanë vdekur pa parë familjet e tyre, dhe shumë larg nga shtëpitë.
*** 
The shadowy cult Trump advisors tout as an alternative to the Iranian government
"Heroi" iranian i Manzës telash shtesë për sigurinë në Shqipëri
Canadian family asks Top Channel's "Fiks Fare for help: "MEK mujahedeens took our daughter"
Mijear_Yje_Margarita_Kola_Margarita_Kolës_Paid_advocate_Mojahedin_Khalq_MEK_Albania
The Most Dangerous Cult In Albania (Albania for Albanians. Not for Terrorist MEK)
MEK members residing in Albania hit British journalist, local media reports (Mojahedin Khalq, Maryam Rajavi Cult, NCRI …)
Albanians angry that America dumps its terrorists on them (Mojahedin Khalq, MEK, ISIS, … )
Also read:
https://iran-interlink.org/wordpress/?p=9418
Albanian Police No Match For MEK Commanders Trained By Saddam's Mukhabarat 
Massoud Khodabandeh, Iranian.com, August 09 2018:… Afamily drama playing out in Albania has caught the attention of media and public opinion. But this is no ordinary drama. It is the story of Iranian born Mostafa and Mahboubeh Mohammadi, who are Canadian citizens and their twenty-one-year struggle to rescue their daughter from a dangerous terrorist cult. In 1997, Somayeh and … 
Mojahedin / The father rejected, the mother's writes to her daughter: Come out and meet me, I want to see you before I die 
US Forces Albania To Take IS Fighters After Hosting MEK
Albanian Police No Match For MEK Commanders Trained By Saddam's Mukhabarat
Afamily drama playing out in Albania has caught the attention of media and public opinion. But this is no ordinary drama. It is the story of Iranian born Mostafa and Mahboubeh Mohammadi, who are Canadian citizens and their twenty-one-year struggle to rescue their daughter from a dangerous terrorist cult.
In 1997, Somayeh and her brother Mohammad, were deceptively recruited into the violent extremist group, Mojahedin-e Khalq (MEK). Somayeh was seventeen. They travelled to Iraq for a two week visit to the MEK training camp, and never returned home. Their parents were supporters of MEK and at first simply appealed directly to the group's leaders for their children's return to their studies and family. MEK ignored their requests.
It wasn't until the fall of Saddam's regime in 2003 that Mostafa was able to travel to Iraq independently of MEK and reach out to his children. He managed to rescue Mohammad and bring him back to Canada. But Somayeh was under constant supervision by MEK commanders who used coercive control to confuse and intimidate the girl. She was afraid to leave, even though she had written several times to the US Marines guarding the camp asking for help.
Somayeh and Mohammad Mohammadi in Camp Ashraf Iraq
Her parents made repeated attempts to meet freely with Somayeh, so they could reassure her of her future with them in Canada. MEK closed all doors to them and in doing so, alienated a whole family which had been ardent supporters. Mostafa had even volunteered to take part in the MEK orchestrated self-immolations in 2003 to protest the arrest in Paris of MEK leader Maryam Rajavi. He was only saved when a friend snatched the lighter from his hand after Mostafa had doused himself in petrol. Now, instead of returning Somayeh to Canada and having a family of active supporters for their cause, MEK has destroyed the life of a young woman and broken the hearts of her family.
Mostafa and Mahboubeh Mohammadi interviewed by Albanian media
Somayeh was brought to Albania with another 3,000 MEK after Iraq expelled the terrorist group. From their first arrival in Tirana in 2013, MEK members frightened ordinary citizens with their intimidatory behaviour. Intense and forceful but somehow disengaged, MEK members swept through the capital like a plague. In place of a de-radicalization programme, the Americans in charge of them allowed them to retreat behind the closed walls of a purpose-built terrorist training camp in a rural town, Manez in the district of Durres. In spite of this, over four hundred have managed to escape the group and are willing to endure hardship rather than continue to associate with MEK. One recent escapee described conditions inside MEK as "slavery".
In this context, Mostafa and Mahboubeh are now in Tirana making another attempt to meet their daughter. This time, without the presence of MEK minders. They have appealed to the Albanian authorities to help them. They refused.
Instead, MEK has been allowed to go berserk, instigating a campaign of propaganda and intimidation that has created a real crisis for the country; for its citizens, its government and its security and law enforcement services.
Albanian media presents this as a family dispute. But there is no equivalence between the ordinary parents from Canada and the people who are surrounding Somayeh. These are people whose background reveals how dangerous they are. So that when the Albanian police are called to an incidence of public disorder, they are not expecting nor are they quipped through training or resources to deal with radicalised violent extremists trained by Saddam Hussein's Republican Guards, many with blood on their hands. Yet this is what the government has imposed on them. Even the security and intelligence services of Albania are inadequately prepared to deal with the criminal unpredictability and unaccountability of MEK.
The MEK commanders and agents involved in delivering MEK's version of Somayeh's story are as follows:
The female commander, Jila Deyhim, was recruited as a student at Manchester University in the UK at the time of Iran's 1979 Revolution. Her husband Ahmad Shadbakhti was killed in an armed clash with security forces in Tehran. Jila left their daughter in the UK to be raised by her brother Khosro Deyhim (aka Haji) in Newcastle Upon Tyne while she went to join MEK in Iraq.
Jila is the head of MEK Operations in Tirana. As well as being present when two MEK operatives publicly assaulted Mostafa in a street in Tirana, she organised for over 60 MEK to surround Police Station 4 in Tirana while two arrested MEK members were being questioned by police. Afterwards, JIla sent the 60 MEK to spread through the city to hunt down and intimidate and beat up ex-MEK members. (Local police officers, used to dealing with ordinary crimes and criminals, were so shocked by the MEK behaviour that they wrote to the Interior Ministry saying they are not equipped to deal with sixty potential suicide bombers and to ask that the security forces in charge of MEK make sure the police will not have to deal with these 'guests of the state' again.)
Historically, Jila served as a commander during the Kurdish massacres – Operation Morvarid (Pearl) in 1991 – as well as many other operations. Witnesses have given further testimony of her torturing and killing disaffected members in MEK/Saddam Hussein prisons in Camp Ashraf. Jila 'graduated' as a highly trained intelligence officer under Saddam Hussein's security service. In addition, she undertook field training, tank driving, basic combat and SWAT command.
Jila Deyhim in Iraq and in Albania
Homayoun Deyhim – in the pink shirt assaulting Mostafa Mohammadi – is a brother of Jila. He studied Electrical Engineering in Newcastle University in the UK just before the Revolution. During the Revolution he went to India to study for an MSC. In India he worked for MEK, but was later recruited by Jila to go to Iraq.
Homayoun never achieved any significant rank, working mostly in the technical and repair departments. But he is famous inside MEK for agreeing to do anything to get promoted. Hence, on many occasions he was involved in punitive beating and humiliating of other members in Camp Ashraf. Homayoun undertook basic military training and Republican Guards operations training.
In Police Station 4 in Tirana after his arrest for assaulting Mostafa, Jila instructed Homayoun to claim that Mostafa had attacked him. They did not know at that time that there was videoed evidence from the scene which shows what actually happened.
Homayoun Deyhim in Iraq and Albania
Behzad Saffari from Isfahan went to the UK to study dentistry He was recruited by MEK and sent to Iraq after Rajavi moved there. He was injured in operation Eternal Light (Forough Javidan) in 1988 and brought back to London to recover before being sent back to Iraq. Witnesses allege that Behzad was involved in beatings in MEK prisons. Behzad cheated his family out of their life savings – which he gave to MEK – by falsely claiming to have left the organisation. His father sent money to family members in Canada, but it ended up in MEK accounts in the UK.
Behzad was involved in liaising with the UNHCR during the transfer process from Iraq to Albania. Former members recount how the UNHCR gave each individual 100 USD for the journey and after their arrival. When the members arrived in Tirana airport, Behzad took the $100 from each one of them and gave them one hundred Albanian LEK as local currency (around one US dollar).
Behzad is currently involved with the teams harassing ex-members and journalists in Tirana. Behzad Saffari is liaising with the MEK lawyer and answers to Jila Deyhim.
Behzad Saffari in Iraq and Albania
Ahmad Taba (aka Akbar), was a student in UMIST (Manchester) at the time of the Iranian Revolution in 1979. He was recruited by MEK to work in London and was then transferred to Iraq after Massoud Rajavi went there.
Ahmad was trained as a helicopter pilot by the Iraqi Army. He graduated from training by Saddam's Republican Guards, which included guerrilla war and SWAT tactics. He also underwent a 9-month course with Saddam's Mukhabarat, from which he graduated as an Intelligence officer. He killed many civilians in the Kurdish attacks and there are witnesses connecting him to the torture of prisoners in Camp Ashraf.
Ahmad Taba in Albania and Iraq
Somayeh Mohammadi herself has not left the MEK camps in Iraq or Albania for twenty-one years. She has no idea about what is happening in the outside world. It is incomprehensible that a woman who claims to be freely pursuing a political struggle for violent regime change against Iran is incapable of meeting alone with her parents to tell them face to face of her decision. Her parents, who know her so well, say it is clear she is afraid and not acting freely when she speaks out against them. Surrounded by the above MEK characters, it is clear that she is under control and is unable to speak or act for herself in any meaningful way. This is not a family dispute, Somayeh is a hostage.
Under the pressure of coercive control, experts can easily recognise in Somayeh a victim who, in the hands of MEK, has been forced to the edge of a cliff over which she may be pushed or fall. If it is subsequently reported that she has disappeared, committed suicide, drowned in a reservoir or otherwise come to harm, there can be no doubt that the government of Albania must be held accountable. She cannot save herself from harm, yet the possibility of MEK harming her is very high. She is in great danger.
Albania may be a failed state, but it is not a rogue state like Saddam's Iraq. It is a state with pretensions to joining the European Union. The government can and should be held accountable for whatever happens to Somayeh Mohammadi. The way to prevent such an outcome is to step in and separate her from her captors.
(End)
*** 
Albanian Translation:
Një dramë familjare që po shfaqet në Shqipëri ka tërhequr vëmendjen e mediave dhe opinionit publik. Por kjo nuk është një dramë e zakonshme. Është historia e çiftit iranian Mostafa dhe Mahboubeh Mohammadi, të cilët janë qytetarë kanadezë dhe prej  njëzet e një vitesh luftojnë për të shpëtuar vajzën e tyre nga një kult i rrezikshëm terrorist.
Në vitin 1997, Somayeh dhe vëllai i saj Mohammad, u rekrutuan në mënyrë mashtruese në grupin e dhunshëm ekstremist, Mojahedin-e Khalq (MEK). Somayeh ishte shtatëmbëdhjetë vjeç. Ata udhëtuan për në Irak për një vizitë dyjavore në kampin e trajnimit të MEK-ut dhe kurrë nuk u kthyen në shtëpi. Prindërit e tyre ishin përkrahës të MEK-ut dhe së pari thjesht iu drejtuan drejtuesve të grupit për kthimin e fëmijëve të tyre në familje. MEK i shpërfilli kërkesat e tyre.
Deri në rënien e regjimit të Sadamit në vitin 2003, Mostafa ishte në gjendje të udhëtojë në Irak pavarësisht nga MEK dhe të arrijë tek fëmijët e tij. Ai arriti të shpëtojë Muhammedin dhe ta çonte atë në Kanada. Por Somayeh ishte nën mbikëqyrje të vazhdueshme  nga komandantët e MEK që përdorën kontrollin shtrëngues për të ngatërruar dhe frikësuar vajzën. Ajo kishte frikë të largohej, megjithëse kishte shkruar disa herë marinës amerikane që ruanin kampin duke kërkuar ndihmë.
Somayeh dhe Mohammad Mohammadi në Kampin Ashraf, Irak
Prindërit e saj bënin përpjekje të përsëritura për t'u takuar lirshëm me Somayeh dhe për ta rikthyer atë në familjen e tyre në Kanada. MEK i mbylli të gjitha dyert dhe duke vepruar kështu, tjetërsonte një familje të tërë që kishte qenë përkrahës i zjarrtë. Mostafa madje  vullnetarisht mori pjesë në MEK-un në vitin 2003 për të protestuar kundër arrestimit në Paris të liderit MEK Maryam Rajavi. Por edhe pas kësaj sakrifice të Mostafa, MEK nuk e ktheu Somayeh në familjen e saj, por e mban mbyllur duke i shkatërruar jetën dhe duke thyer zemrat e familjarëve të saj.
Somayeh u soll në Shqipëri nga MEK pasi Iraku dëboi grupin terrorist. Që nga ardhja e tyre e parë në Tiranë në vitin 2013, anëtarët e MEK-ut i frikësuan qytetarët me  sjelljen e tyre intimidatore dhe menjëherë ata u përhapën në qytet si një murtajë .
Në vend të një programi de-radikalizimi, amerikanët përgjegjës për to i lejuan të tërhiqen prapa mureve të mbyllura të një kampi stërvitjeje të ndërtuar në një qytet rural të Durrësit, Manëz. Përkundër kësaj, më shumë se katërqind njerëz kanë arritur të shpëtojnë nga grupi dhe janë të gatshëm të përballojnë vështirësitë në vend që të vazhdojnë të lidhen me MEK. Një i arratisur i kohëve të fundit përshkroi kushtet brenda MEK si "skllavëri".
Mostafa dhe Mahboubeh janë tani në Tiranë duke bërë një përpjekje tjetër për të takuar vajzën e tyre. Ata u janë lutur autoriteteve shqiptare për t'i ndihmuar. Ata refuzuan.
Në vend të kësaj, MEK-u është lejuar të nxisë një fushatë të propagandës dhe frikësimit që ka krijuar një krizë të vërtetë për vendin, për qytetarët e saj, qeverinë e saj, sigurinë e saj dhe shërbimet e zbatimit të ligjit.
Mediat shqiptare e paraqesin këtë si një mosmarrëveshje familjare . Por nuk ekziston ekuivalenca mes prindërve të zakonshëm nga Kanadaja dhe njerëzve që po rrethojnë Somayeh. Këta janë njerëz, prejardhja e të cilëve zbulon sa të rrezikshëm janë. Kështu që kur policia shqiptare është thirrur në një incident të çrregullimit publik, ata as nuk janë përfshirë në trajnime apo burime për t'u marrë me ekstremistët e dhunshëm të radikalizuar të trajnuar nga rojet republikane të Saddam Husseinit, shumë prej të cilëve me gjak në duart e tyre. Megjithatë, kjo është ajo që qeveria u ka imponuar atyre. Edhe shërbimet e sigurisë dhe të inteligjencës së Shqipërisë nuk janë të përgatitur në mënyrë adekuate për t'u marrë me paparashikueshmërinë dhe mosgndërgjegjshmërinë kriminale të MEK.
Komandantët dhe agjentët e MEK-ut të përfshirë në dorëzimin e versionit të MEK-ut për historinë e Somayeh janë si më poshtë:
Komandantja femër, Jila Deyhim, u rekrutua si studente në Universitetin e Manchesterit në Mbretërinë e Bashkuar në kohën e Revolucionit të Iranit në 1979. Burri i saj Ahmad Shadbakhti u vra në një përleshje të armatosur me forcat e sigurisë në Teheran. Jila la vajzën e tyre në Britani të Madhe për t'u rritur nga vëllai i saj Khosro Deyhim (aka Haji) në Neëcastle Upon Tyne ndërsa ajo shkoi të bashkohej me MEK në Irak.
Jila është kreu i Operacioneve të MEK-ut në Tiranë. Përveç faktit se dy oficerë të MEK-ut e sulmuan publikisht Mostafën në një rrugë në Tiranë, ajo organizoi për më shumë se 60 MEK që rrethonin Stacionin e Policisë 4 në Tiranë, ndërsa dy anëtarë të arrestuar të MEK-ut u pyetën nga policia. Më pas, JIla dërgoi 60 MEK për tu përhapur nëpër qytet për të ndjekur, frikësuar dhe rrahur ish-anëtarët e MEK. (Zyrtarët e policisë lokale, të përdorur për t'u marrë me krimet e zakonshme dhe kriminelët, u tronditën aq shumë nga sjellja e MEK-ut dhe ata i shkruan Ministrisë së Brendshme duke thënë se nuk janë të pajisur për t'u marrë me gjashtëdhjetë vetë sulmues vetëvrasës potencialë".)
Historikisht, Jila shërbeu si komandante gjatë masakrave kurde, në Operacionin Morvarid (Pearl) në 1991, si dhe shumë operacione të tjera. Dëshmitarët kanë dhënë dëshmi të mëtejshme për torturimin dhe vrasjen e anëtarëve të pakënaqur në burgjet e MEK. Jila 'u diplomua' si një oficere e inteligjencës  e trajnuar nën shërbimin e sigurisë së Sadam Huseinit. Përveç kësaj, ajo ndërmori trainim në terren, vozitje tank, luftë bazë dhe komandë SWAT.
Jila Deyhim në Irak dhe në Shqipëri
Homayoun Deyhim, që sulmoi Mostafa Mohammadin është vëllai i Jilas. Ai studioi Inxhinieri Elektrike në Universitetin e Neëcastle në Mbretërinë e Bashkuar vetëm para Revolucionit. Gjatë Revolucionit ai shkoi në Indi për të studiuar për një MSC. Në Indi punoi për MEK, por më vonë u rekrutua nga Jila për të shkuar në Irak.
Homayoun kurrë nuk ka arritur ndonjë gradë të rëndësishme, duke punuar kryesisht në departamentet teknike dhe të riparimit. Por ai është i famshëm brenda MEK-ut për të rënë dakord të bëjë diçka për t'u promovuar. Prandaj, në shumë raste ai ishte i përfshirë në rrahjen dhe poshtërimin e anëtarëve të tjerë në Kampin Ashraf. Homayoun ndërmori trajnimin bazë ushtarak dhe trajnimin e operacioneve të rojave republikane.
Në Stacionin Policor 4 në Tiranë, pas arrestimit të tij për sulm ndaj Mostafës, Jila e udhëzoi Homayoun të pohonte se Mostafa e kishte sulmuar atë. Ata nuk e dinin në atë kohë se kishte prova video nga skena që tregon se çfarë ndodhi në të vërtetë.
Homayoun Deyhim në Irak dhe Shqipëri
Behzad Saffari nga Isfahan shkoi në Mbretërinë e Bashkuar për të studiuar stomatologji. Ai u rekrutua nga MEK dhe u dërgua në Irak pasi Rajavi u transferua atje. Ai u plagos në operacion Dritën e Përjetshme (Forough Javidan) në vitin 1988 dhe u kthye në Londër për t'u rimarr para se të kthehej në Irak. Dëshmitarët pohojnë se Behzad ishte i përfshirë në rrahje në burgjet e MEK. Behzad mashtroi familjen e tij nga kursimet e tyre të jetës, të cilën ai i dha MEK duke pretenduar në mënyrë të rreme që të kishte lënë organizatën. Babai i tij i dërgoi paratë anëtarëve të familjes në Kanada, por ajo përfundoi në llogaritë e MEK në Britani të Madhe.
Behzad ishte i përfshirë në kontakt me UNHCR-në gjatë procesit të transferimit nga Iraku në Shqipëri. Anëtarët e mëparshëm tregojnë se si UNHCR-ja i dha çdo individi 100 dollarë për udhëtimin dhe pas mbërritjes së tyre. Kur anëtarët arritën në aeroportin e Tiranës, Behzad mori 100 $ nga secili prej tyre dhe u dha atyre njëqind Lek Shqiptar si monedhë vendase (rreth një dollar amerikan).
Behzad aktualisht është i përfshirë me ekipet që kërcënojnë ish-anëtarë dhe gazetarë në Tiranë. Behzad Saffari po bashkëpunon me avokatin e MEK dhe përgjigjet ndaj Jila Deyhim.
Behzad Saffari në Irak dhe Shqipëri
Ahmad Taba (aka Akbar), ishte student në UMIST (Manchester) në kohën e Revolucionit iranian në 1979. Ai u rekrutua nga MEK për të punuar në Londër dhe më pas u transferua në Irak, pasi Massoud Rajavi shkoi atje.
Ahmedi u trajnua si një pilot helikopteri nga Ushtria Irakiane. Ai u diplomua nga rojet republikane të Sadamit, ku përfshiheshin luftërat guerile dhe taktikat SWAT. Ai gjithashtu pbëri një kurs 9-mujor me Mukhabaratin e Sadamit, nga i cili u diplomua si oficer i inteligjencës. Ai vrau shumë civilë në sulmet kurde dhe ka dëshmitarë që e lidhin atë me torturimin e të burgosurve në Kampin Ashraf.
Ahmed Taba në Shqipëri dhe Irak
Somayeh Mohammadi vetë nuk ka lënë kampet e MEK në Irak apo Shqipëri për njëzet e një vjet. Ajo nuk ka asnjë ide se çfarë po ndodh në botën e jashtme. Është e pakuptueshme që një grua që pretendon se po ndjek lirisht një luftë politike për ndryshimin e dhunshëm të regjimit kundër Iranit, është e paaftë të takohet me prindërit e saj për t'iu treguar ballë për ballë vendimin e saj. Prindërit e saj, të cilët e njohin atë aq mirë, thonë se është e qartë se ajo ka frikë dhe nuk vepron lirshëm kur flet kundër tyre. I rrethuar nga personazhet e MEK-ut të mësipërm, është e qartë se ajo është nën kontroll dhe nuk është në gjendje të flasë ose të veprojë për vete në ndonjë mënyrë kuptimplotë. Kjo nuk është një mosmarrëveshje familjare, Somayeh është një peng.
Nën presionin e kontrollit shtrëngues, ekspertët lehtë mund të njohin në Somayeh një viktimë e cila, në duart e MEK, është detyruar në buzë të një shkëmbi mbi të cilin mund të shtyhet ose të bjerë. Nëse më vonë raportohet se ajo është zhdukur, ka kryer vetëvrasje, është mbytur në një rezervuar, nuk ka dyshim se qeveria shqiptare duhet të mbajë përgjegjësi. Ajo nuk mund të shpëtojë veten nga dëmtimi, por mundësia e dëmtimit të MEK-ut është shumë e lartë. Ajo është në rrezik të madh.
Shqipëria mund të jetë një shtet i dështuar, por nuk është një shtet bandit si Iraku i Sadamit. Është një shtet me pretendime për t'u bashkuar me Bashkimin Evropian. Qeveria mundet dhe duhet të mbajë përgjegjësi për çfarëdo që ndodh me Somayeh Mohammadi. Mënyra për të parandaluar një rezultat të tillë është ndarja e saj nga MEK.
Burimi: The Iranian/ Gazeta impakt
Albanian report
http://www.newsbomb.al/paralajmerimi-nga-irani-policia-shqiptare-e-paafte-muxhahedinet-te-trajnuar-nga-garda-e-saddamit-130548
PARALAJMËRIMI NGA IRANI: POLICIA SHQIPTARE E PAAFTË, MUXHAHEDINËT TË TRAJNUAR NGA GARDA E SADDAMIT
Publikuar tek: AKTUALITET, më 20:11 08-08-2018
Prej disa ditësh në mediat shqiptare qarkullon historia e një gruaje muxhahedine me banim në Shqipëri, e cila refuzon të bashkohet me prindërit e mbërritur nga Kanadaja në Tiranë.
Somayeh i quan prindërit e saj "agjentë iranianë", ndërsa i ka bërë disa herë thirrje publike shtetit shqiptar t'i vijë në ndihmë.
Nga ana tjetër, prindërit Mostafa dhe Mahboubeh Mohammadi thonë se vajza e tyre është pjesë e një kulti të rrezikshëm terroristësh, MEK apo Mojahedin-e Khalq.
Faqja "online" iranian.com tregon versionin tjetër të historisë dhe ngre alarmin për rrezikshmërinë që paraqesin muxhahedinët që strehohen në Shqipëri.
"Iranian" identifikon disa prej muxhahedinëve për të cilët thotë se janë trajnuar nga Garda e diktatorit Saddam Hussein me taktika lufte të avancuara. Në artikull thuhet se ata dhunojnë dhe intimidojnë muxhahedinët që braktisin kampin në Shqipëri.
"Në rast mosbindje apo revlotë", policia shqiptare por edhe shërbimet inteligjente shqiptare "janë të paafta përballë këtij rreziku të madh që i kanoset", shkruhen ndër të tjera në artikull.
***
Mojahedin Khalq, MEK, Rajavi cult in Iraq No more
اتمام قائله مجاهدین خلق، فرقه رجوی در عراق
The End of the Path – Teaser 1
پایان یک راه – تیزر اول

Mojahedin Khalq, MEK, Rajavi cult in Iraq No more
اتمام قائله مجاهدین خلق، فرقه رجوی در عراق
The End of the Path – Teaser ۲
پایان یک راه – تیزر دوم 

The Iran Protests, Regime Change, And The MEK
Also read:
https://iran-interlink.org/wordpress/?p=9120
Albania: MEK rebrands by assassinating unwanted members 
Massoud and Anne Khodabandeh, Balkans Post, June 22 2018:… The mysterious disappearance of a member of the Mojahedin Khalq (MEK) terrorist group in Albania has once again drawn attention to this controversial group. Malek Sharaee, 47, originally from Khuzestan Province in Iran, was reportedly drowned in the Rrotull village irrigation water reservoir. After three days, divers have not found his body even though the … 
Albania: MEK rebrands by assassinating unwanted members
Massoud Keshmiri: Killed Iran's PM and President – last seen in Germany after escaping MEK
The mysterious disappearance of a member of the Mojahedin Khalq (MEK) terrorist group in Albania has once again drawn attention to this controversial group. Malek Sharaee, 47, originally from Khuzestan Province in Iran, was reportedly drowned in the Rrotull village irrigation water reservoir. After three days, divers have not found his body even though the water channel is only 3.5 meters deep. However, a MEK representative and three MEK witnesses say his clothes were found at the water's edge. Police are now investigating this as a possible criminal offense. Even so, unless they gain access to Camp Ashraf Three, the MEK's purpose-built training camp in Manez, they are unlikely to unearth the truth – MEK impunity is far greater than this small country can deal with or penetrate.
MEK (aka Saddam's Private Army) was unknown in Albania until they arrived after 2013. Their bizarre behavior and controversial activitiessoon became the focus of media attention.
But the MEK's dark history began long before this. Along with well-publicised military-style terrorist attacks on Iran since the 1980s, the MEK was also trained by Saddam Hussein's Mukhaberat (Secret Services) and later by Israel's MOSSAD, in intelligence gathering and secret operations. As a result, MEK has also conducted many covert terror acts and assassinations over the years. Several of these were deliberately staged to make it look like Iran was involved. Such as the 1994 bombing of the Jewish community center in Buenos Aires. In spite of extensive investigation, the primary evidence linking Iran came from four high ranking intelligence officers from MEK.  In 2011, a man connected to Mexican drug dealers was arrested for the attempted murder of the Saudi Ambassadorto America. The US quickly accused Iran, but after two weeks the perpetrator was linked to MEK. In 2013, Israel arrested a Swedish Iranian man, Ali Mansouri, who 'confessed' to be spying for Iran in Tel Aviv. He turned out to be a MEK member.
The underlying pattern behind these events is of deception and callous, cynical murder. These examples are not unique. MEK has a long history of highly sophisticated and brutal undercover activity. However, the reported death of Malek Sharaee in Albania this week also points to a new phase in MEK covert activity. This time individual MEK members who were previously involved in known acts of violence are now themselves becoming victims of their own organization.
Internal assassinations are not new – Commander Ali Zarkesh was deliberately killedduring a military operation in 1988 because he had become critical of the leadership. There have been hundreds of reports of suspicious deaths and actual murders over the last three decades committed against critics and rivals.
In 2013, former MEK member Massoud Dalili was identified as the 53rd victim of a massacre at Camp Ashraf in Iraq. MEK only acknowledged his death when the Iraqi authorities formally identified him via his DNA. Dalili's body had been deliberately disfigured (his face and hands burned) to hide his identity. Massoud Dalili had been one of the personal security personnel for leader Massoud Rajavi. He had undergone training with Saddam's Republican Guards and the MEK's own specialist training. Before coming to Iraq, Dalili had headed a small MEK team in Gilan Province where he was responsible for scores of deaths, including civilians.
Another victim killed during the same attack was Zohreh Ghaemi, She had commanded the assassination of General Sayad Shirazi in 1999. Of the other victims that day, at least ten are known to have participated in known acts of violence for MEK. No one claimed responsibility for the attack on Camp Ashraf.
In 2015, in the Netherlands, Mohamad Reza Kolahi was killed by a criminal gang on the order of MEK. Investigators confirmed that Kolahi was responsible for the 1981 bombing of the headquarters of the Islamic Republic Party in Tehran in which 72 high-ranking politicians and party members were killed.
Another MEK member, Massoud Keshmiri, responsible for the bombing which killed PM Bahonar and President Rajai in 1981, was last seen with MEK in Germany some years ago. He has since vanished and could be dead. Although these deaths cannot be said to be directly linked, there is a common thread whose purpose becomes clear when we remember 2016 when Prince Turki al-Faisal, former Saudi Intelligence chief, announced the death of MEK leader Massoud Rajavi. It is clear from this that MEK is being purged from top to bottom of all the individuals who have had involvement or are associated with its violent past – rebranding by assassination to make the group legally acceptable.
MEK has become the pattern for how other defeated terrorist groupings can be reinvigorated, rebranded and reused. The controversy following the Bulgarian PM's announcement that "Albania will become a coordination center for fighters returning from ISIS to the Balkans" may die down soon – Prime Minister Rama later dismissed this as fantasy, but he is not convincing.Instead, the history of the MEK in Albania indicates that the same scenario will be repeated. As ISIS fighters arrive and settle, the process will start just as it did with MEK. Expect more mysterious murders, suicides, disappearances, bizarre interventions to prevent investigations. And, of course, the involvement of Albanian citizens, politicians, and personalities for and against. Plus, not only abandoning any hope of joining the EU, but suffering more restrictions on the borders with the EU and Balkan countries.