6 Years ago Today: CIA, Mossad and MEK (Rajavi cult, Mojahedin Khalq) Assassinated Iran's Top Nuclear Scientist Majid Shahriari
Philip Giraldi, IRI Center, November 29 2016:… Mossad planned and prepared the killing of Shahriari and the others, attacks which were almost certainly carried out by associates of the radical Marxist group Mujaheddin e Khalq (MEK). The assassinations were based on the false premise that Iran had a nuclear weapons program that could be disrupted by killing the scientists and technicians involved … 
Mojahedin Khalq (MKO, MEK, Rajavi cult) Our Men in Iran? (Seymour M. Hersh, The New Yorker, April 2012)

Daniel Zucker, Maryam Rajavi and ALi Safavi
Another Scientist Killed in Terrorist Blast in Tehran. Terrorist groups exist because someone wants them
Washington's Favorite Terrorists (Mojahedin Khalq, MKO, MEK, Rajavi cult)
6 Years ago Today: CIA, Mossad and MEK Assassinated Iran's Top Nuclear Scientist Majid Shahriari
This November 28th is the sixth anniversary of the assassination of leading Iranian nuclear scientist Majid Shahriari, whose death represented a particularly disgraceful episode in the attempts made by Israel's Mossad intelligence service to interfere with and damage Iran's peaceful nuclear research program. Shahriari, who reportedly had no connection to any possible military applications in his research, was the most prominent of the four Iranian nuclear scientists and technicians who were killed by terrorists between 2010 and 2012. He was a leader in the development of Iran's atomic power research and development program and was internationally respected for his expertise in quantum physics and neutron transport.
Within the international intelligence community, it has been generally understood that Mossad planned and prepared the killing of Shahriari and the others, attacks which were almost certainly carried out by associates of the radical Marxist group Mujaheddin e Khalq (MEK).
The assassinations were based on the false premise that Iran had a nuclear weapons program that could be disrupted by killing the scientists and technicians involved. Two comprehensive studies by the American government's Central Intelligence Agency (CIA) conducted in 2007 and 2012 determined that no such program existed and that Iran had never taken any serious steps to initiate such research. Israel was also aware that there was no program. Nevertheless, the Israeli government, sometimes working in collusion with the American CIA, took steps to interfere with Iran's existing and completely legal and open to inspection atomic energy program by identifying then killing its scientists and introducing viruses into its computer systems. This was in spite of the fact that Iran was fully compliant with international norms on nuclear research and it was a signatory to the Nuclear Non-Proliferation Treaty (NPT), which Israel, possessing its own nuclear arsenal, had refused to sign.
As a result of last year's signing of the Joint Comprehensive Plan of Action (JCPOA) between Iran and the so-called P5+1 consisting of the United States, Russia, China, France, Britain, and the European Union, any remaining concerns that Tehran might even be considering the development of a nuclear weapons program were greatly diminished. Iran has since that time been in compliance with the agreement, possible nuclear proliferation has been avoided, and, apart from the fulminations of certain anti-Iranian politicians in the United States, the signatories to the agreement have expressed their complete satisfaction with the outcome. It is now up to Washington to live up to its part of the agreement by easing remaining restrictions that are being imposed against Iranian financial institutions and regarding the purchase of some commercially available dual use technologies.
But in spite of the relative stability provided by the JCPOA, the meticulously planned and executed death of Shahriari must not be forgotten, if only to remind the world of the ruthlessness which Mossad and other intelligence agencies often pursue their targets even when those they victimize do not really constitute actual threats. Majid Shahriari was killed one morning as he was driving into work in Tehran. He was in a Peugeot that was making its way slowly through the heavy rush hour traffic when a motorcycle pulled up next to him as it weaved its way among the cars. The motorcyclist attached a bomb to the Peugeot's window before he drove off and detonated the device by remote control from a distance. Shahriari died in the blast and two other occupants of the vehicle were injured. At the same time, another car in another part of Tehran was attacked in the same fashion, though the couple inside realized what was happening and managed to get out. They too were injured.
Majid Shahriari left behind a scientist wife and two young children. It should be observed that even though MEK was the likely perpetrator of the attacks, the technical aspects of the operation were far beyond its limited capabilities. First of all, it was necessary to identify the scientists who were to be targeted, no simple task as the Iranian government and atomic energy agency would have taken steps to restrict such information. Only a major foreign intelligence service would have had the capability to penetrate secure government communications to learn who the scientists were and where they lived, to permit an attack to be planned and executed. Both CIA and Mossad would have had such capability and both are also known to have contact with MEK, a relationship that was and still is particularly close in the case of the Israelis.
After identifying the targets and working out a plan for connecting with them it would have been necessary to engage in extensive surveillance to make sure that the approach and timing would work flawlessly. That would require time, training, and money to support the activity, exactly the sort of thing that a state sponsored intelligence agency would be good at. Then it was necessary to devise the bombs to be used to kill the targets. This was no simple matter in practice because the bombs that were put together were highly sophisticated and designed to kill all the occupants of the vehicle. They were shaped charges that directed the blast into the car and they also incorporated small metal projectiles that would fill the target vehicle with a lethal spray.
Among intelligence agencies Israel has the best deserved reputation for being an organization that favors the use of assassinations, so the suggestion that it was behind the killing of Shahriari and several of his colleagues as well as the attempted assassinations of others fits neatly into the Mossad modus operandi. The United States, also no friend of Iran, almost certainly provided support to other programs like the creation of the Stuxnet virus that crippled Iran's scientific computers, but would likely balk at the assassination of civilian scientists. Israel would have no such misgivings and has, in fact, killed civilians in all the countries that surround it.
Majid Shahriari certainly should be remembered for his exemplary work as a scientist, but his assassination should also be a reminder that Israel makes up its own rules and its ruthlessness in dealing with its neighbors should be clearly and candidly recognized for what it is.
–
Philip Giraldi is a former CIA Case Officer and Army Intelligence Officer who spent twenty years overseas in Europe and the Middle East working terrorism cases. He holds a BA with honors from the University of Chicago and an MA and PhD in Modern History from the University of London. In addition to TAC, where he has been a contributing editor for nine years, he writes regularly for Antiwar.com. He is currently Executive Director of the Council for the National Interest.
END
*** 
Ambassador Daniel Benjaminan and Ambassador Daniel Fried on Mojahedin Khalq Terrorist designation and Camp Ashraf
(aka; MKO, MEK, Rajavi cult)
Israeli, Western agencies collaborated with Mojahedin Khalq (MEK, Rajavi cult) to assassinate Iranian Scientists
Remember.Mojahedin Khalq (MKO, MEK, Rajavi cult) was one of the excuses of US attacking Iraq
National Security: Could Maryam Rajavi (Mojahedin Khalq) blackmail her friends in high places – Rudi Giuliani, John Bolton and Newt Gingrich
Massoud and Anne Khodabandeh: Albanian citizens fearful of radicalised Mojahedin Khalq neighbours deserve more information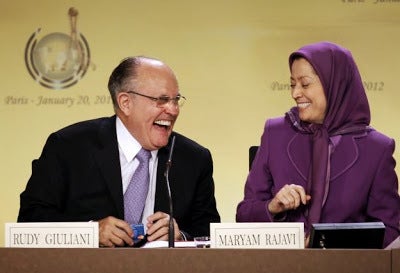 National Security: Could Maryam Rajavi (Mojahedin Khalq) blackmail her friends in high places – Rudi Giuliani, John Bolton and Newt Gingrich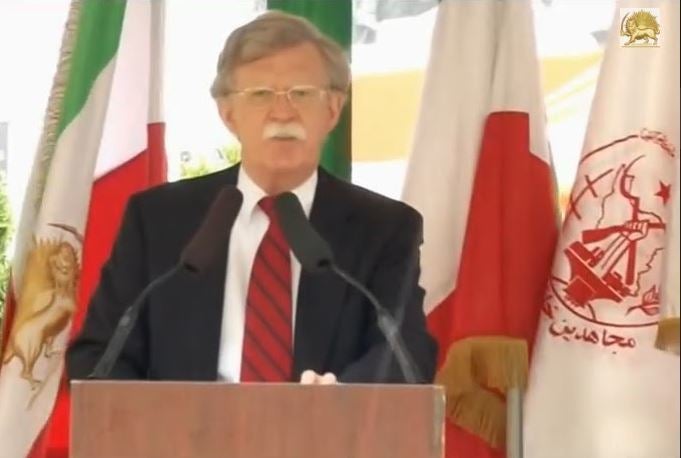 Bolton and the MEK
Mojahedin khalq (MKO, MEK, Rajavi cult) the ending stage of the radicalization process
Massoud Khodabandeh, Huffington Post: Can Albania Meet its Obligations and De-radicalize an Influx of Terrorists into Europe? 
Also read:
https://iran-interlink.org/wordpress/?p=5110
Senior MP Criticizes IAEA for Leaking Information leading to assassinations by MOSSAD , MEK Terrorists (aka Mojahedin Khalq, MKO, NCRI, Rajavi cult)
Fars News, July 06 2014: …when the Zionist regime found access to the same information, many of our nuclear scientists were unfortunately assassinated and martyred," Naqavi Hosseini said.  Western and Israeli spy agencies, collaborated by the terrorist Mojahedin-e Khalq Organization (MKO, also known as MEK, NCRI and PMOI), have assassinated several Iranian …
Gareth Porter: Mojahedin Khalq terrorists (MKO, MEK, NCRI, Rajavi cult) used for information laundry
Senior MP Criticizes IAEA for Leaking  Information leading to assassinations by MOSSAD , MEK Terrorists (aka Mojahedin Khalq, MKO, NCRI, Rajavi cult)

A senior Iranian lawmaker strongly criticized the International Atomic Energy Agency for disclosing sensitive information of Iran's nuclear industries in blatant violation of the international law.
"The International Atomic Energy Agency should be a safe place for its member-states," rapporteur of the parliament's National Security and Foreign Policy Commission Seyed Hossein Naqavi Hosseini said on Sunday.
The prominent legislator warned that if the IAEA's reports and information protection codes and mechanisms continue to show the same breaches, Iran will reconsider its cooperation with the IAEA.
"Unfortunately, we have seen disclosure of Iran's information several times; we have seen that after the Atomic Energy Organization of Iran (AEOI) had sent its secret information to the IAEA, they were found in other places after a while, and this cost our country dearly, as when the Zionist regime found access to the same information, many of our nuclear scientists were unfortunately assassinated and martyred," Naqavi Hosseini said.
Western and Israeli spy agencies, collaborated by the terrorist Mojahedin-e Khalq Organization (MKO, also known as MEK, NCRI and PMOI), have assassinated several Iranian scientists in the last several years.
In the fifth attack of its kind in two years, terrorists killed a 32-year-old Iranian scientist, Mostafa Ahmadi Roshan, and his driver on January 11, 2012.
The blast took place on the second anniversary of the martyrdom of Iranian university professor and nuclear scientist, Massoud Ali Mohammadi, who was also assassinated in a terrorist bomb attack in Tehran in January 2010.
The assassination method used in the bombing was similar to the 2010 terrorist bomb attacks against the then university professor, Fereidoun Abbassi Davani – the former head of Iran's Atomic Energy Organization – and his colleague Majid Shahriari. While Abbasi Davani survived the attack, Shahriari was martyred.
Another Iranian scientist, Dariush Rezaeinejad, was also assassinated through the same method on 23 July 2011.
In a rare confession that Mossad agents were behind the assassination of Iranian nuclear scientists, a report written by Dan Raviv and published by the CBS News said in early March that Washington officials have communicated to Israeli intelligence agencies to stop the targeting of scientists, saying it may derail nuclear talks between Tehran and world powers.
In his report Dan Raviv, a journalist who co-wrote a book about Israel's Mossad secret operations, also said that apart from Washington's pressure, Israel's intelligence agencies have also concluded that the operations had become too dangerous for them as they do not want their experienced forces to be "captured and hanged".
In their 2012 book, entitled 'Spies Against Armageddon: Inside Israel's Secret Wars', Raviv and Israeli journalist Yossi Melman said that Israeli spies have killed at least four Iranian nuclear scientists.
Iran had already announced that the assassination of its scientists, including Mostafa Ahmadi Roshan, Daryoush Rezaeinejad, Professor Majid Shahriari, and Professor Masoud Ali-Mohammadi, have been carried out by Israeli agents.
Tehran is in talks with the five permanent members of the UN Security Council, plus Germany to fully resolve the decade-old dispute over the Tehran's nuclear energy program.
The two sides had inked an interim nuclear deal in Geneva, Switzerland, on November 24, 2013. The Geneva deal took effect on January 20. The two sides are now in pursuit of a final comprehensive deal.
Iran has repeatedly emphasized that its nuclear energy program is meant for civilian purposes only.
The IAEA in its recent report confirmed Iran's commitment to the interim deal it struck with the Group 5+1 (the US, Russia, China, France and Britain plus Germany) in Geneva in late November.
The monthly update report by the IAEA showed that Iran was meeting its commitments to limit certain aspects of its nuclear energy program under the Geneva deal.
The report noted that Iran has acted to eliminate virtually all its stockpile of 20-percent enriched uranium gas.
The report also stated that since the Geneva nuclear deal took effect on January 20, Iran has either diluted to a lower enrichment level or fed for conversion into oxide form more than 97 percent of its uranium gas stock refined to a fissile concentration of 20 percent.
Iran and the G5+1 clinched a landmark interim deal in the Swiss city of Geneva on November 24, 2013.
Under the Geneva deal, dubbed the Joint Plan of Action, the six countries undertook to provide Iran with some sanctions relief in exchange for Iran agreeing to limit certain aspects of its nuclear activities during a six-month period.
As part of the interim deal, Iran suspended 20-percent uranium enrichment as of January 20 when the agreement came into force. Iran then started to dilute and oxidize its 196-kg stockpile of 20-percent-enriched uranium.
Israel gave fake Iran dossier to Mojahedin Khalq (Rajavi cult)
 
http://youtu.be/VqIfsnD8Ak4
Michael Rubin, Commentary, April 29 2014: … The Mujahedin al-Khalq may be a lot of things, but it is neither progressive nor is it non-violent. Progressive movements tend not to dictate to women who to marry and who to divorce. It has its roots in the same Islamist currents that Ayatollah Ruhollah Khomeini drank from, and only abandoned the Islamic Republic when its revolutionary …
–
Press TV, May 28 2014: …  On Tuesday, the US newspaper cited a report by the terrorist Mujahedin-e Khalq Organization (MKO) as saying that Iran "has kept active and intact its core team of weaponization researchers." In a statement on Wednesday, Iran's diplomatic mission at the United Nations condemned the report as a fabrication. It said The Wall Street Journal is repeating …
The MKO's collaboration with terrorists; whoever wherever (Mojahedin Khalq, MEK, NCRI, Rajavi cult)
Mazda Parsi, Nejat Bloggers, May 28 2014: … Evidence of collaborating with terrorists in Syria and elsewhere is the issue for more impeachment of the Mujahedin Khalq Organization. The MKO connection with radical extremists has entered into an alliance with the world's leading terrorist organization al-Qaeda and eventually its factions in Syria —in their zeal to overthrow …
The Int. Community and Human Rights Record of the Cult of Rajavi (Mojahedin Khalq, MKO, MEK, NCRI)
Mazda Parsi, Nejat bloggers, May 25 2014: … Dr. Shaheed's assistant explained to Ali Gharib that Shaheed felt the event's framing "made it feel less like a briefing and more of something that encroached upon what he believes is his independence on the issue" of human rights in Iran.[7] It is noteworthy that a delegation from Nejat Society including former MKO members and …
Embrace of Mojahedin Khalq (MKO, MEK, NCRI, Rajavi cult) shocking, deplorable
Hmid Babei, Fox News, May 10 2014: … But through what the RAND Corp. called "cultic practices and its deceptive recruitment and public relations strategies" as well as giving millions of dollars to politicians and lobbyists in Washington — where it seems everyone has a price tag as campaign donation or "speakers fees," the MEK managed to get itself removed from the list …
–
Eldar Mamedov, Lobelog, June 19 2014: … While the world watched in horror as jihadist extremists from the Islamic State of Iraq and Syria (ISIS) seized the Iraqi city of Mosul, some members of the European Parliament (MEPs) claimed that these actions were not carried out by ISIS, but were "part of a popular upris