A "Red Cleric" who loves terrorists (Mojahedin Khalq, Rajavi cult, MKO, MEK, NCRI, …)
Habilian Association, May 18 2016:…  Jacques Jean Edmond Georges Gaillot (born 11 September 1935 generally known in French as Monseigneur Gaillot) is a French Catholic clergyman and social activist. He was Bishop of Évreux in France from 1982 to 1995. In 1995, by decision of Pope John Paul II, he was demoted to be Titular Bishop of Partenia, an extinct diocese, for having expressed too controversial and heterodox positions on religious, political and social matters. Throughout 1989 … 
.. 
Clinton-Albania deal ensures MEK (Rajavi cult) members stay as terrorists
Clinton-Albania deal ensures MEK (Rajavi cult) members stay as terrorists
A "Red Cleric" who loves terrorists (Mojahedin Khalq, Rajavi cult, MKO, MEK, NCRI, …)
Jacques Jean Edmond Georges Gaillot (born 11 September 1935 generally known in French as Monseigneur Gaillot) is a French Catholic clergyman and social activist. He was Bishop of Évreux in France from 1982 to 1995. In 1995, by decision of Pope John Paul II, he was demoted to be Titular Bishop of Partenia, an extinct diocese, for having expressed too controversial and heterodox positions on religious, political and social matters.
Throughout 1989, Gaillot continued to cause considerable tension within the French Bishops' Conference, to the extent that the members of the episcopate voted to censure him. This disciplinary action came after Gaillot gave an interview to the publication Lui, the French equivalent of Playboy. Furthermore, he also gave interviews to leading gay magazines and lambasted the incompetence of the Roman Catholic hierarchy to judge the circumstances of homosexuality. At this point, the bishop offered his resignation to the Pope, should he feel it necessary to remove him; no such action was taken however. [1] He has expressed his publical support for euthanasia and same-sex marriage, when it was legalized in France.
In 2004 Bishop Gaillot met with Maryam Rajavi, MKO's leader. Rajavi publicly thanked the bishop and expressed that his support had been very effective in promoting the cause of what she calls "Iran resistance". Jacques Gaillot has praised the terrorists in Camp Liberty in Iraq for their brutal activities, what he calls it fighting for "bring freedom and democracy to Iran." Camp Liberty in Iraq houses thousands of members of the terrorist group MKO.
The People's Mujahedeen of Iran, also known as the Mujahedin e-Khalq organization (MKO, MEK, …) in its Persian acronym, is a terrorist organization, that has carried out decades of brutal terrorist attacks, assassinations, and espionage against the Iranian government and its people, as well as targeting Americans. The group used to seek to overthrow the Iranian revolutionary government with the help of Saddam Hussein during the Iran-Iraq War.
Founded in 1963 by a group of leftist Muslim Iranian university students as an Islamic and Marxist political mass movement, the MKO was originally devoted to armed struggle against the shah, capitalism, and Western imperialism. However, according to a report by the Christian Science Monitor, it was the only group that used violence against Americans in the run-up to the revolution, launching a string of assassinations and attacks against American military and diplomatic officers in Iran in the 1970s.
The US Department of State describes MKO's terrorist activities as follows:
The group's worldwide campaign against the Iranian government uses propaganda and terrorism to achieve its objectives. During the 1970s, the MKO staged terrorist attacks inside Iran and killed several U.S. military personnel and civilians working on defense projects in Tehran. In 1972, the MKO set off bombs in Tehran at the U.S. Information Service office (part of the U.S. Embassy), the Iran-American Society, and the offices of several U.S. companies to protest the visit of President Nixon to Iran. In 1973, the MKO assassinated the deputy chief of the U.S. Military Mission in Tehran and bombed several businesses, including Shell Oil. In 1974, the MKO set off bombs in Tehran at the offices of U.S. companies to protest the visit of then U.S. Secretary of State Kissinger. In 1975, the MKO assassinated two U.S. military officers who were members of the U.S. Military Assistance Advisory Group in Tehran. In 1976, the MKO assassinated two U.S. citizens who were employees of Rockwell International in Tehran. In 1979, the group claimed responsibility for the murder of an American Texaco executive. Though denied by the MKO, analysis based on eyewitness accounts and MKO documents demonstrates that MKO members participated in and supported the 1979 takeover of the U.S. Embassy in Tehran and that the MKO later argued against the early release the American hostages. The MKO also provided personnel to guard and defend the site of the U.S. Embassy in Tehran, following the takeover of the Embassy.
In 1981, MKO leadership attempted to overthrow the newly installed Islamic regime; Iranian security forces subsequently initiated a crackdown on the group. The MKO instigated a bombing campaign, including an attack against the head office of the Islamic Republic Party and the Prime Minister's office, which killed some 70 high-ranking Iranian officials, including Chief Justice Ayatollah Mohammad Beheshti, President Mohammad-Ali Rajaei, and Prime Minister Mohammad-Javad Bahonar. These attacks resulted in an expanded Iranian government crackdown that forced MKO leaders to flee to France. For five years, the MKO continued to wage its terrorist campaign from its Paris headquarters. Expelled by France in 1986, MKO leaders turned to Saddam Hussein's regime for basing, financial support, and training. Near the end of the 1980-1988 Iran-Iraq War, Baghdad armed the MKO with heavy military equipment and deployed thousands of MKO fighters in suicidal, mass wave attacks against Iranian forces.
The MKO's relationship with the former Iraqi regime continued through the 1990s. In 1991, the group reportedly assisted the Iraqi Republican Guard's bloody crackdown on Iraqi Shia and Kurds who rose up against Saddam Hussein's regime. In April 1992, the MKO conducted near-simultaneous attacks on Iranian embassies and consular missions in 13 countries, including against the Iranian mission to the United Nations in New York, demonstrating the group's ability to mount large-scale operations overseas. In June 1998, the MKO was implicated in a series of bombing and mortar attacks in Iran that killed at least 15 and injured several others. The MKO also assassinated the former Iranian Minister of Prisons in 1998. In April 1999, the MKO targeted key Iranian military officers and assassinated the deputy chief of the Iranian Armed Forces General Staff, Brigadier General Ali Sayyaad Shirazi.
In April 2000, the MKO attempted to assassinate the commander of the Nasr Headquarters, Tehran's interagency board responsible for coordinating policies on Iraq. The pace of anti-Iranian operations increased during "Operation Great Bahman" in February 2000, when the group launched a dozen attacks against Iran. One attack included a mortar attack against a major Iranian leadership complex in Tehran that housed the offices of the Supreme Leader and the President. The attack killed one person and injured six other individuals. In March 2000, the MKO launched mortars into a residential district in Tehran, injuring four people and damaging property. In 2000 and 2001, the MKO was involved in regular mortar attacks and hit-and-run raids against Iranian military and law enforcement personnel, as well as government buildings near the Iran-Iraq border. Following an initial Coalition bombardment of the MKO's facilities in Iraq at the outset of Operation Iraqi Freedom, MKO leadership negotiated a cease-fire with Coalition Forces and surrendered their heavy-arms to Coalition control. Since 2003, roughly 3,400 MKO members have been encamped at Ashraf in Iraq.
In 2003, French authorities arrested 160 MKO members at operational bases they believed the MKO was using to coordinate financing and planning for terrorist attacks. Upon the arrest of MKO leader Maryam Rajavi, MKO members took to Paris' streets and engaged in self-immolation. French authorities eventually released Rajavi.
The group formally renounced the use of violence in 2001, but an FBI investigation found MKO members to be "actively involved in planning and executing acts of terrorism" as recently as 2004. In February 2012, NBC News reported that the Israeli government had coordinated with MKO to launch a series of assassinations against Iranian nuclear scientists. The group's delisting may open the door to future cooperation with the United States as well.
The MKO was removed from the State Department's terrorism list three years ago after a concerted lobbying campaign, which featured some of the most prominent politicians and officials in the U.S., including John Bolton, former U.S. ambassador to the United Nations; Tom Ridge, former director of Homeland Security; and Rudy Giuliani, former mayor of New York City.
the MKO is a kind of cult, according to the FBI, Human Rights Watch, the Rand Corporation, and just about every other organization which has investigated the group. It is precisely the kind of organization that should not testify about Islamic extremism.
Jeremiah Goulka, author of "The Mujahedin-e Khalq in Iraq: A Policy Conundrum," a report published by the Rand Corporation in 2009, told MintPress, "At the MKO camps, there's a whole set of practices that are all textbook out of cult theory – sleep deprivation, make-work projects… forced celibacy, forced divorce, [and] gender segregation."
Masoud Banisadr, a former member of the MKO, who had served as the group's representative to the United Nations and the U.S., confirmed that forced divorces were common in the group. Banisadr told MintPress: "All members were forced to divorce their spouses, and later they have to send their children abroad to Europe and United States to be adopted by supporters and other members."
Two former members of the MKO, Anne Singleton and Massoud Khodabandeh, published a book last September detailing coercive tactics used by the group's leaders to maintain control and suppress dissent. A Human Rights Watch report also revealed a similarly questionable organization in Camp Ashraf.
The group currently has an office on Pennsylvania Avenue in Washington, where they launch campaigns related to Iran, attend congressional legislative hearings about the country, and attempt to influence public perception of Iranian government.
1. Englund, Steven (October 6, 1995). "Provocateur or Prophet? the French Church & Bishop Gaillot". Commonweal
*** 
Pros and cons of the Prevent strategy (Counter-terrorism Policy)
Massoud Khodabandeh: The Iranian Mojahedin-e Khalq (MEK) and Its Media Strategy:
Methods of Information Manufacture
Also read:
https://iran-interlink.org/wordpress/?p=7331
17,000 Dead Iranians. Who Knows? Who Cares? 
Matthew Hoh, Huffington Post, May 09 2016:… The MeK has been very successful in the United States in paying American politicians and former government officials to represent the MeK. Along with the demonization with which the American government has colored Iran with since 1979, these political efforts by the MeK have succeeded in making many American leaders believe the MeK can be useful to US interests in the Middle East. Whether or not they know …
Council of Foreign Relations, 2014: Mujahadeen-e-Khalq (MEK). Backgrounders
17,000 Dead Iranians. Who Knows? Who Cares?
Last month I had the privilege of answering an interview from an Iranian research agency dedicated to studying acts of terror carried out against the Iranian people. By their count 17,000 Iranians have been killed in acts of terror over the last 3 1/2 decades. Quite an astounding number, isn't it? I have no reason to believe this number is inflated or exaggerated, but, even if the real count is only a tenth of the pronounced figure of 17,000, it would still signify a horrendously systematic attack of political violence on a people that, as elections again this past weekend in Iran have displayed, possess a desire for progress, civility, toleration and modernity.
Just as many of us do not embody in our personal lives, beings and souls the worst aspects of our American government, our wars overseas and our mass incarceration at home, so too are the Iranian people not representative of their government's acts of militarism and repression. I know, I know. Such a trite and cliched thing to say. But then why would so many in the US not know of the thousands killed by terrorism in Iran and why would many Americans say that those dead Iranians and their devastated families deserve it? If not for such a binary and Manichean way of looking at the world, we are good – they are bad, we could understand and communicate with one another better, and then, maybe, as a united and common people we could lead this world to prosperity and health, rather than to war, climate change and poverty.
The interview can be found here and is copied below:
—————————————————— 
Full text of Habilian's interview with Matthew Hoh, Ex-US State Department Official
Sunday, 01 May 2016 09:51 Habilian
…in 2001, al-Qaeda only had about 200 members and the Islamic State did not exist. The United States validated the propaganda and the doctrine of the terrorists with our response to 9/11 and provided many thousands of young men with a rationale for leaving their homes and joining terror groups.
In an exclusive interview with Habilian Association, Iranian Center for Research on Terrorism, Matthew Hoh has answered the questions about the US military interventions in the Middle East following 9/11 attacks in the name of "fighting against terrorism" and its implications for the people of the region, terrorism developments in the Middle East after 2001, America's role in the empowerment of terrorist groups in the region, US imperialism around the world, relationships between the Media and government in the US, and Machiavellian view of American leaders to terrorist groups such as MeK. What comes below is the full text of the Habilian Association's interview with him.
Habilian: At the beginning of the interview, please tell us when you did join the Army? Would you speak about your motives in wearing the Army Uniform?
Hoh: I joined the United States Marine Corps in 1998 for a number of reasons. I was bored with the work I was doing (I was working for publishing company in New York City), I wanted adventure, I wanted to prove myself while serving others, I wanted to be involved in something bigger than I was, and I wanted to take part in history. In short I possessed the motives of many bored and unchallenged young men.
Habilian: Following the attacks of Sept. 11, 2001, George W. Bush delivered a speech at joint session of Congress, in which "War on Terror" was declared. In that speech, Bush raised some questions quoted from American peoples, including who attacked the US and why; and how Americans can punish them. Now, after more than 15 years of American interventions in the region that led to death of more than one million civilians, if you, as an American journalist, have an interview with Bush, what questions will you ask him about the war?
Hoh: The first question I would ask President Bush is why he is not remorseful. Does his desire for a positive view of his legacy preclude his ability to empathize with the millions who have suffered because of these wars? Secondly, I would ask him why can he not be humble and admit his policies were wrong and counter-productive. I would not be asking him to say the terror of 9/11 was not horrific and I am not asking him to compare himself with Osama bin Laden or al-Qaeda, but to simply recognize that the wars he launched and the wars that are still ongoing have made the world worse and not better. Two simple truths: the number of dead in the wars in Afghanistan, Iraq, Syria, Yemen, Pakistan, Somalia, Libya and other places number well past one million since September 12, 2001. Millions more have been wounded and are refugees from their homes. Those who suffer the horribly debilitating psychiatric and moral effects of the wars number in the tens of millions. And none of those wars are close to ending. The second truth is that, according to the American Federal Bureau of Investigation (FBI) and based upon documents found in Afghanistan in 2001 and 2002, al Qaeda only consisted of approximately two hundred members in 2001. Now the organization has thousands of members in countries across the globe. Of course the Islamic State didn't even exist in 2001 and only came into existence because of the United States' invasion of Iraq in 2003. Clearly American policy in the Middle East has failed. I would ask President Bush how he ignores such truths. To be fair, I would ask President Obama the same.
Habilian: In the mentioned speech, George Bush had said that Americans are asking him what is expected of them, then listed his expectations of American people: "to live your lives, and hug your children", "to uphold the values of America", "to continue to support the victims of this tragedy with your contributions" and "continued participation and confidence in the American economy." If we go back to September 20, 2001 and you had an opportunity to speak in Congress and announce your expectations from the government, what would you said?
Hoh: I am not sure if anything anyone said would be listened to. In 2001, we did have people in the United States counseling against acting on fear and anger. In Congress, however, we had only one member, Barbara Lee, from California, who voted against giving the President unlimited authority to carry out war, an authority that President Obama still utilizes nearly 15 years later. Out of 535 members of Congress only one had the wisdom, the intelligence and the courage to say that war was not just the wrong approach to terrorism, but that it would be foolhardy and prove to be counter-productive. Americans at that time were scared and angry. Politicians were scared and angry as well, but, more so, they were eager to capitalize on the public's emotions for their own political advantage and security. So, sadly, I don't think my stating my expectations of my government to follow the dictates of morality, justice and rule of law would have been listened to.
Habilian: On February 14, 2003, George W. Bush released "The United States' strategy for combating terrorism" in which the US administration's objectives in the War on Terror had been listed. The core of that strategy were weakening and isolating terror networks such as Al Qaeda. Regarding the rise of ISIS in Iraq and Syria and its violent ambitions, do you believe that the announced goals of these wars have been achieved? In your opinion, are Al Qaeda typed groups stronger or weaker now?
Hoh: Terror groups are much stronger now than in 2001. The greatest recruitment for al-Qaeda and affiliated groups was not the murders of Americans in the 9/11 attacks, but the invasion of Iraq by the US in 2003, the continued occupation of Afghanistan, torture of prisoners by American guards, and the bombing of Muslim peoples throughout the world by the West. Remember, in 2001, al-Qaeda only had about 200 members and the Islamic State did not exist. The United States validated the propaganda and the doctrine of the terrorists with our response to 9/11 and provided many thousands of young men with a rationale for leaving their homes and joining terror groups. Of course, this is all a consequence of American military and diplomatic involvement in the Middle East since the end of the Second World War. As an American I have to understand that much of what we are seeing now in the Middle East is a consequence of decades of American backed coups, American backed dictatorships, American military interventions, American backed wars, unlimited American support for Israel, American arms sales and the American formation of religiously inspired cadres to fight the Soviet Union in the 1980s, one of which famously became al-Qaeda. However, I do not believe the wisest among us in the United States, of which I must admit I was not a part of in 2001, ever thought our policies would prove to be so disastrous.
Habilian: Why despite the American intelligence agencies' estimation that the ISIS poses no immediate threat to the United States, Obama administration decided to send the country on a military campaign against that group, knowing that such a war may take several years?
Hoh: There are a few different reasons for this. I think there are some in the US government that do believe the United States has an interest in trying to bring about stability to Iraq and Syria and that military means are the only, or the predominant, manner of doing so. I believe those assertions to be wrong, that those assumptions are not based on history or experience, but I do understand them to be sincere.
Unfortunately, there are a number of other reasons why President Obama is intervening militarily in Syria and Iraq. The most important is political. President Obama, and the Democratic Party, is afraid of being viewed as weak. It is that simple. Additionally, it is nearly impossible for an American politician to say he or she is wrong or made a mistake. American politicians would rather see more American soldiers killed, more American families devastated as a result of those losses, and more innocent civilians destroyed than to admit they are wrong. Again, it is just that simple.
There are those who believe that these wars in the Middle East can simply be broken down into terms of good people versus bad people and we, the US, are on the side of the good people. There are philosophical, religious, nationalist, racist, and other reasons for such beliefs, but simple binary thinking, much like the thinking that under lay the assumptions of the Cold War, is prevalent in Washington, DC and throughout America.
There is a lot of money involved in Iraq. American companies have a good deal of interest in the oil fields of northern Iraq and the US government is keen to see those oil fields in Kurdish control, while projected sales of weapons to the Iraqi government range from 15-30 billion dollars over the next one or two decades. Such money has enormous influence in Washington, DC and the fear of the loss of such money would motivate an American President to act militarily.
Finally, the United States has an empire around the world that it must maintain. This is different in appearance or in kind than say the British or Roman Empires of the past, but it is nonetheless an empire. The United States has over 800 military bases around the world, has client states across the globe, many of which are the worst human rights violators in power, depends upon weapons sales as one of the leading aspects of the American export economy, and spends approximately one trillion dollars a year in total in support of this complex. Any threat or challenge to this established system must be confronted. In this established system in Washington, DC, as well as in American universities and corporations, it is seemingly impossible to understand any other option for the world; in fact this world view of the United States being "responsible" for the rest of the world is taken as a praiseworthy virtue and any deviance from this view is considered naïve, ignorant or silly. Combine that with America's cultural and religious view of itself as an "exceptional nation" or as a nation with divine purposes and you can understand why America is so quick to use its military tens of thousands of miles from its borders. It is worth noting only the Western allies of the US act similarly so far from the borders; no other nation behaves this way, with the exception of the recent limited Russian involvement in Syria.
Habilian: Daniel Benjamin, who served as the State Department's top counterterrorism adviser during Mr. Obama's first term, said the public discussion about the ISIS threat has been a "farce." Why the US media are advertising this story?
Hoh: Terrorism scares and angers people, and fear and anger make for good audiences for the US media. The media in the US depends on ratings for advertising revenue (US media is privately funded) and so stories about terrorism get people's attention causing more people to watch, listen or read, which brings in more money for the media.
There are also informal relationships between the media, the US government and politicians that lead all three to work together to support one another. The media needs the support of people in the government and politicians to get the best stories and get the best interviews, while the government and politicians need the media to present the best views of themselves and their policies. It is a mutually supportive relationship between many members of the media, the government and politicians that many in the United States see to be corrupt. That is why the American public has incredibly low opinions of the media, government and politicians in the US (recent opinion polls show that only about 10 percent of the public trusts these institutions).
Finally, there is the ongoing narrative of the United States being a morally correct and righteous nation that is on the side of "good" overseas. I believe the media feels it would cost them their audiences, and so their revenue, if they tried to explain world events, including terrorism and the wars, in a more complex yet accurate manner.
I must say that there are many good media sources in the US, but they tend to be small and independent of the larger corporate media that most Americans depend upon for their news. These men and women are often unfairly characterized as un-American, ideological or overly politically partisan, yet they are often the ones with the journalistic integrity the larger corporate media lacks.
Habilian: To this day MEK terrorists have been carrying out attacks inside of Iran killing political opponents, attacking civilian targets, as well as carrying out the US-Israeli program of targeting and assassinating Iranian scientists. In your opinion, how America's government came to the conclusion that MeK no longer should be in the Terrorist List?
Hoh: The MeK has been very successful in the United States in paying American politicians and former government officials to represent the MeK. Along with the demonization with which the American government has colored Iran with since 1979, these political efforts by the MeK have succeeded in making many American leaders believe the MeK can be useful to US interests in the Middle East. Whether or not they know or care that the MeK has made many, many innocent Iranian people suffer is not something American leaders consider. I am quick to denounce the violent actions of my government, just as many Iranians are quick to denounce the violent actions of the Iranian government. Groups like the MeK and actions like the assassination of Iranian scientists serve only to prolong hostilities between the United States and Iran, hostilities that have gone on for far too long and which only serve the elites who hold power in both countries and which cause both the American and Iranian people to suffer.
*** 
Also read:
https://iran-interlink.org/wordpress/?p=7161
Can Albania Meet its Obligations and De-radicalize an Influx of Terrorists into Europe? 
Massoud & Anne Khodabandeh, Huffington Post, March 02 2016:…It is impossible to ignore the fact that MEK members are radicalized to the core. They are not ordinary refugees. Enough of them have been trained in Iraq by the former Saddam regime for terrorist activities as well as forgery, intelligence, military operations and even torture methods, to make them extremely dangerous. Above all, the nature of the MEK leadership style is cultic. This means the followers … 
What does it mean when we say ISIS operates as a mind control cult?
Can Albania Meet its Obligations and De-radicalize an Influx of Terrorists into Europe?
Co-authored by Anne Khodabandeh
Situated on the east of Europe, Albania applied for membership of the European Union in 2009. As the poorest country in Europe and designated the most corrupt, there is a lot of work to be done before this country of 3 million people is accepted into the Union. A recent visit by US Secretary of State John Kerry does indicate that this work is well underway. But Albania's efforts to reform and strengthen its political, security, judicial and civic institutions after years of dictatorship, could be drastically undermined if the country ignores or underestimates the threat posed by the arrival of the Mojahedin Khalq (MEK) from Iraq.
Albania is the target location for the transfer of the notorious terrorist organization Mojahedin Khalq into Europe. Currently based in Iraq, the MEK is now being transferred to Albania under a deal struck with America in 2013.
Since the 1980s the MEK were paid and trained in terrorism by Saddam Hussein to effect regime change in Iran. After his ouster in 2003 the MEK aligned itself variously with the US army – during Senator Kerry's visit to Albania, the MEK was described as "a group that has supported the US in military operations in the Middle East and in its fight against terrorism" – as well as former Saddamists headed by Ezzat Ibrahim and more recently Al Qaida insurgents and Daesh in Iraq. Each successive government of the newly sovereign Iraq tried repeatedly to evict the group from their country, but the MEK leader Massoud Rajavi – himself a fugitive from justice – ordered his followers to put up violent resistance.
Even if they would agree to go willingly, the United Nations refugee agency has struggled to find third countries to take them in. It seems that, although Western countries have benefitted openly from the MEK's sometimes violent anti-Iran activities, and found the group particularly useful as a thorn in Iran's side through the period of nuclear negotiations, the MEK is deemed too dirty for them to willingly host any of them even as refugees.
In an attempt to encourage other countries to take some of the MEK, former Secretary of State Hillary Clinton persuaded the then Albanian Prime Minister Sali Berisha in 2013 to take just over 200 MEK members on humanitarian grounds. That process got underway, but in 2016 Albania is now expected to take up to 3,000 MEK after the President of Romania, Traian Basescu, refused to take them in 2014.
This agreement has attracted surprisingly little attention from either inside Albania or even from a world media sensitive to terrorism and organized crime. The reason is partly because the transfers are taking place in small groups of around twenty at a time in a piecemeal fashion as the UNHCR is forced to defer to Massoud Rajavi's demands in order to circumvent threats of violence. Rajavi hand-picks the members he allows to be transferred, many using false identities. He ensures that each group of ordinary MEK members is accompanied by minders and enforcers to keep them under control and prevent them breaking loose. In order to accomplish their mandate to remove the MEK from Iraq, UN officials have had to accede to transferring the refugees under such conditions even though it reinforces the concept that the members belong to the MEK in conditions of modern slavery.
Once they arrive in Albania, the MEK leadership takes charge of the transferees. Although the US made a donation of $20 million to the UN refugee agency to help resettle the MEK, and according to a State Department official the US has provided the Albanian government with "security and economic development assistance, to help the country build up its physical capacity to house the refugees", none of this benefits the individual refugees. In Tirana the MEK has purchased an abandoned university campus into which it has corralled the new arrivals and recreated the conditions of isolation and cultic control which have always prevailed for the membership. What started out as a humanitarian gesture has turned into the mass relocation of a terrorist group to Europe. The MEK has created a de facto enclave in Albania which is outside the law, just as they did in Iraq.
This has put the refugees out of the reach of the Albanian authorities and because they are not free to mingle with Albania's citizenry, the influx of over a thousand trained terrorists has cleverly avoided detection and therefore controversy.
However, even though it appears that the MEK are somehow quietly contained, the citizens of Albania are entitled to ask whether the new refugees pose any actual threat to their civic life, to their security and to their ambitions to accede to membership of the European Union.
To answer this, we must ask why the Iraqi government is so desperate to expel them and why other Western countries are so extremely reluctant to accept them.
As a violent criminal organization, the MEK thrives where the rule of law is weak – in countries like Iraq and Albania which are emerging from past turmoil and troubles. In such conditions the MEK can be dangerous through criminal activity and violence.
As expert propagandists and manipulative persuaders, the MEK leaders have no problem making connections with and bribing government officials, power brokers and media types – let's be clear, the MEK has always been well financed. Former MEK have also reported that the MEK leaders are already vigorously pursuing links with Albania's mafia-like gangs. The MEK will work with these gangs for mutual benefit as they did with Saddam Hussein's regime. In the long run, if the MEK organization does become established Albania – with the quiet collusion of political circles who benefit from the cult's track record of terrorism – they will be better placed to do from Tirana what they can't do from Paris.
The CIA characterizes Albanian corruption as a 'transnational' problem involving drugs, money laundering and illegal aliens. In this sense it is the very location of the country which makes it attractive to international criminal organizations and thereby creates huge problems for law enforcement agencies. Albania essentially acts as a gateway into Europe from the rest of the world.
Now, while the various routes to Turkey, Syria and Iraq are under stringent scrutiny, terrorist commanders from any mercenary group can slip beneath the radar and seek training and logistical support in Tirana. What better location to establish a clandestine terrorist training camp than in Albania? It is in Europe, but not in the EU and therefore not so open to scrutiny by the international community.
With the changed political mood following the nuclear deal between Iran and the P5+1, the MEK is looking for new friends and benefactors. The group has already aligned itself with the Syrian Free Army and has offered to help the Saudis fight against the Shias in Yemen. The MEK has over forty years of experience in terrorist activities. The real danger posed by this group is not only that they can re-arm themselves in Albania, but they can invite other groups in for training.
The worry is that the MEK has branched out and is open to do business with any terrorist group.
It is impossible to ignore the fact that MEK members are radicalized to the core. They are not ordinary refugees. Enough of them have been trained in Iraq by the former Saddam regime for terrorist activities as well as forgery, intelligence, military operations and even torture methods, to make them extremely dangerous. Above all, the nature of the MEK leadership style is cultic. This means the followers are not able to resist the orders of the leaders even if they wanted out. So there is a danger they will be used for a variety of criminal activities without their real consent. There are already examples of people trafficked by the MEK from Albania to Western Europe and used for money laundry activities in Germany.
However, the refugees could also be described as extremely vulnerable. Another reason they have not attracted attention is that the MEK can easily be dismissed as a defunct fighting force; the average age of its fighters is sixty years old and many of them are ailing with mental and physical disease after years of punishing training in the Iraqi deserts. But while this is true of the majority, there are still many among them who are expert terrorist recruiters and trainers, people who know how to train others for suicide missions; strangely transferrable skills in today's world of global terrorism.
Not all the members who arrive in Albania do stay with the MEK. There is a growing community of formers – around two hundred to date – who have turned their back on the group and want to return to their families and to normal life. Interestingly, it is from this pool of former members that the US has carefully selected a quota of eighty individuals to be given asylum in America. They have undergone rigorous interviews to ascertain that they have completely rejected the MEK and so no longer pose any danger. Some others have been accepted by other European countries under the same conditions but the rest remain in Albania under conditions of hardship.
With the stakes set very high, Albania's authorities will need to stop this organization from covertly establishing a terrorist base in Europe. The first step would be to remove the MEK members from the source of their radicalization. If this doesn't happen, the problem will simply have been moved instead of being solved.
The authorities in Tirana can ensure that all the newly arrived refugees are treated as individuals, not as belongings of the MEK leader. They should be given protection and helped with accommodation and financial support as people entitled to determine their own future paths. Experience in Iraq has already shown that once these people are physically removed from the coercive atmosphere imposed by the MEK leaders and reinforced by their peers, they very quickly find that their commitment to terrorism evaporates and the de-radicalization process can begin.
De-radicalization is greatly helped when they have contact with their families. There are numerous examples of former MEK who managed to leave the cult and establish new and successful lives. Some now live in various western European countries because they have family there who have been able to help them. Some have returned to Iran – even though Iran doesn't want them back – where they have been granted amnesty and lead normal lives under the supervision of the UN and ICRC. Some others now live in Iraqi Kurdistan and have transferred their family assets there from Iran there so they can set up in business.
Once they are out of the 'pressure-cooker' of the cult their lives can be sorted out through humanitarian organizations. As a Red Cross official told the authors, 'As individuals, three thousand is nothing, we sort out millions every year. But as a group, neither us nor any other organization can deal with or help them.' It is a choice the Albanian government cannot ignore, for to do nothing is to risk everything.
Follow Massoud Khodabandeh on Twitter: www.twitter.com/ma_khodabandeh
(END)
Massoud Khodabandeh: Will President Rouhani meet genuine human rights advocates halfway?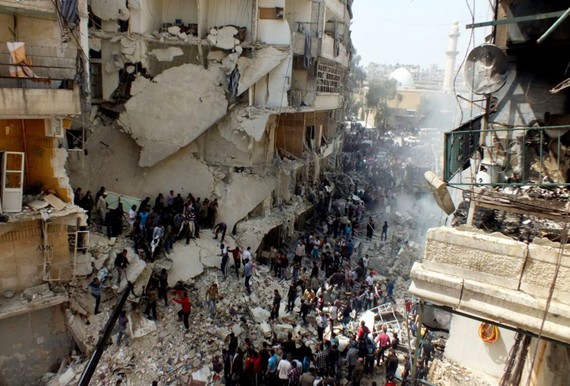 Massoud Khodabandh, Huffington post Nov. 2015:
Syrian Negotiations Won't Provide One Winner But Will Ensure Violence Is Absolute Loser
***
Also read:
Open Letter to Susana Klien and Caroline Haworth of Womankind Worldwide
A number of survivors of Rajavi cult,  August 31 2015:… This summer, your charity floated an engaging invitation on its Facebook page for women to nominate their 'women's rights idol'. Sadly, perhaps inevitably, Womankind was then inundated with nominations and praise for Maryam Rajavi. The effect has been to hijack the page and spoil its intent. The Mojahedin are …
Family Survival Trust, May 24 2015:…Anne Khodabandeh, representative of The Family Survival Trust, was in a unique position to brief M. Blisko and the audience about this issue. She explained that it is possible to construct a model for describing and analysing the use of cultic abuse by terrorist entities without mentioning religion. Anne then went on to describe …
Anne Khodabandeh (Singleton), Iran Interlink, April 14 2015:… It will come as some surprise to you therefore, that a group of Iranian war-mongering regime change proponents, the terrorist Mojahedin Khalq (MEK), claim to have your support. In an astounding act of hubris, the MEK has not only appropriated your good name and …
Iran Interlink, February 04 2015:… A review authored by Massoud and Anne Khodabandeh has been published in Asian Politics and Policy, Media Reviews. The article titled 'The Iranian Mojahedin-e Khalq (MEK) and Its Media Strategy: Methods of Information Manufacture' looks at the MEK's historical manipulation of various media over thirty years …
Anne Khodabandeh (Singleton), Iran Interlink, January 14 2015:…  Whether delusional or corrupt, this gang – listed below and now posing as the International Committee in Search of Justice (ISJ) – says the residents of Camp Liberty should have their "personal protection weapons returned to them for self-defence following serious threats and attacks [sic] as the …