Albanians choke on Mojahedin Khalq (MEK), Al Qaida, Chemicals dumped by America
Arbana Vidishiqi and Antoine Blua, Radio Free Europe, November 14 2013: … Likmeta notes that Albania agreed to take in 11 former Guantanamo Bay prisoners and 210 members of an Iranian opposition group, the Mujahedin-e Khalq Organization (MKO). It also supported Washington in its military campaigns in Afghanistan and Iraq. The Organization for the Prohibition of …

Link to the full description of MKO Logo (pdf file)

(Izzat Ebrahim and Massoud Rajavi still at large)

'We Are Not A Dustbin': Albanians Balk At Reported Chemical Weapons Plan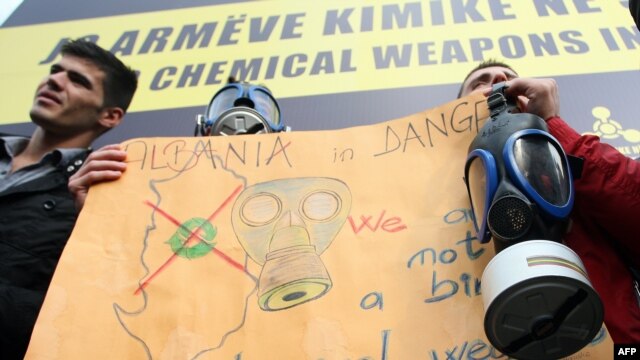 Environmental activists protest against the proposed chemical weapons plan outside a government building in Tirana on November 13.
Albania has done the United States a lot of favors in recent years.
It has agreed to take in freed Guantanamo Bay prisoners and contributed to the U.S. military campaigns in Iraq and Afghanistan with little protest from society.
But with reports now surfacing that Syria's chemical weapons may be dismantled in their country, Albanians' generosity appears to have reached its limit.
Hundreds of protesters took to the streets in the capital, Tirana, on November 12, the second rally in less than a week.
Chanting "No To Chemical Weapons," the demonstrators gathered in front of parliament before marching to the U.S. Embassy.
Sazan Guri of the Alliance Against Waste Imports, which organized the protest, stressed that Albanians remain very pro-American and that the demonstration was not against the United States. The goal, instead, was to spread the message that Albania should not be a "dustbin."
"We are against the weapons and not against America. America is our big brother, always in cooperation with this nation and this country," Guri said.
During the 20th century, there has been strong pro-U.S. sentiment in Albania, in particular in recent years after the U.S. intervention in the Kosovo war in the late 1990s and its commitment to Kosovo's statehood.
Popular Opposition
After years of importing hazardous waste from its richer neighbors, the government of Prime Minister Edi Rama banned waste imports in October, weeks after coming to power. The ban followed a two-year grassroots campaign from environmentalists. Earlier this month, Albania's parliament passed legislation allowing for the import of some nonhazardous waste.
Besar Likmeta, a Tirana-based editor for the Balkan Investigative Reporting Network, says there is opposition to taking in Syria's chemical weapons from "all strata of society."
"People are worried for their safety. There isn't much information that is coming out of the government. Also there is this feeling that pro-Americanism has been taken for granted and we're kind of saying yes to everything that is being put on our table," Likmeta says.
Likmeta notes that Albania agreed to take in 11 former Guantanamo Bay prisoners and 210 members of an Iranian opposition group, the Mujahedin-e Khalq Organization (MKO). It also supported Washington in its military campaigns in Afghanistan and Iraq.
The Organization for the Prohibition of Chemical Weapons (OPCW) confirmed in October that Syria had destroyed all its declared equipment for the production of chemical weapons ahead of a November 1 deadline.
That represented the first step toward eliminating Syria's arsenal by mid-2014 under a September United Nations Security Council resolution. But how that will be achieved has still not been determined.
After media reports surfaced that the United States had asked Albania to destroy the weapons on its soil, Prime Minister Rama confirmed on November 12 that he had indeed discussed the issue with U.S. Secretary of State John Kerry.
Rama stressed, however, that no final decision had been made.
A decision, however, could come as early as November 15, when the OPCW, the global chemical weapons watchdog, was due to discuss plans on eliminating Damascus's arsenal.
The U.S. Embassy in Tirana declined comment on the reports.
But during a visit to the northern city of Shkoder last week, the U.S. ambassador to Tirana, Alexander Arvizu, said NATO-member Albania and "all the responsible international partners" must look for ways to contribute to disposing of Syria's chemical weapons.
"It's incumbent upon all responsible nations, certainly including the United States and Albania in that group, to find timely and effective ways to eliminate the menace that is posed by Syria's chemical-weapons program," Arvizu said.
Albania has recent experience in eliminating chemical weapons. With U.S. technical and financial assistance, Tirana destroyed its own 16-ton arsenal in 2007.
Albania's geographical position on the Adriatic Sea would allow the transportation of the Syrian stockpiles by sea or by air without transiting another country.
Safety Concerns
But there are also concerns about safety.
Much of the hazardous waste from Albania's own destroyed arsenal remains stored in containers at an army base near Tirana.
Likmeta recently visited that facility and was disturbed by what he saw.
"There was nobody to be seen, guarding these 25 containers of chemical waste and hazardous waste which remain from Albania's stockpiles. I was standing and shouting for somebody to hear it, to meet somebody there at the gate of the base, but there was no one to answer," Likmeta said.
Moreover, an attempt to dispose of Albania's conventional weapons took a tragic turn in 2008, when 26 people were killed and more than 300 wounded in an explosion at a former army barracks outside Tirana where old artillery shells were being dismantled.
Parliamentary speaker Ilir Meta also raised questions about Tirana's ability to dismantle the weapons in a television interview on November 7, saying, "Even other, much bigger and more developed countries do not accept it."
Norway has already rejected the idea of dismantling Syria's arsenal on its soil. Denmark and Sweden say they are prepared to help transport the weapons but not dismantle them.
France and Belgium have also been mentioned in press reports as possible sites for the dismantling of Syrian chemical weapons.
Ian Anthony, the director of the Arms Control and Nonproliferation Program at the Stockholm International Peace Research Institute, says that "both safety and security issues would have to be examined in the specific context of what it is that Albania was being asked to do. If the task that was given and that Albania agrees to accept was broadly comparable to what they've already done, then they have the experience and they have the facilities."
"If they're asked to do something which is of larger scale and a more complicated process, then I think there would be risks unless Albania receives significant assistance from outside parties," Anthony says.
Likewise, Alastair Hay, professor of environmental toxicology at University of Leeds, says Albania won't be asked to do something that the OPCW doesn't think it is capable of doing.
RFE/RL's Balkan Service contributed to this report
Also read:
https://iran-interlink.org/wordpress/?p=3557
Diary Of An MKO Rent-A-Crowd Demonstrator (Mojahedin Khalq, MEK, Rajavi cult)
Radio Free Europe, June 27 2013: … Enough. I had to find the exit door. Near the exit doors, where organizers were distributing salmon sandwiches and kebabs, I heard a few people speaking Kyrgyz, my mother tongue. They were three students who traveled from Germany. 9:28 p.m.: I spent the rest of the day sightseeing in Paris before returning to our bus. JUNE 24: 11:57 a.m.: We arrived back …

Daniel Zucker, Maryam Rajavi and ALi Safavi

Kyrgyz student Alina Alymkulova recounts how she was recruited to travel from Prague to Paris to attend a rally for the Mujahedin-e Khalq Organization (MKO), an Iranian opposition movement in exile.
The MKO and its Paris-based political wing, the National Council of Resistance in Iran, are often at the center of controversy. The MKO, which advocates regime change in Iran, was only recently delisted as a terrorist organization by the United States and the European Union.
The National Council of Resistance in Iran and its president-elect, Maryam Rajavi, are known for organizing mass rallies that attract Iranian exiles and VIP supporters from around the world. But as Alymkulova's diary makes clear, some of the tens of thousands of supporters who attended the June 22 rally in Paris might have been motivated by more than their wish for a free Iran.
JUNE 20
9 p.m.: I was in Prague listening to music online and checking news on social media when an advertisement caught my eye. It offered a weekend trip to Paris, a city I always dreamed of visiting at least once during my lifetime.
The price was amazingly cheap — round-trip by bus and bed and breakfast at a four-star hotel would cost me only 35 euros ($46).
I wrote to the trip organizer and discovered there was a catch, but it didn't bother me. The organizer explained that I would have to take part in a rally in Paris for a few hours. He promised the protest would be peaceful and violence-free, and that I would return home safe and sound.
JUNE 21
9 p.m.: I arrived at a bus station in Prague along with a friend, a fellow student from Kyrgyzstan. Just as the trip organizer said last night, there were eight buses waiting to take us to Paris.
Most of the "protesters" were young and obviously students like me. I met many Russians, Ukrainians, Czechs, and students from Asian countries who were all recruited via the Internet.
More than an hour later we were still at the bus station. People kept coming. It was cold and rainy, and some people began to drink alcohol to keep warm. Some others started to chant slogans: "Freedom to Iranian parrots!" and "Organizers should bring beer!"
I approached two Russian girls to see if they might have a better idea about the purpose of our trip. "To defend the rights of Iranian women," said one of the girls. "To meet handsome Frenchmen," said the other. "Who cares about Iranian women?"
11:12 p.m.: Finally, the trip organizers arrived and let us on the buses. The journey had begun.
JUNE 22
11:56 a.m.: After a lengthy bus journey and a sleepless night, we arrived in Paris. The organizers told us we had the whole day to see the city.
I met a student who traveled from Germany to take part in the same rally. But he was sure we were going to attend a rally in support of changes in Iraq, not Iran.
JUNE 23
12:52 a.m.: The hotel was about 60 kilometers outside Paris. We were promised a night in a four-star hotel, but I wouldn't even give one star to the shabby place the organizers brought us to. "Well, what else would you expect for a 35 euro, all-inclusive trip to Paris?" someone said as we stood in line to use the toilet.
11:42 a.m.: I overslept and missed my breakfast. Those who woke up early said the breakfast consisted of milk and a sandwich.
1:16 p.m.: The buses took us to some strange place not far from Charles de Gaulle Airport. We were given papers explaining where to go and what to do. Cameras were not allowed. As we exited the bus, I resigned myself to the idea that running away was not an option — people were guarding the area.
There were yellow-and-purple flags hanging everywhere. The name "Maryam Rajavi" was written on the flags. Well, at least I knew the name of the person behind this massive event.
The endless sight of buses from many different countries was somewhat alarming. Security guards checked us as we entered a building. They stopped me because I had kept my camera inside my backpack despite the organizers' warning. Amazingly, the guards let me take my camera in after I paid them a couple of euros. Within seconds I was inside the building.
2:23 p.m.: There were at least 10,000 people inside. Strange music was playing. All the participants were given coupons for a free drink and sandwich. We ate and drank and then joined the rally being held in what appeared to be a huge stadium.
There were headphones on each seat, apparently so we could listen to direct translations of the speeches. I suddenly realized that there was a woman standing next to me. She was covered head-to-toe and kept saying, "Allahu Akbar."
Enough. I had to find the exit door.
Near the exit doors, where organizers were distributing salmon sandwiches and kebabs, I heard a few people speaking Kyrgyz, my mother tongue. They were three students who traveled from Germany.
9:28 p.m.: I spent the rest of the day sightseeing in Paris before returning to our bus.
JUNE 24
11:57 a.m.: We arrived back in Prague. I was feeling down, and even the souvenirs I bought in Paris could not cheer me up. In thinking about the whole experience, a saying comes to mind: "Only a mousetrap has free cheese."
Translated from Russian by Farangis Najibullah
Also read:
Mojahedin Khalq (MKO, MEK, Rajavi cult) in Paris for talks
Alexander Turnbull/Christopher Moore, Fracne 24, June 23 2013: … During the 1970s, the Mujahideen led the fight against Iran's shah but swiftly turned against the religious rulers who replaced him. A bloody struggle ensued, followed by decades in exile. In 1986, Massoud set up the National Liberation army in Iraq. Money and weapons flooded in to support then-Iraqi president Saddam Hussein's …
Mojahedin Khalq (MKO, MEK, Rajavi cult), June 20, anniversary of collapse of a dream
Mazda Parsi, Nejat Association, June 22 2013: … June signifies another dishonorable date in MKO's history too. Following the arrest of Maryam Rajavi by French Police in her base in the Parisian suburb Auver Sur d'Oise MKO leaders made members commit suicide as an act of complaint. Some members of the group set themselves on fire in European cities. Their act resulted in several …
Iran's election a setback for Washington's anti-Iran lobby as Mojahedin Khalq goes into a tailspin
Massoud Khodabandeh, Middle East Strategy Consultants, June 22 2013: … And Rajavi is ready. Or is he? There is a lot happening behind the scenes that belies the group's boasts and declarations. Behind the scenes at the lobbying office the disintegration of the MEK is gaining momentum and is likely to implode the group in the near future leaving a mere shell. Opening a lobbying office should be seen as …


Wondering at those Americans who stand under the flag of
Mojahedin Khalq (MKO, MEK, NCRI, Rajavi cult) only to
LOBBY for the murderers of their servicemen