Canadian Politicians and MEK , Iranian Mojahedin-e-Khalq in Albania
Shenaz Kermalli, Canada's National Observer, August 10 2019:… More recently, investigative reports published by The Intercept, British broadcaster Channel 4 and Al Jazeera English have depicted MEK "troll farms" where members create thousands of inauthentic accounts on a daily basis and promote hashtags and tweets, targeting anyone that favours diplomacy with Iran. Human Rights Watch has reported that MEK leaders force people to issue false confessions. Canadian Politicians and MEK , Iranian Mojahedin-e-Khalq in Albania 
MEK Terrorists Open New Front In Canada
Canadian Politicians and MEK , Iranian Mojahedin-e-Khalq in Albania
We asked Canadian politicians why they engaged with a 'cult'-like group from Iran
Clockwise from top left: Stephen Harper addresses a MEK-linked event; Conservative MP Michael Cooper; former public prosecutor and MP David Kilgour; Conservative Senator Linda Frum and former Liberal attorney-general Irwin Cotler
It looked like a scene from The Handmaid's Tale. Two glittering flags projected on jumbo screens behind a well-known politician as he addressed a massive gathering, flanked by woman dressed in identical red headscarves and black-and-white overcoats.
But this was no Republic of Gilead: it was rural Albania, the flags were Canadian, and the politician — former prime minister Stephen Harper — was addressing Iranian men and women, alongside dignitaries from at least 10 different countries.
"I am delighted to be here because there are few causes in this world today more important at this moment than what you are pursuing — the right of the people of Iran to change their government, and their right to do it through freedom and the power of the ballot box," Harper declared to loud applause last month.
Harper was speaking at an event hosted by the National Council of Resistance of Iran, which the U.S. government-funded think tank RAND Corporation describes as "exclusively controlled" by the Mojahedin-e-Khalq (MEK).
The Iranian regime terrorizes its own citizens and poses a serious threat to global peace and security. Today in Albania I was proud to again join the #NCRI in standing up for a peaceful, non-nuclear future for Iran & freedom & democracy for its long suffering people. #FreeIran pic.twitter.com/0skdssuGVB

— Stephen Harper (@stephenharper) July 13, 2019
Peculiar as it may have appeared to Canadian viewers, the setting was not an unfamiliar one to many Canadian political figures. For almost a decade now, Liberal and Conservative Parliamentarians have attended gatherings or spoken, as Harper did, at events linked to the MEK.
Stephen Harper Paid by MEK Terrorist Cult Performed in Albania
The Iranian opposition group aims to replace Iran's theocracy with a secular, democratic and Western-facing government. It was previously listed as a terrorist entity in Canada, before Harper's government dropped the group from the list in 2012, after the United States and the European Union did so. It has long renounced political violence.
The MEK now works closely with powerful hardliners in the White House, including U.S. National Security Advisor John Bolton. But the MEK has also been described in other terms.
RAND, for example described the MEK in 2009 as possessing "many of the typical characteristics of a cult." Such characteristics, it wrote, include "authoritarian control, confiscation of assets, sexual control (including mandatory divorce and celibacy), emotional isolation, forced labor, sleep deprivation, physical abuse, and limited exit options."
More recently, investigative reports published by The Intercept, British broadcaster Channel 4 and Al Jazeera English have depicted MEK "troll farms" where members create thousands of inauthentic accounts on a daily basis and promote hashtags and tweets, targeting anyone that favours diplomacy with Iran. Human Rights Watch has reported that MEK leaders force people to issue false confessions.
In 2006, the National Post published an extensive report about a Canadian family that got wrapped up in the group. And in 2003, Neda Hassani, a 26-year-old Carleton University student, became a martyr for the MEK when she set herself on fire in front of the French embassy in London to protest the arrest of its leader by police in France.
'They help create the illusion of legitimacy'
Video and documents available online show several current parliamentarians have attended MEK functions or given speeches, including Conservative Senator Linda Frum, Conservative MP Michael Cooper, Conservative MP Candice Bergen, Liberal MP Judy Sgro and Liberal MP Michael Levitt.
As well, along with Harper, other former politicians have interacted with the MEK in recent years, including Harper's former foreign affairs minister John Baird, former Conservative MP Paul Forseth, former Liberal minister of justice and attorney-general Irwin Cotler and David Kilgour, a former public prosecutor and MP.
The fact that current and former Canadian politicians attend MEK events is deeply problematic, argues Stephanie Carvin, who worked as a national security analyst with the government of Canada at the time the MEK was a listed terrorist entity.
Politicians attending MEK events "help create the illusion of legitimacy," said Carvin, who is now an assistant professor of international relations at Carleton University. "It also creates the perception of influence."
National Observer sought comment from the Canadian political figures that have directly engaged with the MEK in recent years. Of those contacted, Frum, Cooper, Cotler's policy director and Kilgour responded.
Emails sent to the Liberal and Conservative caucuses, asking whether they were comfortable with MPs attending MEK events, were not answered.
Sylvain Leclerc, a media relations spokesperson for Global Affairs Canada said: "Canada closely follows political activity related to Iran. Canada supports free, inclusive and peaceful political activity and strongly condemns violence in all its forms."
Shahram Golestaneh, high ranking member of Mojahedin Khalq terrorist Organisation in your buildings. (Canadian Senate)
Shahram Golestaneh, an Iranian-Canadian activist who has been described as "the leader" of the MEK in Canada, initially agreed to an interview via email on July 15, but then subsequently did not respond to questions on July 16.
Those questions pertained to his role in the MEK or its affiliated groups, Canadian Friends of a Democratic Iran or the Iran Democratic Association, which lists an Ottawa address and whose homepage espouses MEK literature and videos, as well as what its objectives are and which Canadian politicians it has had success lobbying.
Follow-up queries to Golestaneh on July 22 and August 1 also did not receive responses. On July 23 and July 31, further attempts to contact several other spokespeople for the organization through their website and social media accounts were left unanswered.
'Engaging is not endorsing'
In 2017, Frum and Cotler were photographed together at an event organized by the Canadian Friends of a Democratic Iran. Frum and Cotler have categorically denied any affiliation with or support of the MEK.
Bolton's Plans For A False Flag Op Involving MEK Are Already Underway
At the event, Frum delivered a speech, published on her website, in which she appears to call Golestaneh (spelled Goledani in the online version) and other travelling delegations "true heroes."
When contacted by National Observer, Frum wrote in an emailed response, "I am not affiliated with any lobby group. I believe it's important to remain independent."
"I have never attended events in support of the MEK," she added. "Do I support Iranian regime change? Yes. Do I support or endorse the MEK or any other specific opposition party or group? No…I have never expressed support for anything other than freedom and human rights in Iran."
When asked to explain the photographic evidence and her endorsement of Golestaneh, Frum said: "The event you are questioning was not in support of the MEK."
In a separate email, she wrote, "Are you a journalist or an Iranian regime activist? Based on your line of questioning, your unwillingness to take repeated clarifications at face value, I presume it is the regime that is shaping your views."
On Twitter, Frum has interacted with @heshmatalavi, the account for a purported journalist by the name of "Heshmat Alavi" who has published scores of opinion articles on Iran. A report by The Intercept last month discovered "Alavi" was in fact a fake persona managed by a trio of MEK members.
When asked why she followed MEK-identified accounts, and for comment on the Intercept's findings, Frum responded: "'Engaging' on social media is not the same as endorsing."
A 'high-calibre' delegation
In a video posted by an MEK-affiliated Twitter account last year, Michael Cooper, the Conservative justice critic and MP for St. Albert—Edmonton, is shown expressing his solidarity with the people of Iran who "every day risk their lives to stand up for freedom, democracy, the rule of law and to see an end to the brutal theocratic regime."
In a phone interview, Cooper said he last attended MEK's summer rally in 2016 and that he hasn't been able to go again for scheduling reasons. He is drawn to attending their events, he said, because Iran is "the biggest exporter of terrorism and the greatest destabilizing force in the Middle East."
"What's been interesting in the last year or so is that the demonstrations (2017-18 street protests) have been taking place all over the country in areas that were once believed to be regime strongholds…it's encouraging to see."
Several MEK defectors based in Albania, Canada and Belgium told National Observer the MEK's internet unit was active during these public protests over inflation, unemployment and inequality.
When asked what he thought about MEK's "cult"-like practices, Cooper said: "they are one movement among many others that seek an end to the Iranian regime."
"What you'll find is that their Paris rally is a high-calibre delegation of world leaders, including Howard Dean," he said. Dean is the former chair of the U.S. Democratic National Committee. "I support their efforts along with all efforts on the part of Iranian dissidents to see the end of the regime."
… 
Remember.Mojahedin Khalq (MKO, MEK, Rajavi cult) was one of the excuses of US attacking Iraq
A 'message of peace and justice'
Cotler is the founder and chair of the Raoul Wallenberg Centre for Human Rights in Montreal, an emeritus professor of law at McGill University and a human rights lawyer.
Photos and video show Cotler appearing at events for Canadian Friends of a Democratic Iran andthe National Council of Resistance of Iran.
Cotler's policy director, Brandon Silver, said Cotler has not offered support or endorsement to the MEK, and "appearing or speaking at a venue would not imply endorsement of the host, it is the content and nature of this engagement that would be relevant."
"Indeed, Professor Cotler has in the past indicated to me that he would not have a problem speaking at an event run by the Iranian authorities, as long as it was an opportunity that allowed him to speak on behalf of those unjustly imprisoned, tortured, and murdered, and to share his message of peace and justice for the people and publics of Iran," he added.
Members of the Canadian Parliamentary Subcommittee on International Human Rights invite witnesses to highlight the domestic repression and rights abuses perpetrated by Iran's government. In 2014, MEK leader Maryam Rajavi was invited to testify in Ottawa.
Cotler has co-sponsored Iran Accountability Week since its inception in 2012, but denies personally endorsing any of the invited witnesses.
'Resilient' freedom fighters
Of all former MPs who have engaged with the MEK in recent years, David Kilgour appears to be among the most directly involved. A retired MP and former lawyer, Kilgour currently sits as co-chair of Canadian Friends of a Democratic Iran, which he said has "no membership or budget."
"We do support Mrs. Rajavi," Kilgour told National Observer. "I've read about her, met her, talked to her…everything she stands for in her 10-point plan — no nuclear weapons for Iran, equality for men and women, democracy — all these things presumably you and I and everyone else from the democratic world stand for."
When asked for comment on recent media reports that detail its cultish practices, Kilgour said he had seen no evidence of authoritarian control or forced labour during recent escorted political delegation visits to an MEK compound, Camp Ashraf in Iraq.
"I was a public prosecutor for 10 years and I hope no one's more opposed to the sort of thing you're talking about than I am," he said.
In notes he prepared and published online for an MEK international broadcast held at Sandy Hill Community Centre in Ottawa last December, Kilgour quotes heavily from Struan Stevenson, a former Scottish member of the European Parliament. "I believe Struan Stevenson is a completely honest man who tries to write only what he knows and believes to be true," he said.
Stevenson's account relates how the new compound has been constructed by "hard-working and resilient freedom fighters" into "a small city, with shops, clinics, sports facilities, kitchens, bakeries, dormitory blocks, meeting halls, offices and studios. He said the MEK men and women are free to come and go as they please and journalists, politicians, lawyers and trades people visit frequently.
Kilgour suggested National Observer speak to his co-chair, Golestaneh, who he described as "the leader" of MEK in Canada.
'Zero support' inside Iran
Thomas Juneau, a former analyst for the Department of Defence who now teaches international affairs at the University of Ottawa, strongly refutes Kilgour's account of the MEK.
It is "absolutely nonsense. And in most cases they (politicians who support or engage with it) know that is completely factually incorrect…it has zero support inside Iran," he said.
The MEK being a "cult" is a fact that is uniformly accepted among non-partisan observers who have no skin in the game, he argued.
"It is a brutal, thuggish, corrupt group that is led in a completely dictatorial way by its leader," he said.
"Supporting MEK as a democratic opposition doesn't make sense when it's not a democratic movement," added Juneau, stating that he doesn't see it being a serious player if the Islamic Republic of Iran ever falls. "Supporting it is not only pointless, but seriously counter productive."
Canada-Iran relations are currently at loggerheads. The previous Conservative government under Harper cut diplomatic relations with Iran, shut its embassy in Tehran and kicked out Iranian diplomats from Canada.
The current Liberal government campaigned in 2015 on re-establishing diplomatic relations but has been unable to do so.
Stéphane Shank, a media relations manager from the Privy Council Office, said the government has taken "the necessary steps to understand the possible threats to our democratic institutions, where they come from, and how they could affect our electoral processes."
"Canada's foreign policy is developed independently, grounded in an evidence-based approach, and above all, is centred on reflecting and advancing Canadian interests and values."
It is not known whether any Canadian politicians are paid — outside of travel expenses — to attend MEK-affiliated conferences overseas, although many defectors who spoke to National Observerclaimed they almost certainly are.
"They are masterminds of manipulation," says Reza Sadeghi, a defector who used to work in the MEK's fundraising section from Canada 30 years ago.
"Maryam Rajavi always talked about how many millions in dollars they paid to politicians to support us. Many gifts consisted of gold or Persian carpets, but it was mostly cash."
End
Canadian Politicians and MEK , Iranian Mojahedin-e-Khalq in Albania
***
Also read:
https://iran-interlink.org/wordpress/why-canada-is-getting-it-wrong-on-iran/
Saeed Kamali Dehghan, Guardian, May 17 2014: … The MEK appearance at the programme reportedly made the UN special rapporteur for human rights in Iran, Ahmed Shaheed, to withdraw from the event, the Nation's Ali Gharib reported on Wednesday. To much criticism by the Iranian authorities, Shaheed has extensively reported on the violations of rights in Iran …
Controversial Iranian Exile Shakes up Canadian Parliament's Human Rights Program (Mojahedin Khalq, MEK, NCRI, Rajavi cult)
Why Canada is getting it wrong on Iran
As west moves towards reconciliation with Tehran, Ottawa is making a big mistake by pursuing a wrong policy which isolates Iran and hurts its people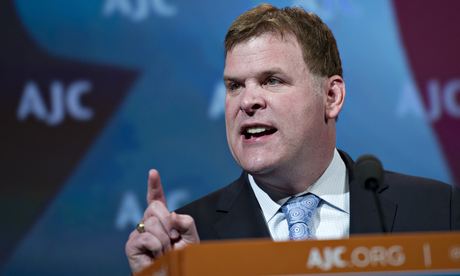 Canada's foreign affairs minister, John Baird, addressing
the American Jewish Committee (AJC) in Washington
Photograph: Cliff Owen/AP
Ever since Canada broke off diplomatic relations with Tehran, Ottawa has toughtened its stance on Iran, taking a similar approach to that of Israel.
As the west seizes upon the opportunity to engage with the moderate president, Hassan Rouhani, Canada just seems to be going in the opposite direction, ignoring not only calls for dialogue by the international community but also from the very Iranian dissident voices Ottawa claims to be defending. Instead, Canada is siding with radicals – dodgy exiled groups and rightwing Israelis – and moving away from the realities on the ground.
In 2012, Canada's foreign affairs minister, John Baird, described Iran as "the most significant threat to global peace and security in the world today" as it announced a unilateral decision to shut down his country's embassy in Tehran and expel Iranian diplomats from the Canadian soil.
Within a year, as Rouhani travelled to New York to revamp Iran's relations with the west backed by strong popular support at home, Baird warned "kind words, a smile and a charm offensive are not a substitute for real action."
Later, as Iran and six world powers including Britain and the US, reached a historic nuclear agreement in Geneva, trying to defuse the threats of yet another war in the Middle East, Canada injected deep scepticism.
Canada's big excuse is human rights. Of course, Iran's appalling human rights record, including the high rate of executions and arbitrary arrests of political activists, remains a big concern.
But Ottawa's policy of isolating Tehran, at the time Rouhani is under pressure from internal hawks and fudamentalists, is doing a disservice both to the future of peace in the world and the wellbeing of Iranians themselves. By rejecting engagement with Iran, Canada is also turning a blind eye to repeated calls by leading Iranian opposition figures, for the unique opportunity created because of Rouhani's election.
This week's Iran human rights event at Canada's parliament embodied what is wrong with Ottawa's approach. A key speaker at a programme studying violations of human rights in Iran was Maryam Rajavi, the leader of the radical exiled group MEK, which was listed as terrorist organisation by the US and the UK until recently. The MEK, charactrised by many observers as a cult-like group, has been repeatedly slammed by the United Nation because of mistreating its own members.
The MEK appearance at the programme reportedly made the UN special rapporteur for human rights in Iran, Ahmed Shaheed, to withdraw from the event, the Nation's Ali Gharib reported on Wednesday. To much criticism by the Iranian authorities, Shaheed has extensively reported on the violations of rights in Iran, including mistreatment of prisoners, some of whom are in fact in jail in Iran for having links to the MEK.
"If you want to improve human rights in Iran, don't invite MEK leader, a group accused of serious human rights violations, as a speaker," tweeted Golnaz Esfandiari, who blogs on Iran. The MEK remains extremely unpopular in Iran because of its support for the former Iraqi leader, Saddam Hussein, during the eight-year war between Iran and Iraq. MEK fought against their countrymen at the time.
Earlier this month, Lobelog's Eldar Mamedov detailed how the MEK is using human rights as its casus belli to mix up the complexities of politics inside Iran for an outsider eye and derail the process of Iran-west rapproachment. It looks as Canada is repeating a mistake the US and some European countries did decades ago by relying on radical groups such as MEK, or some Iranian monarchists, to keep itself updated about the complicated bigger picture of today's Iran.
Moreover, Canada often berates Iran in the excuse of defending human rights activists and opposition figures who have been imprisoned in Iran. But when the very same people, including 50 prominent political prisoners, reached to US president Barack Obama asking him to end "crippling" economic sanctions hurting ordinary people in Iran and seize "the last chance" for dialogue with Tehran under Rouhani, Canada seemed to have sealed its ears.
Instead, it should listen to more reasonable voices, such as it own former ambassador to Tehran, John Mundy,who has stated it was wrong for Ottawa to cut diplomatic ties.
Let's be clear, no one is denying the gross abuses of human rights in Iran or the challenges ahead in finding a permanent nuclear settlement with the Islamic republic. But human rights in Iran can only be improved by the ways of dialogue and engagement. This is why the recent visit to Iran by the EU's foreign policy chief, Catherine Ashton, who visited a number of leading women rights' activists, was more effective than Canada's many human rights statements.
Canada has had a very frosty relations with Iran since the 1979 Islamic revolution. It became more restrained in 2003 when an Iranian-Canadian photographer, Zahra Kazemi, died while in jail in Iran under torture because of a skull fracture. But if Ottawa is genuine about the wellbeing of Iranian citizens, including those persecuted in the country, it should reconsider its Iran policy. But for now, Canada is just getting it wrong on Iran.
• Follow Saeed Kamali Dehghan on Twitter: @SaeedKD
*** 
Also read:
 2019/07/04
Habilian Association, Tehran, July 04 2019:… For decades, and based on U.S. intelligence, the United States government has blamed the MEK for killing three U.S. Army colonels and three U.S. contractors, bombing the facilities of numerous U.S. companies and killing innocent Iranians. Multiple administrations have rejected efforts by the MEK and its surrogates to claim that any bad acts were… Canadian Politicians and MEK , Iranian Mojahedin-e-Khalq in Albania
---
 2019/07/02
Assal Rad, Lobe Log, July 02 2019:… The MEK also utilizes promoted content on news sites. For instance, The Hill is running a 10-week mini-series on Iran sponsored by the Organization of Iranian-American Communities (OIAC), a front group for the MEK. Even more unsettling is the MEK's creation of fake personas that publish in major U.S. outlets as a way to promote the pro-regime change… Canadian Politicians and MEK , Iranian Mojahedin-e-Khalq in Albania
---
 2019/07/01
Brett Wilkins, Common Dreams, July 01 2019:… Chief among these was the People's Mujahedin of Iran (MEK), a State Department-designated terrorist group that had previously assassinated six US officials when it was fighting the Shah's regime. Despite this, the US military secretly trained MEK fighters while the terror group paid leading US officials to lobby for its cause. USA Uses MEK Terrorist Against… Canadian Politicians and MEK , Iranian Mojahedin-e-Khalq in Albania
---
 2019/06/30
Press TV, June 30 2019:… A US and Saudi Arabia-backed anti-Iran terrorist group, which is responsible for the murder of thousands of innocent Iranian civilians and officials, has announced a plan to assassinate a senior Iranian military commander and the country's new Judiciary chief. Mujahedin-e Khalq Organization (MKO) informed its members about the plan through a recent internal communiqué. MKO… Canadian Politicians and MEK , Iranian Mojahedin-e-Khalq in Albania
---
 2019/06/30
Soraya Sepehrpour Ultich, American Herald Tribune, June 30 2019:… What is even more mind-boggling is the fact that Israel was supporting a terrorist cult that had massacred the Kurds in Iraq in 1991, and only a few year later, the Israelis were training the Kurds in Iraq who has survived the massacre (obviously something that has been lost on the… Canadian Politicians and MEK , Iranian Mojahedin-e-Khalq in Albania
---
 2019/06/29
Iran Interlink, June 29 2019:… Well, forget regime change in Iran, forget Trump losing his mind in America, Maryam Rajavi has lost her mind and gone berserk against Sweden over this. The MEK have gone full rant against the Swedish people. How dare they side with Iran. An audio of a phone conversation between two MEK members leaked to Iran… Canadian Politicians and MEK , Iranian Mojahedin-e-Khalq in Albania
---
 2019/06/29
The Economic Times and The Telegraph, New Delhi, June 29 2019:… Iran also claimed it was a victim of terrorism — and had lost 17,000 citizens to acts of terror committed by the "US-supported terrorist group (MKO/PMOI)" and by being at the "forefront of fighting groups such as (the) ISIS". The mission's statement further accused the US administration of jeopardising… Canadian Politicians and MEK , Iranian Mojahedin-e-Khalq in Albania
---
 2019/06/27
WIONews, June 27 2019:… "Iran as a victim of terrorism which has lost 17,000 of its citizens by US-supported terrorist group (MKO/PMOI) and being in the forefront of fighting these groups such as ISIS, has identified its regional interests with good-neighborliness, and peace and stability in the highly sensitive Persian Gulf region," the statement added. "Iran is determined to actively… Canadian Politicians and MEK , Iranian Mojahedin-e-Khalq in Albania
---
 2019/06/25
Alexander Rubinstein, Mint Press News, June 25 2019:… Virtually every investigation into the so-called "People's Mujahedeen" — whether by think tanks, NGOs, or the media — concludes that their support inside of Iran is virtually non-existent. The group participated in the revolution against the Shah but was not invited to the table as a new government was being formed. And… Canadian Politicians and MEK , Iranian Mojahedin-e-Khalq in Albania
---
 2019/06/23
Iran Front Page, June 22 2019:… In the audio, which is being released by the Iran Front Page for the first time, Shahram Fakhteh, an official member and the person in charge of MKO's cyber operations, is heard talking with a US-based MKO sympathizer named Daei-ul-Eslam in Persian. Mujahedin-e-Khalq Organization, and Saudi Arabia have colluded  to frame Iran for the… Canadian Politicians and MEK , Iranian Mojahedin-e-Khalq in Albania