Donald Trump KowTows to Israel on Iran Part II by Publius Tacitus
Colonel W. Patrick Lang, Sic Semper Tyrannis, October 15 2017:… The MEK were classified as a terrorist group until the United States decided that as long as the MEK would help kill Iranians rather than Americans that they were no longer terrorists. The MEK's history of terrorism is quite clear: During the 1970s, the MEK killed U.S. military personnel and U.S. civilians working on defense projects in Tehran and supported the takeover in 1979 of the U.S. Embassy in Tehran …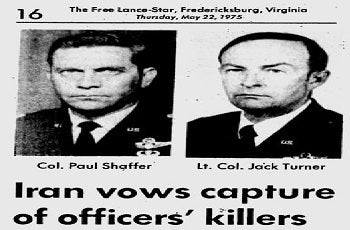 The MEK's dirty past includes the anti-Imperialist inspired murder of six Americans in pre-revolution Iran which it later celebrated in songs and publication
Link to the full description of Mojahedin (MEK, MKO) Logo (pdf file)
Donald Trump KowTows to Israel on Iran Part II by Publius Tacitus
While the Trumper gave a good teleprompter speech today on the topic of Iran and nukes, he demonstrated great ignorance on the reality that is Iran. He clearly is reflecting the Israeli right wing view on the matter, one that is enthusiastically embraced in the United States by the folks we now refer to as Neo Conservatives. (These are the same people that Phil Giraldi wrote about, America's Jews Are Driving America's Wars).
Trump's speech was laughable. The following passages illustrate how delusional the Trump is when it comes to Iran:
Iran is under the control of a fanatical regime that seized power in 1979 and forced a proud people to submit to its extremist rule. This radical regime has raided the wealth of one of the world's oldest and most vibrant nations, and spread death destruction and chaos all around the globe. . . .The regime harbored high level terrorists in the wake of the 9/11 attacks including Osama bin Laden's son. In Iraq and Afghanistan groups supported by Iran have killed hundreds of American military personnel. The Iranian dictatorship's aggression continues to this day. The regime remains the world's leading state sponsor of terrorism, and provides assistance to al-Qaida, the Taliban, Hezbollah, Hamas and other terrorist networks. it develops, deploys and proliferates missiles that threaten American troops and our allies. It harasses American ships and threatens freedom of navigation in the Arabian Gulf and in the Red Sea. It imprisons Americans on false charges, and it launches cyber-attacks against our critical infrastructure, financial system and military.
The U.S is far from the only target of the Iranian dictatorship's long campaign of bloodshed. The regime violently suppresses its own citizens it shot unarmed student protestors in the street during the green revolution. This regime has fueled sectarian violence in Iraq and vicious civil wars in Yemen and Syria. In Syria, the Iranian regime has supported the atrocities of Bashar al-Assad's regime. And condone Assad's use of chemical weapons against helpless civilians including many, many children.
Where does one begin to counter such lies and misrepresentations? Who has been the most destabilizing force in the Middle East over the last 27 years? I would suggest that the United States multiple invasions of Iraq, military action in Libya and our decision to help arm and train Islamic rebels keen on overthrowing Syria's President Assad qualifies us as the biggest meddlers and chaos makers.
One of the recurring big lies being pushed in the media–by Republicans and Democrat as well as some of our allies–is that Iran is the biggest sponsor of terrorism in the World.
The chutzpah award on this point goes to Saudi Arabia's Foreign Minister, Adel al-Jubeir, who declared in October 2015:
. . .that Iran "is the biggest sponsor of terrorism in the world, and it is working on destabilizing the region. If it wants to build good relations with its neighbors, it ought to deal with them based on the good neighborliness principle and not to interfere in their affairs. We [would] welcome such a step."
(Read more: http://www.al-monitor.com/pulse/politics/2015/10/saudi-arabia-yemen-syria-crisis-relations-disputes-agreement.html#ixzz3yMmotxLV)
The Saudi Foreign Minister conveniently ignored the fact that 15 of the 19 terrorists who hijacked planes and attacked America on 11 September 2001 were Saudis not Iranians.
Iran is no innocent on the issue of terrorism. The Revolutionary Guard and their agents, following the ordres of the Mullahs, were responsbile for the deaths of thousands from hundreds of terrorist attacks since the early 1980s.
When Iran fell under the rule of the Ayatollah, it routinely relied on terrorism—bombings, hijackings and kidnapping—to pursue its goals. They were directly involved in the taking of U.S. hostages in Lebanon and the bombings of the US Embassy in Beirut and the Marine barracks. But Iran's actions were not just blind hatred. There was a strategic context to Tehran's use of terrorism. Iran was at war with Iraq, which had the full support of the United States and other western countries. For Iran terrorism was a way to punch back against a more powerful military foe. The pragmatism on the part of Iran was further evidenced by the fact that it had a secret arrangement with Israel in acquiring weapons to use against Iraq.
But it is wrong to insist that Iran continues to be the major force driving the terrorist violence seen in the Middle East, Europe, Africa and America. In contrast to the period 1982 thru 1989, which was the high water mark of Iran reliance on terrorism as a key component of its foreign policy, Iran has shifted towards more conventional political and military methods for achieving its national goals.
The terrorism that marked Iran twenty years ago is no longer its calling card. The role of chief terrorist has been taken over by a legion of radical Sunni groups. Starting with the Al Qaeda attacks on New York and Washington, DC in September of 2001, the identity of the terrorist attacks has shifted dramatically, with the vast majority of the violence attributable to radical Sunni Islamists. According to the latest edition of the Global Terrorism Index (http://economicsandpeace.org/wp-content/uploads/2016/11/Global-Terrorism-Index-2016.2.pdf) , a publication of the Institute for Economics and Peace, four groups accounted for 74% of all fatalities from terrorism in 2015—Boko Haram, Al-Qaida, the Taliban and ISIS.
Consider the list of Muslim Groups presently actively hostile to the US:
– The Islamic State (Sunni)
– The Al-Nusra Front (Sunni)
– Al-Qa'ida Central (Sunni)
– Al-Qa'ida in Magheb (Sunni)
– Al-Qa'ida in Arabian Peninsula (Sunni)
– Boku Haram (Sunni)
– Al-Shabbab (Sunni)
– Khorassan Group (Sunni)
– Society of the Muslim Brothers (Sunni)
– Sayyaf Group in the Philippines (Sunni)
– Taliban in Pakistan and Afghanistan (Sunni)
– Lashgar i Taiba (Sunni)
– Jemaa Islamiya (Sunni)
– Houthis (Shia)
Of the 14 groups, only the Houthis are tied to Iran.
The last significant terrorist attack that is believed to have been carried out with Iran's support was the July 2012 bombing of the bus hauling Israeli tourists in Bulgaria. But that was not just gratuitous violence to kill Jews for the sake of killing Jews. It was classic retaliation for what Iran perceived as Israel's backing of a terrorist campaign in Iran.
The attack on the bus followed an 18-month series of attacks in Iran resulting in the murder of engineers and scientists believed to be involved with Iran's Nuclear program. Iran blamed Israel (and to a lesser degree the United States) for the following murders:
January 12, 2010 Masoud Alimohammadi Iranian Physicist
KILLED IN A CAR BOMB. MAJID JAMALI FASHI REPORTEDLY CONFESSED TO AN IRANIAN COURT HE HAD BEEN RECRUITED BY MOSSAD TO CARRY OUT THE EXECUTION
November 29, 2010 Majid Shahriari Iranian nuclear scientist
KILLED IN A CAR BOMB. ACCORDING TO THE GERMAN NEWSPAPER DER SPIEGEL ISRAEL WAS BEHIND THE KILLING.[223]
November 29, 2010 Attempted killing of Fereydoon Abbasi. Iranian nuclear scientist
WOUNDED IN A CAR BOMB.[224][225]
July 23, 2011 Darioush Rezaeinejad Iranian electrical engineer
KILLED BY UNKNOWN GUNMEN ON MOTORCYCLE. REZAEINEJAD WAS INVOLVED IN DEVELOPMENT OF HIGH-VOLTAGE SWITCHES, WHICH ARE USED IN A KEY COMPONENT OF NUCLEAR WARHEADS. SUCH SWITCHES MAY ALSO HAVE CIVILIAN SCIENTIFIC APPLICATIONS.[230] THE GERMAN NEWSPAPER DER SPIEGEL CLAIMED MOSSAD WAS BEHIND THE OPERATION. HE IS THE THIRD IRANIAN NUCLEAR SCIENTIST KILLED SINCE 2010.[231]
November 12, 2011 Major General Hassan Tehrani Moghaddam
THE MAIN ARCHITECT OF THE IRANIAN MISSILE SYSTEM AND THE FOUNDER/FATHER OF IRAN'S DETERRENT POWER BALLISTIC MISSILE FORCES. HE WAS ALSO THE CHIEF OF THE "SELF-SUFFICIENCY" UNIT OF THE ARMY OF THE GUARDIANS OF THE ISLAMIC REVOLUTION KILLED ALONG WITH 17 OTHER MEMBERS OF THE REVOLUTIONARY GUARDS KNOWN AS BID KANEH EXPLOSION. THOSE WHO DIED ARE KNOWN AS THE "SHAHIDAN GHADIR".
IRANIAN OFFI CIALS SAID THAT THE BLAST AT THE MISSILE BASE WAS AN ACCIDENT, AND RULED OUT ANY SABOTAGE ORGANIZED BY ISRAEL. AGIR SAID THAT THE EXPLOSION "HAD TAKEN PLACE IN AN ARMS DEPOT WHEN A NEW KIND OF MUNITIONS WERE BEING TESTED AND MOVED". HOWEVER, TIME MAGAZINE CITED A "UNNAMED WESTERN INTELLIGENCE SOURCE" AS SAYING THAT MOSSAD WAS BEHIND THE BLAST. ISRAEL NEITHER CONFIRMED NOR DENIED ITS INVOLVEMENT.[233] [234] [235]
January 11, 2012 Mostafa Ahmadi-Roshan Iranian nuclear scientist
THE BOMB THAT KILLED AHMADI-ROSHAN AT THE NATANZ URANIUM ENRICHMENT FACILITY, AND ANOTHER UNIDENTIFIED PERSON WAS A MAGNETIC ONE AND THE SAME AS THE ONES PREVIOUSLY USED FOR THE ASSASSINATION OF THE SCIENTISTS, AND THE "…WORK OF THE ZIONISTS [ISRAELIS]," DEPUTY TEHRAN GOVERNOR SAFARALI BARATLOO SAID.[236] [237][238]
One can easily imagine the outrage and demands for revenge that would sweep America if we believed that Iran was sending operatives into the United States to murder engineers and scientists working on projects, such as drones.
But these facts do not matter. The popular and persistent meme in the US media is that Iran is an unrepentant terrorist state. Iran, if you listen to the pundits, is using its special operations military forces to train and equip terrorists. But in an ironic twist, it is the United States that is implicated in attacks against Iran.
Author Sean Naylor, Relentless Strike, which details the history of operations and missions carried out by U.S. Joint Special Operations Command aka JSOC over the last 30 years, sheds light on an uncomfortable truth regarding our support to terrorists. To quote an old cartoon, "We have met the enemy and he is us."
"JSOC personnel also worked with the Mujahideen-e-Khalq (MEK), a militant Iranian exile group that had based itself in Iraq after falling afoul of the ayatollahs' regime in Tehran. The State Department had placed the MEK on its list of designated terrorist organizations, but that didn't stop JSOC from taking an attitude of "the enemy of my enemy is my friend" toward the group. "They were a group of folks that could transit the border, and they were willing to help us out on what we wanted to do with Iran," said a special operations officer."
The MEK were classified as a terrorist group until the United States decided that as long as the MEK would help kill Iranians rather than Americans that they were no longer terrorists. The MEK's history of terrorism is quite clear:
During the 1970s, the MEK killed U.S. military personnel and U.S. civilians working on defense projects in Tehran and supported the takeover in 1979 of the U.S. Embassy in Tehran.

In 1981, the MEK detonated bombs in the head office of the Islamic Republic Party and the Premier's office, killing some 70 high-ranking Iranian officials, including Chief Justice Ayatollah Mohammad Beheshti, President Mohammad-Ali Rajaei, and Premier Mohammad-Javad Bahonar.

Near the end of the 1980-1988 war with Iran, Baghdad armed the MEK with military equipment and sent it into action against Iranian forces.

In 1991, the MEK reportedly assisted the Government of Iraq in suppressing the Shia uprisings in southern Iraq and the Kurdish uprisings in the north.

In April 1992, the MEK conducted near-simultaneous attacks on Iranian embassies and installations in 13 countries, demonstrating the group's ability to mount large-scale operations overseas.

In April 1999, the MEK targeted key military officers and assassinated the deputy chief of the Iranian Armed Forces General Staff.

In April 2000, the MEK attempted to assassinate the commander of the Nasr Headquarters, Tehran's interagency board responsible for coordinating policies on Iraq.

The normal pace of anti-Iranian operations increased during "Operation Great Bahman" in February 2000, when the group launched a dozen attacks against Iran. One of those attacks included a mortar attack against the leadership complex in Tehran that housed the offices of the Supreme Leader and the President.

In 2000 and 2001, the MEK was involved regularly in mortar attacks and hit-and-run raids on Iranian military and law enforcement units and government buildings near the Iran-Iraq border, although MEK terrorism in Iran declined toward the end of 2001.
Prominent U.S. political and military leaders from both parties have been quite willing to excuse the terrorism of the MEK
In 2011, several former senior U.S. officials, including Homeland Security Secretary Tom Ridge, three former chairmen of the U.S. Joint Chiefs of Staff, two former directors of the CIA, former commander of NATO Wesley Clark, two former U.S. Ambassadors to the United Nations, the former U.S. Attorney General Michael Mukasey, a former White House Chief of Staff, a former commander of the United States Marine Corps, former U.S. National Security Advisor Frances Townsend, and U.S. President Barack Obama's retired National Security Adviser General James L. Jones called for the MEK to be removed from its official State Department foreign terrorist listing on the grounds that they constituted a viable opposition to the Iranian government.
As long as a group of terrorists will back the U.S. cause then we have seen the willingness of politicians to ignore their terrorist past. With respect to the MEK it was Hillary Clinton and Barack Obama that ultimately gave the group with a record of killing Americans a pass.
The U.S. Iranian relationship is best described as that of couple trying to find common ground after a bitter divorce. The fall of the Shah in 1979 caused a rancorous, deadly split between Washington and Tehran, with each partner believing they had been betrayed and humilitated by the other.
Within Iran and the United States there are prominent people and groups who readily recite the litany of wrongs they have endured from the other to justify feelings of hatred and disgust. Yet, the focus should be on who is doing what now. It is on that point with respect to the issue of terrorism that Americans must acknowledge that the Iran of 2017 is not the Iran 0f 1986. The vast majority of terrorism that is shaking the world today is conceived and nutured by radical Sunnis bent on destroying Iran. That is a fact that is largely ignored in the United States.
*** 
Document on Mojahedin Khalq released by RAND (The Mujahedin-e Khalq in Iraq, A Policy Conundrum)
'No Exit' – Human Rights Abuses Inside the Mojahedin Khalq Camps – Human Rights Watch, May 2005
Saddam's Private Army
How Rajavi changed Iran's Mojahedin from Armed Revolutionaries to an Armed Cult
The Life of Camp Ashraf
Mojahedin-e Khalq – Victims of Many Masters
By Anne Khodabandeh (Singleton)  and Massoud Khodabandeh
Also read:
https://iran-interlink.org/wordpress/?p=6203
The MeK – Washington's Favourite Communist Terrorist Cult 
Colonel W. Patrick Lang, Sic Semper Tyrannis, May 16 2015:…MeK leaders and supporters vigorously deny that the MeK is a cult. They allege that former MeK members and critics of the MeK are either Iranian agents or their dupes. However, interviews with U.S. military and civilian officials, information voluntarily furnished by former MeK members …
Massoud Khodabandeh: The Iranian Mojahedin-e Khalq (MEK) and Its Media Strategy:
Methods of Information Manufacture

Link to the full description of Mojahedin (MEK, MKO) Logo (pdf file)
The MeK – Washington's Favourite Communist Terrorist Cult (by CP)
I considered posting on the MeK, but now Richard Sale beat me to it with his excellent article on what they doand what they did.
I'll try to complement his piece by providing some additional background on what they are. The group has some quite outlandish characteristics that make it rather unique, and US support for it all the more surprising. It is, in a nutshell, Washington's (and Israel's) favourite terrorist cult.
A few days back they staged a protest at the White House, in order to plead for dear leader Maryam Rajavi being allowed to testify befor congress on ISIS, and naturally, Iran's evils. I invite readers to have a close look at the image, in particular the mug of their dear leader, Maryam Rajavi (iirc "the true president of Iran", in one of her unofficial titles), on placards.
After the US invasion or Iraq in 2003, the MeK were based in Camp Ashraf and 'liberated' by US troops. In fact, it was pretty soon that the US had to protect them from the Iraqis who held unfond memories of them, for aiding Saddam Hussein's efforts to suppress Kurds and Shia. After Saddam's demise, the MeK however quickly found a new sponsor in sympathetic neocons, who felt they could put the group to good use against Iran.
The RAND corporation wrote a rather thorough and damning report on the MeK in 2009 which can be found here:
http://www.rand.org/content/dam/rand/pubs/monographs/2009/RAND_MG871.pdf
It is absolutely worth to be read in full. It should be required reading for everyone dealing with the group.
I will quote at length from the chapter (p.37 f) introducing the MeK's cult characteristics and especially from Appendix B (p.69 ff), which goes into greater detail.
♦ A Cult … – p. 37 f of the PDF
Coalition Forces Were Not Prepared to Deal with an Unfamiliar Culture or the MeK's Atypical Characteristics
… JIATF's commanders had few or no opportunities to discuss the difficulties inherent in dealing with the MeK, to share knowledge, or to compare strategies. This deficit had particularly profound consequences once it became apparent to JIATF [ed: Joint Inter-Agency Task Force] officers through their early interrogations of MeK members that the organization was not just an FTO [ed: Foreign Terrorist Organisation]; it was also a cult.
The MeK as a Cult
From its earliest days, the MeK had had tight social bonds, but these began to be transformed into something more sinister during the mid-1980s after the group's leaders and many of its members had relocated to Paris. There, Masoud Rajavi began to undertake what he called an "ideological revolution," requiring a new regimen of activities—at first demanding increased study and devotion to the cause but soon expanding into near-religious devotion to the Rajavis (Masoud and his wife, Maryam), public self-deprecation sessions, mandatory divorce, celibacy, enforced separation from family and friends, and gender segregation. Prior to establishing an alliance with Saddam, the MeK had been a popular organization. However, once it settled in Iraq and fought against Iranian forces in alliance with Saddam, the group incurred the ire of the Iranian people and, as a result, faced a shortfall in volunteers. Thus began a campaign of disingenuous recruiting. The MeK naturally sought out Iranian dissidents, but it also approached Iranian economic migrants in such countries as Turkey and the United Arab Emirates with false promises of employment, land, aid in applying for asylum in Western countries, and even marriage, to attract them to Iraq. Relatives of members were given free trips to visit the MeK's camps. Most of these "recruits" were brought into Iraq illegally and then required to hand over their identity documents for "safekeeping." Thus, they were effectively trapped.
Another recruiting tactic was arranged with the assistance of Saddam's government. Iranian prisoners from the Iran-Iraq War were offered the choice of going to MeK camps and being repatriated or remaining in Iraqi prison camps. Hundreds of prisoners went to MeK camps, where they languished. No repatriation efforts were made. For coalition forces, the MeK's cult behavior and questionable recruiting practices are significant insofar as they affect both the daily operations at the camp and the strategic disposition options available to the group. The leadership is unlikely to cooperate with policies that would undermine its ability to exert direct control over its members. Indeed, Human Rights Watch reports that the MeK long ago instituted a complicated process to retain members who expressed a desire to leave, which included a "trial," forced confessions of disloyalty, and even torture. Although this process has been modified since the group was consolidated at Camp Ashraf, would-be walkaways are still "debriefed" for days or even weeks while held in some form of solitary confinement, during which they are encouraged to change their minds. Conversely, the long-term indoctrination and isolation experi- enced by MeK members are likely to have instilled an exaggerated sense of loyalty, causing them to reject offers to separate themselves from their leaders. This would apply in particular to repatriation to Iran, where the expectation of persecution has been dramatically instilled in their minds.
The MeK as Skilled Manipulators of Public Opinion
During the more than four decades since its founding, the MeK has become increasingly adept at crafting and promoting its image as a democratic organization that seeks to bring down Iranian tyrants, both secular and religious. This profile has been especially effective in the United States and Europe, where, until recently, the MeK's extensive fundraising activities have been very successful. But despite the MeK's ongoing attempts to build political support from the West through a multifaceted public-relations campaign, it was not enough to prevent the group from being designated an FTO by the United States as well as by the United Kingdom, Canada, Australia, and the European Union. According to U.S. law, providing any type of support—political, financial, or otherwise—for an FTO is a federal crime. Moreover, many of the MeK's fundraising activities have been proven to be fraudulent (for example, claiming to be soliciting funds on behalf of Iranian refugees, child welfare, or medical services for children). The MeK has also been linked with a range of money-laundering activities. If coalition forces, and particularly those involved in any type of negotiations with the MeK, had been apprised of the group's long history of deception, they would have been far less likely to have made the kinds of concessions that proved so troublesome later on. However, they found MeK representatives to be friendly, appealing, and knowledgeable about the United States. Thus, they were susceptible to the MeK's assertions of neutrality; its apparent willingness to help further coalition goals; its professions of support for democratic ideals, both within and outside its own organization; and its insistence that it had broad political support in the international community. Had the U.S. military, in particular, been more wary, it is unlikely that the MeK would have been able to avoid the surrender demanded by USCENTCOM, and even less probable that it could have elicited a request for review of its FTO status from General Odierno.
…
♦ Appendix B – p.69 ff of the PDF:
Appendix B: Cultic Characteristics of the MeK
The MeK is frequently described as a "cultish" group, but to date, there has been no examination of how its practices relate to cult characteristics defined by experts in the field. This appendix places credible reports about MeK practices into the context of cult theory
The MeK's Transition from Popular Organization to Exiled Cult
…
Application of Cult Theory to the MeK
MeK leaders and supporters vigorously deny that the MeK is a cult. They allege that former MeK members and critics of the MeK are either Iranian agents or their dupes. However, interviews with U.S. military and civilian officials, information voluntarily furnished by former MeK members at the ARC, and visits to Camp Ashraf suggest that these denials are not credible.The cult characteristics described in this appendix have been widely reported by former MeK members and by Human Rights Watch. They have also been substantiated, at least in part, by interviews with JIATF-Ashraf officers and by information volunteered by former MeK members at the ARC.
Authoritarian, Charismatic Leadership
"Masoud Rajavi appointed himself and Maryam leader and co-leader of the MeK (and, by extension, of Iran) for life, though the NCRI asserts that it would quickly mount elections upon taking control of Iran. This concept of perpetual leadership is reflected in the MeK chant "Iran-Rajavi, Rajavi-Iran" that has been used since the MeK began its transformation into a cult. Equally reflective of the absolute authority wielded by Rajavi is his informal title Imam-e Hal (the present Imam) used by MeK membership. The egocentric character of Masoud Rajavi's leadership is also illustrated by his willingness to compare his own marriage to that of the Prophet Muhammad. In addition, the MeK membership ceremony involves swearing an oath of devotion to the Rajavis on the Koran. Pictures of the Rajavis adorn all MeK buildings; banners with their portraits hang in the streets of Camp Ashraf. Criticism of the Rajavi leadership is not allowed. …
Intense Ideological Exploitation and Isolation
The MeK leadership requires members to study MeK ideology and to participate in indoctrination sessions that are characterized by a mix of propaganda and fear tactics. Group members are required to watch films of the Rajavis' speeches and footage of various street demonstrations throughout Europe. The MeK broadcasts from its own radio and television stations. MeK leaders permit group members to listen only to these stations and to read only internal reports and bulletins, such as the MeK-produced Mojahed newspaper and other approved texts. Violators are punished. To reduce the appearance of brainwashing, MeK leaders describe these restricted activities as opposition to the IRI or as exercises in military theory. …
Sexual Control
As a part of the "ideological revolution," the Rajavis mandated divorce and celibacy. Compulsory divorce required couples to place their wedding rings in a bowl and renounce their affections for one another. (The rules did not apply to the Rajavi marriage, however, nor were MeK leaders required to be celibate.) The MeK denies that these acts were anything but spontaneous and voluntary, claiming, "The reality is that the Mujahideen is based in the territory of a country where . . . family life became impossible" and that every MeK member made the individual, noncompulsory decision to "forgo family life." This denial is not credible, particularly when taking into account the MeK's strict limitations on gender interaction, as described next. …
Emotional Isolation
In addition to their geographic and ideological isolation, MeK members in Iraq are severely socially and emotionally isolated, even within their communal living arrangements. Relatives and former spouses are placed in different compounds and are not allowed to see each other. Prior to the U.S. invasion of Iraq in 1991, children were sent to live with foster families in Europe, ostensibly to protect them from the impending invasion, though some returned to Iraq years later. Close friendships are considered "liberal relations" and are strictly forbidden. Members may freely communicate only with their unit commanders, and a commander's permission is required for any other type of communication. Informants monitor conversations among members. In many cases, MeK members' families in Iran have been told that their relatives had died or been killed. …
Extreme, Degrading Peer Pressure
The MeK holds daily, weekly, and monthly "sessions" that involve forced public confessions aimed at expelling deviant thoughts and behaviors that are believed to undermine group coherence. MeK members are required to keep daily records of their thoughts and nighttime dreams, particularly sexual thoughts and desires (which are, of course, forbidden), as well as observations about their fellow members. They must submit their journals to their supervisors. During large meetings, members often are forced to read their reports aloud and to make self-critical statements. MeK members are often required to admit to sexual thoughts. In a true Catch-22 situation, if they do not, they will be considered to have been caught in a lie because such thoughts are considered inevitable.
Deceptive Recruitment
Prior to its exile, the MeK was the largest group to oppose the IRI. The organization enjoyed significant support among the young and educated middle class. At the peak of its popularity, it could call hundreds of thousands of protesters into the streets of cities across Iran on minimal notice. Prospective members were attracted to the MeK's mission, its Marxist-Islamic ideology, and the opportunity to live in coeducational housing and enjoy social debates. However, its ability to recruit was greatly reduced by the IRI's brutal treatment of MeK members; the group's departure from Iran, first to France and then to Iraq; and the MeK's alliance with Saddam, the instigator of the devastating Iran-Iraq War. … These findings suggest that many MeK recruits since 1986 were not true volunteers and have been kept at MeK camps in Iraq under duress. As of June 2004, JIATF estimated that, of the MeK population at Camp Ashraf, only 5 percent had joined prior to the Iranian Revolution and 25 percent had joined at the time of the revolution. A full quarter (approximately 1,500 to 1,800) had been POWs, and 45 percent had arrived at Camp Ashraf after the 1988 move to Iraq. Thus, it is possible that nearly 70 percent of the MeK population may have been recruited through deception and kept at Camp Ashraf against their will.
Forced Labor and Sleep Deprivation
Cults often use long work hours and sleep deprivation as ways to wear down their members and prevent them from identifying with anything other than the group. MeK members often work 16- to 17-hour days and are limited to a few hours' sleep per night, plus an hour-long nap. To maintain this pace, the MeK leadership mandates continual "make-work" construction and beautification projects and, until OIF, ongoing military training. The results are evident at Camp Ashraf. Built out of the desert, the camp has grand avenues lined with trees and is adorned with an exceptional number of parks, fountains, meeting halls, and monuments, many of which glorify MeK martyrs.
Physical Abuse, Imprisonment, and Lack of Exit Options
Former MeK members claim that punishment was frequently meted out for such offenses as
•expressing or fomenting disagreement with the political/military strategy of the MeK
•listening to foreign radio stations
•sharing individual political views with other members
•failing to attend mandatory meetings
•making personal phone calls
•avoiding participation in military drills
•refusing to participate in the compulsory "ideological divorce"
•having sexual thoughts
•communicating with friends or family
•smoking
•asking to leave the MeK
Recent accounts recall that punishment for disagreeing with MeK policies ranged from forced written confessions of disloyalty to incarceration in special facilities at Camp Ashraf. Former members report torture and long periods of solitary confinement as punishment for disloyalty. To prevent MeK members from departing the camps, almost all MeK recruits were obliged to turn over their identity documents to the MeK for "safekeeping." The MeK now claims that these documents were securely held until they were destroyed by coalition bombs. Although the group was invited into Iraq and given the use of land by Saddam, the MeK never sought legal residence there. When recruits were brought into the country, Iraqi rules regarding alien visits or immigration were intentionally not observed. With Saddam's complicity, the MeK leadership was then able to threaten recalcitrant members with prosecution for their illegal presence in Iraq, which would mean incarceration in an Iraqi prison for several years, followed by deportation to Iran, where, members were told, they would face certain persecution. By bringing its members into Iraq illegally and then confiscating their identity documents, the MeK was able to trap them.
Patterns of Suicide
The MeK extols suicide but, unlike jihadist groups, has not used it in attacks since 1981. Prior to their capture in 2003, all MeK members carried cyanide tablets in leather pouches tied around their necks. MeK assassins were instructed to swallow the cyanide if captured during a mission. Masoud Rajavi reputedly has called all MeK members "living martyrs," and self-immolation is a popular form of MeK suicide. For example, in 2003, there were approximately 10 self-immolations (which killed two) in protest of Maryam Rajavi's arrest in Paris. The MeK has also used the threat of immolation as a negotiating tool with the JIATF, with British investigators, and with France. Former members indicate that a small number of MeK members committed suicide because they were prevented from leaving the organization and that suicide was also claimed as the cause of death for recalcitrant members who were tortured to death.
Denial of Cultic Tendencies
The MeK and its apologists deny that the MeK is a cult, instead contending that it is a "deeply democratic organization whose guiding principle on all issues is referendum and discussion until a consensus is reached." The MeK admits to certain practices—such as divorce and celibacy—but justifies them as necessary for effective military operations and claims that they are voluntarily adopted by the membership. However, the MeK denies many other practices attributed to it by it former members, such as intense indoctrination techniques like "thought reform" (commonly referred to as brainwashing) and limiting exit options. As with all criticism aimed at the group, the MeK blames IRI propaganda for characterizing it as a cult. Certainly, the IRI seeks to discredit the MeK, and this includes publicizing the MeK's cultic characteristics. It is reasonable to assume that some of the IRI's allegations are inaccurate. But the fact that the IRI seeks to discredit the MeK does notimply that all of its criticisms are inherently untrustworthy. The IRI's campaign has contributed to weakened support for the MeK in Iran. Although it is not currently possible to conduct a scientific survey of Iranians to gauge their opinions about the MeK—and, in the absence of diplomatic or cultural ties, information regarding Iranian perceptions is extremely limited—anecdotal evidence suggests that the MeK's cultic characteristics have contributed to its decline in popularity since 1981. An American journalist reports that Iranians whom she interviewed likened the MeK to the Khmer Rouge and the Branch Davidian cult in Waco, Texas, comparisons that have also been made by current and former U.S. officials. Of course, as noted earlier, the MeK's decision to align itself with Saddam against the IRI and to kill Iranian conscripts during the brutal Iran-Iraq War greatly eroded its popular support in Iran. Although the MeK repeatedly claims to be the most influential opposition group in that country, in reality it appears that this once-prominent dissident group can now validly claim only to be highly organized and well (albeit illegally) funded. Indeed, many Iranians observe that, since the MeK's move to Iraq, the group is the only entity less popular in Iran than the IRI itself.
…
There isn't much to add. The MeK and the US are obviously a match made in heaven, a union based on shared values.
Given the choice between joining the MeK or the North Korean Army, to me it'd really be a toss up.
~ by confusedponderer
Links:
•The RAND study on the MeK:
http://www.rand.org/content/dam/rand/pubs/monographs/2009/RAND_MG871.pdf
•Human Rights Watch Report on the MeK "No Exit":
http://www.hrw.org/legacy/backgrounder/mena/iran0505/
•HRW's response to critics to the report:
http://www.hrw.org/news/2006/02/14/statement-responses-human-rights-watch-report-abuses-mojahedin-e-khalq-organization–
• http://en.wikipedia.org/wiki/Camp_Ashraf  
• http://en.wikipedia.org/wiki/Maryam_Rajavi
• http://en.wikipedia.org/wiki/People%27s_Mujahedin_of_Iran
• http://en.wikipedia.org/wiki/Operation_Mersad  
(END)
Also read:
https://iran-interlink.org/wordpress/?p=5084
France warns against "disinformation" campaign by MKO (Mojahedin Khalq, MEK, Rajavi cult)
Kuwait News Agency, June 28 2014: …"France has no contact with the Organisation of the People's Mujahideen of Iran which is known for resorting to violence," Foreign Ministry spokesman Romain Nadal stated here. This group has "no legal existence in France in the form of an Organisation," Nadal stressed. He warned that the Iranian opposition movement has "a violent …
Le Figaro: Mojahedin Khalq (aka MKO, MEK, Rajavi cult) Fight alogside insurgents in Syria
France warns against "disinformation" campaign by MKO (Mojahedin Khalq, MEK, Rajavi cult)
France on Thursday issued a stern warning about what it said was a growing lobbying and disinformation campaign being carried out by the Iranian opposition group, Mujahideen Khalq, which is currently banned in this country.
The movement, which for years has sought to make implicit and explicit attacks against Iran, was for a long period headquartered outside of Paris until European Union members decided to place it on the "terrorist black list" in the EU.
Some countries have retreated from this ban but France maintains the organisation as illegal here.
"France has no contact with the Organisation of the People's Mujahideen of Iran which is known for resorting to violence," Foreign Ministry spokesman Romain Nadal stated here.
This group has "no legal existence in France in the form of an Organisation," Nadal stressed.
He warned that the Iranian opposition movement has "a violent inspiration" and is "non-democratic" and has been criticised by several human rights groups such as "Amnesty International".
The Mujahideen Khalq carried out "sectarian practices" and refuses to renounce violence, the French official added.
"We express our greatest reservations faced with the intense lobbying and disinformation campaign being carried out" by the Iranian group, Nadal warned.
Also read:
Self-immolation anniversary of Mojahedin Khalq (MKO, MEK, NCRI, Rajavi cult) members in France
Habilian Association, June 19 2014: … The report adds that Masoud Rajavi turned the MKO into an "inward-looking cult". "Rajavi instituted what he termed an "ideological revolution" in 1985, which, over time, imbued the MeK with many of the typical characteristics of a cult, such as authoritarian control, confiscation of assets, sexual control (including mandatory divorce and celibacy) …
Elmar Brok: majority of EU Parliament do not like Mojahedin Khalq (MKO, MEK, NCRI, Rajavi cult)
Fars News, Tehran, June 16 2014: … is the prerequisite for such an agreement".Brok, for his part, said that the new European Parliament lays emphasis on the importance of the relations with Iran, and said, "The majority of the European Parliament do not like cooperation with groups such as MKO and only a minority group in the Parliament support the MKO." …
The Mojahedin Khalq (Rajavi cult) and Saddam's daughter support the Islamic State of Iraq and the Levant (ISIS)
Iran Interlink, June 12 2014: …  An article published on the Mojahedin Khalq's official website exposes the group's affinity with the  gruesome Islamic State of Iraq and the Levant (ISIS) in Iraq. The first page of their site (see picture below) says in Farsi, "Revolutionary forces in Iraq have captured parts of Mosul after fighting with Maliki's forces".  Referring to …
Masoud Rajavi expresses solidarity with Jaish-ul-Adl terrorists
Habilian Association, June 09 2014: …  In his latest statement, the ringleader of Mujahedin-e Khalq terrorist group expressed his solidarity with the Jaish-ul-Adl terrorist group. Referring to the execution of 16 men affiliated to Jaish-ul-Adl terrorist group, Masoud Rajavi, whose whereabouts are unknown since the US invasion of Iraq, described them as their "brothers …