Europe Capitalizes on the Iran Deal
Eldar Mamedov, November 02 2016:… right-wing pro-Israeli organizations, Saudi Arabia, and the exiled Iranian dissident group Mojaheddin-e Khalk (MEK), which was on the EU terror list until 2009 and removed on technicality. The hawkish American Jewish Committee blasted the report for allegedly "giving Iran a free pass on human rights and support for Assad regime," although it somewhat mitigated its criticisms when the EP … 
EU strategy towards Iran after the nuclear agreement

Europe Capitalizes on the Iran Deal
As Washington think-tanks, with some notable exceptions, keep churning out papers advising the next American president to double down on containing Iran, the European Parliament adopted a report on October 25 that is strikingly different in tone and substance. Drafted by the UK Labour Party politician Richard Howitt , the motion received overwhelming support in the house: 459 votes in favor, with 174 against and 67 abstentions. It outlines a set of recommendations for the EU and its member states to fully capitalize on the opening provided by the historical nuclear agreement between Iran and the P5+1.
The report praises the Joint Comprehensive Plan of Action (JCPOA) as a success of a multilateral diplomacy, which has already boosted economic and trade connections between Europe and Iran. The report calls on both the EU and Iran to build on this opening by expanding cooperation in counter-terrorism, environmental protection, academic and cultural exchanges, and aviation and maritime safety.
The report is notable also for the respectful and constructive tone it uses. Although by no means short on legitimate criticisms of Iran, it avoids the kind of bashing that can only provoke angry reactions and further alienation. For example, it recognizes the complexities of Iran's internal politics and does not seek to take sides in Iran's domestic political debates. It acknowledges the long history of relations between Iran and various European countries as a foundation to further expand ties. Instead of blasting the "repressive theocracy," it states that "Iran's revolutionary legacy and constitution as an Islamic Republic" should not be an obstacle to finding common ground on issues of democracy and human rights, where possible. These are novel formulations for an official position of an elected Western body on the Islamic Republic, and convey an intention to have a dialogue of equals.
Lingering Opposition
Despite the overwhelming support the house has given the report, a minority of MPs expressed vocal opposition. Some of the criticisms reflect what rapporteur Richard Howitt called "the lobbying interests" of forces opposed to the nuclear agreement with Iran in the first place: right-wing pro-Israeli organizations, Saudi Arabia, and the exiled Iranian dissident group Mojaheddin-e Khalk (MEK), which was on the EU terror list until 2009 and removed on technicality. The hawkish American Jewish Committee blasted the report for allegedly "giving Iran a free pass on human rights and support for Assad regime," although it somewhat mitigated its criticisms when the EP adopted the last-minute amendment condemning Iran for its "calls for destruction of Israel and denial of Holocaust." MEK, meanwhile, managed to convince enough MPs to consider an amendment calling to investigate the 1988 massacres of political prisoners in Iran—a crime indeed, but one that Iranians themselves, and not foreign legislative bodies, are best placed to address. However, the house ultimately rejected this amendment.
A different kind of opposition emerged from the Alliance of Liberals and Democrats (ALDE), traditionally the third pillar of European politics, after Christian democrats and social democrats. Although ALDE does not oppose the nuclear agreement as such, it rejected the report on the basis that it was "weak" on human rights and "has not preconditioned" any improvement of relations with Iran on tangible progress in this area.
These criticisms do not hold water. The report has no fewer than 34 references to human rights in its 51 paragraphs. It contains very detailed, carefully crafted wording on the death penalty and on the rights of women and religious minorities. It also makes a clear appeal to Iran to release all political prisoners. In the process of drafting the report, the rapporteur and his team consulted extensively with credible human rights organizations, such as Human Rights Watch and Amnesty International.
But pre-conditioning any cooperation on specific, unilaterally imposed benchmarks could have easily undermined any prospects for progress, for example, by leading the Iranians to cancel talks with the EU on human rights scheduled for November 9 in Brussels. Crucially, these talks involve the Iranian judiciary, the bastion of the conservatives and the main source of the human rights violations. As Howitt said during the debates on his report, "those who say they support human rights, but would jeopardize our leverage to influence them, should examine their own consciences."
As to the regional situation, the report is careful not to take sides between Iran and its antagonists, such as Saudi Arabia. The critics would have liked to see a strong condemnation of Iran's support for the Bashar al-Assad regime in Syria and the removal of clauses that acknowledge the EU and Iran's common interest in fighting the so-called Islamic State. Instead, the report acknowledges that by following the JCPOA the EU now has increased its leverage over Iran while maintaining ties with Saudi Arabia, Turkey, and other traditional Western allies in the region. The EU is thus in a unique position to play the role of an honest broker in the conflicts ravaging the region, from Syria to Yemen.
Indeed, it is disingenuous for the critics to claim that they support the nuclear agreement while at the same time putting so many conditions to any cooperation with Iran. The irony is that such an approach would not only squander an opportunity to build a new relationship with Iran but also undermine the nuclear deal itself. The JCPOA is not something once achieved and put in the freezer until the regime in Iran changes—which, one suspects, is the real agenda of many of the critics of the report. For the agreement to survive, all sides need incentives to comply, and that requires trust. This process would be so much more difficult to accomplish in the absence of a broader rapprochement.
Glimmers of Hope
There are signs that the pragmatic approach espoused by the report works. Contrary to the war of words that usually followed EP resolutions in the past, the Iranian foreign ministry welcomed the report as a positive indication that the EU seeks closer relations with Iran. Of course, the reactions of other factions within the regime are yet to be seen. As the string of totally unacceptable arrests and harassment of dual Western-Iranian nationals shows, influential forces that thrive on confrontation exist in Iran as well as in the West. But ultimately, this is how diplomacy works – by taking patient, reciprocal steps, that strengthen moderates on all sides and eventually lead to the demise of old enmities.
This most recent statement reflects a broader European approach to relations with Iran. Just as the EP was debating the Howitt report, the EU lifted sanctions on Bank Saderat, which, however, remains on the OFAC (US Treasure's Office of Foreign Assets Control) black list. The EU Commissioner for humanitarian aid and crisis management Christos Stylianides, meanwhile, was in Tehran on the same day committing additional 6 million euros to help Afghan refugees in Iran, bringing the total EU humanitarian support to 12.5 million euros in 2016.
These steps by the EU executive and the parliament reinforce the upward trend in the EU-Iran relations. This rapprochement will enable both sides not only to pursue common interests but also to address problematic issues such as human rights and some aspects of Iran's regional policies without derailing the relations. Given the investment the EU has already made in these relations, it won't likely follow the new US president if he or she chooses to heed the advice of hawkish Washington-based think tanks and return to the policy of sanctions and isolation of Iran. And that's another reason why the next American president would be wise to disregard such advice.
This article reflects the personal views of the author and not necessarily the opinions of the European Parliament.  Photo: Richard Howitt
*** 
… 
Mojahedin Khalq (MKO, NCRI, Rajavi cult) terrorists openly declare support for ISIL, terror acts
Mojahedin Khalq ( MEK, MKO, NCRI, Rajavi cult) Affiliated Terrorist Ring Disbanded in Southeastern Iran
Also read:
https://iran-interlink.org/wordpress/?p=7781
Iran: Politics, Persian Gulf Security, and U.S. Policy (Congressional Research Service) 
Congressional Research Service, October 05 2016:… On September 28, 2012, maintaining there had not been confirmed acts of PMOI terrorism for more than a decade and that it had cooperated on the Camp Ashraf issue (below), the group was removed from the FTO list as well as from the designation as a terrorism supporter under Executive Order 13224. However, State Department officials, in a background briefing that day, said "We do not see the [PMOI] as a viable or democratic opposition … 
Nothing to celebrate – MEK leader Maryam Rajavi pretends forced move to Albania is a great victory
Iran: Politics, (Persian) Gulf Security, and U.S. Policy
Kenneth Katzman
Specialist in Middle Eastern Affairs
August 19, 2016
Congressional Research Service
7-5700
www.crs.gov
RL32048
Extract:
[…]
Opposition Group: People's Mojahedin Organization of Iran (MEK, PMOI)
The best-known exiled opposition group is the Mojahedin-e-Khalq Organization (MEK), also known as the People's Mojahedin Organization of Iran (PMOI). Secular and left-leaning, it was formed in the 1960s to try to overthrow the Shah of Iran and has been characterized by U.S. reports as attempting to blend several ideologies, including Marxism, feminism, and Islam, although the organization denies that it ever advocated Marxism. It allied with pro-Khomeini forces during the Islamic revolution and, according to State Department reports, supported the November 1979 takeover of the U.S. Embassy in Tehran. The group was driven into exile after it unsuccessfully rose up against the Khomeini regime in September 1981. It has been led for decades by spouses Maryam and Massoud Rajavi but in 2011 Ms. Zohreh Akhyani was elected as MEK Secretary-General. Maryam Rajavi is based in France but the whereabouts of Massoud Rajavi are unknown.
The State Department designated the PMOI as an FTO in October 1997—during the presidency of the relatively moderate Mohammad Khatemi. The NCR was named as an alias of the PMOI in October 1999, and in August 2003, the Department of the Treasury ordered the groups' offices in the United States closed. State Department reports on international terrorism for the years until 2011 asserted that the members of the organization were responsible for: the alleged killing of seven American military personnel and contract advisers to the former Shah during 1973-1976; bombings at U.S. government facilities in Tehran in 1972 as a protest of the visit to Iran of then-President Richard Nixon; and bombings of U.S. corporate offices in Iran to protest the visit of then Secretary of State Kissinger.
The reports also listed as terrorism several attacks by the group against regime targets (including 1981 bombings that killed high ranking officials), attacks on Iranian government facilities, and attacks on Iranian security officials. However, the reports did not assert that any of these attacks purposely targeted civilians. The group's alliance with Saddam Hussein's regime in contributed to the designation, even though Saddam was a U.S. ally during 1980-90.
The PMOI challenged the FTO listing in the U.S. court system and, in June 2012, the Appeals Court gave the State Department until October 1, 2012, to decide on the FTO designation, without prescribing an outcome. On September 28, 2012, maintaining there had not been confirmed acts of PMOI terrorism for more than a decade and that it had cooperated on the Camp Ashraf issue (below), the group was removed from the FTO list as well as from the designation as a terrorism supporter under Executive Order 13224. However, State Department officials, in a background briefing that day, said "We do not see the [PMOI] as a viable or democratic opposition movement…. "
The NCR-I reopened its offices in Washington, DC, in April 2013. The State Department has been meeting with the MEK since its removal from the FTO list, including in Iraq.
Camp Ashraf Issue
The de-listing of the group has not resolved the situation of PMOI members in Iraq. U.S. forces attacked PMOI military installations in Iraq during Operation Iraqi Freedom (March 2003) and negotiated a ceasefire with PMOI elements in Iraq, according to which the approximately 3,400 PMOI members consolidated at Camp Ashraf, near the border with Iran. Its weaponry was placed in storage, guarded first by U.S. and now by Iraqi personnel. In July 2004, the United States granted the Ashraf detainees "protected persons" status under the 4th Geneva Convention, although that designation lapsed when Iraq resumed full sovereignty in June 2004. The Iraqi government's pledges to adhere to all international obligations with respect to the PMOI in Iraq has come into question on several occasions: on July 28, 2009, Iraq used force to overcome resident resistance to setting up a police post in the camp, killing 13 n residents of the camp. On April 8, 2011, Iraq Security Forces killed 36 Ashraf residents; the State Department issued a statement attributing the deaths to the actions of Iraq and its military.
In December 2011, the Iraqi government and the United Nations agreed to relocate Ashraf residents to the former U.S. military base Camp Liberty, near Baghdad's main airport. The relocation was completed by September 17, 2012, leaving a residual group of 101 PMOI persons at Ashraf. The group asserted that conditions at Liberty are poor and the facility is unsafe. On February 9, 2013, the camp was attacked by rockets, killing eight PMOI members; the Shiite militia group Kata'ib Hezbollah (KAH) claimed responsibility. A rocket attack on the camp took place on June 15, 2013. On September 1, 2013, 52 of the residual Ashraf residents were killed by gunmen that appeared to have assistance from Iraqi forces. Seven went missing. All survivors of the attack were moved to Camp Liberty, and Ashraf has been taken over by Iran-backed Shiite militias. An October 29, 2015, rocket attack on the Camp killed 24 residents and a rocket attack on July 4, 2016, did not kill any residents, but wounded some. The FY2016 National Defense Authorization Act (P.L. 114-92) calls for "prompt and appropriate steps" to promote the protection of Camp residents.
Since 2011, the U.N. High Commission for Refugees (UNHCR) has sought to resettle PMOI members outside Iraq. About 600 have been resettled so far: 450 to Albania; 95 to Germany; 95 to Italy; 15 to Norway; and 2 to Finland. The United States reportedly might resettle 100 or more, but the U.S. requirement that those resettled disavow the group has apparently held up implementation of that program. About 200 have returned to Iran; a few of them reportedly have been imprisoned and/or mistreated.
[…]
END
*** 
U.S. pushes Mojahedin Khalq to accept Albanian asylum offer (2013)
Clinton-Albania deal ensures MEK (Rajavi cult) members stay as terrorists
Iranian resistance group MKO to move to Albania (aka Mojahedin Khalq, MEK, NCRI, …)
Massoud Khodabandeh, Huffington Post: Can Albania Meet its Obligations and De-radicalize an Influx of Terrorists into Europe? 
Also read:
https://iran-interlink.org/wordpress/?p=5755
Rajavi's lobbyists demand Mojahedin Khalq terrorist cult in Iraq be re-armed rather than removed 
Anne Khodabandeh (Singleton), Iran Interlink, January 14 2015:…  Whether delusional or corrupt, this gang – listed below and now posing as the International Committee in Search of Justice (ISJ) – says the residents of Camp Liberty should have their "personal protection weapons returned to them for self-defence following serious threats and attacks [sic] as the …
Rajavi's combatants are nearing retirement age (Iran Interlink Fourth Report from Baghdad, Novmeber 2014)
Rajavi's lobbyists demand Mojahedin Khalq terrorist cult in Iraq be re-armed rather than removed
It is surely ironic that the same bunch of people who lobbied hard and at great expense to have the Mojahedin Khalq terrorist cult removed from European and American terrorist lists (the flimsy claim they had renounced terrorism was only possible because in 2003 the US army captured, disarmed and confined them to a single camp in Iraq), is now lobbying to have them re-armed.
Whether delusional or corrupt, this gang – listed below and now posing as the International Committee in Search of Justice (ISJ) – says the residents of Camp Liberty should have their "personal protection weapons returned to them for self-defence following serious threats and attacks [sic] as the Iranian regime's intervention in Iraq grows". But has neglected to inform their English speaking audience that the MEK leader, Massoud Rajavi, has demanded the MEK be re-armed with heavy weapons as well as small arms.
In any case, anyone who knows anything about the situation of Camp Liberty knows that the residents are deliberately imprisoned incommunicado inside the camp by the MEK leaders, that the greatest danger these residents face is from these MEK leaders, and that small arms are wanted in order to impose greater control over these captives as they become more and more desperate to escape the tyranny of the cult.
The ISJ statement should certainly not be read without context: Since attaining sovereignty in 2009, each successive government of Iraq has designated the MEK as a terrorist entity which must, under the Constitution, be entirely removed from Iraqi territory. The demand for re-arming rather than removing this group is doubly insulting for a country still swarming with Western spawned terrorist groups.
Perhaps the most ironic 'complaint' of the Committee is that the government of Iraq is not investigating the September 1, 2013 attack on Camp Ashraf in which fifty three people died. How is this possible when forty two key eye witnesses – survivors of the attack – have been incarcerated by the MEK inside Camp Liberty so that no investigator in the world has access to them?
Instead of demanding the MEK be re-armed ready to utilize violence again – the raison d'etre of the terrorist cult – this gang should be demanding from Massoud and Maryam Rajavi that each resident of Camp Liberty be given the opportunity to make contact with their families in privacy and to freely leave the camp if they desire. Then we would see how quickly and efficiently these people can be resettled.
List of members of the ISJ according to the MEK:
Alejo Vidal-Quadras, former MEP; Patrick Kennedy, former Congressman; Günter Verheugen, former member of the EU Commission; Nicole Fontaine, former MEP; General Hugh Shelton former US military; David Kilgour, former Canadian Secretary of State; Ingrid Betancourt; Raymond Tanter; Horst Teltschik; Colonel Wesley Martin, former US military; Senator Lucio Malan, Italian Senate; Alessandro Pagano MP; Antonio Razzi, Italian Senate; Gérard Deprez MEP; Ryszard Czarnecki, MEP; Tunne Kelam MEP; Lord Carlile, UK; Lord Clarke, UK; Lord Maginnis, UK; Lord Dholakia, UK
About Anne Khodabandeh (Singleton):
Middle East Strategy Consultants,
http://www.mesconsult.com
Autor of "Saddam's Private Army" and "The life of Camp Ashraf"
http://www.camp-ashraf.com
An Unfinished documentary for my daughter – Trapped in Rajavi cult, Mojahedin Khalq
Paulo Casaca, Struan Stevenson and Alejo Vidal-Quadras lost their seats as MEPs over support for terrorism
European MEK Supporters Downplay ISIS Role in Iraq (aka Mojahedin Khalq, MKO, NCRI, Rajavi cult)
UNAMI: continued concerns about abuses committed by the PMOI/MeK leadership
MEK leader Massoud Rajavi refuses to allow Camp Liberty residents to seek refuge in Albania
***
Also read:
https://iran-interlink.org/wordpress/?p=5646
MEPs support for MEK terrorists undermines human rights pressure on Iran (letter to Federica Mogherini)
Massoud Khodabandeh, Middle East Strategy Consultants, London, December 09 2014:… By publishing an article directed by the MEK, a group of MEPs has played directly into the hands of Iran's hardliners. The MEPs Gérard DEPREZ, Tunne KELAM, Ryszard CZARNECKI EP Vice-President, Eduard KUKAN, José BOVÉ, Julie WARD, and Rina Ronja KARI are …
(Massoud Khodabandeh: UN must investigate Rajavi's role in the deaths of 53 MEK victims in Camp Ashraf
MEPs support for MEK terrorists undermines human rights pressure on Iran
Open Letter to Federica Mogherini, the new EU foreign policy chief
As you are aware the Iranian Mojahedin Khalq terrorist group works through the "Friends of a Free Iran" in the European Parliament. This parliament is to give a platform today (December 10) to the second-in-command of this group Maryam Rajavi (a private room has been hired in the buildings by one of the MEK's lobbyists purely for lobbying purposes). Not only that, a group of MEPs has boldly written to you demanding you change your policy to suit this woman. What possibly can be their motive? As a European citizen and an expert in the field of cults and terrorism, I cannot agree that you ignore such a presence in the parliament. It cannot be in the best interests of the European Parliament as a home to democracy to give a platform to for what is an undemocratic stance toward the people of Iran.
By publishing an article directed by the MEK, a group of MEPs has played directly into the hands of Iran's hardliners. The MEPs Gérard DEPREZ (ALDE – Belgium), Tunne KELAM (EPP – Estonia), Ryszard CZARNECKI EP Vice-President (ECR – Poland), Eduard KUKAN (EPP – Slovakia), José BOVÉ (Greens – France) Julie WARD (S&D – UK) and Rina Ronja KARI (GUE/NGL – Denmark) are members of the MEK's 'Friends of a Free Iran' in the European Parliament.
The article starts with the claim that Ban Ki Moon said people should hold their governments to account. He did not say that the EP should interfere in the internal affairs of another country. Certainly these MEPs have no mandate to hold another country's government to account in this way. It is not their elected government, but that of a sovereign nation with its own electorate. It is certain Ban Ki Moon was referring to this electorate when he made this statement.
However, let us allow that Iran's human rights record, like that of every other country of the world, should come under proper scrutiny. The proper bodies to conduct such research are those quoted by these MEPs – the UN – in particular the UN Special Rapporteur on Human Rights in Iran – Reporters Without Borders, Amnesty International. The reports of these bodies are public knowledge and widely available.
(Interestingly, in addition to all these human rights bodies, there is hardly a group or organisation or government, and not a single Iranian opposition group inside or outside Iran which has not condemned the Mojahedin Khalq for its human rights abuses time and time again.)
Now, if the MEPs do indeed see fit to challenge Iran over this issue on International Human Rights Day, is it not proper to do so directly, through dialogue, communication and diplomacy, rather than a futile rant. A rant which, in addition, quotes the second-in-command of the Mojahedin Khalq terrorist group, Maryam Rajavi. This group of MEPs has been persuaded – somehow – to have her words put into their mouths as though they cannot make their own statements or figure out their own political arguments. (The MEK shoehorned one of their favourite words, 'embolden', into the piece but didn't manage to get another favourite, 'appeasement' in.)
As a result they stupidly allow themselves to say such things as "Tehran has also been the center [sic] for the expansion of terrorism and fundamentalism throughout the region, endangering world peace and security." The article cannot and does not present any evidence for this opinion. Indeed, most sensible people anywhere would point first to Saudi Arabia and other Gulf States as the source of increased terrorism and fundamentalism in the region. But then, the MEK are known advocates of ISIS and other terrorist groups.
Relying on this argument, these MEPs are demanding less dialogue with Iran, not more. Again, back to the 'let's bomb Iran or at least disrupt dialogue' narrative.
Such nonsense has delighted Iran. The semi-official Fars News Agency has immediately translated the article for distribution among Farsi speakers in Iran and worldwide. What better argument could the hardliners have that the issue of human rights is being politicised than to have the leader of a notorious terrorist group put their words into your mouth.
These MEPs really need to get to grips with the fact they are being manipulated into pursuing an agenda not of their own making, which ultimately serves to worsen human rights in Iran and to help crush any indigenous opposition movements and activities. Any Iranian not associated with the MEK terrorist group – on any side of the argument – will tell them this.
Khodabandeh co-authored the book 'The Life of Camp Ashraf – Victims of Many Masters'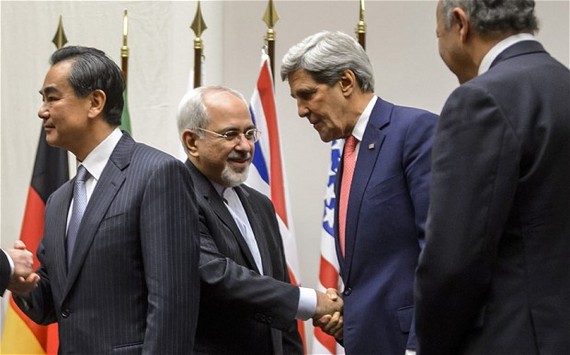 Massoud Khodabandeh: America Must Make Its Underlying Intentions Toward Iran Clear
***
Dear Washington: Kick Out This Iranian Militant Cult
Holly Dagres, Huffington Post, December 12 2014:… Maryam Rajavi's marriage to one of the original founders of the MEK symbolized the transformation from an organization to a "cult of personality." With the money provided by Iraqi President Saddam Hussein–they formed an alliance due to a deep disdain for the Iranian regime–to "construct self-sufficient camps" …
Discovering Iran (Women of Iran, Washington just doesn't get it)
Soraya Sepahpour-Ulrich, Foreign Policy Journal, November 08 2014:…In addition to the "Iran experts", Washington has found itself other sources of 'intelligence', foremost; the Mojahedeen Khalg (MEK) terrorist cult. This group feeds Washington information provided them by Israel. Previous to this assignment, the cult was busy fighting alongside Saddam …
ISIS supporter Maryam Rajavi attacks Obama from French parliament
Anne Khodabandeh (Singleton), Iran Interlink, November 01 2014: … When a supporter of ISIS sits in the French parliamentary building and attacks President Obama, the cracks are seriously beginning to show in the West's approach to resolving the whole Middle East situation. Observers may not be sufficiently informed to tell Western governments what to do in …
Azar (Mona) Hossein Nejad asks UNHCR to transfer her sister out of Camp Liberty
Azar Hossein Nejad, Hossin Nejad weblog, January 01 2015:…  I am contacting you to ask for your help regarding the situation of my sister, Zeinab Hossein Nejad, a 36 years old woman who is living in Camp Liberty in Baghdad, Iraq.  I never saw my parents or sister during my childhood and youth as all of them had to run for their lives. They left Iran along …  
European Conservatives line up with Iranian hardliners (Stevenson, Vidal-Quadras)
Farideh Farhi, Lobelog, April 22 2014: … members (some of them with links to the exiled Iranian opposition group, the Mujahadeen-e-Khalq (MEK), such as Spanish EPP member Alejo Vidal-Quadras and British ECR member Struan Stevenson) proposed amendments deleting the call for an opening of the EU office in Tehran, fully in line with the position of their supposed enemies — Iranian hardliners …
Zahra Moeini: Situation of women in Camp Liberty (Mojahedin Khalq, Rajavi cult)
Nejat Association reporting from , Ashraf news, April 21 2014: …  Massoud Rajavi has ordered the officials of the Camp to intensify the limitations against women especially after the revelations by Batoul Soltani and other dispatched members who bravely exposed the internal affairs especially the sexual scandals of the cult leader such as 'Salvation dancing' …