Exiles bend Washington's ear—and drag us into conflict
Emma Ashford, The American Conservative, January 03 2016:… Policymakers in Washington are not blameless in this. A recent invitation by Congress to the Mujahedeen-e-Khalq (MEK), an Iranian opposition group, to testify before the House Subcommittee on Terrorism on issues relating to Iran and ISIS highlights how little scrutiny such groups sometimes …
Council of Foreign Relations, 2014: Mujahadeen-e-Khalq (MEK). Backgrounders
Mojahedin Khalq (MKO, NCRI, Rajavi cult) terrorists openly declare support for ISIL, terror acts

Two, Three, Many Chalabis
Exiles bend Washington's ear—and drag us into conflict.
Ahmad Chalabi's death on November 3rd brought him back to public prominence for the first time in years. As the avalanche of editorials exploring Chalabi's life showed, Americans are still divided about his motivations—conniving or noble—and the extent of his role in misdirecting Middle East policy. But whether he was a master manipulator or merely manipulated, Chalabi was little different from any archetypal Westernized, pro-democratic exile. His life and influence in Washington should serve as a warning to U.S. policymakers: beware exiles who promise much but possess their own agendas.
Chalabi was the face of American policy toward Iraq after the 1991 Gulf War, cultivating strong ties with the U.S. military and intelligence agencies. Though he had been an exile for much of his life, his influence was predicated on his supposed knowledge of and connections inside Iraq. Indeed, his Iraqi National Congress was a vehicle for U.S. opposition to Saddam Hussein throughout the 1990s, receiving millions of dollars from both the CIA and directly from Congress.
Yet Chalabi's sway within Iraq was less than he implied to policymakers. Despite U.S. financial support, his attempted coup against Saddam in 1995 collapsed when the Iraqi army failed to fold as he expected, leading to the deaths of a number of his own men. Though the CIA largely stopped supplying Chalabi after this debacle, his influence in Washington continued to grow, in particular among a subset of influential neoconservative politicians—including Dick Cheney, Paul Wolfowitz and Donald Rumsfeld—who were receptive to Chalabi's pro-democratic pronouncements.
After the 9/11 attacks, these relationships were to prove key in the U.S. invasion of Iraq. Though many point to Chalabi's role in providing flawed intelligence—the Iraqi National Congress was behind the defectors whose unsubstantiated claims pointed to Saddam's supposed weapons of mass destruction—his quiet conversations with policymakers may have been more instrumental. He convinced administration insiders that the takeover of Iraq would require few American troops, that Iraqis themselves would rise up, and that the country would transition easily to democracy.
There is little to be gained from further recriminations about Chalabi's role in the Iraq War. But policymakers could certainly learn from this episode. Though Chalabi was perhaps the most prominent example in recent history, the role of exiles on the political scene is not new. Nor is their influence limited to Washington: groups such as Boris Berezovsky's London-based group of Russian exiles have attempted to influence British policymakers to oppose the Putin regime. The appeal of such exiles to Western policymakers is obvious: these individuals promise insider information about some of the world's most closed regimes, like the Soviet Union of old, Libya, or North Korea.
As Chalabi proved, however, exiles also have a strong incentive to mislead. The role of exiles in U.S. Cuba policy during the 1960s was similarly catastrophic. Among the most prominent of these exiles was José Miró Cardona, a former confidante of Fidel Castro. Under his leadership, the Cuban Revolutionary Council cooperated closely with the Kennedy administration in its anti-Castro activities, culminating in the Bay of Pigs disaster. Like Chalabi's 1995 coup, that operation failed in part because the Cuban exiles dramatically overestimated their support within Cuba.
From Chiang Kai-shek in the 1960s to Garry Kasparov today, U.S. policymakers have often looked favorably on opposition politicians when they visit Washington, regardless of their actual levels of support at home. And with the possibility of American taxpayer aid of millions or billions of dollars in the balance, the incentive for foreign dissidents to overrepresent their own support and underestimate the difficulties associated with regime change is high.
Policymakers in Washington are not blameless in this. A recent invitation by Congress to the Mujahedeen-e-Khalq (MEK), an Iranian opposition group, to testify before the House Subcommittee on Terrorism on issues relating to Iran and ISIS highlights how little scrutiny such groups sometimes face. Though certainly a vocal opponent of the regime in Tehran, MEK was only removed by the State Department from the list of foreign terrorist organizations in 2012, after heavily lobbying Congress. The group is communist and is often described as a cult. It is so extreme and so unrepresentative of the Iranian opposition in general that other regional experts testifying before Congress refused to appear on the same panel.
In today's Syrian conflict, the lack of a well-connected opposition-in-exile has made it somewhat easier for policymakers to resist calls to overthrow the Assad regime. If there were a Syrian Chalabi, it might well be the case that the U.S. would be attempting regime change in Damascus rather than concentrating on ISIS.
What Chalabi's story highlights is the need for skepticism among policymakers. Machiavelli once warned: "How vain the faith and promise of men who are exiles. Such is their extreme desire to return to their homes that they naturally believe many things that are not true, and add many others on purpose … they will fill you with hopes to that degree that if you attempt to act upon them, you will incur a fruitless expense or engage in an undertaking that will involve you in ruin." Ahmad Chalabi epitomized this problem—and there are many more like him.
Emma Ashford is a visiting research fellow at the Cato Institute.
That Secret Iranian 'Nuclear Facility' You Just Found? Not So Much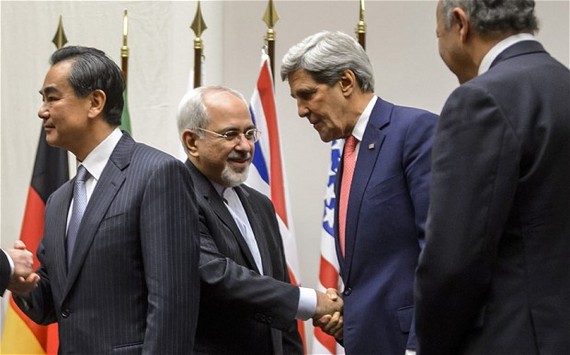 Massoud Khodabandeh: America Must Make Its Underlying Intentions Toward Iran Clear
Behind Struan Stevenson's book "Self Sacrifice"

مسعود خدابنده، نشریه سیاست آسیا: مجاهدین خلق و روش های تولید و انتشار اخبار جعلی در مطبوعات
Massoud Khodabandeh
Article first published online: 27 JAN 2015
DOI: ۱۰٫۱۱۱۱/aspp.12164

What does it mean when we say ISIS operates as a mind control cult?
***
Also read:
https://iran-interlink.org/wordpress/?p=6718
'Who could hang a saint?' – Maryam Rajavi's crocodile tears over human rights
Anne Khodabandeh (Singleton), Middle East Strategy Consultants, October 09 2015:…  The MEK are no longer needed or wanted beyond backing up the efforts of a few regime change pundits clinging to the past.  And of course, Maryam Rajavi is acutely aware of the fate of her benefactor Saddam Hussein. When he was no longer needed, his former allies handed him over …
(Maryam Rajavi directly ordered the massacre of Kurdish people)
Middle East Strategy Consultants,
http://www.mesconsult.com
Author of "Saddam's Private Army" and "The life of Camp Ashraf"
http://www.camp-ashraf.com
'Who could hang a saint?' – Maryam Rajavi's crocodile tears over human rights
Human Rights advocacy is a laudable activity. Advocates automatically occupy the high moral ground in pursuit of their goals – and this of course reflects on their status. But as with everything we must examine their underlying motives before we accept at face value the posturing of every Tom, Dick and Harry who jumps on the bandwagon of human rights. Above all, we must examine the person before we listen to their inviolable message.
In reaction to the 'World Day Against the Death Penalty (October 10), notorious cult leader Maryam Rajavi will use the occasion to announce to a specially assembled audience that she is against the death penalty.
That will be news indeed to the thousands of former members and indeed the current members of the notorious terrorist Mojahedin Khalq cult which she leads. Maryam Rajavi's MEK has not only killed over 12,000 Iranians and 25,000 Iraqis as part of its violent regime change agenda, but inside the group, Rajavi has been personally responsible for the extra-judicial murder and torture of countless members behind the closed doors of the cult.
So, what could be behind this dramatic volte-face? Has Rajavi really undergone a unique transformation of belief and if so, is she sincerely contrite for all the deaths she is personally responsible for within the Mojahedin Khalq? Does she regret her past? Will she now apologise to the thousands of former members of her organisation who are victims of heinous human rights abuses for which she and her husband are culpable?
For various reasons this is impossible. Not least because as the leader of a mind control cult such an admission of guilt would undermine the whole foundation of her organisation and throw the remaining vulnerable brainwashed members onto the path of a mental breakdown.
Or is this, as we have every reason to believe, a politically motivated fake stance brought about by panic and despair, just as once the MEK's manufactured nuclear intelligence bought them artificial status brought about by opportunism. Since July, the negotiated Iran nuclear agreement has irrevocably changed the political landscape. The MEK are no longer needed or wanted beyond backing up the efforts of a few regime change pundits clinging to the past.
And of course, Maryam Rajavi is acutely aware of the fate of her benefactor Saddam Hussein. When he was no longer needed, his former allies handed him over to the Iraqi people for judgement and punishment. He was, as we all know, hanged.
So, Maryam's Rajavi's sudden and specific and uncharacteristic condemnation of the death penalty should be judged in this context. Her underlying message to her sponsors is, 'who could hang a saint?'
Mujahadeen-e-Khalq (MEK). Backgrounders
Expert in cultic abuse and terrorism in the MEK speaks in London charity meeting
President of MIVILUDES Serge Blisko with Anne Khodabandeh (Singleton) of the FST. FECRIS 2015
Anne Khodabandeh (Singleton) and Nasrin Ebrahimi, European Parlaiment:
Silencing the victims of Mojahedin Khalq (MKO, MEK, Rajavi cult, PMOI, NCRI …) to promote Maryam Rajavi
Anne Khodabandeh (Singleton), University of Baghdad: MEK's Western backers are complicit in their deaths
Anne Singleton from Iran-Interlink
visits Camp New Iraq (Formerly Ashraf)
in wake of violence by loyalists of the Rajavi cult
Document on Mojahedin Khalq released by RAND (The Mujahedin-e Khalq in Iraq, A Policy Conundrum)
***
Also read:
Open Letter to Susana Klien and Caroline Haworth of Womankind Worldwide
A number of survivors of Rajavi cult,  August 31 2015:… This summer, your charity floated an engaging invitation on its Facebook page for women to nominate their 'women's rights idol'. Sadly, perhaps inevitably, Womankind was then inundated with nominations and praise for Maryam Rajavi. The effect has been to hijack the page and spoil its intent. The Mojahedin are …
REPORT – FECRIS Marseille 2015
Family Survival Trust, May 24 2015:…Anne Khodabandeh, representative of The Family Survival Trust, was in a unique position to brief M. Blisko and the audience about this issue. She explained that it is possible to construct a model for describing and analysing the use of cultic abuse by terrorist entities without mentioning religion. Anne then went on to describe …
Open Letter to Nancy Pelosi: Don't allow the MEK to hijack your name
Anne Khodabandeh (Singleton), Iran Interlink, April 14 2015:… It will come as some surprise to you therefore, that a group of Iranian war-mongering regime change proponents, the terrorist Mojahedin Khalq (MEK), claim to have your support. In an astounding act of hubris, the MEK has not only appropriated your good name and …
The Iranian Mojahedin-e Khalq (MEK) and Its Media Strategy: Methods of Information Manufacture
Iran Interlink, February 04 2015:… A review authored by Massoud and Anne Khodabandeh has been published in Asian Politics and Policy, Media Reviews. The article titled 'The Iranian Mojahedin-e Khalq (MEK) and Its Media Strategy: Methods of Information Manufacture' looks at the MEK's historical manipulation of various media over thirty years …
Rajavi cult abuse – Albania must protect human rights of Iranian refugees from MEK
Anne Khodabandeh (Singleton) , Iran Interlink, January 24 2015:… Albania's efforts to improve its human rights and bring them into line with European and international standards could be seriously undermined if it does not take action to curtail the activities of the terrorist Mojahedin Khalq cult organisation in that country. There is strong evidence that …
Rajavi's lobbyists demand Mojahedin Khalq terrorist cult in Iraq be re-armed rather than removed
Anne Khodabandeh (Singleton), Iran Interlink, January 14 2015:…  Whether delusional or corrupt, this gang – listed below and now posing as the International Committee in Search of Justice (ISJ) – says the residents of Camp Liberty should have their "personal protection weapons returned to