Facebook Twitter Host MEK – Ban Critics
Russia Today, January 19 2020:… Twitter removed state-backed media outlet Al-Alam News' account, as well as that of the popular Iran-backed Spanish-language media outlet HispanTV, only reinstating the latter after a massive public backlash. Dozens of individual Iranians who supported their government were also deplatformed on Twitter, while anti-government users – many linked to notorious exile terror group Mujahedin e-Khalq (MEK) – were allowed to continue slinging hate against Soleimani and his supporters. Twitter even dished out a ban to Syrian President Bashar Assad, but restored the account after a few days. Facebook Twitter Host MEK – Ban Critics 
MEK Bots In Albania Main Source Of Retweeting Donald Trump's Tweets
Facebook Twitter Host MEK – Ban Critics
Facebook censors explainer clip recalling when western media liked Soleimani – and demonetizes popular account for sharing it
Facebook is doubling down on censorship of anything less than villification of slain Iranian Major General Qassem Soleimani, deleting a clip showing his history of fighting terrorism – and demonetizing the account posting it.
The social media behemoth didn't just remove independent journalist Dan Cohen's 'In the Now' segment, "How 'good guy' Soleimani became US media's 'bad guy," from the show's page on Tuesday – it demonetized In the Now entirely, citing the typical unspecified violations of "community standards." The move comes amid an alarming escalation in the platform's crackdown on political speech that runs contrary to US foreign policy, a wave of censorship that has not been limited to Facebook.
Despite being 100% factually accurate, Facebook censored my video on how Soleimani led Iran's fight against ISIS and demonetized @IntheNow_tweet's account. Apparently the truth violated "Community Standards". For now, you can watch the segment here: https://t.co/Z1qz11Ro9T pic.twitter.com/0qOCYKHq6E

— Dan Cohen (@dancohen3000) January 15, 2020
Cohen's video calmly and accurately explains how Soleimani "saved the region from falling to ISIS," fighting the terrorist group alongside the US and its Kurdish allies before he was recast posthumously by a complicit western media as "actually a huge terrorist and a ticking time bomb who was born to kill Americans." The video exposes the ideological inconsistency of the outlets currently depicting the Quds Force commander as the devil incarnate, showcasing clips from those same outlets in recent years praising Soleimani's battlefield performance.
Rania Khalek, who runs In the Now, tweeted in shock that a video merely stating facts about Soleimani had gotten her page demonetized, asking "where is the outrage" now that Facebook was so explicitly deleting material for ideological reasons.
Facebook is deleting political content at the behest of the US government. At the behest of a Trump-run government. They are deleting content that challenges the US drive for war. Where is the outrage????

— Rania Khalek (@RaniaKhalek) January 15, 2020
Facebook and its subsidiary Instagram have come under fire from independent journalists and media organizations like the International Federation of Journalists for embarking on a wholesale campaign to deplatform all support for Soleimani in the weeks following the US airstrike that killed him. The company has claimed the extensive US sanctions placed on Iran, including the designation of the Islamic Revolutionary Guard Corps as a terrorist organization, require it to censor such posts, though even legal experts quoted by CNN took a dim view of that rationale.
Facebook and Instagram not only remove accounts run by or for sanctioned individuals or groups, but also posts that (they claim) praise or seek to assist the people in question – making sanctions a convenient excuse for mass-deplatforming any user who holds a political view the US government has deemed heresy.
Iranians saw insult added to injury when over a dozen Iranian journalists, several state-run media organizations, and countless ordinary individuals and activists' Instagram accounts were yanked entirely in the days following Soleimani's assassination. Many more saw pro-Soleimani posts removed, even when they carefully avoided saying his name – one Lebanese researcher praised "Q*ssem S*leim*ni" for protecting Christians from ISIS and al-Qaeda, only to have his video removed anyway.
The rank ideological discrimination not only left them unable to publicly mourn for a leader beloved by the lion's share of the people, but allowed pro-regime-change trolls to dominate the narrative. Facebook has recently taken flack from the US political establishment for refusing to "fact-check" political ads, but non-advertising content is more tightly controlled than ever.
MEK Terrorists In Albania Now Targeting Canadian Politicians
Facebook and Instagram are far from alone in clamping down on the speech of Iranian users, however – YouTube briefly deleted state-backed PressTV's channel earlier this week, only to reactivate it after an outpouring of popular support
BREAKING: Our Press TV UK account has been permanently disabled by #YouTube without explanation, amid US-led anti-Iran sanctions and hostility.@Presstvuk #PressTVUK #Censorship pic.twitter.com/WoH9nAYChK

— Press TV UK (@Presstvuk) January 13, 2020
Twitter removed state-backed media outlet Al-Alam News' account, as well as that of the popular Iran-backed Spanish-language media outlet HispanTV, only reinstating the latter after a massive public backlash. Dozens of individual Iranians who supported their government were also deplatformed on Twitter, while anti-government users – many linked to notorious exile terror group Mujahedin e-Khalq (MEK) – were allowed to continue slinging hate against Soleimani and his supporters. Twitter even dished out a ban to Syrian President Bashar Assad, but restored the account after a few days.
Facebook Twitter Host MEK – Ban Critics
***
Also read:
https://iran-interlink.org/wordpress/facebook-praises-an-iranian-cult-mek-known-for-killing-u-s-citizens/
Facebook praises an Iranian cult, MEK known for killing U.S. citizens
Jefferson Morley, Salon, February 24 2019:… The MEK is described by Facebook/DFRLab as "the largest and most active political opposition group against the Islamic Republic of Iran leadership." This statement is so factually false as to be ludicrous. The Iranian parliament, the Majlis, has organized factions critical of President Hassan Rouhani that are much larger and more active than the MEK. Masih, the country's online anti-hijab movement that challenges the Islamic Republic's clerical leadership, has 2.1 million followers, far more than the tiny MEK.
As Giuliani Calls for Regime Change in Iran, Netanyahu Raises the Specter of "War"
Facebook praises an Iranian cult known for killing U.S. citizens
Facebook's foreign policy seems to skew toward crackpots
This article was produced by the Deep State, a project of the Independent Media Institute.
Facebook has a foreign policy, and it seems to skew toward Israel and Iranian crackpots.
Last month, the social media giant announced that (with the advice of the Atlantic Council's Digital Forensic Lab [DFRLab]) it had removed 783 assets   — pages, groups, and accounts  —  that the company assessed to be associated with an Iran-based network for "coordinated inauthentic behavior."
The Atlantic Council is a D.C.-based think tank dedicated to multilateralism and "just societies" that embodies the American multilateralist elite. It is also Facebook's consultant on what should be allowed on the world's largest social media platform.
Among the problems cited by DFRLab were five Facebook pages about the Israeli-Palestinian conflict that "had a strong bias in favor of Palestine." They were removed. Thumbs down.
You can rest assured that Facebook has also removed all those pages with a strong bias in favor of Israel — oh wait. Bibi Netanyahu's Facebook page is still up. So is AIPAC's. Strong bias in favor of Israel? Thumbs up.
No Bibi Jokes, PleaseAnother banished Facebook page called @Polcartoons was published in Hebrew. The site's offense? Facebook/DFRLab said it "curated cartoons from various Israeli news outlets that lampooned Prime Minister Benjamin Netanyahu and conservative Israeli political sentiment."Can you imagine the nerve of these Iranians? What kind of online demons would poke fun at Prime Minister Netanyahu?! In Hebrew! Poor, defenseless "conservative Israeli political sentiment" is under unfair foreign attack! From Iranian hackers! On Facebook! Such behavior, we regret to inform you, will not be tolerated by the politburo in Palo Alto.
Cult
A third offending page, @StopMEK, was removed for promoting views against the People's Mujahedin of Iran, or MEK. The page was dedicated to denouncing the MEK, an Iranian organization opposed to the country's clerical leader. The MEK is described by Facebook/DFRLab as "the largest and most active political opposition group against the Islamic Republic of Iran leadership."
This statement is so factually false as to be ludicrous. The Iranian parliament, the Majlis, has organized factions critical of President Hassan Rouhani that are much larger and more active than the MEK. Masih, the country's online anti-hijab movement that challenges the Islamic Republic's clerical leadership, has 2.1 million followers, far more than the tiny MEK.
Facebook, wittingly or unwittingly, has succumbed to a crackpot propaganda campaign.
Supporting Saddam
Here's diplomatic correspondent Barbara Slavin on the MEK's sorry history:
"The MEK, a cultish Marxist-Islamist group responsible for the death of six Americans in Iran before the 1979 revolution, lost out in the post-revolution power struggle and fled to Iraq, siding with Saddam Hussein against Iran in the 1980-88 Iran-Iraq war. Maryam Rajavi, the widow of MEK leader Massoud Rajavi, lives in a compound outside Paris…"
From 1997 to 2012, the MEK was listed by the U.S. government as a "Foreign Terrorist Organization." When Human Rights Watch visited an MEK camp in Iraq in 2010, investigators documented widespread abuse of human rights.
"Serious concerns"
The State Department website says:
"The Department does not overlook or forget the MEK's past acts of terrorism, including its involvement in the killing of U.S. citizens in Iran in the 1970s and an attack on U.S. soil in 1992. The Department also has serious concerns about the MEK as an organization, particularly with regard to allegations of abuse committed against its own members."
Most non-governmental observers, who have not received money from the MEK, regard the group as a political cult.
Secretary of State Hillary Clinton delisted the group in 1992 because the MEK paid millions of dollars to ex-U.S. officials of both major parties to speak at MEK events. John Bolton and Rudy Giuliani have taken MEK money. So have Bill Richardson and Howard Dean.
The group is funded by Saudi Arabia, according to Slavin, which "inflames" various conflicts in the Middle East. Writing for the Voice of America, Slavin said:
"Contrary to the MEK's claims, there is nothing democratic about this cultist organization, which requires its members to divorce their spouses or remain celibate and engage in Maoist-style struggle sessions of self-humiliation. Those that manage to escape often require long periods of de-programming."
Do Facebook and DFRLab not know that the MEK is a marginal group whose actions are inconsistent with the unobjectionable, if contradictory, stated principles of the Atlantic Council? Or do Facebook and the Council want to promote a crackpot group for reasons of their own, perhaps related to the current U.S.-Saudi policy of hostility to Iran?
All we can say for sure is the MEK has a Facebook page.The Iranian Facebook page @StopMEK is gone.
Requests for response from the Facebook Press Office were not immediately returned.
JEFFERSON MORLEY
Jefferson Morley is a senior writing fellow and the editor and chief correspondent of the Deep State, a project of the Independent Media Institute. He has been a reporter and editor in Washington, D.C., since 1980. He spent 15 years as an editor and reporter at the Washington Post. He was a staff writer at Arms Control Today and Washington editor of Salon. He is the editor and co-founder of JFK Facts, a blog about the assassination of JFK. His latest book is The Ghost: The Secret Life of CIA Spymaster, James Jesus Angleton.(End)
Also read:
https://iran-interlink.org/wordpress/pompeo-bolton-and-irans-fake-opposition-mek-ncri/
Pompeo, Bolton, And Iran's "Fake Opposition" (MEK, NCRI, …)
Muhammad Sahimi, Lobe Log, February 07 2019:… According to documents filed online by the National Council of Resistance of Iran (NCRI), the political arm of the MEK, Uskowi has repeatedly met with NCRI's Alireza Jafarzadeh. Iranians consider Jafarzadeh the "foreign minister" of the MEK leader, Maryam Rajavi. Bolton and Trump's personal attorney, Rudy Giuliani, have been long-time lobbyists for the MEK, receiving large fees for their lobby activities. Both Bolton and Giuliani have also called for "regime change" in Iran.
That Secret Iranian 'Nuclear Facility' You Just Found? Not So Much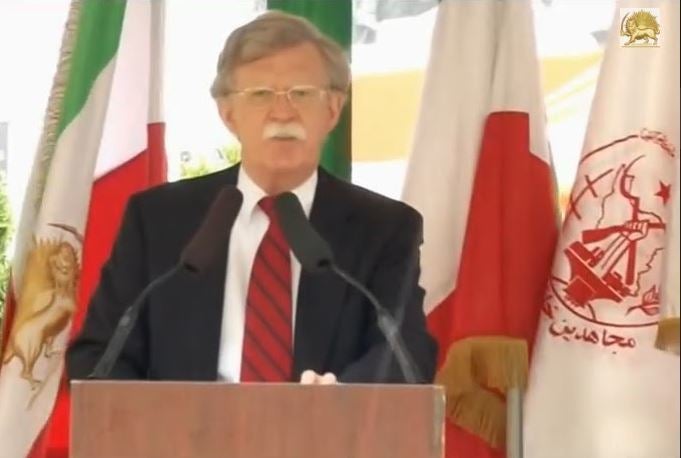 Mojahed Khalq Brother John Bolton has a memory lapse
Pompeo, Bolton, And Iran's "Fake Opposition"
As Iranian people struggle for democracy and respect for human rights and the rule of law, as well as preserving the national security and territorial integrity of their country, two main groups have emerged among the opposition to Iran's hardliners, both within Iran and in the diaspora. One group, the true opposition that includes the reformists, religious-nationalists, secular leftists, various labor groups, human rights activists, and others, believes that it is up to the Iranian people living in Iran how to change the political system in their country. This group is opposed to foreign intervention, particularly by the United States and its allies, the illegal economic sanctions imposed by the United States on Iran, and the constant threats of military confrontation espoused by John Bolton, President Trump's national security advisor, and other Iran hawks.
Many Iranians refer to the second group as the "fake" opposition. It consists mostly of the monarchists, some ethnic groups, and the Mojahedin-e Khalq (MEK), the exiled group that is universally despised in Iran and was on the State Department's list of "Foreign Terrorist Organizations" from 1997 until 2011. It is called the "fake" opposition because it supports the economic sanctions and the threat of military attacks, and has completely aligned itself not only with the Trump administration, but also with Saudi Arabia, the United Arab Emirates (UAE), and Israel, and endorses their propaganda against Iran. This group, whose followers are based mostly in the diaspora, acts more like a lobby for convincing the Iranian people to support the Trump-Mohammed bin Salman(MbS)-Benjamin Netanyahu triangle in their confrontation with Iran, rather than as a group supporting the true opposition within Iran for lasting, irreversible, and positive changes in the political system.
The harsh economic sanctions imposed on the Iranian people have contributed significantly to the terrible state of Iran's economy, increasing inflation and unemployment, making vital drugs and medications scarce, and hurting the middle class greatly. These groups' support for the hostility of Saudi Arabia, Israel, and UAE toward Iran is particularly galling at a time when Saudi Arabia has threatened "to take the war to inside Iran," Israel came close numerous times to attacking Iran from 2010-2011 and is still threatening it, and the UAE welcomed the terrorist attacks in Ahvaz in southern Iran last September.
The Secessionist Ethnic Groups
Although National Security Advisor John Bolton supports the MEK and has met with its leader repeatedly, Secretary of State Mike Pompeo and Brian Hook, the State Department's Special Representative for Iran who directs the "Iran Action Group," have met with some of the leaders of the "fake" opposition. Last June, Abdullah Mohtadi and Mustafa Hijri who lead, respectively, the Iranian Communist Kurdish group Komala and the Kurdistan Democratic Party of Iran (KDPI),  traveled to Washington, with Mohtadi reportedly meeting with Pompeo and Hijri meeting with other the State Department officials. Komala's office in Washington has registered with the Justice Department as a lobbying group intending to "establish solid and durable relations" with the Trump administration. Before he was appointed the president's national security advisor, Bolton published a white paper that included a call for supporting "Kurdish national aspirations, including Kurds in Iran, Iraq and Syria," and for providing "assistance to Balochis, Khuzestan Arabs, Kurds" and other ethnic minorities in Iran.
Both groups have carried out armed attacks on Iran's military inside Iran, which amount to terrorism. Both have separatist tendencies, which they conceal under the guise of calling for a federal system that would partition the country into various regions based on ethnicity. The separatist nature of the KDPI became clear when, in 2012, Hijri asked the United States to declare Iran's Kurdistan province a "no-fly zone" so that his forces could attack government forces freely and eventually secede from Iran. Hijri has also called for "regime change" in Iran, declared the Islamic Republic "a common enemy" of the Kurds and Israel, and asked the Jewish state for support.
Identifying Iranian Ahmed Chalabis
One goal of the meetings between Pompeo, Bolton, and the exiled "fake" opposition is to identify those Iranians who have the potential to act as the Iranian version of Ahmad Chalabi. This notorious Iraqi figure, whose Iraqi National Congress for years fabricated lies about Saddam Hussein's non-existent weapons of mass destruction, worked closely with the neoconservatives in the run-up to the 2003 invasion. Another goal is to buttress the claim that the Iranian people support Trump's policy vis-à-vis Iran.
One leading candidate is Reza Pahlavi, the son of Iran's last king, Mohammad Reza Pahlavi whose regime was overthrown by the 1979 Revolution. In the 1980s, the CIA provided Reza Pahlavi with funding. He has also had a long-term relationship with Israel and the Israel lobby in the United States, including meeting with Sheldon Adelson, the casino magnate and billionaire Republican donor who once suggested that the United States attack Iran with nuclear bombs. Reza Pahlavi has also called on Israel to help the "cause of democracy" in Iran.
Efforts to prop up Reza Pahlavi began immediately after Donald Trump's election in November 2016, even before he formally took office. Suddenly, the Farsi division of Voice of America (VOA), as well as Radio Farda, a U.S. funded radio program, began promoting Reza Pahlavi as the "leader" of the opposition. Setareh Derakhshesh, director of VOA's Farsi programs, interviewed Pahlavi, and both VOA and Radio Farda began presenting a very "modern" and positive portrait of Pahlavi and his family, a depiction that has continued.
In addition, Derakhshesh also interviewed several Iran hawks, including Bolton. She also interviewed  Elliot Abrams, who served in George W. Bush's National Security Council and is an ardent opponent of the nuclear agreement with Iran (the Joint Comprehensive Plan of Action or JCPOA), and Michael Ledeen, a veteran anti-Iran neoconservative at the Foundation for Defense of Democracies (FDD), a leading anti-JCPOA group closely associated with Israel's Likud Party. Both Abrams and Ledeen support Trump's policy toward Iran. VOA also hired Masih Alinejad, a controversial reporter who has turned against the Reformists in Iran, to begin her own program on VOA, giving her large sums of money and promoting her heavily.
In addition, VOA's programs stopped interviewing the Reformist figures in the Iranian diaspora or in Tehran. Several Iranian staff members who ran various VOA Farsi programs and were not comfortable with the sudden change of direction, either left VOAor moved to positions off camera.
The New Pro-War Group
Another "fake" opposition group that has emerged over the past several months and is closely linked with the Trump administration and the neocons is called Farashgard("revival" in ancient Persian). Its leading member is Amir Etemadi who, together with Saeed Ghasseminejad, co-founded the so-called "Iranian Liberal Students Group" (ILSG), a small ultra-right group of student activists in Iran, most of whom moved to Canada and the United States and supported George W. Bush's policy toward Iran. Ghasseminejad is now "senior adviser on Iran" at the FDD.  In his Twitter account, Ghasseminejad refers to himself as a "classical liberal and non-partisan," despite calling for the execution of the Islamic Republic's leaders after regime change and working for the very partisan FDD.
Farashgard consists of 40 relatively young activists—most of whom are members of the ILSG—who have called for "regime change" in Iran, supported Trump's "maximum pressure" campaign against their native land, and promoted Reza Pahlavi as the leader of the opposition. Before the group announced its existence in September 2018, many of its members had signed a letter in December 2016 in which they declared the Islamic Republic of Iran and the Islamic State (ISIS or IS) "two sides of the same coin"—never mind that Iran played a leading role in defeating IS in Iraq and Syria. The letter also urged then President-elect Trump to take on the Iran's Islamic Revolutionary Guard Corps (IRGC) throughout the Middle East "by all available means" and help "the Iranian people to take back their country from the Islamic gang which has been in charge for the last four decades…" Echoing Bolton's and Pompeo's claim that Iran's ballistic missile program is "a threat not only to the region but to the world," they asked Trump to pressure Iran to stop its missile program, and impose tough economic sanctions that would hurt the Iranian people, not the regime
"New Iran" Foundation
A few months ago, a new Iran "think thank" popped up called New Iran (TNI), led by Alireza Nader, formerly of the Rand Corporation. TNI claims to be "a nonprofit and nonpartisan 501(c)3 organization dedicated to the objective research and analysis of Iran." But Nader has recently been more involved in political development than analysis. In late December 2017 and early January 2018, when demonstrations against the terrible state of the economy broke out in several cities throughout Iran, Nader was highly active on Twitter, trying to encourage more demonstrations—see here, here, here, and here, for example—while working at Rand under a contract from the U.S. government.
Nader apparently left Rand a short time after those demonstrations, and suddenly TNI emerged with offices at a pricey Washington address and six permanent staff. The few analyses that TNI members, including Nader himself, have published—see here and here, for example—indicate that they support the Trump/Pompeo/Bolton approach to Iran. This is in fact Nader's modus operandi. A review of his writings over the years shows that he generally changes positions as the U.S. administrations do and tries to align with whoever is in power.
In addition to supporting Trump's Iran policy, Farashgard and TNI are also closely linked to the neoconservatives, the Israel lobby, and others. For example, a member of the board of directors of the TNI, Nader Uskowi, was a leftist student activist before the Iranian revolution and has worked at the Washington Institute for Near East Policy, an offshoot of the American Israeli Political Affairs Committee. Another member of TNI's board is Thomas Parker who is also listed as a security expert on the website of the Washington Institute and has written for them in the past.
In a recent article, Uskowi seemingly praised Farashgard. In addition, Shay Khatiri, a researcher at TNI, is also a member of Farashgard, and in his Twitter account proudly describes himself as "the new Paul Wolfowitz," the discredited neoconservative former deputy Pentagon chief under George W. Bush and one of the key architects of 2003 invasion of Iraq. A picture shows him shaking hands with the late Senator John McCain, an Iran hawk who sang infamously "bomb, bomb, bomb Iran." His page on the TNI website claims that "he has researched Iranian politics, history, and public opinion at the Foundation for the Defense of Democracies and the American Enterprise Institute," whose "scholars" have included Wolfowitz, Bolton, Ledeen, and other Iraq and Iran hawks. Another TNI adviser, Sharon Nazarian, is "senior vice president of international affairs" at the Anti-Defamation League, a civil-rights group that is strongly pro-Israel and that has also long supported a confrontational stance towards Iran.
According to documents filed online by the National Council of Resistance of Iran (NCRI), the political arm of the MEK, Uskowi has repeatedly met with NCRI's Alireza Jafarzadeh. Iranians  consider Jafarzadeh the "foreign minister" of the MEK leader, Maryam Rajavi.
Bolton and Trump's personal attorney, Rudy Giuliani, have been long-time lobbyists for the MEK, receiving large fees for their lobby activities. Both Bolton and Giuliani have also called for "regime change" in Iran.
It's not clear where TNI and other "fake" opposition groups receive their funding. The Gulf States, however, have made clear their their willingness to pay for anti-Iranian activities. Last November, The New York Times reported that, in March 2017, intelligence and military officials of Saudi Arabia discussed a $2 billion plan to destabilize Iran and assassinate its top officials, including Major General Qasem Soleimani, the commander of Iran's Quds force.
No Significant Social Base of Support
One of the most important aspects of all such groups is that they have no significant social base of support within Iran. Even in the diaspora a large majority of Iranians, while opposing the clerics in Iran, reject economic sanctions, military threats, and these groups' support for the anti-Iranian policy of the Trump-MbS-Netanyahu triangle. Within Iran, the hostility of the triangle has actually transformed the generally pro-West Iranians into strong opponents of the three countries, to the point of despising the three leaders and their governments.
Farhad Meysami, a medical doctor and human rights activist who has been imprisoned by the hardliners in Tehran and has even gone on hunger strike, criticized harshly the Trump administration in an open letter distributed widely on the Internet. He accused Trump, Bolton, and Pompeo of shedding "crocodile tears" for him and other jailed political and human rights activists, writing:
I was paging through a newspaper when I suddenly caught a glimpse of a story and got riveted to the spot. Apparently, [Donald] Trump's State Department has called for the "freedom" of this humble civil activist. Actually, I prefer to serve my whole life in jail at the hands of a group of wrongdoing compatriot oppressors and spend it endeavoring to rectify their mistakes, rather than be subject to the stigma of "deal-breakers' support" [a reference to the Trump administration leaving the JCPOA illegally].
Meysami ended his letter by saying, "I request the likes of Trump, Pompeo and Bolton to shed their crocodile tears for human rights elsewhere."
After promoting Reza Pahlavi heavily, Farashgard called on the Iranian people to go on strike and demonstrate on the anniversary of last year's scattered demonstrations, particularly on December 28 and January 7. No significant demonstration took place anywhere in Iran, hence demonstrating the absence of any social support within Iran for the monarchists, Reza Pahlavi, and their promotors. It also demonstrated these groups' complete ignorance of Iran's realities. The lack of support for the demonstrations was so embarrassing that it ignited a fierce internal debate among the monarchists about the wisdom of such calls.
All Iranians despise the MEK for collaborating with Saddam Hussein and Iraq during the war with Iran in the 1980s, for revealing information on Iran's nuclear program and facilities, for working with Saudi Arabia, and for collaborating with Israel in the assassination of Iranian nuclear scientists.
The Poland Summit
In January, Secretary of State Mike Pompeo announced a summit in Poland on February 13-14 to build a global coalition against Iran. The idea, according to Pompeo, is to "focus on Middle East stability and peace and freedom and security here in this region, and that includes an important element of making sure that Iran is not a destabilizing influence." Poland's Foreign Minister Jacek Czaputowicz said in a statement that 70 countries, including all 28 members of the European Union, have been invited.
A well-placed Iranian activist told the author that, in the run-up to the summit in Poland, Pompeo has invited several figures from the Iranian "fake" opposition to Washington for "consultation." The apparent purpose is either to select some of them to take to Poland to speak "on behalf of the Iranian people," to prepare some sort of "manifesto" on what the Iranian people want, or both. In fact, on February 4, Pompeo met with the VOA's Alinejadand "underscored the United States' commitment to help amplify the voices of the Iranian people and to condemn the Iranian regime for its ongoing human rights abuses." This is while the United States continues to support Saudi Arabia and Egypt, countries that are gross violators of the human rights of their own citizens.
After re-imposing harsh and illegal economic sanctions on Iran, threatening Iran repeatedly, and banning most Iranians from traveling to the United States, the Trump administration, in collaboration with the "fake" Iranian opposition, sheds crocodile tearsfor the Iranian people. In Iran, meanwhile, the people struggle daily on two fronts. They continue to survive the sanctions and threats, and the rampant corruption of the hardliners. And they continue to pressure these same hardliners to stop the repression, open up the political space, and allow for free and fair elections.
Muhammad Sahimi, a professor at the University of Southern California in Los Angeles, has been analyzing Iran's political developments and its nuclear program for 25 years. From 2008-2012, he was the lead political columnist for the website PBS/Frontline/Tehran Bureau. In addition, his writings have been published by Huffington Post, National Interest, Antiwar, and other major websites, as well as by the Los Angeles Times and New York Times, among others.
(End)
***
َAlireza Jafarzadeh has already published his suicide bombing note.
Wondering at those Americans who stand under the flag of Mojahedin Khalq (MKO, MEK, NCRI, Rajavi cult) only to LOBBY for the murderers of their servicemen
Pssst, Whisper It, Even Iran's Enemies Don't Want Regime Change
Remember.Mojahedin Khalq (MKO, MEK, Rajavi cult) was one of the excuses of US attacking Iraq
BBC: Who are the Iranian dissident group MEK? (Mojahedin Khalq, MKO, PMOI, …)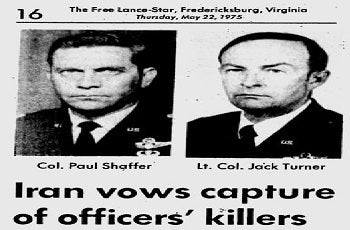 The MEK's dirty past includes the anti-Imperialist inspired murder of six Americans in pre-revolution Iran which it later celebrated in songs and publications
How do you explain this to the families of over 4000 US servicemen Killed in Iraq?
Who celebrated the terrorist act of Sep. 11? 
Also read:
 2019/10/08
Davood Baghervand Arshad, No to Terrorism Cults, Germany, October 08 2019:… Your country has been kindly hosting many of my brothers and sisters and also my wife which was forcefully separated from me by Mek, saving them from being torn apart by shelling in Iraq, where Madam Rajavi brutally insisted on members to stay in order to utilize their (martyrdom)… Facebook Twitter Host MEK – Ban Critics
---
 2019/10/07
Reza Sadeghi Jabali, Iran Interlink, October 07 2019:… Recently you visited the MEK Camp in Tirana. As a former member, I would like to bring to your attention that the latest EU-Western Balkans Ministerial Forum on Justice and Home Affairs, held in Tirana in October 2018, recognized that terrorism and radicalization remain a common challenge for the European Union and… Facebook Twitter Host MEK – Ban Critics
---
 2019/10/07
James Bovard, The American Conservative, October 07 2019:… Federal law prohibited taking money from or advocating on behalf of any designated terrorist group. Yet a 2011 Huffington Post headline reported, "Former U.S. Officials Make Millions Advocating For Terrorist Organization." That didn't seem to matter much to former FBI boss Louis Freeh, former CIA boss Porter Goss, co-chair of the 9/11… Facebook Twitter Host MEK – Ban Critics
---
 2019/09/24
John Hudson, Washington Post, September 24 2019:… Pompeo is scheduled to speak at an event hosted by Iran hawk and former diplomat Mark Wallace, who has drawn criticism for including a fringe Iranian diaspora group, Mujahideen-e Khalq, or MEK, in his programming surrounding the U.N. gathering. Until 2012, the MEK was listed as a foreign terrorist organization by the United… Facebook Twitter Host MEK – Ban Critics
---
 2019/09/21
Iran Interlink, September 20 2019:… Commentators' reactions to the MEK's anniversary celebration of the founders of the MEK say 'how ridiculous it is to attach yourselves to the founders as they have nothing to do with what you are now. You are now mercenary force for Israel, Saudi and the US. The reason you can't move beyond your own past… Facebook Twitter Host MEK – Ban Critics
---
 2019/09/20
Nebojsa Malic, Russia Today, September 20 2019:… The examples are legion. Razavi herself mentions (though not by name) "Heshmat Alavi," a supposed expert on Iran who recently turned out to be a construct – an online persona operated by the Iranian exile group Mojahedin-e Khalq (MEK). This is an outfit that seeks regime change in Tehran, and has been endorsed… Facebook Twitter Host MEK – Ban Critics
---
 2019/09/18
Alice Taylor, The Balkanista, September 17 2019:… It was then, as I looked around I noticed that there were no other journalists present as I could not see any TV crews, no other people with press cards, no journalists I recognised, and I realised I hadn't seen any media vans or cars in the car park. There was only the…  Facebook Twitter Host MEK – Ban Critics
---
 2019/09/17
Emad Abshenass, United World, September 17 2019:…Bolton participated in many Mojahedin-e Khalq Organization meetings and received more than $180,000 for a speech where he promised the members of this group (which is considered a terrorist organization in Iran and many other countries around the world) they would celebrate Nowruz (the Iranian New Year) together in Tehran. While the Iranians don't… Facebook Twitter Host MEK – Ban Critics
---
 2019/09/15
Martin Love, Tehran Times, September 15 2019:…  With Bolton fired this week, and some saner names being suggested as a replacement, one can only hope that Trump is beginning to realize that if he wants to MAGA, it will be impossible if he caters to Neocon madness. Under the spell of these American traitors, who are mostly Zionist in orientation,… Facebook Twitter Host MEK – Ban Critics
---
 2019/09/14
Aljazeera and CNN, September 14 2019:…In 2015, he penned an editorial in the New York Times entitled "To Stop Iran's Bomb, Bomb Iran." He was a regular (paid) speaker at the annual meetings of Mujahedin-e-Khalq (MEK), an Iranian exile group which for years was hosted by Saddam Hussain, and which until 2012 was on the US State Department's terrorist list.At his most recent… Facebook Twitter Host MEK – Ban Critics
---
 2019/09/03
Nejat Society, September 03 2019:… Facebook Twitter Host MEK – Ban Critics "So whether or not the elderly leader of this cult is alive, when the MEK is facing a lot of challenges, may not matter much," Alghurabi determines. The collapse of the world's most powerful dictators like Hitler, Stalin, Saddam and Ghaddafi is the proof. Maryam Rajavi's hard work to trigger her troll farm in Albania… Facebook Twitter Host MEK – Ban Critics
---
 2019/09/01
Iran Interlink, August 31 2019:… Facebook Twitter Host MEK – Ban Critics .In Albania, a source inside MEK has informed Iran-Interlink that alongside the click farm work Rajavi has ordered some members to discover who leaked the incriminating photographs which we wrote about in Lobelog last week to the Iranian media. The way this is being done is through telephone calls. They change the way they speak… Facebook Twitter Host MEK – Ban Critics