From Iran to Nice, We Must Confront All Terrorism to End Terrorism
Seyed Hossein Mousavian, Huffington Post, July 23 2016:… The MEK's hands are tainted not only with American blood, but also with the blood of countless Iranians, Iraqis and Kurds. Since Iran's 1979 revolution, the MEK has been responsible for the deaths of upwards of 17,000 Iranians, including senior officials and ministers. During the Iran-Iraq War, the MEK also sided … 
From Attraction to Action — How Young People Are Radicalized
From Iran to Nice, We Must Confront All Terrorism to End Terrorism
Seyed Hossein Mousavian
Head of Foreign Relations Committee of Iran's National Security Council (1997-2005)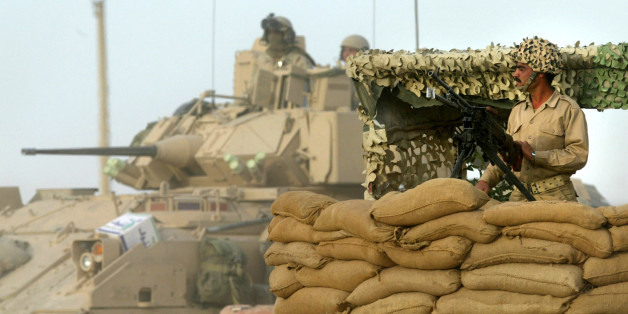 France has unfortunately been the epicenter for two terrorism-related events in recent weeks. The tragic truck attack in Nice, which received international attention, and a rally recently held in Paris by a notorious Iranian opposition group — the "Mujahedin-e Khalq," or MEK, which for years has committed acts of terrorism against Iran. While it might not be immediately evident, there is a connection between the events — the groups behind them have been accused of atrocities and have historical ties to Saudi Arabia.
Both the MEK and the self-proclaimed Islamic State, which claimed the attack in Nice, are groups with a history of terrorism, and both, in some way or another, are influenced by the kingdom.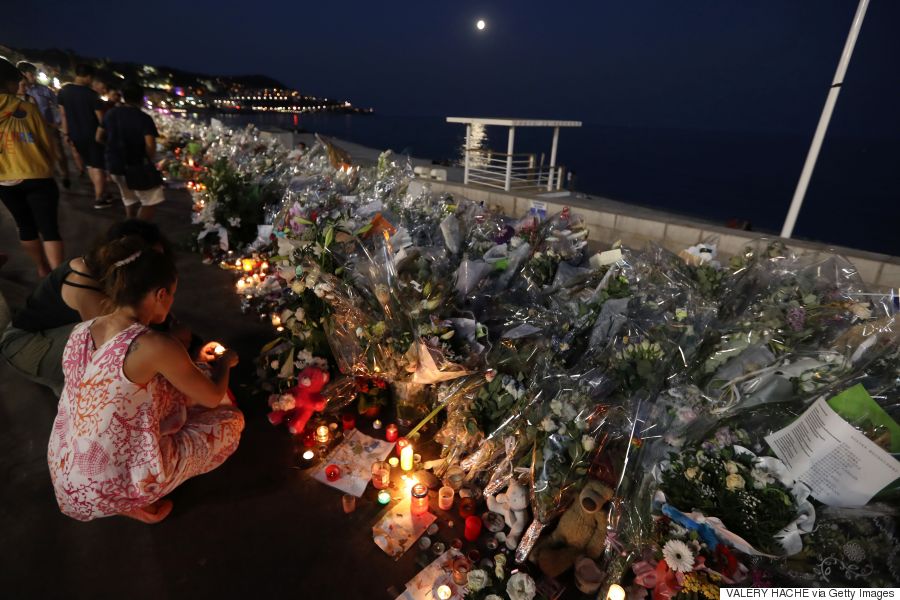 People light candles at a makeshift memorial on the Promenade des Anglais in Nice on July 19, 2016 in tribute to the victims of the Bastille Day attack. (VALERY HACHE/AFP/Getty Images)
While the group no longer has the distinction of a terrorist group in the United States and is not related to or as widely destructive as ISIS, in Iran the MEK is still very much a perpetrator of terror.
Since its founding in the late 1960s, the MEK's favored tactic has been terrorism, which for years it directed towards Americans. An MEK leader by the name of Massoud Rajavi stated in 1972 that the group's "main goal" was to "free Iran of U.S. imperialism." As I documented in my 2014 book, "Iran and the United States," the MEK's assassination campaigns in the 1970s claimed the lives of several high-profile Americans. Among the victims were one colonel and one lieutenant colonel of the U.S. Air Force, along with other servicemen.
The MEK's hands are tainted not only with American blood, but also with the blood of countless Iranians, Iraqis and Kurds. Since Iran's 1979 revolution, the MEK has been responsible for the deaths of upwards of 17,000 Iranians, including senior officials and ministers. During the Iran-Iraq War, the MEK also sided with Saddam Hussein, earning the enmity of the vast majority of Iranians. An Iranian NGO, the Habilian Association, has gone so far as to document all the Iranian victims of the MEK in a comprehensive database that includes photos and biographies of each of the victims.
In the '80s and '90s, the MEK was responsible for several terrorist campaigns within Iran, one of which killed some 70 Iranian officials in 1981, including both the president and prime minister at the time.
After the Iran-Iraq War, the MEK resided in Iraq and took on the role of Saddam's henchmen. An October 1994 Wall Street Journalreport quoted a Clinton administration official as saying, "Saddam looked on the Mujahedeen as more loyal than some of his own army units." After the 1991 Persian Gulf War, Massoud Rajavi lambasted the U.N. coalition that pushed Saddam out of Kuwait, stating, "Iranian national movements and their masses strongly denounce the Iranian regime's alliance with U.S. imperialism, world Zionism, and regional reactionaries to launch aggression against Iraq."
In recent years, Iranian nuclear scientists have been assassinated — in some cases murdered while driving to work. MEK is thought by many to be involved in these attacks, perhaps with the assistance of Israel. According to a 2012 NBC News report, Israel was "training MEK members" to carry out the killings. The group has also been held responsible for an April 2000 assassination attempt on the leader of the Iranian policy making center for the war in Iraq.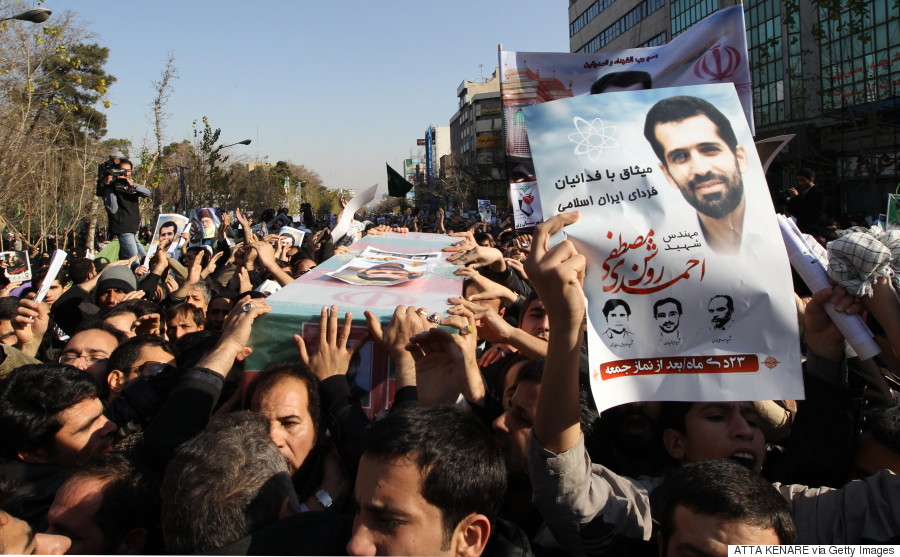 Mourners carry the coffin of an Iranian nuclear scientist on January 13, 2012. Some believe MEK is involved in the deaths of the nuclear scientists. (Atta Kenare/Getty Images)
This year, the annual gathering of the MEK in Paris featured Prince Turki al-Faisal, the former director of Saudi intelligence, as a speaker. The conference typically draws the attendance of politicians of many nations, including the U.S., Egypt, and this year, Saudi Arabia. In his remarks, al-Faisal praised the pseudo-Islamist-Marxist group and emphatically supported its objective of toppling the Iranian government. Al-Faisal's comments, which come at a time when Saudi-Iranian relations are at an all-time low and have even been compared to a "Cold War" state, will have serious consequences for the Tehran-Riyadh relationship going forward.
During my trip to Iran a few weeks ago, I spoke with a senior official about the necessity of improving Iran-Saudi relations. He told me that Iran was willing to engage the Saudis but that Riyadh had devoted itself to a confrontational approach. This official informed me that Iran had detailed intelligence about Riyadh's financial support to the MEK, which he said had increased 800 percent in the past two years. He also noted that Saudi Arabia would cover the cost of this year's MEK conference in Paris and that Prince Turki would be present to publicly declare Saudi Arabia's support.
With Prince Turki's speech to the MEK, Saudi Arabia has elected to destroy any chance of de-escalating tensions between the two nations. In pursuing this approach, Saudi leaders should be cognizant that not only are they imperiling regional and global security, but they are also following in the footsteps of Saddam Hussein. Saudi Arabia has already separated itself from its traditional regional allies with its hyper-anti-Iranian posture, so much so that only Bahrain— which is effectively under Saudi occupation — is standing fully with it. Global powers, on the other hand, are pursuing ways to enhance ties with Iran. It is truly a shame that Prince Turki al-Faisal, a man of significant ability and experience, has committed himself to this doomed cause rather than searching for peace and friendship between Iran and Saudi Arabia.
Riyadh's now open alliance with the MEK only solidifies its position as the sponsor of yet another extremist group that espouses perverted views of Islam. The barbaric Nice terrorist attack— later claimed by the self-proclaimed Islamic State — and Prince Faisal's endorsement of the MEK have a common denominator: a connection to Saudi Arabia.
Saudi Arabia's Prince Turki al-Faisal looks on during the National Council of Resistance of Iran annual meeting on July 9, 2016. (Alain Jocard/Getty Images)
It has long been evident to the global community that Saudi Arabia is a benefactors of Islamist militant groups, including likely the group that evolved into ISIS. Many U.S. officials have publicly acknowledged this reality. Even former U.S. Secretary of State Hillary Clinton stated at the Brookings Institution last year that, "Much of the extremism in the world today is the direct result of policies and funding undertaken by the Saudi government and individuals." A recent British parliament report also stated that it is "very likely" that individuals close to the royals of the Arab monarchies of the Persian Gulf have donated money to ISIS, though it is unclear how directly those funds have been given. Historically, too, the ideology of the group has ties to Saudi Arabia's own identity via Wahhabism.
While ISIS wreaks havoc on the world with its global acts of terror, the MEK ravages Iran. In much the same way ISIS is a twisted offspring of the Sunni world that has ravaged, among others, Sunni-populated areas, the MEK is its counterpart for Iranians in the Shia world. Iranians thus expect the world community to confront the MEK just as it confronts ISIS. At the very least, the group should not be hosted by countries like France and endorsed by Saudi Arabia. In the fight against terrorism, European and Saudi leaders should know better than to distinguish between "good" and "bad" terrorism, or tolerate any form of terrorism in the service of cheap geopolitical gains.
In light of the Nice terrorist attack, the international community should also view the threat from other groups such as the MEK as an interconnected phenomenon. The scourge of terrorism currently threatening the whole world can only be alleviated if it is addressed in a holistic way. The Nice truck slaughter — indeed the slaughtering by ISIS in general — and the MEK's killing of thousands of Iranians are both worthy of our attention and condemnation. The territory the perpetrators of such violence use to plan and launch attacks, as well as the flow of cash, equipment and ideology they draw their support and influence from should all be considered as pieces of the same terrorism "puzzle." The global terrorist threat simply cannot be solved until all these pieces are recognized as being a part of the same puzzle and dealt with in an effective and simultaneous manner. This means not only increasing security to prevent attacks, but also seriously confronting those who aid terrorism in any way — from the MEK to ISIS.
*** 
Saddam's Private Army
How Rajavi changed Iran's Mojahedin from Armed Revolutionaries to an Armed Cult
The Life of Camp Ashraf
Mojahedin-e Khalq – Victims of Many Masters
By Anne Khodabandeh (Singleton)  and Massoud Khodabandeh
BBC: Who are the Iranian dissident group MEK? (Mojahedin Khalq, MKO, PMOI, …)
Grow the MKO, Harvest Terrorism! Mujahedin Khalq ;A tool for West
Remember.Mojahedin Khalq (MKO, MEK, Rajavi cult) was one of the excuses of US attacking Iraq
Also read:
https://iran-interlink.org/wordpress/?tag=al-arabiya-saudi-terrorism
The West's Terrorist "Catch and Release" Program 
Tony Cartalucci, Global research, April 14 2016:…  MEK, it should be noted, is guilty of killing American civilians and military personnel, as well as continuing a campaign of terrorism against civilian and political targets in Iran.  Brookings in fact, admits this while proposing the US' use of the terrorist organization to carry out US foreign policy objectives. If MEK is a suitable candidate for Western sponsorship, why not ISIS? Considering this, and the "coincidental" … 
MKO, God Father of Suicide bombers! Mujahedin Khalq 's Cultism
Council of Foreign Relations, 2014: Mujahadeen-e-Khalq (MEK). Backgrounders
The West's Terrorist "Catch and Release" Program
Virtually every suspect involved in recent Brussels bombing had been tracked, arrested, in custody – either by European security agencies or the agencies of their allies – but inexplicably released and allowed to carry out both the Brussels attack as well as the Paris attack that preceded it.
So obvious is this fact, that the Western media itself admits it, but simply dismisses the obvious and deeper implications such facts pose by claiming it is merely systemic incompetence.
The Wall Street Journal would admit that the recently arrested "man in the hat" also known as Mohamed Abrini, was also arrested for suspected terrorist activity – allegedly scoping out potential targets in the UK – but also – like his collaborators – inexplicably released. His brother had been to Syria where he fought and died alongside the so-called "Islamic State" (ISIS), and Abrini himself too appears to have been in Syria.
The Wall Street Journal's article, "Brussels Suspect Mohamed Abrini: What We Know," reports that:
After the U.K., Mr. Abrini traveled to Paris and then Brussels, where he was arrested but then released, according to the two people. But Belgian authorities passed the information about his U.K. trip, including images found on his phone, to the British, the sources said.
Abrini's case of "catch and release" before carrying out a successful string of deadly attacks across Europe, is just the latest.
West's ISIS Catch & Release Program 
Germany's largest press agency, Deutsche Presse-Agentur, reported in their article, "Reports: Brothers known to police were among Brussels suicide bombers," that:
Two Brussels brothers who were known to police are among the suicide bombers who carried out deadly terrorist attacks on the international airport and subway in the Belgian capital, local media reported Wednesday.
And that:
[Khalid El Bakraoui] had been sentenced in early 2011 to five years in prison for carjackings, after having been arrested in possession of Kalashnikov rifles, according to the Belga news agency.

His brother, 30-year-old Brahim, had been sentenced in 2010 to nine years in prison for having shot at police with a Kalashnikov rifle during a hold-up, Belga said.
The New York Times, in their article, "Brussels Attack Lapses Acknowledged by Belgian Officials," would report regarding another Brussels bombing suspect, Brahim El Bakraoui, and his arrest and deportation from Turkey that:
The Belgian justice and interior ministers acknowledged that their departments should have acted on a Turkish alert about a convicted Belgian criminal briefly arrested in Turkey last year on suspicion of terrorist activity, who turned out to be one of the suicide bombers. And the Belgian prosecutor's office said that person's brother — another suicide bomber — had been wanted since December in connection with the Paris attacks.
That makes 4 suspects who were known to European security agencies for violent crimes and/or terrorism, with each and every one of them in custody before the attacks unfolded.
For fisheries around the world, the concept of "catch and release" allows anglers to enjoy the fishing experience while preserving the numbers and health of fish populations. The concept of "catch and release" for Western security and intelligence agencies appears very similar – to maintain the illusion of counterterrorism operations, while maintaining the numbers and health of terrorist organizations around the world.
Answering "to what end" the West is allowing terrorists to successfully carry out attacks against Western targets, the answer is quite simple. It allows for the expansion of power and control at home while justifying endless and profitable wars abroad.
The creation and perpetuation of terrorist organizations like Al Qaeda and ISIS by the West and its allies serve another, admitted purpose. In the 1980′s it was admitted that Al Qaeda was created to wage proxy war against the Soviet Union in Afghanistan. In 2011, the US and its NATO and Persian Gulf allies used terrorists linked to Al Qaeda in Libya and Syria in an attempt to overthrow their respective governments.
Today, ISIS serves both as an armed proxy waging full-scale war on the governments of Syria, Iraq, and more indirectly Iran and Russia, as well as a means to threaten and coerce nations around the world.
Political impasses in Southeast Asia revolving around America's waning influence in the region have been met with the sudden and otherwise inexplicable appearance of ISIS. In one case, Indonesia signed a large rail deal while pursuing other economic and military partnerships with Beijing, before suffering its fist ISIS attack in its capital, Jakarta.
Thailand was likewise threatened by the US of an imminent ISIS attack, amid attempts by Bangkok to uproot the political networks of US-backed political proxy, Thaksin Shinawatra. Bangkok has also shown hesitation to sign the unpopular US-sponsored Trans-Pacific Partnership (TPP) free trade agreement.
Bangkok was already hit by terrorism last year after returning suspected terrorists to China to face justice against America's repeated protests. Just months later, groups tied to NATO terrorist front, the Turkish Grey Wolves, carried out a bombing in the center of Bangkok.
ISIS, its counterparts, and peripheral groups like NATO's Grey Wolves, serve multiple roles for the West. They are a pretext to invade and occupy foreign nations, a proxy army to wage war against its enemies with, and a means of maintaining fear and obedience at home under the auspices of an increasing police state. It is difficult to believe the West could maintain its current foreign and domestic policy without this menace – it has become an integral part of Western geopolitical strategy.
Would a Signed Confession Convince You? 
Many are quick to dismiss evidence of Western special interests' use of terrorists and terrorism to project geopolitical power abroad and maintain control at home. This is despite the admitted nature of the West's role in the creation and utilization of Al Qaeda in Afghanistan during the 1980s, and signed and dated policy papers like the Brookings Institution's 2009 "Which Path to Persia?" document which openly advocated using listed-terrorist organization, Mujahedin-e Khalq (MEK), to wage a proxy campaign of violence against the Iranian people and their government.
MEK, it should be noted, is guilty of killing American civilians and military personnel, as well as continuing a campaign of terrorism against civilian and political targets in Iran.  Brookings in fact, admits this while proposing the US' use of the terrorist organization to carry out US foreign policy objectives. If MEK is a suitable candidate for Western sponsorship, why not ISIS?
Considering this, and the "coincidental" arming and funding of "rebels" in Libya by the US and its allies in 2011 who are now verifiably members of listed terrorist organizations, revelations of US involvement behind the rise of ISIS should come as little surprise.
And beyond mere speculation, a 2012 US Defense Intelligence Agency (DIA) report leaked to the public, admits that the US and its allies sought the creation of a "Salafist" (Islamic) "principality" (State) in eastern Syria, precisely where ISIS now resides.
The US DIA admitted:
If the situation unravels there is the possibility of establishing a declared or undeclared Salafist principality in eastern Syria (Hasaka and Der Zor), and this is exactly what the supporting powers to the opposition want, in order to isolate the Syrian regime, which is considered the strategic depth of the Shia expansion (Iraq and Iran). 
The DIA document then explains exactly who this "Salafist principality's" supporters are (and who its true enemies are):
The West, Gulf countries, and Turkey support the opposition; while Russia, China, and Iran support the regime.
All that's left is for the Pentagon to perhaps, disclose payslips for ISIS leaders or logistical documents regarding US-NATO resupply operations for ISIS along the Turkish-Syrian border – and perhaps even such a disclosure would still not be enough to convince some in the West that the special interests posing as their leaders are complicit in creating not only ISIS, but organizing and ensuring the chaos they cause unfolding at home and abroad wherever and whenever needed.The fact that literally ever Brussels and Paris attack suspect was known to and in many cases detained by Western security agencies before the attacks, yet were released before being allowed to carry out their attacks successfully, proves that the West is enjoying the "experience" of maintaining a war on terror, but like good fishery conservationists, is ensuring the populations of their quarry remain healthy and numerous.
Tony Cartalucci, Bangkok-based geopolitical researcher and writer, especially for the online magazine"New Eastern Outlook".
(END)
*** 
Alireza Jafarzadeh, counseled former Bush Attorney General Michael Mukasey prior to his testimony
Jafarzadeh representing terrorist organisation NCRI
(Picture form MKO/ NCRI clandestine television)
Wondering at those Americans who stand under the flag of Mojahedin Khalq (MKO, MEK, NCRI, Rajavi cult) only to LOBBY for the murderers of their servicemen
Rudy Giuliani Supports a Mujahedin Group With a Hammer-and-Sickle Logo Because He's Been Paid To 
Link to the full description of Mojahedin (MEK, MKO) Logo (pdf file)
Mojahedin Khalq (MKO, NCRI, Rajavi cult) terrorists openly declare support for ISIL, terror acts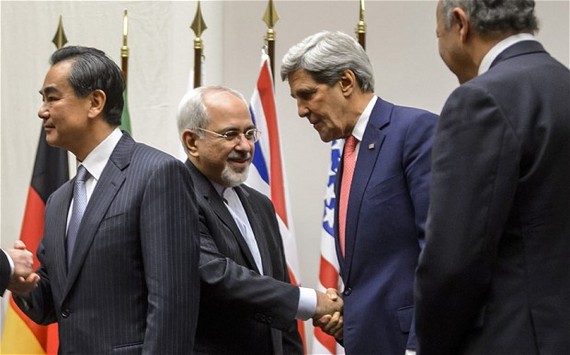 Massoud Khodabandeh: America Must Make Its Underlying Intentions Toward Iran Clear
The Mojahedin Khalq (Rajavi cult) and Saddam's daughter support the Islamic State of Iraq and the Levant (ISIS)
Massoud Khodabandeh
Article first published online: 27 JAN 2015
DOI: ۱۰٫۱۱۱۱/aspp.12164
***
Also read:
Mojahedin Khalq (MEK, Rajavi cult) lines up with Israel behind America's back to kill Iranian nuclear scientists
Beritbart, March 24 2015:… NBC News somehow gains information from "senior Obama administration officials" that Israel had financed and trained the Iranian opposition group Mujahideen-e-Khalq, and adds that the Obama administration had nothing to do with hits on Iranian nuclear scientists. More daylight. More leaks. The same month, Foreign …
Fars News, March 18 2015:… Iraqi MP Hunain Al-Qado said the importance of reminding MKO's crimes stems from the fact that some people try to keep these crimes under wraps. He said the terrorist groups all pursue a shared objective, and added, "There is no difference between the ISIL's terrorist acts in Iraq and Syria and Mojahedin-e Khalq …
Eric Draitser, Global research, March 18 2015:… It should be noted that a number of other terror outfits have been used through the decades in the ongoing "low-intensity" war against Iran, including the infamous Mujahideen-e-Khalq, a terrorist group hailed as heroes by the US neocon establishment. Thanks to Wikileaks, it also now documented fact that Israel …