Iran Interlink Weekly Digest – April 15, 2016
Iran Interlink, April 15 2016:… In Tirana, Ehsan Bidi and Siavosh Rastar – who have no accommodation or money because this is supposed to be provided by the MEK which they left – continue to picket outside the UNHRC office. They have now started a hunger strike. This week police harassed them removing their placards and confiscating all their papers. Although they have no place to go, the police say they cannot protest in public and must move on. There are … 
Maryam Rajavi's lobbyist convicted for child sexual abuse
Iran Interlink Weekly Digest – April 15, 2016
++ The tenth and last article written by Mohammad Karami about human rights abuses inside the MEK, including murders and torture which he personally witnessed, has been published today. The whole series forms a book length exposure.
++ Mahmonir Iranpour has visited Camp Liberty several times in search of her two brothers. Two weeks ago she wrote an open letter to the Iraqi Prime Minister asking for his help to find out whether they are being held against their will. Reaction to this letter, which was published in Sout Aliraq, picked up to the point that Rajavi had to call on one of his paid people called Saafi Al Yasseri to put the MEK case. Yasseri wrote an MEK rant that "they are all agents of the Iranian regime and have come to kill people". This week Sout Aliraq published a reply from Mohammad Mohammadi, whose daughter Somayeh remains trapped in the MEK, putting the facts right. Mohammadi says to Al Yasseri "in your letter you say my daughter is 36 years old. This is true. But you didn't say that she was kidnapped when she was under 18 years old. You say 'she wants to stay there and not see her family'. But you failed to say that she has never been able to sit without an MEK minder and say this to a UN official or to any other body. You claim that Mahmonir Iranpour is an Iranian agent who has been sent to kill her own brother whom she hasn't seen for over two decades. But you fail to say how she can do that if she only talks to her brother over the phone which is what she is asking for. You have failed to explain that she is a teacher who has taken time off work and paid from her salary to come to Iraq each time." Mohammadi continues, "you are not the first nor the last ever to write for money, but there should be some limits in that as well. How do you take money to provide for your own dear children while writing this nonsense about other families?" Mohammadi challenges Yasseri to sort this out by accompanying him to Camp Liberty to ask Somayeh directly himself if she wants to stay.
++ There have been a few translations and comments about disgraced former US House Speaker Dennis Hastert, who is alleged to have paid hush money to cover up sex abuse. Hastert has spoken on several occasions at MEK rallies in support of Maryam Rajavi. Comments say that Hastert and Massoud Rajavi – who is accused of sexual abuse of women in the MEK – match each other and that 'like finds like'.
++ In Tirana, Ehsan Bidi and Siavosh Rastar – who have no accommodation or money because this is supposed to be provided by the MEK which they left – continue to picket outside the UNHRC office. They have now started a hunger strike. This week police harassed them removing their placards and confiscating all their papers. Although they have no place to go, the police say they cannot protest in public and must move on. There are many statements and signatures in support of these two on Farsi sites and blogs. Some have claimed that for this level of illegal and inhumane treatment of MEK defectors there must be collusion between Tirana, the local office of the UNHCR and security services like MOSSAD who are protecting their asset the MEK.
++ Edvard Termador has responded to an ongoing propaganda campaign by the MEK in which they publish letters claiming they were written by prisoners inside Iran and sent to the MEK. At first there were up to one per week but lately this has escalated to a ridiculous number of such letters. Termador selected the latest one and says "here is a political prisoner who writes to the Prime Minister of Italy because he went to Iran this week". Termador quotes a few sentences and says "this cannot have been written from inside Iran let alone from inside prison. From its style and language, it is obviously written by someone living in the West. Anyway, why has it been CC'd to the Italian Foreign Ministry rather than the Italian embassy in Iran. It is also CC'd to places in America. By end of letter you [MEK] have forgotten you are supposed to be writing as a prisoner in Iran and you have also forgotten that you are also claiming to be under torture.
In English:
++ Associated Press reports that German prosecutors have filed a case against two Iranians accusing them of "spying on exiled opposition members for Iranian intelligence". Why would anyone have struggled so desperately to leave the cult as they did if they wanted to spy on them?
++ Nejat Society – Ali Ardalani left the Mujahedin Khalq Organization (the MKO) in 2013 after 25 years of membership in the group. He is an eyewitness of the deadly clashes in Camp Ashraf on April 8th, 2011. He writes his memoires of that specific day:
++ Showing that some people will do anything for money, two of the MEK's American advocates were mentioned this week. Habilian Association ran an exposure article about Michael Mukasey, a lawyer and former judge who served as the 81st Attorney General of the United States and his financial deals with the MEK. The BBC reported that Prosecutors are seeking a six-month jail sentence for disgraced former US House Speaker Dennis Hastert – one of Maryam Rajavi's paid speakers – who is alleged to have paid hush money to cover up sex abuse.
++ Ali Gharib reviews a book 'Children of Paradise: The Struggle for the Soul of Iran' by Laura Secor which traces the embattled history of the Islamic Left in Iran. "If the Islamic Left—those revolutionary mollahs, intellectuals and politicians who became the reform movement—had wanted to know what was in store for them, they might have glanced further to their own left. At the time of the revolution, a Shariati-inspired group of lay radicals espoused a militant blend of Marxism and Islamism. The Mojahedin-e Khalq (Holy Warriors of the People) organized lower- and middle-class university students into fighters and, despite the Shah's crackdown, maintained enough force to be a factor in fighting at the vanguard of the Islamic Revolution. But the alliance with Khomeini was tenuous, at best, and the Mojahedin suffered from its own eccentricities; by that time, the Mojahedin had coalesced around a charismatic leader named Massoud Rajavi, who would later lead the group into being little more than an armed cult of personality. When it became clear that Khomeini had no intention of sharing too much power with these lay, Marx-inspired radicals, Rajavi bristled, and Khomeini cracked down with violent force, sending many of the group's members to prison, to exile or to their graves."
++ Al Monitor, reporting from Tehran asks 'Why did Rouhani pull out of Austria visit?' Parliament Speaker Ali Larijani claimed it was because Austria refused to ban the MEK from protesting. But other voices in Iran claimed different reasons. For Al Monitor the real answer apparently was 'any excuse will do'.
++ Iran Didban in 'An Impossible Dream' analyses the Rajavi leadership's latest ideas: "Using a mixture of stupidity and imagination for analyzing political issues, the MeK leadership resorts to militarism to gain power, or rather, to help release its organization from a deadlock. Hence, the MeK leadership views the regional developments as in Syria and Yemen not as they really are, but as he wishes them to be. In their calculations, the international players are the winner and Iran will be the loser."
++ Mazda Parsi, Nejat Society, writes about gender segregation throughout the MEK. "MKO propaganda accuses the Islamic Republic of continuing 'to implement gender segregation across the country' while its own record on gender segregation is notoriously known to the world. The MKO's abusive structure has been discussed by various bodies. Independent reports from Human Rights Watch and from the RAND Corporation have gathered facts on the group's cult-like control over members, which according to RAND, include 'a near-religious devotion to the Rajavis … public self-deprecation sessions, mandatory divorce, celibacy, enforced separation from family and friends and gender segregation'."
++ A brief analytical article by Iran Didban looks into why the MEK keeps on making the promise to overthrow Iran's government. "The truth is that the disillusioned members of MeK need a beacon of hope. They need to know that they will be released from that miserable condition one day and that they can take their revenge on the Iranian people after Rajavi's gaining power."
++ In an article titled 'The West's Terrorist "Catch and Release" Program' Tony Cartalucci, writing for Global Research, uses the MEK as an example to examine the West's ambiguous relationship with terrorism.
*** 
It would be wrong to ignore the Mojahedin in Albania 
Can Albania Meet its Obligations and De-radicalize an Influx of Terrorists into Europe?
Mojahedin Khalq (Rajavi cult) and Albanian Mafia are getting closer
Pros and cons of the Prevent strategy (Counter-terrorism Policy)
Behind Struan Stevenson's book "Self Sacrifice
*** 
Also read:
https://iran-interlink.org/wordpress/?p=7244
A Lobbyist for terrorism; Michael Mukasey 
Habilian Association, April 12 2016:…  Mukasey has admitted he was paid handsomely by the MEK to advocate for them. He didn't deny that his "expert advice and assistance" to MEK was coordinated, only that the designated terrorist group did not dictate what he said. He insisted that as long as the MEK did not write his speech, his acceptance of the terrorist organization's money and his meetings with MEK members to coordinate his appearances and advocacy … 
Alireza Jafarzadeh, counseled former Bush Attorney General Michael Mukasey prior to his testimony
Jafarzadeh representing terrorist organisation NCRI
(Picture form MKO/ NCRI clandestine television)
A Lobbyist for terrorism; Michael Mukasey
Born on July 28, 1941, Michael Bernard Mukasey is a lawyer and former judge who served as the 81st Attorney General of the United States. He was appointed following the resignation of Alberto Gonzales. Mukasey also served for 18 years as a judge of the United States District Court for the Southern District of New York, six of those years as Chief Judge. He was the second Jewish U.S. Attorney General and currently he is a partner at the international law firm Debevoise & Plimpton.
On November 8, 2007, After two months of controversy, and a round of sporadically contentious Senate confirmation hearings, former judge Michael Mukasey narrowly won the Senate's approval to become the next attorney general, by an almost-party line 53-40 vote. Musakey replaced Alberto Gonzales, who resigned under fire in September 2007. Many Democrats voted against Mukasey because of his refusal to categorize the interrogation technique of waterboarding as torture, and his refusal to say that he would oppose President Bush's insistence on eavesdropping on US citizens. [CNN, 11/8/2007]
Notable issues and comments
Support for the MeK
Mukasey is among the former high profile political officials who were apparently investigated over their financial transactions with the terrorists in the Mujahidin e Khalq aka "MEK" and paid advocacy on behalf of them. (Top Democrat's speeches for terrorist group probed; The Washington Times – Friday, March 9, 2012)
Mukasey has admitted being paid by MEK and admitted he and his friends have helped the terrorist group by advocating for their removal from the FTO list. This admission by Mukasey contradicted his support for the 2009 Holder v Humanitarian Law Project Supreme Court Decision which held that such advice and assistance as he has admittedly provided in coordination with a designated foreign terrorist organization falls within "material support of terrorism" even if it is nothing but speech.
Mukasey has admitted he was paid handsomely by the MEK to advocate for them. He didn't deny that his "expert advice and assistance" to MEK was coordinated, only that the designated terrorist group did not dictate what he said. He insisted that as long as the MEK did not write his speech, his acceptance of the terrorist organization's money and his meetings with MEK members to coordinate his appearances and advocacy are not enough to get him into trouble.
Further, Mukasey accused the Treasury of improperly targeting him and his political friends by looking into the handsome amounts of money they have all been paid by the MEK. He claimed that the Treasury's subpoenas looking into his and other high-level former politicians' payments from MEK stemmed from the filing of their amicus brief arguing for MEK to be removed from the terrorist organization list.
What is worse is that Mukasey and his MEK-paid friends scoff at the laws and government terrorist designations they insist on applying to others. As Attorney General, Mukasey undoubtedly ordered prosecutions of many Muslims for financial transactions with FTOs involving far less money than he has been paid.
In their January 2011 opinion piece "MEK Is Not a Terrorist Group," Mukasey's group disclosed the perhaps bigger reason for their support of MEK than the thousands of dollars they were each paid, claiming that MEK "has provided valuable intelligence to the United States on Iranian nuclear plans."
(Dear Department of Justice: Please Investigate Your Old Boss for Material Support of Terrorism! Coleen Rowley Former FBI Special Agent. Huffingtonpost, 03/20/2012 Updated May 20, 2012)
Eavesdropping
On December 12, 2007, Michael Mukasey, the new Attorney General, wrote an op-ed for the Los Angeles Times pushing for Congressional immunity for US telecommunications firms over their cooperation with the NSA's warrantless wiretapping program. Mukasey supported the NSA program, echoing the administration's long insistence that the surveillance program is "crucial" in protecting the country against terrorist attacks. He also reiterated the administration's criticism of the "outdated" Foreign Intelligence Surveillance Act, which he said hampers the government's ability to collect needed intelligence and does little to protect the privacy of US citizens. Mukasey called for Congress to pass a Senate bill that would grant the telecommunications firms retroactive immunity to civil lawsuits and criminal charges surrounding their cooperation with the NSA, and would no longer require court orders for the government to "direct surveillance at foreign targets overseas"—surveillance that would target US citizens. Mukasey also asked for full cooperation of private companies in intelligence activities and strongly opposed another Senate bill that would grant no immunity and would continue to require the government to obtain FISA Court warrants before wiretapping domestic communications. [LOS ANGELES TIMES, 12/12/2007]
Relationship with Giuliani
Mukasey and Giuliani have been friends since working at the same law firm in the early 1970s. [46] In 1985, when Rudolph W. Giuliani, the then U.S. ?????????, was coming under intense criticism for his aggressive tactics in prosecuting organized crime in attorney for the Southern District of New York, his former colleague, Michael B. Mukasey sprang to his defense. Mukasey wrote a strongly worded opinion piece in New York Times arguing that Giuliani's tough tactics were justified to defeat "dangerous and powerful enemies". Alec MacGillis, a senior editor at The New Republic magazine and former Washington Post staff writer, had described Mukasey's public defense of Giuliani as "one example of the strong and lasting bond between President Bush's nominee for attorney general and the man leading in the GOP polls to replace Bush." In 1994, Giuliani selected Mukasey, then a federal judge, to preside over his inauguration as mayor. The ties only strengthened after Giuliani left City Hall. Mukasey's son, Marc, a former assistant U.S. attorney himself, works as a partner at Giuliani's consulting firm, and Giuliani named Mukasey and his son to one of his presidential campaign advisory committees. Dov Hikind, Democratic New York State Assemblyman has said about Mukasey and Giuliani that they "are two people who are extremely close — extremely, extremely close — and everybody knows that." ]Washington Post [September 18, 2007
Waterboarding
On December 11, 2014, Mukasey publicly stated on CNN that he believed waterboarding could not be called torture. [ "Mukasey: Waterboarding is not torture". YouTube. December 11, 2014.] In a 2008 hearing, he said waterboarding would feel like torture if he were subjected to it. [ "At Senate Hearing, Attorney General Michael Mukasey Refuses to Say if Waterboarding is Torture, Illegal". Democracy Now!] In a letter to Senate Judiciary Chairman Patrick Leahy on January 29, 2008, Mukasey said he finished a review of Justice Department memos about the CIA's current methods of interrogating terror suspects and finds them to be lawful. He claimed waterboarding currently is not used by the CIA. ]Chicago Tribune, January 30, 2008 [ Attorney General Mukasey on February 7, 2008 said he will Not investigate US government's use of waterboarding [MOTHER JONES, 2/7/2008].
Remarks about pre-9/11 terrorist phone call
Speaking in San Francisco to the California Commonwealth Club on March 27, 2008, Mukasey defended President Bush's program of wiretapping calls between Americans and suspected foreign terrorists without court authorization, and implied that the government might have been able to prevent the attacks of September 11, 2001, if it had been able to wiretap a specific call to the U.S. from Afghanistan. Before September 11, 2001, Mukasey said, "We knew that there had been a call from someplace that was known to be a safe house in Afghanistan, and we knew that it came to the United States. We didn't know precisely where it went." He paused, seemed to stifle tears or at least suppress emotion, then continued, "You've got 3,000 people who went to work that day, and didn't come home, to show for that." In a subsequent letter to Mukasey, House Judiciary Committee Chairman John Conyers questioned whether any such phone call had ever actually occurred and, if so, why the government hadn't been able to use its then-existing legal authority and technological capabilities to monitor it. Also, Some media outlets pick up on the Mukasey's claim. For example, the San Francisco Chronicle notes that Mukasey "did not explain why the government, if it knew of telephone calls from suspected foreign terrorists, hadn't sought a wiretapping warrant from a court established by Congress to authorize terrorist surveillance, or hadn't monitored all such calls without a warrant for 72 hours as allowed by law." [SAN FRANCISCO CHRONICLE, 3/28/2008].
Boston College Law School Won't Honor Mukasey
John Garvey, the dean of Boston College Law School announced on March 28, 2008 that the school will not award its highest honor to US Attorney General Michael B. Mukasey at its May commencement amid sharp criticism from some students, faculty, and alumni over his invitation as graduation speaker. The move reflects broad discontent with Mukasey's controversial refusal to declare that a prison-interrogation technique known as waterboarding constitutes torture. [Huffington Post, 03/28/2008[
Violations of the law are not always crimes
On August 12, 2008, Mukasey told American Bar Association annual meeting delegates that "not every wrong, or even every violation of the law, is a crime," with "only violations of the civil service laws" being found among hiring practices during Gonzales' tenure as Attorney General.
Wondering at those Americans who stand under the flag of Mojahedin Khalq (MKO, MEK, NCRI, Rajavi cult) only to LOBBY for the murderers of their servicemen
*** 
Also read:
https://iran-interlink.org/wordpress/?p=6072
Rudy Giuliani Supports a Mujahedin Group With a Hammer-and-Sickle Logo Because He's Been Paid To 
Michael Luciano, Daily banter, April 14 2015:… MEK was founded by Massoud Rajavi in 1965 as an opposition group to the U.S.-backed Shah Reza Pahlavi. Quite mysteriously, Rajavi has not been seen in public since 2003, though he is said to be in hiding. However, it's not entirely clear that he's still alive. His wife Maryam Rajavi …
Former U.S. Officials Make Millions Advocating For Terrorist Organization (2011)
Link to the full description of Mojahedin (MEK, MKO) Logo (pdf file)
Rudy Giuliani Supports a Mujahedin Group With a Hammer-and-Sickle Logo Because He's Been Paid To
A few weeks ago, Rudy Giuliani told attendees at an exclusive private dinner for GOP fatcats, "I do not believe that the president loves America." Subsequently, a ridiculous debate ensued on the blogosphere about whether President Obama does in fact love America. Although the president hasn't addressed this "issue," one thing is clear: Rudy Giuliani might not.
How else could one explain Giuliani's support for a cultish Iranian opposition group that was formerly on the U.S. State Department's list of Foreign Terrorist Organizations (FTO) and has been implicated in the assassinations of six Americans? On Wednesday, Giuliani appeared on Fox & Friends, where he announced that he's traveling to Berlin this weekend to meet with the Mujahedeen e-Khalq (MEK), which he says "could replace the Iranian government."
Since as far back as 2010, Giuliani — America's supposedly "tough on terrorism" mayor — has been one of the most recognizable faces on an impressive roster of U.S. politicians and bureaucrats who, for lucrative fees, have been lobbying on the behalf of MEK, also known as the People's Mujahedeen of Iran.
In December 2010, Giuliani, along with three former Bush administration officials — Attorney General Michael Mukasey, Homeland Security secretary Tom Ridge, and Homeland Security adviser Fran Townsend — spoke at a forum hosted by MEK in Paris where the exiled MEK leadership is based. The Washington Post reported at the time that the four Republicans decried the group's designation as a terrorist organization by the State Department, and criticized Obama's policy on Iran. MEK was delisted by the State Department in September 2012 after 15 years on the FTO list.
MEK has also enlisted the help of high-profile Democrats such as former Vermont governor Howard Dean and former Pennsylvania governor Ed Rendell, both of which have served as chair of the Democratic National Committee. Others who've lobbied for MEK include two former CIA directors, a former FBI director, a former National Security Adviser, and a top State Department counterterrorism official. According to The New York Times, compensation for these speakers, including Giuliani, ranged from $10,000 to $50,000 per speech.
Up until its delisting in 2012, MEK could not pay these lobbyists directly, lest those lobbyists run blatantly afoul of federal law, which prohibits material support for terrorism and terrorist organizations. Instead, they were paid by supporters of MEK, whose shadowy sources of funding are dubious just the same.
Furthermore, as Glenn Greenwald noted six months before MEK's delisting, under the Supreme Court's free speech-limiting 2010 ruling in Holder v. Humanitarian Law, "To advocate on behalf of a designated Terrorist group constitutes the felony of 'providing material support' if that advocacy is coordinated with the group." That means that up until MEK's removal from the FTO list in September 2012, Giuliani and others who spoke on behalf of MEK could have been charged with a felony for "providing material support" for terrorism, which can carry a prison sentence of up to 15 years.
MEK was founded by Massoud Rajavi in 1965 as an opposition group to the U.S.-backed Shah Reza Pahlavi. Quite mysteriously, Rajavi has not been seen in public since 2003, though he is said to be in hiding. However, it's not entirely clear that he's still alive. His wife Maryam Rajavi now runs MEK.
During the reign of the shah, MEK engaged in numerous attacks on Americans. These include the botched kidnapping attempt of a U.S. ambassador to Iran; the botched assassination attempt of a U.S. brigadier general in 1972; the assassination of a U.S. lieutenant colonel in 1973; the assassinations of a colonel and lieutenant colonel; and the assassination of three U.S. contractors in 1976. MEK has also been suspected in a slew of attacks inside Iran.
Although Iran's regime changed in 1979 from a U.S.-friendly dictatorship to an anti-U.S. one in the form of the Islamic Republic that remains today, MEK's status as an opposition group has not. It fiercely opposed Ayatollah Khomeini and was in turn attacked for it, prompting the group's leadership to flee to France while most of the other members sought safe-haven next door in Saddam Hussein's Iraq — Iran's nemesis at the time — where many of them remain at Camp Ashraf and Camp Liberty.
This is MEK's logo:
The group was founded on Marxist principles, though it says it has renounced both Marxism and terrorism. Doing so has no doubt made the group more palatable for major American political figures such as Giuliani. But there are also indications that the group is a veritable cult. Former Bush Justice Department attorney and RAND analyst Jeremiah Goulka has visited Iraq to investigate MEK, and a study conducted by him and three other analysts drew some troubling conclusions about MEK's treatment of its own members. Goulka shared some of those findings in a guest op-ed for Salon in 2012:
"I studied the MEK in depth and over a period of many months for the U.S. military. I visited Camp Ashraf, the MEK facility 40 miles north of Baghdad, and interviewed MEK members, former MEK members, and dozens of military and civilian officials. Along with almost all of my interviewees and Human Rights Watch, I concluded that the MEK is a cult. It employs many common cult practices: mandated celibacy and divorce, thought control, sleep deprivation, and forced labor. It segregates men from women, separates families and friends – who must seek permission just to converse – and even tells family members back home that the members are dead."
According to the aforementioned Human Rights Watch report, some of MEK's abuses against its own members include,
"Human rights abuses carried out by MKO leaders against dissident members ranged from prolonged incommunicado and solitary confinement to beatings, verbal and psychological abuse, coerced confessions, threats of execution, and torture that in two cases led to death."
Giuliani has said MEK is "our only hope" for change in Iran, but there is no reason to believe MEK is a viable threat to overthrow the regime. Furthermore, coups d'état rarely yield smooth transitions, especially in the Middle East and North Africa as the last several years have made abundantly clear. Iran may be run by an oppressive regime, but the country is nevertheless stable, and it's highly unlikely that this would remain so in the event of sudden and drastic regime change in a country of nearly 80 million. Additionally, it's not clear that an MEK-run Iran would be an improvement over the current government.
At the time of its delisting from the U.S. FTO list, one senior State Department officials nonetheless expressed grave misgivings about MEK:
"We do not see the MEK as a viable opposition movement…. We have no evidence or confidence the MEK could promote the democratic values we would like to see in Iran.… We continue to have serious concerns about abuses the group has committed to its  own members."
Yet this is the group that Rudy Giuliani thinks is the best chance to bring about democratic change in Iran. And he thinks this despite a mountain of evidence to the contrary that would give him and those others pause were it not for the simple fact that they are being paid handsomely to do so.
Mojahedin Khalq (MKO, NCRI, Rajavi cult) terrorists openly declare support for ISIL, terror acts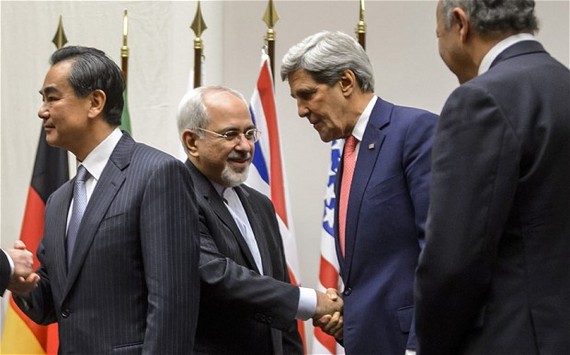 Massoud Khodabandeh: America Must Make Its Underlying Intentions Toward Iran Clear
The Mojahedin Khalq (Rajavi cult) and Saddam's daughter support the Islamic State of Iraq and the Levant (ISIS)
Massoud Khodabandeh
Article first published online: 27 JAN 2015
DOI: ۱۰٫۱۱۱۱/aspp.12164
***
Also read:
Mojahedin Khalq (MEK, Rajavi cult) lines up with Israel behind America's back to kill Iranian nuclear scientists
Beritbart, March 24 2015:… NBC News somehow gains information from "senior Obama administration officials" that Israel had financed and trained the Iranian opposition group Mujahideen-e-Khalq, and adds that the Obama administration had nothing to do with hits on Iranian nuclear scientists. More daylight. More leaks. The same month, Foreign …
Fars News, March 18 2015:… Iraqi MP Hunain Al-Qado said the importance of reminding MKO's crimes stems from the fact that some people try to keep these crimes under wraps. He said the terrorist groups all pursue a shared objective, and added, "There is no difference between the ISIL's terrorist acts in Iraq and Syria and Mojahedin-e Khalq …
Eric Draitser, Global research, March 18 2015:… It should be noted that a number of other terror outfits have been used through the decades in the ongoing "low-intensity" war against Iran, including the infamous Mujahideen-e-Khalq, a terrorist group hailed as heroes by the US neocon establishment. Thanks to Wikileaks, it also now documented fact that Israel …