Iran Interlink Weekly Digest – July 28, 2017
Iran Interlink, July 28 2017:…  In Albania last week two people left the MEK – Siavosh Seifi and Mahmoud Mambini. This week another two individuals have left – Pouria Nouri and Jaafar Aghai. There are currently fewer than 2100 MEK members in Albania. The disintegration of the group is gaining momentum and formers in Albania predict it will be only a matter of weeks before this figure reaches less than 2000. The acceleration in defections is attributed to 'the Villepinte effect' … 
A portrait of "Eternal Light" drawn by an Eye – witness
Elimination projects in Mojahedin Khalq (Rajavi cult, MKO, MEK) – Part one (Ali Zarkesh)
Iran Interlink Weekly Digest – July 28, 2017
++ In an Interpol conference last week in Tehran, Ebrahim Khodabandeh told delegates that his extradition to Iran as a member of the MEK and subsequent imprisonment on terrorism charges worked in his favour. He is now living a normal life, has married and has a good job. Jamil Bassam who was extradited and imprisoned alongside him is also living a normal life with his family in Tehran. Khodabandeh explained that, with the exception of fifty individuals who are on Interpol's wanted list for serious crimes, extradition of the remaining MEK members would similarly lead to a favourable outcome given their current circumstances. With the expulsion of Maryam Rajavi and the MEK from Paris now becoming a real prospect the MEK have become hysterical on hearing this news and have been swearing and threatening Khodabandeh for speaking out. In response, a large number of families from Nejat Society have written a letter and asked Iran Interlink to publish it. These families support the extradition of their loved ones to Iran even if it means they must serve time in prison like Khodabandeh and Bassam. As families, they don't want their children to suffer, but there would be an end to it and they could get on with their lives whether in Iran or by going abroad again. They say, compare this with their current lives when they are not even allowed to walk freely in the streets of Tirana. The families therefore offered their full support to the request that Interpol extradite their loved ones to Iran.
++ In Albania last week two people left the MEK – Siavosh Seifi and Mahmoud Mambini. This week another two individuals have left – Pouria Nouri and Jaafar Aghai. There are currently fewer than 2100 MEK members in Albania. The disintegration of the group is gaining momentum and formers in Albania predict it will be only a matter of weeks before this figure reaches less than 2000. The acceleration in defections is attributed to 'the Villepinte effect'. That is, lavish and ostentatious spending while the members in Albania don't have enough to eat. Another cause has been Maryam Rajavi's presentation of the MEK's precious book of anti-Imperialist martyrs to Senator John McCain as a gift. The defectors say, 'we were fooled by Massoud Rajavi all these years but Maryam can't even do that and only wants to party and show off'.
++ To mark the anniversary of the Forough Javidan operation (aka Mersad or Eternal Light), 26-30 July 1988, many formers from the different ranks wrote of their memories from that time. They say Massoud Rajavi knowingly sent everyone to get killed and didn't even allow them to retreat when it was clear they were being ambushed by Iran's military. Rajavi's aim was simply to increase the number of martyrs. As he put it – to fill his blood bank and have this as an insurance policy for years to come. Some of the higher ranking former members in Forough write how Rajavi begged Saddam to support his mission while all his generals said it was a fools-errand. They say Saddam accepted to help because 'according to my generals it will be your loss, but according to you [Rajavi] it is a win. Either way, I am not the loser. As it turned out, the generals were right, but Rajavi was right too because he wanted to kill his own people. The losers were the people who got killed, injured and traumatised.
In English:
++ Massoud Khodabandeh wrote for Balkans Post that the Mojahedin Khalq presence in Albania highlights the security risks for Europe. From a US-centric view, argues Khodabandeh, the MEK presence allows for warmongers and anti-Iran pundits to pursue their regime change agenda with few restrictions. In Europe, however, the MEK presents a security risk. Partly because the group is possibly actively involved in supporting and facilitating terrorist activity from Albania. But also because the de facto leader Maryam Rajavi advocates violent regime change from Paris. This is incompatible with European values and security concerns argues Khodabandeh. He concludes "Although the MEK are experts at intimidation and propaganda, in reality the expulsion of the MEK from Europe should be neither controversial nor unexpected. No government in Europe supports the presence of extremists in their midst and the MEK has a long history of extremist behaviour and messaging."
++ MEK advocates in the UK parliament want to know if Maryam Rajavi would be allowed to visit the UK. The answer – 'No'. Iran Interlink points out that continued ostracism of the MEK and Maryam Rajavi in Europe may lead to expulsion to Albania.
++ F. W. Burleigh in Western Free Press writes 'Iran and the Holy Warrior Trap' to ask "Is the West about to make the same mistake with Iran that it made with Afghanistan when it backed the Sunni mujahedin against the Soviet invaders?' The article argues against supporting the MEK as enemies of Iran because "it's hard to find anything positive on the internet about the PMOI/MEK that wasn't generated by NCRI's propaganda machinery. Even Wikipedia slams it as a cult built around the personality of Maryam Rajavi and her husband Massoud, who disappeared in 2003 and was recently declared dead."
++ Owen Bennett-Jones' article in Dawn about the complexities involved in US-Iran relations argues that support for the MEK, which has killed Americans, is an indication of how deep American loathing of Iran is. He supports this view by pointing out that although the US has recovered from other difficult relations – with Vietnam for example – the difference with Iran relates to Israel. "Ever since the destruction of Iraq, Prime Minister Netanyahu has made no secret of his view that Iran now poses the most significant threat to the state of Israel. By continuing to oppose Iran, the US is supporting its closest ally."
*** 
Rajavi Ideology – 'shed blood for publicity'
Council of Foreign Relations, 2014: Mujahadeen-e-Khalq (MEK). Backgrounders
Saddam's Private Army – By Anne Khodabandeh (Singleton)
UNAMI: continued concerns about abuses committed by the PMOI/MeK leadershipLink to the source
Massoud Khodabandeh: The Iranian Mojahedin-e Khalq (MEK) and Its Media Strategy:
Methods of Information Manufacture
Radicalisation Awareness (Presentation at the ICSA Conference, Bordeaux, July 2017)
Mojahedin Khalq (MEK) presence in Albania highlights security risks for Europe
Trump Is At War With Iran, Not ISIS
Trump clearly has no intention of defeating terrorism.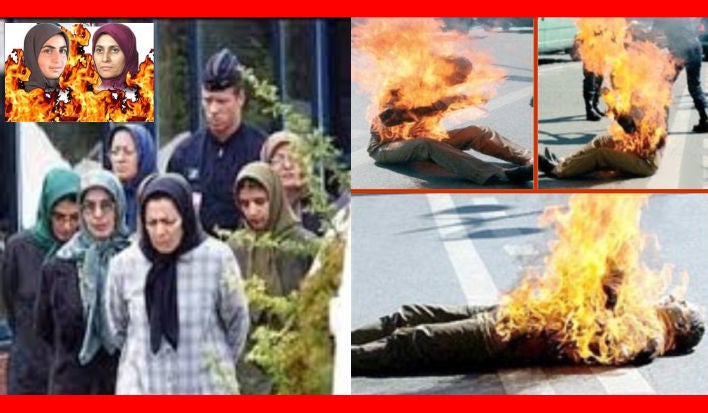 Under President Macron, France can play a pivotal role in Western relations with Iran
ISIS Drew On MEK Expertise For Terror Attacks On Tehran (Mojahedin Khalq, Rajavi cult)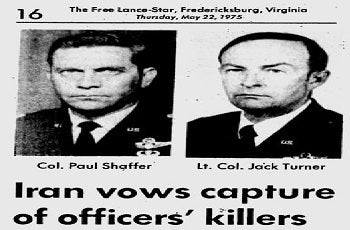 The MEK's dirty past includes the anti-Imperialist inspired murder of six Americans in pre-revolution Iran which it later celebrated in songs and publications
Which occasion is Maryam Rajavi celebrating in Paris? (letter to Emmanuel Macron)
grooming Mojahedin Khalq (MEK, Rajavi cult) in Tirana part of bigger agenda for Albania
The Enemy of My Enemy is NOT Always My Friend…
Debate in the European Parliament 'What is to be done about the Iranian Mojahedin Khalq (MEK)?'
Also read:
https://iran-interlink.org/wordpress/?p=8623
Here's why Washington hawks love this cultish Iranian exile group 
Mehdi Hasan, The intercept, July 08 2017:…  What were a Saudi prince, a former Republican House Speaker and a former Democratic vice-presidential candidate doing together in a suburb of Paris last weekend? Would you be surprised to discover that Prince Turki Bin Faisal, Newt Gingrich and Joe Lieberman were speaking on … 
Remember.Mojahedin Khalq (MKO, MEK, Rajavi cult) was one of the excuses of US attacking Iraq
BBC: Who are the Iranian dissident group MEK? (Mojahedin Khalq, MKO, PMOI, …) 
Here's why Washington hawks love this cultish Iranian exile group
What were a Saudi prince, a former Republican House Speaker and a former Democratic vice-presidential candidate doing together in a suburb of Paris last weekend?
Would you be surprised to discover that Prince Turki Bin Faisal, Newt Gingrich and Joe Lieberman were speaking on behalf of a group of Iranian exiles that was officially designated a "Foreign Terrorist Organization" by the United States government between 1997 and 2012?
Iran hawks long ago fell head over heels for the Mojahedin-e Khalq, known as the MEK, and loudly and successfully lobbied for it to be removed from the State Department list of banned terror groups in 2012. Formed in Iran in the 1960s, the MEK, whose name translates to "Holy Warriors of the People," was once an avowedly anti-American, semi-Marxist, semi-Islamist group, pledged to toppling the U.S.-backed Shah by force and willing to launch attacks on U.S. targets. The MEK even stands accused of helping with the seizure of hostages at the U.S. embassy in Tehran; the group condemned the hostages' release as a "surrender" to the United States. But after the Iran's clerical rulers turned on the group in the early 1980s, its leaders fled the country and unleashed a series of bombings across Iran.
These days, the organization — run by husband and wife Massoud and Maryam Rajavi, though the former's whereabouts are unknown and he is rumored to be dead — claims to have renounced violence and sells itself to its new American friends as a 100 percent secular and democratic Iranian opposition group. The biggest problem with the MEK, however, is not that it is a former terrorist organization. Plenty of violent groups that were once seen as "terrorists" later abandoned their armed struggles and entered the corridors of power — think of the Irish Republican Army or Mandela's African National Congress.
Nor is it that the MEK lacks support inside of the Islamic Republic, where it has been disowned by the opposition Green Movement and is loathed by ordinary Iranians for having fought on Saddam Hussein's side during the Iran-Iraq war.
Rather, the biggest problem with U.S. politicians backing the MEK is that the group has all the trappings of a totalitarian cult. Don't take my word for it: A 1994 State Department report documented how Massoud Rajavi "fostered a cult of personality around himself" which had "alienated most Iranian expatriates, who assert they do not want to replace one objectionable regime for another."
You think only people inside of dictatorships are brainwashed? A 2009 reportby the RAND Corporation noted how MEK rank-and-file had to swear "an oath of devotion to the Rajavis on the Koran" and highlighted the MEK's "authoritarian, cultic practices" including 'mandatory divorce and celibacy" for the group's members (the Rajavis excepted, of course). "Love for the Rajavis was to replace love for spouses and family," explained the RAND report.
You think gender segregation inside of Iran is bad? At Iraq's Camp Ashraf, which housed MEK fighters up until 2013, lines were "painted down the middle of hallways separating them into men's and women's sides," according to RAND, and even the gas station there had "separate hours for men and women."
You might understand why a Saudi prince, former New York mayor Rudy Giuliani, or uber-hawk and former Bush administration official John Bolton — who all attended the Paris rally — might be willing to get behind such a weird collection of fanatics and ideologues. But what would make a liberal Democrat from Vermont such as Howard Dean — who has suggestedMaryam Rajavi be recognized as the president of Iran in exile — want to get into bed with them? Or Georgia congressman and civil rights hero John Lewis, who spoke out in favor of the MEK in 2010?
Could it be because of the old, if amoral, adage that "the enemy of my enemy is my friend"? Perhaps. Could it be the result of ignorance, of senior U.S. figures failing to do due diligence? Maybe.
Or could it be a consequence of cold, hard cash? "Many of these former high-ranking U.S. officials — who represent the full political spectrum — have been paid tens of thousands of dollars to speak in support of the MEK," revealed a wide-ranging investigation by the Christian Science Monitor in 2011.
In Washington, D.C., money talks. Whether you're a Democrat like Dean or a Republican like Bolton, a former head of the CIA like Porter Goss or an ex-head of the FBI like Louis Freeh, what seems to matter most is that the MEK can cut fat checks.
Take Gingrich, who once lambasted Barack Obama for "bowing to the Saudi king" but has himself been caught on camera bowing to Maryam Rajavi. The former House speaker bizarrely compared Rajavi to George Washington in his speech in Paris over the weekend.
Or Giuliani, "America's Mayor" and self-styled anti-terror hawk, who nevertheless has had no qualms accepting thousands of dollars since 2010 to shill for a group that murdered six Americans in Iran in the mid-1970s; joined with Saddam Hussein to repress Iraq's Kurds in the early 1990s; allegedly worked with Al Qaeda to make bombs in the mid-1990s; and fought against U.S. troops in Iraq in 2003.
Have these people no shame? To quote Suzanne Maloney, an Iran analyst at Brookings and a former adviser to the State Department: "How cheaply Gingrich/Guiliani/Bolton/Lieberman value their own integrity to sell out to MEK cult."
Meanwhile, regime change in Tehran is very much back on the agenda in Donald Trump's Washington. Candidate Trump, who blasted George W. Bush's Middle East wars of aggression, has been replaced by President Trump, who appointed Iran hawks such as James Mattis and Mike Pompeo to run the Pentagon and the CIA, respectively; counts MEK shills such as Giuliani and Gingrich among his closest outside advisers; and appointed Elaine Chao, who took $50,000 from the Rajavis for a five-minute speech in 2015, to his cabinet.
Let's be clear: The Trump administration, the Saudis and the Israelis — who have "financed, trained and armed" the MEK in the past, according an NBC News investigation — are all bent on toppling Iran's clerical rule; they long for a bad sequel to the Iraq war. And Maryam Rajavi's MEK is auditioning for the role of Ahmed Chalabi's Iraqi National Congress: The group's 3,000-odd fighters, according to former Democratic senator-turned-MEK-lawyer Robert Torricelli last Saturday, are keen to be the "point of the spear."
That way madness lies. Have U.S. political, intelligence, and military elites learned nothing from their Mesopotamian misadventure and the disastrous contribution of Iraqi exiles such as Chalabi? Well, the brainwashed fanatics of the MEK make the INC look like the ANC.
It is difficult, therefore, to disagree with the verdict of Elizabeth Rubin of the New York Times, who visited the MEK at Camp Ashraf back in 2003 and later "spoke to men and women who had escaped from the group's clutches" and "had to be reprogrammed." The MEK, warned Rubin in 2011, "is not only irrelevant to the cause of Iran's democratic activists, but a totalitarian cult that will come back to haunt us."
(END)
*** 
The death of Massoud Rajavi
Iran Unites as Tehran Struck by Middle East's Proxy Wars 
Albania a failed state. Mojahedin Khalq (MEK, Rajavi cult), ISIS, Saudis and Nato
Maryam Rajavi — MEK Propaganda Queen — Advertises Her Serives For Iran's Enemies
Also read:
https://iran-interlink.org/wordpress/?p=8558
Under President Macron, France can play a pivotal role in Western relations with Iran 
Massoud Khodabandeh,  Huffpost, June 27 2017:… Perhaps the time is finally ripe for a new appraisal of what zero tolerance means for France. The MEK's messages promoting violent regime change should no longer be tolerated. President Emmanuel Macron's new centrist movement has won a large majority in the French parliament giving him a strong hand to play. He already revealed himself to be a shrewd and … 
Iran terror attack: Who gains?
Americans take responsibility for recent joint Saudi/ISIS/MEK terror attacks (Mojahedin Khalq, Rajavi Cult, MKO, PMOI, NCRI …)  
Under President Macron, France can play a pivotal role in Western relations with Iran
European counter-terror experts warn that as ISIS is pushed into a smaller and smaller theatre of operations in the Middle East, there will certainly be blowback as foreign fighters return to their own countries. In this context, the ISIS terrorist attacks in Tehran expose a much morecomplex situation which will have lasting repercussions in the West unless it is tackled at source. That includes zero tolerance for any messages promoting violent extremism.
What worries experts is that ISIS almost certainly gained the expertise it used to carry out the attacks in Iran from the exiled Mojahedin Khalq (MEK) organisation. The MEK has a three-decade history of terrorist violence against Iran and continues to cling to an agenda which promotes violent regime change. Whilst the MEK is widely regarded as a defunct force due to the age and health of its fighters, experts warn that although the MEK no longer constitutes a fighting force, the members remain fully radicalised and capable of acting as logistics facilitators and training and planning consultants for any other terrorist group. Certainly, they are all capable of conducting suicide missions.
Since America ensured the MEK were transferred from Iraq to Albania this danger has become more acute. Albania is still struggling to overcome the political and media corruption, drug crime, gun smuggling and people trafficking which will prevent it joining the European Union anytime soon. The presence of 3000 radicalised MEK members in a country known as a route between Europe and Syria for modern terrorist forces is not just controversial, it is dangerous.
Even so, the real danger does not lie in Albania; it is a NATO country dominated by the US and the MEK can and will, therefore, be contained and re-purposed for whatever the US needs them for. The recent visits to the MEK by John Bolton and Senator John McCain are an indication of this agenda.
The real danger lies in France and Western Europe. The MEK has been headquartered for the past thirty-six years in Auvers-sur-Oise just outside Paris. This year, as always, the MEK will use its front name the 'National Council of Resistance of Iran' to hire the Villepinte salon outside Paris, pay disproportionate speakers fees to advocates and round up a paid audience to wave flags and dutifully applaud the 'regime change' speeches. This annual event is known inside the MEK as a celebration of armed struggle – the raison d'être of the MEK group.
This year the event is being held on July 1, but it was originally timed to celebrate the MEK's challenge to Ayatollah Khomeini's leadership on 30th Khordad (June 21, 1981). These dates matter. Analysts now say that the MEK has moved the date of the celebration to distance it from the association with defeat – after the coup d'état failed, senior MEK leaders fled to France with CIA backing and left the rank and file to face mass arrests and executions inside Iran. Instead the new date is closer to what the MEK regards as a major victory in its three decade long terrorist campaign against Iran. On the 7th Tir (June 28, 1981) MEK operatives blew up the headquarters of the Islamic Republic Party in Tehran during a meeting of party leaders. Seventy-three leading officials of the Islamic Republic were killed.
The significance of this becomes clear when we link the MEK's core beliefs to the recent terrorist attacks in Tehran. The message which the MEK event gives to observers is that the pattern of attacks by ISIS in Tehran was glorious and righteous and is a legitimate response to a scenario in which Iran is the world's leading sponsor of terrorism. (For the record, neither the MEK nor Saudi Arabia condemned the attacks.)
This scenario – Iran as the world's leading sponsor of terrorism – has been promoted ad nauseamby the MEK throughout western political circles. The work of national parliaments as well as the European Parliament have been held hostage to this narrative. Normalisation of relations with Iran following the nuclear agreement have been stymied by the MEK. Indeed, MEK bullying and intimidation in pursuit of this agenda was recently discussed in the European Parliament. The MEPs concluded that Europe cannot properly challenge Iran's human rights situation as long as a group which promotes regime change and abuses the human rights of its own membersartificially imposes itself centre stage of these discussions.
The fact is that over the past year the western political landscape has changed dramatically. Two distinct blocs have emerged: a cohort of anti-Iran countries including the US, UK, Israel and Saudi Arabia on one side blindly pursuing regime change against Iran apparently at all costs, and Europe – minus the UK after Brexit – (and incidentally Russia and China) pursuing rapprochement and trade opportunities.
In this context, the spotlight for action must fall on France, home to the MEK headquarters. We must ask the French government 'these people belong to the regime change bloc, why do you continue renting your land to them after 36 years? What have the Americans or the MEK done for you that is worth the bad reputation attached to supporting this group? What is the cost benefit of having the MEK in your country? What implications does its continued presence have for your foreign policy and trade relations? How can the Republic continue to allow this group topromote violent extremism and terrorism on French soil?'
In the past, of course, it was pointless asking these questions – even though they were asked as permanent unresolved issues. Removing the MEK from France and other European countries was problematic – expelling them to Iraq was impossible because their human rights could not be guaranteed. But in 2016 the Americans facilitated the MEK's removal from Iraq to safety in Albania. There is no reason to believe that Europe cannot similarly facilitate the safe removal of the MEK leaders from France and other European countries to Albania. The MEK leader Maryam Rajavi has already spent several weeks in Tirana. There is nothing to prevent her setting up a permanent headquarters there with further help from the Americans.
President Emmanuel Macron's new centrist movement has won a large majority in the French parliament giving him a strong hand to play. He already revealed himself to be a shrewd and masterful challenger in international relations almost before opening his mouth when he out manoeuvred President Donald Trump at the NATO summit in Brussels in May. Perhaps the time is finally ripe for a new appraisal of what zero tolerance means for France. The MEK's messages promoting violent regime change should no longer be tolerated.
(END)
*** 
Albanian translation:
http://gazetaimpakt.com/presidentin-macron-franca-mund-te-luaje-nje-rol-te-rendesishem-ne-marredheniet-perendimore-iranin/
Me Presidentin Macron, Franca mund të luajë një rol të rëndësishëm në marrëdhëniet perëndimore me Iranin
Ekspertët evropianë kundër terrorizmit paralajmërojnë se ndërsa ISIS është futur në një teatër gjithnjë e më të vogël të operacioneve në Lindjen e Mesme, me siguri do të ketë të papritura kur luftëtarët e huaj të kthehen në vendet e tyre. Në këtë kontekst, sulmet terroriste të ISIS-it në Teheran ekspozojnë një situatë shumë më komplekse e cila do të ketë pasoja të përhershme në Perëndim, nëse nuk trajtohet që në burim. Kjo përfshin tolerancë zero ndaj çdo mesazhi që promovon ekstremizmin e dhunshëm.
Ajo që shqetëson ekspertët është se ISIS përvetësoi pothuajse me siguri ekspertizën që përdorej për të kryer sulmet në Iran nga organizata e mërguar Muxhahedin e Halq (MEK). MEK ka një histori prej tre-dekadash të dhunës terroriste kundër Iranit, dhe vazhdon të kapet në një axhendë e cila nxit ndryshimin e dhunshëm të regjimit. Përderisa MEK konsiderohet gjerësisht si një forcë e vdekur për shkak të moshës dhe shëndetit të luftëtarëve të saj, ekspertët paralajmërojnë se megjithëse MEK nuk përbën më një forcë luftimi, anëtarët mbeten plotësisht radikalizues dhe të aftë për të vepruar si lehtësues logjistikë dhe konsulentë trajnimi dhe planifikimi për çdo grup tjetër terrorist. Sigurisht, ata janë të gjithë të aftë për kryerjen e misioneve vetëvrasëse.

Meqënëse Amerika siguroi që MEK-u të transferohej nga Iraku në Shqipëri, ky rrezik u bë më akut. Shqipëria ende po lufton për të kapërcyer korrupsionin politik dhe mediatik, krimin e drogës, kontrabandën e armëve dhe trafikimin e njerëzve, të cilat do ta pengojnë hyrjen në Bashkimin Evropian në çdo kohë. Prania e 3,000 anëtarëve të radikalizuar të MEK-ut në një vend të njohur si një rrugë midis Evropës dhe Sirisë për forcat terroriste moderne nuk është vetëm e diskutueshme; është e rrezikshme.
Megjithatë, rreziku i vërtetë nuk qëndron në Shqipëri; Shqipëria është një vend i NATO-s i mbizotëruar nga SHBA-ja, dhe kështu MEK-u mund dhe do të përfshihet e rivendoset për çfarëdolloj gjëje që SHBA-ja ka nevojë për të. Vizitat e fundit nga John Bolton dhe senatori John McCain janë një tregues i kësaj axhende.

Rreziku i vërtetë qëndron në Francë dhe në Evropën Perëndimore. MEK ka qenë i vendosur për tridhjetë e gjashtë vitet e fundit në Auvers-sur-Oise jashtë Parisit. Këtë vit, si gjithmonë, MEK do të përdorë emrin e tij të parë 'Këshilli Kombëtar i Rezistencës së Iranit' për të marrë me qera sallonin Villepinte jashtë Parisit, për t'u paguar avokatëve tarifat joproporcionale të folësve dhe për të siguruar një audiencë të paguar për të valëvitur flamuj dhe për të duartrokitur fjalimet e ndryshimit të regjimit. Kjo ngjarje vjetore njihet brenda MEK-ut si një festë e luftës së armatosur – arsyeja e ekzistencës së grupit MEK.
Këtë vit ngjarja do të mbahet më 1 korrik, por fillimisht ishte caktuar për të festuar sfidën e MEK-ut ndaj udhëheqjes së Ayatollah Khomeinit në Khordadin e 30-të (21 qershor 1981). Këto data janë të rëndësishme. Analistët tani thonë se MEK e ka ndryshuar datën e kremtimit për ta larguar atë nga lidhja me humbjen – pasi grushti i shtetit dështoi, udhëheqësit e lartë të MEK-ut ikën në Francë me mbështetjen e CIA-s dhe i lanë njerëzit e thjeshtë për t'u përballur me arrestime masive dhe ekzekutime brenda Iranit. Përkundrazi, data e re është më afër asaj që MEK e konsideron si një fitore e madhe në fushatën terroriste të tre dekadave kundër Iranit. Më 7-të Tir (28 Qershor 1981), operativët e MEK shpërthyen selinë e Partisë së Republikës Islamike në Teheran gjatë një takimi të udhëheqësve të partisë. Shtatëdhjetë e tre zyrtarë udhëheqës të Republikës Islamike u vranë.
Rëndësia e kësaj bëhet e qartë kur lidhim besimet kryesore të MEK-ut me sulmet e fundit terroriste në Teheran. Mesazhi që ngjarja e MEK-ut u jep vëzhguesve është se modeli i sulmeve të ISIS-it në Teheran ishte i lavdishëm dhe i drejtë dhe është një përgjigje legjitime për një skenar në të cilin Irani është sponsori kryesor i terrorizmit në botë. (Sa për ta ditur, as MEK as Arabia Saudite nuk i dënuan sulmet).
Ky skenar – Irani si sponsori kryesor i terrorizmit – është promovuar nga MEK në të gjitha qarqet politike perëndimore. Puna e parlamenteve kombëtarë si dhe Parlamenti Europian janë mbajtur peng i kësaj narrative. Normalizimi i marrëdhënieve me Iranin pas marrëveshjes bërthamore është penguar nga MEK. Në të vërtetë, ngacmimi dhe kërcënimi i MEK-ut në ndjekje të kësaj axhende u diskutua kohët e fundit në Parlamentin Evropian. Deputetët përfunduan se Evropa nuk mund ta sfidojë siç duhet situatën e të drejtave të njeriut të Iranit për sa kohë që një grup që promovon ndryshimin e regjimit dhe abuzon me të drejtat e njeriut të anëtarëve të vet, imponon vetë artificialisht fazën qendrore të këtyre diskutimeve.
Fakti është se gjatë vitit të kaluar peizazhi politik perëndimor ka ndryshuar në mënyrë dramatike. Dy grupe të dallueshme janë shfaqur: një grup i vendeve anti-Iran, duke përfshirë SHBA-në, Mbretërinë e Bashkuar, Izraelin dhe Arabinë Saudite nga njëra anë, që me sa duket ndjekin verbërisht ndryshimet e regjimit kundër Iranit me çdo kusht, dhe Evropa – pa Mbretërinë e Bashkuar pas Brexit – (dhe aksidentalisht Rusia dhe Kina) që po ndjekin afrimin dhe mundësitë tregtare.
Në këtë kontekst, vëmendja për veprim duhet të bjerë në Francë, në shtëpinë e selisë së MEK. Ne duhet të pyesim qeverinë franceze se pse këta njerëz që i përkasin bllokut të ndryshimit të regjimit vazhdojnë të marrin me qera tokën tuaj pas 36 vjetësh? Çfarë kanë bërë amerikanët apo MEK-u për ju, që ia vlen reputacioni i keq që i bashkëngjitet mbështetjes së këtij grupi? Cili është benefiti i të pasurit MEK-un në vendin tuaj? Çfarë implikimesh ka prania e tij e vazhdueshme në politikën tuaj të jashtme dhe të tregtisë? Si mundet Republika të vazhdojë ta lejojë këtë grup të nxisë ekstremizmin dhe terrorizmin e dhunshëm në tokën franceze?
Në të kaluarën, natyrisht, ishte e pakuptimtë t'i bëje këto pyetje – edhe pse ato ishin pyetur si çështje të përhershme të pazgjidhura. Heqja e MEK-ut nga Franca dhe vende të tjera evropiane ishte problematike – dëbimi i tyre në Irak ishte i pamundur për shkak se të drejtat e tyre njerëzore nuk mund të garantoheshin. Por në vitin 2016, amerikanët ndihmuan largimin e MEK-ut nga Iraku në Shqipëri. Nuk ka arsye të besohet se Evropa nuk mund të lehtësojë në mënyrë të ngjashme largimin e sigurt të udhëheqësve të MEK-ut nga Franca dhe vendet e tjera evropiane në Shqipëri. Udhëheqësja e MEK-ut, Maryam Rajavi ka kaluar tashmë disa javë në Tiranë. Nuk ka asgjë që të parandalojë ngritjen e një selie të përhershme atje me ndihmë të mëtejshme nga amerikanët.
Lëvizja e re qëndrore e Presidentit Emmanuel Macron ka fituar një shumicë të madhe në parlamentin francez, duke i dhënë atij një dorë të fortë për të luajtur. Ai tashmë e shpalli veten si një sfidues të zgjuar dhe mjeshtëror në marrëdhëniet ndërkombëtare kur ai ia mori në kthesë presidentit Donald Trump në samitin e NATO-s në Bruksel në maj. Ndoshta për Francën ka ardhur më në fund koha për një vlerësim të ri të asaj që nënkupton zero tolerancë. Mesazhet e MEK-ut që promovojnë ndryshimin e regjimit të dhunshëm nuk duhet të tolerohen më.
/ © Gazeta Impakt
Also read:
National Geographic, March 04 2017:… Leading MEK members squirm under the knowing gaze of Michael Ware. Watch the shifty looks and glances as the MEK representatives try to lie about their true intentions. They admit to wanting regime change, but claim to be pacifists. Ware asks 'Why does a political organization still need to have a para-military organization?' He then cleverly gets them to …

Associated Press, February 16 2017:… The group at one point successfully infiltrated the U.S. Embassy in Tehran, according to a State Department report. And a series of bombings attributed to the MEK accompanied visits by presidents Richard Nixon and Jimmy Carter to Iran, including one to target an American cultural center. In 1973, MEK assailants wearing motorcycle helmets shot dead U.S. Army Lt. …

Iran Interlink, February 15 2017:… The following OpEd by MEK advocate Col. Wes Martin was published first in The Hill, followed by Mojahedin Khalq's "Iran Probe" and the "NCRI" websites. Iran Interlink has published it here as indication of how hysteria has become the new normal in American published writing. A form of madness appears to have infected US politics and now all and sundry are dancing …

Massoud Khodabandeh, Huffington Post, February 07 2017:… He also signals that his war is not with ISIS but with the country Iran. Donald Trump rose to victory in part on the promise to take on ISIS and defeat the group. Yet ISIS cannot be defeated except by a coalition of forces that includes Iran. The facts on the ground in Syria and Iraq demonstrate unequivocally that ISIS forces in Aleppo and Mosul have been defeated largely due to the involvement

Gazeta Impakt, Albania, Translated by Iran Interlink,  January 01 2017:… According to Fatos Klosi, former director of the National Intelligence Service, the American CIA chief has warned Albania that Donald Trump will renounce support for the MEK terrorists and it will be the Albanian Government itself which must deal with internal security and must confront a group trained militarily from the time of Saddam Hussein …

Massoud Khodabandeh, Huffington Post, December 24 2016:… That can only happen if journalists and investigatory bodies (human rights, nuclear experts, war crimes, etc) are able to base their work on facts and not the fake and fictionalised fantasies of stooges like the MEK, which are clearly designed to misinform on these issues. The information laundry cycle is not difficult to follow – the Washington Times takes its report …

Massoud Khodabandeh, Huffington Post, November 12 2016:… In particular, Rudi Giuliani, John Bolton and Newt Gingrich. Putting aside their weak personalities as well as their individual neoconservative agendas, the common thread which links these names together is their decade long support for the Mojahedin Khalq terrorist organisation (also known as Saddam's Private Army or Rajavi cult). It is certain that …

 Iran Interlink, October 30 2016:… Local observers in Tirana are reporting that the Mojahedin Khalq cultic terror group (MEK) is buying and creating several sandwich and kebab shops in the city and is using the MEK members to work in these fast-food businesses. On the surface this may look like a positive move. In an article titled 'Albania: What would a de-radicalization program for the Mojahedin Khalq involve', it was …

Anne and Massoud Khodabandeh, Iran Interlink, October 16 2016:… In spite of American promises, no de-radicalisation programme is in place to deal with over 2500 members of the Mojahedin Khalq terrorist group who have relocated to Tirana from Iraq. The MEK has a long history of violent and criminal activity. This has not stopped now they are in Tirana. Unless the Albanian government introduces its own programme, it must accept …

Anne and Massoud Khodabandeh, Huffington post (and Top Topic), October 09 2016:… For the local citizens, mystery surrounds their arrival and their lifestyle. Should these secretive and covert neighbours be treated with suspicion or kindness? At a local level, the first thing neighbouring families need to be aware of is that among all MEK members, sexual relations have been banned for over 25 years. This means there are no marriages or children or young people in the organisation. More troubling …

Massoud & Anne Khodabandeh, Huffington Post, July 14 2016:… Whether Rajavi is already dead or now killable is not known – only he can answer this – but he and his whole organisation are certainly now, body and soul, in the capable hands of the Saudi Prince. If he is still alive, Rajavi's only role is to act as go-between to instruct his wife what she must do on behalf of the Saudis. If he is dead

Massoud Khodabandeh, Huffington Post, July 08 2016:… Clearly this message is not aimed at Iranians. The clamour for regime change in Iran does not emanate from inside the country in spite of its many social, civic and political problems. Who then is Maryam Rajavi's constituency? Fro