John Bolton's efforts to remove MEK from Terror list
Tom Rogan, Washington Examiner, April 30 2019:… Iranian Mujahedin, or MEK. It was listed by the State Department as a terrorist organization between 1997 and 2012, is Marxist, Its logo is the communist sickle, but the MEK uses old-fashioned greenbacks in large amounts to secure its American lobbyists. Luminaries who have spoken for the MEK include senior U.S. political figures such as Rudy Giuliani, former Homeland Security Secretary Tom Ridge, and former CIA Director Porter Goss. Their efforts eventually helped remove the group from the terrorist list. But very few have made as many speeches for the MEK as has Bolton. John Bolton MEK Terror
John Bolton: A complex worldview that just might work for Trump
(John Bolton's efforts to remove MEK from Terror list)
Long before John Bolton was named as President Trump's new national security adviser, a position he assumes on Monday , his name sparked diametrically opposite reactions in Washington.
Some have long lauded the former undersecretary of state and U.S. ambassador to the United Nations for his near absolute commitment to national sovereignty. Others have despised what they see as his lack of humility and reflex toward military force.
But who is the real John Bolton? Sometimes, he's a man of deep civility. One old friend and Yale Law School contemporary, Supreme Court Justice Clarence Thomas, says so. In a 2013 discussion with Duke Law students, Thomas recalled the time Bolton found the future justice's lost wallet.
"He found my wallet and returned it, and I got to meet him," Thomas explained. "He treated me very honestly and decently and gave me some advice about studying that helped me from then on, [regarding] outlining and reducing outlines. He always treated me, not as a black student, but as a fellow student. And I really appreciated that at Yale."
Many of Bolton's acquaintances would suggest that Thomas' experience casts a revealing and accurate light on Bolton's character. If politics is not on the agenda, Washington figures such as Chicago Tribune columnist Clarence Page say that Bolton, who grew up in working-class Baltimore, is respectful, even kind.
But if politics is the topic, as it often is, the man can be more than a little different. In his positions under Presidents Ronald Reagan and George H.W. Bush, Bolton was renowned for his blunt style dealing with underlings and superiors alike, including those presidents.
As Peter Baker reported in 2008, Bolton fell out with Bush over what he regarded as the president's insufficiently hawkish approach to countering North Korea. Although Bush might not have liked Bolton's repudiation — "I don't consider Bolton credible," he told Baker at the time — the ambassador's record on North Korea fits another major politician. And that man is going to be Bolton's new boss.
Trump often argues that previous administrations utterly failed to resolve the challenge of a North Korea armed with nuclear weapons. Bolton's ideology is not well-understood. Though he expresses his views with great force that sometimes seems to shade into stridency, Bolton is a hawkish nationalist and not a neoconservative.
Reuel Marc Gerecht, neoconservative scholar at the Foundation for the Defense of Democracies, who was an acquaintance of Bolton's when they were colleagues at the American Enterprise Institute, says Bolton is "not really interested in democracy" but rather in the binding of American sovereignty and security. Gerecht offers the anecdote of a trip to France with Bolton and another AEI scholar, Gary Schmitt, during the Iraq War.
"We were being interviewed by French journalists," Gerecht explains, "and the journalist asked John his opinion about whether Iraq could become a functioning democracy under American guidance. John pointed to Gary and me and said, 'That's not for me. Ask them.'"
Translation: Questions about democracy are for the neoconservatives, not for Bolton.
In a 2007 interview with BBC host Jeremy Paxman, Bolton argued that consolidating Iraqi democracy should no longer be considered a relevant American policy interest. "I don't think there's an American interest in what kind of Iraq emerges from the present circumstance," Bolton said, adding, "I think the American strategic interest is in making sure that no part of Iraq be used by terrorists against us. That's what we should focus on, not how to structure the country."
It's America first, stupid
Bolton's deep suspicion of big ambitions as opposed to American strength and security does not begin and end with the occupation of Iraq.
During his 2005-06 tenure at the U.N., Bolton frequently blocked efforts to create new multilateral power structures. And he didn't have much time for people, such as U.N. Deputy Secretary General Mark Malloch Brown, whom he believed were interfering in American domestic politics. It would be a mistake, however, to equate Bolton's aversion to multilateralism with a dislike of alliances.
While Gerecht said Bolton is both "tenacious" and predisposed to "ruffling feathers," he rejects as "false" the suggestion that Bolton has no regard for foreign allies. On the contrary, Bolton cares particularly about effective "transatlantic diplomacy."
This seems clear in relation to Britain.
In a recent Fox Business appearance, Bolton challenged host Lou Dobbs in his assertion that America should distance itself from supporting aggressive British responses to Russia's March 4 nerve agent attack on a former MI6 agent, Sergei Skripal.
Instead, the new national security adviser suggested that Britain should expel Russia's entire diplomatic staff and shutter its embassy and all its consular offices.
United Kingdom's Prime Minister Theresa May should find ardent U.S. support, Bolton said.
This leads to the big question about America's policy toward Russia and Trump's relationship with Russian President Vladimir Putin. Bolton's appointment to head the National Security Council is no victory for Moscow. Indeed, Russian state-funded media outlets such as RT now overflow with stories about Bolton, treating him as a "hawk" who might start World War III.
Bolton's impact as national security adviser won't be defined solely by his own views, but rather by his management of the National Security Council bureaucracy. So, what might we expect there? Bolton's critics fear that on sensitive issues such as North Korea and Iran, he won't offer policy suggestions other than the ones that fit his objectives. The current White House national security team is concerned that Bolton might purge its more moderate voices.
Gerecht disagrees, saying that the 69-year-old Bolton "knows how to work the system" and has "never been fearful of debate" and thus is not as likely as critics assume to throw dissenting voices overboard. One compensating influence here might be Mike Pompeo's arrival at State Department headquarters in Foggy Bottom.
Pompeo, a former Republican congressman, has won fans for his energetic pursuit of the CIA's core mission, which is human intelligence collection. Assuming he adopts the same approach at State, Pompeo will probably use his close relationship with Trump to push hard for more attention to be paid to foreign service officer reporting. If Bolton resists, the dispute could become a flashpoint for a new area of palace intrigue.
While Bolton is disliked by many in the State Department and intelligence services for his outspokenness, others value his ferocious work ethic and intellect. Rosemary Kimball, widow of Frank Kimball, a 36-year career USAID officer who worked closely with Bolton, says her husband always referred to Bolton as "the smartest, most level-headed man in the room." Similarly, a mid-level Bush administration official who worked closely with Bolton suggested that while he can be prickly, he is "fucking formidable" and "one of the hardest working people I've ever met."
The official added a caveat: "If you want to be smart, you appoint John Bolton to a position where his views are congruent to your own."
This is necessary because Bolton will be "relentless" in advancing his views. We thus arrive back at the question of if Bolton will carry his existing agenda into his new, much more influential job. The national security adviser's job is to manage the National Security Council and give the president various policy options. If Bolton skews the options, he'll invite conflict with Defense Secretary Jim Mattis.
Mattis has a fiercely powerful intellect of his own, but he deferred to Rex Tillerson, Pompeo's predecessor, on efforts to renegotiate the Iran nuclear deal and to achieve a diplomatic breakthrough with North Korea. Whether Pompeo and Mattis will build a similar partnership is unclear, but it bears noticing that Bolton is deeply skeptical of the Tillerson-Mattis belief that a peaceful resolution to the North Korean nuclear crisis is possible. There is little time to resolve disagreements.
Trump's Strange, Tense Campaign Against Iran (MEK, Rajavi cult)
Intelligence assessments are that North Korea will be able to put a nuclear warhead on an intercontinental ballistic missile within the next six months. So, it seems highly likely that Bolton will push Mattis for military options immediately after he steps into the White House.
With Mattis also focused on checking Chinese and Russian threats, he'll probably resist anything that he thinks risks drawing the U.S. military into simultaneous conflicts with North Korea and Iran.
The Iran problem
If Bolton is a hawk on North Korea, when it comes to Iran, he's a dragon.
He isn't so much opposed to the Iran deal as he is to the Islamic Republic of Iran itself. A fiery critic of Iran's leaders, including the more moderate groupings around President Hassan Rouhani, Bolton believes Iran can be constrained only by force. He wants Trump to withdraw from the Iran nuclear agreement and then introduce a range of new sanctions targeting the mullahs' ballistic missile program.
If this fails, Bolton says America should consider joint military action with Israel. Such views lead some to suggest that separating neoconservatism from Bolton's views is to make a distinction where there is no difference. For Bolton, the priority is not a democratic Iran, but a pro-American Iran. Bolton has been flexible in pursuit of this end.
Enter the Iranian Mujahedin, or MEK. It was listed by the State Department as a terrorist organization between 1997 and 2012, is Marxist, and seeks the overthrow of Ayatollah Ali Khamenei and his theocratic regime. Its logo is the communist sickle, but the MEK uses old-fashioned greenbacks in large amounts to secure its American lobbyists.
Luminaries who have spoken for the MEK include senior U.S. political figures such as Rudy Giuliani, former Homeland Security Secretary Tom Ridge, and former CIA Director Porter Goss. Their efforts eventually helped remove the group from the terrorist list. But very few have made as many speeches for the MEK as has Bolton.
While Bolton refused to comment when asked if he was paid for his speeches, the Wall Street Journal's Farnaz Fassihi and Seymour Hersh have accused Bolton of receiving payments. Another source, speaking to the Washington Examiner, supported these claims.
Bolton's MEK connections may simply reflect his belief that the group serves an America-first agenda. After all, for Bolton and the MEK, the ayatollah's fall is a shared win. But how does this play into Bolton's advice to Trump on Iran?
It seems obvious why Trump and Bolton have clicked so well. Neither has much time for deference or protocol, both revel in speed of action, and both prioritize the pursuit of near-term U.S. interests. Will he last longer than his predecessors, H.R. McMaster and Michael Flynn? We're about to find out.
(End)
John Bolton MEK Terror
*** 
Also read:
https://iran-interlink.org/wordpress/pompeo-set-to-back-mek-rajavi-cult-the-wrong-group-again/
Pompeo Set To Back The Wrong Group Again (MEK, Rajavi cult)
Anne Khodabandeh (Singleton), Iran Interlink, April 24 2019:… Exactly fifteen years ago we wrote about how making a deal with the MEK was a big mistake by the USA. At that time, the MEK led by Massoud Rajavi was closer to Saddam Hussein than the US. Today the MEK led by Maryam Rajavi is closer the Saudis than the US. Either way, the MEK leadership has proven over and over that they will always put their own interests above that of anything. To make this mistake once is shameful. For Mike Pompeo to repeat the mistake now is simply wrong.
Jafarzadeh has already published his suicide bombing note.
Wondering at those Americans who stand under the flag of Mojahedin Khalq (MKO, MEK, NCRI, Rajavi cult) only to LOBBY for the murderers of their servicemen
BY Anne Khodabandeh, Open Minds
Pompeo Set To Back The Wrong Group Again (MEK, Rajavi cult)
Exactly fifteen years ago we wrote about how making a deal with the MEK was a big mistake by the USA. At that time, the MEK led by Massoud Rajavi was closer to Saddam Hussein than the US. Today the MEK led by Maryam Rajavi is closer the Saudis than the US. Either way, the MEK leadership has proven over and over that they will always put their own interests above that of anything. To make this mistake once is shameful. For Mike Pompeo to repeat the mistake now is simply wrong.
Ali Reza Jafarzadeh, Suicide bomber, Terrorist recruiter for Saddam Private Army with Mike Pompeo 
—
Once Again, the US Makes a Bad Deal with the Wrong Group
by Anne Singleton Posted onApril 22, 2004
Bob Woodward's latest book, Plan of Attack, exposes the underbelly of the build-up to the US war with Iraq. In it Woodward reveals that the "CIA hired the leaders of a Muslim religious sect at odds with Saddam, but nonetheless with numerous members highly placed in Saddam's security services. The CIA's code name for them: the Rock Stars."
Asked to reveal the identity of this sect, Woodward refused. But to observers of the scene looking at the various possibilities, it is not difficult to pinpoint exactly who this group is… the Mojahedin-e Khalq (MEK) led by arguably the best conman in the Middle East, Massoud Rajavi. If that is the case, it really does call into question some decision-making at the top.
The MEK, although listed as terrorists in the USA since 1997, still maintained a high profile presence as a "democratic alternative to the Iranian regime" in the heart of the US government and had powerful friends, such as Richard Perle and Illeana Ros-Lehtinen, in the Pentagon, Congress, and the House.
With Alireza Jafarzadeh as Massoud Rajavi's permanent representative in the US, and Mohammad Mohaddessin his "foreign minister" travelling back and forth on a weekly basis from Baghdad to Washington, this group was the only one with which the CIA had contact in Iraq. Certainly it ahs been the only group which had simultaneous open access to Washington's corridors of power and to the top levels of the Iraqi regime. But whose side is Rajavi on?
In reality, Rajavi's MEK is an isolated quasi-religious military cult which, based in Iraq for 20 years, had taken arms, training, and orders directly from Saddam Hussein. Saddam trusted the MEK completely, more so than the Iraqi's surrounding him. After all, Rajavi's stated goal was to grasp power in Iran. Hussein knew that Rajavi wasn't trying to topple him, and knew also that Rajavi totally relied on Saddam's help to achieve his goal.
Saddam gave Rajavi a free hand to undertake intelligence and security operations inside Iraq and as much logistical help as needed to run terrorist operations over the border into Iran, their common enemy. Ordinary Iraqi agencies didn't dare to challenge MEK activities in their own country, so close was the organization to Saddam. It meant that MEK was acting right inside the Iraqi security system.
In a recently exposed videotape of Rajavi and some of Saddam's top echelons, we get a picture of their relationship. After Rajavi had ordered his National Liberation Army to help suppress the Kurdish and Shiite rebellions in March 1991 after Gulf War I, Saddam praised and rewarded him. In a meeting with General Saber, Rajavi made a revealing speech:
"I think that the relations between us and you and Iraq, being the government of Iraq or the Baath Party and at the top of it Mr President [Saddam]. And on the other side the Iranian Resistance and the Mojahedin and the National Liberation Army.
I think that our relation is not a purely political relation and one cannot interpret our relations like that any more. And I think that the brotherhood relation has been completed. Such brothers that would not come short of anything for each other.
Whatever is against you, it is obviously against us, and visa versa. Our security is one. When we receive a blow, it is to both of us. And when there is progress, it affects us both…

…As far as we are concerned I have only one thing to say. In my mind and in my heart, I cannot separate the account of our interests from your interests. They are exactly matching each other. We may have some differences in our views. The reality is, that our interests match each other and are closely mixed together. Therefore I would ask you to send my sincere regards to Mr. President [Saddam] and say to him that there is no need for him to thank us or anything else. And tell him on my behalf that we have been in your house and we are with you and will be with you as far as is in our power."
If the CIA had heard this speech, would they have been so ready to believe that Rajavi would help them? Even if they thought Rajavi's co-operation with Saddam was cynically pragmatic, did it not occur to someone that his relationship with the US might be the same?
Rajavi most probably passed all the information he had from the CIA straight to Saddam. Why wouldn't he? As he said himself "Whatever is against you [Iraq], it is obviously against us, and visa versa. Our security is one. When we receive a blow, it is to both of us." Rajavi didn't believe before the war that Saddam would, or even could, be toppled. He believed his Iraqi protector was invincible and would shelter him until he reached Tehran in some unforeseeable future. Rock Stars they may have been, but it was Saddam who rocked Rajavi's world, not the US.
Woodward points out, the CIA is still not sure whether the intelligence they got from the sect was reliable or not. Why are we not surprised? It should have been obvious that a man who had already prostituted himself to anyone and everyone in his quest for power, a man who proudly headed 'Saddam's Private Army', would not be an entirely reliable associate.
Even so, when it became obvious to Rajavi that Saddam would go, he turned around and promised the Americans full cooperation in exchange for protection. And he got it. Although the MEK bases were bombed and some of his fighters killed, this was most probably stage managed so that the group could surrender to the US without arousing the suspicion of the Iraqis. Rajavi was protected in his largest base, Ashraf, with 4,000 of his fighters around him and those fighters and the base itself protected by several hundred US soldiers. In Iraq, Rajavi couldn't have found a safer place. The Iraqi people were ready to attack the MEK as remnants of Saddam's regime. Even now, the Iraqi Governing Council has unanimously asked the US to get rid of the sect and remove them as soon as possible from Iraq.
When Ari Fleischer, the president's spokesman, publicly praised the MEK on March 10 2003, it was widely interpreted as the result of a CIA deal.
Because of this deal, the MEK couldn't believe their bases were being bombed and claimed these were Iranian airplanes. But when the US army confirmed that MEK in the camp had returned fire, Mohaddessin, shocked at the news panicked and in an interview announced that they had a deal with the Americans not to be attacked.
When the State Department quite logically added an MEK alias, the National Council of Resistance of Iran (NCRI), to the list of terrorist entities on August 15, 2003, because of its close alliance with Saddam Hussein, Jafarzadeh, the MEK contact in Washington, suddenly gave up his job as MEK representative and was appointed top Iran Advisor for Fox News in Washington! Coincidence? We think not.
And what has the US got from this deal to protect the MEK? Intelligence in Iraq? A mouthpiece in the US media?
(End)
*** 
Ambassador Daniel Benjamin: I was at State when we took the MeK (Mojahedin Khalq, Saddam's Private Army) off the terrorist list. But team Trump's ties to the group still worry me.

(Massoud Rajavi and his pay master Saddam Hussein) 
Remember.Mojahedin Khalq (MKO, MEK, Rajavi cult) was one of the excuses of US attacking Iraq
That Secret Iranian 'Nuclear Facility' You Just Found? Not So Much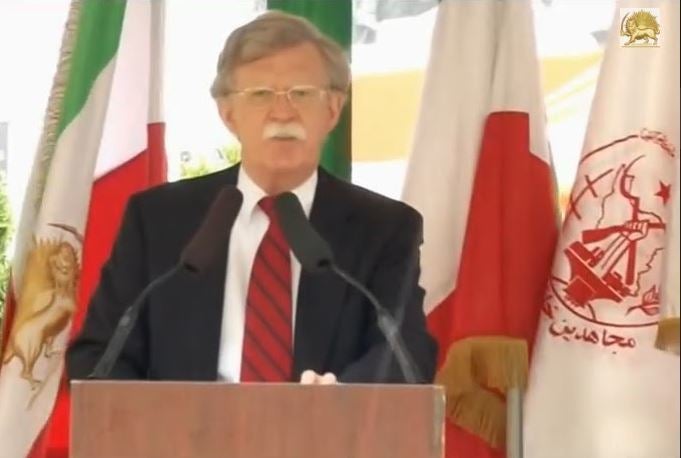 Mojahed Khalq Brother John Bolton has a memory lapse
Document on Mojahedin Khalq released by RAND (The Mujahedin-e Khalq in Iraq, A Policy Conundrum)
Also read:
https://iran-interlink.org/wordpress/its-a-mistake-to-treat-the-mek-as-a-normal-opposition-group/
It's a mistake to treat the MEK as a normal opposition group
Anne Khodabandeh, Iran Interlink, February 27 2019:… It is a mistake to approach the MEK as a normal opposition. Indeed, quoting MEK members is like giving a platform to Flat Earthers or Creationists. It is not balanced reporting. The MEK is a unique entity. Not an opposition, not a 'group' or 'organization', descriptions which imply a certain kind of accountable system and order. 
Prisoners of Their Own Rebellion.The Cult-Like Group Fighting Iran
It's a mistake to treat the MEK as a normal opposition group
When reporter Luisa Hommerich wrote her investigative piece in Der Spiegel titled 'Prisoners of Their Own Rebellion – The Cult-like Group Fighting Iran', which exposes the grim situation for MEK members, I doubt she was expecting death threats to follow. After all, she was just doing her job. But that is exactly what the MEK reaction was. A Farsi language statement (written and published in Europe) promised her assassination. Nice.
Of course, for those who already know the MEK, this is not surprising. A timely reminder that the MEK cannot disown its past and cannot stop repeating its past, came in an interview with Nabi Ahamadi, who escaped the cult in Albania recently. Ahmadi was a close friend of Malik Sharai who was killed by MEK in June last year. He confirmed that Sharai was one of the few remaining witnesses to the mysterious death of 53 MEK members in Camp Ashraf, Iraq. He also confirmed that Sharai had asked to leave the group but was then held in solitary isolation before being physically eliminated by the MEK leaders. As a trained swimmer, Ahamdi says it is implausible that he drowned as MEK claim.
Another example is the suspicious assassination of Mohammad Reza Kolahi – the bomber of the Jomhouri Party headquarters in 1981 who was killed in the Netherlands in 2015. After he left the MEK Kolahi was always going to be a liability. He knew too much. So, why is nobody asking Maryam Rajavi about this convenient death?
One reason of course is that the MEK leader Maryam Rajavi refuses to engage with journalists, investigators, researchers. Anyone in fact who might get to the truth about her organization. Indeed, Hommerich did her job thoroughly, as did the journalists of Aljazeera, The Guardian, Independent, Channel 4 News, NBC and other down the years (there is a very long list). They all asked the MEK to give their side, to comment on their findings and to have a voice. The MEK called them all agents of the Iranian intelligence services and refused to talk.
Former MEK members Gholamreza Shekari and Hassan Heyrani from Albania, who were interviewed for the Der Spiegel article, revealed that not only did the MEK refuse Hommerich's request for interviews, they sent armed guards to prevent her getting near to Camp Ashraf 3 in Manez. This is not the response of a normal political opposition. Issuing death threats to journalists is not the response of a normal political opposition. But then, there's nothing normal at all about an opposition universally hated by their own people, inside and outside Iran.
It is a mistake to approach the MEK as a normal opposition. Indeed, quoting MEK members is like giving a platform to Flat Earthers or Creationists. It is not balanced reporting. The MEK is a unique entity. Not an opposition, not a 'group' or 'organization', descriptions which imply a certain kind of accountable system and order.
Hommerich asked to speak with someone from the MEK (NCRI) but they did not reply. Instead, she spoke with some of the many defectors who have escaped. Their stories do not differ much from the testimony of other former members over thirty years: the MEK is a cult that routinely and systematically abuses the human rights of its whole membership. According to 50-year-old Gholamreza Shekari, this is achieved through 'lies, manipulation and fear'; a methodology known as Cultic Abuse.
For the record, the MEK is a cult. Maryam Rajavi keeps slaves. It is that simple.
(End)
*** 
The Iran Protests, Regime Change, And The MEK
Prisoners of Their Own Rebellion.The Cult-Like Group Fighting Iran
Terrorists, cultists – or champions of Iranian democracy? The wild wild story of the MEK
Also read: