John Bolton grooming Mojahedin Khalq (MEK, Rajavi cult) in Tirana part of bigger agenda for Albania
Iran Interlink, Tirana, Albania, March 21 2017:… Warmonger John Bolton attended a secret meeting of the MEK in Tirana. In an interview afterwards it becomes clear that the terrorist MEK cult is being groomed in Albania as part of a bigger agenda to confront Russia. Albania, a member of NATO, is not part of the EU. John Bolton was passed over by President Donald Trump for any position in his cabinet …
The Iranian MEK in Albania: Implications and Possible Future Sectarian Divisions (aka Mojahedin Khalq, Rajavi cult) 
Albania: Toxic Waste, Cannabis and the Iranian Mojahedin Khalq (Rajavi cult) are part of the same equation under the devilish Justice Reform
[Iran Interlink: Warmonger John Bolton attended a secret meeting of the MEK in Tirana. In an interview afterwards it becomes clear that the terrorist MEK cult is being groomed in Albania as part of a bigger agenda to confront Russia. Albania, a member of NATO, is not part of the EU. John Bolton was passed over by President Donald Trump for any position in his cabinet. Analysts believe this was partly based on his continued support for the toxic MEK.]
(John Bolton grooming Mojahedin Khalq ,MEK, Rajavi cult, in Tirana part of bigger agenda for Albania)
–
John Bolton: There is no Soros conspiracy
Top Channel, Tirana, Albania, March 21 2017
Link to the source
John Bolton is one of the most prominent figures in the Republican Party and former US ambassador in the United Nations. Known as one of the "hawks" of President Bush, he was one of the possible candidates to be named as Secretary of State and National Security adviser, today is one of the most closest mans to Donald Trump. Invited tonight on Top Story of Sokol Balla, he talked about the US, Russia, the Balkans, Soros, justice reform and to answer the question if Washington policy in Tirana will change.
"I am here to stay with the Iranian opposition to celebrate the Iranian New Year, Sultan Nowruz. It's my first trip to Albania and it is my pleasure to visit the country", he said, adding the role of Albania in adminiting with the refugee status thousands of Iranians was more then welcomed.
He also spoke about the Balkans, as a region he has knowledge. "It is part of a bigger issue involving Russia, USA and NATO. I have been a big supporter for Albania to join NATO and I am pleased it happened. I think security in the region depend on weather Moscow realizes it can no longer exercise its influence in it", he said.
"There are public reports in US that prove Russia has tried to interfere in the elections there. Not by supporting any candidate, but by just undermining the belif Americans had in their institutions. If Russia will try to intervene also in the Balkans, including Albania, I think there will be consecuences. People do not want to return under the Warsaw Pact. US will be more vigilant through NATO and bilateral agreements for this not to happen".
Asked what could happen in the region in a moment where the general perception is US is not so focused in the region as before, Ambassador Bolton said the Trump administration knows the Balkans is a difficult situation. "We know Russia wants to return to the Soviet Union era and possibly expand its sphere of influence. This risk, together with radicalism and terrorism exists for the region, but the US has given the European Union more freedom of movement. I know Albania and other countries would like to be part of EU, but stability and peace comes through NATO and not EU", Bolton said.
Asked about some concernes expressed lately from some republican senators about billionare George Soros, Bolton said there are many people who see his acitivites in Central and Eastern Europe as concerning. "I do not believe so much in conspiracy theories. But anyway he was part of the Obama dministration chain and with time passing, some things will change", Bolton Said. "The new administration requires some time to tace in control many aspects of the American policy, because it is very complicated and perhaps we will need to make transition as smoother as we can. But in any case we need to be patient because change will come".
Some of the opposition and other political factors in Albania hope the Trump administration will have a different approach towards the country, firstly because Prime Minister Edi Rama criticized Trump during the campaign, and because he is considered as an element supported by Soros. But Mr Bolton said: "I am not here as a representative of the Trump administration and I hope to talk to people from both political spheres. But I can say many people in the world criticized Trump and American foreign policy will not be based on such things.
–
Tirana the Mecca of MEK (Mojahedin Khalq, Rajavi cult)
Top Channel, March 21 2017
Link to the source
Members of the Iranian opposition, MEK, held a super secrete meeting with their 3000 members in Tirana to celebrate the Iranian New Year, known as Nowruz.
They expressed their gratitude for the Albanian hosts, represented in the meeting by known political figures like Pandeli Majko, Fatmir Mediu and Elona Gjebrea. Also present in the event the presence of the head of the Catholic Church in Albania caught the eye, as a sign that the 3000 Iranians were rivals of the Ayatollah regime.
Leader of the resistance, Maryam Rajavi, said the Ayatollah regime is facing difficulties and is afraid that this kind of enthusiasm can be transformed into a political party especially with the support of the international community.
"Today, Ayatollah Khamenei is facing three main difficulties; he's afraid of the resistance of the Iranian people, he's afraid of the American policy in the region and is facing a bid dilemma on who is going to replace him. These issues have put the regime in serious alarm", she said. "Western governments should not by into the regime deceptions, false elections and victimize of the people. Politicians turn their head away when it comes to the human rights".
But until now, beside the US, tiny Albania is the other country who has given the best support for the organization. "For a three year period, with the wonderful cooperation of our partners, we managed to move 2500 members of the MEK organizations in Albania with no incidents at all. And today you are all here", Vice Minister of the Interior Affaris, Elona Gjebrea, said.
For Fatmir Mediu, leader Rajavi is a inspirational model for people around the world, while Pandeli Majko added a sense of humor to the gathering. "We socialists think it is been Nowruz Day all alongfor 4 years, while they think Nowruz Day will come after the elections. We are still debating…", Majko said.
Well-known personalities from US and France were also present, two countries that have helped the mujahidin move from Liberty Camp in Iraq to Albania. Among them was also former US Ambassador to UN John Bolton, recently mentioned as a possible candidate for the Secretary of State position in Trump administration.
(END)
***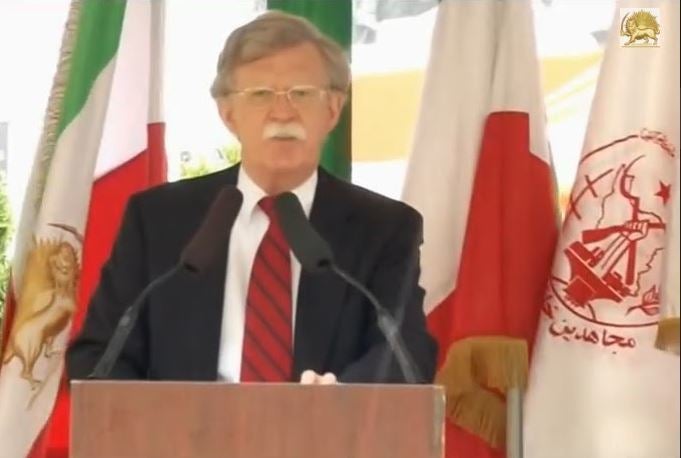 Bolton and the MEK
Terroristja Marjam Raxhavi është terroristi i dytë pas Bin Ladenit që viziton fshehurazi Shqipërinë
Albania: What would a de-radicalization program for the Mojahedin Khalq (Rajavi cult) involve
Anne Singleton: Key to de-radicalization of MEK hostages in Albania are their families
IMPAKT 55 – Muxhahedinet iraniane ne Shqiperi. Interviste eksluzive me Anne Singleton

https://youtu.be/8v-Q7UWfN3M
FOTOLAJM/ Marjam Raxhavi vizitë sekrete në kampin me terroristë në Tiranë (This MEK member lost her legs in 2003 as the result of an American aerial bombardment of MEK camps before they surrendered)
Rajavi resorts to bargain basement speakers in Albania (Ingrid Betancourt, Linda Chavez, Wesley Martin …)
Albania: John Kerry brought terrorists (Mojahedin Khalq, MEK, Rajavi cult), John Brennan warns of their risk
Albanian citizens fearful of radicalised Mojahedin Khalq neighbours deserve more information
Massoud Khodabandeh, Huffington Post: Can Albania Meet its Obligations and De-radicalize an Influx of Terrorists into Europe? 
How much does it cost to keep Iran's enemies in Albania?
Iranian Mojahedin (aka MEK, Rajavi cult) member punished for stealing food cans in a Babrru market
Sitting Down with the MEK (Mojahedin Khalq, Rajavi cult, NCRI, …)
Three members of the Mojahedin Khalq (MKO, MEK, Rajavi cult) Central Council defect the group in Albania
***
Also read:
https://iran-interlink.org/wordpress/?p=8071
Misguided letter by MEK's US lobbyists informs Iran the toolbox is truly empty 
Iran Interlink, January 17 2017:… Sources close to the MEK have revealed that Maryam Rajavi has promised the Saudis that if she gets paid enough, the MEK, NCRI (whatever they call themselves), will be able to gather all the Iranian opposition under their wing and be the voice of all these various groups – whether based in London and Washington writing and talking, or in Kurdistan and Baluchistan carrying out terrorist acts … 
Why has Trump's cybersecurity adviser's website mysteriously disappeared?
DNS records for the Giuliani Security website have been deleted, and the IP address isn't working either.

(Massoud Rajavi and his pay master Saddam Hussein) 
Remember.Mojahedin Khalq (MKO, MEK, Rajavi cult) was one of the excuses of US attacking Iraq
Misguided letter by MEK's US lobbyists informs Iran the toolbox is truly empty
A letter signed by some former US officials urging the incoming president to support the MEK was first given publicity by Fox News. When this elicited no response from Iran they tried the Farsi outlets – VOA, Radio Farda, BBC etc. But still no response from Iran.
Of itself this lack of response should be enough to clarify that a bunch of sick and deviant pensioners in Albania does not count as a credible or viable tool in anybody's book. America can't expect Iran to pay a price for a heap of rotting rubbish. Indeed, this letter only shows Iran how empty the anti-Iran toolbox is.
Sources close to the MEK have revealed that Maryam Rajavi has promised the Saudis that if she gets paid enough, the MEK, NCRI (whatever they call themselves), will be able to gather all the Iranian opposition under their wing and be the voice of all these various groups – whether based in London and Washington writing and talking, or in Kurdistan and Baluchistan carrying out terrorist acts, or any of the others. Whether this absurd claim has been bought by the Saudis we don't know. What we do know is that the MEK's expenditure in London and Washington has increased.
All the Americans need to know is that this is an impossible promise and the MEK are simply milking whatever resources they can.
As far as Iran is concerned, there has been no response to this. And why would you expect any – this is a letter signed by paid lobbyists and former officials.
Most definitely Iran is waiting to see if this gains substance in the new Trump administration. If it does, Iran will be delighted. What better for Iran than to have ex-Saddamists, supporters of Daesh and terrorists as the 'only opposition'! Iran would dearly love to have that card on the table in any future 5+1 negotiations.
(END)
***
(Rajavi cult or MKO aslo known as Saddam's Private Army)
Sydney hostage-taker was affiliated with Mojahedin Khalq (MKO, MEK, Rajavi cult)
Open letter of Ali Akbar Rastgoo to the Australian Ambassador in Germany: Keep Mojahedin Khalq on terrorist List
Massoud Khodabandeh: The Iranian Mojahedin-e Khalq (MEK) and Its Media Strategy:
Methods of Information Manufacture
Also read:
Nuclear Deal Opponents Urge Military Confrontation with Iran
National Iranian American Council (NIAC), December 09 2016:… Lieberman is chairman of UANI and formerly an advisory board member of an AIPAC organization explicitly established to kill the nuclear deal. In addition to the UANI panel, he appeared at a Capitol Hill event this week organized by the Mujahedin-e Khalq (MEK), a shadowy group formerly designated as a terrorist organization …
rom Mitt Romney to Rudy Giuliani: Who are Donald Trump's top five picks for secretary of state?
Orlando Crowcroft, International Business Times, December 08 2016:… suggested that the former New York mayor's active public campaigning for the role may have put Trump off. Giuliani has faced searching questions about his international business ties, including revelations that he has earned more than $11m (£8.6m) from lucrative speaking contracts… he has also given speeches to the Iranian MEK, which …
Mazda Parsi, Nejat Society, December 08 2016:…  "According to a financial disclosure reported on by The New York Times, Giuliani has been speechifying at hyper speed for years, collecting $11.4 million for 124 appearances in just one year—and that was before signing up for the MeK gravy train around 2011. Perhaps he just didn't have time to consider the character of his paymaster," adds Daniel Benjamin …
Press TV, December 06 2016:… The terrorist group of "Mojahedin-e-Khalq Organization," also called "MEK" or "MKO," which is featured among some countries' lists of terrorist groups is being protected in a small town only 30 kilometers from Paris, in Auvers-sur-Oise; this has resulted in neglect of public interest and freedom of speech. During the years, the organization has been responsible …
Phioip Giraldi, The Unz Review, November 30 2016:…  Israel's Mossad planned and prepared the killing of the scientists with a little help from the U.S., attacks which were almost certainly carried out by associates of the radical Marxist group Mujaheddin e Khalq (MEK), which is now being seen favorably by several Trump advisors even though the group is Marxist, cult-like and has killed Americans …
Jacob Sullum, Newsweek, November 29 2016:… "My ties to them are very open," Giuliani, a former U.S. attorney, recently toldThe New York Times. "We worked very hard to get them delisted." But under the broad understanding of the federal ban on "material assistance" to terrorist groups that the Supreme Court upheld in 2010, that work was pretty clearly a crime punishable by up to 15 years in prison …
Press TV, November 28 2016:… Describing MKO as "bizarre and brutal" with "plenty of American blood on its hands, as well as that of thousands of Iranians killed while the group was a strike force serving [former Iraqi dictator] Saddam Hussein" during his war on Iran in the 1980s, US-based magazine Politicorevealed in a Saturday report that former New York City's Mayor Rudy Giuliani and former
Daniel Larison, The American Conservatives, November 27 2016:… One of the more troubling things about American MEK supporters is their willingness to whitewash the group's past as well as its present-day behavior. They aren't content to work with an avowedly bad group against a common enemy, but feel compelled to pretend that the group is upstanding and noble. At an appearance in Paris last year, Giuliani …
I was at State when we took the MeK (Mojahedin Khalq, Saddam's Private Army) off the terrorist list. But team Trump's ties to the group still worry me.
Ambassador Daniel Benjamin, Politico Magazine, November 24 2016:… Press accounts of MeK support by Giuliani and these others often treat their ties as a curiosity or, at most, some kind of peccadillo, because the group was taken off the State Department list in 2012. I was the coordinator for counterterrorism at that time, and my office was responsible for leading the effort to decide whether …
Mazda Parsi, Nejat Society, November 22 2016:… In March 2012, Giuliani traveled to Paris to speak at an MEK conference alongside the group's secretive leader Maryam Rajavi. While there, he called the U.S. military base in Iraq where the United States wanted to relocate the MEK a "concentration camp." Those comments later appeared in an MEK ad in the New York Times, according to josh Rogin …
Eric Lipton and Russ Buettnernov, New York Times, November 18 2016:… The speeches that have drawn the greatest scrutiny are those he gave from 2012 through last year at events organized by the Mujahedeen Khalq. Mr. Giuliani was paid for "three or four" speeches he delivered to the group, said Robert G. Torricelli, a former senator from New Jersey who served as a lawyer for the M.E.K., as the …
Jessica Schulberg, Huffington Post, November 18 2016:… Bolton has attended rallies in support of Mujahedeen-e-Khalq (MEK), an exiled Iranian dissident group that the U.S. classified as a terrorist organization until 2012. The obvious disconnect between the worldviews of Trump and Bolton makes it hard to grasp why the president-elect is considering Bolton to be his top diplomat. But lacking any foreign policy …
New York Times, Editorial Board, November 17 2016:… Mr. Giuliani for instance, he was paid to deliver speeches in 2011 and 2012 defending a cultlike Iranian exile group that was on the State Department's list of terrorist organizations. In the long list of ridiculous things Mr. Giuliani has said, his remarks about President Obama in February 2015, when the presidential campaign was gearing up, were particularly disgraceful ..
Isaac Arnsdorf, Politico, November 17 2016:… In 2011, an exiled Iranian political party called the Mujahedin e-Khalq, known as the MEK, paid Giuliani to give a speech in Washington calling on the State Department to remove the group from its list of terrorist organizations. The MEK recruited a host of other formal officials to its cause and succeeded in reversing the terrorist designation in 2012. A subsidiary …
Eli Clifton, Lobelog, November 16 2016:… The MEK is known for paying generous sums to former officials who speak at their events. Lee Hamilton, a former chairman of the House Foreign Relations Committee who headed the Woodrow Wilson Center for 12 years, told InterPress Service that he was paid "a substantial amount" to appear on an MEK panel in 2011. Giuliani, Bolton, Lopez, and Gingrich have all sung …
Josh Rogin, Washington Post, November 15 2016:… For years, Giuliani has been one of the most prominent American officials to advocate on behalf of the Mujahideen-e Khalq (MEK), a Marxist Iranian opposition group that claims to be the legitimate government of Iran and resembles a cult. A Treasury Department investigation in 2012 examined whether speaking fees paid by several MEK front groups to a long list …
  Will Trump Embrace the Mojahedin Khalq (MKO, MEK, NCRI, Rajavi cult)
Michael Rubin, Community Magazine, November 15 2016:… If the goal of the Trump administration is to contain, weaken, and roll back the influence of the Islamic Republic, then outreach to the MKO is the worst possible move because it would rally Iranians around the flag and strengthen the current regime. The simple fact is this: if there is any consensus within Iran, it is that the MKO is the only thing worse than …
EU-Iran Relations in the Trump Era (Rudi Giuliani, Newt Gingrich and John Bolton)
Eldar Mamedov, Lobelog, November 13 2016:…  New Gingrich, John Bolton, and Rudy Giuliani, are slated for top jobs in the Trump administration, including the crucial secretary-of-state job. All three have deep tieswith the Iranian dissident cult MEK, on the US terror list until 2012, bitterly opposed to the current Iranian government and advocating regime change in Iran. Although the Saudis …
Trump's Worse Than Bush and Obama (Mojahdein Khalq terrorists, Maryam Rajavi, Saudi Family, Rudi Giuliani, Newt Gingrich and John Bolton)
Land Destroyer, November 13 2016:… Lobbying for MEK terrorists alongside Bolton was former New York mayor Rudy Giuliani and Newt Gingrich. They and other fixtures of American Neo-Conservatism backed MEK along with the Royal Saudi Family, according to the US State Department's own Voice of America (VOA) media platform. VOA's article, "Saudi Backing of Iranian Exile Group Inflames …
National Security: Could Maryam Rajavi (Mojahedin Khalq) blackmail her friends in high places – Rudi Giuliani, John Bolton and Newt Gingrich
Massoud Khodabandeh, Huffington Post, November 12 2016:… In particular, Rudi Giuliani, John Bolton and Newt Gingrich. Putting aside their weak personalities as well as their individual neoconservative agendas, the common thread which links these names together is their decade long support for the Mojahedin Khalq terrorist organisation (also known as Saddam's Private Army or Rajavi cult). It is certain that …
Possible Trump Cabinet Members' Links to the Mojahedin Khalq (MEK, Rajavi Cult) Could Spell Trouble for Iran
Arash Azizi, Global voice, Nobember 12 2016:… John Bolton called for a military attack on Iran and "vigorous American support" for MEK "aimed at regime change in Tehran". Last summer, Gingrich spoke at MEK's rally in Paris alongside Turki bin Faisal, the former head of Saudi intelligence. Gingrich went as far as to solemnly bow down to MEK's leader, Maryam Rajavi, calling her by her favored title …
Former Terrorist Group To Enjoy Close Ties to Rumored Trump Cabinet (Mojahedin Khalq, MKO, MEK, Rajavi cult)
Eli Clifton, Lobelog, November 16 2016:… The MEK is known for paying generous sums to former officials who speak at their events. Lee Hamilton, a former chairman of the House Foreign Relations Committee who headed the Woodrow Wilson Center for 12 years, told InterPress Service that he was paid "a substantial amount" to appear on an MEK panel in 2011. Giuliani, Bolton, Lopez, and Gingrich have all sung …