Letter to Nancy Pelosi. (Mojahedin Khalq,MEK, are misusing your name without your knowledge)
Iran Zanan (Iranian Women's Association), Germany, April 24 2015:… This organization is a sect and ruled by cultish rules , many inhumane activities such as systematic and ordered self – immolations specially on streets of France in 2003 has happened in this cult-like organization and the women members of this organization …
Anne Khodabandeh (Singleton): to Nancy Pelosi: Don't allow the MEK to hijack your name
Letter to Nancy Pelosi. (Mojahedin Khalq,MEK, are misusing your name without your knowledge)
greetings and best regards to you Mrs. Nancy Pelosi
Recently the websites related to people's mojahedin organization by taking advantage of your name and your position has propagandized in favor of their organization and its inhumane activities . we as a former women members of this organization who had lived many years in this cult-like organization would like to inform you about the covered and uncovered activities of this organization and its leader Maryam Rajavi
1. this organization by quoting from you on 7th Farvardin 1393 as mentioned in the following link has claimed that you agree with this cult and their activities , we as the former members of this cult-like organization are ready to prove by documents and evidence that this organization has tried its best during past years to keep its members in Iraq and in Camp Liberty to take political advantage of them
the members of this cult-like organization are subordinates of Maryam Rajavi and they must obey all orders completely and if someone does not obey the orders or criticize the organization and its leaders he or she will be imprisoned , tortured , insulted badly because this organization is ruled and run by dictatorship and not by democracy and freedom
http://www.mojahedin.org/events/5628
http://www.irannewsonline.com/?p=15505
(Translation) Mrs. Nancy Pelosi the leader of the Democrats in Congres by written statement which was read in the ceremony ,said
Today i have an honor to congratulate the Iranian new year , norouz, to all Iranian- American societies , meeting and gathering with all representatives from different states in Congres is very delightful in the begining of spring , the Iranian new year , norouz is an opportunity for all Iranian-American societies and their families to celebrate and commemorate their tradition and culture from their predecessors and start the new year by moving toward happiness , success , victory , health and joy ,please accept my congratulation for Norouz and i wish you all a very good year a year full of victory and success and peace
happy norouz
happy new year
with best regards
Nancy Pelosi
2. this cult-like organization in any official and direct statement or announcement has not condemned the violence and armed struggle by no means and they have requested their arms back which has been their main slogan in their official websites , and they do not have any program or timetable to rescue their stranded members from the chaotic situation in Iraq .
in this regard we invoke to the UNAMI's report in the following link
https://iran-interlink.org/wordpress/?p=4547
3. this organization is a sect and ruled by cultish rules , many inhumane activities such as systematic and ordered self – immolations specially on streets of France in 2003 has happened in this cult-like organization and the women members of this organization are deprived from their fundamental and primary rights and most of them have been sexually abused by Maryam Rajavi's husband , Massoud Rajavi the spiritual leader of pmoi who has been in hiding place for more than a decade . all those activities and abuses should be scrutinized and prosecuted . the women who are dissident will be punished or imprisoned or eliminated . the breach of human rights has published written by Mr. Steven Hassan, Mr. Massoud Banisadr, Mr. Abrahamian, and forty pages the breach of human rights written and published by the human rights watch
we as the former women members of this cult-like organization are very surprised that your name has still published and used in the websites related to this organization for taking political advantage of your name and your position like recently in 17th of March in excuse of Norouz they used your name which is mentioned in the links above.
we as former women members of this cult – like organization are ready to inform you in details about behind stage of the political propaganda and scenarios of this organization and their leaders , Massoud and Maryam Rajavi and we are willing to participate and testify in any court of law to share our experiences about this notorious cult-like organization.
Best Regards
the Women Association
(END)
***
Also read:
https://iran-interlink.org/wordpress/?p=6044
Good Riddance to Bob Menendez?
Ali Gharib, Tne Nation, April 06 2015:… But Menendez's strategy has paid off—literally. Menendez received more campaign contributions from the MEK and its allies than any other member of Congress, according to a study by Eli Clifton and me for our piece on their relationship in the Intercept. And during his 2012 re-election campaign, Menendez garnered …
Sen. Menendez Top Recipient of MEK-Related Campaign Funding (Mojahedin Khalq, NCRI, …)
Good Riddance to Bob Menendez?

Senator Robert Menendez testifies on Capitol Hill in 2013 (AP Photo/Molly Riley)
Yesterday, the Justice Department hit Democratic New Jersey Senator Bob Menendez with fourteen counts of corruption, including 8 bribery charges that alone could carry more than a century in prison. The indictment was based on Menendez's relationship with Salomon Melgen, a Florida ophthalmologist and major donor. In exchange for a litany of gifts, including Caribbean resort stays, campaign cash and flights, according to the indictment, Menendez used his influence to benefit Melgen's interests, extending to his businesses and even helping to get visas for "several of Melgen's girlfriends."
Menendez held a defiant press conference on Wednesday evening (before officially pleading not guilty today), declaring his innocence and, as he did when news of the imminent charges broke last month, telling reporters, "I am not going anywhere." That may be true, in terms of Menendez's Senate seat, but the Democratic hawk already gave up his powerful post as ranking member of the Senate Foreign Relations Committee (a position he hopes to retake when cleared of the charges).
Some of the media coverage of the charges suggested that Menendez's departure from his leadership position would harm Democrats—but that's not quite as clear as it seems. Indeed, in lamenting the Democrats' loss, National Journal noted Menendez was able "to work with Republicans and has earned their respect through his occasional battles with the White House over foreign policy." That hardly sounds like a leader of the caucus, but rather like a senator who has worked hand in hand with the most obstructionist critics of the Obama administration's foreign policy.
The constant efforts, in cahoots with Republicans, to constrain the Obama administration's diplomacy with Iran, for instance, have divided Democrats bitterly. In January of 2014, Menendez, along with rapacious anti-Iran Senator Mark Kirk (Ill.), introduced a new sanctions bill backed by the powerful anti-diplomacy American Israel Public Affairs Committee (AIPAC). Critics said the bill would kill the interim agreement struck by Iran and world powers—the framework that just today bore fruit as negotiations toward a comprehensive pact advanced—leading to widespread opposition among the Democratic Senate leadership. When liberal grassroots groups rallied enough Democrats to sustain a promised presidential veto, the bill failed to come to a vote.
This year, Menendez introduced another sanctions measure with Kirk, but it too has so far stalled without the necessary Democratic support. He also sponsored a bill with Republican Foreign Relations Chair Bob Corker to empower Congress to vote on any deal with Iran—earning another veto threat from Obama. And working with Republicans came back to bite Menendez when Majority Leader Mitch McConnell couldn't restrain his partisan impulses and sought to bring the bill to a quick vote; even Menendez himself had to object.
Please support our journalism. Get a digital subscription for just $9.50!
These are just a few examples of Menendez siding with AIPAC and its Republican stalwarts over the White House and a majority of Senate Democrats. At times, Menendez's rhetoric has been harsh. He reportedly clashed directly with Obama at a Democratic congressional luncheon in January. Later that month, he berated administration officials defending diplomacy: "The more I hear from the administration and its quotes, the more it sounds like talking points that come straight out of Tehran," he said. In a 2013 hearing, Menendez went after Undersecretary of State Wendy Sherman over the administration's policy on the exiled Iranian exile group the Mojahedin-e Khalq (MEK), a hawkish, cult-like outfit that pushes for regime change.
But Menendez's strategy has paid off—literally. Menendez received more campaign contributions from the MEK and its allies than any other member of Congress, according to a study by Eli Clifton and me for our piece on their relationship in the Intercept. And during his 2012 re-election campaign, Menendez garnered more contributions from pro-Israel groups than any other senator, according to Open Secrets. This winter, the Israel lobby flagship gave Menendez a hero's welcome. Today, AIPAC leaders and other pro-Israel donors are funding and bundling contributions for his legal defense.
So Menendez has a long record of taking money from donors and advocating the policies they support. No one—certainly not me—is suggesting that his work on behalf of groups like AIPAC and the MEK rises to the level of corruption. And, despite the neocon conspiracy theories, the charges aren't retribution from Obama. But allegations that Menendez took money to do favors shouldn't come as a huge surprise to anyone. He is, after all, from New Jersey.
(END)
Using cult leader Maryam Rajavi to derail nuclear talks backfirese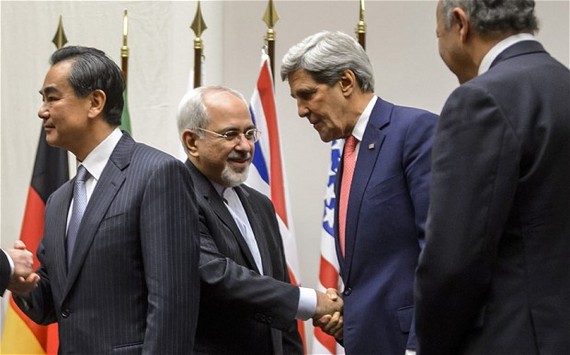 Massoud Khodabandeh: America Must Make Its Underlying Intentions Toward Iran Clear
The Mojahedin Khalq (Rajavi cult) and Saddam's daughter support the Islamic State of Iraq and the Levant (ISIS)
Al-Sarraj: America supports Mojahedin Khalq ( Rajavi cult, MKO, MEK) in Iraq as leverage in negotiations

Massoud Khodabandeh
Article first published online: 27 JAN 2015
DOI: ۱۰٫۱۱۱۱/aspp.12164
Also read:
More on Senator Menendez's favorite (ex?) terrorist group and the insanity of neocon policy in the Mideast
Paul Mulshine, NJ.com, March31 2015:…The report contains the usual denials, but few Mideast insiders believe these attacks could be anything other than an MEK operation. That of course would mean our side is supporting terrorism, since putting magnetic bombs on cars is quite obviously an act of terrorism.Not that there's anything wrong with that …
Mojahedin Khalq (MKO, MEK, Rajavi cult) campaign in the Congress boosted ISIS
Mazda Parsi, Nejat Bloggers, March 18 2015:…  Those who follow the news of the Mujahedin Khalq Organization (the MKO) would hardly ever forget the group's early reactions regarding the progress of the forces of the Islamic State extremists in Iraqi territory. They remember the MKO's delighted comments on the victory of what they called "Iraqi revolutionary …
Bob Menendez and the Mideast madmen: senator tries to spin his way out of scandal
Paul Mulshine, nj.com, February 12 2015:… The senator's recent behavior should be seen in light of his affinity for another Mideastern group he champions, Mojahedin-e Khalq. You've probably never heard of it. But Bob Baer has. "These guys killed Americans," said Baer, a former CIA agent who spent much of the 1980′ and '90s in the Mideast …
Menendez Is to Face Corruption Charges, U.S. Official Says
New York Times, March 07 2015:…  The Justice Department is preparing to file corruption charges against Senator Robert Menendez, a scrappy 61-year-old veteran of New Jersey politics, after a two-year investigation into allegations that he accepted gifts and lavish vacations in exchange for political favors for a longtime friend and political benefactor …