Maryam Rajavi MEK Cult Fake Journalists
Philip Giraldi, Global Research, June 21 2019:… MEK, which is financially supported by Saudi Arabia, stages events in the United States in Europe where it generously pays politicians like John Bolton, Rudy Giuliani and Elaine Chao to make fifteen-minute speeches praising the organization and everything it does. Maryam Rajavi MEK Cult Fake Journalists 
MEK Impunity Undermining Democracy
Maryam Rajavi MEK Cult Fake Journalists
False Identities Become the New Weapon: War with Iran Promoted by Fake Journalists
By Philip Giraldi
One of the claims made about alleged Russian interference in the 2016 U.S. election was that Kremlin-controlled entities were using fake identities to create dissension and confusion on social network sites. This should surprise no one, if it is true, as intelligence operatives have been using false names since Sumerian times.
The concern over fake identities no doubt comes from the deception involved, meaning that if you are dealing with a real person you at least have some handle on making as assessment of what something means and what is likely to occur. A false persona, however, can pretend to be anything and can advocate or do something without any yardstick to measure what is actually taking place. In other words, if Mike Pompeo says something you know that he is a liar and can judge his words accordingly but if it is someone otherwise unknown named Qwert Uiop you have to wonder if he or she just might be telling the truth. You might even give them the benefit of the doubt.
A prime example of a false internet persona has recently surfaced in the form of an alleged "activist" invented by the Iranian terrorist group Mojahedin e Khalq (MEK). MEK is a curious hybrid creature in any event in that it pretends to be an alternative government option for Iran even though it is despised by nearly all Iranians. At the same time, it is greatly loved by the Washington Establishment which would like to see the Mullahs deposed and replaced by something more amenable to western and Israeli worldviews.
MEK is run like a cult by its leader Maryam Rajavi, with a number of rules that restrict and control the behavior of its members. One commentary likens membership in MEK to a modern day equivalent of slavery. The group currently operates out of a secretive, heavily guarded 84 acre compound in Albania that is covertly supported by the United States, as well as through a "political wing" front office in Paris, where it refers to itself as the National Council of Resistance of Iran.
MEK, which is financially supported by Saudi Arabia, stages events in the United States in Europe where it generously pays politicians like John Bolton, Rudy Giuliani and Elaine Chao to make fifteen-minute speeches praising the organization and everything it does. It's paying of inside the Beltway power brokers proved so successful that it was removed from the State Department terrorist list in 2012 by Hillary Clinton even though it had killed Americans in the 1970s. MEK also finds favor in Washington because it is used by Israel as a resource for anti-Iranian terrorism acts currently, including assassinations carried out in Tehran.
MEK's fake journalist, who has recently been exposed by The Intercept, is named Heshmat Alavi. He, or if you prefer "it," has very successfully gained access to a considerable body of generally conservative mainstream western media, including Forbes, The Hill, the Daily Beast and The Federalist. Alavi has placed scores of articles as "an activist with a passion for human rights," aimed at discrediting Iran and its government while also subtly praising MEK as an alternative to the current regime. His bona fides have never been questioned, even by Forbes, which placed no less than 61 articles under the name between April 2017 and April 2018. The pieces appearing allegedly by Alavi are reportedly composed at a "troll factory" as a so-called "group account" in Albania where MEK members who belong to the organization's "political wing" toil under tight security.
Alavi's contribution to the damning of Iran has not been insignificant. An article written by him/it that appeared in Forbes claiming that the Mullahs had been able to increase their military budget due to having money freed up by the Joint Comprehensive Plan of Action (JCPOA) agreement. The article reached the White House and reportedly helped convince the Trump Administration to withdraw from the pact.
*(MEK members working in the 'Twitter troll factory' in Manez Camp, Albania)
To supplement the Alavi propaganda effort, MEK's Albania operation uses banks of computers manned by followers, some of whom are fluent in English, who serve as bots unleashing scores of comments supporting regime change in Iran while also directing waves of criticism against any pro-Iranian pieces that appear on social media, to include Facebook and Twitter. By one account,more than a thousand MEK supporters manage thousands of accounts on social media simultaneously. The objective of all the chatter is to convince the mostly English-speaking audience that there is a large body of Iranians who are hostile to the regime and supportive of MEK as a replacement.
While the Iranian government and MEK might well be regarded by most Americans as a far-away problem, there was considerable shock expressed even by congress and the media when it was learned shortly before The Intercept's revelations that the United States government had been fundinga so-called Iran Disinformation Project that was employing tactics remarkably similar to those of MEK in an attempt to control the discussion over Iran policy.
Hooshang Amirahmadi, @tparsi's former boss, told @AbdolrezaDavari:
"Yes, Zarif put together NIAC – honestly, sincerely – and gave it strong support, politically and non-politically."
Amazing that no journalist asks Amirahmadi & Parsi & writes about this. https://t.co/3s1PPyrKBu

— Saeed Ghasseminejad (@SGhasseminejad) May 31, 2019
The project, run by the State Department's global engagement center, consisted of a trolling campaignwhich targeted online American citizens critical of the government's Iran policy, labeling them as disloyal to the United States and tools of the Iranian government. It used, for example, the website IranDisInfo.org and the hashtag #NIACLobbies4Mullahs. Iranian-American activist and long-time State Department contractor Mariam Memarsadeghi headed the program, receiving hundreds of thousands of dollars to "relentlessly attack critics of the Iran policy on social media…accusing them of being paid operatives of the regime in Tehran." In all, the "Iran Disinfo" operation received over $1.5 million through the Memarsadeghi contract entity the oddly named E-Collaborative for Civic Education.
"Constant studying & constant reading"—how @nikkihaley tells @CliffordDMay she got herself so very ready & able to take on everything, not least the tyrants, represented at the UN. So much respect for her. @FDD #FDDSummit pic.twitter.com/TJFGo00Ffl

— Mariam Memarsadeghi (@memarsadeghi) August 28, 2018
The investigation of Iran Disinfo also revealed that the neoconservative Foundation for Defense of Democracies (FDD), which has been leading the charge for war with Iran, had at least one employee working with E-Collaborative. FDD, which has been advising the Trump White House on a more aggressive policy towards Iran, has also been actively involved in the State Department effort and cross-posting material from the Disinfo campaign.
FDD has long been targeting Iran. It received $3.63 million in 2017 from Bernard Marcus, co-founder of Home Depot. Marcus is a hard-core Zionist who hates Iran and once referred to that nation as "the devil." FDD has also received billions from Las Vegas casino mega billionaire Sheldon Adelson, the GOP's largest individual donor, who has advocated dropping a nuclear bomb on Iran to send a message. The link between major Republican donors supporting FDD and an increase in FDD quasi-overt cooperation with the Trump Administration in demonizing Iran should not surprise anyone.
Even though the State Department operation was relatively insignificant compared to similar initiatives undertaken by Israel, the idea that an ostensibly democratic government should propagate lies to defend its own policies was definitely unsettling. Some might think that disinformation on Iran is of little importance, that it has little impact on actual policy, but they would be wrong. Bad information that is allowed to circulate freely creates its own reality. Most Americans believe that Iran actually threatens the United States, though they would be at a loss to explain exactly how that could be the case. Dubious stories that originated with Reuters about corruption in Iran have been used by Mike Pompeo to justify sanctions against the regime on humanitarian grounds, measures which have ironically hurt average Iranians disproportionately. The same story was also used in at least four books to discredit the Iranian leadership.
To be sure, the mainstream media is itself largely at fault, as it was with Heshmat Alavi, for not vetting their sources more carefully, particularly when a story is clearly providing unique information or representing a point of view that might be considered controversial. In some cases, of course, the news outlet wants the story to be perceived as true even when it knows that it is not, so it becomes an accomplice in the propaganda effort. A recent attempt to create a mechanism to establish standards by determining the reliability of online news content has, in fact, been little more than a neoconservative scheme to discredit sites that do not support the neocon point of view.
Since governments and various non-governmental constituencies now, by their own admission, are heavily into the game of providing false information and discrediting critics, most Americans will completely tune out of the process, meaning that there will be little or no measurable difference between truth and lies. One already hears complaints from all across the political spectrum that most news is fake. When one reaches the point where such skepticism becomes the consensus, both elections and democracy itself will be rendered pretty much meaningless.
*
Note to readers: please click the share buttons above or below. Forward this article to your email lists. Crosspost on your blog site, internet forums. etc.
This article was originally published on American Herald Tribune.
Philip M. Giraldi is a former CIA counter-terrorism specialist and military intelligence officer who served nineteen years overseas in Turkey, Italy, Germany, and Spain. He was the CIA Chief of Base for the Barcelona Olympics in 1992 and was one of the first Americans to enter Afghanistan in December 2001. Phil is Executive Director of the Council for the National Interest, a Washington-based advocacy group that seeks to encourage and promote a U.S. foreign policy in the Middle East that is consistent with American values and interests. He is a frequent contributor to Global Research.
(End)
Maryam Rajavi MEK Cult Fake Journalists
***
Also read:
https://iran-interlink.org/wordpress/iran-fighting-us-sponsored-isis-and-mek/
ran Fighting US Sponsored ISIS and MEK
Tony Cartalucci, Global Research, June 09 2019:… MEK is described by Council on Foreign Relations Senior Fellow Ray Takeyh as a "cult-like organization" with "totalitarian tendencies." While Takeyh fails to expand on what he meant by "cult-like" and "totalitarian," an interview with US State Department-run Radio Free Europe-Radio Liberty reported that a MEK Camp Ashraf escapee claimed the terrorist organization bans marriage, using radios, the Internet, and holds many members against their will with the threat of death if ever they are caught attempting to escape. Iran Fighting US Sponsored ISIS and MEK 
Iranian MEK pay John Bolton, Rudy Giuliani; NBC's Engel
Iran Fighting US Sponsored ISIS and MEK
US-Iran: Inverted Reality, Real War. America's Al Qaeda Mercenaries. Iran is Fighting the Largest State Sponsor of Terror
In its march toward yet another war, the United States accuses Iran of using military force to establish itself as a "regional hegemon." It accuses Iran of being the largest state sponsor of terrorism in the world. It accuses Iran of aiding rebels in Yemen, the government in Syria, and Hezbollah in Lebanon.
But what the United States leaves out about Iran is just as important as what it accuses Iran of.
Familiar Lies
For one, the Middle East already has a regional hegemon – the United States. Even the wildest accusations against Iran regarding state sponsored terrorism pale in comparison to Al Qaeda and the self-proclaimed Islamic State (ISIS) whose terrorism spans the globe, including standing armies operating in Libya, Syria, Yemen, and Afghanistan – several of which Iran itself is specifically fighting.
The US also supports terrorist organizations within Iran including the Mojahedin-e Khalq (MEK). MEK enjoys the support of National Security Adviser John Bolton – who lobbied for them for years while they were listed as a foreign terrorist organization by the US State Department itself.
Thus, Iran finds itself involved in Yemen, Syria, and Lebanon precisely to stave off openly declared intentions by the US to include Iran next under its already expansive hegemony over the Middle East.
During Washington's slow-motion blitzkrieg across North Africa, the Middle East, and Central Asia, now decades of lies have continued generating excuses, pretexts, and artificial threats to justify America's unending wars and Washington's march toward its next target – Iran.
Iran is Resisting Regional Hegemony 
The US invasion of Afghanistan along Iran's eastern borders in 2001, then the US invasion of Iraq along Iran's western borders in 2003 left the nation surrounded by US military forces. The invasions, followed by extended occupations were only two of the most extreme examples of Washington's aggressive military encirclement of Iran itself.
US proxy wars against Libya, Syria, and Yemen also sought to eliminate political and military blocs allied to Tehran. Coupled with deliberate, crippling economic sanctions and a campaign of admitted and concerted political subversion aimed at Iran itself – the US has all but declared war against Iran.Iran finds itself on the US regime change "hit list," dubbed the "Axis of Evil" by US President George Bush who presided over the invasions of Afghanistan and Iraq. On the list alongside Iran was Libya – now a divided and destroyed failed state after US military intervention there in 2011 – as well as Syria which still faces US-backed militants and a still-ongoing US military occupation of its territory.
Iran has been surrounded by an openly hostile United States and its allies for now nearly two decades. What the US characterizes as "Iranian aggression" is merely the rational steps any government surrounded by hostile forces would take to defend itself, its territory, and its people.
The Middle East is already subject to a regional hegemon – the United States – presided over by a government thousands of miles away. And if the US would be bold enough to presume dominion over an entire region of the planet so far from its own shores, it should come as no surprise that it would also shift responsibility for the disruptive consequences of its hegemony onto the nations still resisting it from within the region.
Iran is Fighting the Largest State Sponsor of Terror 
In a recent interview with The Epoch Times, US Congressman Van Taylor of Texas called Iran "the largest state sponsor of terror in the world." He cites Iranian support for groups like Hamas and Hezbollah as examples. It is a claim being repeated throughout America's pro-war establishment.
However – it is not entirely true, and it omits mention of state sponsored terrorism that eclipses it even if it were.Groups like Hamas actually fought against Damascus and its Iranian allies during the recent conflict in Syria – calling into question claims of "Iranian state sponsorship" of Hamas.
Hezbollah – on the other hand – does enjoy close ties with Iran. But it also dedicated large amounts of resources and manpower – not creating terrorism across the Middle East – but fighting it – specifically in taking on ISIS and Al Qaeda in Syria and Iraq.
It was Iran and Hezbollah who aided Syrian forces on the ground while Russia provided air support that began rolling back ISIS and Al Qaeda from 2015 onward.
ISIS and Al Qaeda – ironically – persist in Syria only in areas under the protection of US-NATO forces. This includes in Al Qaeda-held Idlib where the US has repeatedly warned Damascus and its allies not to retake under threat of military retaliation.
While US accusations against Iran regarding "state sponsorship of terror" remain nebulous, US intelligence agencies themselves have admitted the US and its allies' role in the creation of terrorist organizations like ISIS.The US Defense Intelligence Agency (DIA) – for example – as early as 2012 had noted (PDF) a Western and Persian Gulf-led conspiracy to create what it called at the time a "Salafist" [Islamic] "principality" [State] precisely in eastern Syria where ISIS would eventually find itself based.
The DIA document would explain (emphasis added):
If the situation unravels there is the possibility of establishing a declared or undeclared Salafist principality in eastern Syria (Hasaka and Der Zor), and this is exactly what the supporting powers to the opposition want, in order to isolate the Syrian regime, which is considered the strategic depth of the Shia expansion (Iraq and Iran).
On clarifying who these supporting powers were, the DIA memo would state:
The West, Gulf countries, and Turkey support the opposition; while Russia, China, and Iran support the regime.
The US and its allies have also been shipping weapons and supplies to Al Qaeda's other affiliates in Syria. Along with Saudi Arabia and Qatar, the US has provided thousands of tons of weapons to militants in Syria – while also conceding that Al Qaeda's Syrian franchise, Jabhat al-Nusra is the best armed, most well equipped militant front in the conflict.
Attempts to claim "moderate rebels" defected over to al-Nusra along with their US arms to explain the terrorist organization's prominence doesn't explain who was giving al-Nusra more arms and cash to attract such large-scale defections in the first place.The US has also been caught using Al Qaeda in Yemen to wage proxy war there. The Associated Press in an article titled, "AP Investigation: US allies, al-Qaida battle rebels in Yemen," would report (emphasis added):
Again and again over the past two years, a military coalition led by Saudi Arabia and backed by the United States has claimed it won decisive victories that drove al-Qaida militants from their strongholds across Yemen and shattered their ability to attack the West. 

Here's what the victors did not disclose: many of their conquests came without firing a shot.
That's because the coalition cut secret deals with al-Qaida fighters, paying some to leave key cities and towns and letting others retreat with weapons, equipment and wads of looted cash, an investigation by The Associated Press has found. Hundreds more were recruited to join the coalition itself.
The US has also since been caught transferring weapons systems to Al Qaeda in Yemen.
CNN in its article, "Sold to an ally, lost to an enemy," would admit (emphasis added):
Saudi Arabia and its coalition partners have transferred American-made weapons to al Qaeda-linked fighters, hardline Salafi militias, and other factions waging war in Yemen, in violation of their agreements with the United States, a CNN investigation has found.

It is clear – by the US government's and the US media's own admissions – that the US is the "largest state sponsor of terror," literally arming Al Qaeda across the region – then calling forces raised by nations like Iran "terrorists" for arraying themselves against them.
Then there is MEK – a US-backed terrorist organization previously listed as such by the US State Department itself – now openly hosted in Washington and spoken for by current US National Security Adviser John Bolton – who by no coincidence is also the leading voice advocating war with Iran.
MEK was listed as a terrorist organization for a reason. It has carried out decades of brutal terrorist attacks, assassinations, and espionage against the Iranian government and its people, as well as targeting Americans including the attempted kidnapping of US Ambassador Douglas MacArthur II, the attempted assassination of USAF Brigadier General Harold Price, the successful assassination of Lieutenant Colonel Louis Lee Hawkins, the double assassinations of Colonel Paul Shaffer and Lieutenant Colonel Jack Turner, and the successful ambush and killing of American Rockwell International employees William Cottrell, Donald Smith, and Robert Krongard.
MEK was delisted by the US State Department as a foreign terrorist organization after extensive lobbying efforts – not because evidence indicated they no longer belonged on the list. They were delisted specifically to allow the US to more openly support MEK's efforts to undermine and overthrow the Iranian government including through the use of continued violence.
If Al Qaeda and MEK are the sort of "allies" the US has enlisted to confront "Iranian aggression" in the Middle East, how is Iran rather than Washington the true threat to regional or even global peace and stability?
Inverted Reality, Real March to War 
It is upon these feet of clay that the US builds its case against Iran – with catastrophes from Washington's many other wars of aggression in the region still burning in the background.
Iran lacks the economic and military might to pose a real threat to the world even if it wanted to. It only poses a threat to distant nations closing in around it, seeking conflict with Iran, and domination over a region Iran itself is geographically located in.
Conversely, the United States still possesses the largest economy and military on Earth and has a demonstrated track record of falsely accusing nations of various provocations to initiate devastating wars of aggression.
The US – even if it does not resort to war – is imposing economic damage not only on Iran but on nations the world over who – without coincidence – do not perceive Tehran as a threat and do a considerable amount of trade with Iran.
US aggression toward Iran and its allies – even if total war does not break out – have demonstrably destroyed the region – from Syria to Yemen – miring even America's own allies in protracted, costly wars and setting the entire region back decades in terms of economic and social development.
Were peace to break out in the Middle East tomorrow – nations like the US and its NATO allies would have the least to do with developing the region. That role would go instead to China who is already attempting to foster stability as a condition to extend its global infrastructure building spree into the Middle East.
Even in terms of selling weapons to Middle Eastern nations – Russia and China have competitive systems US allies are even now considering.
Thus chaos is the only environment in which US primacy over the region can continue to thrive – justifying military bases and the billions of dollars needed to build, occupy, supply, and expand them, justifying military interventions – direct and by proxy – pressuring governments to either join or defend against them, and justifying immense weapon sales to allies like Saudi Arabia and the United Arab Emirates to keep those interventions going.It is a multi-trillion dollar industry, and one only Washington is shameless enough to openly and continuously promote. There is no lie too big or disgraceful to keep America's last major export of chaos profitable.
*
Tony Cartalucci is Bangkok-based geopolitical researcher and writer, especially for the online magazine "New Eastern Outlook" where this article was originally published. He is a frequent contributor to Global Research.
The original source of this article is Global Research
Iran Fighting US Sponsored ISIS and MEK 
***
Also read:
https://iran-interlink.org/wordpress/john-bolton-efforts-to-remove-mek-from-terror-list/
John Bolton's efforts to remove MEK from Terror list
Tom Rogan, Washington Examiner, April 30 2019:… Iranian Mujahedin, or MEK. It was listed by the State Department as a terrorist organization between 1997 and 2012, is Marxist, Its logo is the communist sickle, but the MEK uses old-fashioned greenbacks in large amounts to secure its American lobbyists. Luminaries who have spoken for the MEK include senior U.S. political figures such as Rudy Giuliani, former Homeland Security Secretary Tom Ridge, and former CIA Director Porter Goss. Their efforts eventually helped remove the group from the terrorist list. But very few have made as many speeches for the MEK as has Bolton. John Bolton MEK Terror
John Bolton: A complex worldview that just might work for Trump
(John Bolton's efforts to remove MEK from Terror list)
Long before John Bolton was named as President Trump's new national security adviser, a position he assumes on Monday , his name sparked diametrically opposite reactions in Washington.
Some have long lauded the former undersecretary of state and U.S. ambassador to the United Nations for his near absolute commitment to national sovereignty. Others have despised what they see as his lack of humility and reflex toward military force.
But who is the real John Bolton? Sometimes, he's a man of deep civility. One old friend and Yale Law School contemporary, Supreme Court Justice Clarence Thomas, says so. In a 2013 discussion with Duke Law students, Thomas recalled the time Bolton found the future justice's lost wallet.
"He found my wallet and returned it, and I got to meet him," Thomas explained. "He treated me very honestly and decently and gave me some advice about studying that helped me from then on, [regarding] outlining and reducing outlines. He always treated me, not as a black student, but as a fellow student. And I really appreciated that at Yale."
Many of Bolton's acquaintances would suggest that Thomas' experience casts a revealing and accurate light on Bolton's character. If politics is not on the agenda, Washington figures such as Chicago Tribune columnist Clarence Page say that Bolton, who grew up in working-class Baltimore, is respectful, even kind.
But if politics is the topic, as it often is, the man can be more than a little different. In his positions under Presidents Ronald Reagan and George H.W. Bush, Bolton was renowned for his blunt style dealing with underlings and superiors alike, including those presidents.
As Peter Baker reported in 2008, Bolton fell out with Bush over what he regarded as the president's insufficiently hawkish approach to countering North Korea. Although Bush might not have liked Bolton's repudiation — "I don't consider Bolton credible," he told Baker at the time — the ambassador's record on North Korea fits another major politician. And that man is going to be Bolton's new boss.
Trump often argues that previous administrations utterly failed to resolve the challenge of a North Korea armed with nuclear weapons. Bolton's ideology is not well-understood. Though he expresses his views with great force that sometimes seems to shade into stridency, Bolton is a hawkish nationalist and not a neoconservative.
Reuel Marc Gerecht, neoconservative scholar at the Foundation for the Defense of Democracies, who was an acquaintance of Bolton's when they were colleagues at the American Enterprise Institute, says Bolton is "not really interested in democracy" but rather in the binding of American sovereignty and security. Gerecht offers the anecdote of a trip to France with Bolton and another AEI scholar, Gary Schmitt, during the Iraq War.
"We were being interviewed by French journalists," Gerecht explains, "and the journalist asked John his opinion about whether Iraq could become a functioning democracy under American guidance. John pointed to Gary and me and said, 'That's not for me. Ask them.'"
Translation: Questions about democracy are for the neoconservatives, not for Bolton.
In a 2007 interview with BBC host Jeremy Paxman, Bolton argued that consolidating Iraqi democracy should no longer be considered a relevant American policy interest. "I don't think there's an American interest in what kind of Iraq emerges from the present circumstance," Bolton said, adding, "I think the American strategic interest is in making sure that no part of Iraq be used by terrorists against us. That's what we should focus on, not how to structure the country."
It's America first, stupid
Bolton's deep suspicion of big ambitions as opposed to American strength and security does not begin and end with the occupation of Iraq.
During his 2005-06 tenure at the U.N., Bolton frequently blocked efforts to create new multilateral power structures. And he didn't have much time for people, such as U.N. Deputy Secretary General Mark Malloch Brown, whom he believed were interfering in American domestic politics. It would be a mistake, however, to equate Bolton's aversion to multilateralism with a dislike of alliances.
While Gerecht said Bolton is both "tenacious" and predisposed to "ruffling feathers," he rejects as "false" the suggestion that Bolton has no regard for foreign allies. On the contrary, Bolton cares particularly about effective "transatlantic diplomacy."
This seems clear in relation to Britain.
In a recent Fox Business appearance, Bolton challenged host Lou Dobbs in his assertion that America should distance itself from supporting aggressive British responses to Russia's March 4 nerve agent attack on a former MI6 agent, Sergei Skripal.
Instead, the new national security adviser suggested that Britain should expel Russia's entire diplomatic staff and shutter its embassy and all its consular offices.
United Kingdom's Prime Minister Theresa May should find ardent U.S. support, Bolton said.
This leads to the big question about America's policy toward Russia and Trump's relationship with Russian President Vladimir Putin. Bolton's appointment to head the National Security Council is no victory for Moscow. Indeed, Russian state-funded media outlets such as RT now overflow with stories about Bolton, treating him as a "hawk" who might start World War III.
Bolton's impact as national security adviser won't be defined solely by his own views, but rather by his management of the National Security Council bureaucracy. So, what might we expect there? Bolton's critics fear that on sensitive issues such as North Korea and Iran, he won't offer policy suggestions other than the ones that fit his objectives. The current White House national security team is concerned that Bolton might purge its more moderate voices.
Gerecht disagrees, saying that the 69-year-old Bolton "knows how to work the system" and has "never been fearful of debate" and thus is not as likely as critics assume to throw dissenting voices overboard. One compensating influence here might be Mike Pompeo's arrival at State Department headquarters in Foggy Bottom.
Pompeo, a former Republican congressman, has won fans for his energetic pursuit of the CIA's core mission, which is human intelligence collection. Assuming he adopts the same approach at State, Pompeo will probably use his close relationship with Trump to push hard for more attention to be paid to foreign service officer reporting. If Bolton resists, the dispute could become a flashpoint for a new area of palace intrigue.
While Bolton is disliked by many in the State Department and intelligence services for his outspokenness, others value his ferocious work ethic and intellect. Rosemary Kimball, widow of Frank Kimball, a 36-year career USAID officer who worked closely with Bolton, says her husband always referred to Bolton as "the smartest, most level-headed man in the room." Similarly, a mid-level Bush administration official who worked closely with Bolton suggested that while he can be prickly, he is "fucking formidable" and "one of the hardest working people I've ever met."
The official added a caveat: "If you want to be smart, you appoint John Bolton to a position where his views are congruent to your own."
This is necessary because Bolton will be "relentless" in advancing his views. We thus arrive back at the question of if Bolton will carry his existing agenda into his new, much more influential job. The national security adviser's job is to manage the National Security Council and give the president various policy options. If Bolton skews the options, he'll invite conflict with Defense Secretary Jim Mattis.
Mattis has a fiercely powerful intellect of his own, but he deferred to Rex Tillerson, Pompeo's predecessor, on efforts to renegotiate the Iran nuclear deal and to achieve a diplomatic breakthrough with North Korea. Whether Pompeo and Mattis will build a similar partnership is unclear, but it bears noticing that Bolton is deeply skeptical of the Tillerson-Mattis belief that a peaceful resolution to the North Korean nuclear crisis is possible. There is little time to resolve disagreements.
Intelligence assessments are that North Korea will be able to put a nuclear warhead on an intercontinental ballistic missile within the next six months. So, it seems highly likely that Bolton will push Mattis for military options immediately after he steps into the White House.
With Mattis also focused on checking Chinese and Russian threats, he'll probably resist anything that he thinks risks drawing the U.S. military into simultaneous conflicts with North Korea and Iran.
The Iran problem
If Bolton is a hawk on North Korea, when it comes to Iran, he's a dragon.
He isn't so much opposed to the Iran deal as he is to the Islamic Republic of Iran itself. A fiery critic of Iran's leaders, including the more moderate groupings around President Hassan Rouhani, Bolton believes Iran can be constrained only by force. He wants Trump to withdraw from the Iran nuclear agreement and then introduce a range of new sanctions targeting the mullahs' ballistic missile program.
If this fails, Bolton says America should consider joint military action with Israel. Such views lead some to suggest that separating neoconservatism from Bolton's views is to make a distinction where there is no difference. For Bolton, the priority is not a democratic Iran, but a pro-American Iran. Bolton has been flexible in pursuit of this end.
Enter the Iranian Mujahedin, or MEK. It was listed by the State Department as a terrorist organization between 1997 and 2012, is Marxist, and seeks the overthrow of Ayatollah Ali Khamenei and his theocratic regime. Its logo is the communist sickle, but the MEK uses old-fashioned greenbacks in large amounts to secure its American lobbyists.
Luminaries who have spoken for the MEK include senior U.S. political figures such as Rudy Giuliani, former Homeland Security Secretary Tom Ridge, and former CIA Director Porter Goss. Their efforts eventually helped remove the group from the terrorist list. But very few have made as many speeches for the MEK as has Bolton.
While Bolton refused to comment when asked if he was paid for his speeches, the Wall Street Journal's Farnaz Fassihi and Seymour Hersh have accused Bolton of receiving payments. Another source, speaking to the Washington Examiner, supported these claims.
Bolton's MEK connections may simply reflect his belief that the group serves an America-first agenda. After all, for Bolton and the MEK, the ayatollah's fall is a shared win. But how does this play into Bolton's advice to Trump on Iran?
It seems obvious why Trump and Bolton have clicked so well. Neither has much time for deference or protocol, both revel in speed of action, and both prioritize the pursuit of near-term U.S. interests. Will he last longer than his predecessors, H.R. McMaster and Michael Flynn? We're about to find out.
(End)
John Bolton MEK Terror  US Sponsored ISIS and MEK 
*** 
Also read:
https://iran-interlink.org/wordpress/pompeo-set-to-back-mek-rajavi-cult-the-wrong-group-again/
Pompeo Set To Back The Wrong Group Again (MEK, Rajavi cult)
Anne Khodabandeh (Singleton), Iran Interlink, April 24 2019:… Exactly fifteen years ago we wrote about how making a deal with the MEK was a big mistake by the USA. At that time, the MEK led by Massoud Rajavi was closer to Saddam Hussein than the US. Today the MEK led by Maryam Rajavi is closer the Saudis than the US. Either way, the MEK leadership has proven over and over that they will always put their own interests above that of anything. To make this mistake once is shameful. For Mike Pompeo to repeat the mistake now is simply wrong.
Jafarzadeh has already published his suicide bombing note.
Wondering at those Americans who stand under the flag of Mojahedin Khalq (MKO, MEK, NCRI, Rajavi cult) only to LOBBY for the murderers of their servicemen
Pompeo Set To Back The Wrong Group Again (MEK, Rajavi cult)
Exactly fifteen years ago we wrote about how making a deal with the MEK was a big mistake by the USA. At that time, the MEK led by Massoud Rajavi was closer to Saddam Hussein than the US. Today the MEK led by Maryam Rajavi is closer the Saudis than the US. Either way, the MEK leadership has proven over and over that they will always put their own interests above that of anything. To make this mistake once is shameful. For Mike Pompeo to repeat the mistake now is simply wrong.
Ali Reza Jafarzadeh, Suicide bomber, Terrorist recruiter for Saddam Private Army with Mike Pompeo 
—
Once Again, the US Makes a Bad Deal with the Wrong Group 
Anti War , April 22 2004
Link to the source
by Anne Singleton Posted onApril 22, 2004
Bob Woodward's latest book, Plan of Attack, exposes the underbelly of the build-up to the US war with Iraq. In it Woodward reveals that the "CIA hired the leaders of a Muslim religious sect at odds with Saddam, but nonetheless with numerous members highly placed in Saddam's security services. The CIA's code name for them: the Rock Stars."
Asked to reveal the identity of this sect, Woodward refused. But to observers of the scene looking at the various possibilities, it is not difficult to pinpoint exactly who this group is… the Mojahedin-e Khalq (MEK) led by arguably the best conman in the Middle East, Massoud Rajavi. If that is the case, it really does call into question some decision-making at the top.
The MEK, although listed as terrorists in the USA since 1997, still maintained a high profile presence as a "democratic alternative to the Iranian regime" in the heart of the US government and had powerful friends, such as Richard Perle and Illeana Ros-Lehtinen, in the Pentagon, Congress, and the House.
With Alireza Jafarzadeh as Massoud Rajavi's permanent representative in the US, and Mohammad Mohaddessin his "foreign minister" travelling back and forth on a weekly basis from Baghdad to Washington, this group was the only one with which the CIA had contact in Iraq. Certainly it ahs been the only group which had simultaneous open access to Washington's corridors of power and to the top levels of the Iraqi regime. But whose side is Rajavi on?
In reality, Rajavi's MEK is an isolated quasi-religious military cult which, based in Iraq for 20 years, had taken arms, training, and orders directly from Saddam Hussein. Saddam trusted the MEK completely, more so than the Iraqi's surrounding him. After all, Rajavi's stated goal was to grasp power in Iran. Hussein knew that Rajavi wasn't trying to topple him, and knew also that Rajavi totally relied on Saddam's help to achieve his goal.
Saddam gave Rajavi a free hand to undertake intelligence and security operations inside Iraq and as much logistical help as needed to run terrorist operations over the border into Iran, their common enemy. Ordinary Iraqi agencies didn't dare to challenge MEK activities in their own country, so close was the organization to Saddam. It meant that MEK was acting right inside the Iraqi security system.
In a recently exposed videotape of Rajavi and some of Saddam's top echelons, we get a picture of their relationship. After Rajavi had ordered his National Liberation Army to help suppress the Kurdish and Shiite rebellions in March 1991 after Gulf War I, Saddam praised and rewarded him. In a meeting with General Saber, Rajavi made a revealing speech:
"I think that the relations between us and you and Iraq, being the government of Iraq or the Baath Party and at the top of it Mr President [Saddam]. And on the other side the Iranian Resistance and the Mojahedin and the National Liberation Army.
I think that our relation is not a purely political relation and one cannot interpret our relations like that any more. And I think that the brotherhood relation has been completed. Such brothers that would not come short of anything for each other.
Whatever is against you, it is obviously against us, and visa versa. Our security is one. When we receive a blow, it is to both of us. And when there is progress, it affects us both…

…As far as we are concerned I have only one thing to say. In my mind and in my heart, I cannot separate the account of our interests from your interests. They are exactly matching each other. We may have some differences in our views. The reality is, that our interests match each other and are closely mixed together. Therefore I would ask you to send my sincere regards to Mr. President [Saddam] and say to him that there is no need for him to thank us or anything else. And tell him on my behalf that we have been in your house and we are with you and will be with you as far as is in our power."
If the CIA had heard this speech, would they have been so ready to believe that Rajavi would help them? Even if they thought Rajavi's co-operation with Saddam was cynically pragmatic, did it not occur to someone that his relationship with the US might be the same?
Rajavi most probably passed all the information he had from the CIA straight to Saddam. Why wouldn't he? As he said himself "Whatever is against you [Iraq], it is obviously against us, and visa versa. Our security is one. When we receive a blow, it is to both of us." Rajavi didn't believe before the war that Saddam would, or even could, be toppled. He believed his Iraqi protector was invincible and would shelter him until he reached Tehran in some unforeseeable future. Rock Stars they may have been, but it was Saddam who rocked Rajavi's world, not the US.
Woodward points out, the CIA is still not sure whether the intelligence they got from the sect was reliable or not. Why are we not surprised? It should have been obvious that a man who had already prostituted himself to anyone and everyone in his quest for power, a man who proudly headed 'Saddam's Private Army', would not be an entirely reliable associate.
Even so, when it became obvious to Rajavi that Saddam would go, he turned around and promised the Americans full cooperation in exchange for protection. And he got it. Although the MEK bases were bombed and some of his fighters killed, this was most probably stage managed so that the group could surrender to the US without arousing the suspicion of the Iraqis. Rajavi was protected in his largest base, Ashraf, with 4,000 of his fighters around him and those fighters and the base itself protected by several hundred US soldiers. In Iraq, Rajavi couldn't have found a safer place. The Iraqi people were ready to attack the MEK as remnants of Saddam's regime. Even now, the Iraqi Governing Council has unanimously asked the US to get rid of the sect and remove them as soon as possible from Iraq.
When Ari Fleischer, the president's spokesman, publicly praised the MEK on March 10 2003, it was widely interpreted as the result of a CIA deal.
Because of this deal, the MEK couldn't believe their bases were being bombed and claimed these were Iranian airplanes. But when the US army confirmed that MEK in the camp had returned fire, Mohaddessin, shocked at the news panicked and in an interview announced that they had a deal with the Americans not to be attacked.
When the State Department quite logically added an MEK alias, the National Council of Resistance of Iran (NCRI), to the list of terrorist entities on August 15, 2003, because of its close alliance with Saddam Hussein, Jafarzadeh, the MEK contact in Washington, suddenly gave up his job as MEK representative and was appointed top Iran Advisor for Fox News in Washington! Coincidence? We think not.
And what has the US got from this deal to protect the MEK? Intelligence in Iraq? A mouthpiece in the US media?
(End)
US Sponsored ISIS and MEK 
*** 
Ambassador Daniel Benjamin: I was at State when we took the MeK (Mojahedin Khalq, Saddam's Private Army) off the terrorist list. But team Trump's ties to the group still worry me.

(Massoud Rajavi and his pay master Saddam Hussein) 
Remember.Mojahedin Khalq (MKO, MEK, Rajavi cult) was one of the excuses of US attacking Iraq
That Secret Iranian 'Nuclear Facility' You Just Found? Not So Much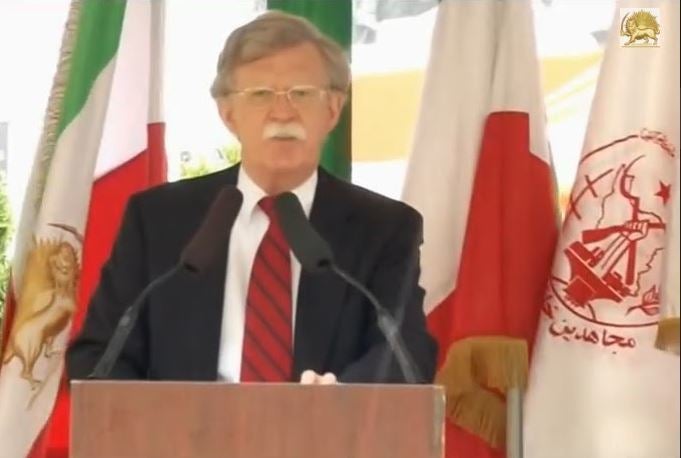 Mojahed Khalq Brother John Bolton has a memory lapse
Document on Mojahedin Khalq released by RAND (The Mujahedin-e Khalq in Iraq, A Policy Conundrum)
Also read:
https://iran-interlink.org/wordpress/its-a-mistake-to-treat-the-mek-as-a-normal-opposition-group/
It's a mistake to treat the MEK as a normal opposition group
Anne Khodabandeh, Iran Interlink, February 27 2019:… It is a mistake to approach the MEK as a normal opposition. Indeed, quoting MEK members is like giving a platform to Flat Earthers or Creationists. It is not balanced reporting. The MEK is a unique entity. Not an opposition, not a 'group' or 'organization', descriptions which imply a certain kind of accountable system and order. 
Prisoners of Their Own Rebellion.The Cult-Like Group Fighting Iran
It's a mistake to treat the MEK as a normal opposition group
When reporter Luisa Hommerich wrote her investigative piece in Der Spiegel titled 'Prisoners of Their Own Rebellion – The Cult-like Group Fighting Iran', which exposes the grim situation for MEK members, I doubt she was expecting death threats to follow. After all, she was just doing her job. But that is exactly what the MEK reaction was. A Farsi language statement (written and published in Europe) promised her assassination. Nice.
Of course, for those who already know the MEK, this is not surprising. A timely reminder that the MEK cannot disown its past and cannot stop repeating its past, came in an interview with Nabi Ahamadi, who escaped the cult in Albania recently. Ahmadi was a close friend of Malik Sharai who was killed by MEK in June last year. He confirmed that Sharai was one of the few remaining witnesses to the mysterious death of 53 MEK members in Camp Ashraf, Iraq. He also confirmed that Sharai had asked to leave the group but was then held in solitary isolation before being physically eliminated by the MEK leaders. As a trained swimmer, Ahamdi says it is implausible that he drowned as MEK claim.
Another example is the suspicious assassination of Mohammad Reza Kolahi – the bomber of the Jomhouri Party headquarters in 1981 who was killed in the Netherlands in 2015. After he left the MEK Kolahi was always going to be a liability. He knew too much. So, why is nobody asking Maryam Rajavi about this convenient death?
One reason of course is that the MEK leader Maryam Rajavi refuses to engage with journalists, investigators, researchers. Anyone in fact who might get to the truth about her organization. Indeed, Hommerich did her job thoroughly, as did the journalists of Aljazeera, The Guardian, Independent, Channel 4 News, NBC and other down the years (there is a very long list). They all asked the MEK to give their side, to comment on their findings and to have a voice. The MEK called them all agents of the Iranian intelligence services and refused to talk.
Former MEK members Gholamreza Shekari and Hassan Heyrani from Albania, who were interviewed for the Der Spiegel article, revealed that not only did the MEK refuse Hommerich's request for interviews, they sent armed guards to prevent her getting near to Camp Ashraf 3 in Manez. This is not the response of a normal political opposition. Issuing death threats to journalists is not the response of a normal political opposition. But then, there's nothing normal at all about an opposition universally hated by their own people, inside and outside Iran.
It is a mistake to approach the MEK as a normal opposition. Indeed, quoting MEK members is like giving a platform to Flat Earthers or Creationists. It is not balanced reporting. The MEK is a unique entity. Not an opposition, not a 'group' or 'organization', descriptions which imply a certain kind of accountable system and order.
Hommerich asked to speak with someone from the MEK (NCRI) but they did not reply. Instead, she spoke with some of the many defectors who have escaped. Their stories do not differ much from the testimony of other former members over thirty years: the MEK is a cult that routinely and systematically abuses the human rights of its whole membership. According to 50-year-old Gholamreza Shekari, this is achieved through 'lies, manipulation and fear'; a methodology known as Cultic Abuse.
For the record, the MEK is a cult. Maryam Rajavi keeps slaves. It is that simple.
(End)
US Sponsored ISIS and MEK  
*** 
The Iran Protests, Regime Change, And The MEK
Prisoners of Their Own Rebellion.The Cult-Like Group Fighting Iran
Terrorists, cultists – or champions of Iranian democracy? The wild wild story of the MEK
Also read:
 2019/03/29
Michael Rubin, National Interest, March 29 2019:… Unable to win any support from Iranians inside Iran, the MEK has turned to the gullible and greedy: they are political chameleons. When in Iran, they were a combination between Islamists and social justice warriors. In Iraq, they were secularists, basically Baathists without the Arab identity. And while in France, they are democrats. In…   Iran Fighting US Sponsored ISIS and MEK ISIS and MEK  Maryam Rajavi MEK Cult Fake Journalists 
---
 2019/03/19
Mazda Parsi, Nejat Society, March 19 2019:… Imagine terrorist extremists attacking European citizens, cutting their throats with knife, breaking their hands, removing their eyes with fingers, and tearing their mouth open. Even imagining such scenes seems horrific but there are some people out there who have been trained to do so. A large group of these trained terrorists are members of…   Iran Fighting US Sponsored ISIS and MEK ISIS and MEK  Maryam Rajavi MEK Cult Fake Journalists 
---
 2019/03/16
Iran Interlink, March 16 2019:… International Women's Day, and many have written about women in the MEK's Manez camp. They talk of the historic abuse of women members by Massoud and Maryam Rajavi, the slavery situation and the specific problems for women who don't have any place to go if they run away. Many have compared their situation with domestic violence…   Iran Fighting US Sponsored ISIS and MEK ISIS and MEK  Maryam Rajavi MEK Cult Fake Journalists 
---
 2019/03/14
Nejat Society, March 14 2019:…. Female defectors of the Mujahedin Khalq Organizaion (the MKO/ MEK/ PMOI) participated an inter-parliamentary committee meeting organized by Parliament's gender equality committee. The conference that was held a day ahead of the International Women's Day was focus on young women in politics as well as women's real power in politics and how to boost it. Women's…   Iran Fighting US Sponsored ISIS and MEK ISIS and MEK  Maryam Rajavi MEK Cult Fake Journalists 
---
 2019/03/14
Ebrahim Khodabandeh, March 14 2019:… A charity organisation registered in London called the "International Liberty Association" has launched a widespread campaign under the title "Support the Voice of the People" to collect public donations for a television channel belonging to the Mojahedin-e Khalq Organization (aka MEK, MKO, NCR, NLA, Rajavi Cult). London is well known for having been a haven for the…   Iran Fighting US Sponsored ISIS and MEK ISIS and MEK  Maryam Rajavi MEK Cult Fake Journalists 
---
 2019/03/14
Ali Alavi, Iran Interlink, March 03 2019:… Maryam Rajavi MEK Cult Reporters who talk about the MEK usually want to talk about the politics and the money. They say, for example, that John Bolton supports them, that they get money from Saudi Arabia, that they want regime change in Iran. Sometimes these reporters even mention Iranians. When they do, they say the MEK doesn't have…   Iran Fighting US Sponsored ISIS and MEK ISIS and MEK  Maryam Rajavi MEK Cult Fake Journalists 
---
 2019/03/09
Fars News, Tehran, March 03 2019:… Maryam Rajavi MEK Cult The co-founder of Pinkcode, an anti-war NGO based in the US, blasted members of the Congress for supporting the anti-Iran Mojahedin-e Khalq Organization (MKO, also known as the MEK, PMOI and NCRI) terrorist group. Medea Benjamin, the co-founder of Codepink: Women for Peace, voiced concern about the relashionship between the US congresspersons and the terrorist…   Iran Fighting US Sponsored ISIS and MEK ISIS and MEK  Maryam Rajavi MEK Cult Fake Journalists 
---
 2019/03/09
Anne and Massoud Khodabandeh, Lobe log, March 09 2019:… Maryam Rajavi MEK Cult Hommerich reported that inside the camp in Albania, MEK militants were still practicing the deadly techniques for combat taught them by Saddam Hussein's Republican Guard—"cutting throats with a knife," "breaking hands," "removing eyes with fingers," and "tearing the mouth open." In 2017, the Trump administration reversed a 2013 plan by former Secretary…  Iran Fighting US Sponsored ISIS and MEK  ISIS and MEK  Maryam Rajavi MEK Cult Fake Journalists 
---
 2019/03/09
Iran Interlink, March 08 2019:… Maryam Rajavi MEK Cult To mark International Women's Day on 8th of March some commentators remind us of the situation of women inside the MEK. In particular, Sarrafpour from Shiraz has written a long piece explaining how from the very beginnings up to the present Rajavi abused women. Some of the former MEK women members wrote that perhaps the biggest crime…  Iran Fighting US Sponsored ISIS and MEK  ISIS and MEK  Maryam Rajavi MEK Cult Fake Journalists 
---
 2019/03/08
Tehran Times, March 08 2019:… Maryam Rajavi MEK Cult Thanks to his brother's high rank in the terrorist Mojahedin-e Khalq Organization (MKO, also known as MEK, NCRI or PMOI), Amir Arjmand escaped to Iraqi Kurdistan and there he met with French security agents who took him to Paris. About the status of MKO terrorist group among US-sponsored anti-Iran groups, Zam tells Alireza that Americans…   Iran Fighting US Sponsored ISIS and MEK ISIS and MEK  Maryam Rajavi MEK Cult Fake Journalists 
---
 2019/03/08
Mazda Parsi, Nejat Society, Marcy 08 2019:… Maryam Rajavi MEK Cult Many Iranians refer to the second group as the "fake" opposition," he writes. "It consists mostly of the monarchists, some ethnic groups, and the Mojahedin-e Khalq (MEK), the exiled group that is universally despised in Iran and was on the State Department's list of "Foreign Terrorist Organizations" from 1997 until 2011. It is called…  Iran Fighting US Sponsored ISIS and MEK  ISIS and MEK  Maryam Rajavi MEK Cult Fake Journalists 
---
 2019/03/08
Barbara Slavin, Al-Montor, March 08 2019:…Maryam Rajavi MEK Cult  the MEK is understood to be widely reviled inside Iran as a leftist Islamist cult that sided with Saddam Hussein during the 1980-88 Iran-Iraq war. The group advocates the overthrow of the Iranian government and the elevation of Maryam Rajavi, the wife of MEK founder Massoud Rajavi, as the new leader. She lives in exile…  Iran Fighting US Sponsored ISIS and MEK  ISIS and MEK  Maryam Rajavi MEK Cult Fake Journalists