Maryam Rajavi — MEK Propaganda Queen — Advertises Her Services For Iran's Enemies
Massoud Khodabandeh, Huffington Post, July 08 2016:… Clearly this message is not aimed at Iranians. The clamour for regime change in Iran does not emanate from inside the country in spite of its many social, civic and political problems. Who then is Maryam Rajavi's constituency? From whom is she hoping to garner support?Many constituencies outside Iran wish fervently for its destruction. It is enlightening that Maryam Rajavi's … 
What does it mean when we say ISIS operates as a mind control cult?
Maryam Rajavi — MEK Propaganda Queen — Advertises Her Services For Iran's Enemies
Co-authored by Anne Khodabandeh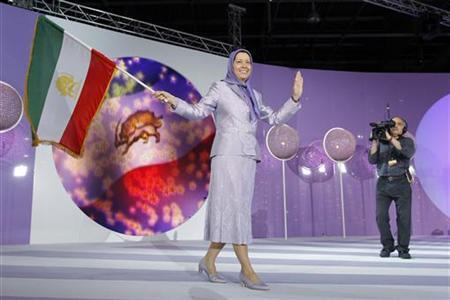 The Middle East is in turmoil. Deaths and destruction are a daily occurrence throughout the region. Families flee their homes in fear, forced into an uncertain future. No end is in sight. Yet into this calamitous scenario a slick, sophisticated terrorist recruiter's advert has popped up which ISIS itself could learn from.
The National Council of Resistance of Iran (NCRI) website carries a glamorous advertising campaign for a Grand Gathering. Surrounded by glitzy pictures of flag-waving youth, the central focus of this gathering is 'Our pledge: regime change'.
Well, we all know what that means. Don't we? Apparently not. Because this advertising doesn't reflect the destruction wrought in Iraq, Libya, Syria, Yemen. Here is no promise of jihad and the caliphate. It looks very much like a carnival. Which is exactly what it is – a show. So, what is meant by the promise of regime change?
The first port of call is to understand that the NCRI is just another name for the Mojahedin-e Khalq (MEK) which was also known as the National Liberation Army of Iran (NLA).
Back in 1994, MEK leader Massoud Rajavi tasked his wife Maryam to leave Iraq for America in order to regain political recognition of the Mojahedin Khalq as 'the' Iranian opposition which had been lost when he refused to abandon Saddam Hussein during the First Gulf war.
Refused entry to the USA as the leader of a terrorist entity Maryam instead took up residence in France as a refugee. But instead of meeting politicians to talk about how the MEK could overthrow the Iranian regime, she discovered she could simply create the illusion of support by paying both audience and speakers. She discovered a talent for dressing up, holding fancy dinner parties and talking about her cult ideology.
To create the appearance of a willing audience for her views, she recruited a rag-tag following of Iranian economic refugees who would happily turn up when paid for their services. She paid for feminists from North America, Europe and Scandinavia to visit Auvers-sur-Oise and attend dinner parties. She posed in her hijab to speak about her version of feminism to these western women; carefully spelling it out for them that they would never really understand what feminism is until they understood her husband Massoud Rajavi.
When Massoud recalled her to Iraq in 1997 she had spent a third of the total MEK budget and had no political support to show for it. She had lost around half the loyal MEK members who had defected whilst in Europe. With morale at an all-time low, Maryam was forced to retreat to Iraq with what remained of her personnel and leave the western bases in the hands of largely uneducated paid 'supporters'.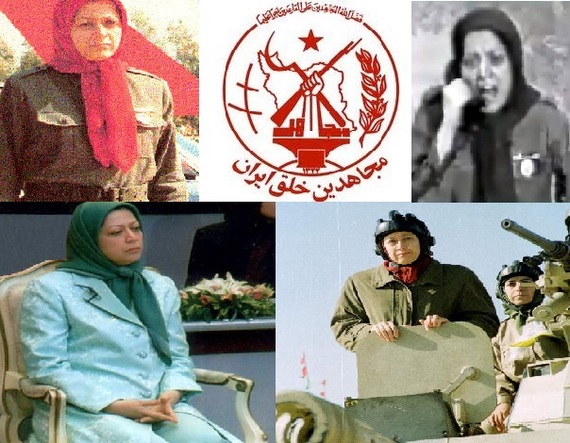 When allied forces next invaded Iraq in 2003 Maryam Rajavi again fled to France. This time, as luck would have it, western politics was focused on curtailing Iran's nuclear programme which it insisted was aimed at creating a nuclear weapon. The MEK's services as propaganda experts were just what was needed, ensuring the MEK's ostensible survival as an opposition group.
But in reality the MEK was already in terminal decline. Its fighting forces, disarmed in 2003, are currently being transferred from Iraq to Albania by the UNHCR to begin a process of de-radicalisation and reintegration back into normal society. Nobody expects veterans with an average age of sixty to wage the terrorism of thirty years ago. Disarmament also allowed American experts to investigate years of complaints about human rights and cultic abuses inside the MEK. As long as the MEK was being used to muddy the waters of the nuclear negotiations, such details could be glossed over. But since last year when agreement was reached, the MEK's murky past can no longer be dismissed.
The main reason, of course, is that the new theme for challenging Iran in the international community is based on the country's dismal human rights record. But Maryam Rajavi has her own well documented human rights abuse dossier to answer for. The MEK, under whatever name it is used, is simply the wrong tool to use to demonise Iran.
Beyond this, the MEK is not the popular opposition its own advertising claims it to be. The group is almost universally despised among Iranians both inside the country and in the diaspora. Not only did the MEK fight alongside Saddam Hussein's army during the devastating eight-year Iran-Iraq war, but the MEK's anti-Iran role in the nuclear negotiations hit a nerve with most ordinary Iranians who regarded support for their country's right to nuclear technology as an issue of nationalism rather than politics.
Maryam Rajavi cannot get support from Iranians unless it is paid for. Nor can Maryam Rajavi deign to share a platform with any other Iranian opposition personality. So this year Maryam Rajavi will again do what she does best; pay audience and speakers alike to give the illusion of support.
So, back to the recent advertising campaign. Any publicity campaign will be successful if it is newsworthy. Maryam, however, simply churns out the same scenario ad infinitum. Starting with describing a terrible situation in Iran – based on news items that can be gleaned from any serious reporting outlet – she then proposes a ten-point plan for Iran, approved this year by Italian parliamentarians. And then she promises regime change.
Clearly this message is not aimed at Iranians. The clamour for regime change in Iran does not emanate from inside the country in spite of its many social, civic and political problems. Who then is Maryam Rajavi's constituency? From whom is she hoping to garner support?
Many constituencies outside Iran wish fervently for its destruction. It is enlightening that Maryam Rajavi's websites are home to a bizarre mixture of anti-Shia, anti-Iran, anti-Syria, items which reflect very closely the views of neocons, Israel and Saudi Arabia.
Maryam Rajavi is not promising regime change, she is advertising her services as a propaganda queen.
***
Can Albania Meet its Obligations and De-radicalize an Influx of Terrorists into Europe?
Massoud Khodabandeh: The Iranian Mojahedin-e Khalq (MEK) and Its Media Strategy:
Methods of Information Manufacture
Massoud Khodabandeh: Will President Rouhani meet genuine human rights advocates halfway?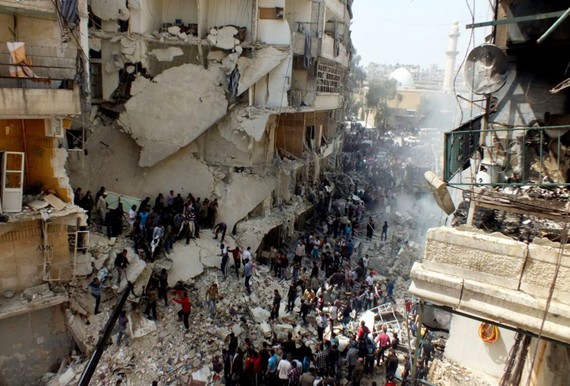 Massoud Khodabandh, Huffington post Nov. 2015:
Syrian Negotiations Won't Provide One Winner But Will Ensure Violence Is Absolute Loser
***
Also read:
https://iran-interlink.org/wordpress/?p=6932
Brainwashing? There should be a law against it
Anne Khodabandeh (Singleton), Iranian.com, December 09 2015:… Prime Minister David Cameron has already uttered the word brainwashing in speeches about Radicalisation. There was no public outcry or panic. Ordinary people know what he means. What a law would do is to give a precise definition which would allow us to 'join the dots' between seemingly …
Anne Khodabandeh (Singleton), University of Baghdad:
MEK's Western backers are complicit in their deaths
Brainwashing? There should be a law against it
Shocking revelations about Maoist cult leader Aravindan Balakrishnan and his female victims in a suburb of London shone a light on the normally hidden phenomenon of cultic abuse which pervades society. The danger now will be that this is treated as just another sensational story before being placed on a journalistic 'bizarre incident' list along with Jonestown, Wako and Heaven's Gate, as a freak occurrence.
Sadly, practitioners in the field of cult awareness know of thousands of lonely families suffering the loss of loved ones to cultic abuse with little recourse to help or even acknowledgement.
As a former member of the political cult Mojahedin Khalq, I am intimately familiar with the methods which Balakrishnan used to control and exploit his victims. As this case has highlighted, for a person caught up in cultic abuse there is no exit, they are in fact modern slaves. Indeed, the 2005 report on the MEK by Human Rights Watch was named 'No Exit'.
If the experience of the daughter and the other victims in the Balakrishnan case are to teach us anything, it is that this is more common than we'd like to believe and that such ghastly behaviour – much like child abuse – thrives on secrecy and collusion; that is, the unwillingness of successive governments to acknowledge this as a widespread problem. More than anything we need to explode the myth that cults are about religion. They are not. The illusion that 'new religious movements' are relatively harmless belongs thirty years in the past. But for years, families and former cult members have been dismissed, even denigrated, as hysterical, malicious or delusional or have been exploited for entertainment by the media. No wonder they are reluctant to speak out.
Even when families do bravely confront the cults which have enslaved their loved ones, they find themselves battling litigation, intimidation and disbelief.
Government failure to engage with this phenomenon has left the public unprotected. While civil law protects a designated group of vulnerable people from undue influence, cult experts argue that anyone can be susceptible to deceptive cult recruitment at some point in their lives; people are usually in a state of transitioning when they get involved in cults. This emphasis on susceptibility not vulnerability is an important distinction because it places culpability directly on the intention and activities of the perpetrator rather than looking for deficiencies in the victims. The Balakrishnan cult case is unusual because the leader was prosecuted, not just because the victims were rescued.
Interestingly, techniques for deceptive psychological manipulation are already acknowledged and understood in various modern contexts where coercive persuasion is used for cynical exploitation and enslavement. These include partner abuse, grooming for sex, spiritual abuse, abusive therapy, extremist violence and terrorism. All these are regarded as morally repugnant. But as yet we lack a law which covers the activity which underlies them all.
In the modern vernacular, the term brainwashing is used by ordinary people exactly to describe an unaccountable change of mind and/or personality in an otherwise normal person. Bewildered families of young people travelling to Syria say their children have been brainwashed. The government needs to catch up with scientific and social understanding of this phenomenon if we are to be protected. Are MPs aware, for example, not whether, but how many fully brainwashed cult members are working in sensitive national security roles? We know they exist because as cult counsellors we talk with their families. Yet the phenomenon is glossed over as almost immaterial.
Cultic abuse – known in the vernacular as brainwashing – has a very precise definition. It is not about 'using advertising to brainwash us into buying things' or 'brainwashing us into becoming docile citizens under government dictates'. These are false and unhelpful myths. Neuropsychology explains that 'changing your mind' is a physical experience which can be scientifically identified. Brainwashing is not about doctrine, it is about the psychologically manipulative techniques used to literally 'change' our minds.
In more legalistic terms it is 'the deliberate and systematic application of an array of recognised techniques for psychological manipulation without the knowledge or informed consent of the victim  in order to effect a breach of a person's mental, emotional, intellectual and social integrity for the purposes of abuse, exploitation, slavery and/or pecuniary gain, and to so inhibit their critical faculties that they do not recognise their own predicament so that they may act in ways harmful to their best interests and the interests of society on instruction or by command or by neglect.
The advantage of criminalising cultic abuse in this way is that it is ideologically neutral and does not reflect any particular belief system but straightforwardly describes harmful behaviour. This would protect all our citizens and an obvious place would be an amendment to the new Modern Slavery Bill passed in March.
Prime Minister David Cameron has already uttered the word brainwashing in speeches about Radicalisation. There was no public outcry or panic. Ordinary people know what he means. What a law would do is to give a precise definition which would allow us to 'join the dots' between seemingly disparate events like the Balakrishnan cult, the Rotherham grooming for sex scandal and terrorist recruitment.
Indeed, public apprehension over the war on terrorism in Syria and the perceived threat of blowback, is the perfect opportunity for the government to introduce and explain the phenomenon of brainwashing in this narrowly defined sense as an element of the Prevent Strategy. The introduction of a criminal offence which allows the detection, prosecution and punishment of this abhorrent behaviour will aid public understanding and allay fears.
Anne Khodabandeh @AnneKhodabandeh
Anne Khodabandeh, a leading authority on cultic abuse and terrorism, works as a consultant within the remit of the UK Prevent Duty. After twenty years in the MEK, a dangerous, destructive mind control cult, she helps families through Iran-Interlink.
Expert in cultic abuse and terrorism in the MEK speaks in London charity meeting
President of MIVILUDES Serge Blisko with Anne Khodabandeh (Singleton) of the FST. FECRIS 2015
***
Also read:
https://iran-interlink.org/wordpress/?p=6718
'Who could hang a saint?' – Maryam Rajavi's crocodile tears over human rights
Anne Khodabandeh (Singleton), Middle East Strategy Consultants, October 09 2015:…  The MEK are no longer needed or wanted beyond backing up the efforts of a few regime change pundits clinging to the past.  And of course, Maryam Rajavi is acutely aware of the fate of her benefactor Saddam Hussein. When he was no longer needed, his former allies handed him over …
(Maryam Rajavi directly ordered the massacre of Kurdish people)
Middle East Strategy Consultants,
http://www.mesconsult.com
Author of "Saddam's Private Army" and "The life of Camp Ashraf"
http://www.camp-ashraf.com
'Who could hang a saint?' – Maryam Rajavi's crocodile tears over human rights
Human Rights advocacy is a laudable activity. Advocates automatically occupy the high moral ground in pursuit of their goals – and this of course reflects on their status. But as with everything we must examine their underlying motives before we accept at face value the posturing of every Tom, Dick and Harry who jumps on the bandwagon of human rights. Above all, we must examine the person before we listen to their inviolable message.
In reaction to the 'World Day Against the Death Penalty (October 10), notorious cult leader Maryam Rajavi will use the occasion to announce to a specially assembled audience that she is against the death penalty.
That will be news indeed to the thousands of former members and indeed the current members of the notorious terrorist Mojahedin Khalq cult which she leads. Maryam Rajavi's MEK has not only killed over 12,000 Iranians and 25,000 Iraqis as part of its violent regime change agenda, but inside the group, Rajavi has been personally responsible for the extra-judicial murder and torture of countless members behind the closed doors of the cult.
So, what could be behind this dramatic volte-face? Has Rajavi really undergone a unique transformation of belief and if so, is she sincerely contrite for all the deaths she is personally responsible for within the Mojahedin Khalq? Does she regret her past? Will she now apologise to the thousands of former members of her organisation who are victims of heinous human rights abuses for which she and her husband are culpable?
For various reasons this is impossible. Not least because as the leader of a mind control cult such an admission of guilt would undermine the whole foundation of her organisation and throw the remaining vulnerable brainwashed members onto the path of a mental breakdown.
Or is this, as we have every reason to believe, a politically motivated fake stance brought about by panic and despair, just as once the MEK's manufactured nuclear intelligence bought them artificial status brought about by opportunism. Since July, the negotiated Iran nuclear agreement has irrevocably changed the political landscape. The MEK are no longer needed or wanted beyond backing up the efforts of a few regime change pundits clinging to the past.
And of course, Maryam Rajavi is acutely aware of the fate of her benefactor Saddam Hussein. When he was no longer needed, his former allies handed him over to the Iraqi people for judgement and punishment. He was, as we all know, hanged.
So, Maryam's Rajavi's sudden and specific and uncharacteristic condemnation of the death penalty should be judged in this context. Her underlying message to her sponsors is, 'who could hang a saint?'
Mujahadeen-e-Khalq (MEK). Backgrounders
Anne Khodabandeh (Singleton) and Nasrin Ebrahimi, European Parlaiment:
Silencing the victims of Mojahedin Khalq (MKO, MEK, Rajavi cult, PMOI, NCRI …) to promote Maryam Rajavi
Anne Singleton from Iran-Interlink
visits Camp New Iraq (Formerly Ashraf)
in wake of violence by loyalists of the Rajavi cult
Document on Mojahedin Khalq released by RAND (The Mujahedin-e Khalq in Iraq, A Policy Conundrum)
***
Also read:
Open Letter to Susana Klien and Caroline Haworth of Womankind Worldwide
A number of survivors of Rajavi cult,  August 31 2015:… This summer, your charity floated an engaging invitation on its Facebook page for women to nominate their 'women's rights idol'. Sadly, perhaps inevitably, Womankind was then inundated with nominations and praise for Maryam Rajavi. The effect has been to hijack the page and spoil its intent. The Mojahedin are …
Family Survival Trust, May 24 2015:…Anne Khodabandeh, representative of The Family Survival Trust, was in a unique position to brief M. Blisko and the audience about this issue. She explained that it is possible to construct a model for describing and analysing the use of cultic abuse by terrorist entities without mentioning religion. Anne then went on to describe …
Anne Khodabandeh (Singleton), Iran Interlink, April 14 2015:… It will come as some surprise to you therefore, that a group of Iranian war-mongering regime change proponents, the terrorist Mojahedin Khalq (MEK), claim to have your support. In an astounding act of hubris, the MEK has not only appropriated your good name and …
Iran Interlink, February 04 2015:… A review authored by Massoud and Anne Khodabandeh has been published in Asian Politics and Policy, Media Reviews. The article titled 'The Iranian Mojahedin-e Khalq (MEK) and Its Media Strategy: Methods of Information Manufacture' looks at the MEK's historical manipulation of various media over thirty years …
Anne Khodabandeh (Singleton) , Iran Interlink, January 24 2015:… Albania's efforts to improve its human rights and bring them into line with European and international standards could be seriously undermined if it does not take action to curtail the activities of the terrorist Mojahedin Khalq cult organisation in that country. There is strong evidence that …
Anne Khodabandeh (Singleton), Iran Interlink, January 14 2015:…  Whether delusional or corrupt, this gang – listed below and now posing as the International Committee in Search of Justice (ISJ) – says the residents of Camp Liberty should have their "personal protection weapons returned to them for self-defence following serious threats and attacks [sic] as the …