Maziar Bahari: Iranian govenment used Mojahedin Khalq (Rajavi cult) in 2009 unrest – They needed each other
New York Times, December 12 2014:…  "That peacefulness really scared the government," he said. The attack on the base, however, "gave an excuse to start cracking down." Reflecting on the apparent role of the M.E.K. in transforming a peaceful protest into one marked by deadly violence, Mr. Bahari suggested that there was something of a feedback loop …
Council of Foreign Relations, 2014: Mujahadeen-e-Khalq (MEK). Backgrounders
Video Offers New Look at the Day Iran's 2009 Protests Turned Deadly
The Iranian-born journalist Maziar Bahari, who was detained in Tehran in 2009 and accused of espionage for covering the postelection protests in Iran that summer, has released nearly 40 minutes of previously unseen footage he recorded during the first deadly clashes between protesters and the security forces.
Mr. Bahari, whose account of his four-month detention was adapted by Jon Stewart into the docudrama "Rosewater," posted the footage on YouTube last week, to provide more historical context for the killing of protesters by members of Iran's Basij militia on June 15, 2009, an event that was recreated in the film.
In a telephone interview this week, Mr. Bahari recalled that he was recording video that day of hundreds of thousands of opposition supporters marching through central Tehran to demand a recount when he heard shooting nearby and ran toward it.
When he arrived on the scene, he turned his camera on a small number of demonstrators hurling Molotov cocktails at a base of the Basij paramilitaries in a residential neighborhood close to Azadi Square. He was filming as some of the protesters tried to storm the base and Basij militiamen, who had been firing tear gas and warning shots, began "shooting indiscriminately into the crowd."
Forty-seven seconds of Mr. Bahari's graphic video of protesters being killed, the first documented deaths in the dispute over the election, was broadcast that night in a report from Tehran by Lindsey Hilsum of Britain's Channel 4 News.
Although Iranian activists and bloggers also provided witness accounts and some vivid images and extremely graphic footage of the clash at the base that day, the most complete documentation of the deadly face-off was Mr. Bahari's video.
Some of that footage was used in the recent film adaptation of Mr. Bahari's book, in which actors recreated the abrupt shift from peaceful protest to violent confrontation at the Basij base that day.
In the wake of the film's release, as Mr. Bahari explained in a post on his news site IranWire, he decided to make all of the video he shot that day available online because of its historical importance. "People are emotional about that day," he said in the interview.
In an account of the day in his book, Mr. Bahari reported that intelligence ministry sources close to the opposition candidate Mir Hussein Moussavi said later that the young men who had instigated the violence by attacking the base that day were agitators from a banned Iranian exile group, the Mujahedeen e-Khalq, or People's Mujahedeen, known as the M.E.K. or M.K.O.
That group, which was at the time on the State Department's official list of terrorist organizations, has been described by its critics, like Trita Parsi of the National Iranian American Council, as "a cultlike Iranian terrorist organization with a history of violence and no support among the Iranian people."
While his sources offered no hard evidence, Mr. Bahari said, the young men who stormed the building were chanting slogans — like "Death to the Islamic Republic" and "Death to Khamenei," Iran's ruling cleric — that are associated with the anti-Islamist M.E.K. That led to arguments and even physical fights with older protesters outside the base, who urged the younger men to refrain from violence and call for reform, not revolution.
In retrospect, Mr. Bahari said this week, "I think that moment really played into the hands of the government."
The large and completely peaceful protest that came before the violence that day, Mr. Bahari said, was far more threatening to the authorities.
"That peacefulness really scared the government," he said. The attack on the base, however, "gave an excuse to start cracking down."
Reflecting on the apparent role of the M.E.K. in transforming a peaceful protest into one marked by deadly violence, Mr. Bahari suggested that there was something of a feedback loop between the authoritarians within Iran's Islamic Republic and their enemies.
"They need each other," he said. "A violent government needs a violent opposition in order to survive."
(END)
 Comrades in Arms – Sexual abuse by Massoud and Maryam Rajavi

http://youtu.be/jpDUMaIntS8?list=UU0l93Nsn8szy9D4G7mhvfEQ
(Daniel Zucker, Maryam Rajavi and ALi Safavi in terror HQ in Paris )

(Ali Safavi as the commander of Saddam's Private Army in Iraq)
Mojahedin Khalq (MKO, MEK, Rajavi cult) Our Men in Iran? (Seymour M. Hersh, The New Yorker, April 2012)
Also read:
https://iran-interlink.org/wordpress/?p=5646
MEPs support for MEK terrorists undermines human rights pressure on Iran
(letter to Federica Mogherini)
Massoud Khodabandeh, Middle East Strategy Consultants, London, December 09 2014:… By publishing an article directed by the MEK, a group of MEPs has played directly into the hands of Iran's hardliners. The MEPs Gérard DEPREZ, Tunne KELAM, Ryszard CZARNECKI EP Vice-President, Eduard KUKAN, José BOVÉ, Julie WARD, and Rina Ronja KARI are …
(Massoud Khodabandeh: 4th report, Baghdad October 2014)
MEPs support for MEK terrorists undermines human rights pressure on Iran
Open Letter to Federica Mogherini, the new EU foreign policy chief
As you are aware the Iranian Mojahedin Khalq terrorist group works through the "Friends of a Free Iran" in the European Parliament. This parliament is to give a platform today (December 10) to the second-in-command of this group Maryam Rajavi (a private room has been hired in the buildings by one of the MEK's lobbyists purely for lobbying purposes). Not only that, a group of MEPs has boldly written to you demanding you change your policy to suit this woman. What possibly can be their motive? As a European citizen and an expert in the field of cults and terrorism, I cannot agree that you ignore such a presence in the parliament. It cannot be in the best interests of the European Parliament as a home to democracy to give a platform to for what is an undemocratic stance toward the people of Iran.
By publishing an article directed by the MEK, a group of MEPs has played directly into the hands of Iran's hardliners. The MEPs Gérard DEPREZ (ALDE – Belgium), Tunne KELAM (EPP – Estonia), Ryszard CZARNECKI EP Vice-President (ECR – Poland), Eduard KUKAN (EPP – Slovakia), José BOVÉ (Greens – France) Julie WARD (S&D – UK) and Rina Ronja KARI (GUE/NGL – Denmark) are members of the MEK's 'Friends of a Free Iran' in the European Parliament.
The article starts with the claim that Ban Ki Moon said people should hold their governments to account. He did not say that the EP should interfere in the internal affairs of another country. Certainly these MEPs have no mandate to hold another country's government to account in this way. It is not their elected government, but that of a sovereign nation with its own electorate. It is certain Ban Ki Moon was referring to this electorate when he made this statement.
However, let us allow that Iran's human rights record, like that of every other country of the world, should come under proper scrutiny. The proper bodies to conduct such research are those quoted by these MEPs – the UN – in particular the UN Special Rapporteur on Human Rights in Iran – Reporters Without Borders, Amnesty International. The reports of these bodies are public knowledge and widely available.
(Interestingly, in addition to all these human rights bodies, there is hardly a group or organisation or government, and not a single Iranian opposition group inside or outside Iran which has not condemned the Mojahedin Khalq for its human rights abuses time and time again.)
Now, if the MEPs do indeed see fit to challenge Iran over this issue on International Human Rights Day, is it not proper to do so directly, through dialogue, communication and diplomacy, rather than a futile rant. A rant which, in addition, quotes the second-in-command of the Mojahedin Khalq terrorist group, Maryam Rajavi. This group of MEPs has been persuaded – somehow – to have her words put into their mouths as though they cannot make their own statements or figure out their own political arguments. (The MEK shoehorned one of their favourite words, 'embolden', into the piece but didn't manage to get another favourite, 'appeasement' in.)
As a result they stupidly allow themselves to say such things as "Tehran has also been the center [sic] for the expansion of terrorism and fundamentalism throughout the region, endangering world peace and security." The article cannot and does not present any evidence for this opinion. Indeed, most sensible people anywhere would point first to Saudi Arabia and other Gulf States as the source of increased terrorism and fundamentalism in the region. But then, the MEK are known advocates of ISIS and other terrorist groups.
Relying on this argument, these MEPs are demanding less dialogue with Iran, not more. Again, back to the 'let's bomb Iran or at least disrupt dialogue' narrative.
Such nonsense has delighted Iran. The semi-official Fars News Agency has immediately translated the article for distribution among Farsi speakers in Iran and worldwide. What better argument could the hardliners have that the issue of human rights is being politicised than to have the leader of a notorious terrorist group put their words into your mouth.
These MEPs really need to get to grips with the fact they are being manipulated into pursuing an agenda not of their own making, which ultimately serves to worsen human rights in Iran and to help crush any indigenous opposition movements and activities. Any Iranian not associated with the MEK terrorist group – on any side of the argument – will tell them this.
Paulo Casaca, Struan Stevenson and Alejo Vidal-Quadras lost their seats as MEPs over support for terrorism
European MEK Supporters Downplay ISIS Role in Iraq (aka Mojahedin Khalq, MKO, NCRI, Rajavi cult)
Khodabandeh co-authored the book 'The Life of Camp Ashraf – Victims of Many Masters'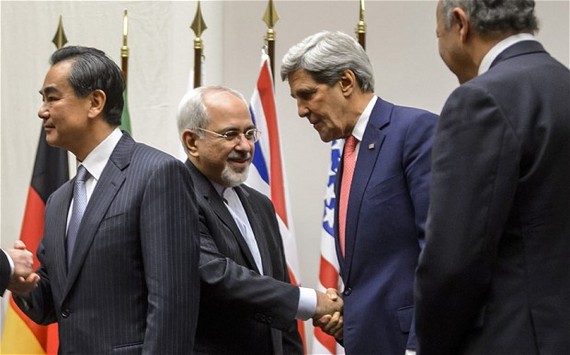 Massoud Khodabandeh: America Must Make Its Underlying Intentions Toward Iran Clear
***
Also read:
https://iran-interlink.org/wordpress/?p=5088
Maryam Rajavi's annual Rally in Villepinte.
This year promoting ISIS, MEK, Saddamists – Everyone Loses
Massoud Khodabandeh, Iranian.com, June 29 2014: … The MEK pretend to work as mercenaries to suit western backers but have in reality simply exploited loopholes and weaknesses in western political systems purely to promote themselves and, like parasites, find a niche to exist in for a while. The MEK have infiltrated parliaments and ministries and …
UNAMI: continued concerns about abuses committed by the PMOI/MeK leadership
Maryam Rajavi's annual Rally in Villepinte. This year promoting ISIS, MEK, Saddamists – Everyone Loses
A scene from a previous MEK rent-a-crowd rally in Villepinte
This past Friday in Paris, the Mojahedin Khalq is held its annual rally to celebrate its violent past. This year, as every year, the MEK will pay both speakers and audience to attend.  The annual rally is increasingly exposed and mocked by the media.
Who are they?
Mojahedin Khalq is one of the rare forces which advertises and is proud of being a mercenary force. They never had an agenda of their own but have taken money from their paymasters, such as Saddam Hussein, Saudi Arabia and Israel. Although no government except Saddam Hussein's regime has ever publicly condoned or supported the MEK, various Western agencies – the Pentagon, CIA, MOSSAD, the Israeli lobby and various neoconservatives – have at various times, and for various purposes, used the MEK. The MEK undertakes activities and poses in particular ways which suit their agendas – information laundry, assassination of Iranian nuclear scientists, and more, culminating in Maryam Rajavi's disastrous, ludicrous attempt to pose as a human rights advocate in the Canadian Parliament in May this year. 
What is different this year?
This time the annual rally is being held at the same time that Western leaders meet in Paris to discuss how to find a political solution to the crisis in Iraq. 
Each government is, of course, pursuing its own interests in Iraq and each wants to wrest the greatest political influence and benefit from the current crisis. But what they all share in common is the need to confront and stop the terrorist threat of ISIS in Iraq.
Iraqi media and analysts identify this current manifestation of ISIS as a sophisticated military force – although said to be an offshoot of Al Qaida formed in Syria – as an element of the Baath Party (that is, the remains of Saddam's regime), who had warned before that they would take revenge and create chaos and mayhem. Some ISIS equipment has been found to have previously belonged to the MEK. This is not a group which has newly emerged or lately come together, but is part of an existing cohort of groups and individuals prepared to use extreme violence to pursue political aims. The MEK are part of this cohort.
While the violence of the triangle of Saddamists, ISIS and MEK in Iraq is ongoing, we witness that the MEK's strongest advocates in the west, Struan Stevenson, Alejo Vidal-Quadras, Paulo Casaca and a couple of others have abandoned their mainstream political careers in the European Parliament and similar places to become full time advocates for this cohort. Under the organisational label 'European Iraqi Freedom Association' (EIFA), they claimed that the recent violent acts in Iraq were not carried out by ISIS, but were "part of a popular uprising" against Prime Minister Nouri al-Maliki. In doing so, they are openly backing the MEK, ISIS and Saddamist cohort against the government of Iraq even after successful elections returned popularly elected political representatives. 
For those with any lingering doubt about where the MEK stands on the issue of terrorism, an examination of their own website in Farsi is instructive. Only days before the current crisis erupted in Iraq, MEK leader Massoud Rajavi expressed his solidarity with the Saudi backed Jaish-ul-Adl terrorist group based in Pakistan. Referring to the execution of 16 men affiliated to Jaish-ul-Adl terrorist group Masoud Rajavi described them as "martyrs" and "brothers". 
A screenshot of the MEK site's first page quickly circulated on the internet as shocked Iranians of every stripe denounced the MEK. As the world looked on in horror at the actions of ISIS (beheadings, mass murders, etc), the MEK hailed the group as "revolutionary forces", (an echo of the false identity it ascribes to itself as "Iran's resistance movement"), and continued to advertise ISIS achievements and stances. 
Humanitarian issues
The MEK's collaboration with Saddamists and its public support for ISIS is unsurprising for experts on the group, but it is problematic. This support has made MEK in Camp Liberty a legitimate target for revenge killing by its old enemies – the Kurdish and Shiite populations among which the MEK massacred several thousand for Saddam Hussein during the First Gulf War in 1991. This matches with one of Massoud Rajavi's recent internal proclamations; that should Camp Liberty be threatened by (unspecified) outside forces the residents should all kill themselves. In this way, Rajavi would be rid of many witnesses to his multiple crimes against humanity and war crimes. A meeting of ex members in Paris on 21 June highlighted this very threat.
But this stance contradicts another of Rajavi's positions, which is to use the forces in Camp Liberty as advertising products in the Paris rally. The speakers may admit to being paid, but they also claim to sincerely believe in the MEK's ability to bring about freedom for Iran, and will no doubt be keen to use the platform in Paris to echo the demand to 'rescue' the Camp Liberty residents. Whether they are willfully ignorant of the facts or simply naïve is open to question. Indeed, both speakers and attendees should ask how this rally will help rescue the residents in Camp Liberty, Iraq, who the MEK leaders absolutely refuse to help. The UN has not hesitated to denounce the hindrances and obstruction created by the MEK leaders when it has tried to help these victims. In addition, the UN has accused the MEK of human rights abuses against its own members.
Lobbying for what? survival of a terrorist cult?
The idea that this rally is for lobbying is not only false but it is dangerous. Lobbying cannot involve the promotion of bloodshed and terror; that is murder. In any case, the MEK are not lobbying anyone for anything. The MEK is a cult and has its own agenda quite independent of its publicly stated policies. Its own internal interests are paramount and the current rally is being used to promote Maryam Rajavi as a replacement for Massoud Rajavi as the cult guru or ideological leader.
Everything the MEK has ever done has been to ensure its own survival; from working for Saddam Hussein to getting de-listed as a terrorist group. Governments, countries, agencies and lobbyists would do well to sit down and work out what have been their gains and losses because of using this organisation. For example, the MEK has not advanced the neoconservative agenda at all, instead because of its resort to violence it has benefited the conservatives of the Islamic Republic of Iran who use it to point out western double standards on terrorism. The MEK's achievements in relation to its proclaimed stance are nil. 
Can MEK be trusted? beneficial?
The MEK pretend to work as mercenaries to suit western backers but have in reality simply exploited loopholes and weaknesses in western political systems purely to promote themselves and, like parasites, find a niche to exist in for a while. The MEK have infiltrated parliaments and ministries and misused them. The rally in Paris on June 27th exploits the concept of 'freedom of speech' to promote a pretended political point of view. 
Given the MEK's very clear and public support for ISIS, the fallout from this rally will affect everyone. While Western leaders are in the same city promoting the formation of a united front (according to configurations best suited to themselves) to confront the terrorist group, by turning a blind eye to a rally held by ISIS supporters in Paris, all western governments, not just that of France, are implicated in tacit support for that terrorism.
A scene from a previous MEK rent-a-crowd rally in Villepinte
The Mojahedin Khalq (Rajavi cult) and Saddam's daughter support the Islamic State of Iraq and the Levant (ISIS)
(Izzat Ebrahim and Massoud Rajavi still at large)
Using cult leader Maryam Rajavi to derail nuclear talks backfirese
Introducing Maryam Rajavi as a human rights activist is the wrong tool for the wrong job
Also read:
Mojahedin Khalq Organization of Iran (Q & A-Excerpt from press release 26 June 2014)
The French Ministry of Foreign Affairs, Paris, June 27 2014: … France has no contact with the "People's Mujahedin Organization of Iran" which is known for its use of violence. It has no legal existence in France as an organization.  Its violent and undemocratic Ideology has been exposed by several human rights organizations, such as Amnesty International who have reported on …
Using cult leader Maryam Rajavi to derail nuclear talks backfires
Massoud Khodabandeh, Iranian.com, May 05 2014: … these anti-Iranian hardliners in the USA, headed by Rep. Ileana Ros-Lehtinen, already failed in a provocative bid to bring the Mojahedin Khalq's second-in-command Maryam Rajavi to the US to speak in Washington to coincide with the nuclear talks. Such a visit could have only one purpose; the hope that Iran would …
European Conservatives line up with Iranian hardliners (Stevenson, Vidal-Quadras)
Farideh Farhi, Lobelog, April 22 2014: … members (some of them with links to the exiled Iranian opposition group, the Mujahadeen-e-Khalq (MEK), such as Spanish EPP member Alejo Vidal-Quadras and British ECR member Struan Stevenson) proposed amendments deleting the call for an opening of the EU office in Tehran, fully in line with the position of their supposed enemies — Iranian hardliners …
European MEK Supporters Downplay ISIS Role in Iraq (aka Mojahedin Khalq, MKO, NCRI, Rajavi cult)
Eldar Mamedov, Lobelog, June 19 2014: … While the world watched in horror as jihadist extremists from the Islamic State of Iraq and Syria (ISIS) seized the Iraqi city of Mosul, some members of the European Parliament (MEPs) claimed that these actions were not carried out by ISIS, but were "part of a popular upris