MEK and al-Qaeda in Iran – USA standoff
Mohammad Sahimi, Anti War, November 22 2020:… In 2003 Iran proposed to the George W. Bush administration to exchange them with the leadership of the MEK, a cult-like group based in Iraq that opposed the government in Tehran and until 2012 was listed by the State Department as a terrorist organization. Because of its collaboration with the Saddam Hussein regime during Iran-Iraq war, the MEK is universally despised by Iranians. In 2003 the MEK leadership was being protected by the US forces in Iraq after the Bush administration invaded and occupied Iraq in 2003. MEK and al-Qaeda in Iran – USA standoff 
How do you explain this to the families of over 4000 US servicemen Killed in Iraq?
MEK and al-Qaeda in Iran – USA standoff
Killing al-Qaeda's No. 2 Man Multiple Times and Using the IAEA Report as Excuse for Attacking Iran
Two recent reports are serious warnings to those who oppose the United States endless wars in the Middle East. The reports indicate that although President Trump has lost the elections, his efforts against Iran are continuing, and that he may be looking for an excuse to attack Iran in the last few weeks of his Presidency.
First, the New York Times reported on November 13 that Israeli agents assassinated Abdullah Ahmed Abdullah, whose nom de guerre is Abu Muhammad al-Masri, and was supposedly "al-Qaeda's No. 2 man." The assassination supposedly took place in an affluent neighborhood of Tehran on August 7, on the 22nd anniversary of the terrorist attacks on U.S. embassies in Kenya and Tanzania on 7 August 1998 that killed 224 people and injured hundreds more. Al-Masri had been accused of masterminding the attacks. According to the report, al-Masri's daughter, Miriam was also killed. Iran denied the report.
The report surprised many, including this author, who follow the political developments in Iran and the Middle East. It has been known ever since the United States invaded and occupied Afghanistan in the fall of 2001 that a number of al-Qaeda operatives and even high-ranking officials, including relatives of Osama bin Laden, had escaped to Iran, had been arrested there, and had been either jailed or were kept under house arrest. In 2003 Iran proposed to the George W. Bush administration to exchange them with the leadership of the MEK, a cult-like group based in Iraq that opposed the government in Tehran and until 2012 was listed by the State Department as a terrorist organization. Because of its collaboration with the Saddam Hussein regime during Iran-Iraq war, the MEK is universally despised by Iranians. In 2003 the MEK leadership was being protected by the US forces in Iraq after the Bush administration invaded and occupied Iraq in 2003.
But the Bush administration rejected the offer, because the Iran hawks wanted, and still wish, to use the MEK against the regime in Tehran. Thus, gradually, Iran either deported al-Qaeda's members to their country of origin, or exchanged them with al-Qaeda in order to free some Iranian diplomats that had been taken hostage by the terrorist group. One such exchange occurred in September 2015. Iran released five senior members of al-Qaeda and sent them to Yemen, and in return al-Qaeda in Yemen released Iranian diplomat Nour Ahmad Nikbakht, who had been taken hostage in 2013. One of the five senior al-Qaeda members, as reported by none other than the New York Times, was Abu Mohamed al-Misri, the same "No. 2 al-Qaeda" who was supposedly assassinated by Israel's Mossad last August in Tehran.
The fact that Al-Masri was swapped in 2015 was even reported approvingly on the website of Long War Journals, affiliated with the Foundation for Defense of Democracies (FDD), a well-funded, stridently pro-Israel lobby that opposed the nuclear agreement with Tehran known as the JCPOA, and has long promoted waging economic warfare against Iran. So, if al-Masri was returned to al-Qaeda, how did he return to Tehran, and lived there quietly and comfortably until he was killed? This defies any logic.
More importantly, why would Iran allow al-Qaeda figures to operate freely in Iran, contribute to its leadership's decisions, and cooperate with the very same groups that Iran has been fighting against in Syria in support of the Syrian government, particularly the two main terrorist groups, the al-Nusra Front, the Syrian branch of al-Qaeda, and Hay'at Tahrir al-Sham, the groups that fought with the Syrian government for years, and are now in the Idlib province of Syria, trying to make a last stand against the Syrian army and its allies that are attempting to dislodge them?
Camp Ashraf 3 Albania . MEK , ISIS , Al Qaeda Joint Terrorist Training Camp 
But the strange story does not end here. On 24 October 2020 Afghanistan's National Directorate of Security announced that Abu Muhsin al-Masri, "Al-Qaeda's No. 2 man," who had been living in Afghanistan, had been killed by its forces. The Los Angeles Times on October 25 and Voice of America on October 26 reported the same, an event that was even celebrated in a twit by the White House National Security Council. Even Afghanistan's President Ashraf Ghani celebrated the killing of al-Masri. Similar to the "other" al-Masri reported by the New York Times, this one is also Egyptian and was 58 when killed. Are the two the same, or they are two men using the same aliases? Afghanistan's officials believe they are the same. In fact, after the New York Times report, Mirwais Nab, Deputy Foreign Minister of Afghanistan who was visiting Tehran, rejected the Times report and declared that "al-Qaeda No. 2 man" had been killed in Afghanistan, not Tehran.
Could it be that al-Masri had been killed in Afghanistan, but Israel's Mossad deceived the New Times' reporters and made them believe that he had been killed in Tehran, in order to provoke an attack by the United States on Iran?
Killing "al-Qaeda's No. 2 man" by the US or its allies is an old story, as US officials have been claiming the same for nearly a decade. CNN reported in June 2012 that Abu Yahya al-Libi, another "al-Qaeda No. 2 man" was killed in Pakistan. Exactly three years later CNN reported that Nasser al-Wuhayshi, "al-Qaeda's second-in-command" had been killed in Yemen. Then, it was reported that another al-Masri and, of course, "al-Qaeda's No. 2 man," Abu al-Khayr al-Masri, had been killed in Syria. He was one of the five operatives whom Iran had exchanged with al-Qaeda in Yemen in 2015.
But, the strangest aspect of the New York Times report is its claim that US officials have been silent about the supposed killing in Tehran. Secretary of State Mike Pompeo, a Christian Zionist ideologue and an ardent supporter of Israel, has an insatiable urge to confront Iran and, if he can, start a war with that nation. As the CIA Director Pompeo released the Agency's documents taken from Osama bin Laden's hideout in Pakistan, but gave advanced copies to the FDD. Pompeo had presumably hoped that the FDD would uncover evidence linking Iran directly to al-Qaeda (much as the George W. Bush administration struggled to link Saddam Hussein to Al Qaeda nearly 20 years ago), so that the 2002 Authorization for use of Military Force in the so-called war on terrorism could be invoked against Iran. The FDD obliged and published a report. But the evidence for such a link that it adduced from the documents was so weak that it was almost entirely ignored by lawmakers and major media alike.
Pompeo also worked with Israeli Prime Minister Benjamin Netanyahu to organize a conference in Poland in February 2019, ostensibly about the Middle East, but clearly targeting Iran. When, in June 2019, Iran shot down a US drone that it claimed had violated its airspace in the Persian Gulf. Pompeo pushed hard for retaliatory military attacks on Iran, but Trump rejected his urgings. When precision missile and drone attacks, attributed by Washington to Iran, on Saudi Aramco's oil facilities, heavily damaging the facilities and rendering the Saudi's MIM-104 Patriot defense system useless. Pompeo called the attacks "an act of war" on Iran's part.
So, one would expect Pompeo to have a field day, if "al-Qaeda's No. 2 man" was found living quietly and comfortably in Tehran, and assassinated by Israel. This would be the "smoking gun" that he has been looking for: a definitive link between the terrorist group, whose leaders have always hated the Shiites, and the Shiite Iran, so that he can "justify" military strikes on Iran. So, why has Pompeo been silent? It simply defies logic and what is known about Pompeo and his hatred of Iran and Iranians.
The second report by the New York Times is just as alarming. It reported on Monday November 16 that President Trump met with his advisers on Thursday November 12 to discuss his options for attacking Iran. This was supposedly provoked by the latest report of the International Atomic Energy Agency, which indicated that Iran had 2442.9 kilogram of low-enriched uranium [all enriched below 5 percent], which is 12 times larger than what the 200 kilogram that the JCPOA allowed Iran to store within the country.
What is not mentioned is that, first, Iran had much larger amounts of low-enriched uranium right before the JCPOA was signed, but exported 97 percent of it to Russia after JCPOA, and, second, Iran exercised strategic patience between May 2018, when President Trump pulled the United States out of the JCPOA and imposed illegal, immoral, and sadistic economic sanctions on Iran, and June 2019 when Iran began distancing itself from the JCPOA, precisely according to the agreement that allows Iran not to deliver on its obligations, if one or all other parties to the agreement did not deliver their part of the agreement either.
Why does the President want to attack Iran, even though he is supposedly antiwar and an isolationist? The answer is clear: aside from his desire to completely destroy the JCPOA in order to make it impossible for President-Elect Joe Biden to begin negotiating with Iran again, Trump is trying to keep pleasing the Zionist billionaires who have supported him over the past four years, funding his elections. This will not only help his business ventures and those of his family members, particularly Jared Kushner, after his Presidency is over, it will also be useful to him if he or a family member decides to run in 2024. That pleasing his Israel's supporters means more suffering for the people of Iran and the Middle East does not matter to Trump. The only thing important to Trump is Trump.
Muhammad Sahimi is a Professor at the University of Southern California in Los Angeles.
MEK and al-Qaeda in Iran – USA standoff
***
Who celebrated the terrorist act of Sep. 11?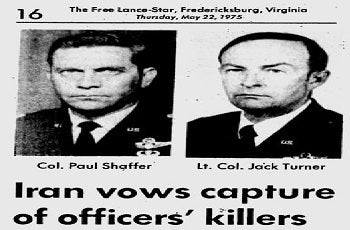 The MEK's dirty past includes the anti-Imperialist inspired murder of six Americans in pre-revolution Iran which it later celebrated in songs and publications
Also read:
https://iran-interlink.org/wordpress/mek-isis-al-qaeda-employing-terrorists/
MEK ISIS Al-Qaeda . Employing Terrorists 
Nejat Society, September 15 2019:… For the past decades, the Middle East has been a fertile ground for proxy wars. However, Iran has almost always been a secure land in the heart of this chaotic region despite the fact that several dissident and separatist groups oppose the Iranian government. The Mujahedin Khalq Organization (the MKO/ MEK/ PMOI/ Cult of Rajavi) is one of these dissident groups with a long background of terrorist acts against Iranian nation. MEK ISIS Al-Qaeda . Employing Terrorists  
Camp Ashraf 3 Albania . MEK , ISIS , Al Qaeda Joint Terrorist Training Camp 
MEK ISIS Al-Qaeda . Employing Terrorists
For the past decades, the Middle East has been a fertile ground for proxy wars. However, Iran has almost always been a secure land in the heart of this chaotic region despite the fact that several dissident and separatist groups oppose the Iranian government. The Mujahedin Khalq Organization (the MKO/ MEK/ PMOI/ Cult of Rajavi) is one of these dissident groups with a long background of terrorist acts against Iranian nation.
The Group was once in the safe haven donated to them by Saddam Hussein who funded and supported them against Iran for about two decades. After the fall of Saddam, the MEK turned into the proxy force for the West, particularly the US and Israel, although it was listed as a "foreign terrorist organization by the US State Department until 2012.
The group is widely despised by the Iranians due to its violent history and its alliance with the fighting enemy of Iran Saddam Hussein. Jonathan Broder of Newsweek presents the most recent account on the MEK's past and present.
"Many independent scholars say the MEK's alliance with Saddam in that long and bloody war turned the group into traitors in the eyes of most Iranians," he writes. "In the 1990s, the Rajavis instituted a number of cult-like measures to prevent defections. According to a 2005 Human Rights Watch report based on interviews with several defectors, members were required, among other things, to divorce their spouses and send their children abroad for adoption, lest family obligations divert their attention from the struggle against the Islamic Republic." [1]
Some suggest that the MEK was delisted by the then Secretary of State Hillary Clinton to "pave the way for the evacuation of Camp Ashraf's MEK members to Albania". [2]
Border doubts the assertion asking "But had anything really changed?". He finds the answer in what Daniel Benjamin, the State Department coordinator for counterterrorism at the time, told Newsweek. According to Benjamin, the delisting was done "at the discretion of the secretary out of humanitarian concern because no country would take them otherwise, and not because of any changed thinking within the MEK." [3]
Richard Black a Republican member of the Virginia State Senate clarifies the case of the MEK in Iran compared with the most notorious proxy forces in the region including ISIS and Al Qaeda. Asked about the possibility that the MEK openly takes in Iran the place that ISIS has had in Syria, giving way to a bloodbath in the Islamic Republic as well. "That is a distinct possibility," he answered. "However, Iran is a cohesive, unified nation. Despite their internal political disagreements, Iranians are patriotic and even its dissidents are generally unwilling to undermine the unity of the nation. For that reason, I do not believe the MEK will find fertile ground to grow like ISIS did in the deserts of Iraq and Syria."[4]
"Nevertheless, the West has decided to employ MEK-led terrorists to overthrow the duly-elected government of Iran," he continued. "The Ashraf-3 base has just opened in Albania. Its purpose is to coordinate terrorist training, logistics and military action against Iran. The Ashraf-3 facility will be used to plan the infiltration and destabilization of Iran. It may use both MEK terrorists and battle-hardened ISIS and al Qaeda troops who are moved there from Iraq and Syria. The massive Ashraf-3 base is a complete city. It has parks, shopping centers, conference centers, and a luxury hotel. The heavily-guarded facility will be home to 3,000 MEK terrorists and families. If MEK succeeds in toppling Iran, Maryam Rajavi has already been designated as its first interim president. The United States designated the MEK as a terrorist organization in 1997. However, the push to overthrow seven Middle Eastern countries (including Iran) began to move forward rapidly in 2011 with the invasion of Libya. MEK was removed for the list of terrorist organizations in 2012 in order to bring about a violent regime change in Iran."[5]
Senator Black believes that employing what he calls "terror weapon" — terrorist groups like MEK and Al Qaeda—has not been fruitful for the West. "The CIA fielded a quarter-million-man army of terrorists against the Soviet Union in Afghanistan, he said. "Saudi Arabia built a vast system of madrassas to indoctrinate youth in Wahabism, a remarkably murderous version of Islam. Although CIA's jihadists did defeat the Soviets, they also gave birth to al Qaeda, which attacked the U.S. on 9-11 and went on to spread terror across the globe. Every time the West and its Gulf State allies use terrorists to overthrow governments, the results are disastrous." [6]
The US-Israel alliance must know that proxy forces may run their ambitions in certain divided communities with its entire disasrous results but the MEK will not thrive to achieve its anti-national goals in Iran. The MEK is the one that is so hated by Iranian public opinion that it can never accomplish their regime change agenda in Iran, even if it launches the most violent acts of terror – as it has an extensive experience in them.
Mazda Parsi
References:
[1] Broder, Jonathan, Iran's Opposition Groups are Preparing for the Regime's Collapse. Is Anyone Ready?, Newsweek Magazine, August 27th, 2019.
[2] ibid
[3] ibid
[4] Ceoldo, Costantino, Richard Black speaks about Syria (and not only), Opinion.com, August 25th, 2019.
[5] ibid
[6] ibid
MEK ISIS Al-Qaeda . Employing Terrorists
***
Also read:
 2020/09/27
Iran Interlink, September 27 2020:… In this case, a report about the massacre containing flawed information, created by AI's Iran Department has been repeatedly published over many years without correction. This report was recently amplified by Radio Farda in English, but the bigger problem lies in the Farsi sphere. On several occasions this report has been used as the basis… MEK and al-Qaeda in Iran – USA standoff
---
 2019/10/17
Muhammad Sahimi, Lobe Log, October 17 2019:… The meeting was, however, dominated by the Mojahedin-e-Khalq (MEK), a group that until 2011 was listed by the U.S. State Department as a terrorist organization and is despised by all Iranians due to its alliance with the regime of Saddam Hussein during the Iran-Iraq War and other acts viewed by virtually all Iranians… MEK and al-Qaeda in Iran – USA standoff
---
 2019/02/07
Muhammad Sahimi, Lobe Log, February 07 2019:… According to documents filed online by the National Council of Resistance of Iran (NCRI), the political arm of the MEK, Uskowi has repeatedly met with NCRI's Alireza Jafarzadeh. Iranians consider Jafarzadeh the "foreign minister" of the MEK leader, Maryam Rajavi. Bolton and Trump's personal attorney, Rudy Giuliani, have been long-time lobbyists for the MEK, receiving large fees for their lobby… MEK and al-Qaeda in Iran – USA standoff
---
 2018/08/13
Mohammad Sahimi, Anti War, August 13 2018:…  Rudy Giuliani, the President's attorney, and John Bolton, Trump's national security adviser, have both been paid lobbyists for the MEK, the exiled opposition group that is universally hated by the Iranian people for collaborating with the regime of Saddam Hussein during the Iran-Iraq war; was listed up until 2011 by the State Department as a… MEK and al-Qaeda in Iran – USA standoff
---
 2018/07/26
Muhammad Sahimi, Anti War, July 26 2018:… Those who attended were mostly supporters of "regime change" in Iran by imperialist military intervention: old monarchists who still dream of going back to power in Iran; supporters of the MEK, the opposition organization that is universally hated by the Iranian people due to the many treasons committed by it, an organization that up… MEK and al-Qaeda in Iran – USA standoff
---
 2017/10/02
Muhammad Sahimi, Anti War, October 02 2017:… For years Bolton has been advocating bombingIran's nuclear facilities, either by Israel, the US, or both. He is also a lobbyist for Mujahedin-e Khalgh Organization (MEK, also known as MOK), an Iranian opposition group that for years was listed by the State Department as a terrorist organization, and is universally despised by the Iranian people …  Mojahed… MEK and al-Qaeda in Iran – USA standoff
---
 2017/06/08
Muhammad Sahimi, Anti War, June 08 2017:… Iran has long been a victim of terrorism. In the 1980s the Mujahidin-e Khalgh Organization, usually referred to as the MEK or MKO, murdered up to 17000 people in Iran. Even the United States listed the MEK as a terrorist organization for well over a decade. The Baluchi terrorist group Jundallah staged several terrorist… MEK and al-Qaeda in Iran – USA standoff
---
 2015/07/04
Muhammad Sahimi, Anti War, July 04 2015:… In advancing this narrative, Netanyahu has been helped by the Mujahedin-e Khalgh Organization (MEK, also known as MKO) and its lobby in the United States. The MEK is an Iranian armed opposition cult that sided with Saddam Hussein during the Iran-Iraq war of the 1980s, and acted as his internal … Massoud Khodabandeh:… MEK and al-Qaeda in Iran – USA standoff