MKO MEK Mojahedin Khalq in US lobbies
Iran Front Page News, June 05 2019:… The MKO terrorist organisation is a militant and political group that teaches suicide attacks, and in the past have committed self-immolation, and even held demonstrations in front of international bodies to disrupt Iran's relations with other countries. The MKO terrorist organisation is spreading Iranophobia by making inroads on certain lobby groups inside the US administration. MKO MEK Mojahedin Khalq in US lobbies 
Bolton's Alternative is M.E.K. Mujahedeen Khalq
MKO MEK Mojahedin Khalq in US lobbies
Anti-Iran Terrorists Making Inroads into US Lobby Groups
The MKO terrorist organisation is spreading Iranophobia by making inroads on certain lobby groups inside the US administration, an Iranian newspaper says, warning US President Donald Trump about consequences of being influenced by such groups.
The MKO terrorist organisation is a militant and political group that teaches suicide attacks, and in the past have committed self-immolation, and even held demonstrations in front of international bodies to disrupt Iran's relations with other countries.
Now, such opportunities in the present situation in the region are used to create conflicts and unwanted battles between Iran, the United States and other countries of the region. They want to turn this into a battlefield to topple what they called the "Iranian regime" to secure their own interests.
Editor-in-chief of Etemad newspaper's online website, Mojtaba Hosseini, has in a recent piece argued that the terrorist group, which Iran says has killed over 17,000 people so far, is using lobby groups inside the US administration to trigger a war against Iran.
Here is the full text of the article by Hosseini:
The conditions of the region and the constant developments, as well as the publication of controversial news by global sponsors has made the issue very complicated and strange. In order to understand what is going on in the wake of all these developments and conflicts, it is enough to evaluate and analyse the publication of the news by the media networks affiliated with world powers.
The New York Times' news of deployment of 120,000 US troops to the region in May, which was widely covered by US, European, Arab, domestic and Persian-speaking media abroad, was among the news that were basically fake. However, this fake news was immediately published by Reuters, Voice of America and the French Radio to fan the flames of war against Iran.
The coverage of a fake news by the American, European, Arabic and Persian-language media continued until Donald Trump explicitly announced the news of the deployment of 120,000 US troops to the region was false.
The monitoring of such news and information in the current situation clearly shows that there are active elements with a specific strategy in these media who are after turning these domestic and foreign news agencies into their own news station.
The management of information and media alerts is carried out in an organised way by the United States, Israel and the neighbouring countries of the region against Iran.
This suggests that an intelligence unit opposed to regional security and the national interests of Iran and the United States, which considers itself to be a rival to the United States and the party which wants to overthrow the current ruling body of Iran, is carrying out destructive operations.
The actions of terrorist militants in sabotage operations against UAE ships and Katyusha attack near the US embassy in Baghdad were steps to wage a war between Iran, the United States and the countries of the region; a war to lead to downfall of the Islamic Republic.
The MKO terrorist organisation is the main culprit behind such actions. They are a militant and political group who teach suicide attacks, and in the past they have committed self-immolation, and even held demonstrations in front of international bodies to disrupt Iran's relations with other countries.
At the moment, such events in the present situation in the region are used to create conflicts and unwanted battles between Iran, the United States and other countries of the region. They want to turn this region into a battlefield to topple the so-called "regime" of Iran to achieve their own interests.
If the Americans want to resolve their problems with Iran, first, it is better to resolve their problems with their international rivals without putting Iran in the middle of the story. Secondly, in order to better understand the conditions in Iran, it is necessary to close the file of such groups as the MKO. At the same time the Americans must look at them as a threat that challenge their security and intelligence.
The MKO's sabotage, espionage, and intelligence services are not exclusive to Americans; they have done the same for states like France.
Accordingly, it's enough for the Americans to read a little bit of history and recall how once they were the target of their number-one source of information:
Eavesdropping at US embassy
Assassination of US military personnel, such as Colonel Hawkins, Colonel Turner, Donald J. Smith, Robert R. Krongrad and William C.
Explosion of bombs at more than a dozen sites throughout Tehran, including the Iran-America Society, the offices of Pepsi Cola, General Motors, Pan-American Airlines, and Shell Oil Company
Attack on the US Embassy before the embassy takeover by revolutionary students
Cooperation with KGB in the case of Major General Moqqarebi
Of course, the anti-US measures of the organisation are not only these five cases. They even asked for the interrogation of US embassy personnel in 1979. However, their request was turned down by the Revolution Council. The organisation also called for extradition of the Shah, cutting off of relations with US imperialism, stopping the export of oil to the United States, and abolishing all political-economic and military agreements with the United States. It also disclosed the CIA and SAVAK spy networks in Iran, and stressed that outright anti-authoritarian and anti-imperialist policy must be mentioned in the constitution.
Americans should answer the following questions: why the MKO, which is currently playing the role of the intelligence agent of the B-Team, even after leaving Iran did not seek shelter in the US, and instead chose France as their command centre to launch campaign against the Islamic Republic?
Don't the Americans know the MKO has initiated an uninterrupted communication with representatives of the socialist and communist parties of Europe, at the same time, to secure their political life to find a way to gain power in Iran through the world powers?
Have the US authorities forgotten that when the MKO returned to France, Masoud Rajavi and other leaders of the organisation did not withdraw from their anti-American positions and uttered swearwords against US Ambassador William Sullivan who condemned the assassination of Ayatollah Beheshti?
Have the Americans been able to understand the root cause of the total change of organisation's approach towards Washington? Is it possible that the Americans have not understood the reality of the war between Iran and Iraq and the loss of the organisation's assassination machine in the Mersad Operation was the main reason for Masoud Rajavi change of mind and the MKO's anti-imperialist and anti-American slogans?
If the Americans read a little bit about Iran's recent history, it will be well known that the MKO, based on its mission in Europe, apparently put aside its leftist approach and became a friend of the United States. The organisation's strategy with this goal was launched and the new values of the organisation were announced by its leadership: "We as a revolutionary force benefited from the conflict between imperialism and the reactionary (Islamic Republic) to achieve power!"
The funny point was that the leadership of the organisation had already said to its members and sympathisers that the Islamic Republic should be destroyed to eliminate imperialism. But then argued that to destroy the Iranian 'regime' they must get help from imperialism!
Although the Americans did not immediately accept the organisation's change of approach, but eventually some Republican senators, who had good connections with the French Social Democrats, propagated this argument that "the enemy of my enemy is my friend," and therefore the MKO, which was on the list of US terrorist groups, was supported and used by Americans as one of its service providers. The presence of figures such as John Bolton and Rudy Giuliani at the annual MKO conferences was in line with such a policy.
The MKO, by paying money to people like Bolton and Giuliani, is making inroads in the US Congress and State Department, spreading Iranophobia by fabricating news. They are also trying to impose themselves on Americans as a powerful, efficient organisation and an alternative to the Islamic Republic.
Undoubtedly, the ruling administration of the United States, especially the White House, is subject to great deception. This great deception can be seen from the very moment that the organisation and Maryam Rajavi condemned Trump's decision to relocate the US embassy to Jerusalem. The organisation's opposition to Trump's decision was in line with France's interests, and perhaps this behaviour implies that the MKO still gets its main services from countries such as France, which, for historical reasons, still defines Palestine in its sphere of influence.
If Trump pays attention to the statements of Iran's Leader on July 30, 2018, in which he named France and Britain as the parties receiving the organisation's services, he will understand that the MKO terrorist organisation has provided more services for the US international rivals including French and European socialists rather than the US itself.
This may be enough to let Trump know that his foreign policy body with people like John Bolton is playing in MKO's court.
MKO MEK Mojahedin Khalq in US lobbies
***
Also read:
https://iran-interlink.org/wordpress/more-americans-will-be-killed-for-the-cause-of-mek-bolton/
More Americans will be killed for the cause of MEK Bolton
Robert Aziz, Concord Monitor, May 26 2019:… For over a decade Bolton has been a well-paid supporter of the Mujahideen-e Khalq (MeK), a cultish Iranian terrorist organization that had first opposed the shah. MeK is responsible for the killing of six Americans in Iran, and it enthusiastically supported the seizure of the American embassy in Tehran before changing alliances and opposing the ayatollahs. More Americans will be killed for the cause of MEK Bolton MKO MEK Mojahedin Khalq 
How do you explain this to the families of over 4000 US servicemen Killed in Iraq?
More Americans will be killed for the cause of MEK Bolton
Robert Azzi: Beware the Gulf of Tonkin, WMDs, Straits of Hormuz
In August 1964, Congress passed the Gulf of Tonkin Resolution, authorizing President Lyndon Johnson to "take all necessary measures to repel any armed attack against the forces of the United States and to prevent further aggression" by the North Vietnamese.
The resolution, passed at Johnson's insistence, was inspired by two alleged attacks on American destroyers by North Vietnamese patrol boats, turned out to be only partly true.
Navy Cmdr. James Stockdale, who was flying recognizance over the Gulf at the time, doubted whether the second attack ever happened: "Our destroyers were just shooting at phantom targets. … There were no (North Vietnamese) boats there … nothing there but black water and American firepower."
History proved Stockdale correct: The resolution was a deadly fraud perpetrated by Johnson; by 1975, at war's end, 58,318 American troops, 250,000 South Vietnamese troops, over 1 million Viet Cong and North Vietnamese fighters, and more than 2 million Vietnamese civilians had died.
Beware.
In October 2002, Congress, fueled by false claims that Iraq's Saddam Hussein had weapons of mass destruction (WMDs), passed the Authorization for Use of Military Force Against Iraq Resolution of 2002, authorizing President George W. Bush the use of American force against Iraq.
It, too, was based on manipulated and flawed intelligence assessments.
Donald Trump's national security adviser, John Bolton, and Israel's Bibi Netanyahu were two of the leading cheerleaders for that war – a war that broke the Middle East for generations, awarded Iran hegemony over the Persian Gulf, and precipitated the rise of al-Qaida in Iraq and ISIS.
That war killed almost 4,500 and wounded 32,000 American troops, It killed 100,000 Iraqis and displaced millions. It added $3 trillion to America's national debt.
Beware.
Today, I fear that yet another American president will again manipulate circumstances and the media into believing that an attack is both necessary and imminent, this time on Iran.
Beware.
Once known as Persia, Iran's a proud nation with a history that spans over two millennia. Any attack on its sovereignty and 81 million people will galvanize most Iranians – regardless of how they might feel about its government – in solidarity and further destabilize the entire region.
In solidarity, Iranians remember well a 1953 challenge to its sovereignty when America, serving colonial interests, overthrew its democratically elected prime minister, Mohammad Mossadegh, and installed the shah.
Beware.
Iran controls access to the Straits of Hormuz, a narrow passageway into the Persian Gulf and any disruption there could cause global economic upheaval and a strategic challenge for thousands of American military personnel deployed in the Gulf.
Trump – fueled by his personal animus of President Barack Obama and opposed to anything Obama accomplished – by choosing to unilaterally violate the Joint Comprehensive Plan of Action (JCPOA) not only undid one of the most significant arms control agreements of our time but chose to align himself against Iran, in possible military conflict, with the current leaders of Israel, Saudi Arabia, Egypt and the Emirates.
With allies like those, who needs enemies?
Secretary of State Mike Pompeo, in support of that agenda, is today trying to convince the world that a strategic alliance exists between Sunni al-Qaida (which took credit for a 2017 attack on Iran's parliament building and Ayatollah Ruhollah Khomeini's tomb) and Shia Iran – a laughable intellectual exercise and contradicted by numerous intelligence agencies.
Beware.
For over a decade Bolton has been a well-paid supporter of the Mujahideen-e Khalq (MeK), a cultish Iranian terrorist organization that had first opposed the shah. MeK is responsible for the killing of six Americans in Iran, and it enthusiastically supported the seizure of the American embassy in Tehran before changing alliances and opposing the ayatollahs.
Consistent with MeK policy, John Bolton wrote in the Wall Street Journal in 2018 that American policy should be regime change and "ending Iran's 1979 Islamic Revolution before its 40th anniversary."
"Recognizing a new Iranian regime in 2019," he wrote, "would reverse the shame of once seeing our diplomats held hostage for 444 days."
Shame?
Shame is to dishonor diplomats. Shame is to put more American troops in harm's way under false circumstances.
Shame is to deploy Americans to settle personal grievances.
There is much in Iran's behavior – particularly its support of Hamas and Hezbollah – that needs to be confronted and moderated; moderated by negotiation in conjunction with our allies. JCPOA was designed to limit Iran's nuclear program – and it worked.
Whatever "malign" behavior Iran engages in – whatever suppression of dissent, women's rights, minorities, artists and homosexuals it engages in – should certainly be confronted, but not by recklessly placing Americans in harm's way.
Trump's confrontation with Iran evokes memories of President George W. Bush's false assertions that al-Qaida had links to Iraq, suggesting even that bin Laden and Saddam Hussein might have cooperated in planning 9/11.
Bush's illegal 2003 invasion of Iraq – a war of choice I vociferously feared and opposed – predictably fractured the Middle East, exacerbated sectarian tensions and provoked a rise in chaos, violence and terror that continues to this day.
Beware.
America is still deeply embedded in Afghanistan and Iraq, still supporting Saudi Arabia's genocide against Yemen, still failing to hold Saudi Crown Prince Muhammad bin Salman accountable for the assassination of journalist Jamal Khashoggi.
Trump's America is increasingly distant from its professed values. Today we face, as Vali Nasr, dean of the Johns Hopkins School of Advanced International Studies, recently said "a crisis that has entirely been manufactured by the Trump administration."
This Memorial Day, as America remembers and honors those who have died while serving in the U.S. Armed Forces, let us pray and resolve to impress upon our leaders that no life should be sacrificed in vain, no life lost because of the false vanities of leaders, tyrants and autocrats, no crisis created that jeopardizes justice and peace.
(Robert Azzi, a photographer and writer who lives in Exeter, can be reached at theother.azzi@gmail.com. His columns are archived at theotherazzi.wordpress.com.)
MKO MEK Mojahedin Khalq
(End)
*** 
The MEK's dirty past includes the anti-Imperialist inspired murder of six Americans in pre-revolution Iran which it later celebrated in songs and publications
The Enemy of My Enemy is NOT Always My Friend…
link to one of the Mojahedin Khalq songs
advocating terror and killing Americans
(In Persian written and distributed after the Iranian Revolution)
*** 
Also read:
https://iran-interlink.org/wordpress/terrorists-cultists-or-champions-of-iranian-democracy-the-wild-wild-story-of-the-mek/
Terrorists, cultists – or champions of Iranian democracy? The wild wild story of the MKO MEK Mojahedin Khalq
Arron Merat, The Guardian, London, 09 november 2018:… When we spoke recently, Soltani accused Maryam Rajavi of helping Massoud to abuse female MEK members over the years. "[Massoud] Rajavi thought that the only achilles heel [for female fighters] was the opposite sex," Soltani told me. "He would say that the only reason you women would leave me is a man. So, I want all of your hearts." Soltani, who was one of three women to speak … 
Sir David Amess MP, paid head lobby for Mojahedin khalq terrorists
(aka Maryam Rajavi cult, MKO, MEK, Saddam's private army)
in British Parliament
Terrorists, cultists – or champions of Iranian democracy? The wild wild story of the MKO MEK Mojahedin Khalq
Maryam Rajavi in Tirana, Albania in September 2017. Photograph: NurPhoto via Getty
They fought for the Iranian revolution – and then for Saddam Hussein. The US and UK once condemned them. But now their opposition to Tehran has made them favourites of Trump White House hardliners.
By Arron Merat
Mostafa and Robabe Mohammadi came to Albania to rescue their daughter. But in Tirana, the capital, the middle-aged couple have been followed everywhere by two Albanian intelligence agents. Men in sunglasses trailed them from their hotel on George W Bush Road to their lawyer's office; from the lawyer's office to the ministry of internal affairs; and from the ministry back to the hotel.
The Mohammadis say their daughter, Somayeh, is being held against her will by a fringe Iranian revolutionary group that has been exiled to Albania, known as the People's Mujahedin of Iran, or MEK (Mujahedin-e Khalq). Widely regarded as a cult, the MEK was once designated as a terrorist organisation by the US and UK, but its opposition to the Iranian government has now earned it the support of powerful hawks in the Trump administration, including national security adviser John Bolton and the secretary of state, Mike Pompeo.
Somayeh Mohammadi is one of about 2,300 members of the MEK living inside a heavily fortified base that has been built on 34 hectares of farmland in north-west Albania. Her parents, who were once supporters of the group, say that 21 years ago, Somayeh flew to Iraq to attend a summer camp and to visit her maternal aunt's grave. She never came back.
The couple have spent the past two decades trying to get their daughter out of the MEK, travelling from their home in Canada to Paris, Jordan, Iraq and now Albania. "We are not against any group or any country," Mostafa said, sitting outside a meatball restaurant in central Tirana. "We just want to see our daughter outside the camp and without her commanders. She can choose to stay or she can choose to come home with us." The MEK insists Somayeh does not wish to leave the camp, and has released a letter in which she accuses her father of working for Iranian intelligence.
"Somayeh is a shy girl," her mother said. "They threaten people like her. She wants to leave but she is scared that they will kill her."
Since its exile from Iran in the early 1980s, the MEK has been committed to the overthrow of the Islamic republic. But it began in the 1960s as an Islamist-Marxist student militia, which played a decisive role in helping to topple the Shah during the 1979 Iranian revolution.
Anti-capitalist, anti-imperialist and anti-American, MEK fighters killed scores of the Shah's police in often suicidal street battles during the 1970s. The group targeted US-owned hotels, airlines and oil companies, and was responsible for the deaths of six Americans in Iran. "Death to America by blood and bonfire on the lips of every Muslim is the cry of the Iranian people," went one of its most famous songs. "May America be annihilated."
Such attacks helped pave the way for the return of the exiled Ayatollah Ruhollah Khomeini, who quickly identified the MEK as a serious threat to his plan to turn Iran into an Islamic republic under the control of the clergy. The well-armed middle-class guerrillas, although popular among religious students and intellectuals, would prove to be no match for Khomeini's organisation and ruthlessness.
Following the revolution, Khomeini used the security services, the courts and the media to choke off the MEK's political support and then crush it entirely. After it fought back, killing more than 70 senior leaders of the Islamic republic – including the president and Iran's chief justice – in audacious bomb attacks, Khomeini ordered a violent crackdown on MKO MEK Mojahedin Khalq members and sympathisers. The survivors fled the country.
Saddam Hussein, who was fighting a bloody war against Iran with the backing of the UK and the US, saw an opportunity to deploy the exiled MEK fighters against the Islamic republic. In 1986, he offered the group weapons, cash and a vast military base named Camp Ashraf, only 50 miles from the border with Iran.
For almost two decades, under their embittered leader Massoud Rajavi, the MEK staged attacks against civilian and military targets across the border in Iran and helped Saddam suppress his own domestic enemies. But after siding with Saddam – who indiscriminately bombed Iranian cities and routinely used chemical weapons in a war that cost a million lives – the MEK lost nearly all the support it had retained inside Iran. Members were now widely regarded as traitors.
Isolated inside its Iraqi base, under Rajavi's tightening grip, the MEK became cult-like. A report commissioned by the US government, based on interviews within Camp Ashraf, later concluded that the MKO MEK Mojahedin Khalq had "many of the typical characteristics of a cult, such as authoritarian control, confiscation of assets, sexual control (including mandatory divorce and celibacy), emotional isolation, forced labour, sleep deprivation, physical abuse and limited exit options".
After the US invasion of Iraq, the MEK launched a lavish lobbying campaignto reverse its designation as a terrorist organisation – despite reports implicating the group in assassinations of Iranian nuclear scientists as recently as 2012. Rajavi has not been seen since 2003 – most analysts assume he is dead – but under the leadership of his wife, Maryam Rajavi, the MEK has won considerable support from sections of the US and European right, eager for allies in the fight against Tehran.
In 2009, the UK delisted the MEK as a terror group. The Obama administration removed the group from the US terror list in 2012, and later helped negotiate its relocation to Albania.
At the annual "Free Iran" conference that the group stages in Paris each summer, dozens of elected US and UK representatives – along with retired politicians and military officials – openly call for the overthrow of the Islamic republic and the installation of Maryam Rajavi as the leader of Iran. At last year's Paris rally, the Conservative MP David Amess announced that "regime change … is at long last within our grasp". At the same event, Bolton – who championed war with Iran long before he joined the Trump administration – announced that he expected the MEK to be in power in Tehran before 2019. "The behaviour and the objectives of the regime are not going to change and, therefore, the only solution is to change the regime itself," he declared.
The main attraction at this year's Paris conference was another longtime MEK supporter, former New York mayor Rudy Giuliani, now Donald Trump's lawyer. "The mullahs must go. The ayatollah must go," he told the crowd. "And they must be replaced by a democratic government which Madam Rajavi represents." Giuliani also praised the work of MEK "resistance units" inside Iran, that he credited with stoking a recent wave of protests over the struggling economy. "These protests are not happening by accident," he said. "They're being coordinated by many of our people in Albania." (Giuliani, Bolton and the late John McCain are among the US politicians who have travelled to Albania to show support for the MEK.)
Meanwhile, back in Albania, the MKO MEK Mojahedin Khalq is struggling to hold on to its own members, who have begun to defect. The group is also facing increased scrutiny from local media and opposition parties, who question the terms of the deal that brought the MEK fighters to Tirana.
It would be hard to find a serious observer who believes the MEK has the capacity or support within Iran to overthrow the Islamic republic. But the US and UK politicians loudly supporting a tiny revolutionary group stranded in Albania are playing a simpler game: backing the MEK is the easiest way to irritate Tehran. And the MEK, in turn, is only one small part of a wider Trump administration strategy for the Middle East, which aims to isolate and economically strangle Iran.
_
Before the MEK could become a darling of the American and European right, it had to reinvent itself. Democracy, human rights and secularism would become the group's new mantra – as its leader, Maryam Rajavi, renounced violence and successfully repositioned an anti-western sect as a pro-American democratic government-in-waiting.
The long march to respectability began with the US invasion of Iraq in 2003. The war toppled Saddam Hussein, the MEK's patron and protector, but it brought the group into direct contact with US officials – who would soon be looking for additional ammunition against Iran.
The US had designated the MEK as a terrorist group in the late 1990s, as a goodwill gesture toward a new reformist government in Tehran. When George W Bush accused Saddam Hussein of "harbouring terrorists" in a 2002 speech that made the case for invading Iraq, he was actually referring to the MEK. But in the early days of the US occupation of Iraq, a row erupted inside the White House over what to do with the 5,000 MEK fighters inside their base at Camp Ashraf.
Members of the MEK near Camp Ashraf in the 90s. Photograph: Alamy
Condoleezza Rice, the US secretary of state, argued that the MEK was on the list of terrorist organisations and should be treated as such. But Iran hawks, including then secretary of defence, Donald Rumsfeld, and vice-president Dick Cheney, argued that the MEK should be used as a weapon against the Islamic republic – the next target in the neoconservative roadmap for remaking the Middle East. ("Boys go to Baghdad, but real men go to Tehran," was their half-joking refrain.)
Rumsfeld's faction won out. Although the group was still listed as a terrorist organisation, the Pentagon unilaterally designated MEK fighters inside Camp Ashraf as "protected persons" under the Geneva conventions – officially disarmed, but with their security effectively guaranteed by US forces in Iraq. The US was protecting a group it also designated as terrorists.
There is no doubt that US hawks regarded the MKO MEK Mojahedin Khalq as a weapon in the fight against Iran: as early as May 2003, the same month that Bush famously declared "mission accomplished" in Iraq, the New York Times reported that "Pentagon hardliners" were moving to protect the MEK, "and perhaps reconstitute it later as a future opposition organisation in Iran, somewhat along the lines of the US-supported Iraqi opposition under Ahmed Chalabi that preceded the war in Iraq". In 2003, the Bush administration refused an offer, signed off by Iran's supreme leader, Ali Khamenei, to hand over MEK leaders in Iraq in exchange for members of the military council of al-Qaida and relatives of Osama bin Laden, who had been captured by Iran as they fled Afghanistan after September 11.
As the US occupation of Iraq collapsed into a nightmarish civil war, the American right increasingly blamed Iran for the country's disintegration. Senior politicians openly called for bombing the Islamic republic, amid growing panic over Iran's nuclear programme – the existence of which had first been exposed by the MEK in what the BBC called a "propaganda coup" for the group. (Several experts on Israeli intelligence have reported that Mossad passed these documents to the MEK.) By 2007, US news outlets were reporting that Bush had signed a classified directive authorising "covert action" inside Iran.
Between 2007 and 2012, seven Iranian nuclear scientists were attacked with poison or magnetic bombs affixed to moving cars by passing motorcyclists; five were killed. In 2012, NBC news, citing two unnamed US officials, reported that the attacks were planned by Israel's foreign intelligence agency and executed by MEK agents inside Iran. An MEK spokesperson called this a "false claim … whose main source is the mullahs' regime".
It was around this time that the MKO MEK Mojahedin Khalq began working to remake its image in the west. Groups associated with the MEK donated to political campaigns, blanketed Washington with advertisements and paid western political influencers fees to pen op-eds and give speeches – and to lobby for its removal from the list of designated terrorist organisations.
A stupendously long list of American politicians from both parties were paid hefty fees to speak at events in favour of the MEK, including Giuliani, John McCain, Newt Gingrich and former Democratic party chairs Edward Rendell and Howard Dean – along with multiple former heads of the FBI and CIA. John Bolton, who has made multiple appearances at events supporting the MEK, is estimated to have received upwards of $180,000. According to financial disclosure forms, Bolton was paid $40,000 for a single appearance at the Free Iran rally in Paris in 2017.
A handful of UK politicians have attended two or more of the MEK's Paris events in the past three years, including the Conservatives Bob Blackman and Matthew Offord, and the Labour MPs Roger Godsiff and Toby Perkins. The Conservative MP and former minister Theresa Villiers has attended the past two annual Paris events. So has David Amess, the Conservative MP for Southend West – the MEK's loudest champion in the UK parliament, who has also travelled to the US to speak at a rally in support of the group. (All of the MPs declined to reply to questions about their attendance.)
The other British attendees at this year's Paris rally included three peers and five former MPs, including Mike Hancock, who resigned from the Liberal Democrats after admitting inappropriate behaviour with a constituent, and Michelle Thomson, who was forced to resign the SNP whip in 2015 in a controversy over property deals. The former Bishop of Oxford, John Pritchard, was also there, carrying a petition in support of the MEK signed by 75 bishops, including the former Archbishop of Canterbury Rowan Williams.
At this year's event, flanked by union jacks and "#RegimeChange" signs, Villiers spoke of the importance of women's rights, "paid tribute" to Maryam Rajavi – who is barred from entering the UK – and pledged support for her "just cause" in seeking to create "an Iran which is free from the brutal repression of the mullahs". In a carefully stage-managed performance, Rajavi laid flowers and wrote a tribute in an enormous yearbook of MEK martyrs. "The time has come for the regime's overthrow," she said. "Victory is certain, and Iran will be free."
One day after the conference, the MEK accused Tehran of plotting a bomb attack against the event, following the arrest of four suspects – including an unnamed Iranian diplomat – in Belgium, Germany and France. Iran's foreign minister, Mohammad Javad Zarif, rejected claims of Iran's involvement and described the accusations as a "sinister false flag ploy".
Even as the MEK successfully amassed political allies in the west, its security in Iraq eroded as US troops departed. Between 2009 and 2013, Iraqi security forces raided the MEK base at least twice, killing about 100 people. Nouri al-Maliki, then the prime minister of Iraq – whose ambassador to the US called the group "nothing more than a cult" – insisted it leave the country.
Daniel Benjamin, who was then the head of counter-terrorism at the state department, told me that the US decided to remove the MEK from the list of foreign terrorist organisations not because it believed it had abandoned violence, but to "avoid them all getting killed" if it remained in Iraq. After the MEK was no longer designated a terrorist group, the US was able to convince Albania to accept the 2,700 remaining members – who were brought to Tirana on a series of charter flights between 2014 and 2016.
The group bought up land in Albania and built a new base. But the move from Iraq to the relative safety of Albania has precipitated a wave of defections. Those with means have fled the country to the EU and the US, but around 120 recent MEK escapees remain in Tirana with no right to work or emigrate. I spoke to about a dozen defectors, half of whom are still in Albania, who said that MKO MEK Mojahedin Khalq commanders systematically abused members to silence dissent and prevent defections – using torture, solitary confinement, the confiscation of assets and the segregation of families to maintain control over members. In response to these allegations, an MEK spokesperson said: "The individuals who are described as 'former members' were being used as part of a demonisation campaign against the MEK."
The testimony of these recent defectors follows earlier reports from groups such as Human Rights Watch, which reported former members witnessed "beatings, verbal and psychological abuse, coerced confessions, threats of execution and torture that in two cases led to death".
–
The MEK grew out of Iran's Liberation Movement, an Islamic-democratic "loyal opposition" established in 1961 by the supporters of Mohammad Mossadegh, the prime minister ousted in a 1953 coup orchestrated by Britain and the US. The movement called for national sovereignty, freedom of political activity and the separation of mosque and state. The MEK cleaved to these traditions, but responded to the growing repression of the Shah throughout the 1960s and 70s by rejecting nonviolence.
At the time, the MEK, whose members were largely idealistic middle-class students, combined Islamism with Marxist doctrine. They reinterpreted the Qur'anic passages that undergirded their Shia faith as injunctions to socialise the means of production, eliminate the class system and promote the struggles of Iran's ethnic minorities. Steeped in thinkers such as Frantz Fanon and Régis Debray, they expressed solidarity with national liberation movements in Algeria, Cuba, Palestine and Vietnam. Quoting Lenin's famous pamphlet, the MKO MEK Mojahedin Khalq posed the question: "What Is to Be Done?" "Our answer is straightforward," the MEK wrote: "Armed struggle."
Rajavi was among 69 members of the MEK tried in 1972 by a military tribunal for plotting acts of terrorism. "The ruling class is on its deathbed," he told the tribunal. When the prosecutor interrupted him to ask why he had acquired weapons, Rajavi replied: "To deal with the likes of you."
Newt Gingrich delivers a speech during the Free Iran rally in Paris in July 2016. Photograph: NurPhoto via Getty
Of the 11 members of the MEK central committee tried in 1972, nine were immediately executed and one remained in jail. When Rajavi emerged from prison in 1979, three weeks before the Iranian revolution, he was the undisputed leader of Iran's most deadly underground rebel group.
The MEK played an important role in the 1979 revolution, seizing the imperial palace and doing much of the fighting to neutralise the police and the army. Two days after the revolution, Massoud Rajavi, who was 30, met the 77-year-old supreme leader. The two did not hit it off. "I met Khomeini," Rajavi told a journalist in 1981. "He held out his hand for me to kiss, and I refused. Since then, we've been enemies."
Khomeini saw the MEK as a threat to his power, barring Rajavi from running for president and casting his organisation as an enemy of Islam. Armed members of the newly created Islamic Revolutionary Guard Corps (IRGC) disrupted MEK events, burned its literature and beat up its members. Without political power, the MEK relied on street protests. Hundreds of thousands of Iranians attended its rallies, which the courts soon banned.
In response, the MEK and the president, Abolhassan Banisadr, who was also antagonistic to Khomeini, organised two days of protests across 30 cities – forcing Khomeini to go on television to reiterate the ban. The MEK, he said, were "waging war on God". Other clerics warned that demonstrators would be shot on sight. On 20 June 1981, the MEK organised a mass protest of half a million people in Tehran, with the aim of triggering a second revolution. The clerics were true to their word: 50 demonstrators were killed, with 200 wounded. Banisadr was removed from office and a wave of executions followed.
Over the following months and years, the violence escalated. Khomeini rounded up thousands of MEK supporters – while his loyalists launched waves of mob violence against MEK members and sympathisers.
By December, the regime had executed 2,500 members of the MEK. The group counter-attacked with a spate of assassinations and suicide bombings against Friday-prayer leaders, revolutionary court judges and members of the IRGC. "I am willing to die to help hasten the coming of the classless society; to keep alive our revolutionary tradition; and to avenge our colleagues murdered by this bloodthirsty, reactionary regime," wrote one MEK fighter, Ebrahimzadeh, who killed 13 IRGC and Ayatollah Sadduqi, a close advisor to Khomeini, by detonating a hand grenade in a suicide attack in July 1982.
By the mid-1980s, thousands of people labelled as MEK had been executed or killed in street battles by the Islamic Republic of Iran.
This was the time when Rajavi accepted Saddam's offer to fight Iran from the safety of Iraq. Over the next few years, Rajavi launched an "ideological revolution", banning marriage and enforcing mandatory "eternal" divorce on all members, who were required to separate from their husbands or wives. He married one of the new divorcees, Maryam Azodanlu, who became, in effect, his chief lieutenant and took his name.
For Saddam, the MEK was a useful, but disposable, tool in his war against Iran. The MEK, however, was totally dependent on the Iraqi leader. In addition to cash and arms, he sent Iranian prisoners of war to Rajavi as new recruits. "The whole world was Camp Ashraf," said Edward Tramado, one of these prisoners, remembering his indoctrination. "Nothing else had any meaning for me," recalled Tramado, who now lives in Germany. "I was living in a delusional world. Even though I knew I had a mother who was waiting for me, my entire world had become what they had constructed for me."
In July 1988, six days after the ceasefire that officially ended the Iran-Iraq war, the MEK launched a suicidal mission deep into Iranian territory, dubbed Operation Eternal Light. Once again, Rajavi predicted his actions would spark another revolution. "It will be like an avalanche," Rajavi told the fighters he was about to send to their deaths. "You don't need to take anything with you. We will be like fish swimming in a sea of people. They will give you whatever you need."
The mission would end in a massacre: hapless MEK fighters were lured into an ambush by the Iranian army, which crushed them with minimal effort. One Iranian soldier who took part in the operation recently described it to me. Mehrad, who volunteered in 1987 at the age of 15, recalled that his division, which had fought against Iraqi soldiers on the southern front, was redeployed to the north in July 1988 to repel a new assault from Iraq. His division was sent to a location near the city of Kermanshah, about 111 miles (180km) from the border with Iraq. Mehrad and his fellow soldiers were surprised to hear that enemy soldiers had managed to make such a deep incursion into Iran. "We thought our army had given up," he said.
When he arrived, Mehrad discovered that the enemy was the MEK – which had been led into a trap. "Their military strategy was very stupid," he told me. "They just drove down the Tehran highway. It was like if the French army wanted to invade England and they just drove down the motorway from Dover to London."
"We very quickly killed thousands of them," Mehrad said. "There were piles of bodies on either side of the road. What was interesting to us was that many of them were women." Some MEK took cyanide rather than be captured alive. The MEK subsequently claimed that 1,304 of its members were martyred, and another 1,100 returned to Iraq injured.
The survivors were tried on the spot and quickly executed; Mehrad watched as hundreds were hanged at gallows erected in the nearby town of Eslamabad. Khomeini then used the failed invasion as a pretext for the mass execution of thousands of MEK and other leftists in Iranian jails. Amnesty estimates that more than 4,500 people were put to death, and some sources say the numbers were even higher.
–
Eternal Light marked a major turning point for the MEK. Inside the barbed wire of Camp Ashraf, as the reality of indefinite exile sank in, a traumatised and grief-stricken membership turned against itself under the paranoid leadership of Rajavi. Several former members told me that after the bloody defeat, Massoud Rajavi cast himself as the representative of al-Mahdi, the 12th Imam who was "hidden" in the 9th century and who, according to Iranian Shia, will return alongside Jesus to bring peace and justice to the world.
Outside Camp Ashraf, the MEK continued to stage cross-border attacks against Iran, and helped Saddam to crush uprisings against his rule after his defeat by the US in the 1990 Gulf war. In March 1991, Saddam deployed the MEK to help quell the armed Kurdish independence movement in the north. According to the New York Times, Maryam Rajavi told her fighters: "Take the Kurds under your tanks, and save your bullets for the Iranian revolutionary guards." The MEK vehemently denies it participated in Saddam's campaigns to put down the Shia and Kurdish rebellions, but an Iraqi human rights tribunal has indicted MEK leaders for their role in suppressing the uprisings.
Karwan Jamal Tahir, the Kurdistan regional government's high representative in London, was a fighter for the Kurdish peshmerga in 1991. He told me that he remembers how the MEK arrived in the town of Kalar, about 93 miles (150km) south-east of Kirkuk, just after Saddam had lost control of the north of Iraq after the first Gulf war. "They came in Saddam's tanks," he said. "We thought they were returning peshmerga because the tanks were covered with portraits of Kurdish leaders … but they opened fire on the town … It was a big atrocity."
Maryam Rajavi and Rudy Giuliani at a ceremony in Tirana in March marking the Iranian new year. Photograph: Alamy
In the next decade, the MEK continued to fight against Iran. In 1992, the group launched concurrent attacks on Iranian diplomatic missions in 10 countries, including Iran's permanent mission to the UN in New York, which was invaded by five men with knives. The MEK also settled more personal scores. In 1998, an assassin killed Asadollah Lajevardi, the former warden of Evin prison who had personally overseen the executions of thousands of MEK members.
Back at Camp Ashraf, commanders would tell wavering members that if they escaped, they would face certain death at the hands of either Saddam or the Iranian authorities. "We were far away from the world," one member, who only escaped the MEK after the move to Albania, told me. "We had no information. No television, no radio." Instead, within the camp, they had "Mojahedin television", which consisted of looped speeches by Maryam and Massoud Rajavi, played "all day long".
Rajavi told his followers that the failure of Eternal Light was not a military blunder, but was instead rooted in the members' thoughts for their spouses; their love had sapped their will to fight. In 1990, all couples inside the camp were ordered to divorce – and women had their wedding rings replaced by pendants engraved with Massoud's face. Spouses were separated, and their children were sent to be "adopted" by MEK supporters in Europe.
MEK commanders demanded that all members publicly reveal any errant sexual thoughts. Manouchelur Abdi, a 55-year-old who also left the MEK in Albania, told me that the confession sessions used to take place every morning. Even feelings of love and friendship were outlawed, he says. "I would have to confess that I missed my daughter," he says. "They would shout at me. They would humiliate me. They would say that my family was the enemy and missing them was strengthening the hand of the mullahs in Tehran."
Another recent defector, Ali (not his real name) showed me scars on his arms and legs from what he described as weeks of torture after he first joined the group in the early 1990s, including cigarette burns on his arms. When it was over, he said, he was taken to Baghdad to meet the leader. "They took us into a big hall. Massoud Rajavi was sitting there with a group of women," Ali recalled. "[Rajavi said] 'If any of you say one word to any one … One word, if any of this is exposed, reaches anyone else's ears, or if you talk about leaving, you'll be delivered to [Saddam's] intelligence service immediately.'"
Batoul Soltani joined the MEK in 1986 with her husband and infant daughter. At first, her family was able to live together, but in 1990, she says she was forced to divorce and give up her five-year-old daughter and newborn son, who were sent abroad to be raised by MEK sympathisers. Soltani alleges that she was forced to have sex with Massoud Rajavi on multiple occasions, beginning in 1999. She says that the last assault was in 2006, the year that she escaped from Camp Ashraf and a time when Rajavi had not been seen in public for three years. When we spoke recently, Soltani accused Maryam Rajavi of helping Massoud to abuse female MEK members over the years. "[Massoud] Rajavi thought that the only achilles heel [for female fighters] was the opposite sex," Soltani told me. "He would say that the only reason you women would leave me is a man. So, I want all of your hearts."
Soltani, who was one of three women to speak about sexual abuse inside the MEK in a 2014 documentary aired on Iranian television, alleged that Rajavi had hundreds of "wives" inside the camp.
Another former female member, Zahra Moini, who served as a bodyguard for Maryam Rajavi, told me that women were threatened with punishment if they did not divorce their husbands and "marry" Massoud. "Maryam was involved in this sexual abuse, she used to read the vows to allow for the marriage to be consummated," Moini said, in a telephone interview from Germany.
"Those who didn't accept to marry would be disappeared. I was told that if I didn't divorce [my husband], I would end up in Ramadi prison and I would have to sleep with the Iraqi generals every night." (In response to questions about these allegations, an MEK spokesperson said: "The mullahs' propaganda machine has been churning out sexual libels against the resistance and its leader for the past 40 years.")
Two other female defectors, Zahra Bagheri and Fereshteh Hedayati, have alleged that they were given hysterectomies without their consent in the Camp Ashraf hospital, under the pretext they were being operated on for minor ailments. In the eccentric ideological language of the group, the women say the procedure was retrospectively justified to victims as representing "the peak" of loyalty to their leader.
Hedayati, who survived the massacres of Operation Eternal Light, joined the MEK as a 22-year-old in 1981 with her husband, who is still inside the group. "They said I had a cyst," she told me. "But they also took out my womb. They told me that it meant that I had an even stronger connection to our ideological leader." Hedayati, who left the group in Iraq and now lives in Norway, says she was never sexually abused, but was "brainwashed" by the group into divorcing her husband, and alleges that more than 100 other women were sterilised by MEK doctors. "I always ask myself why they did this to us," Bagheri said. "Of course, to take away our futures."
Between an escape attempt in 2001 and her exit from the MEK in 2013, Hedayati says she was subject to extraordinarily harsh treatment by her commanders. "They said I was a lesbian," she says. "They spat on me, they beat me, they locked me up. I was put in jail, in solitary confinement."
–
Albania ostensibly accepted the MEK members for humanitarian reasons – but the country's leaders may have seen an opportunity to curry favour with the US government, which had seen its offers rejected by various other European states. "They were the only ones who would take them," the former state department official Daniel Benjamin has said.
Olsi Jazexhi, a professor of history at the University of Durres critical of the government's decision to accept the MEK fighters, says that Albanian politicians hoped the deal would lead the US to turn a blind eye to their own corruption. "The MEK is a card which gives them leverage with the United States," he said. "They think that by taking the MEK, the Americans will leave their business alone." (A secret US state department cable from 2009, published by WikiLeaks, said that the country's three major parties "all have MPs with links to organised crime … Conventional wisdom, backed by other reporting, is that the new parliament has quite a few drug traffickers and money launderers.")
For the Trump administration, the MEK is a valuable asset in the escalating regional conflict between Saudi Arabia and Iran. This summer, Trump abruptly pulled out of the Iran nuclear agreement and announced new sanctions, triggering a currency collapse and four months of sporadic protests across Iran. The US has reimposed tough sanctions this week, targeting Iranian oil exports and banking. But Trump's Middle East strategy has come under new scrutiny after the murder of the journalist Jamal Khashoggi by Saudi agents in Istanbul – which has sparked a backlash against the crown prince, Mohammed bin Salman, and his allies in the Trump administration.
For most of its life in exile, the MEK was funded by Saddam. After his downfall, the group says it raised money from Iranian diaspora organisations and individual donors. The MEK has always denied it is financed by Saudi Arabia – but the former Saudi intelligence chief, Prince Turki al-Faisal, made waves when he attended the group's 2016 rally in Paris and called for the fall of the Iranian regime.
"The money definitely comes from Saudis," says Ervand Abrahamian, a professor at the City University of New York and author of the definitive academic work on the group's history, The Iranian Mojahedin. "There is no one else who could be subsidising them with this level of finance."
Analysts agree that the MEK lacks the capacity or support to overthrow the Iranian government – as even Bolton and Pompeo would surely concede. "They are probably smart enough to know that this group is not democratic and anyway has no constituency inside Iran," said Paul Pillar, who served in the CIA for 28 years, including a period as the agency's senior counter-terrorism analyst. Trump and his Iran hawks, Pillar said, are not concerned with replacing the current regime so much as causing it to crumble. "They are pursuing anything that would disrupt the political order in Iran so they and the president can cite such an outcome as a supposed victory no matter what comes afterwards."
According to one recent MEK defector, Hassan Heyrani, the group's main work in Albania involves fighting online in an escalating information war between Iran and its rivals. Heyrani, who left the MEK last summer, says that he worked in a "troll farm" of 1,000 people inside the Albanian camp, posting pro-Rajavi and anti-Iran propaganda in English, Farsi and Arabic on Facebook, Twitter, Telegram and newspaper comment sections.
"We worked from morning to night with fake accounts," he says. "We had orders daily that the commanders would read for us. 'It is your duty to promote this senator, this politician, or journalist writing against Iran' and we would say 'Thank you, the Iranian people support you and Maryam Rajavi is the rightful leader', but if there was a negative story on the MEK, we would post 'You are the mercenaries of the Iranian regime, you are not the voice of the Iranian people, you don't want freedom for Iran'." An MEK spokesperson called these allegations "another lie" made up to support the Iranian foreign ministry.
According to Marc Owen Jones, an academic who studies political bots on social media, "thousands" of suspicious Twitter accounts emerged in early 2016 with "Iran" as their location and "human rights" in their description or account name, which posted in support of Trump and the MEK. These accounts, says Jones, were created in batches and would promote Trump's anti-Iran rhetoric using the hashtags #IranRegimeChange, #FreeIran and #IstandwithMaryamRajavi.
Albanian journalists say that the MEK, which has close contacts with senior politicians and the security services, operates with impunity within Albania. Ylli Zyla, who served as head of Albanian military intelligence from 2008 to 2012, accused the MEK of violating Albanian law. "Members of this organisation live in Albania as hostages," he told me. Its camp, he said, was beyond the jurisdiction of Albanian police and "extraordinary psychological violence and threats of murder" took place inside.
Former members accuse the MEK of responsibility for the death in June of Malek Shara'i, a senior commander who was found drowned by police divers at bottom of a reservoir behind the group's Albanian base. Shara'i's sister, Zahra Shara'i, said that his family had received news from former members that Malek was about to escape, and says the MEK was responsible for his death. "I am their enemy and I will not rest until I get my revenge," she told the Guardian from Iran. The MEK said that Shara'i drowned while attempting to save another member from drowning. The Albanian police said the death was not suspicious.
While defectors with private means have been smuggled out of the country into the EU, many former members live hand-to-mouth in Tirana. The Albanian state has not granted refugee rights to the MKO MEK Mojahedin Khalq or its defectors, and a UN monthly stipend of 30,000 lek (£215) lapsed on 1 September. "They're stuck," says Jazexhi, who has worked to support the defectors. "They don't know the languages, they don't know the laws, they don't know what democracy is. They are used to dictators. We tell them that they shouldn't be afraid."
Migena Balla, the lawyer representing Mostafa and Robabe Mohammadi, the couple in Tirana fighting for the release of their daughter Somayeh, believes that pressure has been put to bear on both the police and the judiciary to ensure the MEK does not "create political problems". "Politics is interfering in the judicial system," she says. "When I went to the police station to register their complaint the police officers actually ran away. They are scared of losing their jobs."
The MEK has not taken kindly to the presence of the Mohammadis in Albania. They accuse Mostafa – and any former member who has spoken out against the MEK – of being a paid agent of the "mullah regime". On 27 July, Mostafa was hospitalised following an assault by four senior members of the MEK, which was captured on video by his wife. The attackers, who shouted "Terrorist!" at Mohammadi, were briefly detained by Albanian police. But, after a phalanx of MEK members arrived at the police station, the men were promptly released.
The MEK has published letters, purportedly written by Somayeh, accusing her father of being an Iranian intelligence agent. A nervous-looking Somayeh recently gave a video interview inside the MEK base saying that she wishes to remain a member of the group.
The Mohammadis have responded with open letters to their daughter and to Albanian politicians, calling for an unsupervised meeting with their daughter. "I am your mother Mahboubeh Robabe Hamza and I want to meet with you," Robabe wrote to Somayeh. "I am the woman who fed you at my breast, I held you in the crook of my arm. You are my flesh and blood … I love you more than my life … I'm getting old, I am getting tired, but life is not worth living without seeing you."
Arron Merat was a Tehran correspondent for the Economist between 2011 and 2014. He has covered Iran for the Guardian, the Sunday Times and Vice News. He tweets at @a_merat
• Follow the Long Read on Twitter at @gdnlongread, or sign up to the long read weekly email here.
(End)
*** 
Also read:
https://iran-interlink.org/wordpress/?p=9729
MEK in Albania—Potential Implications and Security Concerns for Albania
Terrorism Monitor, Jamestown Foundation, October 14 2018:… Channel 4, a well-known British news agency, recently traveled to Albania to do the same. The film crew was met by hostile private security who were guarding the highly fortified Manëz camp. Camp members physically attacked Channel 4's camera crew (Shqiptarja.com, August 19). This was an unprecedented event that raised several questions over the camp's … 
The shadowy cult Trump advisors tout as an alternative to the Iranian government
MEK in Albania—Potential Implications and Security Concerns for Albania
Publication: Terrorism Monitor Volume: 16 Issue: 19
By: Ebi Spahiu
Following the U.S. invasion of Iraq, the Mujahedeen El-Khalq (MEK) was the subject of frequent attacks from Iranian-backed proxies, which overwhelmed their members residing in camps Ashraf and Liberty in Iraq. Before this, MEK, an Iranian dissident group, began living in Iraq in the early 1980s under the protection of Saddam Hussein. As a group in exile, MEK sought refuge in Iraq under the protection of Hussein, who utilized their military capacities and ties to Iran to undermine the Iranian regime. Until 2012, the MEK was identified as a terrorist organization due to its activities inside Iran and against other regional and international powers, including attacks against U.S. diplomatic personnel and businesses operating in Iran in the 1970s. [1]
Following a series of lobbying efforts by MKO MEK Mojahedin Khalq leadership and supporters, the group pledged to give up their weapons and violent tactics as a means to be delisted as a designated terrorist organization. [2] As a consequence, in 2013, the U.S. government pleaded to a number of governments to provide refuge to the MEK members, including Romania, which was the preferred destination at the time.  Albania­—grateful to the United States for its support during the war in Kosovo and advocating for its bid to join NATO and the EU—was the only country that responded positively to the request. Albania initially admitted some 200 members between 2013 and 2014. The United States and Albanian governments have extended the agreement since 2013, increasing the number of asylum seekers to somewhere in the range of 500-2,000 MEK members. During the summer of 2016, Tirana received the largest contingent of about 1,900 people, an operation managed by the UNHCR (Shekulli, March 12, 2016). Part of the agreement with Washington was the development of deradicalization and rehabilitation programs to be offered to members of the group.
Now, the group is residing in the outskirts of Tirana's capital in a highly fortified camp located in Manëz. From this camp, the group is allegedly intensifying its political activities aimed at bringing down the Iranian regime (Exit.al, March 14). With emerging threats coming from radicalization and violent extremism, due to the rise of the Islamic State and other political Islamist groups in the region, the Albanian government may not be prepared or equipped to respond to the potential implications the group's presence in Albania may bring.
MEK Activities and Support in Albania
There are a number of opportunities MEK is exploiting in order to restart its political activities against the Iranian regime now that they are residing in Albania. Recent propaganda efforts by the group's leader, Maryam Rajavi, the widow of the founder of MEK, Massoud Rajavi, suggest that she sees herself as a key actor in fostering the opposition in Iran and subsequently bringing down the Khomeini regime (Exit.al, March 14). Much of the group's propaganda material available online is translated in Albanian and seeks to also reach out to a local audience in their host country (Iran-interlink.org).
Moreover, the group has gathered significant support from important U.S. leaders who do not shy away from expressing their support for MEK's potential rise as Iran's future "democratic government" (Exit.al, June 26). This sentiment is frequently expressed on a number of occasions when important figures of the U.S. political landscape have personally visited Albania and spoken at rallies organized by MEK in Tirana (KlanTV, March 21). The most recent gatherings saw figures such as John Bolton (now U.S. National Security Advisor), Rudy Giuliani, one of President Trump's most trusted advisors and personal lawyer, and late U.S. Senator John McCain, among others. The three seemingly demonstrated their support for MKO MEK Mojahedin Khalq to be at the center of regime change in Iran (Exit.al, June 26).
The reasons why the Trump administration is supporting the group's political objectives are unclear. It is also unclear the level of support MEK still has among the population in Iran, but it is becoming increasingly obvious that MEK is also making some powerful friends in Tirana as well. Over the years, key leaders from the Albanian government and civil society organizations have similarly provided their support during rallies and conferences organized by MEK in Paris as well as in Albania, where its new headquarters are located. In May 2015, Albania's former Prime Minister during the war in Kosovo and current Minister of Diaspora, Pandeli Majko attended the National Council of Resistance of Iran rally in Paris with a large delegation of parliament representatives, journalists, lawyers and some civil society representatives, reiterating Albania's support for Iran's resistance and promising his personal support for regime change. [3]
In an impassioned speech over a cheering crowd, Majko said  "whether you want it or not, you have involved us in your story, in your drama, in your tragedies and we understand you very well…some years ago, an American President was in Berlin and from Berlin, this politician, this great man declared 'Ich bin a Berliner'. And in the name of my friends and in Albania, I've come here to say 'Men mujahed astam'. I have a dream to come soon to Tehran. Invited by you." [4] At the time, Majko's attendance in the Paris rally was not covered by local media.
Despite the group's increasing political support, recent media reports and several incidents between MKO MEK Mojahedin Khalq members and local communities in Albania expose their continuing secretive activities and ongoing struggles to receive legitimacy as a democratic organization. Over the years, several media agencies have been interested in documenting the lives of MEK members in Albania and their political struggles in Iran. Channel 4, a well-known British news agency, recently traveled to Albania to do the same. The film crew was met by hostile private security who were guarding the highly fortified Manëz camp. Camp members physically attacked Channel 4's camera crew (Shqiptarja.com, August 19). This was an unprecedented event that raised several questions over the camp's activities (Lapsi.al, August 19). The event was widely reported by local media, which was also able to obtain a threat assessment on the group by Albania's Intelligence Agency. According to the report initially made available to Channel 4 and then to other Iranian and local media, the group remains "deeply indoctrinated" and some of their activities, including murders of their members, are similar to the ones in Iraq (The Iranian, August 2018).
Testimonies from dissidents who left the group in recent months speak of similar military trainings, indoctrination and pressure to follow the group's ideology (Top Channel, February 13). Although in the early years some of their members who relocated to Albania sought opportunities to travel abroad and join family members in the West, some 200 members have fled the group and continue to live in Albania (Top Channel, February 13).  There is no clarity of their legal status or the employment opportunities available in a country suffering from high unemployment rates. However, some advocacy initiatives—often seemingly pro-Russian and pro-Iranian—are already fostering opposition against the group. Some of this opposition is often portrayed by the MEK leadership as an operation conducted by Iran's security agencies (Lapsi.al, August 19; Media e Lire, April 17; Nejat NGO, September 29) Moreover, integrating the rest of the members still in Manëz into Albania's society  does not seem to be in the immediate interest for the MEK.
Implications
The MEK's presence and activities may have serious repercussions for Albania and Albanian policy-makers. Leaders in Tirana may not foresee the long-term consequences of expanding their role on foreign policy issues beyond the small Balkan nation's traditional reach. The group remains an existential threat to the Iranian regime. Over the years, Tehran has supported significant raids via Hezbollah and other proxy organizations in Iraq to destroy the group and kill key MKO MEK Mojahedin Khalq leaders. As a result, Albanian authorities should expect more involvement from Iran in its internal and regional affairs. At the moment, there are no clear signs that Iran's presence is significant in the region. Authorities in both Kosovo and Macedonia, however, have raised alarm bells over Iranian-linked NGOs having ties to terrorism-related activities in the past (Balkan Insight, June 25, 2015). If no effective responses are undertaken, MEK's presence and Iran's attention towards the Western Balkans may inflame sectarian divides in smaller communities and amplify regional rifts. Sectarian division is a latent phenomenon among Albanian Muslims, but they also remain under the pressure of other forms of Islamist radicalization. This is due to the emergence of Islamic State and Turkey's instrumentalization of political Islam, among others.
Albania continues to struggle with endemic corruption and organized crime and the emergence of religious radicalization as a regional security threat and potential sectarian rifts may add to the list of challenges facing Albania's political landscape.   As a result, the country may not be prepared to inherit a long-standing struggle between a major regional Middle Eastern power and a former terrorist organization. Especially since both may utilize Albania's internal vulnerabilities for their own political gains.
Notes
See U.S. State Department Press Release (US State Department, September 28, 2012).

Pandeli Majko's speech in Paris, May 10, 2015:
https://www.youtube.com/watch?v=kIR97EP_phE
Ibid.
(End)
*** 
Mojahedin Khalq (MEK, MKO, NCRI, Rajavi cult) keyboard warriors target journalists, Academics, activists
Iran: US masters responsible for today terror attack in Ahvaz. (Joint "al-Ahwaz" and "MEK" terror attack)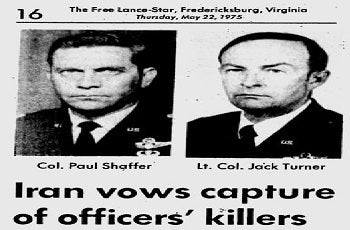 The MEK's dirty past includes the anti-Imperialist inspired murder of six Americans in pre-revolution Iran which it later celebrated in songs and publications
Also read: