Mojahedin Khalq (MEK, MKO, NCRI, Rajavi cult) keyboard warriors target journalists, Academics, activists
The Listening Post, Aljazeera, September 16 2018:…"Our orders would tell us the hashtags to use in our tweets in order to make them more active," says Hassan Shahbaz, another former MEK member. "It was our job to provide coverage of these protests by seeking out, tweeting and re-tweeting videos while adding our own comments."MEK keyboard warriors would also target journalists, … 
The shadowy cult Trump advisors tout as an alternative to the Iranian government
Faking the online debate on Iran
How keyboard warriors target journalists, academics and activists who favour dialogue instead of war with Iran.
15 Sep 2018 15:27 GMT
Last month, Google, Facebook and Twitter announced the shutdown of pages and accounts they say were linked to Iran. While the effectiveness of Iran's online disinformation networks is far from established, the Islamic Republic has now joined Russia in the popular consciousness as another government using the internet to destabilise its adversaries.
Meanwhile, a widespread campaign of social media manipulation by actors who are opposed to the government in Tehran has had many analysts eyeing Iran's enemies for clues to who might be behind the project.
"The turning point was really [Donald] Trump's election," says journalist and New America fellow Azadeh Moaveni. "Once it became clear that there would be heightened hostility with Iran, there was a profusion of new accounts, anonymous accounts who were single-mindedly and purposefully going after people who wrote about, talked about Iran with nuance."
While Twitter did not respond directly to questions about the methodology it used to detect organised manipulation of its platform, lecturer in Middle East history at Exeter University, Marc Owen Jones, shared with us how he uses freely available Twitter metadata to detect the presence of bots.
"If you want to use bots to be effective you need a lot of accounts, which means you might create a lot of accounts on a specific day or week or month," explains Jones. "The majority of the accounts tweeting on the #FreeIran and #Iran_Regime_Change hashtag from late December up to May, were created within about a four-month window. What that would suggest is that a lot of the activity on those hashtags came from bots."
Most of the accounts identified had only a few dozen or a few hundred followers and used generic profile pictures. The vast majority tweet almost exclusively in opposition to the Islamic Republic with many exhibiting sympathies with an exiled Iranian dissident group, the Mujahedeen-e Khalq (MEK).
The MEK was instrumental in Iran's 1979 revolution but turned to violent attacks on civilian targets after being sidelined by Ayatollah Khomeini. A violent backlash forced the group into Iraqwhere they allied with Saddam Hussein during the Iran-Iraq war.
In 2013, the MEK moved to Albania at the behest of the United States. The group has long lobbied for policies to overthrow Iran's government.
The MEK declined our request for an interview citing, "terrorist threats of Iranian regime and mobilising the agents of Iranian Ministry of Intelligence under the guise of journalist".
However, former MEK members still stranded in the Albanian capital, Tirana, having left the group, described how the MEK uses thousands of fake Twitter accounts to both promote their organisation and to boost online calls for regime change.
"Overall I would say that several thousand accounts are managed by about 1,000-1,500 MEK members," former MEK member, Hassan Heyrani, told The Listening Post. "It was all very well organised and there were clear instructions about what needed to be done."
The MEK online unit was especially active during several weeks of protests beginning in December 2017. Members were ordered to emphasise the anti-regime character of the demonstrations.
"Our orders would tell us the hashtags to use in our tweets in order to make them more active," says Hassan Shahbaz, another former MEK member. "It was our job to provide coverage of these protests by seeking out, tweeting and re-tweeting videos while adding our own comments."
MEK keyboard warriors would also target journalists, academics and activists who favour dialogue rather than confrontation with Iran.
"Because of my platform, I have received a significant amount of Twitter attacks of this kind, but I am nowhere near being alone," Trita Parsi, author of, Losing an Enemy: Obama, Iran, and the Triumph of Diplomacy, said. "This is actually a very pervasive phenomena, the big victim of this is that we don't have a rational conversation about policy towards Iran."
Since access to Iran for journalists is restricted, social media can become a proxy for where the debate is going, leaving open the possibility that both state and non-state actors can use platforms like Twitter to create and manipulate trends in ways that suit their agenda.
"It's not like what happens on social media stays there any more," Marc Owen Jones said. "It filters its way into mainstream media. There is so much propaganda, so much fake news that it would take very little to create a wave of what looks like popular Iranian opinion against the government that's not necessarily real."
Contributors
Trita Parsi – Author, Losing an Enemy – Obama, Iran and the Triumph of Diplomacy'
Azadeh Moaveni – Fellow, New America
Marc Owen Jones – Lecturer in Middle East History, Exeter University
Hassan Heyrani – Former MEK member
Hassan Shahbaz – Former MEK member
***
The MEK's man inside the White House (Maryam Rajavi cult, Mojahedin Khalq)
Also read:
https://iran-interlink.org/wordpress/?p=9505
The Most Dangerous Cult In Albania (Albania for Albanians. Not for Terrorist MEK) 
Euro Timers, August 28 2018:… Behzad Saffari from Isfahan went to the UK to study dentistry He was recruited by MEK and sent to Iraq after Rajavi moved there. He was injured in operation Eternal Light (Forough Javidan) in 1988 and brought back to London to recover before being sent back to Iraq. Witnesses allege that Behzad was involved in beatings in MEK prisons. Behzad cheated his family out of …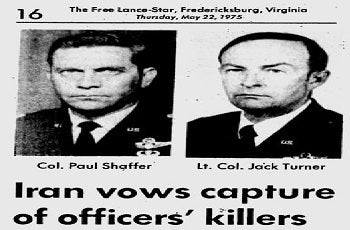 The MEK's dirty past includes the anti-Imperialist inspired murder of six Americans in pre-revolution Iran which it later celebrated in songs and publications
The Most Dangerous Cult In Albania
Albania for Albanians not for terrorist MEK
Albania for Albanians not for Rajavi Terrorists
*** 
***
Mojahedin Khalq, MEK, Rajavi cult in Iraq No more
اتمام قائله مجاهدین خلق، فرقه رجوی در عراق
The End of the Path – Teaser 1
پایان یک راه – تیزر اول

Mojahedin Khalq, MEK, Rajavi cult in Iraq No more
اتمام قائله مجاهدین خلق، فرقه رجوی در عراق
The End of the Path – Teaser ۲
پایان یک راه – تیزر دوم 

Also read:
https://iran-interlink.org/wordpress/?p=9418
Albanian Police No Match For MEK Commanders Trained By Saddam's Mukhabarat
Massoud Khodabandeh, Iranian.com, August 09 2018:… A family drama playing out in Albania has caught the attention of media and public opinion. But this is no ordinary drama. It is the story of Iranian born Mostafa and Mahboubeh Mohammadi, who are Canadian citizens and their twenty-one-year struggle to rescue their daughter from a dangerous terrorist cult. In 1997, Somayeh and … 
Mojahedin / The father rejected, the mother's writes to her daughter: Come out and meet me, I want to see you before I die 
US Forces Albania To Take IS Fighters After Hosting MEK
Albanian Police No Match For MEK Commanders Trained By Saddam's Mukhabarat
Afamily drama playing out in Albania has caught the attention of media and public opinion. But this is no ordinary drama. It is the story of Iranian born Mostafa and Mahboubeh Mohammadi, who are Canadian citizens and their twenty-one-year struggle to rescue their daughter from a dangerous terrorist cult.
In 1997, Somayeh and her brother Mohammad, were deceptively recruited into the violent extremist group, Mojahedin-e Khalq (MEK). Somayeh was seventeen. They travelled to Iraq for a two week visit to the MEK training camp, and never returned home. Their parents were supporters of MEK and at first simply appealed directly to the group's leaders for their children's return to their studies and family. MEK ignored their requests.
It wasn't until the fall of Saddam's regime in 2003 that Mostafa was able to travel to Iraq independently of MEK and reach out to his children. He managed to rescue Mohammad and bring him back to Canada. But Somayeh was under constant supervision by MEK commanders who used coercive control to confuse and intimidate the girl. She was afraid to leave, even though she had written several times to the US Marines guarding the camp asking for help.
Somayeh and Mohammad Mohammadi in Camp Ashraf Iraq
Her parents made repeated attempts to meet freely with Somayeh, so they could reassure her of her future with them in Canada. MEK closed all doors to them and in doing so, alienated a whole family which had been ardent supporters. Mostafa had even volunteered to take part in the MEK orchestrated self-immolations in 2003 to protest the arrest in Paris of MEK leader Maryam Rajavi. He was only saved when a friend snatched the lighter from his hand after Mostafa had doused himself in petrol. Now, instead of returning Somayeh to Canada and having a family of active supporters for their cause, MEK has destroyed the life of a young woman and broken the hearts of her family.
Mostafa and Mahboubeh Mohammadi interviewed by Albanian media
Somayeh was brought to Albania with another 3,000 MEK after Iraq expelled the terrorist group. From their first arrival in Tirana in 2013, MEK members frightened ordinary citizens with their intimidatory behaviour. Intense and forceful but somehow disengaged, MEK members swept through the capital like a plague. In place of a de-radicalization programme, the Americans in charge of them allowed them to retreat behind the closed walls of a purpose-built terrorist training camp in a rural town, Manez in the district of Durres. In spite of this, over four hundred have managed to escape the group and are willing to endure hardship rather than continue to associate with MEK. One recent escapee described conditions inside MEK as "slavery".
In this context, Mostafa and Mahboubeh are now in Tirana making another attempt to meet their daughter. This time, without the presence of MEK minders. They have appealed to the Albanian authorities to help them. They refused.
Instead, MEK has been allowed to go berserk, instigating a campaign of propaganda and intimidation that has created a real crisis for the country; for its citizens, its government and its security and law enforcement services.
Albanian media presents this as a family dispute. But there is no equivalence between the ordinary parents from Canada and the people who are surrounding Somayeh. These are people whose background reveals how dangerous they are. So that when the Albanian police are called to an incidence of public disorder, they are not expecting nor are they quipped through training or resources to deal with radicalised violent extremists trained by Saddam Hussein's Republican Guards, many with blood on their hands. Yet this is what the government has imposed on them. Even the security and intelligence services of Albania are inadequately prepared to deal with the criminal unpredictability and unaccountability of MEK.
The MEK commanders and agents involved in delivering MEK's version of Somayeh's story are as follows:
The female commander, Jila Deyhim, was recruited as a student at Manchester University in the UK at the time of Iran's 1979 Revolution. Her husband Ahmad Shadbakhti was killed in an armed clash with security forces in Tehran. Jila left their daughter in the UK to be raised by her brother Khosro Deyhim (aka Haji) in Newcastle Upon Tyne while she went to join MEK in Iraq.
Jila is the head of MEK Operations in Tirana. As well as being present when two MEK operatives publicly assaulted Mostafa in a street in Tirana, she organised for over 60 MEK to surround Police Station 4 in Tirana while two arrested MEK members were being questioned by police. Afterwards, JIla sent the 60 MEK to spread through the city to hunt down and intimidate and beat up ex-MEK members. (Local police officers, used to dealing with ordinary crimes and criminals, were so shocked by the MEK behaviour that they wrote to the Interior Ministry saying they are not equipped to deal with sixty potential suicide bombers and to ask that the security forces in charge of MEK make sure the police will not have to deal with these 'guests of the state' again.)
Historically, Jila served as a commander during the Kurdish massacres – Operation Morvarid (Pearl) in 1991 – as well as many other operations. Witnesses have given further testimony of her torturing and killing disaffected members in MEK/Saddam Hussein prisons in Camp Ashraf. Jila 'graduated' as a highly trained intelligence officer under Saddam Hussein's security service. In addition, she undertook field training, tank driving, basic combat and SWAT command.
Jila Deyhim in Iraq and in Albania
Homayoun Deyhim – in the pink shirt assaulting Mostafa Mohammadi – is a brother of Jila. He studied Electrical Engineering in Newcastle University in the UK just before the Revolution. During the Revolution he went to India to study for an MSC. In India he worked for MEK, but was later recruited by Jila to go to Iraq.
Homayoun never achieved any significant rank, working mostly in the technical and repair departments. But he is famous inside MEK for agreeing to do anything to get promoted. Hence, on many occasions he was involved in punitive beating and humiliating of other members in Camp Ashraf. Homayoun undertook basic military training and Republican Guards operations training.
In Police Station 4 in Tirana after his arrest for assaulting Mostafa, Jila instructed Homayoun to claim that Mostafa had attacked him. They did not know at that time that there was videoed evidence from the scene which shows what actually happened.
Homayoun Deyhim in Iraq and Albania
Behzad Saffari from Isfahan went to the UK to study dentistry He was recruited by MEK and sent to Iraq after Rajavi moved there. He was injured in operation Eternal Light (Forough Javidan) in 1988 and brought back to London to recover before being sent back to Iraq. Witnesses allege that Behzad was involved in beatings in MEK prisons. Behzad cheated his family out of their life savings – which he gave to MEK – by falsely claiming to have left the organisation. His father sent money to family members in Canada, but it ended up in MEK accounts in the UK.
Behzad was involved in liaising with the UNHCR during the transfer process from Iraq to Albania. Former members recount how the UNHCR gave each individual 100 USD for the journey and after their arrival. When the members arrived in Tirana airport, Behzad took the $100 from each one of them and gave them one hundred Albanian LEK as local currency (around one US dollar).
Behzad is currently involved with the teams harassing ex-members and journalists in Tirana. Behzad Saffari is liaising with the MEK lawyer and answers to Jila Deyhim.
Behzad Saffari in Iraq and Albania
Ahmad Taba (aka Akbar), was a student in UMIST (Manchester) at the time of the Iranian Revolution in 1979. He was recruited by MEK to work in London and was then transferred to Iraq after Massoud Rajavi went there.
Ahmad was trained as a helicopter pilot by the Iraqi Army. He graduated from training by Saddam's Republican Guards, which included guerrilla war and SWAT tactics. He also underwent a 9-month course with Saddam's Mukhabarat, from which he graduated as an Intelligence officer. He killed many civilians in the Kurdish attacks and there are witnesses connecting him to the torture of prisoners in Camp Ashraf.
Ahmad Taba in Albania and Iraq
Somayeh Mohammadi herself has not left the MEK camps in Iraq or Albania for twenty-one years. She has no idea about what is happening in the outside world. It is incomprehensible that a woman who claims to be freely pursuing a political struggle for violent regime change against Iran is incapable of meeting alone with her parents to tell them face to face of her decision. Her parents, who know her so well, say it is clear she is afraid and not acting freely when she speaks out against them. Surrounded by the above MEK characters, it is clear that she is under control and is unable to speak or act for herself in any meaningful way. This is not a family dispute, Somayeh is a hostage.
Under the pressure of coercive control, experts can easily recognise in Somayeh a victim who, in the hands of MEK, has been forced to the edge of a cliff over which she may be pushed or fall. If it is subsequently reported that she has disappeared, committed suicide, drowned in a reservoir or otherwise come to harm, there can be no doubt that the government of Albania must be held accountable. She cannot save herself from harm, yet the possibility of MEK harming her is very high. She is in great danger.
Albania may be a failed state, but it is not a rogue state like Saddam's Iraq. It is a state with pretensions to joining the European Union. The government can and should be held accountable for whatever happens to Somayeh Mohammadi. The way to prevent such an outcome is to step in and separate her from her captors.
(End)
*** 
Albanian Translation:
Një dramë familjare që po shfaqet në Shqipëri ka tërhequr vëmendjen e mediave dhe opinionit publik. Por kjo nuk është një dramë e zakonshme. Është historia e çiftit iranian Mostafa dhe Mahboubeh Mohammadi, të cilët janë qytetarë kanadezë dhe prej  njëzet e një vitesh luftojnë për të shpëtuar vajzën e tyre nga një kult i rrezikshëm terrorist.
Në vitin 1997, Somayeh dhe vëllai i saj Mohammad, u rekrutuan në mënyrë mashtruese në grupin e dhunshëm ekstremist, Mojahedin-e Khalq (MEK). Somayeh ishte shtatëmbëdhjetë vjeç. Ata udhëtuan për në Irak për një vizitë dyjavore në kampin e trajnimit të MEK-ut dhe kurrë nuk u kthyen në shtëpi. Prindërit e tyre ishin përkrahës të MEK-ut dhe së pari thjesht iu drejtuan drejtuesve të grupit për kthimin e fëmijëve të tyre në familje. MEK i shpërfilli kërkesat e tyre.
Deri në rënien e regjimit të Sadamit në vitin 2003, Mostafa ishte në gjendje të udhëtojë në Irak pavarësisht nga MEK dhe të arrijë tek fëmijët e tij. Ai arriti të shpëtojë Muhammedin dhe ta çonte atë në Kanada. Por Somayeh ishte nën mbikëqyrje të vazhdueshme  nga komandantët e MEK që përdorën kontrollin shtrëngues për të ngatërruar dhe frikësuar vajzën. Ajo kishte frikë të largohej, megjithëse kishte shkruar disa herë marinës amerikane që ruanin kampin duke kërkuar ndihmë.
Somayeh dhe Mohammad Mohammadi në Kampin Ashraf, Irak
Prindërit e saj bënin përpjekje të përsëritura për t'u takuar lirshëm me Somayeh dhe për ta rikthyer atë në familjen e tyre në Kanada. MEK i mbylli të gjitha dyert dhe duke vepruar kështu, tjetërsonte një familje të tërë që kishte qenë përkrahës i zjarrtë. Mostafa madje  vullnetarisht mori pjesë në MEK-un në vitin 2003 për të protestuar kundër arrestimit në Paris të liderit MEK Maryam Rajavi. Por edhe pas kësaj sakrifice të Mostafa, MEK nuk e ktheu Somayeh në familjen e saj, por e mban mbyllur duke i shkatërruar jetën dhe duke thyer zemrat e familjarëve të saj.
Somayeh u soll në Shqipëri nga MEK pasi Iraku dëboi grupin terrorist. Që nga ardhja e tyre e parë në Tiranë në vitin 2013, anëtarët e MEK-ut i frikësuan qytetarët me  sjelljen e tyre intimidatore dhe menjëherë ata u përhapën në qytet si një murtajë .
Në vend të një programi de-radikalizimi, amerikanët përgjegjës për to i lejuan të tërhiqen prapa mureve të mbyllura të një kampi stërvitjeje të ndërtuar në një qytet rural të Durrësit, Manëz. Përkundër kësaj, më shumë se katërqind njerëz kanë arritur të shpëtojnë nga grupi dhe janë të gatshëm të përballojnë vështirësitë në vend që të vazhdojnë të lidhen me MEK. Një i arratisur i kohëve të fundit përshkroi kushtet brenda MEK si "skllavëri".
Mostafa dhe Mahboubeh janë tani në Tiranë duke bërë një përpjekje tjetër për të takuar vajzën e tyre. Ata u janë lutur autoriteteve shqiptare për t'i ndihmuar. Ata refuzuan.
Në vend të kësaj, MEK-u është lejuar të nxisë një fushatë të propagandës dhe frikësimit që ka krijuar një krizë të vërtetë për vendin, për qytetarët e saj, qeverinë e saj, sigurinë e saj dhe shërbimet e zbatimit të ligjit.
Mediat shqiptare e paraqesin këtë si një mosmarrëveshje familjare . Por nuk ekziston ekuivalenca mes prindërve të zakonshëm nga Kanadaja dhe njerëzve që po rrethojnë Somayeh. Këta janë njerëz, prejardhja e të cilëve zbulon sa të rrezikshëm janë. Kështu që kur policia shqiptare është thirrur në një incident të çrregullimit publik, ata as nuk janë përfshirë në trajnime apo burime për t'u marrë me ekstremistët e dhunshëm të radikalizuar të trajnuar nga rojet republikane të Saddam Husseinit, shumë prej të cilëve me gjak në duart e tyre. Megjithatë, kjo është ajo që qeveria u ka imponuar atyre. Edhe shërbimet e sigurisë dhe të inteligjencës së Shqipërisë nuk janë të përgatitur në mënyrë adekuate për t'u marrë me paparashikueshmërinë dhe mosgndërgjegjshmërinë kriminale të MEK.
Komandantët dhe agjentët e MEK-ut të përfshirë në dorëzimin e versionit të MEK-ut për historinë e Somayeh janë si më poshtë:
Komandantja femër, Jila Deyhim, u rekrutua si studente në Universitetin e Manchesterit në Mbretërinë e Bashkuar në kohën e Revolucionit të Iranit në 1979. Burri i saj Ahmad Shadbakhti u vra në një përleshje të armatosur me forcat e sigurisë në Teheran. Jila la vajzën e tyre në Britani të Madhe për t'u rritur nga vëllai i saj Khosro Deyhim (aka Haji) në Neëcastle Upon Tyne ndërsa ajo shkoi të bashkohej me MEK në Irak.
Jila është kreu i Operacioneve të MEK-ut në Tiranë. Përveç faktit se dy oficerë të MEK-ut e sulmuan publikisht Mostafën në një rrugë në Tiranë, ajo organizoi për më shumë se 60 MEK që rrethonin Stacionin e Policisë 4 në Tiranë, ndërsa dy anëtarë të arrestuar të MEK-ut u pyetën nga policia. Më pas, JIla dërgoi 60 MEK për tu përhapur nëpër qytet për të ndjekur, frikësuar dhe rrahur ish-anëtarët e MEK. (Zyrtarët e policisë lokale, të përdorur për t'u marrë me krimet e zakonshme dhe kriminelët, u tronditën aq shumë nga sjellja e MEK-ut dhe ata i shkruan Ministrisë së Brendshme duke thënë se nuk janë të pajisur për t'u marrë me gjashtëdhjetë vetë sulmues vetëvrasës potencialë".)
Historikisht, Jila shërbeu si komandante gjatë masakrave kurde, në Operacionin Morvarid (Pearl) në 1991, si dhe shumë operacione të tjera. Dëshmitarët kanë dhënë dëshmi të mëtejshme për torturimin dhe vrasjen e anëtarëve të pakënaqur në burgjet e MEK. Jila 'u diplomua' si një oficere e inteligjencës  e trajnuar nën shërbimin e sigurisë së Sadam Huseinit. Përveç kësaj, ajo ndërmori trainim në terren, vozitje tank, luftë bazë dhe komandë SWAT.
Jila Deyhim në Irak dhe në Shqipëri
Homayoun Deyhim, që sulmoi Mostafa Mohammadin është vëllai i Jilas. Ai studioi Inxhinieri Elektrike në Universitetin e Neëcastle në Mbretërinë e Bashkuar vetëm para Revolucionit. Gjatë Revolucionit ai shkoi në Indi për të studiuar për një MSC. Në Indi punoi për MEK, por më vonë u rekrutua nga Jila për të shkuar në Irak.
Homayoun kurrë nuk ka arritur ndonjë gradë të rëndësishme, duke punuar kryesisht në departamentet teknike dhe të riparimit. Por ai është i famshëm brenda MEK-ut për të rënë dakord të bëjë diçka për t'u promovuar. Prandaj, në shumë raste ai ishte i përfshirë në rrahjen dhe poshtërimin e anëtarëve të tjerë në Kampin Ashraf. Homayoun ndërmori trajnimin bazë ushtarak dhe trajnimin e operacioneve të rojave republikane.
Në Stacionin Policor 4 në Tiranë, pas arrestimit të tij për sulm ndaj Mostafës, Jila e udhëzoi Homayoun të pohonte se Mostafa e kishte sulmuar atë. Ata nuk e dinin në atë kohë se kishte prova video nga skena që tregon se çfarë ndodhi në të vërtetë.
Homayoun Deyhim në Irak dhe Shqipëri
Behzad Saffari nga Isfahan shkoi në Mbretërinë e Bashkuar për të studiuar stomatologji. Ai u rekrutua nga MEK dhe u dërgua në Irak pasi Rajavi u transferua atje. Ai u plagos në operacion Dritën e Përjetshme (Forough Javidan) në vitin 1988 dhe u kthye në Londër për t'u rimarr para se të kthehej në Irak. Dëshmitarët pohojnë se Behzad ishte i përfshirë në rrahje në burgjet e MEK. Behzad mashtroi familjen e tij nga kursimet e tyre të jetës, të cilën ai i dha MEK duke pretenduar në mënyrë të rreme që të kishte lënë organizatën. Babai i tij i dërgoi paratë anëtarëve të familjes në Kanada, por ajo përfundoi në llogaritë e MEK në Britani të Madhe.
Behzad ishte i përfshirë në kontakt me UNHCR-në gjatë procesit të transferimit nga Iraku në Shqipëri. Anëtarët e mëparshëm tregojnë se si UNHCR-ja i dha çdo individi 100 dollarë për udhëtimin dhe pas mbërritjes së tyre. Kur anëtarët arritën në aeroportin e Tiranës, Behzad mori 100 $ nga secili prej tyre dhe u dha atyre njëqind Lek Shqiptar si monedhë vendase (rreth një dollar amerikan).
Behzad aktualisht është i përfshirë me ekipet që kërcënojnë ish-anëtarë dhe gazetarë në Tiranë. Behzad Saffari po bashkëpunon me avokatin e MEK dhe përgjigjet ndaj Jila Deyhim.
Behzad Saffari në Irak dhe Shqipëri
Ahmad Taba (aka Akbar), ishte student në UMIST (Manchester) në kohën e Revolucionit iranian në 1979. Ai u rekrutua nga MEK për të punuar në Londër dhe më pas u transferua në Irak, pasi Massoud Rajavi shkoi atje.
Ahmedi u trajnua si një pilot helikopteri nga Ushtria Irakiane. Ai u diplomua nga rojet republikane të Sadamit, ku përfshiheshin luftërat guerile dhe taktikat SWAT. Ai gjithashtu pbëri një kurs 9-mujor me Mukhabaratin e Sadamit, nga i cili u diplomua si oficer i inteligjencës. Ai vrau shumë civilë në sulmet kurde dhe ka dëshmitarë që e lidhin atë me torturimin e të burgosurve në Kampin Ashraf.
Ahmed Taba në Shqipëri dhe Irak
Somayeh Mohammadi vetë nuk ka lënë kampet e MEK në Irak apo Shqipëri për njëzet e një vjet. Ajo nuk ka asnjë ide se çfarë po ndodh në botën e jashtme. Është e pakuptueshme që një grua që pretendon se po ndjek lirisht një luftë politike për ndryshimin e dhunshëm të regjimit kundër Iranit, është e paaftë të takohet me prindërit e saj për t'iu treguar ballë për ballë vendimin e saj. Prindërit e saj, të cilët e njohin atë aq mirë, thonë se është e qartë se ajo ka frikë dhe nuk vepron lirshëm kur flet kundër tyre. I rrethuar nga personazhet e MEK-ut të mësipërm, është e qartë se ajo është nën kontroll dhe nuk është në gjendje të flasë ose të veprojë për vete në ndonjë mënyrë kuptimplotë. Kjo nuk është një mosmarrëveshje familjare, Somayeh është një peng.
Nën presionin e kontrollit shtrëngues, ekspertët lehtë mund të njohin në Somayeh një viktimë e cila, në duart e MEK, është detyruar në buzë të një shkëmbi mbi të cilin mund të shtyhet ose të bjerë. Nëse më vonë raportohet se ajo është zhdukur, ka kryer vetëvrasje, është mbytur në një rezervuar, nuk ka dyshim se qeveria shqiptare duhet të mbajë përgjegjësi. Ajo nuk mund të shpëtojë veten nga dëmtimi, por mundësia e dëmtimit të MEK-ut është shumë e lartë. Ajo është në rrezik të madh.
Shqipëria mund të jetë një shtet i dështuar, por nuk është një shtet bandit si Iraku i Sadamit. Është një shtet me pretendime për t'u bashkuar me Bashkimin Evropian. Qeveria mundet dhe duhet të mbajë përgjegjësi për çfarëdo që ndodh me Somayeh Mohammadi. Mënyra për të parandaluar një rezultat të tillë është ndarja e saj nga MEK.
Burimi: The Iranian/ Gazeta impakt
Albanian report
http://www.newsbomb.al/paralajmerimi-nga-irani-policia-shqiptare-e-paafte-muxhahedinet-te-trajnuar-nga-garda-e-saddamit-130548
PARALAJMËRIMI NGA IRANI: POLICIA SHQIPTARE E PAAFTË, MUXHAHEDINËT TË TRAJNUAR NGA GARDA E SADDAMIT
Publikuar tek: AKTUALITET, më 20:11 08-08-2018
Prej disa ditësh në mediat shqiptare qarkullon historia e një gruaje muxhahedine me banim në Shqipëri, e cila refuzon të bashkohet me prindërit e mbërritur nga Kanadaja në Tiranë.
Somayeh i quan prindërit e saj "agjentë iranianë", ndërsa i ka bërë disa herë thirrje publike shtetit shqiptar t'i vijë në ndihmë.
Nga ana tjetër, prindërit Mostafa dhe Mahboubeh Mohammadi thonë se vajza e tyre është pjesë e një kulti të rrezikshëm terroristësh, MEK apo Mojahedin-e Khalq.
Faqja "online" iranian.com tregon versionin tjetër të historisë dhe ngre alarmin për rrezikshmërinë që paraqesin muxhahedinët që strehohen në Shqipëri.
"Iranian" identifikon disa prej muxhahedinëve për të cilët thotë se janë trajnuar nga Garda e diktatorit Saddam Hussein me taktika lufte të avancuara. Në artikull thuhet se ata dhunojnë dhe intimidojnë muxhahedinët që braktisin kampin në Shqipëri.
"Në rast mosbindje apo revlotë", policia shqiptare por edhe shërbimet inteligjente shqiptare "janë të paafta përballë këtij rreziku të madh që i kanoset", shkruhen ndër të tjera në artikull.
***
The Iran Protests, Regime Change, And The MEK
Also read:
https://iran-interlink.org/wordpress/?p=9120
Albania: MEK rebrands by assassinating unwanted members 
Massoud and Anne Khodabandeh, Balkans Post, June 22 2018:… The mysterious disappearance of a member of the Mojahedin Khalq (MEK) terrorist group in Albania has once again drawn attention to this controversial group. Malek Sharaee, 47, originally from Khuzestan Province in Iran, was reportedly drowned in the Rrotull village irrigation water reservoir. After three days, divers have not found his body even though the … 
Albania: MEK rebrands by assassinating unwanted members
Massoud Keshmiri: Killed Iran's PM and President – last seen in Germany after escaping MEK
The mysterious disappearance of a member of the Mojahedin Khalq (MEK) terrorist group in Albania has once again drawn attention to this controversial group. Malek Sharaee, 47, originally from Khuzestan Province in Iran, was reportedly drowned in the Rrotull village irrigation water reservoir. After three days, divers have not found his body even though the water channel is only 3.5 meters deep. However, a MEK representative and three MEK witnesses say his clothes were found at the water's edge. Police are now investigating this as a possible criminal offense. Even so, unless they gain access to Camp Ashraf Three, the MEK's purpose-built training camp in Manez, they are unlikely to unearth the truth – MEK impunity is far greater than this small country can deal with or penetrate.
MEK (aka Saddam's Private Army) was unknown in Albania until they arrived after 2013. Their bizarre behavior and controversial activitiessoon became the focus of media attention.
But the MEK's dark history began long before this. Along with well-publicised military-style terrorist attacks on Iran since the 1980s, the MEK was also trained by Saddam Hussein's Mukhaberat (Secret Services) and later by Israel's MOSSAD, in intelligence gathering and secret operations. As a result, MEK has also conducted many covert terror acts and assassinations over the years. Several of these were deliberately staged to make it look like Iran was involved. Such as the 1994 bombing of the Jewish community center in Buenos Aires. In spite of extensive investigation, the primary evidence linking Iran came from four high ranking intelligence officers from MEK.  In 2011, a man connected to Mexican drug dealers was arrested for the attempted murder of the Saudi Ambassadorto America. The US quickly accused Iran, but after two weeks the perpetrator was linked to MEK. In 2013, Israel arrested a Swedish Iranian man, Ali Mansouri, who 'confessed' to be spying for Iran in Tel Aviv. He turned out to be a MEK member.
The underlying pattern behind these events is of deception and callous, cynical murder. These examples are not unique. MEK has a long history of highly sophisticated and brutal undercover activity. However, the reported death of Malek Sharaee in Albania this week also points to a new phase in MEK covert activity. This time individual MEK members who were previously involved in known acts of violence are now themselves becoming victims of their own organization.
Internal assassinations are not new – Commander Ali Zarkesh was deliberately killedduring a military operation in 1988 because he had become critical of the leadership. There have been hundreds of reports of suspicious deaths and actual murders over the last three decades committed against critics and rivals.
In 2013, former MEK member Massoud Dalili was identified as the 53rd victim of a massacre at Camp Ashraf in Iraq. MEK only acknowledged his death when the Iraqi authorities formally identified him via his DNA. Dalili's body had been deliberately disfigured (his face and hands burned) to hide his identity. Massoud Dalili had been one of the personal security personnel for leader Massoud Rajavi. He had undergone training with Saddam's Republican Guards and the MEK's own specialist training. Before coming to Iraq, Dalili had headed a small MEK team in Gilan Province where he was responsible for scores of deaths, including civilians.
Massoud Dalili: Wanted for terrorism in Gilan Province – killed in Camp Ashraf, Iraq
Another victim killed during the same attack was Zohreh Ghaemi, She had commanded the assassination of General Sayad Shirazi in 1999. Of the other victims that day, at least ten are known to have participated in known acts of violence for MEK. No one claimed responsibility for the attack on Camp Ashraf.
In 2015, in the Netherlands, Mohamad Reza Kolahi was killed by a criminal gang on the order of MEK. Investigators confirmed that Kolahi was responsible for the 1981 bombing of the headquarters of the Islamic Republic Party in Tehran in which 72 high-ranking politicians and party members were killed.
Another MEK member, Massoud Keshmiri, responsible for the bombing which killed PM Bahonar and President Rajai in 1981, was last seen with MEK in Germany some years ago. He has since vanished and could be dead. Although these deaths cannot be said to be directly linked, there is a common thread whose purpose becomes clear when we remember 2016 when Prince Turki al-Faisal, former Saudi Intelligence chief, announced the death of MEK leader Massoud Rajavi. It is clear from this that MEK is being purged from top to bottom of all the individuals who have had involvement or are associated with its violent past – rebranding by assassination to make the group legally acceptable.
MEK has become the pattern for how other defeated terrorist groupings can be reinvigorated, rebranded and reused. The controversy following the Bulgarian PM's announcement that "Albania will become a coordination center for fighters returning from ISIS to the Balkans" may die down soon – Prime Minister Rama later dismissed this as fantasy, but he is not convincing.Instead, the history of the MEK in Albania indicates that the same scenario will be repeated. As ISIS fighters arrive and settle, the process will start just as it did with MEK. Expect more mysterious murders, suicides, disappearances, bizarre interventions to prevent investigations. And, of course, the involvement of Albanian citizens, politicians, and personalities for and against. Plus, not only abandoning any hope of joining the EU, but suffering more restrictions on the borders with the EU and Balkan countries.