Mojahedin Khalq (MEK, NCRI, MKO, Rajavi cult …)to purify their violent history
Nejat Society, November 18 2017:… Definitely, the slogan "death to America" was widely used by the MKO at least in the first three decades of its existence. Besides killing the American citizens in Iran in 1970's, the group was a radical anti-America entity until the fall of its former landlord Saddam Hussein. They celebrated the death of hundreds of American citizens in the September eleventh attack in 2001. "After this, the scenes of the airplanes smashing … 
Dr Olsi Jazexhi: Double standards in Albania's fight against terrorism 
The MEK's dirty past includes the anti-Imperialist inspired murder of six Americans in pre-revolution Iran which it later celebrated in songs and publications
Hostage Crisis, Change Of The Cover Not The Essence Of The MEK
MEK to purify their violent history
On the 38th anniversary of the U.S. Embassy takeover in Tehran, the propaganda activists of the Mujahedin Khalq Organization (the MKO/MEK/ the Cult of Rajavi/ the PMOI) keep on their efforts to purify their violent history projecting the entire violence committed at the time to the newly established Islamic Republic.
The member of the MKO's parliament in exile, Ali Safavi fabricated a post on the Hill to distance his group from any opposition against the United States; the enemy of the enemy is now the dear respected friend of the MKO.
Safavi claims that the chants of "Death to America" and "the disdain for international norms" are exclusively embraced by the Islamic Republic. Approving the invalidity of Safavi's claims is quiet easy by a very simple search in the accessible papers and documents of the group itself, as well as the international bodies and the worldwide media.
One very tangible investigated report is that of Chris McGreal of the Guardian that defined "what is the MEK" in September 2012, the same time that the group was delisted by the US State Department. "The MEK ran a bombing campaign inside Iran against the Shah's regime the 1970s," he wrote. "The targets were sometimes American, including the US information office, Pepsi Cola, Pan Am and General Motors. The group routinely denounced Zionism and "racist Israel", and called for "death to America"…The MEK was an enthusiastic supporter of the seizure of the US embassy in Tehran following the Iranian revolution. It called the eventual release of the American hostages a "surrender". [1]
Definitely, the slogan "death to America" was widely used by the MKO at least in the first three decades of its existence. Besides killing the American citizens in Iran in 1970's, the group was a radical anti-America entity until the fall of its former landlord Saddam Hussein. They celebrated the death of hundreds of American citizens in the September eleventh attack in 2001. "After this, the scenes of the airplanes smashing into the towers began to be broadcast on the widescreens in the hall over and over again," Reza Sadeghi Jabali, former member of the group said in his testimonies. "Each time they were shown, the leaders would stand up, cheer, clap and shout slogans and each time they would look toward the section commanders to ensure they and their people also stand up and join the celebrations. And they would, because they knew the consequences of not obeying. Rajavi, standing on the stage, was more excited than anyone else. After a while he ordered people to stop and listen. He then said (his exact words): "Praise Islam. Praise Islam. Imagine, if this is what Reactionary Islam can achieve, then what a day it will be when Revolutionary Islam steps up to the scene". [2]
The MKO's anti-US approach was originally documented by the US State department. The State Department's Country Reports on Terrorism released in 2011, listed the MKO's attacks against the American interests in Tehran which included six cases of bombings in different places that ended with the death of six American nationals. One case was particularly committed in the US embassy in Tehran. "In 1972, the MEK set off bombs in Tehran at the U.S. Information Service office (part of the U.S. Embassy)," the report said. [3]
"Though denied by the MEK, analysis based on eyewitness accounts and MEK documents demonstrate that MEK members participated in and supported the 1979 takeover of the U.S. Embassy in Tehran and that the MEK later argued against the early release [of] the American hostages," the report said. "The MEK also provided personnel to guard and defend the site of the U.S. Embassy in Tehran, following the takeover of the Embassy." [4] Thus, it was not unlikely that the MKO agents would have killed the American hostages of the embassy if they had had the power at the time.
While Ali Safavi calls the hostage taking in the US embassy as "medieval", claiming that the Iranians have changed and seek a normal relation with the US, he should be asked what about the MKO. As the representative of the MKO, he claims that his group has got "re-energized, boosting its strength and cohesiveness" to aid the Iranian people in their aspiration for friendship with the West. Supposing that the Iranians trust the MKO for the alleged vows, has the MKO really changed?
"The MEK reinvented itself in American eyes," Chris McGreal clarifies.  The state department report quotes an American journalist as saying of the MEK: "They hope to transform their public image in America from terrorists to freedom fighters". [5]
The MKO abandoned violence only after it was disarmed by the US army in 2003. However, the violence inside the cult-like structure of the group continues systematically. The 1992 report of the State department –before the group could buy support in the US government—   said the MKO's leadership "never practices democracy within their organisation". [6]
"Many Iranians who have dealt with MEK members assert that the [MEK] suppress dissent, often with force, and do not tolerate different viewpoints. The [MEK's] credibility is also undermined by the fact that they deny or distort sections of their history, such as the use of violence or opposition to Zionism. It is difficult to accept at face value promises of future conduct when an organisation fails to acknowledge itspast," the report said. [7]
The time has come for the world to see the true image of the Cult of Rajavi; one that still keeps people as hostages in its camps,  depriving them of their most basic rights, barring them from leaving the cult and allow them to choose freely whether they want to stay in the cult or not.
Respects for human rights, gender equality and free-market economics is worthless in the MKO. The small society of the Cult of Rajavi is an iconic example of segregation, gender inequality, and forced unpaid labor. Read the testimonies of former members.
Mazda Parsi
Sources:
[1] McGreal, Chris, Q&A: what is the MEK and why did theUS call it a terrorist organization? , the Guardian, September 21, 2012
 [2]http://www.nejatngo.org/en/posts/6599
[3] http://www.nejatngo.org/en/posts/3855
[4] ibid
[5] McGreal, Chris, Q&A: what is the MEK and why did the US call it a terrorist organization? , the Guardian, September 21, 2012
[6] ibid
[7] ibid
o
** 
Captain Lewis Lee Hawkins
(Photograph courtesy Annette Hawkins)
link to one of the Mojahedin Khalq songs
advocating terror and killing Americans
(In Persian written and distributed after the Iranian Revolution)
Who celebrated the terrorist act of Sep. 11? 
Ambassador Daniel Benjaminan and Ambassador Daniel Fried on Mojahedin Khalq Terrorist designation and Camp Ashraf
(aka; MKO, MEK, Rajavi cult)
Remember.Mojahedin Khalq (MKO, MEK, Rajavi cult) was one of the excuses of US attacking Iraq
Iran: Joint Takfiri – MKO plot against Iran failed (aka: Mojahedin Khalq, MEK, Rjavi cult)
*** 
Also read:
https://iran-interlink.org/wordpress/?p=8678
Gary Sick: To understand MEK we need to understand the source of its revenue 
The Iranist, July 16 2017:… I don't know how much influence the Mojahideen Al-Khalq has. One question that is asked often but has no answer is, "Where is all that money coming from?" The MEK is paying $50,000 to $100,000 for people to deliver a speech that basically preaches their message of violent overthrow of the Iranian government. We would understand the MEK better if we understood the sources of its revenue …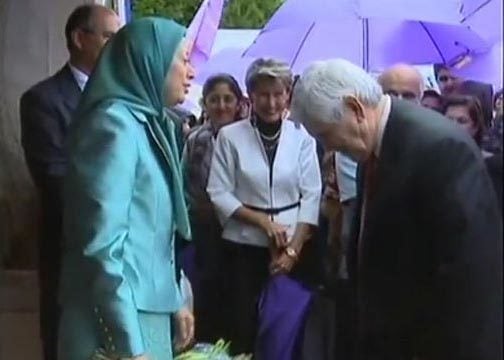 National Security: Could Maryam Rajavi (Mojahedin Khalq) blackmail her friends in high places – Rudi Giuliani, John Bolton and Newt Gingrich
Columbia University's Gary Sick spoke to The Iranist about conspiracy theories pertaining the Islamic Republic, Tehran's trajectory, and Donald Trump's Iran policy.
(Gary Sick: To understand MEK we need to understand the source of its revenue)
THE IRANIST: You served on the National Security Council in President Jimmy Carter's administration. Do you have any regrets about how foreign relations with Iran were handled before the 1979 revolution?
GARY SICK: Except for the fact that we got it all wrong, I guess everything was fine. My book, All Fall Down: America's Fateful Encounter with Iran, was supposed to indicate that nobody—certainly no one in the Carter administration or anywhere else—thought that we understood everything going on. The reality is that no one got it right. And to all the people now who feel the revolution was preordained and predictable and that everyone should have seen it coming, there was no one like that at the time. No one was saying it was going to be a revolution. Almost everybody knew that Shah Mohammad Reza Pahlavi had overwhelming superiority—support, organization, money. We were all wrong. Everyone involved in the events of those days now agrees on that.
THE IRANIST: What do you say to those who believe that the Carter administration backed Ayatollah Ruhollah Khomeini and that the Islamic Revolution was preplanned?
GARY SICK: As someone who was close to Carter and working with him on that subject at the time, that notion is ludicrous. Having Khomeini in Iran was exactly the last thing in the world that Carter wanted. Basically, what is happening—like all conspiracy theories—is that people want to explain away things that were painful. They don't want to be seen as responsible for things themselves. To the people who say, "Weren't you really responsible for getting Khomeini into power?" I say to them, "Where were you at the time? Where were the people who were supposed to be standing up for the shah at the time?" They disappeared and went over the horizon.
I understand why people want to find a scapegoat. But the reality is everyone got it wrong and the people who suffered the most have reason to be unhappy with the way things went.
THE IRANIST: What are your thoughts about the 1953 coup documents being released?
GARY SICK: With regard to the 1953 coup—or countercoup, as it is referred to—that was a matter which involved CIA resources and methods. In many cases, the people involved were very anxious. As time went on—particularly since the United States was involved in efforts to negotiate with Iran both before and during the period of the JCPOA [Joint Comprehensive Plan of Action, or the Iran nuclear deal]—there was a reluctance to put out information that could interfere with that process.
Whether that was right or wrong, I cannot say. Many historians were very upset about the fact the documents were not released and held for many years. They are out now and I think what we see is what we are going to get.
THE IRANIST: How do you find the Trump administration's handling of relations with Iran right now?
GARY SICK: They basically came in with the idea that Iran was the enemy, and they have not changed their attitude. They are not interested in making a deal with Iran. They are not interested in whatever positive benefits that could come of cooperating with Iran, like in Afghanistan and other places where our interests coincide. They are out to oppose Iran in any way they can. And at the same time, there are a lot of people in the administration who want to see regime change in Iran. It is a very dangerous thing.
I was not a Donald Trump supporter by any means, but I was pleased that when he came into office, he said, "Let's reduce our presence in the Middle East. We're overcommitted and we're paying too high of a price for all of this. It has nothing to do with us." I think he was right. I thought it was very constructive and it was the one area where I could really support Trump. After a few months in office, he seems to have changed course entirely. Now he has surrounded himself with a group of generals, and basically delegated responsibility to them for increasing military presence in the region. We have a presence in virtually every part of the Middle East. Everything Trump said [regarding foreign policy] during the presidential campaign has not taken place. In fact, it's going the opposite way. That does bother me very much because I think of all the things that could happen in the near future, which is truly disastrous for the Middle East and the United States, would be getting into a shooting conflict where we find ourselves spending enormous amounts of money without any positive outcome at all. We seem to be looking for military answers to all our problems.
THE IRANIST: U.S. Secretary of State Rex Tillerson recently talked about regime change in Iran. Why hasn't Washington learned that regime change isn't the way to go? 
GARY SICK: Regime change is always a tempting idea. Governments everywhere think if they can just change the government or change the rulers, everything would then be fine. That usually backfires, and there are unintended consequences. They haven't learned their lesson because they believe all their problems are tied to one ruler in one place.
THE IRANIST: The Trump administration has been rather vague as to what "regime change" means. What do you think they have mind?
GARY SICK: At the moment, I'm not sure we can say the Trump administration has a point of view; it has multiple views. By the way, it is not unusual for the U.S. government to have multiple views. However, it is unusual to have them out in the open so blatantly. Clearly, right now there is infighting in the U.S. government, comparable to the worst kind under the Nixon administration and the famous ones between National Security Advisor Zbigniew Brzezinski and Secretary of State Cyrus Vance under Carter. This rises to the level of some of the worst infighting in White House history.
Gary Sick on 'Poletik,' a satirical news program hosted by Kambiz Hosseini. Photograph: Kambiz Hosseini
THE IRANIST: Do you think the Trump administration could be considering the formerly designated terrorist organization, the Mojahideen Al-Khalq (MEK), as an option for regime change?
GARY SICK: I don't know how much influence the Mojahideen Al-Khalq has. One question that is asked often but has no answer is, "Where is all that money coming from?" The MEK is paying $50,000 to $100,000 for people to deliver a speech that basically preaches their message of violent overthrow of the Iranian government. We would understand the MEK better if we understood the sources of its revenue. Those sources are significant and they have a wealth of political influence.
THE IRANIST: Do you think a war with Iran is a possibility over what is happening in Syria?
GARY SICK: We are in fact fighting on the same side, in opposition to ISIS, but we are on opposite sides when it comes to Syria and what happens there. As we have seen, Iranian aircraft and drones have been shot down south of Raqqa, the ISIS capital. As the fight against ISIS progresses, people are looking at what the aftermath is going to be and are concerned Iran and Syria will benefit from the downfall of ISIS. And then matters complicate further: Russia is basically allied with Iran and Syria, but these three nations also have their problems with each other, because they do not fully trust each other. The chances of misinformation, mistakes, and unintended consequences are very high. I don't tend to be alarmist, but I think the chance of us getting into another war in the Middle East is very high.
THE IRANIST: How do you interpret Iran's current political trajectory?
GARY SICK: There are two major traditions in Iranian politics. One is that the Iranian people usually vote for whichever candidate is least supportive of the establishment in every election. They are a very rebellious bunch. The second great tradition is that every Iranian president that gets a second term is stunted by the actions of the Supreme Leader and the Islamic Revolutionary Guard Corps (IRGC). Even if the Iranian people vote for someone who they think is really a reformer, there are a lot of people in the country who do not want to see that happen, and they can do a lot to frustrate the president. That's where we are now.
Purchase Gary Sick's book, All Fall Down: America's Tragic Encounter With Iran.
(END)
***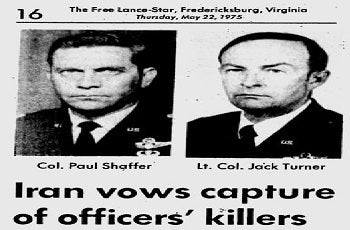 The MEK's dirty past includes the anti-Imperialist inspired murder of six Americans in pre-revolution Iran which it later celebrated in songs and publications
Iran Lodges official Protest with France, warning against MEK-ISIS ties (MKO, Rajavi cult)
Also read:
https://iran-interlink.org/wordpress/?p=8558
Under President Macron, France can play a pivotal role in Western relations with Iran 
Massoud Khodabandeh,  Huffpost, June 27 2017:… Perhaps the time is finally ripe for a new appraisal of what zero tolerance means for France. The MEK's messages promoting violent regime change should no longer be tolerated. President Emmanuel Macron's new centrist movement has won a large majority in the French parliament giving him a strong hand to play. He already revealed himself to be a shrewd and … 
Iran terror attack: Who gains?
Americans take responsibility for recent joint Saudi/ISIS/MEK terror attacks (Mojahedin Khalq, Rajavi Cult, MKO, PMOI, NCRI …)  
Under President Macron, France can play a pivotal role in Western relations with Iran
European counter-terror experts warn that as ISIS is pushed into a smaller and smaller theatre of operations in the Middle East, there will certainly be blowback as foreign fighters return to their own countries. In this context, the ISIS terrorist attacks in Tehran expose a much morecomplex situation which will have lasting repercussions in the West unless it is tackled at source. That includes zero tolerance for any messages promoting violent extremism.
What worries experts is that ISIS almost certainly gained the expertise it used to carry out the attacks in Iran from the exiled Mojahedin Khalq (MEK) organisation. The MEK has a three-decade history of terrorist violence against Iran and continues to cling to an agenda which promotes violent regime change. Whilst the MEK is widely regarded as a defunct force due to the age and health of its fighters, experts warn that although the MEK no longer constitutes a fighting force, the members remain fully radicalised and capable of acting as logistics facilitators and training and planning consultants for any other terrorist group. Certainly, they are all capable of conducting suicide missions.
Since America ensured the MEK were transferred from Iraq to Albania this danger has become more acute. Albania is still struggling to overcome the political and media corruption, drug crime, gun smuggling and people trafficking which will prevent it joining the European Union anytime soon. The presence of 3000 radicalised MEK members in a country known as a route between Europe and Syria for modern terrorist forces is not just controversial, it is dangerous.
Even so, the real danger does not lie in Albania; it is a NATO country dominated by the US and the MEK can and will, therefore, be contained and re-purposed for whatever the US needs them for. The recent visits to the MEK by John Bolton and Senator John McCain are an indication of this agenda.
The real danger lies in France and Western Europe. The MEK has been headquartered for the past thirty-six years in Auvers-sur-Oise just outside Paris. This year, as always, the MEK will use its front name the 'National Council of Resistance of Iran' to hire the Villepinte salon outside Paris, pay disproportionate speakers fees to advocates and round up a paid audience to wave flags and dutifully applaud the 'regime change' speeches. This annual event is known inside the MEK as a celebration of armed struggle – the raison d'être of the MEK group.
This year the event is being held on July 1, but it was originally timed to celebrate the MEK's challenge to Ayatollah Khomeini's leadership on 30th Khordad (June 21, 1981). These dates matter. Analysts now say that the MEK has moved the date of the celebration to distance it from the association with defeat – after the coup d'état failed, senior MEK leaders fled to France with CIA backing and left the rank and file to face mass arrests and executions inside Iran. Instead the new date is closer to what the MEK regards as a major victory in its three decade long terrorist campaign against Iran. On the 7th Tir (June 28, 1981) MEK operatives blew up the headquarters of the Islamic Republic Party in Tehran during a meeting of party leaders. Seventy-three leading officials of the Islamic Republic were killed.
The significance of this becomes clear when we link the MEK's core beliefs to the recent terrorist attacks in Tehran. The message which the MEK event gives to observers is that the pattern of attacks by ISIS in Tehran was glorious and righteous and is a legitimate response to a scenario in which Iran is the world's leading sponsor of terrorism. (For the record, neither the MEK nor Saudi Arabia condemned the attacks.)
This scenario – Iran as the world's leading sponsor of terrorism – has been promoted ad nauseamby the MEK throughout western political circles. The work of national parliaments as well as the European Parliament have been held hostage to this narrative. Normalisation of relations with Iran following the nuclear agreement have been stymied by the MEK. Indeed, MEK bullying and intimidation in pursuit of this agenda was recently discussed in the European Parliament. The MEPs concluded that Europe cannot properly challenge Iran's human rights situation as long as a group which promotes regime change and abuses the human rights of its own membersartificially imposes itself centre stage of these discussions.
The fact is that over the past year the western political landscape has changed dramatically. Two distinct blocs have emerged: a cohort of anti-Iran countries including the US, UK, Israel and Saudi Arabia on one side blindly pursuing regime change against Iran apparently at all costs, and Europe – minus the UK after Brexit – (and incidentally Russia and China) pursuing rapprochement and trade opportunities.
In this context, the spotlight for action must fall on France, home to the MEK headquarters. We must ask the French government 'these people belong to the regime change bloc, why do you continue renting your land to them after 36 years? What have the Americans or the MEK done for you that is worth the bad reputation attached to supporting this group? What is the cost benefit of having the MEK in your country? What implications does its continued presence have for your foreign policy and trade relations? How can the Republic continue to allow this group topromote violent extremism and terrorism on French soil?'
In the past, of course, it was pointless asking these questions – even though they were asked as permanent unresolved issues. Removing the MEK from France and other European countries was problematic – expelling them to Iraq was impossible because their human rights could not be guaranteed. But in 2016 the Americans facilitated the MEK's removal from Iraq to safety in Albania. There is no reason to believe that Europe cannot similarly facilitate the safe removal of the MEK leaders from France and other European countries to Albania. The MEK leader Maryam Rajavi has already spent several weeks in Tirana. There is nothing to prevent her setting up a permanent headquarters there with further help from the Americans.
President Emmanuel Macron's new centrist movement has won a large majority in the French parliament giving him a strong hand to play. He already revealed himself to be a shrewd and masterful challenger in international relations almost before opening his mouth when he out manoeuvred President Donald Trump at the NATO summit in Brussels in May. Perhaps the time is finally ripe for a new appraisal of what zero tolerance means for France. The MEK's messages promoting violent regime change should no longer be tolerated.
(END)
*** 
Albanian translation:
http://gazetaimpakt.com/presidentin-macron-franca-mund-te-luaje-nje-rol-te-rendesishem-ne-marredheniet-perendimore-iranin/
Me Presidentin Macron, Franca mund të luajë një rol të rëndësishëm në marrëdhëniet perëndimore me Iranin
Ekspertët evropianë kundër terrorizmit paralajmërojnë se ndërsa ISIS është futur në një teatër gjithnjë e më të vogël të operacioneve në Lindjen e Mesme, me siguri do të ketë të papritura kur luftëtarët e huaj të kthehen në vendet e tyre. Në këtë kontekst, sulmet terroriste të ISIS-it në Teheran ekspozojnë një situatë shumë më komplekse e cila do të ketë pasoja të përhershme në Perëndim, nëse nuk trajtohet që në burim. Kjo përfshin tolerancë zero ndaj çdo mesazhi që promovon ekstremizmin e dhunshëm.
Ajo që shqetëson ekspertët është se ISIS përvetësoi pothuajse me siguri ekspertizën që përdorej për të kryer sulmet në Iran nga organizata e mërguar Muxhahedin e Halq (MEK). MEK ka një histori prej tre-dekadash të dhunës terroriste kundër Iranit, dhe vazhdon të kapet në një axhendë e cila nxit ndryshimin e dhunshëm të regjimit. Përderisa MEK konsiderohet gjerësisht si një forcë e vdekur për shkak të moshës dhe shëndetit të luftëtarëve të saj, ekspertët paralajmërojnë se megjithëse MEK nuk përbën më një forcë luftimi, anëtarët mbeten plotësisht radikalizues dhe të aftë për të vepruar si lehtësues logjistikë dhe konsulentë trajnimi dhe planifikimi për çdo grup tjetër terrorist. Sigurisht, ata janë të gjithë të aftë për kryerjen e misioneve vetëvrasëse.

Meqënëse Amerika siguroi që MEK-u të transferohej nga Iraku në Shqipëri, ky rrezik u bë më akut. Shqipëria ende po lufton për të kapërcyer korrupsionin politik dhe mediatik, krimin e drogës, kontrabandën e armëve dhe trafikimin e njerëzve, të cilat do ta pengojnë hyrjen në Bashkimin Evropian në çdo kohë. Prania e 3,000 anëtarëve të radikalizuar të MEK-ut në një vend të njohur si një rrugë midis Evropës dhe Sirisë për forcat terroriste moderne nuk është vetëm e diskutueshme; është e rrezikshme.
Megjithatë, rreziku i vërtetë nuk qëndron në Shqipëri; Shqipëria është një vend i NATO-s i mbizotëruar nga SHBA-ja, dhe kështu MEK-u mund dhe do të përfshihet e rivendoset për çfarëdolloj gjëje që SHBA-ja ka nevojë për të. Vizitat e fundit nga John Bolton dhe senatori John McCain janë një tregues i kësaj axhende.

Rreziku i vërtetë qëndron në Francë dhe në Evropën Perëndimore. MEK ka qenë i vendosur për tridhjetë e gjashtë vitet e fundit në Auvers-sur-Oise jashtë Parisit. Këtë vit, si gjithmonë, MEK do të përdorë emrin e tij të parë 'Këshilli Kombëtar i Rezistencës së Iranit' për të marrë me qera sallonin Villepinte jashtë Parisit, për t'u paguar avokatëve tarifat joproporcionale të folësve dhe për të siguruar një audiencë të paguar për të valëvitur flamuj dhe për të duartrokitur fjalimet e ndryshimit të regjimit. Kjo ngjarje vjetore njihet brenda MEK-ut si një festë e luftës së armatosur – arsyeja e ekzistencës së grupit MEK.
Këtë vit ngjarja do të mbahet më 1 korrik, por fillimisht ishte caktuar për të festuar sfidën e MEK-ut ndaj udhëheqjes së Ayatollah Khomeinit në Khordadin e 30-të (21 qershor 1981). Këto data janë të rëndësishme. Analistët tani thonë se MEK e ka ndryshuar datën e kremtimit për ta larguar atë nga lidhja me humbjen – pasi grushti i shtetit dështoi, udhëheqësit e lartë të MEK-ut ikën në Francë me mbështetjen e CIA-s dhe i lanë njerëzit e thjeshtë për t'u përballur me arrestime masive dhe ekzekutime brenda Iranit. Përkundrazi, data e re është më afër asaj që MEK e konsideron si një fitore e madhe në fushatën terroriste të tre dekadave kundër Iranit. Më 7-të Tir (28 Qershor 1981), operativët e MEK shpërthyen selinë e Partisë së Republikës Islamike në Teheran gjatë një takimi të udhëheqësve të partisë. Shtatëdhjetë e tre zyrtarë udhëheqës të Republikës Islamike u vranë.
Rëndësia e kësaj bëhet e qartë kur lidhim besimet kryesore të MEK-ut me sulmet e fundit terroriste në Teheran. Mesazhi që ngjarja e MEK-ut u jep vëzhguesve është se modeli i sulmeve të ISIS-it në Teheran ishte i lavdishëm dhe i drejtë dhe është një përgjigje legjitime për një skenar në të cilin Irani është sponsori kryesor i terrorizmit në botë. (Sa për ta ditur, as MEK as Arabia Saudite nuk i dënuan sulmet).
Ky skenar – Irani si sponsori kryesor i terrorizmit – është promovuar nga MEK në të gjitha qarqet politike perëndimore. Puna e parlamenteve kombëtarë si dhe Parlamenti Europian janë mbajtur peng i kësaj narrative. Normalizimi i marrëdhënieve me Iranin pas marrëveshjes bërthamore është penguar nga MEK. Në të vërtetë, ngacmimi dhe kërcënimi i MEK-ut në ndjekje të kësaj axhende u diskutua kohët e fundit në Parlamentin Evropian. Deputetët përfunduan se Evropa nuk mund ta sfidojë siç duhet situatën e të drejtave të njeriut të Iranit për sa kohë që një grup që promovon ndryshimin e regjimit dhe abuzon me të drejtat e njeriut të anëtarëve të vet, imponon vetë artificialisht fazën qendrore të këtyre diskutimeve.
Fakti është se gjatë vitit të kaluar peizazhi politik perëndimor ka ndryshuar në mënyrë dramatike. Dy grupe të dallueshme janë shfaqur: një grup i vendeve anti-Iran, duke përfshirë SHBA-në, Mbretërinë e Bashkuar, Izraelin dhe Arabinë Saudite nga njëra anë, që me sa duket ndjekin verbërisht ndryshimet e regjimit kundër Iranit me çdo kusht, dhe Evropa – pa Mbretërinë e Bashkuar pas Brexit – (dhe aksidentalisht Rusia dhe Kina) që po ndjekin afrimin dhe mundësitë tregtare.
Në këtë kontekst, vëmendja për veprim duhet të bjerë në Francë, në shtëpinë e selisë së MEK. Ne duhet të pyesim qeverinë franceze se pse këta njerëz që i përkasin bllokut të ndryshimit të regjimit vazhdojnë të marrin me qera tokën tuaj pas 36 vjetësh? Çfarë kanë bërë amerikanët apo MEK-u për ju, që ia vlen reputacioni i keq që i bashkëngjitet mbështetjes së këtij grupi? Cili është benefiti i të pasurit MEK-un në vendin tuaj? Çfarë implikimesh ka prania e tij e vazhdueshme në politikën tuaj të jashtme dhe të tregtisë? Si mundet Republika të vazhdojë ta lejojë këtë grup të nxisë ekstremizmin dhe terrorizmin e dhunshëm në tokën franceze?
Në të kaluarën, natyrisht, ishte e pakuptimtë t'i bëje këto pyetje – edhe pse ato ishin pyetur si çështje të përhershme të pazgjidhura. Heqja e MEK-ut nga Franca dhe vende të tjera evropiane ishte problematike – dëbimi i tyre në Irak ishte i pamundur për shkak se të drejtat e tyre njerëzore nuk mund të garantoheshin. Por në vitin 2016, amerikanët ndihmuan largimin e MEK-ut nga Iraku në Shqipëri. Nuk ka arsye të besohet se Evropa nuk mund të lehtësojë në mënyrë të ngjashme largimin e sigurt të udhëheqësve të MEK-ut nga Franca dhe vendet e tjera evropiane në Shqipëri. Udhëheqësja e MEK-ut, Maryam Rajavi ka kaluar tashmë disa javë në Tiranë. Nuk ka asgjë që të parandalojë ngritjen e një selie të përhershme atje me ndihmë të mëtejshme nga amerikanët.
Lëvizja e re qëndrore e Presidentit Emmanuel Macron ka fituar një shumicë të madhe në parlamentin francez, duke i dhënë atij një dorë të fortë për të luajtur. Ai tashmë e shpalli veten si një sfidues të zgjuar dhe mjeshtëror në marrëdhëniet ndërkombëtare kur ai ia mori në kthesë presidentit Donald Trump në samitin e NATO-s në Bruksel në maj. Ndoshta për Francën ka ardhur më në fund koha për një vlerësim të ri të asaj që nënkupton zero tolerancë. Mesazhet e MEK-ut që promovojnë ndryshimin e regjimit të dhunshëm nuk duhet të tolerohen më.
/ © Gazeta Impakt
The Life of Camp Ashraf Mojahedin-e Khalq – Victims of Many Masters By Anne Singleton and Massoud Khodabandeh
Also read:
https://iran-interlink.org/wordpress/?p=8539
ISIS Drew On MEK Expertise For Terror Attacks On Tehran (Mojahedin Khalq, Rajavi cult) 
Massoud Khodabandeh, Iranian.com, June 20 2017:… The following piece has been written by somebody I know well. He does not want his real name to be used because that would jeopardize the sensitive nature of his current work in counter terrorism in Europe – Massoud Khodabandeh… As a former member of the Mojahedin Khalq terrorist organization (MEK), I followed the news of terrorist attacks on Tehran with shame, guilt and anger. My shame and guilt stem … 
Mojahedin Khalq (MKO, NCRI, Rajavi cult) terrorists openly declare support for ISIL, terror acts
MEK's Maryam Rajavi blackmails Albania to become the new 'Saddam regime' for them.
ISIS Drew On MEK Expertise For Terror Attacks On Tehran  (Mojahedin Khalq, Rajavi cult)
The following piece has been written by somebody I know well. He does not want his real name to be used because that would jeopardize the sensitive nature of his current work in counter terrorism in Europe – Massoud Khodabandeh.
As a former member of the Mojahedin Khalq terrorist organization (MEK), I followed the news of terrorist attacks on Tehran with shame, guilt and anger.
My shame and guilt stem from having been involved in such attacks in the past as a member of the MEK. My anger springs from what I see as the MEK's ongoing influence in these current attacks. Based on my inside knowledge of the MEK I believe this organization has now helped the most notorious terror organization in the world to attack our country and our people.
As I followed news of the attacks I was forced to remember my own role in a similar mission and how my membership of the MEK had almost cost me my life. While analyzing the details of the ISIS attack as they emerged, it was easy to see that these operations in Tehran had been based on the expertise of MEK operations in several ways. I have identified some of these similarities which I have given in outline below.
Planning
The targets selected by ISIS were sites constantly targeted by the MEK. The Iranian Parliament and its members had always been primary targets for the MEK since the 1980s. The group had managed to assassinate several members of the Parliament and tried to plant a bomb there at one point. They were unsuccessful and some members were killed by security forces while other terrorist teams were arrested. Similarly, after Ayatollah Khomeini's shrine was created, Massoud Rajavi, the late MEK leader, announced that "Khomeini's grave must be exploded". It became a mantra among MEK members which they would chant in indoctrination sessions. The MEK tried unsuccessfully to send terrorist teams there in 1991 and 2002.
While ISIS and the MEK have the same interests in attacking Iran, ISIS could have caused much greater anti-government fear and hatred among the civilian population in line with its regime change agenda if they had bombed a civilian target like transport infrastructure or a shopping mall. They could have done more damage by targeting the Revolutionary Guards whose forces are in Syria. Instead, the ISIS targets matched those which had been constantly under attack by the MEK for thirty years.
Logistics
ISIS used locally recruited Iranians for this attack. Their main challenge was to get their weaponry to Tehran without being detected by Iranian security forces. This had always been the main challenge for MEK terrorists. They used different methods to get their weapons to Tehran. For example, hiding the weapons in a small truck loaded with food or inside an empty computer case. The MEK experiences were helpful to the ISIS attackers. They paid a female acquaintance to join them to go to Tehran, pretending it is a family visit. This was to raise less suspicion. Between 2000-2003, the MEK used the same approach to get their terrorists from Iraq to Tehran. The first suicide bomber in Iran was a female MEK member. Since then, the MEK used women in suicide operations to 'normalize' their terrorist teams.
The suicide mission
An important similarity is the human factor. Just like the MEK, ISIS terrorists selected and trained for suicide missions are thoroughly brainwashed first. They undergo intensive indoctrination and psychological manipulation sessions and afterwards they are not allowed to think of anything else but their mission; terror. From the videos and reports, it is clear that the terrorists are numbed and fearful people who are prepared to use weapons as a first resort against innocent unprepared people. The ISIS terrorists exploded their vests in their first moments of contact with security forces. A couple of them even exploded their vests as soon as they just saw the security forces. This is similar to MKO terrorists who were brainwashed to assassinate unarmed civilians or perform a mortar attack in a large city like Tehran. They were also armed with cyanide pills and a hand grenade and ordered that rather than risk capture they must commit suicide and hurt as many of the people around them as possible.
Governmental backing
It has been widely reported that, just like the MEK, ISIS also gets support from inside Saudi Arabia. After the Tehran terrorist attacks neither Saudi Arabia nor the MEK condemned the events. This echoes MEK behaviour under the Saddam regime. The MEK could not and would not condemn any action of Saddam or the Saudis because they were being paid and supported by them.
The MEK needed governmental level backing to move across national borders. Saddam arranged for MEK operatives to get inside Iran from Pakistan and Turkey rather than cross the Iraqi border which was under international scrutiny. ISIS has also been able to cross borders and move weapons and fund its activities in a way that indicates governmental level of support.
There is no indication that the MEK were directly involved in the Tehran attacks. But from my inside knowledge and based on having performed a similar style of suicide attack in Tehran myself some years ago, there is little doubt in my mind that ISIS have been able to use MEK expertise to pursue this modern terrorist attack.
*** 
Sitting Down with the MEK (Mojahedin Khalq, Rajavi cult, NCRI, …)
Also read:
https://iran-interlink.org/wordpress/?p=8457
Debate in the European Parliament 'What is to be done about the Iranian Mojahedin Khalq (MEK)?' 
Massoud Khodabandeh, Huffpost, June 02 2017:… The meeting was organised by Ana Gomes, SND (Portugal) and seconded by Marietje Schaake, ALDE (Netherlands) and Michael Gahler, Christian Democrats (Germany). Two expert speakers were invited to address the meeting: Nicola Pedde, Director Institute for Global Studies, Italy and Massoud Khodabandeh, Director Middle East Strategy Consultants, UK. … 
Albania's destabilization? You have forgotten hundreds of Mojahedin!

Should we be afraid of Senator McCain meeting with the Mojahedin Khalq (Rajavi cult, MEK, MKO, …) in Albania?
Link to the source (Huffpost)
Link to the same article (Top topic)
Debate in the European Parliament 'What is to be done about the Iranian Mojahedin Khalq (MEK)?'
A meeting in the European Parliament on 30 May discussed the problems associated with the Mojahedin Khalq Organisation (MEK) both inside the Parliament and across Europe and the wider world.
The meeting, which was attended by MEPs, researchers and analysts along with representatives of agencies outside the parliament such as security personnel, was organised by Ana Gomes, SND (Portugal) and seconded by Marietje Schaake, ALDE (Netherlands) and Michael Gahler, Christian Democrats (Germany).
All three have a clear record as outspoken critics of Iran's human rights record and are concerned about the impact of MEK activity on this issue.
Two expert speakers were invited to address the meeting: Nicola Pedde, Director Institute for Global Studies, Italy and Massoud Khodabandeh, Director Middle East Strategy Consultants, UK.
Since all the participants have seen first-hand that the MEK spends enormous amounts of money for publicity and lobbying, the first issue to be discussed was 'who funds the MEK and what is their agenda?' It soon became apparent that the MEPs are fully aware that the MEK has never existed as an independent group and has benefitted over three decades from funding streams from specific circles which are trying to engineer regime change in the Middle East. The question then became whether these sponsors understand that the cost benefit of supporting the MEK is not giving positive returns but in fact has a negative result for them in their regime change agendas.
Further discussion by representatives revealed that the MEK has been shunned by almost every Parliament across Europe.
In spite of this, MEK members can still gain access to the European Parliament because it is an open institution. The problem this presents is the bullying tactics used by the MEK to intimidate MEPs and their staff. Several delegates at the meeting gave first-hand evidence of this. One MEP said that within ten minutes of taking one particular stance he was bombarded by mass emails some of which contained swearing and threats. Delegates agreed that this is incompatible with the fundamental principles of any Parliament in which representatives must be able to speak and act free from any pressure or intimidation.
Nicola Pedde described to delegates his work in the Italian Parliament where MPs are persuaded to sign petitions by bogus human rights campaigners. Pedde said that when he asked, many of the signatories were unaware that the MEK was behind the petition and didn't realise that various sentences or paragraphs were added afterwards to give support for Maryam Rajavi and her agenda. Pedde said some MPs were even strongly against the MEK and were very angry about being deceived in this way. They had thought they were condemning human rights abuses in Iran, but their names were then misused to depict them as supporters of terrorists in Albania.
The discussion moved on to the problem of accepting the MEK as advocates of human rights for Iran. Ana Gomes said that when Iranian Nobel Human Rights Prize winner Shirin Ebadi visited the European Parliament, she was unequivocal in saying that the MEK do not have the right to be described as human rights activists. Quite the opposite, they are abusers themselves, she said. Massoud Khodabandeh reminded delegates that in a recent interview with AP, Reza Pahlavi – who wants to restore the monarchy to Iran – dismissed the MEK as a cult. In addition, every Iranian opposition group from the Greens to the Nationalists has rejected the MEK as human rights advocates and as a political entity.
More concerning for delegates is that the government of Iran is quick to use the MEK's advocacy for human rights as a means to dismiss the issue, pointing out that the terrorist group murdered thousands of Iranian citizens and still commits human rights abuse against its own members. Massoud Khodabandeh gave an example from the UK House of Lords in which Haleh Afshar – a prominent Iranian feminist and academic who now sits in the House as Baroness Afshar – hosted a parliamentary debate about human rights in Iran. The challenging discussion, with valuable contributions from several informed members, was completely undermined by one of the MEK's supporters who asserted that only Maryam Rajavi and her group could bring freedom and human rights to Iran. The government of Iran cannot be expected to even respond to such a debate said Khodabandeh.
Nicola Pedde made an interesting comment when he said that the MEK cannot be considered as a viable force because, as a result of its cultish behaviour, the MEK do not have a second generation. They have effectively killed themselves, he told delegates, because marriage and family are banned for all members.
The third issue to be discussed was the MEK presence in Albania. Delegates heard how the MEK had been forced to leave Iraq and how the Americans arranged for the UN to be able to transfer them to Albania. The government of Iraq was relieved to be rid of three thousand MEK who had been part of Saddam Hussein's repressive forces, but the problem has now simply been moved to Albania. The Americans promised help to de-radicalise the MEK members. But, as Massoud Khodabandeh pointed out, this did not happen and the group was allowed to re-group as a terrorist cult and treat its members as modern slaves.
Delegates discussed Albania's candidature to join the European Union in light of this situation and agreed that this is not just incompatible but that having trained terrorists on the doorstep of Europe is already a security threat to Europe. Delegates stressed that European security services need to take this threat seriously from now.
Reports also described the human rights abuses inflicted on MEK members by their own leaders. They are living in conditions of modern slavery because the UNHCR is acting illegally by paying refugee allowances to the organisation instead of to the individual members. This means members are forced into dependency on the group and cannot leave. Members are also prevented from contacting their families or even other former members so they do not have any recourse to external help or support.
As the two speakers gave their expert analysis throughout the meeting, they also offered suggestions for solutions. Khodabandeh urged delegates to put pressure on the Albanian authorities and the UNHCR to resolve the hostage condition of MEK members in Albania.
Pedde said MEPs should be briefed about the danger of supporting human rights through using groups like the MEK.
At the end the meeting was also opened to the audience for discussion. Former MEK members, Ali Akbar Rastgou, Batoul Soltani, Reza Sadeghi and Ghorban Ali Hossein Nejad were able to join the discussion at this time.
In conclusion delegates discussed various solutions which are open to them. It was important, they said, to find ways to tackle these problems because parliament cannot be held hostage to bullies. A package of activities was agreed in order to curtail the MEK's deceptive and intimidating activities in Parliament. Other solutions to the wider problems were also agreed and will be put in place throughout the rest of the year.
(END)
*** 
Albanian Translation:
http://gazetaimpakt.com/parlamenti-evropian-shqiperia-rrezikon-integrimin-ne-per-shkak-te-muxhahedineve-mek/
Parlamenti Evropian: Shqipëria rrezikon integrimin në BE për shkak të muxhahedinëve (MEK)
Një takim në Parlamentin Evropian më 30 maj diskutoi problemet që lidhen me Organizatën Muxhahedin e-HalK (MEK) si brenda Parlamentit, ashtu edhe në të gjithë Evropën dhe botën e gjerë.
Takimi, në të cilin morën pjesë deputetë, hulumtues dhe analistë, së bashku me përfaqësues të agjensive jashtë parlamentit si personel i sigurisë, u organizua nga Ana Gomes e Partisë Socialiste (Portugali), dhe u suportua nga Marietje Schaake e partisë ALDE (Hollandë) dhe Michael Gahler i Partisë Kristian Demokrate (Gjermani).
Të tre kanë një rekord të qartë si kritikë të sinqertë të të dhënave për të drejtat e njeriut në Iran, dhe janë të shqetësuar për ndikimin e aktivitetit të MEK në këtë çështje.
Dy ekspertë u ftuan për të adresuar takimin: Nicola Pedde, Drejtor i Institutit për Studime Globale, Itali, dhe Massoud Khodabandeh, Drejtor i Këshilltarëve të Strategjisë për Lindjen e Mesme në Mbretërinë e Bashkuar.
Meqë të gjithë pjesëmarrësit kanë parë që MEK shpenzon shuma të mëdha parash për publicitet dhe lobim, çështja e parë për t'u diskutuar ishte 'kush e financon MEK-un dhe cila është axhenda e tyre'? Shumë shpejt u bë e qartë se deputetët janë plotësisht të vetëdijshëm se MEK nuk ka ekzistuar kurrë si një grup i pavarur, dhe ka përfituar më shumë se tre dekada nga financimi nga qarqe të veçanta që po përpiqen të kurdisin ndryshimin e regjimit në Lindjen e Mesme. Më pas u bë pyetja nëse këta sponsorë e kuptojnë se kostoja e mbështetjes së MEK-ut nuk po jep kthime pozitive, por në fakt ka një rezultat negativ për ta në axhendat e ndryshimit të regjimit.
Diskutimet e mëtejshme të përfaqësuesve zbuluan se MEK është shmangur nga pothuajse çdo Parlament në të gjithë Evropën.
Përkundër kësaj, anëtarët e MEK-ut ende mund të fitojnë qasje në Parlamentin Evropian, sepse është një institucion i hapur. Problemi që paraqet kjo është taktika e persekutimit e përdorur nga MEK për të intimiduar deputetët dhe stafin e tyre. Disa delegatë në takim dhanë dëshmi të dorës së parë për këtë. Një deputet i parlamentit tha se brenda dhjetë minutave nga marrja e një qëndrimi të veçantë, ai u bombardua nga emaile masive, disa prej të cilave përmbanin betime dhe kërcënime. Delegatët ranë dakord se kjo nuk është në përputhje me parimet themelore të kujtdo Parlamenti në të cilin përfaqësuesit duhet të jenë në gjendje të flasin dhe të veprojnë pa ndonjë presion ose frikësim.
Nicola Pedde u përshkroi të deleguarve punën e tij në Parlamentin Italian, ku deputetët janë bindur për të nënshkruar peticione nga aktivistët e rremë të të drejtave të njeriut. Pedde tha se kur ai i pyeti, shumë nga nënshkruesit nuk ishin në dijeni se MEK ishte prapa peticionit, dhe nuk e kishin vënë re se më pas ishin shtuar fjali ose paragrafë të ndryshëm për të dhënë mbështetje për Marjam Raxhavin dhe axhendën e saj. Pedde tha se disa deputetë ishin madje shumë kundra MEK dhe ishin shumë të zemëruar që ishin mashtruar në këtë mënyrë. Ata kishin menduar se po dënonin abuzimet e të drejtave të njeriut në Iran, por emrat e tyre më pas u keqpërdorën për t'i përshkruar ata si mbështetës të terroristëve në Shqipëri.
Diskutimi vazhdoi me problemin e pranimit të muxhahedinëve si avokatë të të drejtave të njeriut për Iranin. Ana Gomes tha se kur fituesja e çmimit Nobel për të Drejtat e Njeriut, Shirin Ebadi vizitoi Parlamentin Evropian, ajo ishte e qartë që muxhahedinët nuk kishin të drejtë të përshkruheshin si aktivistë për të drejtat e njeriut. Përkundrazi, ata janë vetë abuzuesit, tha ajo. Massoud Khodabandeh u kujtoi delegatëve se në një intervistë të kohëve të fundit me AP, Reza Pahlavi, princi i kurorës në Iran – i cili dëshiron të rivendosë monarkinë në Iran – hodhi poshtë MEK-un si një kult. Përveç kësaj, çdo grup i opozitës iraniane, që nga të Gjelbrit deri te Nacionalistët e ka hedhur poshtë MEK-un si avokatë të të drejtave të njeriut dhe si subjekt politik.
Më shqetësuese për delegatët është që qeveria e Iranit është e shpejtë në përdorimin e avokimit të MEK-ut për të drejtat e njeriut si një mjet për të hedhur poshtë çështjen, duke vënë në dukje se grupi terrorist ka vrarë mijëra qytetarë iranianë dhe ende kryen abuzime të të drejtave të njeriut kundër anëtarëve të vet. Massoud Khodabandeh dha një shembull nga Shtëpia e Lordëve në Mbretërinë e Bashkuar në të cilën Haleh Afshar – një feministe dhe akademike e shquar iraniane, e cila tani është ulur në Shtëpi si Baronesha Afshar – priti një debat parlamentar mbi të drejtat e njeriut në Iran. Diskutimi sfidues, me kontribute të vlefshme nga disa anëtarë të informuar, u dëmtua plotësisht nga një prej mbështetësve të MEK-ut, i cili pohoi se vetëm Marjam Raxhavi dhe grupi i saj mund të sillnin liri dhe të drejta të njeriut në Iran. Qeveria e Iranit nuk mund të pritej as të përgjigjej për një debat të tillë, tha Khodabandeh.
Nicola Pedde bëri një koment interesant kur tha se MEK nuk mund të konsiderohet si një forcë me gjasa për sukses, sepse, si pasojë e sjelljes së tij kulturore, MEK nuk ka një brez të dytë. Ata kanë vrarë në mënyrë efektive veten e tyre, u tha ai delegatëve, sepse martesa dhe familja janë të ndaluara për të gjithë anëtarët.
Çështja e tretë për t'u diskutuar ishte prania e MEK-ut në Shqipëri. Delegatët dëgjuan se si MEK ishte detyruar të largohej nga Iraku dhe se si amerikanët organizuan që OKB-ja të ishte në gjendje t'i transferonte ata në Shqipëri. Qeveria e Irakut u lehtësua që shpëtoi nga tre mijë muxhahedinë që kishin qenë pjesë e forcave represive të Sadam Huseinit, por problemi tani thjesht është zhvendosur në Shqipëri. Amerikanët premtuan ndihmë për de-radikalizimin e anëtarëve të MEK-ut. Por, siç vuri në dukje Massoud Khodabandeh, kjo nuk ndodhi dhe grupi u lejua të ri-grupohet si një kult terrorist dhe t'i trajtojë anëtarët e tij si skllevër modernë.
Delegatët diskutuan mbi kandidaturën e Shqipërisë për t'u bashkuar me Bashkimin Evropian nën dritën e kësaj situate, dhe ranë dakord se jo vetëm që kjo është e papërputhshme, por trajnimi i terroristëve në pragun e Evropës është tashmë një kërcënim për sigurinë e saj. Delegatët theksuan se shërbimet e sigurisë evropiane duhet ta marrin seriozisht këtë kërcënim prej tani.
Raportet gjithashtu përshkruan abuzimet e të drejtave të njeriut të shkaktuara ndaj anëtarëve të MEK-ut nga udhëheqësit e tyre. Ata jetojnë në kushte të skllavërisë moderne, sepse UNHCR-ja vepron në mënyrë të paligjshme duke ia dhënë ndihmat për refugjatët organizatës, në vend që t'ua japë anëtarëve individualë. Kjo do të thotë se anëtarët janë të detyruar të varen nga grupi dhe nuk mund të largohen. Anëtarëve u pengohet gjithashtu që të kontaktojnë me familjet e tyre ose edhe me anëtarët e tjerë të mëparshëm, në mënyrë që ata të mos kenë ndonjë ndihmë apo mbështetje të jashtme.
Ndërsa dy ekspertët prezantuan analizën e tyre gjatë gjithë takimit, ata gjithashtu ofruan sugjerime për zgjidhje. Khodabandeh u kërkoi delegatëve të ushtrojnë presion ndaj autoriteteve shqiptare dhe UNHCR-së për të zgjidhur gjendjen skllavërore të anëtarëve të MEK-ut në Shqipëri.
Pedde tha se deputetët duhet të informohen për rrezikun e mbështetjes së të drejtave të njeriut përmes përdorimit të grupeve si MEK.
Në fund takimi u hap edhe për diskutim nga audienca. Ish anëtarët e MEK-ut, Ali Akbar Rastgou, Batoul Soltani, Reza Sadeghi dhe Ghorban Ali Hossein Nejad ishin në gjendje të bashkoheshin në diskutim në këtë kohë.
Në përfundim delegatët diskutuan zgjidhje të ndryshme që janë të hapura për ta. Është e rëndësishme, thanë ata, që të gjenden mënyra për të trajtuar këto probleme, sepse parlamenti nuk mund të mbahet peng i frikësimeve. U ra dakord për një paketë aktivitetesh për të kufizuar veprimtaritë mashtruese dhe frikësuese të MEK-ut në Parlament. U dhanë gjithashtu zgjidhje të tjera për probleme më të gjera, që do të vendosen në punë gjatë gjithë pjesës tjetër të vitit. / © Gazeta Impakt
*** 
Also read:
National Geographic, March 04 2017:… Leading MEK members squirm under the knowing gaze of Michael Ware. Watch the shifty looks and glances as the MEK representatives try to lie about their true intentions. They admit to wanting regime change, but claim to be pacifists. Ware asks 'Why does a political organization still need to have a para-military organization?' He then cleverly gets them to … 

Associated Press, February 16 2017:… The group at one point successfully infiltrated the U.S. Embassy in Tehran, according to a State Department report. And a series of bombings attributed to the MEK accompanied visits by presidents Richard Nixon and Jimmy Carter to Iran, including one to target an American cultural center. In 1973, MEK assailants wearing motorcycle helmets shot dead U.S. Army Lt. … 

Iran Interlink, February 15 2017:… The following OpEd by MEK advocate Col. Wes Martin was published first in The Hill, followed by Mojahedin Khalq's "Iran Probe" and the "NCRI" websites. Iran Interlink has published it here as indication of how hysteria has become the new normal in American published writing. A form of madness appears to have infected US politics and now all and sundry are dancing … 

Massoud Khodabandeh, Huffington Post, February 07 2017:… He also signals that his war is not with ISIS but with the country Iran. Donald Trump rose to victory in part on the promise to take on ISIS and defeat the group. Yet ISIS cannot be defeated except by a coalition of forces that includes Iran. The facts on the ground in Syria and Iraq demonstrate unequivocally that ISIS forces in Aleppo and Mosul have been defeated largely due to the involvement

Gazeta Impakt, Albania, Translated by Iran Interlink,  January 01 2017:… According to Fatos Klosi, former director of the National Intelligence Service, the American CIA chief has warned Albania that Donald Trump will renounce support for the MEK terrorists and it will be the Albanian Government itself which must deal with internal security and must confront a group trained militarily from the time of Saddam Hussein … 

Massoud Khodabandeh, Huffington Post, December 24 2016:… That can only happen if journalists and investigatory bodies (human rights, nuclear experts, war crimes, etc) are able to base their work on facts and not the fake and fictionalised fantasies of stooges like the MEK, which are clearly designed to misinform on these issues. The information laundry cycle is not difficult to follow – the Washington Times takes its report … 

Massoud Khodabandeh, Huffington Post, November 12 2016:… In particular, Rudi Giuliani, John Bolton and Newt Gingrich. Putting aside their weak personalities as well as their individual neoconservative agendas, the common thread which links these names together is their decade long support for the Mojahedin Khalq terrorist organisation (also known as Saddam's Private Army or Rajavi cult). It is certain that … 

 Iran Interlink, October 30 2016:… Local observers in Tirana are reporting that the Mojahedin Khalq cultic terror group (MEK) is buying and creating several sandwich and kebab shops in the city and is using the MEK members to work in these fast-food businesses. On the surface this may look like a positive move. In an article titled 'Albania: What would a de-radicalization program for the Mojahedin Khalq involve', it was … 

Anne and Massoud Khodabandeh, Iran Interlink, October 16 2016:… In spite of American promises, no de-radicalisation programme is in place to deal with over 2500 members of the Mojahedin Khalq terrorist group who have relocated to Tirana from Iraq. The MEK has a long history of violent and criminal activity. This has not stopped now they are in Tirana. Unless the Albanian government introduces its own programme, it must accept … 

Anne and Massoud Khodabandeh, Huffington post (and Top Topic), October 09 2016:… For the local citizens, mystery surrounds their arrival and their lifestyle. Should these secretive and covert neighbours be treated with suspicion or kindness? At a local level, the first thing neighbouring families need to be aware of is that among all MEK members, sexual relations have been banned for over 25 years. This means there are no marriages or children or young people in the organisation. More troubling … 

Massoud & Anne Khodabandeh, Huffington Post, July 14 2016:… Whether Rajavi is already dead or now killable is not known – only he can answer this – but he and his whole organisation are certainly now, body and soul, in the capable hands of the Saudi Prince. If he is still alive, Rajavi's only role is to act as go-between to instruct his wife what she must do on behalf of the Saudis. If he is dead

Massoud Khodabandeh, Huffington Post, July 08 2016:… Clearly this message is not aimed at Iranians. The clamour for regime change in Iran does not emanate from inside the country in spite of its many social, civic and political problems. Who then is Maryam Rajavi's constituency? Fro