Mujahedin-e Khalq Armed Agents Arrested for false-flag killings; Iran
Press TV, December 24 2019:… Iran says many of the rioters were found to have links to the notorious US-backed Mujahedin-e Khalq Organization (MKO) terror group, separatists besides members of organized groups trained towards staging acts of sabotage. Last week, Gholam-Hossein Esmaili, Iran's Judiciary's spokesman, dismissed the unofficial casualty count provided by certain sources as inaccurate. "The numbers and figures that are being provided by hostile groups are utter fabrication and the actual figures are fewer than what these sources claim," he said. Mujahedin-e Khalq Armed Agents Arrested for false-flag killings 
US-backed Mujahedin Khalq (MKO) were used to make up for defeats; Iran
Mujahedin-e Khalq Armed Agents Arrested for false-flag killings
1- IRGC's intelligence unit arrests several armed instigators of Mahshahr riots
Iran's Islamic Revolution Guards Corps (IRGC) says its intelligence arm has arrested several armed instigators of the violent riots that hit Mahshahr County in the southwestern Province of Khuzestan last month.
The IRGC said in a statement on Monday that a number of the armed elements behind the violence in Mahshahr had been taken into custody in coordination with the Judiciary.
In mid-November, several Iranian cities witnessed protests prompted by a government decision to increase gasoline prices.
The protests were initially peaceful but soon turned ugly after riotous elements, taking advantage of the circumstances, started vandalizing private and public property and randomly shooting at everyone on the streets, including civilians and security forces.
The riots were, however, quickly subdued thanks to the timely response of security forces and the mass participation of people in pro-government rallies held countrywide in condemnation of the violence.
During the unrest in Khuzestan Province, the IRGC statement added, the rioters blocked roads in and out of Mahshahr in an attempt to create traffic jams on highways linking the province's cities and towns.
According to the statement, the rioters were also preventing the entry of aid vehicles and trucks carrying basic supplies into Mahshahr.
–
2- Iran refutes Reuters' report on riot death toll
An official at Iran's Supreme National Security Council (SNSC) has categorically dismissed a report by the Reuters news agency that claimed a death toll of around 1,500 people during recent riots over fuel price hikes.
The London-based news outlet said in a report on Monday that, "About 1,500 people were killed during less than two weeks of unrest that started on November 15, including at least 17 teenagers and about 400 women as well as some members of the security forces and police."
Reuters claimed that the figures had been provided "by three Iranian interior ministry officials," without further elaboration or naming any of them.
In an interview with Tasnim news agency, head of the SNSC's Information and Communications Secretariat dismissed the Reuters' report and said such claims were based on "false propaganda."
"Such types of news writing and making accusations are by no means a complicated task. These claims are leveled based on a set of premeditated psychological warfare and lack credibility," Alireza Zarifian Yeganeh said.
"The protestations that Reuters made in its report are totally worthless not only in terms of security issues and intelligence but in the field of news and media, and will damage the already-tarnished credibility of this agency," he added.
Albanian Based Muhajedeen-e-Khalq MEK Behind Violent Incidents In Iran
The Iranian government raised gasoline prices last month in order to moderate the national consumption rate, which stands at 110 million liters per day, 40 million liters per day above the maximum domestic requirement.
The move prompted some peaceful protests, but riotous elements, taking advantage of the situation, quickly entered the scene, destroying public property, setting ablaze banks and gas stations among other facilities, and opening fire on people and security forces.
Shortly after the riots broke out, Leader of the Islamic Revolution Ayatollah Seyyed Ali Khamenei tasked the Supreme National Security Council with compiling a report detailing the reasons behind the riots and immediate attending of the families of the victims.
Iran's Judiciary has said a number of those elements were tied to the notorious US-backed Mujahedin-e Khalq Organization (MKO) terror group, royalists as well as separatists — who were nabbed in the country's border provinces — besides members of organized groups trained towards staging acts of sabotage.
Iran has arrested over 100 ringleaders and masterminds of the violent attacks.
–
3- Adversaries pursued plot for false-flag killings in Tehran riots: Iran top security official
Iran's top security official sheds light on an enemy plot to increase the number of fatalities during the recent riots in several cities, saying most of those killed in Tehran Province were not even involved in any protest gatherings.
Secretary of Iran's Supreme National Security Council (SNSC) Ali Shamkhani made the remarks in a meeting with families of some of the victims of the riots in the western towns of the province on Thursday.
"More than 85 percent of the victims of the recent incidents in towns of Tehran Province had not taken part in any gathering and were killed with non-organizational firearms and cold weapons in a very suspicious manner," said Shamkhani, adding there was certainly a plot hatched by "adversaries" to cause as many fatalities as possible and pin the blame on Iran's security forces for the killings.
No official death toll has so far been released, but the victims reportedly include both security forces and civilians.
Commiserating with the bereaved families, Shamkhani said that government officials and authorities would make their utmost efforts to alleviate the suffering of the families.
He called on all governors general across the country to take necessary measures in order to investigate the deaths and compensate the damages incurred to the people.
In mid-November, the Iranian government raised gasoline prices in order to moderate the national consumption rate.
The move prompted protests in a number of cities that went largely peaceful but turned violent when armed riotous individuals took advantage of the situation to vandalize public and state property, and attack civilians and security forces alike.
Shortly after the riots broke out, Leader of the Islamic Revolution Ayatollah Seyyed Ali Khamenei tasked the Supreme National Security Council with compiling a report detailing the reasons behind the riots and immediate attending of the families of the victims.
Iran says many of the rioters were found to have links to the notorious US-backed Mujahedin-e Khalq Organization (MKO) terror group, separatists besides members of organized groups trained towards staging acts of sabotage.
Last week, Gholam-Hossein Esmaili, Iran's Judiciary's spokesman, dismissed the unofficial casualty count provided by certain sources as inaccurate.
"The numbers and figures that are being provided by hostile groups are utter fabrication and the actual figures are fewer than what these sources claim," he said.
"They have released figures as well as certain names… The purported casualty count is not but a fabrication," he said, in remarks aired on state television, adding that sources with hostile intentions have provided the names of people who lost their lives in circumstances unrelated to the recent violence, and of people who are even alive.
End
Mojahedin-e Khalq MEK Operatives Arrested Across Iranian Cities
Mujahedin-e Khalq Armed Agents Arrested for false-flag killings
***
***
US uses MEK to fuel unrest in Iran
Iran Fighting US Sponsored ISIS and MEK
OIAC aka MEK Deceptive Tactics in USA
Also read:
https://iran-interlink.org/wordpress/mojahedin-e-khalq-arent-americas-friends-iranian-dont-want-mek/
The Mojahedin e-Khalq Aren't America's Friends. Even Iranians who hate the regime don't want MEK
Michael Rubin, National Interest, March 29 2019:… Unable to win any support from Iranians inside Iran, the MEK has turned to the gullible and greedy: they are political chameleons. When in Iran, they were a combination between Islamists and social justice warriors. In Iraq, they were secularists, basically Baathists without the Arab identity. And while in France, they are democrats. In reality, their behavior resembles a cult, right down to dictating where members live, whom they should marry and divorce, and the rent-a-mobs who populate their rallies.
Albania: MEK rebrands by assassinating unwanted members 
The Mojahedin e-Khalq Aren't America's Friends
And even Iranians who hate their current regime don't want the MEK.
The Trump administration is not afraid to defy long-held conventional wisdom on U.S. foreign policy. With regard to the Middle East, such disruption can be a good thing: Across administrations and for decades, U.S. policy has achieved only lackluster results. For example, Israeli-Palestinian peace has receded even as successive administrations poured billions of dollars into a Middle East peace process. Nor has traditional diplomacy contained the growth and expansion of Iranian influence across the region.
Trump, however, has been willing to break diplomatic china. He has recognized Jerusalem as Israel's capital, cut funding to the Palestinian Authority, held Turkey's Recep Tayyip Erdoğan's feet to the fire over the detention of U.S. pastor Andrew Brunson and walked away from the Joint Comprehensive Plan of Action (the JCPOA or Iran Deal). In each case, prognostications that the sky would fall, and disaster would loom proved false.
Sometimes, however, breaking conventional wisdom can backfire. While legal arguments about the necessity of an authorization for the use of military force in Syria are valid, a precipitous withdrawal would likely be disastrous. There has been tremendous mission creep in the North Atlantic Treaty Organization (NATO) over the last several decades but defunding the American-European military alliance would probably encourage aggression rather than ensure stability. And, when it comes to the Mojahedin e-Khalq (MEK), an Iranian opposition group, any cooperation and coordination—let alone support—from the United States would be disastrous.
The Trump administration, however, is reportedly reconsidering the pariah status of the MEK within U.S. diplomacy. Barbara Slavin, an American analyst often apologetic to the Islamic Republic, reports that "US administration talking points no longer exclude the Mujaheddin-e Khalq as a potential replacement for the government of the Islamic Republic of Iran." While there remains a great difference between "refuses to exclude" and "supports," Slavin is correct to raise concern.
Iranian Hatred for the Mojahedin e-Khalq
I spent seven months in the Islamic Republic of Iran during both the Rafsanjani and Khatami-eras while completing my Ph.D. dissertation. During that time, I shopped daily in the market, rode public transportation, and met fellow university students from across Iran. Most were curious to meet an American with no family links to Iran. Most were cautious but keen to talk about the antipathy to the Islamic Republic once they were out of buildings or vehicles which could be easily bugged. For example, one couple from Ahvaz, in Tehran, complained while their twelve-year-old daughter underwent treatment for brain cancer that in the aftermath of the Iran-Iraq War, the regime built mosques but not hospitals. A professor in Isfahan would remove the ignition wire from his car every time he parked at night to deter car thieves. And, a lawyer in Isfahan laughed at a general amnesty for weapons taken home after the Iran-Iraq War because they might be needed in a future revolution. Many Iranians asked about the Diaspora, and especially the exiled crown prince Reza Pahlavi. That did not mean they were monarchists, but decades of being under the Islamic Republic had left them craving the past as a golden age. "Oh my shah, my shah, where is my shah?" one storekeeper asked when a merchant walked by with spoiled bananas selling for far more than what he said fresh bananas did pre-revolution. Whereas many Iranians rightly castigate the shah's police state and his dreaded SAVAK intelligence service, they also acknowledge that the successor VEVAK was as bad if not worse.
But there was only one item that united Iranians inside Iran: absolute hatred of the Mojahedin e-Khalq (MEK). I offered a brief history of the MEK here but, in sum, they evolved out of reactionary anger at the shah's more progressive agenda, especially elements which would have prioritized democracy and religious equality above the dictates of Shiism. Following the shah's 1963 crackdown, the Islamist opposition splintered. While its older elements drew inspiration from the left-leaning nationalist and ousted Prime Minister Mohammad Mosaddegh, younger members concluded political reform impossible and embraced armed struggle. These younger members, including a University of Tehran political science student named Massoud Rajavi, coalesced what would become the MEK, though it would take another seven years before the MEK would declare itself to the wider world.
MEK ideology fused Marxism and Islamism. They believed both that God created the world and that he set forth societal evolution in which a classless society would overcome capitalist inequity. Rajavi and his fellow activists also argued that Islam justified terrorism. Death during armed struggle, they said, was consistent with Shiite glorification of martyrdom. MEK militants trained both with the PLO and under Libyan leader Muammar al-Qaddafi.
They put their training to quick use. In May 1972, shortly before President Richard Nixon's state visit to Iran, the MEK launched a series of bomb attacks against American diplomatic and business targets, including Pepsi Cola and General Motors. They also sought to assassinate the top U.S. general in Iran. In 1973, they bombed the Pan-American Airlines building, Shell Oil and assassinated the deputy chief of the U.S. military mission. They also targeted Iranians: striking at clubs, stores, police facilities, minority-owned businesses, factories, and symbols of the state.
The MEK participated wholeheartedly in the Islamic Revolution. Ayatollah Ruhollah Khomeini, after all, led not a coherent movement but rather a coalition of disparate forces united only in their opposition to the shah. Once the common enemy fell, his coalition immediate began to turn on itself. Khomeini welcomed MEK assistance in fighting the shah, but he considered their blending of Marxism with Islam to be sacrilegious. He and his followers labeled Rajavi and the MEK "hypocrites" and "unbelievers" and, the MEK, in turn, accused Khomeini of hijacking a revolution that was not supposed to be about him. Some of the worst post-revolutionary terror in Iran was planned, executed, and claimed by the MEK. Khomeini's regime responded just as brutally, with summary executions and, in 1988, the wholesale slaughter of alleged MEK prisoners. Many of the attacks killed their intended targets, but also many innocent Iranian bystanders.
What really broke any remaining popular support for the MEK among ordinary Iranians, however, was their embrace of Iraqi president Saddam Hussein's regime against the backdrop of the Iran-Iraq War. For most Iranians, the MEK-Saddam relationship is unforgivable. The best analogy for Americans would be to John Walker Lindh, the American Taliban. While he may have embraced a movement, which sheltered Bin Laden and killed thousands of American servicemen in Afghanistan, the casualties Iran suffered pushing back the Iraqi invasion were several orders of magnitude higher.
The Mojahedin e-Khalq are a bad bet
Unable to win any support from Iranians inside Iran, the MEK has turned to the gullible and greedy: they are political chameleons. When in Iran, they were a combination between Islamists and social justice warriors. In Iraq, they were secularists, basically Baathists without the Arab identity. And while in France, they are democrats. In reality, their behavior resembles a cult, right down to dictating where members live, whom they should marry and divorce, and the rent-a-mobs who populate their rallies.
Which brings us back to the present: The MEK are no longer deemed a terror organization by the State Department, but that does not make them a responsible partner. Yet they have cultivated a bipartisan coterie of officials who attend their rallies and endorse Maryam Rajavi, their heir apparent. Among their supporters are National Security Advisor John Bolton and Trump lawyer Rudy Giuliani. Critics say such hefty honoraria to attend and speak at MEK rallies amount to bribery. This is true in some cases but unfair in others, as some of those who headline MEK rallies may truly believe MEK rhetoric. The MEK, after all, is expert in telling officials what they want to hear about their program, and most senior and elected officials neither have the expertise in Iran nor the wherewithal to fact-check the spin. Other officials say the MEK has proven themselves and their infiltration of Iran by exposing such facilities as the covert nuclear enrichment plant at Natanz and later the underground nuclear facility in Fordow. The trouble with crediting the MEK for deep infiltration of Iran is that often MEK bombshell reports are wrong. It is far more likely that foreign intelligence agencies like Israel's utilize the MEK to launder intelligence rather than expose it directly.
As generous as the MEK is to their foreign supporters, they can be equally caustic to their critics. They usually throw flak at anything unflattering published about the group and rapidly produce online rebuttals filled with footnotes which, if tracked, do not prove what they purport to, even if the original source exists at all. Online trolls will also seek to drown out the criticism and de-legitimize the MEK's critics.
But, their behavior aside, what is the harm of working with the group or at least including them in any discussion of Iran's future after current Supreme Leader Ali Khamenei's death? The answer is simple: The spin in Paris and Washington remains entirely discordant with the sentiments of the Iranians who matter most—those who live under and resent the Islamic Republic. While most Iranians feel that the Islamic Republic has gone off the rails and cannot be reformed, they are more apathetic than revolutionary. After all, the last time Iranians supported a revolution, they replaced one dictator with an even more brutal one and ended up fighting an eight-year-war which killed up to one million people. Certainly, when a spark occurs, they will join in the protests, but otherwise most will stay on the sidelines and simply seek to provide for their families.
Herein lies the biggest problem with treating the MEK as anything more than a pariah: Because Iranians hate the group for its history, previous actions, and past allegiances, the current Islamic Republic will utilize the MEK to delegitimize any movement or group of which they are part. Indeed, many Iranians continue to insist that the only thing worse than the regime under which they suffer now would be the MEK.
The MEK may dismiss this as propaganda, but it is not. Nevertheless, whether they think their reputation fair or unfair, they must acknowledge the perception which surrounds them. If they are Iranian patriots, therefore, and truly garner the support they claim, they would stand aside for now. The Islamic Republic may very well die with Khamenei for two simple reasons: First, the regime elite may be unable to form a consensus on a successor and, second, even if they do, it is not certain the successor will be able to consolidate control. Many Iranians already expect a provisional government will usher in a new constitutional convention and internationally-monitored elections.
If the MEK is as popular as they say, let them support such a process from afar and then compete at the ballot box. Alas, the reason they so often seek to be spoilers now is they know—as does every Iranian—that they will never get more than 0.001 percent of the vote in any election.
Michael Rubin is a resident scholar at the American Enterprise Institute.
Image: Reuters
(End)
*** 
Prisoners of Their Own Rebellion.The Cult-Like Group Fighting Iran
Are The MEK And Regime Change Finally Running Out Of Road?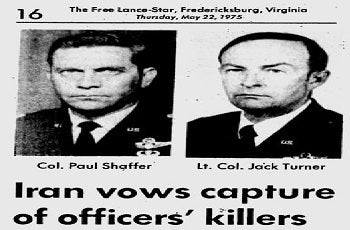 The MEK's dirty past includes the anti-Imperialist inspired murder of six Americans in pre-revolution Iran which it later celebrated in songs and publications
Also read: