New Evidence on Mojahedin Khalq -Israel Alliance to Thwart Nuclear Deal
Mazda Parsi, Nejat Bloggers, January 17 2016:… About the association of the MKO and the Zionist agent Tom Cotton, Clifton states: "But Cotton and the MEK share a common agenda when it comes to the nuclear negotiations with Iran. In a controversial video appearance from her Paris headquarters before the House Foreign Affairs subcommittee on…
Victory of Diplomacy over war disappointed the MKO (Mojahedin Khalq, Rajavi cult)
New Evidence on Mojahedin Khalq -Israel Alliance to Thwart Nuclear Deal
Attempts by Israel and American GOP and also the mujahedin Khalq organization (the MKO) to push the West towards more hostility against Islamic Republic have so far failed. However, measures of the efforts were not clear to the world until the recent news was published on the bribes given to US republicans by the Israeli state.
The historic nuclear agreement with Iran, labeled the Joint Comprehensive Plan of Action, was negotiated for months and finally signed by Iran and the U.S., UK, Russia, China, France (the P5) and Germany (+1) on 14 July, 2015.
According to the deal Iran has promised to eliminate its supply of medium-enriched uranium, decrease its supply of low-enriched uranium by 98% and reduce approximately two-thirds the total number of gas centrifuges for 13 years. The deal is objectively good but perhaps more importantly, it has allowed both the West and Iran to declare victories through diplomacy, avoiding any military action.
The outcomes of the deal was very appalling for the three above- mentioned groups. It was a failure for the Israeli lobby AIPAC and the MKO's lobby who had spent large amounts of money for their lobbying campaigns to obstruct the deal.
Their target audience in the congress are paid large sums to run the anti-Iran agenda. Republican Senator Tom Cotton from Arkansas is one of the vocal Iran Hawks in the Us Congress. New revelations about his corrupt relations with Israel has been recently published. "Given his ardent support, the Israel lobby paying for U.S. Sen. Tom Cotton's recent trip to Israel with his wife likely has little complaint that it was the third most expensive congressional junket in 15 years," according to the report posted on Arkansas Blog. [1]
The travel was sponsored by the American Israel Education Foundation, the charity arm of pro-Israel lobbying giant AIPAC. About $14,000 was spent on transportation, $4,000 on lodging and meals and $18,000 on other expenses, which includes a $7,000 bill for security in a region characterized by volatility. [2]
Daily News Bin described Tom Cotton as the one who "spearheaded a letter signed by forty-seven republicans who informed Iran's leadership that they would do everything they could to undermine the deal if they ever gained executive power." The report denounces Cotton for his "hyperbolic and dishonest rhetoric against the deal which often had him sounding like a cartoon character." [3]
Cotton was bought by Israel for a good price." It turns out he had a good reason to be so one-sided: Israel gave him a million dollar campaign contribution for his efforts," according Daily News Bin. [4]
What the news websites just revealed a week ago had been previously covered by Eli Clifton of the Lobloge in March 2015. He noticed the alliance between the MKO and Tom Cotton in an article titled "Tom Cotton Allies Himself with the MEK". [5]
About the association of the MKO and the Zionist agent Tom Cotton, Clifton states:
"But Cotton and the MEK share a common agenda when it comes to the nuclear negotiations with Iran. In a controversial video appearance from her Paris headquarters before the House Foreign Affairs subcommittee on counterterrorism last week, the group's co-leader, Maryam Rajavi, recommended that the best way to defeat the Islamic State in Syria and Iraq was to pursue regime change in Iran. And, in January, Cotton, a protégé of Bill Kristol of the Emergency Committee for Israel, told an audience at the Heritage Foundation:
"Certain voices call for congressional restraint urging Congress not to act now, lest Iran walk away from the negotiating table, undermining the fabled yet always absent moderates in Iran. But the end of these negotiations isn't an unintended consequence of congressional action. It is very much an intended consequence — a feature, not a bug." [6]
21st Century Wire also suggests, "Tom Cotton has proven early just how low he is willing to go for money and power." It makes fun of the Senator's failed attempt to thwart the nuclear deal. "The other reason for Cotton running point on this failed mission is obvious: he was paid to do it. " [7]
According to the Wire, the US senators are also paid by the other Iran's foe, the MKO:
"In addition, many American politicians – both Republicans and Democrats, including Rudolph Giuliani and Howard Dean, regularly pocket thousands of dollars each from the "Iranian-American" lobbying front representing the wealthy cult terrorist organization known as MEK (aka MKO, PMOI, NCRI, Rajavi Cult). In exchange for money, US politicians will speak publicly on behalf of the MEK and their cause for 'regime change' in Iran, and US politicians will regularly tell crowds of exiled Iranian donors that the US will "liberate" Iran for them. Granted, US politicians are selling pure fantasy here, but it's this fantasy which keeps their campaign coffers full. Did Tom Cotton also receive money from the MEK/Iranian-American lobby too? We'd like to know.
"More than anything, this was a crass and cowardly attempt by the GOP and the Israeli and MEK lobbies – to push the US closer towards war footing with Iran – a country which has not attacked any of its neighbors in 400 years." [8]
Mazda Parsi
References:
[1] Brantley, Max, Tom Cotton's expensive trip to Israel, Arkansas Blog, October 17, 2015
[2] ibid
[3] Dailynewsbin, Republican senator took million dollar bribe from Israel to sabotage Obama's Iran deal, January 5, 2016
[4] ibid
[5]Clifton, Eli, Tom Cotton Allies Himself with the MEK, LobeLog, May 6th, 2015
[6] ibid
[7] 21st Century Wire, Scarlet Letter: Foreign Money Drives Republican Senators' Push for World War III
March 11, 2015
[8] ibid
***
Also read:
https://iran-interlink.org/wordpress/?p=6480
Manufactured crisis ended, Mojahedin Khalq (MKO, Rajavi cult) left in Catastrophe
Mazda Parsi, Nejat Bloggers, August 02 2015:… The MKO leaders have other reasons to be mad at European countries. In the aftermath of the nuclear agreement, delegations of Germany and France also travelled to Tehran to expand economic and political relationships with Iran. "German business leaders …
Villepinte – the real message behind Maryam Rajavi's anti-Iran speech
The "Manufactured crisis" ended, the MKO left in Catastrophe Mujahedin Khalq ;A tool for West
"After decades of tensions and distrust, 12 years of hope and fear and 22 months of intense, difficult, highly technical and political negotiations, we had finally made it," write Mrs. Frederica Mogherini in her enlightening piece on the Guardian titled "The Iran agreement is a disaster for Isis". The High Representative of the European Union for Foreign Affairs and Security Policy believes that the nuclear agreement between Iran and the West will open a new chapter in the relations between the two sides. She explains one of the main reasons for her trip to Tehran concerns with the implementation of the agreement. Besides, she writes of another duty she and other sides of the agreement have to build on "the historical result" they have achieved in Vienna which is" an alliance of civilizations" that according to her can be "our most powerful weapon in the fight against terror" and sectarianism in the region , particularly ISIS. [1] Mrs. Mogherini's good will for peace making seems truly honest but why the Mujahedin Khalq Organization (the MKO) condemns her trip to Tehran?
The so-called National Council of Resistance of Iran the propaganda arm of the MKO claims that the Iranian Government is in decline and Europe should not tie its future to it! As he claims Europe will lose the friendship with Iranian people in future!
The future the NCR tries to imagine for Iran is entirely based on the mirage its leaders Massoud and Maryam Rajavi have been portraying for more than three decades. This is while Mogherini writes, "The Vienna deal tells us that we all have much to earn if we choose cooperation over confrontation". She believes that hard work is needed to create peaceful mutual relationship but she points out,"We Europeans have a long tradition of cultural and economic relationship with Iran. Before sanctions began in 2005, cooperation between our parts of the world spanned many areas, from energy to trade. But our shared interests go well beyond the economy." As she clarifies there is enough political will that "could open unprecedented possibilities of peace for the region". [2]
The MKO leaders have other reasons to be mad at European countries. In the aftermath of the nuclear agreement, delegations of Germany and France also travelled to Tehran to expand economic and political relationships with Iran. "German business leaders landed in Iran with Economy Minister Sigmar Gabriel and have said they have high hopes to renew contacts", reported DW. "Sigmar Gabriel, Germany's vice chancellor and economy minister, flew to Iran on Sunday, becoming the first top Western official to visit the country since world powers and Tehran reached a historic nuclear deal." [3]
"On the first visit to Iran for 12 years by a French foreign minister, Laurent Fabius conveyed an invitation from President Francois Hollande to Iran's President Hassan Rouhani to visit France", reported Reuters . "Fabius met with Iranian counterpart Mohammad Javad Zarif and was also due to meet Rouhani on his one-day visit, two weeks after a landmark deal under which Western sanctions are to be lifted in exchange for limits on Iran's nuclear program." [4]
Thus, the "manufacture crisis" made by the MKO-Israel alliance –as the famous historian journalist Gareth Porter investigated—seems to be ended.[5] The MKO now is endeavoring to ally itself with Zionist warmongers of the Congress to survive.
The two independent journalists Ali Gharib and Eli Clifton investigated the alliance between the Zionist lobby the American Israel Public Affairs Committee (AIPAC) that declared war on nuclear accord and the MKO: "AIPAC, Washington's most influential pro-Israel lobby reportedly plans on spending $20 million over the next two months urging Congress to vote against the deal. But its efforts at a full frontal attack on the accord, inked by the P5+1 (the US, China, France, Russia, the UK, and Germany) and Iran is leading to some politically awkward alliances." [6]
They affirm that an advocacy group called Citizens For a Nuclear Free Iran (CNFI) is an off-shoot of the AIPAC, " Now that the campaign is taking shape, the AIPAC spin-off appears to be relying on a typical, if troubling, ally of American groups and individuals opposed to diplomacy with Iran." They highlight the MKO's part in this notorious alliance, "Namely, two items on the website of Citizens for a Nuclear Iran, one of which was later removed, featured an exiled Iranian opposition group called the Mojahedin-e Khalq (MEK)." [7]
The MKO is publicized in the multi-million dollar advertisement made by the Zionist advocacy lobby CNFI. As Gharib and Clifton state, the ad "incorporates b-roll footage from a press conference held by the National Council of Resistance of Iran (NCRI), which the State Department deemed the MEK's "political wing" (earning it a corresponding terrorist designation). " [8]
They add, "The footage in the Nuclear Free Iran ad shows Alireza Jafarzadeh, a longtime Washington-based MEK apparatchik, at the National Press Club using a pointer aimed at a satellite photograph." [9] This must be one of the hundreds press conferences held by the MKO propaganda machine in which Alireza Jaafarzadeh, Sona Samsami, Mohammad Mohaddessin …or any other MKO agent repeats the repeated unproved claims of the so-called revelations on the Iranian nuclear program.
"Rajavi counts among her supporters one of Citizens for a Nuclear Free Iran's advisory board members: former Democrat and former senator Joe Lieberman," Gharib and Clifton report. "Lieberman has made several appearances at MEK events, including this June when he appeared at a MEK confab in Paris." [10]
There are a large number of warmongers who oppose any deal with Iran and support the MKO as an alternative for the Iranian government. On the MKO website you may see a list of people who had denounced Mogherini's trip to Iran, from US lawmakers to Foreign Minister of the UAE. Good news for the MKO's propaganda, skeptical lawmakers of the US Congress —some of whom induced by the MKO lobby and mostly backed by Israeli lobby — every day they challenge Secretary Kerry for not being firm on Iran. So what?
Seemingly, The MKO and its sponsors should understand that the aspirations of both sides of the agreement for peace and understanding are not easy to underestimate. It seems that the time for fabricating half-truths and false evidences about the Iranian nuclear program is over.
Mazda Parsi
References:
[1] Mogherini, Federica, The Iran agreement is a disaster for Isis, the Guardian, 28 July 2015
[2] ibid
[3] DW, German delegation aims to renew trade ties on trip to Iran, 19 July 2015
[4] Naegelen, Jacky, Fabius, visiting Tehran, invites Rouhani to France, Reuters, July 29 2015
[5] Porter, Gareth, Manufactured Crisis: The Untold Story of the Iran Nuclear Scare, Amazon.com,
February 14,2014
[6] Gharib, Ali & Clfton, Eli, Anti-Iran Deal AIPAC Spin-off Relies on Iranian Ex-Terrorist Group
, lobelog.com, July 21 2015
[7 ]ibid
[8] ibid
[9] ibid
[10] ibid
***
Also
https://iran-interlink.org/wordpress/?p=5054
European MEK Supporters Downplay ISIS Role in Iraq (aka Mojahedin Khalq, MKO, NCRI, Rajavi cult)
Eldar Mamedov, Lobelog, June 19 2014: … While the world watched in horror as jihadist extremists from the Islamic State of Iraq and Syria (ISIS) seized the Iraqi city of Mosul, some members of the European Parliament (MEPs) claimed that these actions were not carried out by ISIS, but were "part of a popular uprising" against Prime Minister Nouri al-Maliki. At the same time …
European MEK Supporters Downplay ISIS Role in Iraq (aka Mojahedin Khalq, MKO, NCRI, Rajavi cult)
While the world watched in horror as jihadist extremists from the Islamic State of Iraq and Syria (ISIS) seized the Iraqi city of Mosul, some members of the European Parliament (MEPs) claimed that these actions were not carried out by ISIS, but were "part of a popular uprising" against Prime Minister Nouri al-Maliki.
At the same time that ISIS was reportedly committing mass executions in Mosul, these MEPs "disputed" that Mosul and Tikrit had been taken by ISIS, and announced the creation of the European Iraqi Freedom Association (EIFA), a "new NGO with the mission of improving the political and human rights situation in Iraq."
The comments were made at a June 11 press conference in Brussels, according to a press release for the event.
The ousting of Maliki and the "complete eviction of the Iranian regime from Iraq" are the group's primary goals, according to the press release of the EIFA, which has no website other than a Facebook page that was created on May 6.
There is no shortage of people arguing that Iran holds excessive influence over Iraq and that Maliki has aggravated many of Iraq's problems, so why did these MEPs resort to downplaying the horrors of ISIS' actions in calling for an end to Tehran's hold on Baghdad?
A clue appears in the EIFA's emphasis on the security situations of Camps Ashraf and Liberty.
Camp Ashraf became the Iraqi base of the exiled Iranian dissident organization, the Mujahedin-e Khalq, (aka MEK, MKO, PMOI and NCRI), in the 1980s after its exodus from the Islamic Republic following a power struggle and violent regime-orchestrated persecution.
The MEK, frequently described as a "cult", was classified as a terrorist organization by the EU until 2009 and by the US until 2012, and has been accused of human rights abuses.
Despite its expensive claims to the contrary (MEK op-eds and advertisements regularly appear in Western media outlets), the NCRI, the MEK's "parliament-in-exile" and political wing, has no popular support in Iran. In fact, the MEK sided with Saddam Hussein during the 1981-88 Iran-Iraq war and even attempted to take Iranian territory. The vast majority of Iranians inside Iran either consider the group insignificant or harmful to reformist efforts. The MEK is also despised by many Iraqis for its role in crushing Shia and Kurdish uprisings against Saddam's dictatorial rule. Yet thanks to well-funded lobbying and advocacy efforts, the MEK has still been endorsed by some Western politicians in the US and Europe as a legitimate Iranian opposition movement.
Before setting its sights on the United States, the MEK, through the NCRI, embarked on a well-organized campaign to bring European politicians to its side. After years of unchecked lobbying efforts, the MEK has convinced some MEPs to advocate in its favor. In addition to the leftist groups who uncritically support the MEK because it claims to have Marxist beliefs (along with Islamic ones!), right-wing MEPs seem taken in by its fervent anti-Iranian government stance. It is therefore not surprising that the individuals endorsing the EIFA have also endorsed the MEK.
The foremost MEK-EIFA endorser is Struan Stevenson, a British conservative who chaired the European Parliament (EP) delegation for relations with Iraq in 2009-2014. Under his watch, the delegation has devoted disproportionate attention to the security of Camp Ashraf while almost completely neglecting the more relevant economic, social, security and human rights challenges facing Iraq. When the EP negotiated a 2014 resolution addressing the surge of violence in Iraq in February, Stevenson made every effort to downplay the involvement of ISIS, while directing all blame towards Maliki and Iran.
Another notable promoter of the EIFA is Alejo Vidal-Quadras, a Spanish conservative. During his tenure as Vice President of the EP (2009-14), he functioned as one of the NCRI's chief supporters. The EIFA has also been endorsed by former Portuguese socialist MEP Paulo Casaca (2004-09), a self-styled "expert on Iraq" who reportedly employed a MEK member as one of his personal assistants during his parliamentary stint.
Seen in the light of their MEK connections, it's clear why these MEPs are trying to downplay the role of ISIS as a serious threat to the stability of Iraq and the broader region. The MEK and its supporters view Maliki as an Iranian pawn and believe that if Maliki goes, the Iranian government (which the MEK detests) will suffer. So in following the proverb, "the enemy of my enemy is my friend", the MEK's supporters and ISIS have found a common cause in pushing for Maliki's ouster.
Even though Vidal-Quadras, Stevenson and Casaca will not be serving in the incoming European Parliament as of July 1, the MEK will surely try to recruit more MEPs for its cause, including with new tools like the EIFA. Of course, whoever is approached by the MEK — and most MEPs will be approached if they haven't already — would be wise to think twice about associating with an organization that attempts to minimize the acts of a group so murderous and fanatical that even al-Qaeda has declared it too extreme.
Photo: The European Iraqi Freedom Association's (EIFA) June 11 press conference in Brussels featuring European members of parliament Stephen Hughes, Struan Stevenson, Alejo Vidal-Quadras, and Paulo Casaca.
***
IAEA Intelligence Acquisition Practices
Peter Jenkins, Lobe log, December 21 2015:… according to a former German foreign ministry official, German intelligence obtained the "alleged studies" that underpinned the PMD case against Iran from a member of the Mujahideen E-Khalq (MEK) in 2004. MEK hostility to the Islamic Republic is well-documented. Is it inconceivable that this source forged …
That Secret Iranian 'Nuclear Facility' You Just Found? Not So Much
IAEA Intelligence Acquisition Practices
Tariq Rauf, a former Canadian diplomat, and Robert Kelley, a former US nuclear weapon scientist, have published an assessment of the International Atomic Energy Agency's (IAEA) handling of the Iranian case on the website of the Stockholm International Peace Research Institute (SIPRI).
Both were working in the IAEA secretariat during the years that followed Iran's 2003 admission that it had failed to declare certain nuclear material and activities, Rauf in the external relations division and Kelley in the safeguards department. So their assessment benefits from first-hand knowledge gained on the inside.
The following passage concludes their assessment:
A structural weakness of the IAEA is that there is no transparent process for the supply of intelligence information and confirmation of its authenticity. The usual process is for a Member State(s) to provide the intelligence information either in documentation or electronic form to a special assistant in the Director General's office and/or to the Deputy Director General for Safeguards, alternatively to give a closed briefing in its embassy/mission. The IAEA then deals with the information as described in an earlier section above. There is no established process to share such information with the accused State or with the Board of Governors….

The supply and use of intelligence information is a sensitive yet complex issue…. The IAEA cannot serve as a feedback loop to intelligence agencies on the veracity of information provided by them…. Nor can or should the IAEA rely on such information without confirming its authenticity. This obviously leaves the IAEA in a difficult position as is clearly evidenced by the Iran PMD file where the Agency seems to have been  caught short.

The authors recommend that the Board put in place a methodology for the acceptance and use of intelligence information drawing from the practices of the Organization for the Prohibition of Chemical Weapons (OPCW) and the Comprehensive Nuclear-Test-Ban Treaty Organization (CTBTO). In these two organizations, allegations of non-compliance can be raised by any State Party which provides information to the Director General, who in turn shares it with the Executive Council. The Executive Council is convened; the Accuser State puts forward its case on allegations of non-compliance or suspicious activities in another State along with supporting information/evidence. The Accused State has the opportunity to present its defence. Following deliberations, the Executive Council can stop a challenge inspection in the case of the OPCW or authorize an on-site inspection in the case of the CTBTO. Such a practice could serve the IAEA well…. In fact, the JCPOA contains a somewhat similar provision for the Joint Commission in paragraph 36 on dispute resolution…

It is essential that the IAEA Board expeditiously come up with a mechanism governing the provision and handling of intelligence information to the IAEA Secretariat. There is great potential for misuse of such information and of suborning the independence of the Agency in the absence of such a mechanism, as abundantly demonstrated by the cases of Iraq, Iran and Syria in recent times."
A Lack of Confidence
This passage contains echoes of an intervention by the Russian Federation's governor to the IAEA, Grigory Berdennikov, at an IAEA safeguards symposium in October 2014:
The Secretariat has the right to use for safeguards implementation all safeguards relevant information available to the Agency about a State. This information includes, inter alia, data from open sources and data provided by third parties. It should be noted that third parties include not only States that provide information with regard to another State but also organizations and even private individuals.

No  proper  mechanism  that  could  guarantee  the accuracy and  authenticity  of information  used for safeguards purposes  is  provided for [in the report under consideration].  In essence it  is suggested that  all analysis  should  be done by the Secretariat as decisions on whether certain  data  can  be  used  for  safeguards purposes are left entirely with the Secretariat. Member States, according to this approach, should simply trust the Secretariat's choice of information.

The risk here is obvious. False allegations generated by interested parties in order to exercise political pressure on a State unfortunately remain part of the current international landscape.  They  are  quite  common  in  many  areas, including  non-proliferation,  and  one  should  admit  could  be  very  important,  sometimes involving issues of war and peace.

We think that if the Secretariat decides to use any information, except for data obtained through its own inspection activity, it should duly disclose its origin and be ready to defend its credibility in an open discussion at the Board of Governors. Every State should have the right  to  publicly  defend  itself  against  false  allegations  and accusations generated by interested  third  parties  or  by  the  media."
These passages reflect a lack of confidence in the authenticity of some of the intelligence material on Iran submitted to the Agency by member states. There is no proof that any of this information was fabricated. But that lack of confidence is not unreasonable, because motives for fabrication can be imagined without straying far into the thickets of conspiracy theory.
Grounds for Doubt
Gareth Porter has written in A Manufactured Crisis that, according to a former German foreign ministry official, German intelligence obtained the "alleged studies" that underpinned the PMD case against Iran from a member of the Mujahideen E-Khalq (MEK) in 2004. MEK hostility to the Islamic Republic is well-documented. Is it inconceivable that this source forged or fabricated that material? The material was never shown to Iran in full and it contains factual inaccuracies and anomalies for which a satisfactory explanation has never been offered.
In autumn 2007, the US, UK, France, and Israel were furious with the Agency's then Director General Mohamad El Baradei because he had agreed to a work-plan with Iran and was well on his way to clearing the Agency's last remaining "issues of concern." Those issues cleared, these states would be bereft of sources of pressure on Iran to submit to their demands.
In that situation there could have been a temptation to produce information that would appear to corroborate aspects of the "alleged studies." Initially El Baradei and some of his advisers had doubted the authenticity of these studies. But in early 2008 the studies, apparently corroborated by fresh information, metamorphosed into a "possible military dimension." From then on they were the West's instrument of choice for keeping Iran under international pressure. In November 2011, they formed the core of an IAEA assessment that persuaded EU member states to adopt harsh economic sanctions against Iran, and Asian states to comply with US secondary sanctions.
Was any temptation to fabricate resisted? One would like to think so. But, given the Stuxnet program to sabotage Iran's centrifuge machines, and hints that a hostile intelligence agency commissioned the assassination of Iranian nuclear scientists, one has to wonder whether certain states would have hesitated to resort to fabrication to get themselves out of a spot of difficulty in autumn 2007.
Such speculations explain the lack of confidence implicit in the recommendations of Rauf and Kelley, and the intervention of Berdennikov. The IAEA Board of Governors can ignore that lack of confidence—and may well choose to do so. But that will be short-sighted. Over time allowing distrust in the Agency's intelligence-acquisition practices to fester can weaken international acceptance of the Agency as an impartial and objective verifier of compliance with the Nuclear Non-Proliferation Treaty.
Rauf and Kelley recommend drawing lessons from OPCW and CTBT practices and provisions. No doubt there are other options. Reconciling source protection with transparency and due process may not be easy. But a collective Board effort to find a solution can heal some of the divisions within the IAEA membership that perceptions of Western lack of scruples in prosecuting the case against Iran have helped to cause.
Image of IAEA fact-finding mission courtesy of IAEA Imagebank via Flickr
About the Author
Peter Jenkins was a British career diplomat for 33 years, following studies at the Universities of Cambridge and Harvard. He served in Vienna (twice), Washington, Paris, Brasilia and Geneva. He specialized in global economic and security issues. His last assignment (2001-06) was that of UK Ambassador to the IAEA and UN (Vienna). Since 2006 he has represented the Renewable Energy and Energy Efficiency Partnership, advised the Director of IIASA and set up a partnership, ADRgAmbassadors, with former diplomatic colleagues, to offer the corporate sector dispute resolution and solutions to cross-border problems. He was an associate fellow of the Geneva Centre for Security Policy from 2010 to 2012. He writes and speaks on nuclear and trade policy issues.
***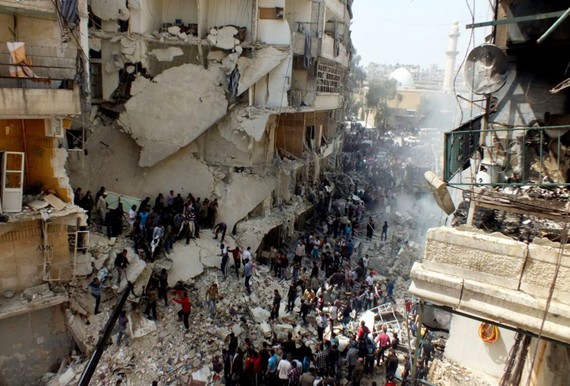 Massoud Khodabandh, Huffington post Nov. 2015:
Syrian Negotiations Won't Provide One Winner But Will Ensure Violence Is Absolute Loser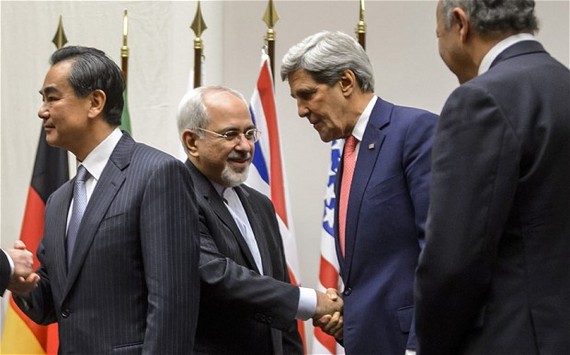 Massoud Khodabandeh: America Must Make Its Underlying Intentions Toward Iran Clear
Behind Struan Stevenson's book "Self Sacrifice"
Also read:
https://iran-interlink.org/wordpress/?p=6547
AIPAC's Military "Expert" Loves the MEK And GOP's Islamophobic Fringe
Eli Clifton, Lobelog, August 22 2015:… Deptula has appeared at multiple events supporting the Mojahedin-e-Khalq (MEK), a fringe Iranian opposition group that advocates regime change in Iran and, until 2012, was listed on the State Department's terrorism list. In April, Deptula signed on to a letter supporting the House Foreign Affairs Subcommittee …
AIPAC's Military "Expert" Loves the MEK And GOP's Islamophobic Fringe
The American Israel Public Affairs Committee (AIPAC) has committed over $20 million to defeating the Obama administration's nuclear agreement between the P5+1 and Iran. But that doesn't mean its campaign has gone smoothly. One of the top challenges facing AIPAC is finding reputable ex-military validators to denounce the agreement.
With a plethora of experts signing letters in support of the Joint Comprehensive Program of Action—one signed by 36 retired top-ranking military officers, another signed by Jewish communal leaders (including AIPAC's former executive director), and a third signed by 75 leading nuclear non-proliferation experts— AIPAC is dipping into the third or fourth string of "experts" to find anti-deal voices.
On Thursday, the AIPAC-funded Citizens For a Nuclear Free Iran (CFNI) released its third television commercial and its first attempt to put forward a retired military officer, Ret. Lt. Gen. David A. Deptula, as a voice against the deal. But Deptula has a history of associating with extreme elements opposing diplomacy with Iran.
Deptula's Bedfellows
Deptula has appeared at multiple events supporting the Mojahedin-e-Khalq (MEK), a fringe Iranian opposition group that advocates regime change in Iran and, until 2012, was listed on the State Department's terrorism list.
In April, Deptula signed on to a letter supporting the House Foreign Affairs Subcommittee on Terrorism, Nonproliferation, and Trade's controversial decision to invite MEK leader Maryam Rajavi to testify. An Obama administration official told Al-Monitor at the time that, "[The MEK] has shown time and time again that they're not the most credible voices," and warned lawmakers to be wary of any claims made by Rajavi's organization.
Deptula, on the other hand, vouched for the MEK's intelligence-gathering capabilities on multiple occasions.
In February, 2012, according to remarks posted on an MEK website, Deptula praised the group, saying:
The MEK's access to intelligence about all aspects of Iranian society are very important to countering the malicious aspirations of the current regime in Iran.
And, in May 2012, Deptula told a MEK-hosted Capitol Hill briefing:
It's also important to recognize that the most secretive information about the current Iranian regime's connection in international terrorism about its nuclear weapons program and about its menacing intentions for Iraq has to a large extent come from the Iranian opposition movement.
But the MEK has had a questionable track record when it comes to providing sound intelligence on Iran's nuclear program.
In February, right-wing media outlets leapt at the MEK's claim that it had evidence of a secret underground nuclear site. The MEK exhibited photos allegedly showing a tunnel leading to the facility and a steel door. And that's where the story fell apart. The DailyKos matched the photo to a safe company's website. The full, uncropped image showed windows and sunlight, refuting the MEK's claim of having acquired evidence of a nuclear facility but also revealing that the group had intentionally cropped a catalog image of a safe in a warehouse to look like a surreptitious photograph of an underground bunker.
The group's biggest intelligence coup came in 2002, with the public exposure of the Natanz uranium enrichment facility and Arak heavy water production plant for plutonium extraction. The MEK claimed its clandestine network in Iran had unearthed the nuclear facilities but The New Yorker reported in 2006 that Israeli intelligence had made the discovery and passed information about the sites to the MEK.
Indeed, the CFNI has, through either happenstance or intention, relied heavily on the MEK since its founding earlier this summer.
Ali Gharib and I reported back in July that the group promoted news articles citing the MEK's rejection of the nuclear deal and incorporated b-roll footage from an MEK press event in its first television ad. (CFNI deleted the articles from its website but offered no explanation for the removal.)
Aligned with Gaffney
But vouching for the MEK's intelligence capabilities isn't Deptula's only brush with fringe foreign policy views. In April, Deptula signed on to a Center for Security Policy letter praising the highly controversial "Open Letter to the Leaders of the Islamic Republic of Iran" assembled by Sen. Tom Cotton (R-AR) and 46 fellow senators, a letter that Obama characterized as part of an effort, led by Cotton, to "make common cause with the hard-liners in Iran."
In January, Deptula signed another letter, alongside Frank Gaffney. Gaffney, Deptula, and the other signatories, congratulated Louisiana Governor Bobby Jindal for comments he made at a Henry Jackson Society event in London. The letter praised Jindal's harsh remarks about Islam, saying:
It is high time that the rest of our present and future leaders come to grips with the unhappy reality you observed so succinctly when you said: "A so-called religion that allows for and endorses killing those who oppose it is not a religion at all, it is a terrorist movement."
Deptula's decision to sign letters organized by Frank Gaffney—a leading figure in pushing conspiracy theories about Muslim Brotherhood infiltration of the U.S. government and questioning whether Obama is a native-born U.S. citizen—strongly suggests sympathy for, if not identification with, the Republican far right.
But AIPAC's promotion of Deptula is part of an emerging pattern of the organization's shredding of its bipartisan image, as a growing number of Democrats, as well as centrist ex-military and non-proliferation experts, line up in support of the Iran nuclear deal. AIPAC's shift towards the GOP is also hinted at in CFNI's incorporation papers in Washington, DC. Craig Engle, a Republican political operative, is listed as the group's incorporator.
On Tuesday, the Huffington Post's Sam Stein flagged an AIPAC memo quoting six former military commanders opposed to the Iran deal. One of those, retired Adm. James Lyons, speaking at an event in January, echoed Gaffney's conspiracy theories about the Muslim Brotherhood's penetration of "every one of our national security agencies" and accused CIA Director John Brennan of being a "Muslim convert." He also said that the Muslim Brotherhood has "carte blanche entry into the White House."
With validators like Deptula and Lyons, AIPAC risks whatever reputation it has enjoyed as an influential voice on U.S. Middle East.
Mojahedin Khalq (MKO, MEK, Rajavi cult) Our Men in Iran?
(Seymour M. Hersh, The New Yorker, April 2012)

مسعود خدابنده، نشریه سیاست آسیا: مجاهدین خلق و روش های تولید و انتشار اخبار جعلی در مطبوعات
Massoud Khodabandeh
Article first published online: 27 JAN 2015
DOI: ۱۰٫۱۱۱۱/aspp.12164
Also read:
Rajavi/ Saddamists stranded by European Parliament losses
Iran Interlink, May 28 2014: … The MEK and Saddamists have lost two key lobbyists in the new session of the European Parliament. Struan Stevenson (UK) threw in the towel and didn't stand again. Alejo Vidal-Quadras (Spain) tried to garner the far right vote by creating the new Vox Party – which took less than 2% of the vote. Vidal-Quadras was exposed in the Spanish …
SPAINISH POLITICIAN'S DANGEROUS RELATION. Alejo Vidal-Quadras , the best friend of the Mojahedin Khalq (MKO, MEK, Rajavi cult)
Elsa S. Vejo Destrella Digital (Digital Star), May 10 2014: … The question still remains unresolved and the experts bring to the fore the question of where does the MEK get all the money it costs to maintain this important network of contacts and support . According to Vidal-Quadras, solely from the Iranians in the diaspora, "some of them are very wealthy". Although …
The MEK's Influence in EU Politics Matters (Mojahedin Khalq, MKO, NCRI, Rajavi cult)
Eldar Mamedov, Lobelog FP, May 08 2014: … The good news is that MEK lobbying efforts against diplomacy with Iran are unlikely to succeed. Even with the extravagant funds the MEK has spent on endorsements by political elites, the group's prominence in the EU is confined only to one part of the EP. The foreign policy decision-making bodies of the EU — the Council of the EU and …