Open Letter of 72 former Mojahedin Khalq members in Europe and North America to the UNHCR
Faryad Azadi, April 19 2016:… With sadness, we have been informed that the UNHCR office in Tirana, Albania has stopped the monthly payments and housing benefits for political refugee Mr. Ehsan Bidi , Siavosh Restar and several other similar persons who had rejected membership of and separated from the Mojahedin Khalq Organisation in Camp Tirana, Albania It is common knowledge that the life of Mr. Bidi and Restar is threatened by the … 
Ehsan Bidi and Siavosh Rastar – who have no accommodation or money because this is supposed to be provided by Mojahedin Khalq terrorist group which they left
Open Letter of 71 former Mojahedin Khalq members in Europe and North America to the UNHCR
Dear Mr Filippo Grandi, UN High Commissioner for Refugees,
With sadness, we have been informed that the UNHCR office in Tirana, Albania has stopped the monthly payments and housing benefits for political refugee Mr. Ehsan Bidi , Siavosh Restar and several other similar persons who had rejected membership of and separated from the Mojahedin Khalq Organisation in Camp Tirana, Albania
It is common knowledge that the life of Mr. Bidi and Restar is threatened by the Mojahedin Khalq in Albania. The UN's move to cut the legally applied benefits to him and other similar people is now putting their security and wellbeing in serious jeopardy at a time that this important humanitarian issue (the safety and wellbeing of political refugees) has been entrusted to the hands of the United Nations according to international law.
Massoud Rajavi, most recently in a radio message to the members of the organization has ordered that all members are physically separated to remove.
The history of violence in the Mojahedin Khalq Organisation, including the kidnapping and torture of ex members including our friends in Europe, alongside the murder of many of them in the prisons of Mojahedin Khalq in Camp Ashraf, adds to the seriousness of the responsibility to protect the lives and wellbeing of Mr. Ehsan Bidi, Siavosh Restar and others. Cutting their benefits in this situation dramatically increases these risks.
We urge you to reconsider this and according to the regulations and the laws of the Geneva agreement on refugees, alongside humanitarian considerations, reinstate Mr. Bidi's and people's benefits as soon as possible. We also urge you to consider moving the ex-members of Mojahedin Khalq to other countries outside Albania to be distanced from direct danger.
Yours
Some of the ex-members of Mojahedin Khalq Organisation now residing in Europe and North America
CC:
Office of Council of Human Rights, UN, Geneva
Office of ICRC, Geneva
HRW HQ
Office of Albanian PM, Tirana
Relevant Albanian Embassies in EU
Office of UNHCR in Tirana, Albania
Signatories: 
1- Ghorbanali Hossenjad
2-Mohammad Karami
3-Mehrdad Sagharchi
4-Hamid Sistani
5-Ghafor Fatahian
6-Ali Jahani
7-Majid Rohi
8-Ahsan Bidi
9- Mohamad Razaghi
10-Nilofar Sarfraz
11-Batol Soltani
12-Homeira Mohammadnejad
13-Zahra Moeini
14-Nasrin Abrahimi
15-Shirzad Jalili
16-Hassan KHalaj
17-Eadel Azsami
18-Aliakbar Rastguo
19-Seid Amir Movasghi
20-Jamshid Tafrishi
21-Advard Tornado
22-Mahmod Sepahi
23-Massoud Khodabandeh
24-Anne Khodabandeh
25- Issa Azadeh
26- Siavosh Rstar
27- Ali reza Zahedi
28-Mohammad reza Najarian
29-Mehdi KHoshhal
30-Karim Gholami
31-Abdolkarim Abrahimi
32-Farzad Farzinfar
33-Mohammad hosin Sobhani
34-Milad Ariaiy
35-Mansor Nazari
36-Mehdi Sajodi
37-Shahroz Tajbakhsh
38-Ahmad Mohamadi
39-Ebrahim Khodabandeh
40- Akram Shahabi
41-Karim Haghi
42- Hamidreza Bikas
43- Ahmad reza SHafiei
44- Sadegh Rezaei
45-Homayon Kehrzadi
46-Ali GHashghavi
47- Daryosh Nazari
48-Nader Naderi
49-Seba SHekarbigi
50-Mojtba Reshdi
51-Saed Soltanpor
52-Hamidreza Solymani
53-Mehdi Nikbakht
54-Mir Baghr Sedaghi
55-Rabeh Shahrokhi
56-Mostfi Mohammadi
57-Mahbobe Hamze
58-Horie Mohammadi
59-Mohammad Mohammadi
60-Morteza Mohammadi
61-Parvin Haji
62-Hassan Ezizi
63-Hamid Yousefi
64-Ali Tavakoli
65-Mohammad Eraghi
66-Hamed Sarafpor
67-Siros Gazanfari
68- Davod Baghervand arshd
69-Mina Kermani
70- Yadolah Ebrahimi
71-Hasn Serabi
72- Nader Keshtkar
(END)
*** 
Albanians should be wary of Mojahedin Khalq activities in their country
Mojahedin Khalq (Rajavi cult) and Albanian Mafia are getting closer
Behind Struan Stevenson's book "Self Sacrifice
Albania's UN Ambassador to the Prime Minister in 2012: Don't take Mojahedin Khalq
Also read:
https://iran-interlink.org/wordpress/?p=7161
Can Albania Meet its Obligations and De-radicalize an Influx of Terrorists into Europe? 
Massoud & Anne Khodabandeh, Huffington Post, March 02 2016:…It is impossible to ignore the fact that MEK members are radicalized to the core. They are not ordinary refugees. Enough of them have been trained in Iraq by the former Saddam regime for terrorist activities as well as forgery, intelligence, military operations and even torture methods, to make them extremely dangerous. Above all, the nature of the MEK leadership style is cultic. This means the followers … 
What does it mean when we say ISIS operates as a mind control cult?
Can Albania Meet its Obligations and De-radicalize an Influx of Terrorists into Europe?
Co-authored by Anne Khodabandeh
Situated on the east of Europe, Albania applied for membership of the European Union in 2009. As the poorest country in Europe and designated the most corrupt, there is a lot of work to be done before this country of 3 million people is accepted into the Union. A recent visit by US Secretary of State John Kerry does indicate that this work is well underway. But Albania's efforts to reform and strengthen its political, security, judicial and civic institutions after years of dictatorship, could be drastically undermined if the country ignores or underestimates the threat posed by the arrival of the Mojahedin Khalq (MEK) from Iraq.
Albania is the target location for the transfer of the notorious terrorist organization Mojahedin Khalq into Europe. Currently based in Iraq, the MEK is now being transferred to Albania under a deal struck with America in 2013.
Since the 1980s the MEK were paid and trained in terrorism by Saddam Hussein to effect regime change in Iran. After his ouster in 2003 the MEK aligned itself variously with the US army – during Senator Kerry's visit to Albania, the MEK was described as "a group that has supported the US in military operations in the Middle East and in its fight against terrorism" – as well as former Saddamists headed by Ezzat Ibrahim and more recently Al Qaida insurgents and Daesh in Iraq. Each successive government of the newly sovereign Iraq tried repeatedly to evict the group from their country, but the MEK leader Massoud Rajavi – himself a fugitive from justice – ordered his followers to put up violent resistance.
Even if they would agree to go willingly, the United Nations refugee agency has struggled to find third countries to take them in. It seems that, although Western countries have benefitted openly from the MEK's sometimes violent anti-Iran activities, and found the group particularly useful as a thorn in Iran's side through the period of nuclear negotiations, the MEK is deemed too dirty for them to willingly host any of them even as refugees.
In an attempt to encourage other countries to take some of the MEK, former Secretary of State Hillary Clinton persuaded the then Albanian Prime Minister Sali Berisha in 2013 to take just over 200 MEK members on humanitarian grounds. That process got underway, but in 2016 Albania is now expected to take up to 3,000 MEK after the President of Romania, Traian Basescu, refused to take them in 2014.
This agreement has attracted surprisingly little attention from either inside Albania or even from a world media sensitive to terrorism and organized crime. The reason is partly because the transfers are taking place in small groups of around twenty at a time in a piecemeal fashion as the UNHCR is forced to defer to Massoud Rajavi's demands in order to circumvent threats of violence. Rajavi hand-picks the members he allows to be transferred, many using false identities. He ensures that each group of ordinary MEK members is accompanied by minders and enforcers to keep them under control and prevent them breaking loose. In order to accomplish their mandate to remove the MEK from Iraq, UN officials have had to accede to transferring the refugees under such conditions even though it reinforces the concept that the members belong to the MEK in conditions of modern slavery.
Once they arrive in Albania, the MEK leadership takes charge of the transferees. Although the US made a donation of $20 million to the UN refugee agency to help resettle the MEK, and according to a State Department official the US has provided the Albanian government with "security and economic development assistance, to help the country build up its physical capacity to house the refugees", none of this benefits the individual refugees. In Tirana the MEK has purchased an abandoned university campus into which it has corralled the new arrivals and recreated the conditions of isolation and cultic control which have always prevailed for the membership. What started out as a humanitarian gesture has turned into the mass relocation of a terrorist group to Europe. The MEK has created a de facto enclave in Albania which is outside the law, just as they did in Iraq.
This has put the refugees out of the reach of the Albanian authorities and because they are not free to mingle with Albania's citizenry, the influx of over a thousand trained terrorists has cleverly avoided detection and therefore controversy.
However, even though it appears that the MEK are somehow quietly contained, the citizens of Albania are entitled to ask whether the new refugees pose any actual threat to their civic life, to their security and to their ambitions to accede to membership of the European Union.
To answer this, we must ask why the Iraqi government is so desperate to expel them and why other Western countries are so extremely reluctant to accept them.
As a violent criminal organization, the MEK thrives where the rule of law is weak – in countries like Iraq and Albania which are emerging from past turmoil and troubles. In such conditions the MEK can be dangerous through criminal activity and violence.
As expert propagandists and manipulative persuaders, the MEK leaders have no problem making connections with and bribing government officials, power brokers and media types – let's be clear, the MEK has always been well financed. Former MEK have also reported that the MEK leaders are already vigorously pursuing links with Albania's mafia-like gangs. The MEK will work with these gangs for mutual benefit as they did with Saddam Hussein's regime. In the long run, if the MEK organization does become established Albania – with the quiet collusion of political circles who benefit from the cult's track record of terrorism – they will be better placed to do from Tirana what they can't do from Paris.
The CIA characterizes Albanian corruption as a 'transnational' problem involving drugs, money laundering and illegal aliens. In this sense it is the very location of the country which makes it attractive to international criminal organizations and thereby creates huge problems for law enforcement agencies. Albania essentially acts as a gateway into Europe from the rest of the world.
Now, while the various routes to Turkey, Syria and Iraq are under stringent scrutiny, terrorist commanders from any mercenary group can slip beneath the radar and seek training and logistical support in Tirana. What better location to establish a clandestine terrorist training camp than in Albania? It is in Europe, but not in the EU and therefore not so open to scrutiny by the international community.
With the changed political mood following the nuclear deal between Iran and the P5+1, the MEK is looking for new friends and benefactors. The group has already aligned itself with the Syrian Free Army and has offered to help the Saudis fight against the Shias in Yemen. The MEK has over forty years of experience in terrorist activities. The real danger posed by this group is not only that they can re-arm themselves in Albania, but they can invite other groups in for training.
The worry is that the MEK has branched out and is open to do business with any terrorist group.
It is impossible to ignore the fact that MEK members are radicalized to the core. They are not ordinary refugees. Enough of them have been trained in Iraq by the former Saddam regime for terrorist activities as well as forgery, intelligence, military operations and even torture methods, to make them extremely dangerous. Above all, the nature of the MEK leadership style is cultic. This means the followers are not able to resist the orders of the leaders even if they wanted out. So there is a danger they will be used for a variety of criminal activities without their real consent. There are already examples of people trafficked by the MEK from Albania to Western Europe and used for money laundry activities in Germany.
However, the refugees could also be described as extremely vulnerable. Another reason they have not attracted attention is that the MEK can easily be dismissed as a defunct fighting force; the average age of its fighters is sixty years old and many of them are ailing with mental and physical disease after years of punishing training in the Iraqi deserts. But while this is true of the majority, there are still many among them who are expert terrorist recruiters and trainers, people who know how to train others for suicide missions; strangely transferrable skills in today's world of global terrorism.
Not all the members who arrive in Albania do stay with the MEK. There is a growing community of formers – around two hundred to date – who have turned their back on the group and want to return to their families and to normal life. Interestingly, it is from this pool of former members that the US has carefully selected a quota of eighty individuals to be given asylum in America. They have undergone rigorous interviews to ascertain that they have completely rejected the MEK and so no longer pose any danger. Some others have been accepted by other European countries under the same conditions but the rest remain in Albania under conditions of hardship.
With the stakes set very high, Albania's authorities will need to stop this organization from covertly establishing a terrorist base in Europe. The first step would be to remove the MEK members from the source of their radicalization. If this doesn't happen, the problem will simply have been moved instead of being solved.
The authorities in Tirana can ensure that all the newly arrived refugees are treated as individuals, not as belongings of the MEK leader. They should be given protection and helped with accommodation and financial support as people entitled to determine their own future paths. Experience in Iraq has already shown that once these people are physically removed from the coercive atmosphere imposed by the MEK leaders and reinforced by their peers, they very quickly find that their commitment to terrorism evaporates and the de-radicalization process can begin.
De-radicalization is greatly helped when they have contact with their families. There are numerous examples of former MEK who managed to leave the cult and establish new and successful lives. Some now live in various western European countries because they have family there who have been able to help them. Some have returned to Iran – even though Iran doesn't want them back – where they have been granted amnesty and lead normal lives under the supervision of the UN and ICRC. Some others now live in Iraqi Kurdistan and have transferred their family assets there from Iran there so they can set up in business.
Once they are out of the 'pressure-cooker' of the cult their lives can be sorted out through humanitarian organizations. As a Red Cross official told the authors, 'As individuals, three thousand is nothing, we sort out millions every year. But as a group, neither us nor any other organization can deal with or help them.' It is a choice the Albanian government cannot ignore, for to do nothing is to risk everything.
Follow Massoud Khodabandeh on Twitter: www.twitter.com/ma_khodabandeh
(END)
Massoud Khodabandeh: Will President Rouhani meet genuine human rights advocates halfway?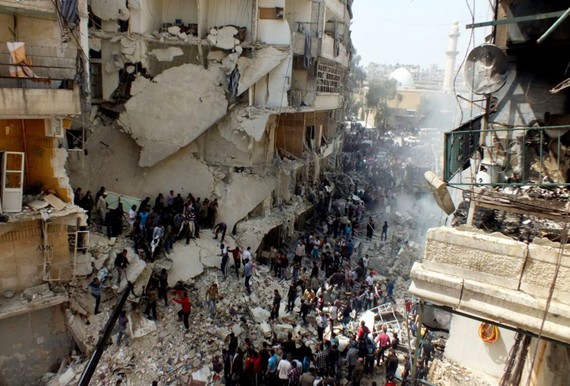 Massoud Khodabandh, Huffington post Nov. 2015:
Syrian Negotiations Won't Provide One Winner But Will Ensure Violence Is Absolute Loser
***
Also read:
https://iran-interlink.org/wordpress/?p=7180
Khodabandeh: It would be wrong to ignore the Mojahedin in Albania 
Deutsche Welle (Albanian), March 14 2016:… The actual risk to Albania will be if the MEK is not disbanded as a group. Disbanding means that each refugee should be treated as an individual. They must be de-radicalised and then integrated back into normal society as ordinary citizens with homes and jobs and families. The MEK must not be allowed to re-organise as a quasi-military group. Clearly, Albania is not as strong as western European countries in this respect and so the process … 
A list of some MEK agents trained by Saddam's Republican Guard now operating in Tirana (In Persian)
Link to the original Report (Albanian)
(Translated by Iran Interlink)
Khodabandeh: It would be wrong to ignore the Mojahedin in Albania
March 13, 2016
Anne Khodabandeh (Singleton) British journalist, Director of Open Minds cultandterror.com former Mojahedin Khalq activist, says their transfer poses potential risks not only for Albania.
Deutsche Welle: Ms. Khodabandeh you are of the opinion that Albania's agreement to take a further number of Mojahedin is associated with some risk. The international media talks about another 2,000 more Mojahedin going to Albania. What risk do they pose?
Anne Khodabandeh: There are many other NATO countries where the MEK could have gone, but only Albania agreed to accept the refugees. It would have been much better to have distributed the refugees among several countries instead of leaving Albania to take the whole burden. However, the move is very welcome since these people have to be moved somewhere for their own safety. Now they have a better chance of escaping their past and starting new lives as ordinary civilians.
The actual risk to Albania will be if the MEK is not disbanded as a group. Disbanding means that each refugee should be treated as an individual. They must be de-radicalised and then integrated back into normal society as ordinary citizens with homes and jobs and families. The MEK must not be allowed to re-organise as a quasi-military group. Clearly, Albania is not as strong as western European countries in this respect and so the process will be more difficult. But if it is done, then the country can take full credit for doing something not even the USA or the European Union could achieve.
DW: In one of your articles, you write that this is the relocation of terrorist group into Europe. Do you really think that a terrorist risk to Europe could come from Albania?
AK: It is important to remember that every member of the MEK who is relocated into Albania has been radicalised to the core. They have been undergoing terrorist training for up to thirty years in Iraq. They will not suddenly change just because the MEK name is removed from a list of terrorist groups or if they physically move to another country. They are still terrorists. Many have been highly trained by Saddam Hussein's former Republican Guards Corps in specialist activities – from bomb making and terrorist strategies, to intelligence gathering and torture. The MEK is credited with inventing the suicide mission back in the 1970s.
DW: What do you think Albania should do?
AK: It would be a mistake for the Albanian authorities to dismiss the MEK as a defunct force simply because many of its members are old or ailing. They may not be a fighting force but they certainly have transferable skills and experience in terrorist training and logistics. These could be very useful to other terrorist organisations. The MEK has people who are experts in money laundry, people trafficking, fraud and corruption.
The location of Albania in the far south east of Europe makes it attractive as a gateway country into Europe. Without scrupulous vigilance the MEK camp could become a staging post for other terrorist leaders and commanders as well as acting as a terrorist training base.
DW: After the Mojahedin was removed from the list of terrorist organisations they could be said to be seen as allies of the Americans as they fought against Saddam Hussein. Is this fact not sufficient to exclude the possibility that they may pose a risk?
AK: The MEK have never been considered as actual allies by any western government. These governments may have benefitted from the MEK's violent anti-Iran activities and have turned a blind eye to the support given to the group by various interest groups, but the MEK has never had governmental support except from Saddam Hussein. He paid and trained the MEK in terrorism for regime change in Iran. Expert US and EU assessment still regards the MEK as a 'potential' threat to Western interests.
DW: It is said that the Mojahedin Khalq helped in the fight against terrorism, why doesn't the government in Iraq want them in their country?
AK: The MEK, referred to as Saddam's Private Army, was responsible for the deaths of 25,000 Iraqi citizens, particularly among Kurds in the north and Shia populations in the south. For this reason, the group has many enemies in the country and their safety cannot be guaranteed.
After Saddam's ouster, the MEK declared itself a friend to the US army and was disarmed. Over several years, Iraq's security forces have gathered information which shows that the MEK still poses a threat to peace and stability in the country through its active support and help for insurrection forces linked to both Al Qaida and more recently Daesh.
DW: In Albania until now, they have live peacefully. Why could they be a threat to Albania right now?
AK: It is known that the MEK leaders Massoud and Maryam Rajavi are planning to establish a safe haven for themselves in Albania along with the majority of the members. They want to recreate the closed society which they have used elsewhere – in Iraq, North America and Europe – that allows them to operate outside normal legal constraints. In Albania they seek to exploit the relatively weak state of the country's governmental, security and social institutions in order to establish an extra-judicial enclave of their own.
DW: In Albania the Mojahedin Khalq live as political refugees. As such they are included in the legal framework of the country.
AK: It is not possible to be both a political refugee and a member of a terrorist organisation. At present, because the MEK has not been disbanded, each person who arrives in Albania is still a de facto member of the MEK terrorist group, regardless of the status under which they were transferred. Their refugee status is nullified as long as they are living in MEK accommodation and obeying MEK rules. The Albanian authorities must not ignore the fact that these people are victims of cultic abuse and are living in conditions of modern slavery. No ordinary member is allowed to make independent contact with the outside world. The MEK leaders claim to represent the views and wishes of the entire membership but when they arrived in Albania about 200 of them left. This is something which humanitarian organisations, both international and local, need to urgently address. The MEK must not be allowed to close the doors against the outside world and must not prevent the people transferred from Iraq from contacting their families and the outside world.
DW: You were once a Mojahedin activist. Why did you leave them?
AK: Yes, this happened [recruitment and radicalisation] when I was in university after the Iranian Revolution in 1979. I was young and naiive. They said they were fighting for human rights in Iran, but as I got deeper inside the organisation, I saw the atmosphere of fear and secrecy. I realized they were not fighting to liberate Iran from tyranny, as they claim, but only working to save the leaders. So, I left.
British expert, Anne Khodabendeh, director of the popular online platform cultsandterror.com Open Minds, herself a former activist of the organization the Mujahedin, launched a campaign in 2001 to help the victims of the cult. In 2011 she published the book 'The Life of Camp Ashraf', named after the main Iraqi base of the Mojahedin Khalq. Today she works as part of the Prevent Strategy to prevent radicalization and violent extremism in Britain.
(END)
*** 
Dear Washington: Kick Out This Iranian Militant Cult
Holly Dagres, Huffington Post, December 12 2014:… Maryam Rajavi's marriage to one of the original founders of the MEK symbolized the transformation from an organization to a "cult of personality." With the money provided by Iraqi President Saddam Hussein–they formed an alliance due to a deep disdain for the Iranian regime–to "construct self-sufficient camps" …
Soraya Sepahpour-Ulrich, Foreign Policy Journal, November 08 2014:…In addition to the "Iran experts", Washington has found itself other sources of 'intelligence', foremost; the Mojahedeen Khalg (MEK) terrorist cult. This group feeds Washington information provided them by Israel. Previous to this assignment, the cult was busy fighting alongside Saddam …
Anne Khodabandeh (Singleton), Iran Interlink, November 01 2014: … When a supporter of ISIS sits in the French parliamentary building and attacks President Obama, the cracks are seriously beginning to show in the West's approach to resolving the whole Middle East situation. Observers may not be sufficiently informed to tell Western governments what to do in …
Azar Hossein Nejad, Hossin Nejad weblog, January 01 2015:…  I am contacting you to ask for your help regarding the situation of my sister, Zeinab Hossein Nejad, a 36 years old woman who is living in Camp Liberty in Baghdad, Iraq.  I never saw my parents or sister during my childhood and youth as all of them had to run for their lives. They left Iran along …  
Farideh Farhi, Lobelog, April 22 2014: … members (some of them with links to the exiled Iranian opposition group, the Mujahadeen-e-Khalq (MEK), such as Spanish EPP member Alejo Vidal-Quadras and British ECR member Struan Stevenson) proposed amendments deleting the call for an opening of the EU office in Tehran, fully in line with the position of their supposed enemies — Iranian hardliners …
Nejat Association reporting from , Ashraf news, April 21 2014: …  Massoud Rajavi has ordered the officials of the Camp to intensify the limitations against women especially after the revelations by Batoul Soltani and other dispatched members who bravely exposed the internal affairs especially