People's Mujahedin (MEK), Questionable Allies Of Washington In Iran
Ulrich von Schwerin, nzz.ch, Switzerland, January 15 2019:… People's Mojahedin (MEK, MKO, NCRI, PMOI …)  have had powerful advocates in the West, but since they have three sympathizers in the White House with Security Advisor John Bolton, Secretary of State Mike Pompeo, and Trump lawyer Rudy Giuliani, the question of what role they play in Washington's Iran policy is raised , Officially, President Donald Trump's sanctions policy against Iran aims to force Tehran to "compromise" … 
Link to the source (Translated by Nejat Society)
Link to the original report (NZZ.CH)
The People's Mujahedin Are Questionable Allies Of Washington In Iran
The history of the Iranian People's Mujahedeen is bloody, turbulent and tragic, their method is controversial and their ideology is full of contradictions.
No Iranian opposition group polarizes like them, no one has so many critics, but no such prominent supporters. For a long time, the People's Mojahedin have had powerful advocates in the West, but since they have three sympathizers in the White House with Security Advisor John Bolton, Secretary of State Mike Pompeo, and Trump lawyer Rudy Giuliani, the question of what role they play in Washington's Iran policy is raised , And if they really are the right ally.
"The mullahs must go, the ayatollah must be replaced and replaced by a democratic government of Maryam Rajavi," Giuliani called last June at the annual meeting of the People's Mojahedin in Paris. In the front row, Maryam Rajavi sat smiling in her green headscarf and has been leading the group for decades, making herself the "elected president." "The [regime's] behavior and goals [in Tehran] will not change, so the only solution is to change the regime itself," Bolton thundered a year earlier in Paris.
Left-Islamist ideology
Officially, President Donald Trump's sanctions policy against Iran aims to force Tehran to "compromise" its nuclear program, abandon its missile program, and withdraw from Syria, Iraq, and Yemen through "maximum pressure." Falcons such as Bolton and Pompeo, however, suspect that they are in fact not about a policy, but about a regime change. And that they have given the People's Mujahedeen a central role in overthrowing the regime in Tehran.
The Mujahedin-e Khalq (MEK) was founded in 1965 by students from the University of Tehran as a city guerrilla to fight the authoritarian Shah regime. Influenced by Marxism and a revolutionary interpretation of Shiite Islam, they developed an idiosyncratic left-wing Islamist ideology. Although the founders were quickly arrested and executed, under the leadership of Massud Rajavi, the group continued its armed struggle and played an important role in the 1979 revolution to mobilize the masses.
After the fall of the Shah, the MEK initially supported the regime of Ayatollah Khomeini, but when in 1980, the left President Abolhassan Banisadr wanted to appoint the MEK leader Rajavi as Prime Minister, it came to the Clash. Mass protests by the People's Mujahedeen were suppressed, and the group had to go underground while Rajavi and Banisadr fled to France. In the following months, the MEK killed dozens of members of the political elite in attacks, while the regime executed thousands of its followers.
"The People's Mujahedeen have suffered an incredible amount of suffering, but also caused a lot of damage," says German Green MP Omid Nouripour. He strongly advised against supporting the group because there are "huge questions about its ideology, its structure and its legitimacy" and because of its past it has little support in Iran. [..]
"Much suffering, much damage done"
The Iraqi dictator had offered his help to the MEK when Rajavi and his supporters had to leave France in 1986. Saddam Hussein gave them several camps on the Iranian border, equipped them with tanks and sent them to the front against Iran. When Tehran and Baghdad agreed a ceasefire in 1988, the People's Mojahedin launched a final attack in the hope of triggering a popular uprising in Iran. But the offensive became a disaster, and in retaliation, [Ayatollah] Khomeini executed thousands of captured MEK followers.
Because of its role in the Iran-Iraq war, the group is now "more hated by Iranians than al-Qaeda and ISIS," says Iranian expert Adnan Tabatabaei. Since 1981, the group has been using the fine-sounding name National Council of Resistance (NCRI), but the council is completely dominated by the MEK. Although the MEK had spelled out the cause of their flight to France as democracy, freedom and human rights, that was above all rhetoric. "It is fatal to believe that such a group could positively influence the political process in Iran," says Tabatabaei.
Supporters of the group, of course, see it differently. Former French Foreign Minister Bernard Kouchner in 2014 called MEK in Paris "an example of the entire Middle East" because of its commitment to separate politics and religion. At the MEK meeting in June, Former House Speaker Newt Gingrich described it as a "movement for freedom, equal rights and democracy." And former Italian Foreign Minister Giulio Terzi sees them as the "most credible democratic alternative" and the "natural ally" of the West.
The fact is that the MEK, with its thousands of dedicated supporters, is the most active Iranian opposition group and has gained hundreds of supporters in decades of lobbying in Western parliaments. The fact is, however, that the group is highly controversial among exiled Iranians. For many, their commitment to democracy and human rights seems untrustworthy after alliance with Saddam Hussein. And even the pronounced leadership cult around the Rajavis makes many doubt on their democratic views.
When the MEK withdrew to their Camp Ashraf in Iraq after the failed offensive in 1988, Massud Rajavi ordered an "ideological revolution" in which all members committed to celibacy. While the children were sent to MEK families in Europe, the couples divorced to devote themselves to the fight. All love should be with Massud and his wife Maryam Rajavi alone, who was elected president in 1993 and leads the group since the disappearance of her husband in 2003.
Camp in Albania
According to the historian Ervand Abrahamian and other critics, since the "ideological revolution" the MEK has become more and more a political sect. Defectors report that they had to confess their sexual dreams and thoughts in public sessions. In the camps strict gender separation prevailed, friendships or personal conversations were forbidden, the use of radio, newspaper and television also. In 2005, Human Rights Watch also documented in a report how dissatisfied members were massively pressured and sometimes imprisoned and tortured for years.
The MEK categorically reject these allegations to date and refer to critics as Iranian agents. Even Western media who critically report on the MEK are defamed as henchmen of Tehran. Instead of addressing critical questions about their own past, the MEK say they have been victims of a lying campaign, accusing critics of supporting the brutal persecution by the Iranian intelligence service, which recently planned for attacks on the MEK assembly in Paris and the MEK camp in Albania .
The People's Mojahedin had moved to the camp northwest of Tirana as their situation in Iraq had become intolerable. After the US invasion of Iraq in 2003, the group, then listed by the US as a terrorist organization, had been arrested and disarmed, so it had to give up the armed resistance. In the following years, their camp was repeatedly under attack by pro-Iranian militias, until the last 3,000 MEK fighters in 2013 could finally be transferred to the United States mediation to Albania.
According to media reports, the sect-like character of the MEK in Albania has changed little, but videos of MEK devotees in their same-color headscarves, chanting rhythmically clapping slogans, do not indicate a change. According to a report by al-Jazeera, the group from the camp runs several fake accounts on Twitter to influence the discourse on Iran. So MEK trolls would spread videos of protests in Iran and attack defenders of a moderate policy against Tehran.
The CDU deputy Martin Patzelt, who visited the camp in October with a delegation headed by former Bundestag President Rita Süssmuth, finds it only legitimate for the MEK to spread their ideas over the Internet. He assures that all residents are volunteers in the camp. "The camp in Albania is like a kibbutz," says Patzelt. "People live there as separated in a religious order and with strict working hours. But there is no compulsion, and they can leave the camp at any time. »
"Persistent personality cult"
The Federal Government, however, sees evidence that the MEK tries to prevent external contacts of its members. In her response to a Greens' request in September, she described the People's Mojahedin as an "authoritarian-led" opposition group that, since its creation, has "considered the use of force as a legitimate means of achieving its goals." The "authoritarian nature" and the "persistent personality cult" around Maryam Rajavi would give rise to doubts about her devotion to democracy and human rights.
For the FDP member of the Bundestag Bijan Djir-Sarai, it is "a mistake, if politicians in the West campaign for a group that has no support in Iran." The support for the Mujahedin in Germany was "a mystery" to him, and considers it "insane" when German politicians committed themselves without full knowledge of the background of such groups abroad. "A commitment to the People's Mujahedin is sheer stupidity. I would urge all supporters to engage with their story, "says Djir-Sarai.
In addition to ignorance, there may be another reason to support the MEK: While the group denies cash payments, politicians like Giuliani have received up to $ 50,000 for appearances, according to reports by The Washington Post, The Intercept, and other media , "The MEK is trying to buy just about anyone," said former US anti-terrorist coordinator Daniel Benjamin, the "New York Times." "It's something when someone offers you $ 15,000 to $ 20,000 on the phone to join a panel discussion. This does not happen to former diplomats every day. "

Ulrich von Schwerin, nzz.ch, Translated by Nejat Society
(End)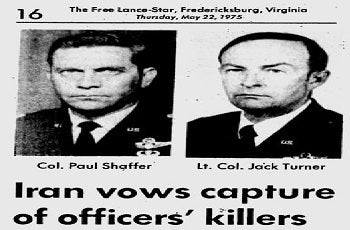 The MEK's dirty past includes the anti-Imperialist inspired murder of six Americans in pre-revolution Iran which it later celebrated in songs and publications
John Bolton – Defender Of Zion, Promoter Of MEK Terrorism – Fees Revealed
Also read:
2019/01/13 West Sheltering, using Mojahedin Khalq (MEK) terrorists a criminal act
Tehran Times, January 13 2019:… Iranian Foreign Minister Mohammad Javad Zarif has told Europeans that making accusations against Iran won't absolve them of the responsibility for harboring the terrorist Mujahedin Khalq Organization (MKO) – also called Mujahideen-e Khalq (MEK)  — who has murdered tens of thousands Iranians. "Europeans, incl Denmark, Holland & France, harbor MEK—who killed 12000 Iranians & abetted Saddam's crimes against Iraqi Kurds … 
---
2019/01/13 Feds say O.C. waiter and 'Chubby' are spying on Mojahedin Khalq, Rajavi cult
Mesissa Etehad, LA Times, January 13 2019:…  MEK, is a shadowy organization with a militant past. Up until 2012, it was deemed a terrorist organization by the U.S. State Department. Led by a husband-and-wife power couple — Massoud and Maryam Rajavi — the group was sheltered and armed by Saddam Hussein for nearly 20 years. Known for its female-led military units, the MEK was disarmed after the invasion of Iraq in 2003. Massoud Rajavi went missing …   
---
2019/01/12 Europe a safe haven for Mossad backed terrorists (MEK/MKO/Rajavi cult). not so safe for diplomats
Tehran times and Mehr News, Tehran, January 12 2019:… Israeli Prime Minister Benjamin Netanyahu admitted to be behind murder plot allegations. Mojahedin Khalq terrorist group (MKO/MEK/ Maryam Rajavi cult) and Al-Ahvaziya group how took responsibility for the latest terror attack in Iran are free in Europe. Last summer, they held their held their annual forum in Paris with the presence of Trump lawyer Rudy Giuliani, calling for regime change in Iran. The MKO  listed as a terrorist organisation by much of the international
---
2019/01/11 Iran Interlink Weekly Digest – January 11, 2019
Iran Interlink, January 11 2019:… There were two more deaths this week in Albania. Every week two or three members are dying. On one side it can be put down to their age, but on the other hand some deaths are suspicious. There is no oversight or inspections to find out what happened to them. We have only to accept what MEK say about them. Behzad Massoudi, who died this week, was with MEK for over forty years. Everyone who knows him says he had no illness as the MEK claim. But he was a critic during all his time with them … 
---
2019/01/09 John Bolton (MEK paid lobby) is not mad, Rather a first-class idiot
Press TV, January 09 2019:… The Leader was referring to comments by US National Security Adviser John Bolton. "Before 2019, we here will celebrate in Tehran," Bolton told an MKO meeting in July 2017. Ayatollah Khamenei said, "Christmas was a few days ago. This is how US calculations work." "Some US officials pretend that they are mad. Of course I don't agree with that. Rather, they are first-class idiots,"
---
2019/01/09 Another Member Of The MKO (MEK, NCRI, Rajavi cult) Left The Group
Nejat Society, January 09 2019:… "In 1989 a team of MKO recruiters headed by Mehdi Abrishamchi launched their propaganda in the POW's camps to recruit us," Mohammadian writes in his statement of defection. "Together with some other Iranian prisoners, I joined them but, soon I found out that their propaganda was completely false". He witnessed an immoral, undemocratic and inhuman atmosphere in the group. It was like the collapse of … 
---
2019/01/08 Iran: accusing Iran won't absolve EU responsibility for housing Mojahedin Khalq (MEK)
Press TV, January 08 2019:… "Europeans, incl Denmark, Holland & France, harbor MEK—who killed 12000 Iranians & abetted Saddam's crimes against Iraqi Kurds—as well as other terrorists staging murder of innocent Iranians from Europe. Accusing Iran won't absolve Europe of responsibility for harbouring terrorists," Zarif said in a post on his official Twitter account. Iran's top
---
2019/01/08 The Amnesty International Report Which Whitewashes The MEK (Mojahedin Khalq, Rajavi cult)
Nejat Society, January 08 2019:… When approached in person, Amnesty International officials have not accepted responsibility for the content of this report and have instead referred complainants to the authors and asked them to send their complaints to the writers directly, which is quite odd. Amnesty International did not deny the role of the MEK and Shadi Sadr. One of the c
---
2019/01/07 Were the Iranians really ready to carry out an attack in Europe?
Gli Occhi Della Guerra, Rome, Italy, January 07 2019:… The Albanian investigative journalist Gjergj Thanasi had followed the case and had managed to show how the two were in fact [retired] Iranian journalists invited by the well-known Bektashi Albanian community for the celebrations of the Shiite festivity of Nowruz and to attend a conference on Imam Ali. Their visas had been validated by the Albanian consulate in Istanbul, there was an official letter … 
---
2019/01/07 Iraq: U.S. using MEK terrorists in Iraq – Iran: No talks with Backers of Terrorism 
Mehr and Fars News, January 07 2019:…  MP Mohammed al-Baldawi said Saturday that American Forces have received some members of the Mojahedin-e-Khalq Organization (MKO, MEK, Rajavi cult, NCRI) in northern Iraq and have started training these terrorists. al-Baldawi said. The US military camps have received dozens of members of the Iranian opposition organization, and have started arming and training them to lead the plot." … 
---
2019/01/05 letters supporting Roald Sturla Næss assesment of MEK in Norwegian media
Various sources, January 05 2019:… Dear Roald Sturla Næss, former Norwegian ambassador to Iran. mek fought with Saddam Hussein during the Iraq war against Iran in the 1980s and currently being financed by Saudi Arabia and working closely with Iran's enemies also shows lack of legitimacy in the Iranian population", and I have to say it considered by most Iranians as an act of treason as well … 
---
2019/01/04 Iran Interlink Weekly Digest – January 04, 2019
Iran Interlink, January 04 2019:… A bus filled with university students overturned on a mountainous road killing tens of students. Students from the Free University of Tehran held a sit-in asking the authorities for answers. Maryam Rajavi jumped on the bandwagon in her websites trying to link herself with the student action. The students quickly published an announcement not only distancing themselves but rejecting Rajavi and the MEK …