Possible Trump Cabinet Members' Links to the Mojahedin Khalq (MEK, Rajavi Cult) Could Spell Trouble for Iran
Arash Azizi, Global voice, Nobember 12 2016:… John Bolton called for a military attack on Iran and "vigorous American support" for MEK "aimed at regime change in Tehran". Last summer, Gingrich spoke at MEK's rally in Paris alongside Turki bin Faisal, the former head of Saudi intelligence. Gingrich went as far as to solemnly bow down to MEK's leader, Maryam Rajavi, calling her by her favored title …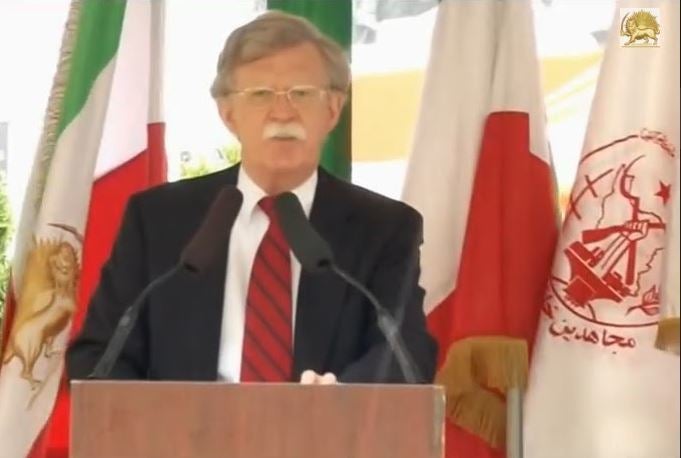 National Security: Could Maryam Rajavi (Mojahedin Khalq) blackmail her friends in high places – Rudi Giuliani, John Bolton and Newt Gingrich
Possible Trump Cabinet Members' Links to the Mojahedin Khalq (MEK, Rajavi Cult) Could Spell Trouble for Iran
Among the foreign policy think tanks and pundits of New York and DC, few supported Trump or even countenanced the possibility of his election. Now that the dust has settled and the populist tycoon is soon to move into the White House, speculations abound as to what his foreign policy will be like. 
What makes Trump hard to predict is that the 70-year-old billionaire has a history of zigzagging. He doesn't seem to be a genuine ideological right-winger, but rather an opportunist who marketed a series of what could only loosely be described as "policies" because he knew they'd play well with his right-wing base. Prior to 1987, he was a registered Democrat, before flipping to the Republican party, then to Ross Perot's right-wing Reform Party, then back to the Democrats, then—after Obama's victory—back to Republicans once more. 
During the campaign, too, he took vague and contradictory positions and flip-flopped on major issues. Banking on Hillary Clinton's reputation as a hawk and the US population's resentment at their country's many foreign military adventures, Trump often appeared to take an isolationist stance, which sadly fooled even some left-wingers who claimed he was "less of a threat" to the world than his competitor. But on major issues, he often wanted more not less military intervention. 
Trump advocated a higher military budget and an escalation of the fight against ISIS. While initially demanding 20 to 30,000 US boots on the ground, he later retracted this position and said Saudi Arabia should supply these forces. At times he said the UN-backed war in Afghanistan was a mistake and at other times he supported it. At the time of the UN-backed intervention in Libya, he supported bringing down of the country's ruler, Moammer Gaddafi, but has since changed his position more than once. 
It is safe to say that we can't pretend to know the direction of Trump's foreign policy. This seems to be evolving as the President-elect starts having to deal with a prospect of actually sitting behind the most powerful desk in the world. 
What predictions can we then make regarding the possible Iran policies of the Trump administration?
Even though he promised to tear up the Iran Deal during the all three presidential debates, analysts have pointed out that he "probably" won't do that, especially as the deal has the support of other world powers such as EU and Russia, whose Tehran-allied president Putin Trump has wooed for a while. On the other hand, the Israeli commentator Zvi Bar'el has pointed out that if Trump actually moves on to "fiddle with the nuclear deal," this would favor Iran, as it could portray the US as a violating party and enlist the help of others. What remains unsaid is that any such belligerence on Trump's part would also bolster the anti-reform and anti-deal hardliners in the Iranian establishment, some of whom have spoken favorably of Trump. Iran's Supreme Leader Ali Khamenei came close to endorsing the business mogul when he said that "they call him a populist because he speaks the truth". 
What might make the Trump policy clearer is the make-up of his cabinet, in particular his national security team. This is where advocates of peace and democracy in Iran and the Middle East should find cause for worry. 
Two of the main contenders for the position of Secretary of State are the former House speaker Newt Gingrich and the former UN ambassador John Bolton. Not only have both of these men supported a military attack on Iran and "regime change" there, they are some of the closest American "friends" of a notorious Iranian political-militant organization known as Mojahedin-e-Khalq (MEK) which is almost universally hated inside Iran after having collaborated with Saddam Hussein in the Iran-Iraq War. 
MEK was designated a terrorist organization by the US until it was de-listed in 2012. After the overthrow of its patron, Saddam Hussein, in 2003, the group became mostly irrelevant and no figure of repute in Iranian politics would go anywhere near it after the evidence of the major abuses it perpetrated was laid bare over the last few years.  
John Bolton also has a long history of support for MEK and is a frequent guest at its rallies. In March 2015, as the talks surrounding the Iran Nuclear Deal were reaching a sensitive stage, he called for a military attack on Iran and "vigorous American support" for MEK "aimed at regime change in Tehran". Last summer, Gingrich spoke at MEK's rally in Paris alongside Turki bin Faisal, the former head of Saudi intelligence. Gingrich went as far as to solemnly bow down to MEK's leader, Maryam Rajavi, calling her by her favored title, "President-elect". When running for the Republican party presidential nomination in 2012, Gingrich openly called for "replacing the leadership of Iran", saying that this could be accomplished within a year. 
With Gingrich and Bolton likely to be appointed to two of the highest national security positions in the Trump administration, will Rajavi's totalitarian cult gain influence?
Other possible members of a Trump administration are also leading anti-Iran hawks. Former New York Mayor Rudy Giuliani, tipped for the position of attorney general, has been paid handsome sums to appear at MEK rallies. New Jersey governor Chris Christie, head of the Trump transition team, has called Iran a "greater threat than ISIS". Mike Flynn, possibly the next secretary of defense, is on the record as saying, "I've been at war with Islam, or a component of Islam, for the last decade" and complaining about Iran's "lies, their flat out lies, and then their spewing of constant hatred, no matter whenever they talk". 
Last but not least, one of the primary funders of Trump's campaign is casino-owner Sheldon G. Adelson, who endorsed him in May and gave $25 million to an anti-Clinton Super PAC last week. Adelson is known for having advocated a nuclear strike on Iran. This 25th richest man in the world is also a close ally of Israel's right-wing Prime Minister Benjamin Netanyahu, and a close associate of Gingrich, whose 2012 campaign he supported. Adelson is so close to Netanyahu that he pumps 50 million dollars a year into a free news daily, Israel Hayom, that attacks Netanyahu's domestic enemies on both the left and the right. The two are so close that when there a bill that would have hurt Israel Hayom was tabled in the Knesset, Israel's national legislature, Netanyahu opposed it at the cost of the collapse of his own coalition government. The next coalition government was formed only when his partners promised not to bring media-related bills that could hurt Adelson. 
Trump's Iran policy would depend on many factors, including his relationships with Moscow, Riyadh and Tel Aviv, his position on US military involvement in Iraq, Syria and Yemen, and the demands of the Republican-led Congress, the majority of which opposed the Iran Deal. But the links with MEK are a serious cause for worry, and the reason Iranians should be vigilant and make it clear that this cult doesn't speak for the people of Iran, nor they are genuine advocates of democracy in the country. 
Mr. Gingrich! The Cult of Rajavi Is Also Incompatible with Western Civilization!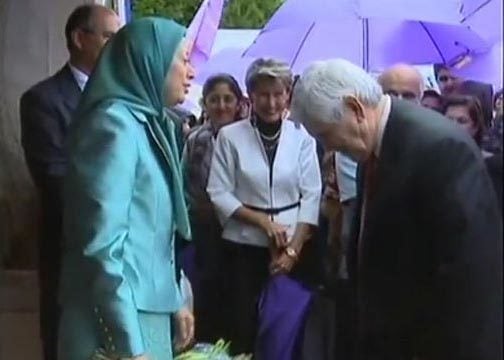 National Security: Could Maryam Rajavi (Mojahedin Khalq) blackmail her friends in high places – Rudi Giuliani, John Bolton and Newt Gingrich
Also read:
https://iran-interlink.org/wordpress/?p=6072
Rudy Giuliani Supports a Mujahedin Group With a Hammer-and-Sickle Logo Because He's Been Paid To 
Michael Luciano, Daily banter, April 14 2015:… MEK was founded by Massoud Rajavi in 1965 as an opposition group to the U.S.-backed Shah Reza Pahlavi. Quite mysteriously, Rajavi has not been seen in public since 2003, though he is said to be in hiding. However, it's not entirely clear that he's still alive. His wife Maryam Rajavi …
Former U.S. Officials Make Millions Advocating For Terrorist Organization (2011)

Link to the full description of Mojahedin (MEK, MKO) Logo (pdf file)
Rudy Giuliani Supports a Mujahedin Group With a Hammer-and-Sickle Logo Because He's Been Paid To
A few weeks ago, Rudy Giuliani told attendees at an exclusive private dinner for GOP fatcats, "I do not believe that the president loves America." Subsequently, a ridiculous debate ensued on the blogosphere about whether President Obama does in fact love America. Although the president hasn't addressed this "issue," one thing is clear: Rudy Giuliani might not.
How else could one explain Giuliani's support for a cultish Iranian opposition group that was formerly on the U.S. State Department's list of Foreign Terrorist Organizations (FTO) and has been implicated in the assassinations of six Americans? On Wednesday, Giuliani appeared on Fox & Friends, where he announced that he's traveling to Berlin this weekend to meet with the Mujahedeen e-Khalq (MEK), which he says "could replace the Iranian government."
Since as far back as 2010, Giuliani — America's supposedly "tough on terrorism" mayor — has been one of the most recognizable faces on an impressive roster of U.S. politicians and bureaucrats who, for lucrative fees, have been lobbying on the behalf of MEK, also known as the People's Mujahedeen of Iran.
In December 2010, Giuliani, along with three former Bush administration officials — Attorney General Michael Mukasey, Homeland Security secretary Tom Ridge, and Homeland Security adviser Fran Townsend — spoke at a forum hosted by MEK in Paris where the exiled MEK leadership is based. The Washington Post reported at the time that the four Republicans decried the group's designation as a terrorist organization by the State Department, and criticized Obama's policy on Iran. MEK was delisted by the State Department in September 2012 after 15 years on the FTO list.
MEK has also enlisted the help of high-profile Democrats such as former Vermont governor Howard Dean and former Pennsylvania governor Ed Rendell, both of which have served as chair of the Democratic National Committee. Others who've lobbied for MEK include two former CIA directors, a former FBI director, a former National Security Adviser, and a top State Department counterterrorism official. According to The New York Times, compensation for these speakers, including Giuliani, ranged from $10,000 to $50,000 per speech.
Up until its delisting in 2012, MEK could not pay these lobbyists directly, lest those lobbyists run blatantly afoul of federal law, which prohibits material support for terrorism and terrorist organizations. Instead, they were paid by supporters of MEK, whose shadowy sources of fundingare dubious just the same.
Furthermore, as Glenn Greenwald noted six months before MEK's delisting, under the Supreme Court's free speech-limiting 2010 ruling in Holder v. Humanitarian Law, "To advocate on behalf of a designated Terrorist group constitutes the felony of 'providing material support' if that advocacy is coordinated with the group." That means that up until MEK's removal from the FTO list in September 2012, Giuliani and others who spoke on behalf of MEK could have been charged with a felony for "providing material support" for terrorism, which can carry a prison sentence of up to 15 years.
MEK was founded by Massoud Rajavi in 1965 as an opposition group to the U.S.-backed Shah Reza Pahlavi. Quite mysteriously, Rajavi has not been seen in public since 2003, though he is said to be in hiding. However, it's not entirely clear that he's still alive. His wife Maryam Rajavi now runs MEK.
During the reign of the shah, MEK engaged in numerous attacks on Americans. These include the botched kidnapping attempt of a U.S. ambassador to Iran; the botched assassination attempt of a U.S. brigadier general in 1972; the assassination of a U.S. lieutenant colonel in 1973; the assassinations of a colonel and lieutenant colonel; and the assassination of three U.S. contractors in 1976. MEK has also been suspected in a slew of attacks inside Iran.
Although Iran's regime changed in 1979 from a U.S.-friendly dictatorship to an anti-U.S. one in the form of the Islamic Republic that remains today, MEK's status as an opposition group has not. It fiercely opposed Ayatollah Khomeini and was in turn attacked for it, prompting the group's leadership to flee to France while most of the other members sought safe-haven next door in Saddam Hussein's Iraq — Iran's nemesis at the time — where many of them remain at Camp Ashraf and Camp Liberty.
This is MEK's logo:
The group was founded on Marxist principles, though it says it has renounced both Marxism and terrorism. Doing so has no doubt made the group more palatable for major American political figures such as Giuliani. But there are also indications that the group is a veritable cult. Former Bush Justice Department attorney and RAND analyst Jeremiah Goulka has visited Iraq to investigate MEK, and a study conducted by him and three other analysts drew some troubling conclusions about MEK's treatment of its own members. Goulka shared some of those findings in a guest op-ed for Salon in 2012:
"I studied the MEK in depth and over a period of many months for the U.S. military. I visited Camp Ashraf, the MEK facility 40 miles north of Baghdad, and interviewed MEK members, former MEK members, and dozens of military and civilian officials. Along with almost all of my interviewees and Human Rights Watch, I concluded that the MEK is a cult. It employs many common cult practices: mandated celibacy and divorce, thought control, sleep deprivation, and forced labor. It segregates men from women, separates families and friends – who must seek permission just to converse – and even tells family members back home that the members are dead."
According to the aforementioned Human Rights Watch report, some of MEK's abuses against its own members include,
"Human rights abuses carried out by MKO leaders against dissident members ranged from prolonged incommunicado and solitary confinement to beatings, verbal and psychological abuse, coerced confessions, threats of execution, and torture that in two cases led to death."
Giuliani has said MEK is "our only hope" for change in Iran, but there is no reason to believe MEK is a viable threat to overthrow the regime. Furthermore, coups d'état rarely yield smooth transitions, especially in the Middle East and North Africa as the last several years have made abundantly clear. Iran may be run by an oppressive regime, but the country is nevertheless stable, and it's highly unlikely that this would remain so in the event of sudden and drastic regime change in a country of nearly 80 million. Additionally, it's not clear that an MEK-run Iran would be an improvement over the current government.
At the time of its delisting from the U.S. FTO list, one senior State Department officials nonetheless expressed grave misgivings about MEK:
"We do not see the MEK as a viable opposition movement…. We have no evidence or confidence the MEK could promote the democratic values we would like to see in Iran.… We continue to have serious concerns about abuses the group has committed to its  own members."
Yet this is the group that Rudy Giuliani thinks is the best chance to bring about democratic change in Iran. And he thinks this despite a mountain of evidence to the contrary that would give him and those others pause were it not for the simple fact that they are being paid handsomely to do so.
Mojahedin Khalq (MKO, NCRI, Rajavi cult) terrorists openly declare support for ISIL, terror acts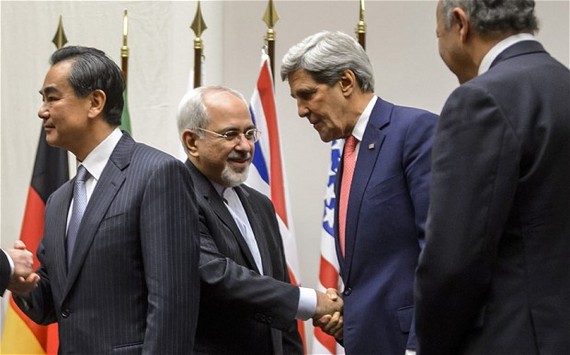 Massoud Khodabandeh: America Must Make Its Underlying Intentions Toward Iran Clear
The Mojahedin Khalq (Rajavi cult) and Saddam's daughter support the Islamic State of Iraq and the Levant (ISIS)

Massoud Khodabandeh
Article first published online: 27 JAN 2015
DOI: ۱۰٫۱۱۱۱/aspp.12164
***
Also read:
https://iran-interlink.org/wordpress/?p=2488
Mojahedin Khalq (MKO, MEK, Rajavi cult) Our Men in Iran?
 (Seymour M. Hersh, The New Yorker, April 2012)
… Five Iranian nuclear scientists have been assassinated since 2007. M.E.K. spokesmen have denied any involvement in the killings, but early last month NBC News quoted two senior Obama Administration officials as confirming that the attacks were carried out by M.E.K. units that were financed and trained by Mossad, the Israeli secret service. NBC further quoted the Administration officials as denying any American involvement in the M.E.K. activities. The former senior intelligence official I spoke with seconded the NBC report that the Israelis were working with the M.E.K., adding …
(Rajavi cult or MKO aslo known as Saddam's Private Army)
Seymour M. Hersh, The New Yorker, April 6 2012
http://www.newyorker.com/online/
blogs/newsdesk/2012/04/mek.html
From the air, the terrain of the Department of Energy's Nevada National Security Site, with its arid high plains and remote mountain peaks, has the look of northwest Iran. The site, some sixty-five miles northwest of Las Vegas, was once used for nuclear testing, and now includes a counterintelligence training facility and a private airport capable of handling Boeing 737 aircraft. It's a restricted area, and inhospitable—in certain sections, the curious are warned that the site's security personnel are authorized to use deadly force, if necessary, against intruders.
It was here that the Joint Special Operations Command (JSOC) conducted training, beginning in 2005, for members of the Mujahideen-e-Khalq, a dissident Iranian opposition group known in the West as the M.E.K. The M.E.K. had its beginnings as a Marxist-Islamist student-led group and, in the nineteen-seventies, it was linked to the assassination of six American citizens. It was initially part of the broad-based revolution that led to the 1979 overthrow of the Shah of Iran. But, within a few years, the group was waging a bloody internal war with the ruling clerics, and, in 1997, it was listed as a foreign terrorist organization by the State Department. In 2002, the M.E.K. earned some international credibility by publicly revealing—accurately—that Iran had begun enriching uranium at a secret underground location. Mohamed ElBaradei, who at the time was the director general of the International Atomic Energy Agency, the United Nations' nuclear monitoring agency, told me later that he had been informed that the information was supplied by the Mossad. The M.E.K.'s ties with Western intelligence deepened after the fall of the Iraqi regime in 2003, and JSOC began operating inside Iran in an effort to substantiate the Bush Administration's fears that Iran was building the bomb at one or more secret underground locations. Funds were covertly passed to a number of dissident organizations, for intelligence collection and, ultimately, for anti-regime terrorist activities. Directly, or indirectly, the M.E.K. ended up with resources like arms and intelligence. Some American-supported covert operations continue in Iran today, according to past and present intelligence officials and military consultants.
Despite the growing ties, and a much-intensified lobbying effort organized by its advocates, M.E.K. has remained on the State Department's list of foreign terrorist organizations—which meant that secrecy was essential in the Nevada training. "We did train them here, and washed them through the Energy Department because the D.O.E. owns all this land in southern Nevada," a former senior American intelligence official told me. "We were deploying them over long distances in the desert and mountains, and building their capacity in communications—coördinating commo is a big deal." (A spokesman for J.S.O.C. said that "U.S. Special Operations Forces were neither aware of nor involved in the training of M.E.K. members.")
The training ended sometime before President Obama took office, the former official said. In a separate interview, a retired four-star general, who has advised the Bush and Obama Administrations on national-security issues, said that he had been privately briefed in 2005 about the training of Iranians associated with the M.E.K. in Nevada by an American involved in the program. They got "the standard training," he said, "in commo, crypto [cryptography], small-unit tactics, and weaponry—that went on for six months," the retired general said. "They were kept in little pods." He also was told, he said, that the men doing the training were from JSOC, which, by 2005, had become a major instrument in the Bush Administration's global war on terror. "The JSOC trainers were not front-line guys who had been in the field, but second- and third-tier guys—trainers and the like—and they started going off the reservation. 'If we're going to teach you tactics, let me show you some really sexy stuff…' "
It was the ad-hoc training that provoked the worried telephone calls to him, the former general said. "I told one of the guys who called me that they were all in over their heads, and all of them could end up trouble unless they got something in writing. The Iranians are very, very good at counterintelligence, and stuff like this is just too hard to contain." The site in Nevada was being utilized at the same time, he said, for advanced training of élite Iraqi combat units. (The retired general said he only knew of the one M.E.K.-affiliated group that went though the training course; the former senior intelligence official said that he was aware of training that went on through 2007.)
Allan Gerson, a Washington attorney for the M.E.K., notes that the M.E.K. has publicly and repeatedly renounced terror. Gerson said he would not comment on the alleged training in Nevada. But such training, if true, he said, would be "especially incongruent with the State Department's decision to continue to maintain the M.E.K. on the terrorist list. How can the U.S. train those on State's foreign terrorist list, when others face criminal penalties for providing a nickel to the same organization?"
Robert Baer, a retired C.I.A. agent who is fluent in Arabic and had worked under cover in Kurdistan and throughout the Middle East in his career, initially had told me in early 2004 of being recruited by a private American company—working, so he believed, on behalf of the Bush Administration—to return to Iraq. "They wanted me to help the M.E.K. collect intelligence on Iran's nuclear program," Baer recalled. "They thought I knew Farsi, which I did not. I said I'd get back to them, but never did." Baer, now living in California, recalled that it was made clear to him at the time that the operation was "a long-term thing—not just a one-shot deal."
Massoud Khodabandeh, an I.T. expert now living in England who consults for the Iraqi government, was an official with the M.E.K. before defecting in 1996. In a telephone interview, he acknowledged that he is an avowed enemy of the M.E.K., and has advocated against the group. Khodabandeh said that he had been with the group since before the fall of the Shah and, as a computer expert, was deeply involved in intelligence activities as well as providing security for the M.E.K. leadership. For the past decade, he and his English wife have run a support program for other defectors. Khodabandeh told me that he had heard from more recent defectors about the training in Nevada. He was told that the communications training in Nevada involved more than teaching how to keep in contact during attacks—it also involved communication intercepts. The United States, he said, at one point found a way to penetrate some major Iranian communications systems. At the time, he said, the U.S. provided M.E.K. operatives with the ability to intercept telephone calls and text messages inside Iran—which M.E.K. operatives translated and shared with American signals intelligence experts. He does not know whether this activity is ongoing.
Five Iranian nuclear scientists have been assassinated since 2007. M.E.K. spokesmen have denied any involvement in the killings, but early last month NBC News quoted two senior Obama Administration officials as confirming that the attacks were carried out by M.E.K. units that were financed and trained by Mossad, the Israeli secret service. NBC further quoted the Administration officials as denying any American involvement in the M.E.K. activities. The former senior intelligence official I spoke with seconded the NBC report that the Israelis were working with the M.E.K., adding that the operations benefitted from American intelligence. He said that the targets were not "Einsteins"; "The goal is to affect Iranian psychology and morale," he said, and to "demoralize the whole system—nuclear delivery vehicles, nuclear enrichment facilities, power plants." Attacks have also been carried out on pipelines. He added that the operations are "primarily being done by M.E.K. through liaison with the Israelis, but the United States is now providing the intelligence." An adviser to the special-operations community told me that the links between the United States and M.E.K. activities inside Iran had been long-standing. "Everything being done inside Iran now is being done with surrogates," he said.
The sources I spoke to were unable to say whether the people trained in Nevada were now involved in operations in Iran or elsewhere. But they pointed to the general benefit of American support. "The M.E.K. was a total joke," the senior Pentagon consultant said, "and now it's a real network inside Iran. How did the M.E.K. get so much more efficient?" he asked rhetorically. "Part of it is the training in Nevada. Part of it is logistical support in Kurdistan, and part of it is inside Iran. M.E.K. now has a capacity for efficient operations than it never had before."
In mid-January, a few days after an assassination by car bomb of an Iranian nuclear scientist in Tehran, Secretary of Defense Leon Panetta, at a town-hall meeting of soldiers at Fort Bliss, Texas, acknowledged that the U.S. government has "some ideas as to who might be involved, but we don't know exactly who was involved." He added, "But I can tell you one thing: the United States was not involved in that kind of effort. That's not what the United States does."
Also read:
Mojahedin Khalq (MEK, Rajavi cult) lines up with Israel behind America's back to kill Iranian nuclear scientists
Beritbart, March 24 2015:… NBC News somehow gains information from "senior Obama administration officials" that Israel had financed and trained the Iranian opposition group Mujahideen-e-Khalq, and adds that the Obama administration had nothing to do with hits on Iranian nuclear scientists. More daylight. More leaks. The same month, Foreign …
Senior Iraqi MP: ISIL Continuing Mojahedin Khalq's Terrorist Ideology (aka MKO, MEK, Rajavi cult)
Fars News, March 18 2015:… Iraqi MP Hunain Al-Qado said the importance of reminding MKO's crimes stems from the fact that some people try to keep these crimes under wraps. He said the terrorist groups all pursue a shared objective, and added, "There is no difference between the ISIL's terrorist acts in Iraq and Syria and Mojahedin-e Khalq …
Breaking the Resistance with US Sponsored Terrorism and Proxy Wars
Eric Draitser, Global research, March 18 2015:… It should be noted that a number of other terror outfits have been used through the decades in the ongoing "low-intensity" war against Iran, including the infamous Mujahideen-e-Khalq, a terrorist group hailed as heroes by the US neocon establishment. Thanks to Wikileaks, it also now documented fact that Israel …