Terrorism in Tehran: Reality Confounds Rhetoric (Mojahedin Khalq, Rajavi cult, MEK and ISIS)
Paul Pillar, The National Interest, June 12 2017:… The principal perpetrator of terrorism in Iran over the past four decades has been the Mujahedin-e Khalq (MEK), the Marxist/Islamist cult/terrorist group that prior to the revolution had claimed Americans among its victims. Thanks largely to the MEK's activity, Iran necessarily has had much experience in countering terrorism. Khamenei lost the use of his right arm when he was injured by an MEK bomb in … 
ISIS Attacks in Tehran Expose US-Saudi Lies About Iran
Trump Is At War With Iran, Not ISIS
Terrorism in Tehran: Reality Confounds Rhetoric
For Americans fed a diet of rhetoric about Iran that constantly links it to the sending, not the receiving, end of terrorism—in which "the leading state sponsor of terrorism" is the adjectival phrase routinely affixed to Iran, and in which official rhetoric such as President Trump's speech in Riyadh mashes Iran together with Sunni Islamist terrorism of the ISIS variety into one undifferentiated blob of evil—the deadly attacks today in Tehran generate much cognitive dissonance. But however disorienting this news may have been, it is true. An obviously well-planned operation struck at the heart of Iran, at its parliament and the monument to the Islamic Republic's founder. At least a dozen people were killed and dozens more injured. The credibility of the claim of responsibility by ISIS is enhanced by the group's posting of video footage from the attack.
For anyone looking beyond rhetoric and at reality, the attack is no surprise. Iran has been one of the staunchest and most active foes of ISIS. Probably the main reason an attack like this had not happened any earlier is the difficulty that ISIS has had in finding recruits among Iranians. Iran has, partly with its own personnel but mainly through material support of clients and allies, been a leader in combating ISIS, especially in Iraq and to a lesser extent in Syria. Many Iraqis give Iran, with good reason, the main credit for saving Baghdad from ISIS when the group was making its dramatic territorial gains in northern and western Iraq in 2014. If the United States could overcome its current hang-up about doing any business with Iran, it would find a worthwhile partner in many aspects of counterterrorism, especially as far as the fight against ISIS is concerned.
There has long been a willingness, and a necessary awareness of shared interest, on the Iranian side. In September 2001, immediately after the 9/11 attacks on New York and Washington, both Supreme Leader Ali Khamenei and then-President Mohamed Khatami strongly condemned the attacks. Expressions of sympathy in Iran for the American victims included candlelight vigils and observing a minute of silence by tens of thousands of people at a sporting event. Two weeks after the attack, Khatami stated, "Iran fully understands the feelings of the Americans about the attacks in New York and Washington." Khatami correctly noted that American administrations had been at best indifferent about terrorist attacks in Iran since the revolution of 1979, but that Iranians felt differently and were expressing their sympathies accordingly.
We wait to hear from the Trump administration the kind of expression of sympathy and solidarity that commonly is offered to foreign nations that have become victims of major terrorist attacks. We should not hold our breath while waiting. The Iranians certainly aren't. They have experienced a long history of American postures toward Iran, in the context of a common terrorist threat, that have ranged from indifference at best to door-slamming at worst. In the first few months after 9/11, Iranian officials worked cooperatively and effectively with U.S. officials to midwife a new regime in Afghanistan to replace the Taliban. The Iranians thought this could be the beginning of further cooperation against a common threat. But then the United States slammed the door shut, as George W. Bush declared an axis of evil in which Iran was lumped together with North Korea and Saddam Hussein's Iraq.
The principal perpetrator of terrorism in Iran over the past four decades has been the Mujahedin-e Khalq (MEK), the Marxist/Islamist cult/terrorist group that prior to the revolution had claimed Americans among its victims. Thanks largely to the MEK's activity, Iran necessarily has had much experience in countering terrorism. Khamenei lost the use of his right arm when he was injured by an MEK bomb in an assassination attempt in 1981. The U.S. handling of the MEK in recent years has seen the U.S. Government succumbing to a well-financed lobbying campaign on behalf of the group, with that campaign winning much support for the group in the U.S. Congress and the group eventually being removed from the U.S. list of Foreign Terrorist Organizations. If the crippled Khamenei exhibits some reflexive anti-U.S. sentiments, do you suppose this history has something to do with it?
Right now, on the very day of the terrorist attacks in Tehran, the United States Senate is scheduled to take its first vote on a bill that would impose still more sanctions on Iran. It appears the most immediate American response to the attacks will be sanctions on, not sympathy for, the victim.
In the months ahead, Iran may take actions outside its borders in response to the attacks. The United States, ever since 9/11, has claimed a right for itself to be ruthlessly aggressive in the name of responding to terrorism, lashing out with force while sometimes being little restrained by collateral damage or international law (not to mention its own constitutional requirements). Iran may see a need to be more aggressive in places such as Iraq or Syria in the interest of fighting back against ISIS. Will the United States grant Iran the same kind of slack it grants itself? Or, as has been customary in opposing anything Iran does and taking no account of exactly what interests are being advanced or threatened, will the Iranian responses be denounced as more "nefarious," "malign," and "destabilizing" behavior?
*** 
Mojahedin Khalq (MKO, NCRI, Rajavi cult) terrorists openly declare support for ISIL, terror acts
MEK's Maryam Rajavi blackmails Albania to become the new 'Saddam regime' for them.
McCain Is the MEK's Newest Fan (aka Mojahedin Khalq, Rajavi cult)
Albania's destabilization? You have forgotten hundreds of Mojahedin!

Should we be afraid of Senator McCain meeting with the Mojahedin Khalq (Rajavi cult, MEK, MKO, …) in Albania?
Debate in the European Parliament 'What is to be done about the Iranian Mojahedin Khalq (MEK)?'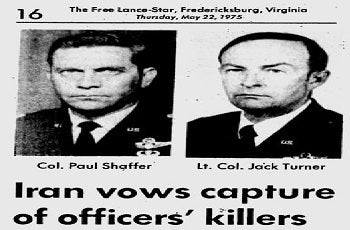 The MEK's dirty past includes the anti-Imperialist inspired murder of six Americans in pre-revolution Iran which it later celebrated in songs and publications
Also read:
https://iran-interlink.org/wordpress/?p=8480
Revolutionary Guards blame Saudi Arabia for Tehran terror attack 
Financial Times, June 08 2017:… Hamid-Reza Taraghi, a senior politician close to Tehran's hardliners, blamed a combination of Saudi Arabia, the US, Isis and the exiled opposition group MEK for Wednesday's attacks. "Saudi Arabia is definitely playing the leading role in these incidents, considering that its foreign ministry threatened Iran two to three days ago," he said, referring to a call by Riyadh for Iran to be punished for supporting terrorism … 
Massoud Khodabandeh, Huffington Post: Can Albania Meet its Obligations and De-radicalize an Influx of Terrorists into Europe? 
grooming Mojahedin Khalq (MEK, Rajavi cult) in Tirana part of bigger agenda for Albania
Revolutionary Guards blame Saudi Arabia for Tehran terror attack
Military force ratchets up tensions with Riyadh after 12 killed in Iran's capital
Iran's Revolutionary Guards ratcheted up the tensions with Saudi Arabia as it accused Tehran's regional rival of involvement in Wednesday's double terrorist attack in the capital, which left at least 13 people dead and wounded more than 50.
Gunmen and suicide bombers launched simultaneous attacks on the parliament building in Tehran and the nearby shrine of Ayatollah Ruhollah Khomeini, the Islamic Republic's founder.
The attacks were claimed by Isis, in what would be the jihadi group's first significant strike in the Islamic Republic. However a statement from the Revolutionary Guards linked the "brutal attack" to Donald Trump's visit last month to Riyadh, where the US president singled out Iran for fuelling "the fires of sectarian conflict and terror".
"This terrorist act took place a week after a joint meeting between the US president and head of a reactionary regional country [Saudi Arabia] which has been a constant supporter of terrorism," the statement said. "The fact Isis claimed responsibility proves that they [Saudi Arabia] were involved in the brutal attack."
Speaking in Berlin, Adel Al-Jubeir, Saudi Arabia's foreign minister, denied the accusation of involvement and said there was no evidence that his country was involved. "We condemn terrorist attacks anywhere they occur and we condemn the killing of the innocent anywhere it occurs," Mr al-Jubeir was quoted by Reuters as saying.
Hassan Rouhani, Iran's president, condemned the attacks, without laying the blame at the feet of Saudi Arabia. However, the accusation from the powerful Revolutionary Guards will stoke the increasingly bitter enmity between Tehran and Riyadh, which are involved in proxy wars from Syria to Yemen.
Iran's foreign minister, Mohammad Javad Zarif, tweeted, "Terror-sponsoring despots threaten to bring the fight to our homeland. Proxies attack what their masters despise most: the seat of democracy."
Mr Zarif seemed to be pointing at a comment last month by the Saudi deputy crown prince Mohammed bin Salman that any struggle for influence between Riyadh and Tehran would take place "inside Iran, not in Saudi Arabia".
"We know that the aim of the Iranian regime is to reach the focal point of Muslims [Mecca] and we will not wait until the fight is inside Saudi Arabia and we will work so that the battle is on their side, inside Iran, not in Saudi Arabia," Prince Mohammed said in a television interview.
The attacks also come at a sensitive moment in the Gulf, where a new rift opened this weekpitting Qatar, with whom Tehran has ties, against Saudi Arabia, the United Arab Emirates, Egypt and Bahrain. The quartet on Monday severed diplomatic ties with Qatar and accused Doha of supporting terrorism.
Hamid-Reza Taraghi, a senior politician close to Tehran's hardliners, blamed a combination of Saudi Arabia, the US, Isis and the exiled opposition group MEK for Wednesday's attacks. "Saudi Arabia is definitely playing the leading role in these incidents, considering that its foreign ministry threatened Iran two to three days ago," he said, referring to a call by Riyadh for Iran to be punished for supporting terrorism. He provided no evidence to support his claims.
His view was echoed by others, though they did not provide evidence either. "The fact that these two attacks took place . . . after that [Riyadh] meeting means that both the US and the Saudi regime have ordered their proxies to embark on that act," Brigadier-General Hossein Nejat of the Revolutionary Guards told a local news agency.
Mohsen Rezaei, a former Revolutionary Guards commander, warned terrorists to expect a "tough and unforgettable" response from Iran.
Mr Trump's administration is viewed as much more hawkish on Iran than the previous government of Barack Obama. Tehran has long accused Saudi Arabia of supporting Isis.
The assault began at 10.30am local time when three gunmen (earlier reports had said four) in women's clothing walked into the building and began shooting. One detonated an explosive vest. All the attackers were killed after a stand-off lasting several hours, Iran's interior ministry said.
Two further gunmen also opened fire at the Ayatollah Khomeini shrine in the Iranian capital. One was reported to have killed himself by detonating an explosive vest. Another was shot dead. Based on a video released by Isis, the attackers spoke Arabic. Brigadier-General Nejat said the nationality of the attackers was not yet clear, but an Iranian official told state television on Wednesday night that they were Iranian.
At least 13 people were killed in the two attacks, Pir-Hossein Kolivand, head of Iran's emergency department, was quoted as saying by the official Irna news agency on Thursday.
Isis on Wednesday vowed further attacks on Iran, saying "Persia should know that the state of the caliphate will not miss an opportunity for an onslaught against them".
Iranian officials said security forces remained on high alert.
Terrorist attacks are rare in Iran, which keeps a tight grip on domestic security. The country has largely been spared from militant attacks despite its heavy support of Shia militias in Syria and Iraq, which has increased sympathies among some of those countries' Sunni populations for radical groups such as Isis.
If Iran steps up its fight against Isis in the wake of Wednesday's attack, the situation in the region could become even more volatile, analysts say. Charlie Winter, senior research fellow at the International Centre for the Study of Radicalisation at King's College London, said the attack could boost Isis's flagging morale and intensify pressure on Tehran to step up its involvement in Syria against the jihadis. "If this happens, a more intense 'Sunni war against Shia Islam' will pour petrol on Isis's ideological fire," he said.
Security analysts outside of Iran have long argued that it has not been attacked because it tolerated the presence of al-Qaeda and the movement of communications and finances through the country. But for Isis, which is not reliant on foreign financing, Iran has long been a target.
While it is difficult to gauge the extent of an Isis presence in Iran, the group has long sought to attract people from Iran's Sunni minority. Last March, it released a 36-minute video in Persian, vowing to conquer Iran. In the video, militants used photographs of Iranian leaders for target practice, including Qassem Soleimani, commander of the Revolutionary Guards' elite Quds force.