Trump's top picks for key posts back anti-Iran terror group (Mojahedin Khalq, Rajavi cult, MKO, MEK …)
Press TV, November 28 2016:… Describing MKO as "bizarre and brutal" with "plenty of American blood on its hands, as well as that of thousands of Iranians killed while the group was a strike force serving [former Iraqi dictator] Saddam Hussein" during his war on Iran in the 1980s, US-based magazine Politicorevealed in a Saturday report that former New York City's Mayor Rudy Giuliani  … 
Ambassador Daniel Benjamin: I was at State when we took the MeK (Mojahedin Khalq, Saddam's Private Army) off the terrorist list. But team Trump's ties to the group still worry me.

(Massoud Rajavi and his pay master Saddam Hussein) 
Remember.Mojahedin Khalq (MKO, MEK, Rajavi cult) was one of the excuses of US attacking Iraq
Trump's top picks for key posts back anti-Iran terror group (Mojahedin Khalq, Rajavi cult MEK, NCRI, Saddam Private Army, …) 
A number US President-elect Donald Trump's top nominees for sensitive national security posts have accepted money from notorious anti-Iran terrorist group known as Mujahedin-e Khalq Organization (MKO) and lobbied for the group's removal from the US list of terrorist groups.
Describing MKO as "bizarre and brutal" with "plenty of American blood on its hands, as well as that of thousands of Iranians killed while the group was a strike force serving [former Iraqi dictator] Saddam Hussein" during his war on Iran in the 1980s, US-based magazine Politicorevealed in a Saturday report that former New York City's Mayor Rudy Giuliani and former US ambassador to the UN John Bolton, who are on Trump's shortlist of nominees for Secretary of State and director of national intelligence, were on MKO's payroll and lobbied to erase the group from the State Department's list of terrorist groups during Hillary Clinton's tenure as the top US diplomat.
According to the report, the MKO paid Giuliani "handsomely for years" giving him "$20,000 or more and possibly a lot more for brief appearance before the [Paris-based] group" and for lobbying to delist them from Foreign Terrorist Groups (FTO) in 2012.
Earlier this month, The New York Times quoted Giuliani as admitting that he was "one of dozens of prominent Americans who worked for" MKO, receiving "payments at the same time it was on a State Department list designating it a terrorist organization" while persuading the Obama administration  to revoke its terrorist listing.
"My ties to them are very open," Giuliani said. "We worked very hard to get them delisted — by Hillary Clinton, by the way."
This is while a US Treasury Department probe in 2012 examined whether speaking fees paid by several MKO front groups to a long list of American politicians, including Giuliani and lawmakers, violated laws barring US citizens from receiving money from designated terrorist organizations.
The magazine further identifies other high-profile nominees for high administration positions that have supported or lobbied on behalf of the terrorist group, including former Speaker of the House, Newt Gingrich, ex-labor Secretary Elaine Chao (also the wife of Senate Majority Leader Mitch McConnell) as well as former Bush security aide Fran Townsend, whose name has been mentioned as a possible Secretary of Homeland Security or director of national intelligence in the future administration.
The report also underlined that in addition to "longtime regime-change advocates" in the US such as Bolton, "who recently boasted before a MKO crowd in Paris that he had been engaged with them for a decade," the terror group signed up Republican and Democratic politicians en masse.
It further identified other pro-MKO politicians such as former Attorney General Michael Mukasey, former Homeland Security Secretary Tom Ridge, former FBI Director Louis Freeh, former DNC chair Howard Dean, former Chairman of the Joint Chiefs Hugh Shelton, former Obama National Security Adviser General Jim Jones, former Pennsylvania Governor Ed Rendell, adding that the list "went on and on."
The US State Department added the MKO to its list of foreign terrorist organizations in 1997 for the group's involvement in the killing of Americans in Iran in the 1970s and an attack on US soil in 1992.
*** 
link to one of the Mojahedin Khalq songs
advocating terror and killing Americans 
(In Persian) 
Captain Lewis Lee Hawkins
(Photograph courtesy Annette Hawkins)
Lets create another Vietnam for America(pdf).
(Mojahedin English language paper April 1980)
Letter to Imam (Khomeini) (pdf).
(Mojahedin English Language paper April 1980)
Some questions unanswered regarding the US military invasion of Iran (pdf).
(Mojahedin English Language paper June 1980)
National Security: Could Maryam Rajavi (Mojahedin Khalq) blackmail her friends in high places – Rudi Giuliani, John Bolton and Newt Gingrich
Remember.Mojahedin Khalq (MKO, MEK, Rajavi cult) was one of the excuses of US attacking Iraq
Massoud and Anne Khodabandeh: Albanian citizens fearful of radicalised Mojahedin Khalq neighbours deserve more information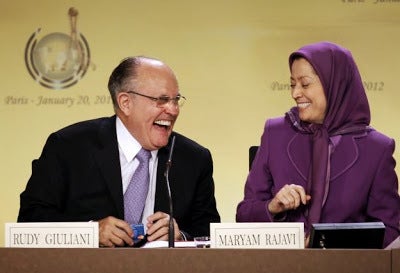 National Security: Could Maryam Rajavi (Mojahedin Khalq) blackmail her friends in high places – Rudi Giuliani, John Bolton and Newt Gingrich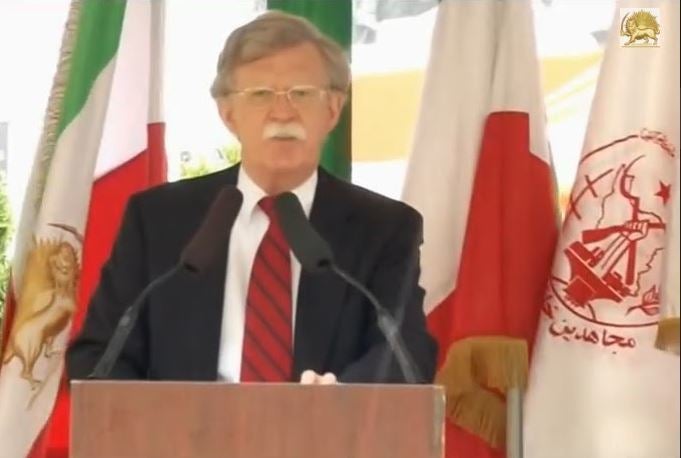 Bolton and the MEK
Mojahedin khalq (MKO, MEK, Rajavi cult) the ending stage of the radicalization process
Massoud Khodabandeh, Huffington Post: Can Albania Meet its Obligations and De-radicalize an Influx of Terrorists into Europe? 
Albania: What would a de-radicalization program for the Mojahedin Khalq (Rajavi cult) involve
Camp New Iraq (Formerly Ashraf), now  HQ of Anti ISIS forces in Dialy provance
Massoud Khodabandeh: Will President Rouhani meet genuine human rights advocates halfway?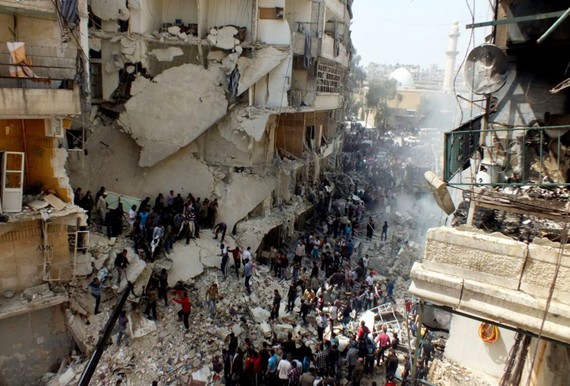 Massoud Khodabandh, Huffington post Nov. 2015:
Syrian Negotiations Won't Provide One Winner But Will Ensure Violence Is Absolute Loser
Former U.S. Officials Make Millions Advocating For Terrorist Organization (2011)
The Life of Camp Ashraf,
Mojahedin-e Khalq Victims of Many Masters

Link to the full description of Mojahedin (MEK, MKO) Logo (pdf file)
(Rajavi cult or MKO aslo known as Saddam's Private Army)
Sydney hostage-taker was affiliated with Mojahedin Khalq (MKO, MEK, Rajavi cult)
Open letter of Ali Akbar Rastgoo to the Australian Ambassador in Germany: Keep Mojahedin Khalq on terrorist List
Massoud Khodabandeh: The Iranian Mojahedin-e Khalq (MEK) and Its Media Strategy:
Methods of Information Manufacture
Document on Mojahedin Khalq released by RAND (The Mujahedin-e Khalq in Iraq, A Policy Conundrum)
Wondering at those Americans who stand under the flag of
Mojahedin Khalq (MKO, MEK, NCRI, Rajavi cult) only to
LOBBY for the murderers of their servicemen
Also read:
The MEK (aka Mojahedin Khalq, MKO, PMOI, NCRI, Rajavi cult ….) and Its American Fans
Daniel Larison, The American Conservatives, November 27 2016:… One of the more troubling things about American MEK supporters is their willingness to whitewash the group's past as well as its present-day behavior. They aren't content to work with an avowedly bad group against a common enemy, but feel compelled to pretend that the group is upstanding and noble. At an appearance in Paris last year, Giuliani … 
I was at State when we took the MeK (Mojahedin Khalq, Saddam's Private Army) off the terrorist list. But team Trump's ties to the group still worry me.
Ambassador Daniel Benjamin, Politico Magazine, November 24 2016:… Press accounts of MeK support by Giuliani and these others often treat their ties as a curiosity or, at most, some kind of peccadillo, because the group was taken off the State Department list in 2012. I was the coordinator for counterterrorism at that time, and my office was responsible for leading the effort to decide whether … 
Mojahedin Khalq (MKO, MEK, Rajavi cult) hanging on the Trump administration?
Mazda Parsi, Nejat Society, November 22 2016:… In March 2012, Giuliani traveled to Paris to speak at an MEK conference alongside the group's secretive leader Maryam Rajavi. While there, he called the U.S. military base in Iraq where the United States wanted to relocate the MEK a "concentration camp." Those comments later appeared in an MEK ad in the New York Times, according to josh Rogin … 
How Rudolph Giuliani, Possible Cabinet Pick, Made Millions as Ex-Mayor
Eric Lipton and Russ Buettnernov, New York Times, November 18 2016:… The speeches that have drawn the greatest scrutiny are those he gave from 2012 through last year at events organized by the Mujahedeen Khalq. Mr. Giuliani was paid for "three or four" speeches he delivered to the group, said Robert G. Torricelli, a former senator from New Jersey who served as a lawyer for the M.E.K., as the … 
John Bolton, Top Contender For Secretary Of State, Calls For Regime Change In Iran
Jessica Schulberg, Huffington Post, November 18 2016:… Bolton has attended rallies in support of Mujahedeen-e-Khalq (MEK), an exiled Iranian dissident group that the U.S. classified as a terrorist organization until 2012. The obvious disconnect between the worldviews of Trump and Bolton makes it hard to grasp why the president-elect is considering Bolton to be his top diplomat. But lacking any foreign policy … 
Why Rudy Giuliani Shouldn't Be Secretary of State
New York Times, Editorial Board, November 17 2016:… Mr. Giuliani for instance, he was paid to deliver speeches in 2011 and 2012 defending a cultlike Iranian exile group that was on the State Department's list of terrorist organizations. In the long list of ridiculous things Mr. Giuliani has said, his remarks about President Obama in February 2015, when the presidential campaign was gearing up, were particularly disgraceful ..
Rudi Giuliani took money from Qatar, Venezuela, Iranian exiles (Mojahedin Khalq, Rajavi cult)
Isaac Arnsdorf, Politico, November 17 2016:… In 2011, an exiled Iranian political party called the Mujahedin e-Khalq, known as the MEK, paid Giuliani to give a speech in Washington calling on the State Department to remove the group from its list of terrorist organizations. The MEK recruited a host of other formal officials to its cause and succeeded in reversing the terrorist designation in 2012. A subsidiary … 
Former Terrorist Group To Enjoy Close Ties to Rumored Trump Cabinet (Mojahedin Khalq, MKO, MEK, Rajavi cult)
Eli Clifton, Lobelog, November 16 2016:… The MEK is known for paying generous sums to former officials who speak at their events. Lee Hamilton, a former chairman of the House Foreign Relations Committee who headed the Woodrow Wilson Center for 12 years, told InterPress Service that he was paid "a substantial amount" to appear on an MEK panel in 2011. Giuliani, Bolton, Lopez, and Gingrich have all sung … 
Giuliani was paid advocate for shady Iranian dissident group (Mojahedin Khalq, MEK, MKO, Rajavi cult)
Josh Rogin, Washington Post, November 15 2016:… For years, Giuliani has been one of the most prominent American officials to advocate on behalf of the Mujahideen-e Khalq (MEK), a Marxist Iranian opposition group that claims to be the legitimate government of Iran and resembles a cult. A Treasury Department investigation in 2012 examined whether speaking fees paid by several MEK front groups to a long list … 
  Will Trump Embrace the Mojahedin Khalq (MKO, MEK, NCRI, Rajavi cult)
Michael Rubin, Community Magazine, November 15 2016:… If the goal of the Trump administration is to contain, weaken, and roll back the influence of the Islamic Republic, then outreach to the MKO is the worst possible move because it would rally Iranians around the flag and strengthen the current regime. The simple fact is this: if there is any consensus within Iran, it is that the MKO is the only thing worse than … 
EU-Iran Relations in the Trump Era (Rudi Giuliani, Newt Gingrich and John Bolton)
Eldar Mamedov, Lobelog, November 13 2016:…  New Gingrich, John Bolton, and Rudy Giuliani, are slated for top jobs in the Trump administration, including the crucial secretary-of-state job. All three have deep tieswith the Iranian dissident cult MEK, on the US terror list until 2012, bitterly opposed to the current Iranian government and advocating regime change in Iran. Although the Saudis … 
Trump's Worse Than Bush and Obama (Mojahdein Khalq terrorists, Maryam Rajavi, Saudi Family, Rudi Giuliani, Newt Gingrich and John Bolton)
Land Destroyer, November 13 2016:… Lobbying for MEK terrorists alongside Bolton was former New York mayor Rudy Giuliani and Newt Gingrich. They and other fixtures of American Neo-Conservatism backed MEK along with the Royal Saudi Family, according to the US State Department's own Voice of America (VOA) media platform. VOA's article, "Saudi Backing of Iranian Exile Group Inflames …
National Security: Could Maryam Rajavi (Mojahedin Khalq) blackmail her friends in high places – Rudi Giuliani, John Bolton and Newt Gingrich
Massoud Khodabandeh, Huffington Post, November 12 2016:… In particular, Rudi Giuliani, John Bolton and Newt Gingrich. Putting aside their weak personalities as well as their individual neoconservative agendas, the common thread which links these names together is their decade long support for the Mojahedin Khalq terrorist organisation (also known as Saddam's Private Army or Rajavi cult). It is certain that … 
Possible Trump Cabinet Members' Links to the Mojahedin Khalq (MEK, Rajavi Cult) Could Spell Trouble for Iran
Arash Azizi, Global voice, Nobember 12 2016:… John Bolton called for a military attack on Iran and "vigorous American support" for MEK "aimed at regime change in Tehran". Last summer, Gingrich spoke at MEK's rally in Paris alongside Turki bin Faisal, the former head of Saudi intelligence. Gingrich went as far as to solemnly bow down to MEK's leader, Maryam Rajavi, calling her by her favored title … 
Former Terrorist Group To Enjoy Close Ties to Rumored Trump Cabinet (Mojahedin Khalq, MKO, MEK, Rajavi cult)
Eli Clifton, Lobelog, November 16 2016:… The MEK is known for paying generous sums to former officials who speak at their events. Lee Hamilton, a former chairman of the House Foreign Relations Committee who headed the Woodrow Wilson Center for 12 years, told InterPress Service that he was paid "a substantial amount" to appear on an MEK panel in 2011. Giuliani, Bolton, Lopez, and Gingrich have all sung …