Vicious attacks on the BBC Persian Service: Maryam Rajavi's strange diplomacy with the UK
Anne Khodabandeh (Singleton), Middle East Strategy Consultants, September 07 2015:… Now, whether in response to the lack of response to her bizarre persuasion techniques, or whether stung by the ridicule of her critics, or whether she is genuinely out of touch with political reality, Maryam Rajavi's cult websites are now awash with attacks on the British Foreign Secretary …
'No Exit' – Human Rights Abuses Inside the Mojahedin Khalq Camps – Human Rights Watch
UNAMI: continued concerns about abuses committed by the PMOI/MeK leadership
Middle East Strategy Consultants,
http://www.mesconsult.com
Author of "Saddam's Private Army" and "The life of Camp Ashraf"
http://www.camp-ashraf.com
Vicious attacks on the BBC Persian Service: Maryam Rajavi's strange diplomacy with the UK
Maryam Rajavi is a nervous woman. As European ministers line up to visit Iran to improve trade and cultural links, and her cult resorts to violence on the streets of a small French village to keep families away from their loved ones, she must feel the cold winds of isolation and opprobrium blowing around her cult HQ in Auvers-sur-Oise and is certainly watching with growing concern for her own security.
As a result, Rajavi has renewed her efforts to obtain a visa to visit the UK. (She wants to come to the UK because there is more chance that her Zionist sponsors will offer her protection from legal prosecutions than in France where her activities are still under judicial investigation.)
Her last visit to the UK was in 1996. After failing her mission to mend political links with western governments, the French had ordered Rajavi to return to Iraq. In order to save face she negotiated a trip to the UK for a public appearance. (Even then her visit was hidden behind the pretence that the audience were attending a music concert with the retired Iranian singer Marzieh.) Rajavi was given a few days visa only after British security services had obtained a written assurance from France that she would immediately be allowed to return there where she has political asylum. Maryam Rajavi did indeed immediately return to France from whence she packed her bags and went back to Iraq and only covertly returned to Auvers-sur-Oise just before the start of the American invasion of Iraq in 2003. In spite of her continued attempts to obtain a visa – a British peer raised the issue for her in the House of Lords – Maryam Rajavi remains persona non grata in the UK.
This has infuriated the notoriously bad tempered Rajavi whose reaction has been to bark at her intended hosts via a vicious campaign to demonise the BBC's Farsi programme. Presumably Rajavi sees the BBC World Service as an earpiece of the FCO.
The attack began over a programme called Compass. The programme deliberately hosts controversial guests to prompt lively discussions. One particular combination included a former SAVAK (Shah's repressive secret service) official at the time of the Shah and a former MEK terrorist who was in prison at that time. The programme asked 'How effective was SAVAK?' Enraged, Maryam Rajavi instigated a vicious attack on the BBC, which suddenly received an orchestrated rash of letters of complaint purporting to be from actual, named prisoners in Iran. This was ridiculed by critics of the MEK who pointed out that prisoners in Iran do not have access to satellite television and would not be able to write uncensored letters to London if only for security reasons. In any case, the vitriolic style of the letters is an indication that they come from the same few authors at the heart of the Rajavi Cult Empire in Europe. Staff at the BBC Persian Service were mystified.
Revealing herself to be supremely ignorant of UK politics and the current political atmosphere in relation to Iran, the next step was an astounding assault on credulity; a letter written to Prime Minister David Cameron supposedly from the residents of Camp Liberty complaining about the bias of the BBC. This concept is even more ridiculous than the prisoner campaign. The Farsi Commentariat were quick to point out that residents of Camp Liberty are living incommunicado as members of a cult and are therefore completely cut off from normal life. Living under strict gender apartheid, they are denied contact even with relatives inside the same camp, let alone their estranged families outside. Every bit of information they are given is strictly controlled and censored by the cult leaders – there is no such thing as access to external television, radio or print media in the camp. The idea that the MEK leaders asked brainwashed members to sign a letter which was written on their behalf is ludicrous in these conditions. Why ask? Just add their name to the letter. You don't even need to inform them. Nobody will be able to ask them anyway because they are in a totally closed environment. A recent sham demonstration by Camp Liberty residents reflects how ludicrous this idea is. The residents of Camp Liberty held a demonstration against the Iran nuclear deal. Perhaps not a single resident has any idea what the deal was, but in any case they were ordered to hold placards written in English. But for whom? No media are allowed into the camp. Even the UN officials admit they have problems getting free access to the residents. Only the MEK websites published photographs of the sad scene.
Now, whether in response to the lack of response to her bizarre persuasion techniques, or whether stung by the ridicule of her critics, or whether she is genuinely out of touch with political reality, Maryam Rajavi's cult websites are now awash with attacks on the British Foreign Secretary Philip Hammond. Surely it won't be long before somebody points out to her that he is paid to work for British interests, not hers.
Maryam Rajavi's desperation to escape justice in France has led her to some extraordinary lengths. If this is Rajavi's best attempt to persuade the FCO to grant a visa it only reveals her own nervous trepidation.
Let's stand up together and free our children from Rajavi and the MEK
Comrades in Arms – Sexual abuse by Massoud and Maryam Rajavi
Expert in cultic abuse and terrorism in the MEK speaks in London charity meeting
President of MIVILUDES Serge Blisko with Anne Khodabandeh (Singleton) of the FST. FECRIS 2015
Anne Khodabandeh (Singleton) and Nasrin Ebrahimi, European Parlaiment: 
Silencing the victims of Mojahedin Khalq (MKO, MEK, Rajavi cult, PMOI, NCRI …) to promote Maryam Rajavi
Anne Khodabandeh (Singleton), University of Baghdad: MEK's Western backers are complicit in their deaths
Anne Singleton from Iran-Interlink
visits Camp New Iraq (Formerly Ashraf)
in wake of violence by loyalists of the Rajavi cult
***
***
Also read:
https://iran-interlink.org/wordpress/?p=5755
Rajavi's lobbyists demand Mojahedin Khalq terrorist cult in Iraq be re-armed rather than removed
Anne Khodabandeh (Singleton), Iran Interlink, January 14 2015:…  Whether delusional or corrupt, this gang – listed below and now posing as the International Committee in Search of Justice (ISJ) – says the residents of Camp Liberty should have their "personal protection weapons returned to them for self-defence following serious threats and attacks [sic] as the …
Rajavi's combatants are nearing retirement age (Iran Interlink Fourth Report from Baghdad, Novmeber 2014)
Rajavi's lobbyists demand Mojahedin Khalq terrorist cult in Iraq be re-armed rather than removed
It is surely ironic that the same bunch of people who lobbied hard and at great expense to have the Mojahedin Khalq terrorist cult removed from European and American terrorist lists (the flimsy claim they had renounced terrorism was only possible because in 2003 the US army captured, disarmed and confined them to a single camp in Iraq), is now lobbying to have them re-armed.
Whether delusional or corrupt, this gang – listed below and now posing as the International Committee in Search of Justice (ISJ) – says the residents of Camp Liberty should have their "personal protection weapons returned to them for self-defence following serious threats and attacks [sic] as the Iranian regime's intervention in Iraq grows". But has neglected to inform their English speaking audience that the MEK leader, Massoud Rajavi, has demanded the MEK be re-armed with heavy weapons as well as small arms.
In any case, anyone who knows anything about the situation of Camp Liberty knows that the residents are deliberately imprisoned incommunicado inside the camp by the MEK leaders, that the greatest danger these residents face is from these MEK leaders, and that small arms are wanted in order to impose greater control over these captives as they become more and more desperate to escape the tyranny of the cult.
The ISJ statement should certainly not be read without context: Since attaining sovereignty in 2009, each successive government of Iraq has designated the MEK as a terrorist entity which must, under the Constitution, be entirely removed from Iraqi territory. The demand for re-arming rather than removing this group is doubly insulting for a country still swarming with Western spawned terrorist groups.
Perhaps the most ironic 'complaint' of the Committee is that the government of Iraq is not investigating the September 1, 2013 attack on Camp Ashraf in which fifty three people died. How is this possible when forty two key eye witnesses – survivors of the attack – have been incarcerated by the MEK inside Camp Liberty so that no investigator in the world has access to them?
Instead of demanding the MEK be re-armed ready to utilize violence again – the raison d'etre of the terrorist cult – this gang should be demanding from Massoud and Maryam Rajavi that each resident of Camp Liberty be given the opportunity to make contact with their families in privacy and to freely leave the camp if they desire. Then we would see how quickly and efficiently these people can be resettled.
List of members of the ISJ according to the MEK:
Alejo Vidal-Quadras, former MEP; Patrick Kennedy, former Congressman; Günter Verheugen, former member of the EU Commission; Nicole Fontaine, former MEP; General Hugh Shelton former US military; David Kilgour, former Canadian Secretary of State; Ingrid Betancourt; Raymond Tanter; Horst Teltschik; Colonel Wesley Martin, former US military; Senator Lucio Malan, Italian Senate; Alessandro Pagano MP; Antonio Razzi, Italian Senate; Gérard Deprez MEP; Ryszard Czarnecki, MEP; Tunne Kelam MEP; Lord Carlile, UK; Lord Clarke, UK; Lord Maginnis, UK; Lord Dholakia, UK
About Anne Khodabandeh (Singleton):
Middle East Strategy Consultants,
http://www.mesconsult.com
Autor of "Saddam's Private Army" and "The life of Camp Ashraf"
http://www.camp-ashraf.com
Paulo Casaca, Struan Stevenson and Alejo Vidal-Quadras lost their seats as MEPs over support for terrorism
European MEK Supporters Downplay ISIS Role in Iraq (aka Mojahedin Khalq, MKO, NCRI, Rajavi cult)
***
Also read:
https://iran-interlink.org/wordpress/?p=5646
MEPs support for MEK terrorists undermines human rights pressure on Iran (letter to Federica Mogherini)
Massoud Khodabandeh, Middle East Strategy Consultants, London, December 09 2014:… By publishing an article directed by the MEK, a group of MEPs has played directly into the hands of Iran's hardliners. The MEPs Gérard DEPREZ, Tunne KELAM, Ryszard CZARNECKI EP Vice-President, Eduard KUKAN, José BOVÉ, Julie WARD, and Rina Ronja KARI are …

(Massoud Khodabandeh: UN must investigate Rajavi's role in the deaths of 53 MEK victims in Camp Ashraf
MEPs support for MEK terrorists undermines human rights pressure on Iran
Open Letter to Federica Mogherini, the new EU foreign policy chief
As you are aware the Iranian Mojahedin Khalq terrorist group works through the "Friends of a Free Iran" in the European Parliament. This parliament is to give a platform today (December 10) to the second-in-command of this group Maryam Rajavi (a private room has been hired in the buildings by one of the MEK's lobbyists purely for lobbying purposes). Not only that, a group of MEPs has boldly written to you demanding you change your policy to suit this woman. What possibly can be their motive? As a European citizen and an expert in the field of cults and terrorism, I cannot agree that you ignore such a presence in the parliament. It cannot be in the best interests of the European Parliament as a home to democracy to give a platform to for what is an undemocratic stance toward the people of Iran.
By publishing an article directed by the MEK, a group of MEPs has played directly into the hands of Iran's hardliners. The MEPs Gérard DEPREZ (ALDE – Belgium), Tunne KELAM (EPP – Estonia), Ryszard CZARNECKI EP Vice-President (ECR – Poland), Eduard KUKAN (EPP – Slovakia), José BOVÉ (Greens – France) Julie WARD (S&D – UK) and Rina Ronja KARI (GUE/NGL – Denmark) are members of the MEK's 'Friends of a Free Iran' in the European Parliament.
The article starts with the claim that Ban Ki Moon said people should hold their governments to account. He did not say that the EP should interfere in the internal affairs of another country. Certainly these MEPs have no mandate to hold another country's government to account in this way. It is not their elected government, but that of a sovereign nation with its own electorate. It is certain Ban Ki Moon was referring to this electorate when he made this statement.
However, let us allow that Iran's human rights record, like that of every other country of the world, should come under proper scrutiny. The proper bodies to conduct such research are those quoted by these MEPs – the UN – in particular the UN Special Rapporteur on Human Rights in Iran – Reporters Without Borders, Amnesty International. The reports of these bodies are public knowledge and widely available.
(Interestingly, in addition to all these human rights bodies, there is hardly a group or organisation or government, and not a single Iranian opposition group inside or outside Iran which has not condemned the Mojahedin Khalq for its human rights abuses time and time again.)
Now, if the MEPs do indeed see fit to challenge Iran over this issue on International Human Rights Day, is it not proper to do so directly, through dialogue, communication and diplomacy, rather than a futile rant. A rant which, in addition, quotes the second-in-command of the Mojahedin Khalq terrorist group, Maryam Rajavi. This group of MEPs has been persuaded – somehow – to have her words put into their mouths as though they cannot make their own statements or figure out their own political arguments. (The MEK shoehorned one of their favourite words, 'embolden', into the piece but didn't manage to get another favourite, 'appeasement' in.)
As a result they stupidly allow themselves to say such things as "Tehran has also been the center [sic] for the expansion of terrorism and fundamentalism throughout the region, endangering world peace and security." The article cannot and does not present any evidence for this opinion. Indeed, most sensible people anywhere would point first to Saudi Arabia and other Gulf States as the source of increased terrorism and fundamentalism in the region. But then, the MEK are known advocates of ISIS and other terrorist groups.
Relying on this argument, these MEPs are demanding less dialogue with Iran, not more. Again, back to the 'let's bomb Iran or at least disrupt dialogue' narrative.
Such nonsense has delighted Iran. The semi-official Fars News Agency has immediately translated the article for distribution among Farsi speakers in Iran and worldwide. What better argument could the hardliners have that the issue of human rights is being politicised than to have the leader of a notorious terrorist group put their words into your mouth.
These MEPs really need to get to grips with the fact they are being manipulated into pursuing an agenda not of their own making, which ultimately serves to worsen human rights in Iran and to help crush any indigenous opposition movements and activities. Any Iranian not associated with the MEK terrorist group – on any side of the argument – will tell them this.
Khodabandeh co-authored the book 'The Life of Camp Ashraf – Victims of Many Masters'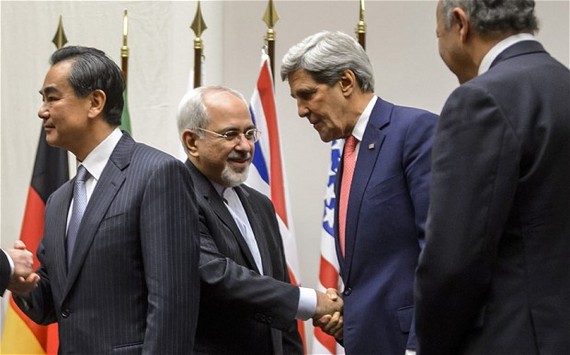 Massoud Khodabandeh: America Must Make Its Underlying Intentions Toward Iran Clear
Also read:
Open Letter to Susana Klien and Caroline Haworth of Womankind Worldwide
A number of survivors of Rajavi cult,  August 31 2015:… This summer, your charity floated an engaging invitation on its Facebook page for women to nominate their 'women's rights idol'. Sadly, perhaps inevitably, Womankind was then inundated with nominations and praise for Maryam Rajavi. The effect has been to hijack the page and spoil its intent. The Mojahedin are …
REPORT – FECRIS Marseille 2015
Family Survival Trust, May 24 2015:…Anne Khodabandeh, representative of The Family Survival Trust, was in a unique position to brief M. Blisko and the audience about this issue. She explained that it is possible to construct a model for describing and analysing the use of cultic abuse by terrorist entities without mentioning religion. Anne then went on to describe …
Open Letter to Nancy Pelosi: Don't allow the MEK to hijack your name
Anne Khodabandeh (Singleton), Iran Interlink, April 14 2015:… It will come as some surprise to you therefore, that a group of Iranian war-mongering regime change proponents, the terrorist Mojahedin Khalq (MEK), claim to have your support. In an astounding act of hubris, the MEK has not only appropriated your good name and …
The Iranian Mojahedin-e Khalq (MEK) and Its Media Strategy: Methods of Information Manufacture
Iran Interlink, February 04 2015:… A review authored by Massoud and Anne Khodabandeh has been published in Asian Politics and Policy, Media Reviews. The article titled 'The Iranian Mojahedin-e Khalq (MEK) and Its Media Strategy: Methods of Information Manufacture' looks at the MEK's historical manipulation of various media over thirty years …
Rajavi cult abuse – Albania must protect human rights of Iranian refugees from MEK
Anne Khodabandeh (Singleton) , Iran Interlink, January 24 2015:… Albania's efforts to improve its human rights and bring them into line with European and international standards could be seriously undermined if it does not take action to curtail the activities of the terrorist Mojahedin Khalq cult organisation in that country. There is strong evidence that …
Rajavi's lobbyists demand Mojahedin Khalq terrorist cult in Iraq be re-armed rather than removed
Anne Khodabandeh (Singleton), Iran Interlink, January 14 2015:…  Whether delusional or corrupt, this gang – listed below and now posing as the International Committee in Search of Justice (ISJ) – says the residents of Camp Liberty should have their "personal protection weapons returned to them for self-defence following serious threats and attacks [sic] as the …