Why Iran needs to fight Saudi Arabia to forge peace
Hassan Ahmadian, Al-Monitor, July 20 2016:… Turki al-Faisal Al Saud's call for regime change in Tehran, let alone his mere participation at the July 9 Mujahedeen-e-Khalq's (MEK) annual conference in Paris, is an unprecedented move against Iran by a high-ranking Saudi royal. Prior to Faisal's statements at the MEK convention, the Saudi deputy crown prince, Mohammed bin Salman, paid …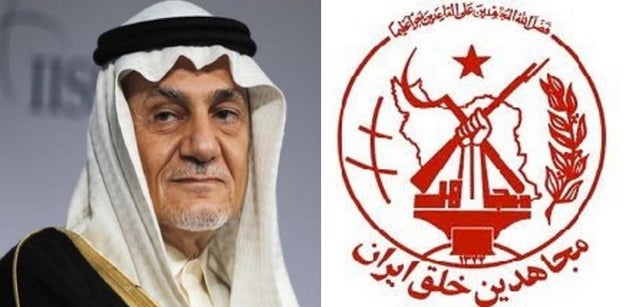 Iran: Faisal's attendance at Mojahedin Khalq (MKO, MEK, Rajavi cult) meeting signifies Saudi stupidity
Mojahedin Khalq (MKO, MEK, Rajavi cult) Voices Readiness to Help Saudi Arabia in Yemen
Why Iran needs to fight Saudi Arabia to forge peace
Summary: Despite all the challenges it poses for Iran, Saudi Arabia's regional policy and strategic behavior is still not perceived as a threat in Tehran — but could failing to respond be a mistake?
TEHRAN, Iran — Turki al-Faisal Al Saud's call for regime change in Tehran, let alone his mere participation at the July 9 Mujahedeen-e-Khalq's (MEK) annual conference in Paris, is an unprecedented move against Iran by a high-ranking Saudi royal.
Prior to Faisal's statements at the MEK convention, the Saudi deputy crown prince, Mohammed bin Salman, paid a 10-day visit that started on June 14 to Washington and then Paris, during which he stressed the necessity to counter the "Iranian threat." Meanwhile, as has been the norm during his tenure so far, Saudi Foreign Minister Adel al-Jubeir, who accompanied Mohammed, went even further in his criticism of Iran's regional policy, demanding that Tehran stop "exporting its revolution."
This situation has in fact been prevalent ever since King Salman bin Abdul-Aziz Al Saud was crowned in January 2015. As such, one can assume that there has been a paradigm shift in Riyadh's regional policy, which encompasses relations with Tehran. At this point, Saudi Arabia has crossed so many unwritten rules in its dealings with Iran that some observers anticipate a war between the two nations.
Yet despite all these changes, there are no parallels in Iran's policy toward Saudi Arabia. Even with reference to the abovementioned developments, Iran did not bother to reciprocate — at least in terms of the level of its reaction. The question as to why it did not react has two logical answers. The first would be that Iran accepts the Saudi accusation that it is the main source of instability and terror in the region. However, given internal debates on regional policy in Tehran, this assumption has no basis. The second possible answer is that Iranian elites do not perceive the Saudi moves against Iran as being of importance, in terms of their effect. This answer is more relevant in Iran's internal debates.
In fact, Iranian elites tend to exclude Saudi Arabia from their list of perceived national security threats, even though Riyadh has ironically been the main source of threat against Iran during the past five turbulent years in the Middle East. Iranians have been witnessing aggressive acts on the part of Saudi Arabia in Iraq, Syria, Bahrain, Yemen and now even within Iran. Yet, Iranian elites still refrain from viewing Riyadh as a threat.
In the Iranian debate on Saudi Arabia's regional policies, there have always been two viewpoints: The first and most prevalent one stresses the need for dialogue and diplomatic engagement with Riyadh as the best way to stop its hostile attitude toward Iran. Indeed, the majority within Iran's diplomatic and political and even security apparatus hold this stance. The second and more marginal viewpoint takes Riyadh's hostility as a threat and advocates the creation of an infrastructure to counter this threat. Notwithstanding its reasoning, this point of view has never made its way to foreign policy decision-making in Iran. Thus, Iran's formal bureaucracy has never moved to perceive Riyadh as a threat and hence never dealt with it as such.
This perception stems from a tradition in Iran's worldview that divides Middle Eastern states into independent and dependent ones. In the view of Iranian elites, at least in the 1980s and 1990s, Saudi Arabia was dependent and could not initiate nonaligned policies. According to this point of view, even the Saudi support for Iraq during the 1980-88 Iran-Iraq War was not an independently initiated Saudi policy. Thus, Saudi hostility toward Iran at that time was perceived as being somewhat beyond the will of the Saudi state. Even though this understanding of Saudi Arabia has changed in Iran during the past decade, Tehran's approach toward Riyadh has not. As such, within the current framework of the Iranian understanding of Saudi Arabia, differences with Riyadh are seen as manageable via diplomacy. This was the case during the tenures of former Reformist President Mohammad Khatami (1997-2005) as well as Principlist President Mahmoud Ahmadinejad (2005-13), and has continued under incumbent President Hassan Rouhani since 2013, too.
Another reason why Tehran in the past did not consider Riyadh as a threat was the perception of the latter's military as weak and security as fragile. In this reading, a country with limited military might is not considered as a direct threat. Accordingly, Riyadh was perceived as so vulnerable in terms of its military and security that it would be deterred from posing any sort of direct threat against Iran. In other words, the logic behind this perception was that the risk of putting oneself in jeopardy would pre-empt threats against others. Despite Saudi Arabia's huge military expenditure over the past decade, this perception has not changed. Indeed, there have even been voices in Tehran who despise Riyadh for what they perceive of as the Saudis' purchasing arms that they cannot use.
Despite all the changes in Saudi foreign policy, Riyadh is still perceived in Tehran almost the same way it was a decade ago. Although the voices demanding a stronger stance and a revision in Iran's policy toward Saudi Arabia are getting louder, it seems that Iranian elites, even if they feel a need for change, still stick to the previous policy of preferring diplomatic engagement to resolve differences to avoid yet more escalation with Saudi Arabia. Thus, the main objective in Tehran is to de-escalate the situation or at the very least stop any further escalation.
Hence, despite all the challenges it poses, Riyadh's regional policy and strategic behavior is still not perceived as a threat in Tehran. At this point, the question is thus whether Iran's approach to de-escalation will eventually backfire. Indeed, the Iranian perception of Saudi Arabia as not constituting a direct national security threat appears to be well understood in Riyadh and may even be part of Saudi decision-makers' calculations in their dealings with Iran. As such, Saudi decision-makers may have latitude that their Iranian counterparts are lacking. Taking developments last year as an example, Riyadh appears to not have missed an opportunity to escalate things with Tehran, in the knowledge that the Iranians will not respond in kind.
Thus, Iran's policy of seeking to not create another source of instability in the Middle East by avoiding counterescalation in its dealings with Saudi Arabia may, in fact, very well paradoxically constitute a threat to both regional stability and Iranian national security. By avoiding a shift in policy toward Saudi Arabia, Iran may be inviting Saudi escalation against both Tehran and its allies while at the same time tying its own hands in terms of its responses. In other words, current Iranian policy can best be characterized as an inverse security dilemma that may cause more trouble than it solves.
***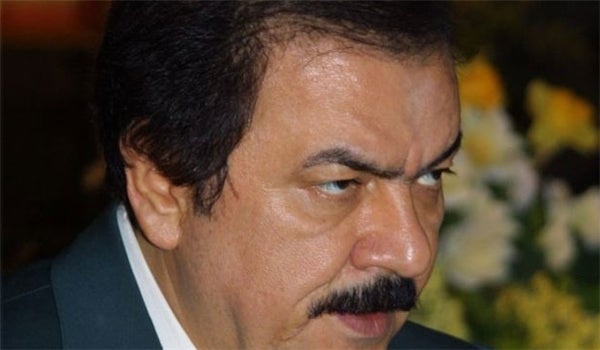 Grand Controversy as MEK can't prove leader Massoud Rajavi is dead or alive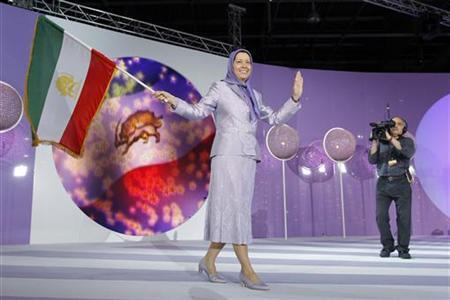 Maryam Rajavi — MEK Propaganda Queen — Advertises Her Services For Iran's Enemies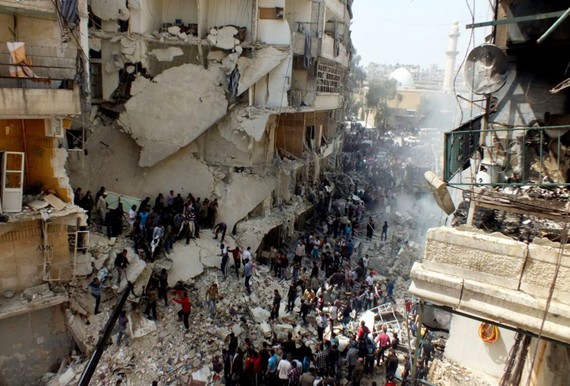 Massoud Khodabandh, Huffington post Nov. 2015:
Syrian Negotiations Won't Provide One Winner But Will Ensure Violence Is Absolute Loser
*** 
Also read:
https://iran-interlink.org/wordpress/?p=7493
Saudi Backing of Iranian Exile Group Inflames Mideast Conflicts 
Barbara Slavin, VOA, July12 2016:… Observers have long been puzzled about how the group managed to shell out $25,000 speaker fees to the likes of Gingrich, Richardson, Dean, former New York mayor Rudy Giuliani and others given its small basis of support within the Iranian diaspora. It's entirely possible that the Saudis have funded the MEK for years … 
Grow the MKO, Harvest Terrorism! Mujahedin Khalq ;A tool for West
Remember.Mojahedin Khalq (MKO, MEK, Rajavi cult) was one of the excuses of US attacking Iraq
Saudi Backing of Iranian Exile Group Inflames Mideast Conflicts
Iran and Saudi Arabia are experts at infuriating each other, with dismal consequences for the region they co-inhabit.
Facing off in proxy conflicts from Yemen to Syria, they are also practitioners in a propaganda war that now extends to open Saudi support for an Iranian exile group that seeks the overthrow of the Iranian regime.
Prince Turki al-Faisal, a respected former Saudi ambassador to Britain and the United States, startled many observers when he turned up Saturday at a conference in Paris of the Mujaheddin-e Khalq or MEK.
Turki, who also served as Saudi director of intelligence and who presumably got prior government approval for his Paris speech, responded to cries from the crowd to overthrow the Iranian government, "I, too, want the downfall of the regime."
If that is indeed the case, the Saudi ex-official has picked an unlikely vehicle for regime change, but one that is sure to deepen the chasm between two of the most important countries in the Muslim world.
The MEK, a cultish Marxist-Islamist group responsible for the death of six Americans in Iran before the 1979 revolution, lost out in the post-revolution power struggle and fled to Iraq, siding with Saddam Hussein against Iran in the 1980-88 Iran-Iraq war. Maryam Rajavi, the widow of MEK leader Massoud Rajavi, lives in a compound outside Paris from which she directed a successful campaign to get the group off the U.S. State Department's list of terrorist organizations in 2012.
In the course of that campaign, the MEK and its "diplomatic" arm, the so-called National Council of Resistance in Iran, paid millions of dollars to ex-U.S. officials of both major political parties. Saturday's confab featured many of these individuals including Newt Gingrich, the former speaker of the House and a contender to be Donald Trump's vice presidential pick, as well as Bill Richardson, a former New Mexico governor and U.N. ambassador under Bill Clinton, and former Vermont governor Howard Dean.
Observers have long been puzzled about how the group managed to shell out $25,000 speaker fees to the likes of Gingrich, Richardson, Dean, former New York mayor Rudy Giuliani and others given its small basis of support within the Iranian diaspora. It's entirely possible that the Saudis have funded the MEK for years. Perhaps Turki on Saturday was simply making overt a covert record of collaboration.
The prince knows well how much the Iranian government and the Iranian people detest the MEK, which until 2000 also carried out bombings on the streets of Tehran. Speaking in Paris – where he also said Iran was infected by a "Khomeini cancer" in a reference to its revolutionary leader Ayatollah Ruhollah Khomeini – could be a warning to Tehran to scale back its involvement in what the Saudis see as purely Arab conflicts or risk new internal security threats.
Iran sees its regional activities in a different light and is particularly adamant in its backing for Syria's brutal dictator Bashar al-Assad. The Iranian-Syrian alliance dates back 36 years to Assad's father's support for Iran – alone among Arab leaders – during the Iran-Iraq war. Iran now backs Assad to protect its conduit to Lebanon and the crown jewel of Iranian Arab allies, the Shi'ite Muslim militant group Hezbollah.
What really got Saudi attention, however, was Iran's more recent support for Houthi rebels in Yemen, a perpetually unstable southern neighbor of Saudi Arabia. Although Iran's involvement in the Yemen conflict is believed to be minimal, it crossed the bounds of acceptability for Riyadh, which intervened militarily in Yemen last year in a so far unsuccessful effort to restore a pro-Saudi regime in the Yemeni capital, Sanaa.
Turki's endorsement of regime change in Tehran could be payback in this escalating proxy war between the world's pre-eminent Sunni Muslim power and top Shi'ite Muslim power.
His comments compound the dilemma of the lame duck Barack Obama administration, which is in the awkward position of trying to tamp down the conflict while reassuring Riyadh that the long U.S.-Saudi partnership is not in jeopardy. Too close an embrace of Saudi Arabia, however, may only embolden Saudi adventurism and deepen Iranian hostility toward the United States.
In the Middle East, it is often said, the enemy of my enemy is my friend. The Saudis – and the United States — have a habit of supporting reprehensible groups in an effort to undermine even more frightening foes.
But mixing with the MEK is a recipe for disaster and a distraction from the region's and the world's real enemy – the group that calls itself the Islamic State.
Contrary to the MEK's claims, there is nothing democratic about this cultist organization, which requires its members to divorce their spouses or remain celibate and engage in Maoist-style struggle sessions of self-humiliation. Those that manage to escape often require long periods of de-programming.
By associating himself so closely with the MEK and publicly calling for regime change in Tehran, Turki is discrediting those in the Iranian government who have sought to reach out to Riyadh and strengthening those who advocate even more Iranian involvement in regional quarrels. What if the Iranians retaliate by giving more overt backing to Shi'ite dissidents in Bahrain and Saudi Arabia's eastern province?
Given that both Iran and Saudi Arabia face severe economic problems tied to the low price of oil and structural deficiencies, pouring gasoline on their regional differences is irresponsible to say the least. Turki, who has been known to participate in so-called Track II meetings with Saudi adversaries in the past, would do better to take part in such talks with Iranians now and try to find a way out of the mess both nations have created instead of doubling down on mutual threats.
Barbara Slavin is Acting Director of the Future of Iran Initiative at the Atlantic Council in Washington.
(END)
***
Mojahedin Khalq (MKO, NCRI, Rajavi cult) terrorists openly declare support for ISIL, terror acts
The MKO, Fan club of Saudi Arabia (Mojahedin Khalq, MEK, Rajavi cult)
Also read:
https://iran-interlink.org/wordpress/?p=6135
Congressional invite to MEK (Mojahedin Khalq) sparks furious backlash 
Barbara Slavin, Al-Monitor, April 29 2015:… Former ambassador to Syria Robert Ford and ex-counterterrorism coordinator Daniel Benjamin told Al-Monitor that they did not want to give a platform to the Mujahedeen-e-Khalq (MEK), a group that the United States considered a terrorist organization until three years ago …
Dear Ted Poe please ask Maryam Rajavi to open the gates of Camp Liberty and release our loved ones
Hossein Nejad, EU Parliament: A humanitarian plea for the visit of two sisters
Massoud Khodabandeh: America Must Make Its Underlying Intentions Toward Iran Clear
Congressional invite to MEK (Mojahedin Khalq) sparks furious backlash
A House panel's invitation to the leader of an Iranian dissident group has caused a furious backlash from former State Department officials who refuse to testify along with her.
Former ambassador to Syria Robert Ford and ex-counterterrorism coordinator Daniel Benjamin told Al-Monitor that they did not want to give a platform to the Mujahedeen-e-Khalq (MEK), a group that the United States considered a terrorist organization until three years ago. Ford said he would not testify at the same time as Maryam Rajavi, while Benjamin has pulled out altogether from Wednesday's terrorism subcommittee hearing on the self-proclaimed Islamic State (IS).
"The committee handled this abysmally," Ford told Al-Monitor in a phone call late Monday. "What the fuck do the MEK know about the Islamic State?"
Ford said he got the committee to agree to host Rajavi on a second panel after other witnesses testify as a condition for his participation. She is set to appear via teleconference from Paris, where the National Council of Resistance of Iran (NCRI), an umbrella group of Iranian opposition groups that includes the MEK, has its headquarters in exile.
Benjamin, who helped delist the MEK while serving as coordinator for counterterrorism in 2009-2012 under Secretary of State Hillary Clinton, called the invitation from panel chairman Ted Poe, R-Texas, "disgraceful." The MEK is widely believed to have been added to the terrorism list under President Bill Clinton as a goodwill gesture to reinforce the relatively moderate presidency of Mohammad Khatami, and the NCRI has since spent millions of dollars lobbying to get it delisted and boost its standing on Capitol Hill.
Benjamin told committee staff that he "did not believe the MEK had anything to contribute to a discussion of [IS], and that this would be a distraction from an important issue," he told Al-Monitor. "I said the story of the day would be the rehabilitation of the MEK, and I did not want to be associated with that in any way."
Poe has defended his invitation to Rajavi, which Al-Monitor first reported last week, saying hundreds of MEK members who remain at Camp Liberty in Baghdad could be at risk of being massacred by IS militants. Proponents of regime change in Iran have applauded the invitation, calling Rajavi and the NCRI a viable, democratic alternative to both Sunni and Shiite Islamists.
"Is Maryam Rajavi the right person to testify?" asked Raymond Tanter, who served on the National Security Council under President Ronald Reagan, at the conservative website Townhall.com. "She is the right person: As a pro-democracy woman with a moderate view of Islam, Rajavi represents the opposite of the misogynous Iranian regime's rulers; they are authoritarian, suppress women and hold an extreme view of Islam."
The MEK did not respond to a request for comment.
Its defenders say the decades-old allegations against the group are misinformed and rely excessively on propaganda from Tehran.
"Now freed from the restrictions and stigma of [the terrorist] designation, the MEK's members and supporters will have the opportunity to contest not only the factual record but assessments dismissive of the group's political potential," Lincoln Bloomfield, a former State and Defense Department official, wrote in a 2013 book about the MEK. "Their first and obvious point will be that no one knows how Iranians would vote in a free and open election."
Bloomfield and other MEK defenders argue that MEK attacks against Iranian targets were a form of legitimate armed resistance against a religious dictatorship, and that the killings of a half-dozen American citizens inside Iran in the 1970s were carried out by factions with no connection to the current leadership. They point out that support for the MEK within Iran is impossible to gauge since advocating on its behalf is punishable by death.
The group's detractors, of which there are many among current and former State Department officials, think banking on the MEK is delusional. They say the MEK is little more than a Rajavi cult and that supporting it publicly undermines pro-democracy activists within Iran.
"Although I participated in and supported the decision to delist the MEK as a Foreign Terrorist Organization — in part because of real humanitarian concerns about the plight of its members in Iraq — I continue to have serious concerns about the group," Benjamin told Al-Monitor in an email. "No one can seriously dispute that the MEK has plenty of American blood on its hands. In addition to killing US civilians and military personnel, participating in the 1979 takeover of the US Embassy in Tehran and serving as a strike force for Saddam Hussein, the group treats its own member abysmally and coercively."
Barbara Slavin contributed to this report
(END)
ISIS supporter Maryam Rajavi attacks Obama
UNAMI: continued concerns about abuses committed by the PMOI/MeK leadership
MEK Pays US Officials, But Where Do The Iranian Exiles Get Their Money?
(aka; Mojahedin Khalq, MKO, Rajavi cult)
***
Dear Washington: Kick Out This Iranian Militant Cult
Holly Dagres, Huffington Post, December 12 2014:… Maryam Rajavi's marriage to one of the original founders of the MEK symbolized the transformation from an organization to a "cult of personality." With the money provided by Iraqi President Saddam Hussein–they formed an alliance due to a deep disdain for the Iranian regime–to "construct self-sufficient camps" …
Soraya Sepahpour-Ulrich, Foreign Policy Journal, November 08 2014:…In addition to the "Iran experts", Washington has found itself other sources of 'intelligence', foremost; the Mojahedeen Khalg (MEK) terrorist cult. This group feeds Washington information provided them by Israel. Previous to this assignment, the cult was busy fighting alongside Saddam …
Anne Khodabandeh (Singleton), Iran Interlink, November 01 2014: … When a supporter of ISIS sits in the French parliamentary building and attacks President Obama, the cracks are seriously beginning to show in the West's approach to resolving the whole Middle East situation. Observers may not be sufficiently informed to tell Western governments what to do in …
Azar Hossein Nejad, Hossin Nejad weblog, January 01 2015:…  I am contacting you to ask for your help regarding the situation of my sister, Zeinab Hossein Nejad, a 36 years old woman who is living in Camp Liberty in Baghdad, Iraq.  I never saw my parents or sister during my childhood and youth as all of them had to run for their lives. They left Iran along …
Farideh Farhi, Lobelog, April 22 2014: … members (some of them with links to the exiled Iranian opposition group, the Mujahadeen-e-Khalq (MEK), such as Spanish EPP member Alejo Vidal-Quadras and British ECR member Struan Stevenson) proposed amendments deleting the call for an opening of the EU office in Tehran, fully in line with the position of their supposed enemies — Iranian hardliners …
Nejat Association reporting from , Ashraf news, April 21 2014: …  Massoud Rajavi has ordered the officials of the Camp to intensify the limitations against women especially after the revelations by Batoul Soltani and other dispatched members who bravely exposed the internal affairs especially the sexual scandals of the cult leader such as 'Salvation dancing' …